Shadow Warrior 2 launched today and Nvidia is giving away over 1,200 free game codes to GeForce gamers. Who doesn't like "free" and especially a free brand new game to play? Shadow Warrior 2 is a first person retro shooter (FPS) which is developed by indie studio Flying Wild Hog and it is the sequel to the 2013 Shadow Warrior game.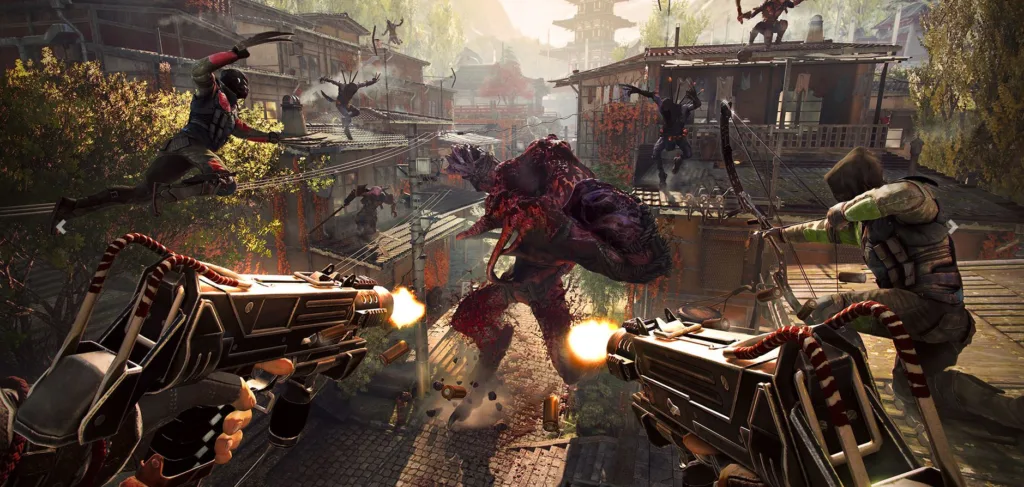 In Shadow Warrior 2, a player assumes the role of a modern ninja warrior to battle invading demonic forces in single-player mode or in a new 4-player co-op mode. Like the Serious Sam series, the game is focused on dark humor, over-the-top gore, and it features over 70 different weapons. As the player progresses, he can level up weapons to enhance their destructive properties. Shadow Warrior 2 features randomly generated level design and a procedural damage system to enemies.
Wild Hog is using their in-house Road Hog Engine which features next generation technology thanks in part to a collaboration with Nvidia's Indie Spotlight Program with Devolver, the game's publisher. Shadow Warrior 2 uses Nvidia's multi-res shading (MRS). MRS uses simultaneous multi-projection (SMP) technology built into NVIDIA Pascal GPUs to project images into multiple viewports. This allows gamers to control the resolution around the periphery of the game independently from the center. Players can decrease the resolution of Shadow Warrior 2's graphics on the periphery of the screen, improving performance without affecting image quality on the center of the screen where the eyes are focused. By intelligently reducing the workload on the GPU, MRS can gain a substantial amount of performance
In addition, High Dynamic Range (HDR) expands the range of both contrast and color significantly resulting in brighter whites and deeper and darker blacks. The result is a more 'dynamic' look. Nvidia provided sample code and advice for HDR to Flying Wild Hog along with a HDR display.
Just download and log in to the new GeForce Experience 3.0 to be eligible for a free game key. Nvidia will be giving away $50,000 worth of free Shadow Warrior 2 game codes at random to gamers registered with the GeForce Experience. This is Nvidia's second game code giveaway this month and they promise that more giveaways are coming soon. Since July, Nvidia has given away MSI VR-Ready Notebooks, HTC Vive Systems, GeForce GTX 1080s, SHIELD Android TVs, access codes to the alpha game LawBreakers and $200,000 worth of codes for Dead by Daylight.
The GeForce Experience is an automatic way to keep drivers up to date and it also optimizes game settings for more than 300 games at the touch of a button. We use it to primarily to capture gameplay video, and it can also be used to stream to Twitch or YouTube, or share it with another player over the Internet.
Related links
We are planning to play Shadow Warrior 2 and we will give you our impressions of the game as well as our experience with MRS.
Good Luck & Happy Gaming!