This $269 Gigabyte RX 480 8GB G1 Gaming evaluation is the fourth RX 480 that we have tested including one AMD and one Diamond Reference version as well as a recently price-lowered $259 Red Devil RX 480 OC. The two reference versions were poor overclockers, not able to get much over their 1266MHz boost clocks, but the 1330MHz Red Devil managed to reach a very respectable manual core overclock of 1400MHz. The Gigabyte RX 480 G1 with WindForce 2X cooling starts out with a factory overclock of 1290MHz, and we want to compare its stock and maximum overclocked performance with the reference RX 480 as well as with the Red Devil, and versus its Nvidia competitor, the GTX 1060.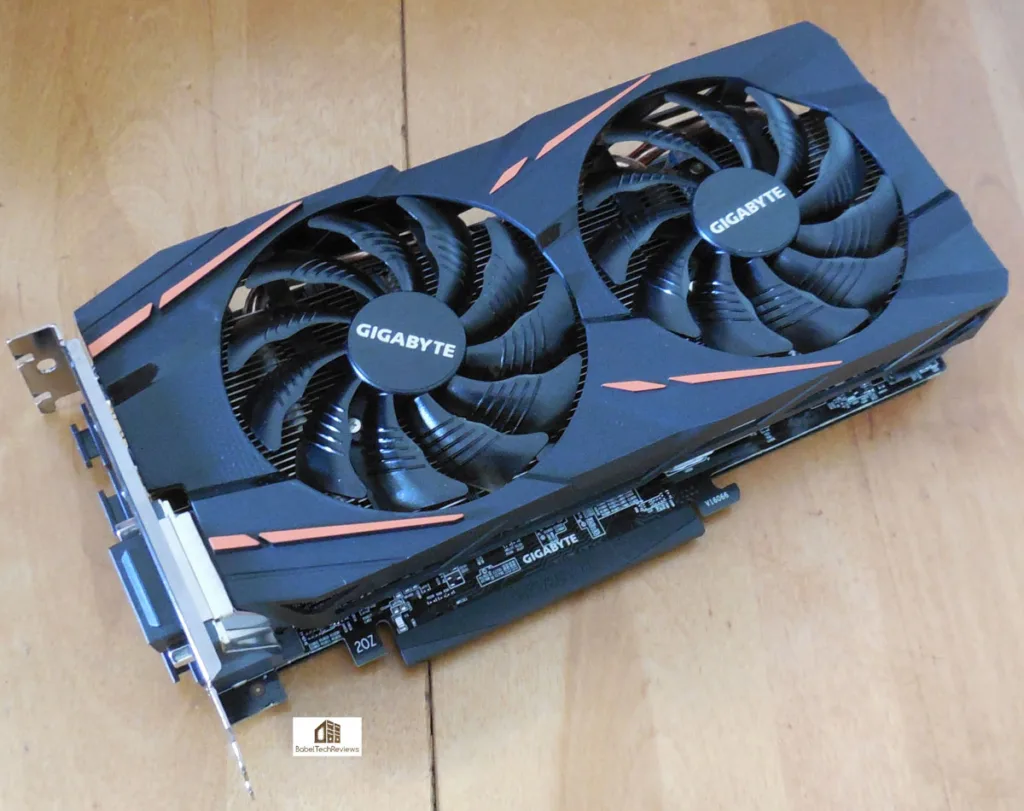 Instead of requiring 2 PCIe connectors as in the 28nm R9 200 and 300 series, the RX 480 uses only 1, yet it is supposed to deliver near R9 390 performance. In the case of the Gigabyte RX 480 G1, it uses a single 8-pin PCIe cable versus the 6-pin power connector in the reference RX 480. We already saw the reference RX 480 get into trouble with its 6-pin connector as being insufficient for overclocking. Having an 8-pin power connector instead of the 6-pin connector found in the reference board, the Gigabyte RX 480 G1 is designed for superior performance, better overclocking, and more stable power.
Overclocking Utilities for Polaris
Make sure to check the RX 480 8GB launch article which gives the details about the RX 480's new features. WattMan is AMD's overclocking utility that controls GPU voltage, engine clocks, memory clocks, fan speed and temperature. WattMan even features data capture and a historical view of GPU activity, temperature, fan, and clock speeds.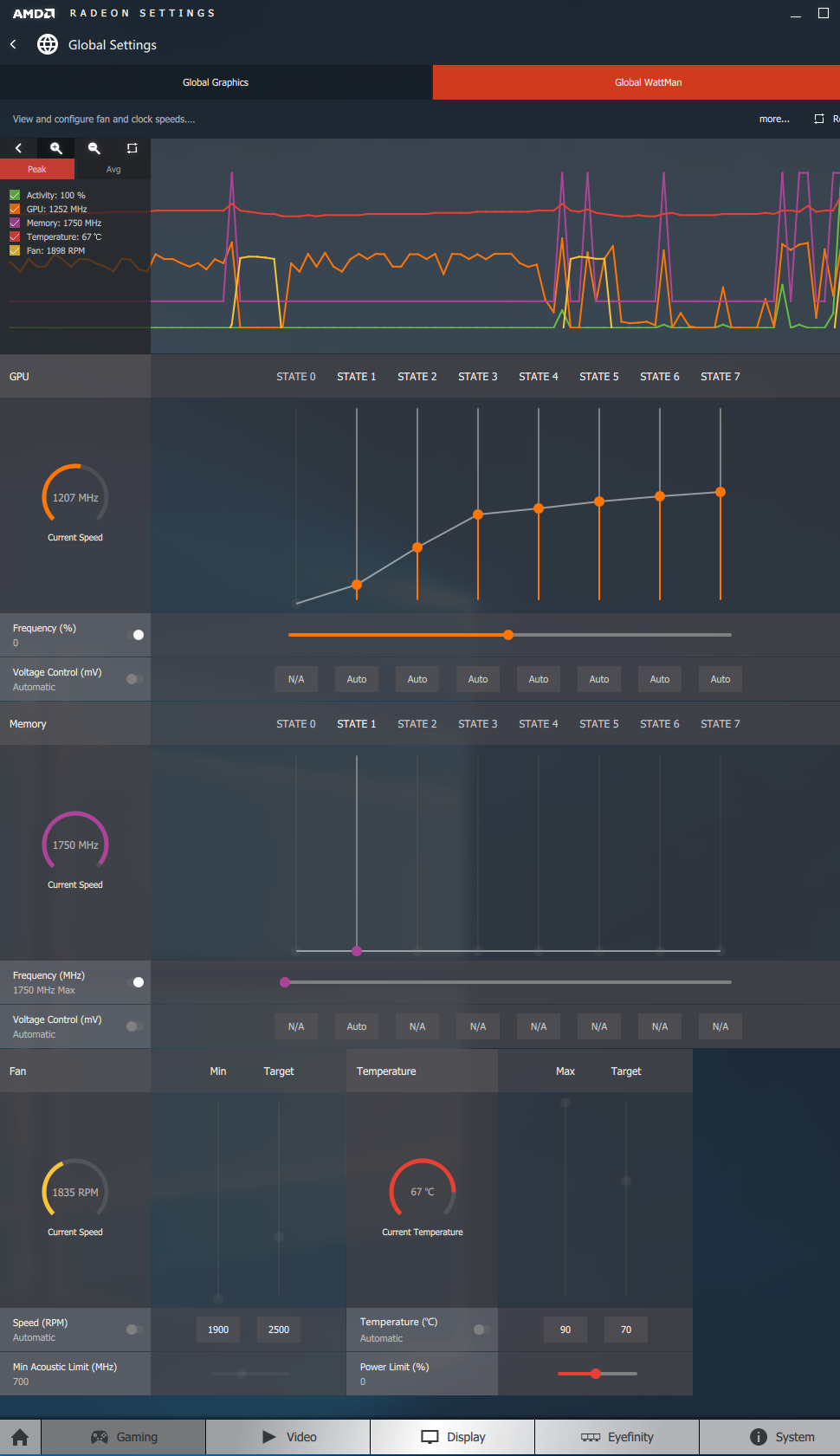 Gigabyte also has an XTREME Engine utility for overclocking and for controlling the G1's LED display. Unfortunately, it doesn't have voltage adjustments yet for the RX 480 which are necessary to stabilize a really high overclock. Here are the G1's stock clocks.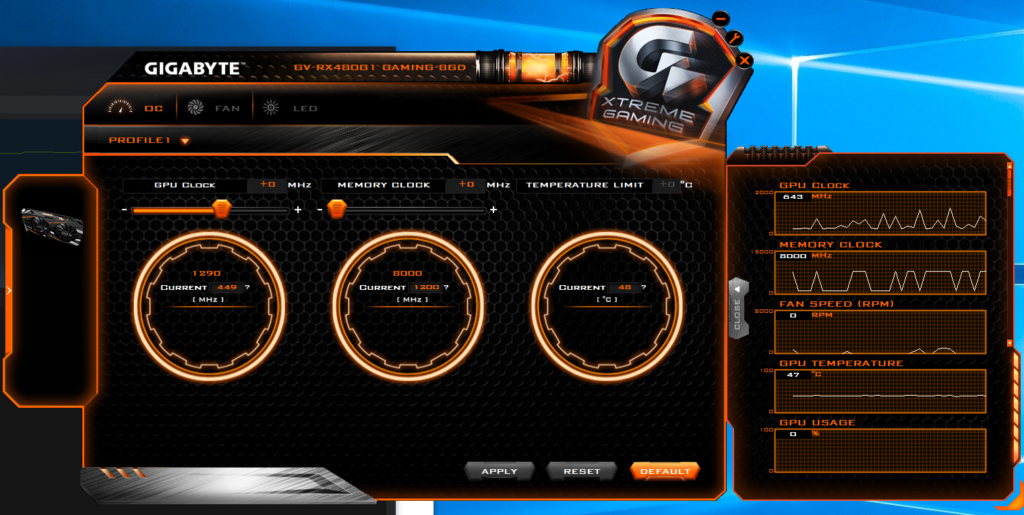 In the weeks since the RX 480 was released, Sapphire's utility, TriXX, has become more fully-featured than AMD's WattMan and it can add more voltage for higher overclocks.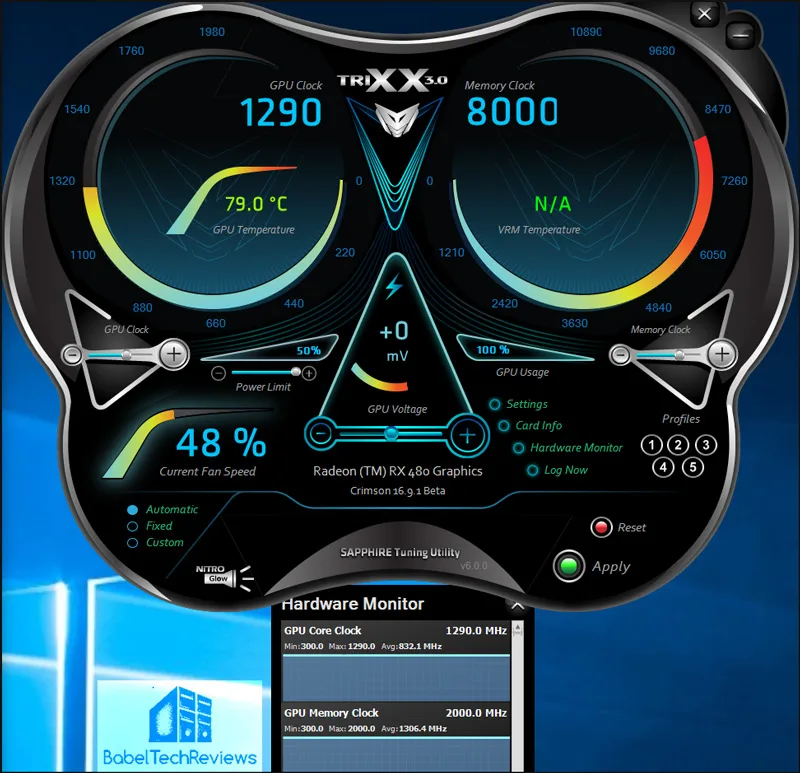 Let's take a brief look at the specifications of the AMD Radeon RX 480 reference version versus the Gigabyte RX 480 G1 Gaming.
The reference RX 480 8GB vs. the Gigabyte RX 480 8GB Gaming
Here are the specifications for the reference RX 480 8GB: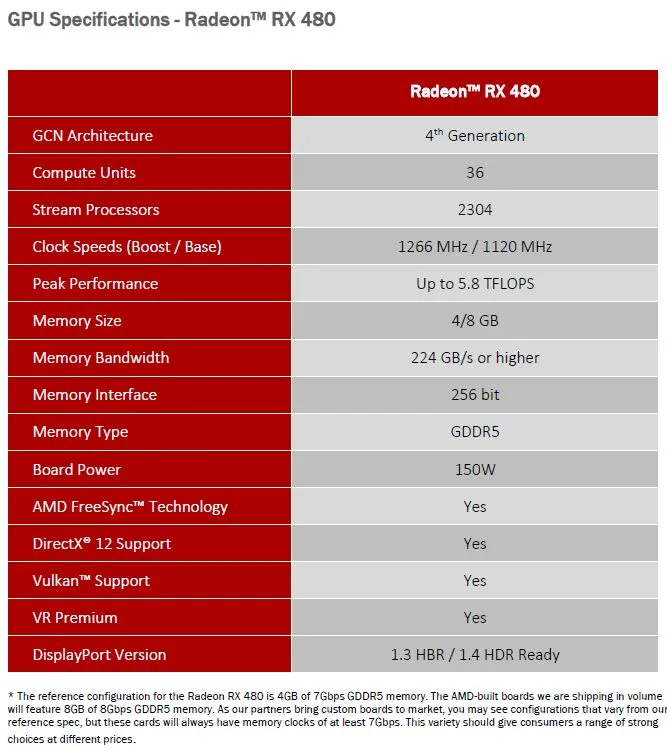 The above specifications are for the 8GB version of RX 480 which uses 8GB of 8Gbps GDDR5 memory. Now here are the specifications for the Gigabyte RX 480 8GB G1 Gaming Edition.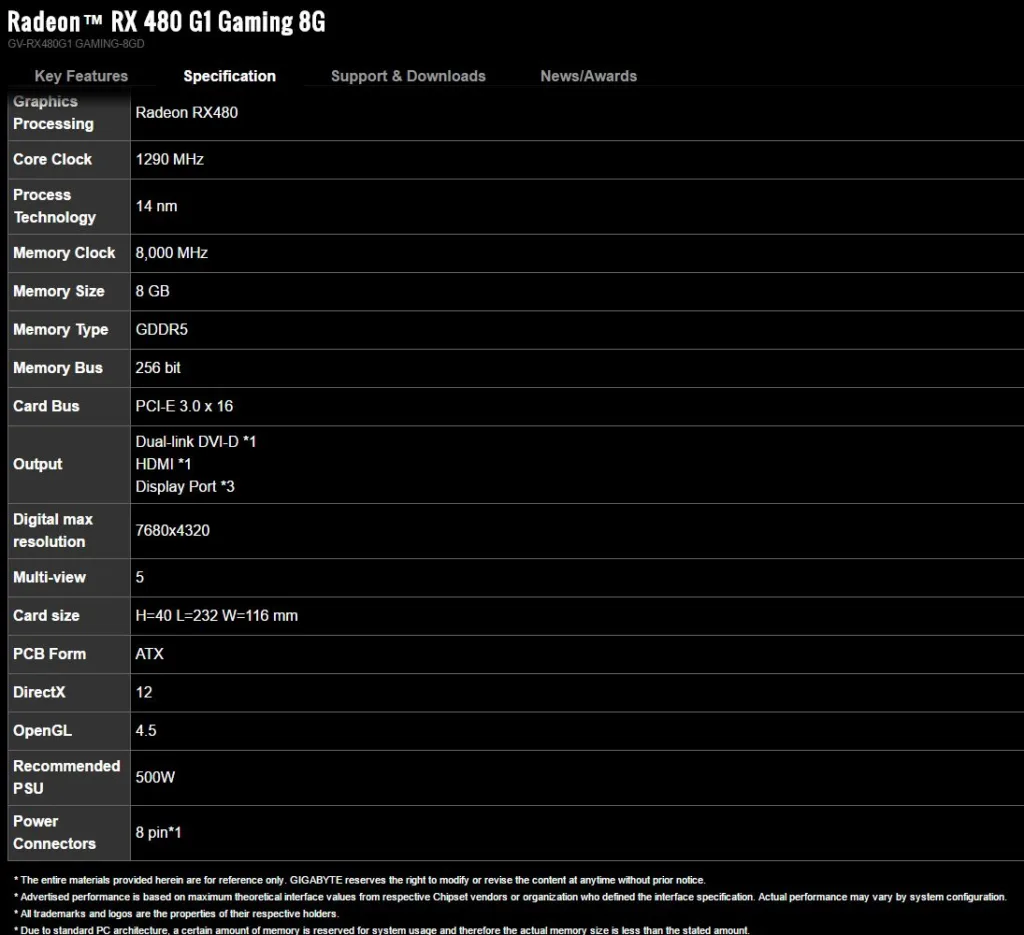 The Gigabyte RX 480 G1 Gaming has a factory-set maximum boost clock of 1290MHz, or 24MHz higher than the reference 1266MHz core boost clocks.
Our Testbed of Competing Cards
Here is our testbed of 5 competing cards in approximately the $250 to $300 range. The Red Devil RX 480 OC has had its price lowered at Newegg this week from $279 to $259 ($249 after $10 mail-in-rebate) and many of the RX 480s cards have a BF1 upgrade discount bundle worth perhaps $20.
We also present our "Big Picture" which includes all of the above cards overclocked in addition to the Red Devil RX 470, the EVGA GTX 1060 3GB, the GTX 1070, the GTX 970 OC, the GTX 960 OC and the R9 280X.
Testing Platform
Our testing platform is Windows 10 Home 64-bit, using an Intel Core i7-6700K at 4.00GHz which turbos to 4.4GHz for all cores as set in the ASRock Z7170 motherboard's BIOS, and 16GB of G.SKILL DDR4 at 3000MHz. The settings and hardware are identical except for the two cards being tested.
We will compare the performance of 25 modern games at 1920×1080 and at 2560×1440 resolutions with maximum settings featuring our newest 2016 games, Mirror's Edge Catalyst and Deux Ex Mankind Divided, and we also include Ashes of the Singularity, Hitman, Rise of the Tomb Raider, and Total War Warhammer using DX12. We have also added Futuremark's DX12 benchmark, Time Spy.
First, let's take a closer look at the Gigabyte RX 480 8GB G1 Gaming edition.
A Closer Look at the Gigabyte RX 480 8GB G1 Gaming
The Gigabyte RX 480 G1 advertises itself as a card ready for HDR and gaming. DX12 support, 14nm, and FreeSync are also emphasized on the front of the box together with RGB Spectrum, WindForce and OC Edition.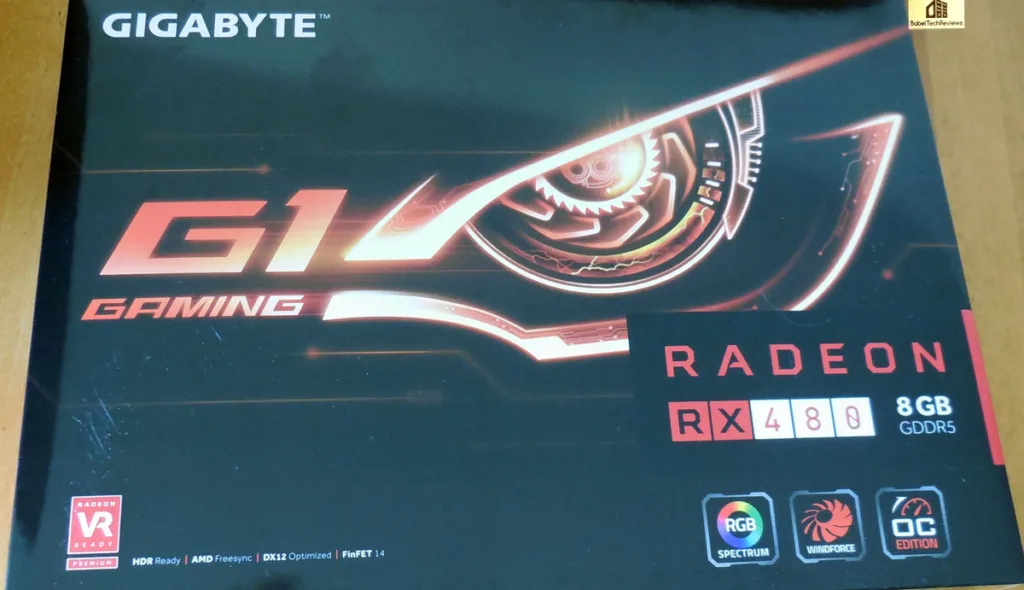 Here is the other side of the box showing off the WindForce 2X cooling system along with other important features of the G1.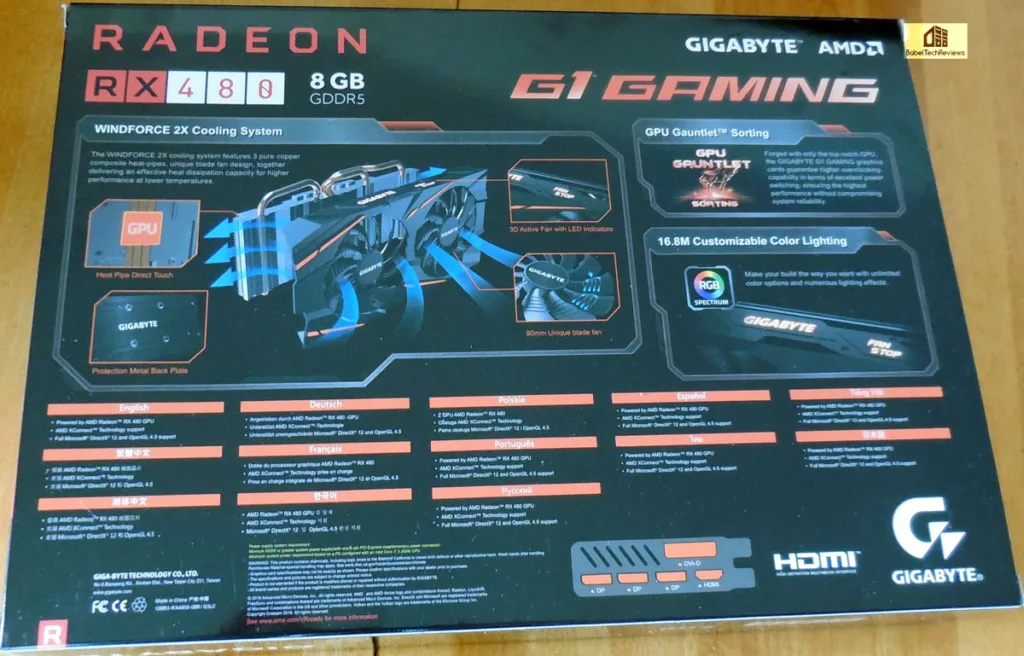 The model name is on the side panel.

The G1 comes well-packed and also in anti-static bag.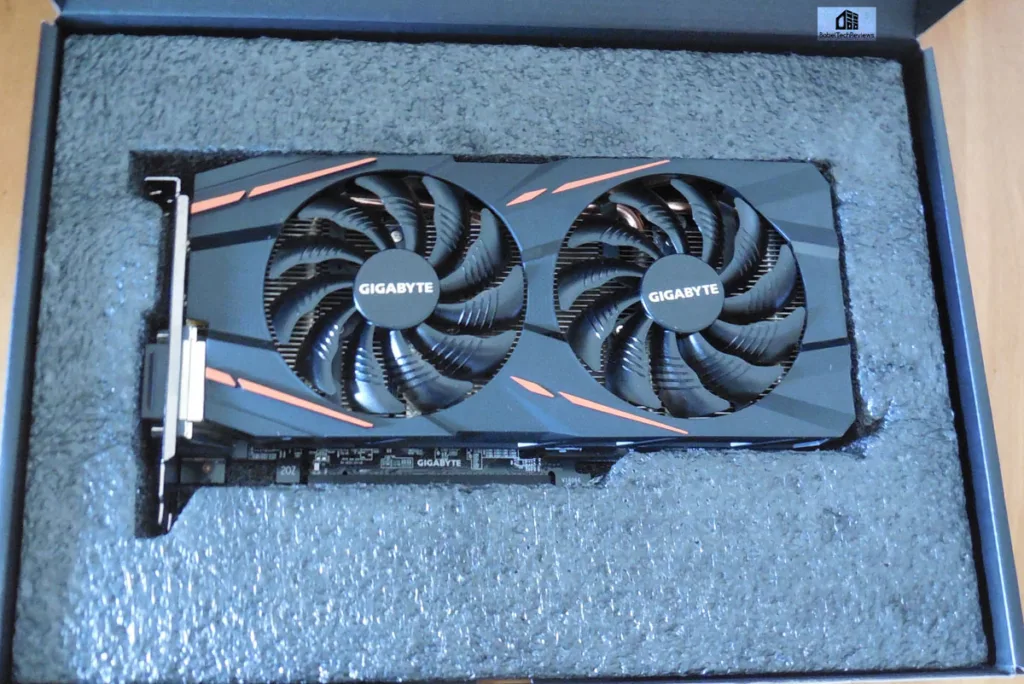 The packing is good but there is no bundle, just a quick guide. The Gigabyte RX 480 G1 Gaming is a good looking and solidly built card using heatpipes coupled with a radiator and twin fan technology called WindForce 2X to cool the GPU. When the temperature of the GPU is below about 60C, the fans turn off completely.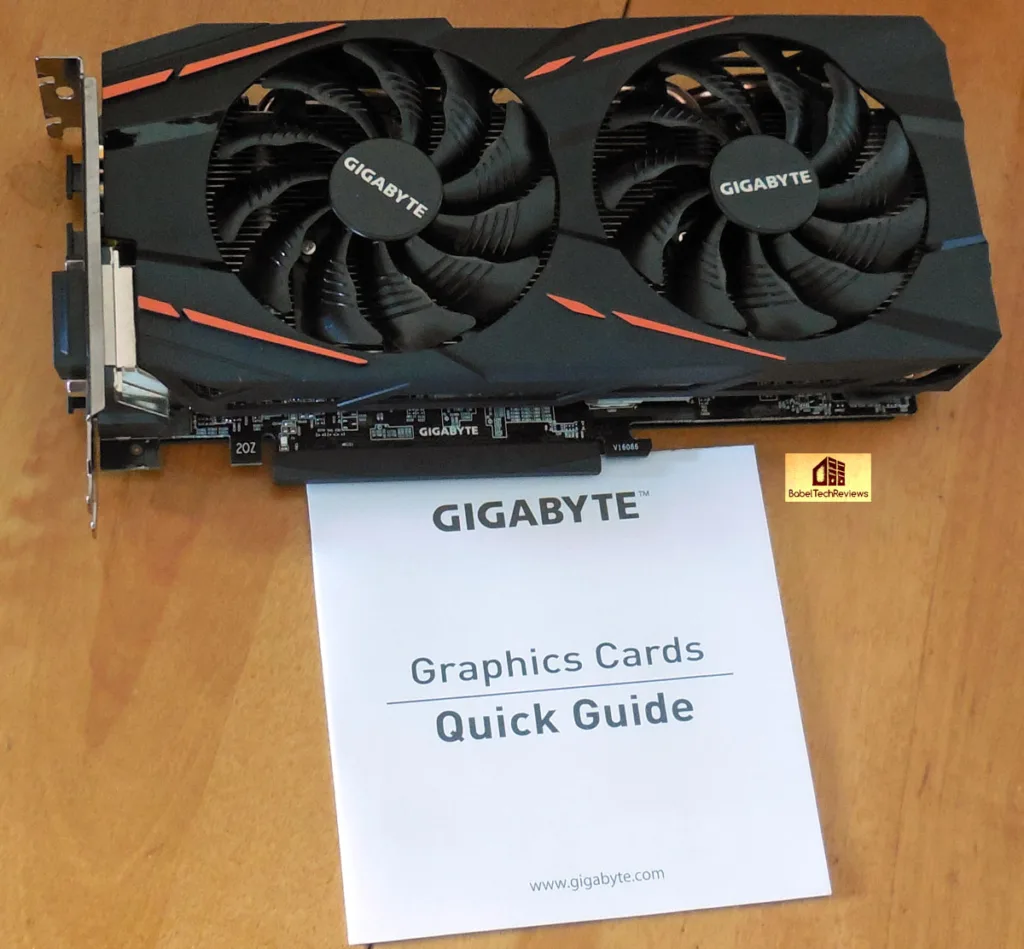 Turning the G1 over, we see it is has a solid backplate. Interestingly, there are no ventilation holes although their lack did not seem to adversely impact temperatures.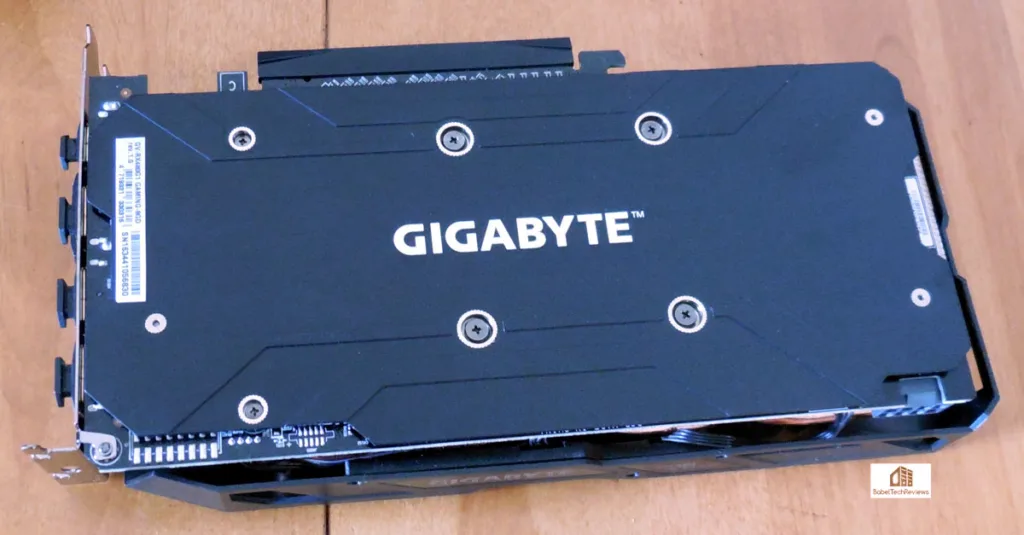 The G1's connectors include 3 DisplayPorts and 1 HDMI connection and a Dual-Link DVI connector. The reference version of the RX 480 lacks the DVI connector.
The reference version of the RX 480 uses only one 6-pin PCIe connector which got our two samples into trouble with power draw over the PCIe slot and also upset the stability of our PC when we tried to overclock it. On the other hand, Gigabyte wisely uses an 8-pin power connector for better stability and for better overclocking potential.
The Gigabyte RX 480 G1 Gaming edition is a handsome card that appears to be solidly built. Let's check out its performance after we look over our test configuration on the next page.
Test Configuration – Hardware
Intel Core i7-6700K (reference 4.0GHz, HyperThreading and Turbo boost is on to 4.4GHz; DX11 CPU graphics).
ASRock Z7170M OC Formula motherboard (Intel Z7170 chipset, latest BIOS, PCIe 3.0/3.1 specification, CrossFire/SLI 8x+8x)
G.Skill Ripjaws V 16GB DDR4 (2x8GB, dual channel at 3000MHz)
Gigabyte RX 480 8GB G1 Gaming, at Gigabyte factory clocks and further overclocked.
EVGA GTX 1060 SC 6GB, at reference and EVGA factory clocks, supplied by EVGA
PowerColor Red Devil RX 480 OC 8GB, at reference and at PowerColor clocks, supplied by PowerColor.
PowerColor Red Devil RX 470, at PowerColor clocks, supplied by PowerColor
EVGA GTX 1060 3GB, reference clocks, supplied by EVGA
GALAX GTX 970 EXOC, 4GB, at GALAX factory clocks, supplied by GALAX
GTX 1070 8GB Founders Edition, Supplied by Nvidia
ASUS GTX 960 OC 2GB, at ASUS clocks, supplied by ASUS
PowerColor R9 280X, 3GB, at reference clocks, supplied by PowerColor
Two 2TB Toshiba 7200 rpm HDDs for each platform
EVGA 1000G 1000W power supply unit (for both platforms)
Thermaltake Water2.0, supplied by Thermaltake
Onboard Realtek Audio
Genius SP-D150 speakers, supplied by Genius
Thermaltake Overseer RX-I full tower case, supplied by Thermaltake
ASUS 12X Blu-ray writer
Monoprice Crystal Pro 4K
Test Configuration – Software
GeForce WHQL 372.70 was used for the EVGA GTX 1060 SC. Check the Big Picture chart for other Nvidia driver versions. High Quality, prefer maximum performance, single display. See control panel images below.
AMD Crimson Software 16.9.1 hotfix drivers were used for the benching the Gigabyte RX 480 and 16.8.X was used for the other RX 480s. Check the Big Picture chart for other AMD driver versions. See control panel image below.
VSync is off in the control panel.
AA enabled as noted in games; all in-game settings are specified with 16xAF always applied
All results show average frame rates including minimum frame rates shown in italics on the chart next to the averages in smaller font. Percentage differences are calculated between the average frame rates of the RX 480 and of the GTX 1060 SC.
Highest quality sound (stereo) used in all games.
Windows 10 64-bit Home edition, all DX11 titles were run under DX11 render paths. Our four DX12 titles are run under the DX12 render path. Latest DirectX
All games are patched to their latest versions at time of publication.
Gigabyte Xtreme Engine overclocking utility
Sapphire TriXX overclocking utility
EVGA's Precision XOC, reviewer's version 6.

The 25 PC Game benchmark suite & 2 synthetic tests
Synthetic
Firestrike – Basic & Extreme
Time Spy DX12
DX11* Games
Crysis 3
Metro: Last Light Redux (2014)
Middle Earth: Shadows of Mordor
Alien Isolation
Dragon's Age: Inquisition
Dying Light
Grand Theft Auto V
ProjectCARS
the Witcher 3
Batman: Arkham Origins
Mad Max
Fallout 4
Star Wars Battlefront
Assassin's Creed Syndicate
Just Cause 3
Rainbow Six Siege
DiRT Rally
Far Cry Primal
Tom Clancy's The Division
Mirror's Edge Catalyst
Deus Ex Mankind Divided
DX12 Games
Ashes of the Singularity
Hitman
Rise of the Tomb Raider
Total War: Warhammer
AMD Crimson Control Center Settings: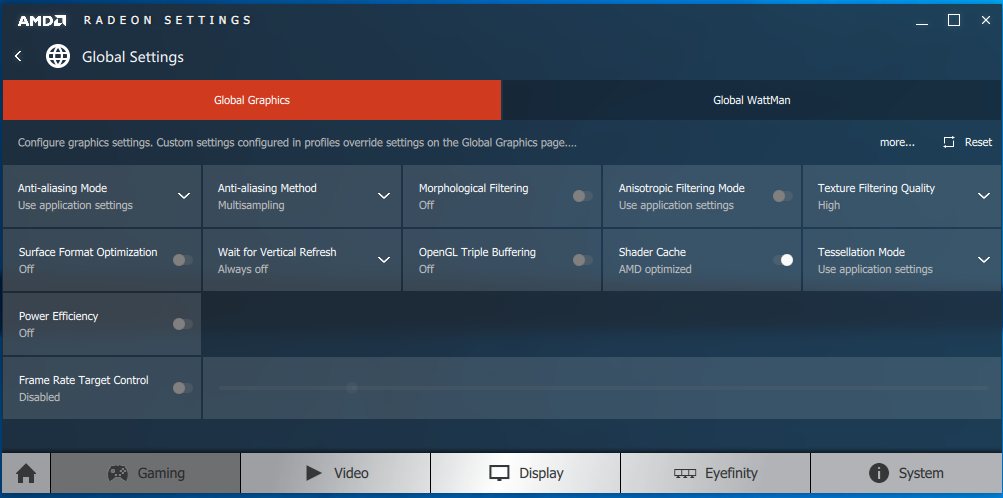 Nvidia Control Panel settings:

Let's check out overclocking next.
Overclocking the Gigabyte RX 480 G1 vs. the EVGA GTX 1060 SC and vs. the Red Devil RX 480
We used Sapphire's TriXX to set our overclock since the latest version allows voltage boosts higher than by using AMD's WattMan or by Gigabyte's utility. The PowerColor Red Devil version of the RX 480 8GB is factory clocked up to it's maximum boost speeds of 1330MHz , up from 1266MHz at stock while the Gigabyte RX 480 G1 is factory clocked at 1290MHz.
We found that as long as the temperatures remain remain relatively cool (below 76 F) and the Power and Temperature limits are maximized, the G1 will not throttle even when overclocked to its maximum, and temperatures peak right around 80C. Even at 100% fan, the noise level is acceptable and the temperatures generally stay in the mid to upper 60s C with the GPU under full load. The dual-fan Gigabyte RX 480 G1 Gaming WindForce 2X video card is a noticeably quieter card than the tri-fan cooled PowerColor Red Devil RX 480 OC.
We settled on a 1415MHz core boost (from 1266MHz stock/1290MHz G1 clocks) with the memory clocks at 8600MHz (from 7000MHz stock). Our sample of the G1 is able to overclock about +15MHz higher on its core than our sample of the Red Devil RX 480 OC, and it does it more quietly. Matching higher memory clocks gained significant performance for both the G1 and for the Red Devil RX 480, whereas with our other RX 4x0s, higher memory clocks would generally negatively impact performance.
Overclocking the EVGA GTX 1060 SC
We devoted a separate overclocking evaluation to the EVGA GTX 1060 SC using PrecisionX OC which you can read here. We achieved a final stable overclock of +100 MHz to the core which settled in around 2088MHz with GPU Boost 3.0 for the majority of our benching as we kept our room cool (72 F) for all of our game benchmarks. Our memory overclock remained at +700MHz for its clock of 4705MHz which greatly contributed to the increased performance. The fan never became intrusive when pushed from 90% to 100% – it produces a louder "whoosh" of air without an annoying whine, but the GPU remained cool in the low to mid-60s C.
Let's head to the performance chart to see how the Gigabyte RX 480 8GB G1 Gaming compares with its competing cards of Summer, 2016.
Performance summary charts
Below is the summary chart of 25 games and 2 synthetic tests. The highest settings are always chosen and it is usually DX11; DX12 is picked above DX11 where available. Specific settings are listed on the performance charts. The benches were run at 1920×1080 and at 2560×1440.
All results, except for FireStrike and Time Spy, show average frame rates and higher is always better. Minimum frame rates are shown when they are available and they make sense, next to the averages but they are in italics and in a slightly smaller font. The reference RX 480 results are in the first column, the Gigabyte RX 480 G1 is in the second column, the PowerColor Red Devil RX 480 results are in the third column, the overclocked G1 in the fourth, the overclocked Red Devil is in the fifth, the reference GTX 1060 is in the sixth, the EVGA GTX 1060 SC results are in the seventh column, the overclocked EVGA GTX 1060 SC results are in the last column.
The Gigabyte RX 480 G1 gaming is faster than the reference RX 480 and only slightly slower than the Red Devil RX 480. When the G1 is overclocked, it generally beats the Red Devil. However, the GTX EVGA GTX 1060 SC is an excellent overclocker, and even though we got a very good overclock with our G1 and Red Devil RX 480s, the GeForce card wins most of the benches.
The Big Picture
Here is the bigger picture comparing the Gigabyte RX 480 8GB G1 Gaming against several stock and overclocked GTX 1060s, with RX 470s, and with RX 480 results. The GTX 1070 results as well as the GTX 970, GTX 960 and RX 280 results are added also. Please open this chart in a separate window or tab for better viewing.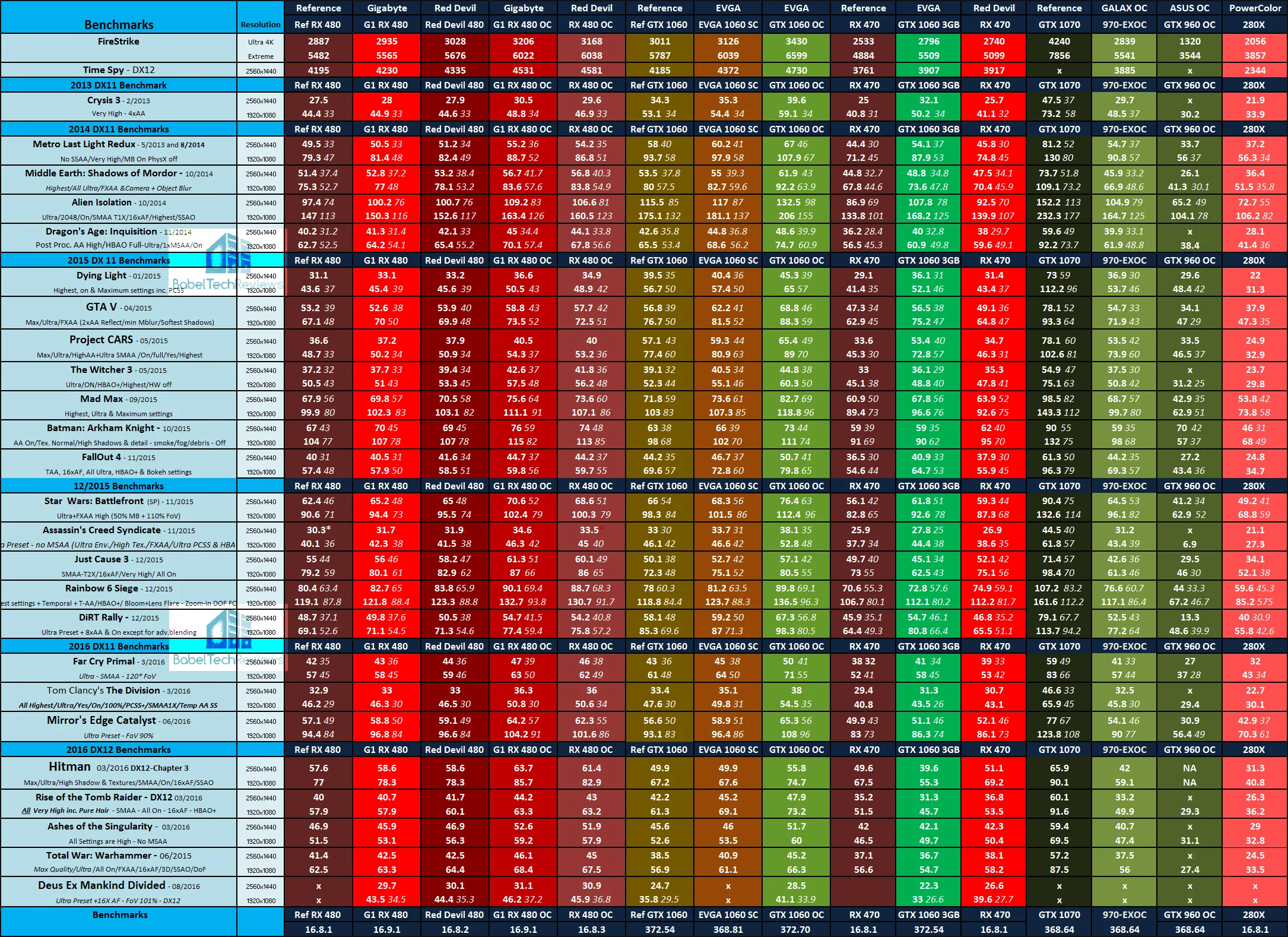 Let's head to our conclusion.
Conclusion
We have no trouble giving a big recommendation to the Gigabyte RX 480 8GB G1 Gaming Edition with WindForce 2.0 cooling. At $269 it looks great, runs cool and it is very quiet, and its out of the box performance is similar to the competing Red Devil RX 480 for a similar price. Best of all, its cooling is quieter than the Red Devil's, and our particular G1 was able to achieve a slightly higher overclock which is quite respectable for a RX 480.
Gigabyte RX 480 8GB G1 Gaming Pros
The Gigabyte RX 480 8GB G1 beats the Red Devil RX 480 OC overall in overclocked performance. Its cooling system is also quieter.
With one 8-pin PCIe connector, the G1 overclocks much better than with the reference version's 6-pin connector.
Overclockability is good out of the box – there is no throttling as long as the PowerLimit is at maximum and the GPU is kept cool.
The G1 is well-built, looks great, and the backplate adds to its value. The LEDs and customizable RGB lighting add to the aesthetics.
FreeSync helps to smooth gaming framerates by syncing the display to the GPU and it allows for smooth framerates without stuttering or tearing.
Gigabyte has excellent support and a 3-year warranty.
Cons
The EVGA GTX 1060 SC at the same price is generally faster for DX11 games and it has more overclocking headroom.
The Verdict:
If you are buying a fast video card right now and looking for good performance for a better than entry-level VR or for maxed out 1920×1080 gaming, the Gigabyte RX 480 G1 is an excellent choice. It beats the reference RX 480, it overclocks very well, and it runs cool and very quiet.
We would choose the Gigabyte RX 480 G1 for 1920×1080 gaming and perhaps for even higher resolutions, and we would like to award it BTR's Editor's Choice Award.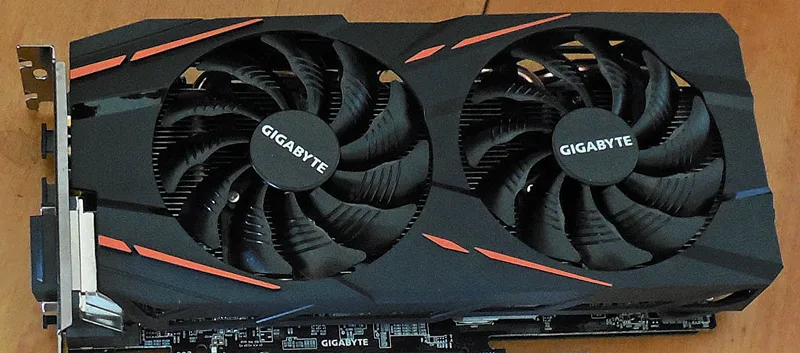 However, compared with similarly-priced Nvidia offerings, the GTX 1060 SC 6GB is a faster card at stock, and due to its superior overclocking headroom, it pulls even further away from the overclocked RX 480s winning most of the benchmarks. If you currently game on an older generation video card like the 280X or a GTX 960, you will do yourself a big favor by upgrading to either card. The move to a RX 480 or a GTX 1060 will give you better visuals on the DX11 and DX12 pathways.
Stay tuned, there is a lot coming from us at BTR. By using our entire benchmark suite, next week we are going to evaluate Kingston's 3333MHz 16GB DDR4 memory kit to see if it is worthwhile to upgrade from 3000MHz memory for the Skylake platform. And we have received a PowerColor Devil Box – an external Thunderbolt 3 graphics adapter – which we are going to benchmark next week for you.
Happy Gaming!