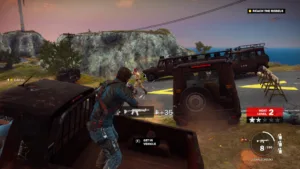 As regularly featured by BabelTechReviews, this driver performance analysis charts the performance of 31 games using the GeForce WHQL 359.06 driver released on December 1. However, in a change from our usual driver performance evaluation, we are also focusing on GeForce WHQL 361.43 that was released last week on December 21, versus AMD's latest Crimson Software version 15.12, using our four newest games: Assassin's Creed Syndicate, Just Cause 3, Rainbow Six Siege, and DiRT Rally.
For this evaluation, we are comparing the GTX 980 Ti and the GTX 980 to the Radeon Fury X, and the 290X to the GTX 970, while also looking at the bigger picture by adding 390X OC and 290X CrossFire and GTX 980 Ti to check CrossFire and SLI scaling across 31 games at 1920×1080, 2560×1440, and at 3840×2160 resolutions, our largest benching suite ever.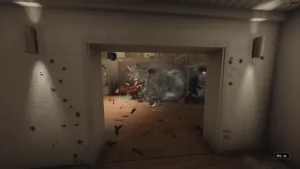 BTR's The Big Picture, once reserved for video card reviews is now included in every driver performance analysis. We want to document the performance changes of the WHQL 359.06 driver since Nvidia's last 359.00 WHQL driver set on Windows 10, as well as taking a closer look at the performance changes of GeForce WHQL 361.41 driver with our 4 new target games.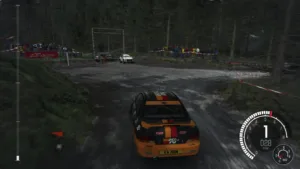 We also benchmarked all of our games using the GTX 980 with Nvidia's latest driver, WHQL GeForce 361.43, and observed that the only game other than the four newest ones we are documenting here that had any performance changes greater than 3% (which is considered the margin of benchmarking error) was Wolfenstein: The New Blood (with about 5% improvement at 2560×1440), so our next driver performance analysis will be in 2016.
It is clear that Nvidia is focusing on VR and especially on the very latest games with their newest driver. AMD also appears to be focused on these same four games with Crimson Software 15.12 over 15.11.1, so this will be an interesting evaluation.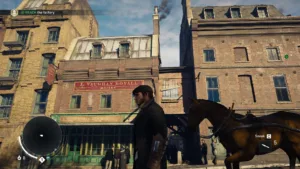 Our testing platform is Windows 10 Home 64-bit, using an Intel Core i7-4790K at 4.00GHz which turbos to 4.4GHz for all cores, an ASUS Z97E motherboard, and 16GB of Kingston "Beast" HyperX DDR3 at 2133MHz. The settings and hardware are identical except for the drivers being tested.
At GTX 970 and above, we test at higher settings and resolutions generally than we test midrange and lower-end cards at. All of our games are now tested at three resolutions and we use DX11 with a very strong emphasis on the latest games. For our next performance analysis, we will add the R9 280X which has nearly identical performance to the newly-released 380X, and we will drop 390X OC results. Let's get right to the test configuration, to the driver release notes, and then to the results.
Test Configuration – Hardware
Intel Core i7-4790K (reference 4.0GHz, HyperThreading and Turbo boost is on to 4.4GHz; DX11 CPU graphics), supplied by Intel.
ASUS Z97-E motherboard (Intel Z97 chipset, latest BIOS, PCIe 3.0 specification, CrossFire/SLI 8x+8x)
Kingston 16 GB HyperX Beast DDR3 RAM (2×8 GB, dual-channel at 2133MHz, supplied by Kingston)
GeForce GTX 980 Ti, 6GB reference clocks, supplied by Nvidia
EVGA GTX 980 Ti SC, 6GB, at reference clocks in SLI, supplied by EVGA
GeForce GTX 980, 4GB, reference clocks, supplied by Nvidia
GALAX GTX 970 EXOC 4GB, GALAX factory clocks (1164MHz/7010MHz with 1430MHz boost on this sample), supplied by GALAX
PowerColor R9 Fury X 4GB, stock clocks.
VisionTek R9 290X 4GB at stock Uber clocks but with the fan allowed to spin up to 100% to prevent throttling.
PowerColor R9 290X PCS+ ( overclocked reference design), at stock Uber clocks in CrossFire with the fan allowed to spin up to 100% to prevent throttling.
MSI R9 390X OC 4GB at the MSI factory overclock,1080MHz/1500MHz
Two 2TB Toshiba 7200 rpm HDDs
EVGA 1000G 1000W power supply unit
Cooler Master 2.0 Seidon, supplied by Cooler Master
Onboard Realtek Audio
Genius SP-D150 speakers, supplied by Genius
Thermaltake Overseer RX-I full tower case, supplied by Thermaltake
ASUS 12X Blu-ray writer
Monoprice Crystal Pro 4K
Test Configuration – Software
Nvidia GeForce 359.06 WHQL drivers for the GTX 970, GTX 980 and GTX 980 Ti, including for SLI (and GeForce 361.41 WHQL tested with the GTX 980, and for Assassin's Creed Syndicate, Just Cause 3, Rainbow Six Siege, and DiRT Rally with all other GeForce single GPU cards). High Quality, prefer maximum performance, single display.
AMD Crimson Software 15.11.1 for all AMD cards (except 390X using 15.8; and 290X CrossFire tested using 15.11) and all games, and also 15.12 for Assassin's Creed Syndicate, Just Cause 3, Rainbow Six Siege, and DiRT Rally.
VSync is off in the control panel.
AA enabled as noted in games; all in-game settings are specified with 16xAF always applied
All results show average frame rates except for minimum frame rates (m) shown for 4 games as noted on the charts.
Highest quality sound (stereo) used in all games.
Windows 10 64-bit Home edition, all DX11 titles were run under DX11 render paths. Our only DX12 title is run under the DX12 render path. Latest DirectX
All games are patched to their latest versions at time of publication.
EVGA's PrecisionX, latest version.
The 31 Game benchmarks & 2 synthetic tests
Synthetic
Firestrike – Basic & Extreme
Heaven 4.0

DX11* Games

STALKER, Call of Pripyat
the Secret World
Sleeping Dogs
Hitman: Absolution
Tomb Raider: 2013
Crysis 3
BioShock: Infinite
Metro: Last Light Redux (2014)
Battlefield 4
Thief
Sniper Elite 3
GRID: Autosport
Middle Earth: Shadows of Mordor
Alien Isolation
Far Cry 4
Dragon's Age: Inquisition
The Crew
Total War: Attila
Wolfenstein: The Old Blood* (*OpenGL game)
Grand Theft Auto V
ProjectCARS
the Witcher 3
Batman: Arkham Origins
Mad Max
Metal Gear Solid V: The Phantom Pain
Fallout 4
Assassin's Creed Syndicate
Just Cause 3
Rainbow Six Siege
DiRT Rally
DX12 Game
Ashes of the Singularity – Alpha Demo benchmark
The Crimson drivers come with a new interface that may take users some time to get used to. We feel the new interface is a big improvement over the older one, but there are still some issues – especially with changing resolutions and refresh rates that still need to be changed in Windows.
Here are the settings that we always use in AMD's Crimson Control Center for our default benching. They are identical settings to what we used in the older Catalyst Control Center.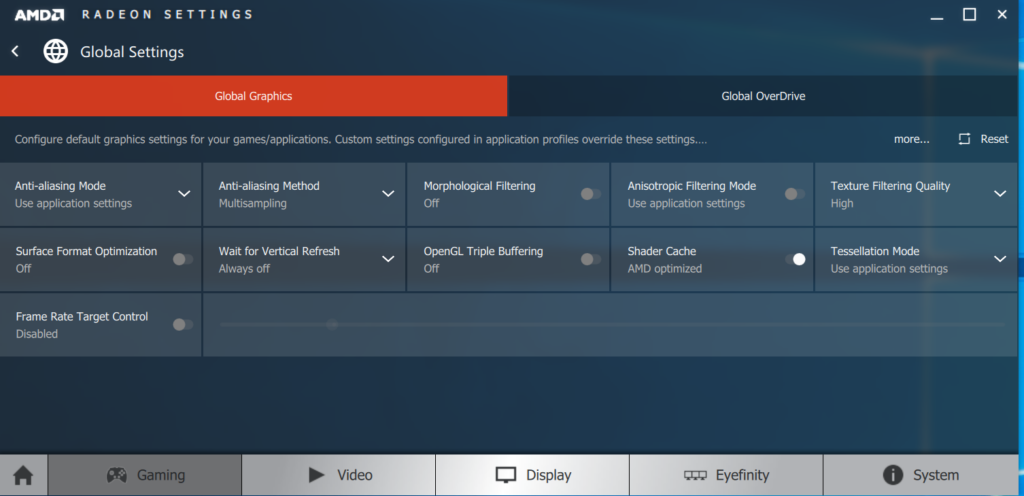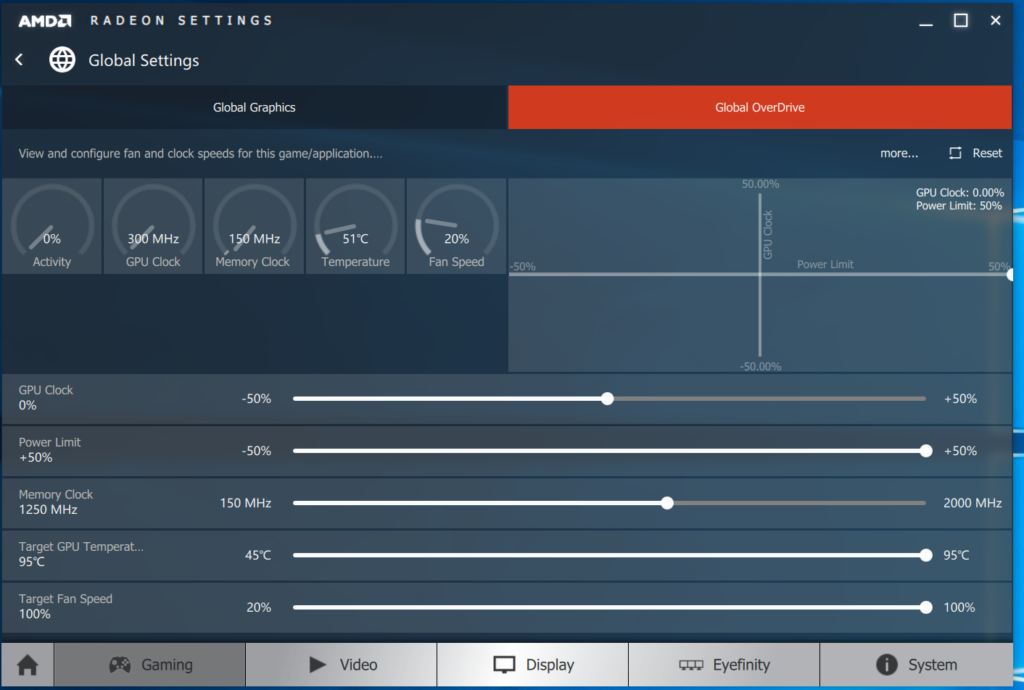 Notice that we bench our 290X with the fan set to allow it to spin up to 100%. It never throttles under our benching conditions.
Here is Nvidia's Control Panel and the settings that we run:Changes to BTR's benching suite
Since 31 games take us too long to benchmark, we are dropping 6 games which include four of our oldest games, and also two of the games with a 60 fps engine cap as they are very difficult to benchmark properly. We will no longer regularly bench Call of Pripyat, the Secret World, Hitman Absolution, BioShock Infinite, the Crew, and Metal Gear Solid V: The Phantom Pain, although we will occasionally bring them back for special evaluations together with other games that we have previously dropped.
We will also drop Heaven 4.0 from our benching suite with the next evaluation as it is relatively old, and the Unigine engine is still not used in very many games. We plan to bench a minimum of 25 of the newest and especially demanding games regularly, and we will add new games as they are released.
Release Notes Highlights for Crimson Software 15.11.1 and 15.12 Drivers
The release notes and download links for the Crimson Catalyst 15.11.1 beta drivers can be found here for Windows 10. The list is way too long to reproduce here as there have been major changes and a multitude of resolved issues and bug fixes. We have benched the Fury X and the 290X using this driver for the big picture. 290X CrossFire is still benched on Catalyst 15.11 and the 390X hasn't been updated since Catalyst 15.8 and is dropping from our picture and will be replaced in the next performance evaluation.
The release notes for Crimson Software 15.12 can be found here along with the download links. We have benched the Fury X and the 290X with the very latest AMD drivers for our four latest games.
Included Highlights:Visit the Features section from the above link to learn more about the following:

Radeon Settings
New Install UI
Liquid VR
Asynchronous Shaders
Shader Cache
Optimized Flip Queue Size
Freesync™ Enhancements
Custom Resolution Support
Frame Pacing Enhancements
Frame Rate Target Control Enhancements
Updated Video Feature support for 'Carrizo' products
Power Optimization
Directional Scaling
Dynamic Contrast Update
DisplayPort to HDMI 2.0 support
Release Notes Highlights for GeForce 359.06
The release highlights for GeForce 359.06 can be found here together with a download link for Windows 10/8.1/7 64-bit. Below is a short list highlighting the fact that Nvidia's WHQL driver release schedule is tied to the release of AAA games. All of our games are benchmarked with this driver with the addition of the latest GeForce driver (361.43) for our newest four games: Assassin's Creed Syndicate, Just Cause 3, Rainbow Six Siege, and DiRT Rally.
Prior to a new title launching, our driver team is working up until the last minute to ensure every performance tweak and bug fix possible makes it into the Game Ready driver. As a result, you can be sure you'll have the best day-1 gaming experience for your favorite new titles.

Game Ready
Learn more about how to get the optimal experience for Just Cause 3 and Rainbow Six: Siege
For the comprehensive release notes, you will need to download the .pdf
Release Notes Highlights for GeForce 361.43
The release highlights for GeForce 361.43 can be found here together with a download link for Windows 10/8.1/7 64-bit. Below is a short list highlighting the fact that Nvidia's WHQL driver release schedule is also tied to the release of GameWorks VR.
Although there is no specific mention of performance improvements for games over GeForce 359.06, we will see if this driver brings any performance improvements for the GTX 970, the GTX 980, and the GTX 980 Ti to Assassin's Creed Syndicate, Just Cause 3, Rainbow Six Siege, and DiRT Rally. GTX 980 Ti SLI is still benched with the older GeForce 359.06 WHQL driver for our Big Picture.
NVIDIA continues to work closely with VR headset and game developers to deliver amazing VR games and applications. This Game Ready driver includes the latest GameWorks VR tweaks, bug fixes, and optimizations to ensure you have the ultimate VR gaming experience.

Gaming Technology
Support added for GameWorks VR 1.1 including VR SLI support for OpenGL applications and support for the latest Oculus SDK
For the comprehensive release notes, you will need to download the .pdf
Let's look at our performance evaluation using AMD's and Nvidia's latest drivers for our 4 newest games.
Assassin's Creed Syndicate, Just Cause 3, Rainbow Six Siege, and DiRT Rally
Let's first look at Assassin's Creed Syndicate performance. We have already compared it here with Nvidia cards and also here with AMD drivers, but newer drivers have been released from both vendors which generally bring performance improvements to this game, along with the three brand new games that we have just added to our benching suite.
Assassin's Creed Syndicate
Assassin's Creed Syndicate is a huge open world game very much in the style of the earlier Assassin's Creed games, and it is similar to Unity but set in 1868, London, instead of in Paris. Syndicate has already replaced Unity in our benching suite as it is far more demanding. It also has much better visuals.
As the Unity story has moved from Paris during the French Revolution to the the Industrial Revolution in London of Syndicate, we witness the age of invention, transforming the lives of millions for better or worse. Opportunities that were created during this period have crowded London into a new commercial age fueled by greed and power.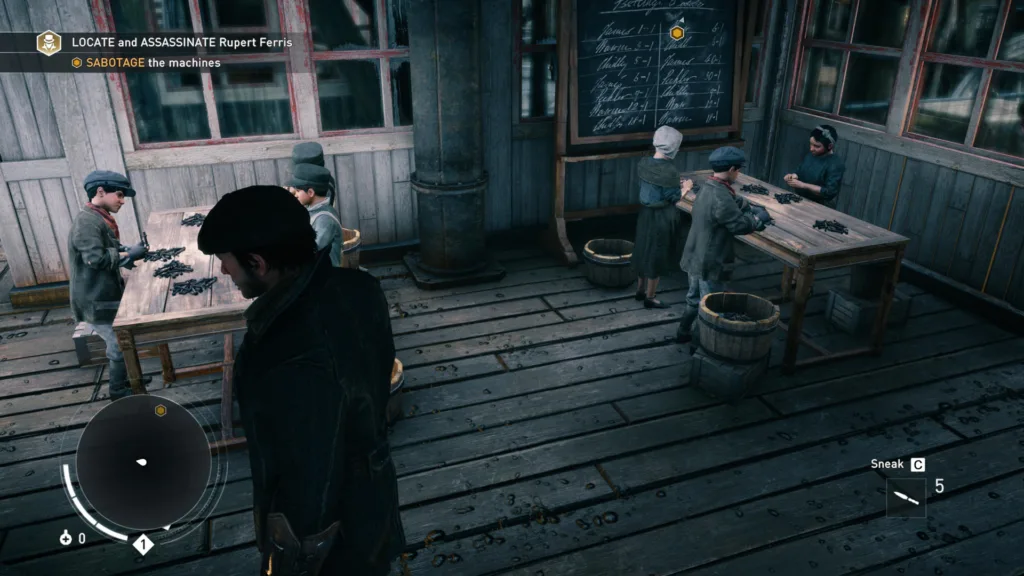 To fight back against the exploitation by the rich, the lower class unite by joining gangs and turning to a life in the underworld in their struggle just to survive. Organized gangs with their roots in the Industrial Revolution have continued to this day in the British Isles. Our two assassins join gangs and they side with the poor, so you can experience their story playing as both Evie and as her twin, Jacob. The controls have changed to now include the free run up and down which makes the characters easier to control when moving across the world quickly.
Assassin's Creed Syndicate implements Nvidia GameWorks technologies including Nvidia ShadowWorks – HBAO+ and Advanced Soft Shadows – and TXAA. Advanced Soft Shadows includes multiple shadow techniques such as PCSS (Percentage Closer Soft Shadows) and PCSS Ultra for more realism.
Syndicate looks far more "real" than Unity, but it means that if you want to play this game with settings fully maxed out and with FXAA – you will need at least a GTX 970 at 1920×1080. Do not even think of adding any MSAA with even a GTX 980 Ti unless you lower other settings!
Here are the settings that we used: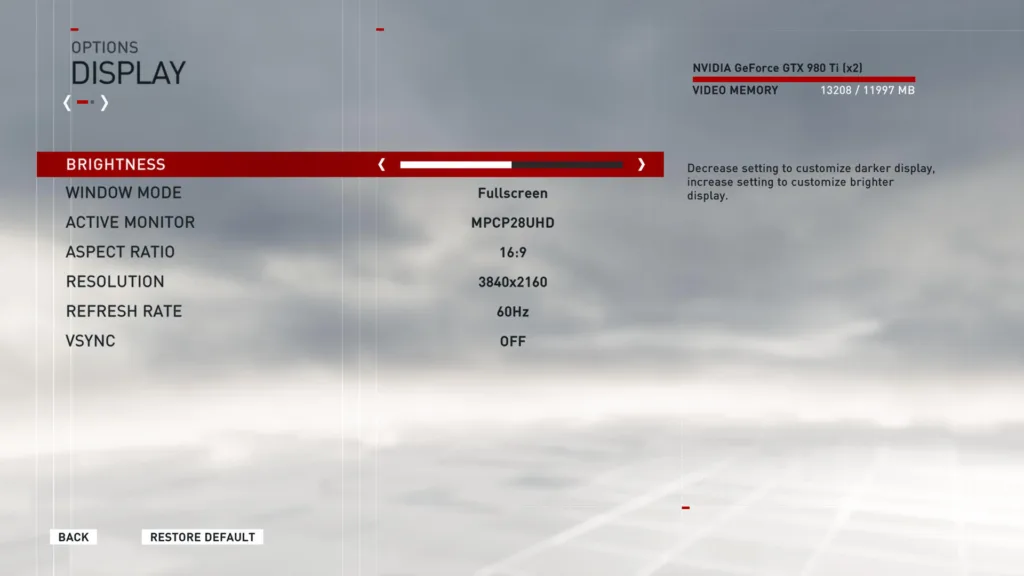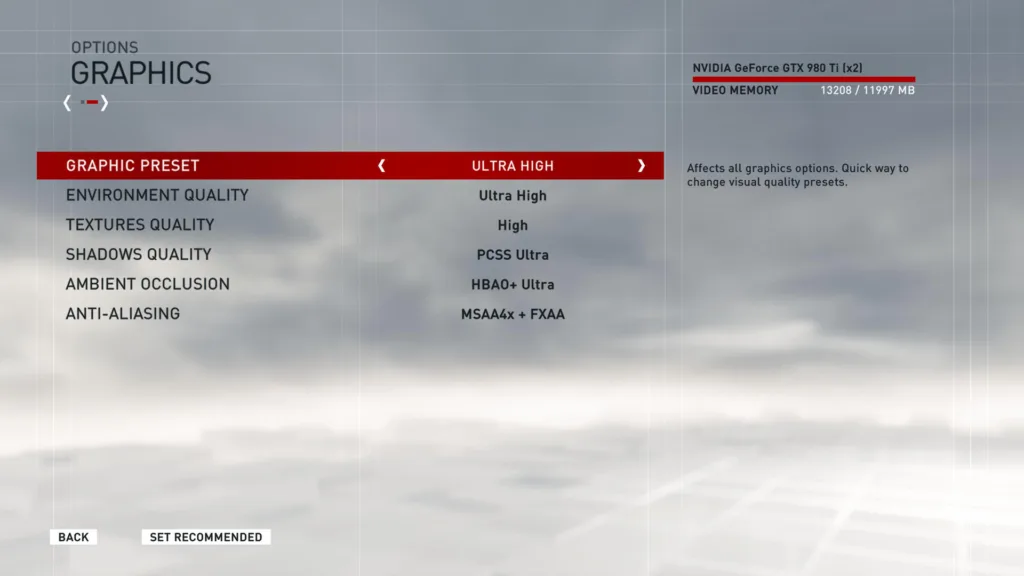 Of course, with all of these features set to ultra and maxed out (except for MSAA), the game looks spectacular, but it still requires a very powerful video card. Here are our Fraps run results over 2-3 driver sets with the minimum framerates (m) displayed for the latest drivers:

The GeForce cards have not changed performance significantly since GeForce 359.00. On the other hand, the Fury X appeared to originally have memory management issues with it's 4GB of vRAM on Crimson 15.11.1 drivers that were greatly improved, doubling its performance with the latest Crimson 15.12 software, but not the 290X which still has issues with any resolution over 1920×1080. We did not benchmark GTX 980 Ti SLI with the latest drivers, nor 290X CrossFire at all.
Just Cause 3
Just Cause 3 is a very large 400 square-mile open world action-adventure video game developed by Avalanche Studios and published by Square Enix. It is the third game in the Just Cause series and it is the sequel to the 2010 video game Just Cause 2. It was released worldwide for XBox One, PS4 and PC on December 1, 2015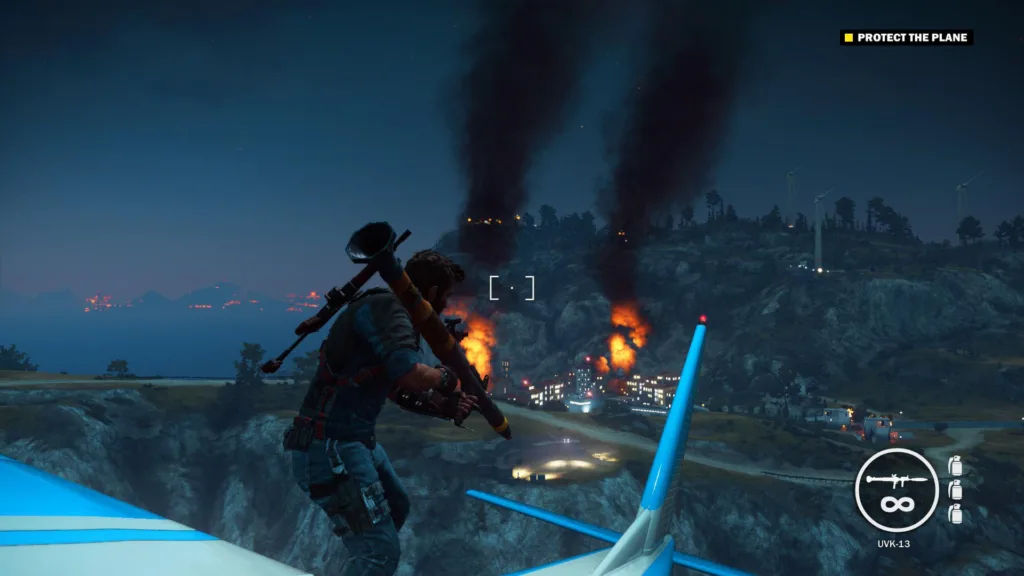 It's been five years since Rico Rodriguez appeared in Just Cause 2. He has returned home to Medici to find it under the control of another evil dictator, General Sebastiano Di Ravello, who has set his eyes on world domination. This scenario gives the player the best reasons to blow more stuff up and cause chaos.
As an upgrade from the previous game in the series, there are a multitude of new gadgets, guns, and vehicles, coupled with a brand new wingsuit that can be used together with the grapple and the parachute. The focus on causing chaos remain while continuing to maintain exaggerated physics. It is a very fun free-roaming game in the tradition of the Just Cause series. You never feel as though anything is "on rails" as you have the freedom to do just about anything at any time of your choosing.
The Graphics
Just Cause 3 also sees a significant graphics upgrade over Just Cause 2, with higher-definition textures, more complex and realistic destruction, the latest graphical effects, and a very good implementation of Nvidia's WaveWorks water technology.
Just Cause 3 is a beautiful video game with many scenes that could serve as postcards, and you're never more than a short distance away from something completely different. Best of all, the scenery reacts to your actions, even from a distance.
WaveWorks
Just Cause 2 had very good-looking water by using Nvidia's exclusive pre-GameWorks features, CUDA Bokeh water. This time it uses Nvidia's WaveWorks. In Just Cause 3, WaveWorks enable boats to move across waves more realistically, for water to crash on the shores, and for water in general to be enhanced and improved. The best way to describe WaveWorks is to see it in action. This is from Nvidia's example on Youtube:
The Gameplay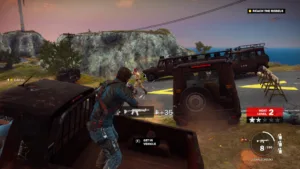 Just Cause 3's mechanics are awesome for blowing things up and for traveling quickly in this world. However, it is also frustrating as precision aiming is difficult and headshots even more so until you progress further in the game to unlock skills that improve it.
The HUD is also difficult to see when explosions fill the screen and there are still bugs being actively patched. Driving is also very difficult with a keyboard and mouse. These flaws can be forgiven because of the immense scope of the game and the extreme freedom the player is allowed, and everything else appears to work well.
Just Cause 3 is a lot of fun like its predecessor and the community has mods to look forward to that will be able to change the gameplay significantly. There is a lot of humor in the game and the voice acting is top notch. Unlike with it's predecessor, the cutscenes are great.
The Settings
For our benchmarking using a very repeatable Fraps run, we maxed out every setting except for Anti-Aliasing. Here are the settings that we use: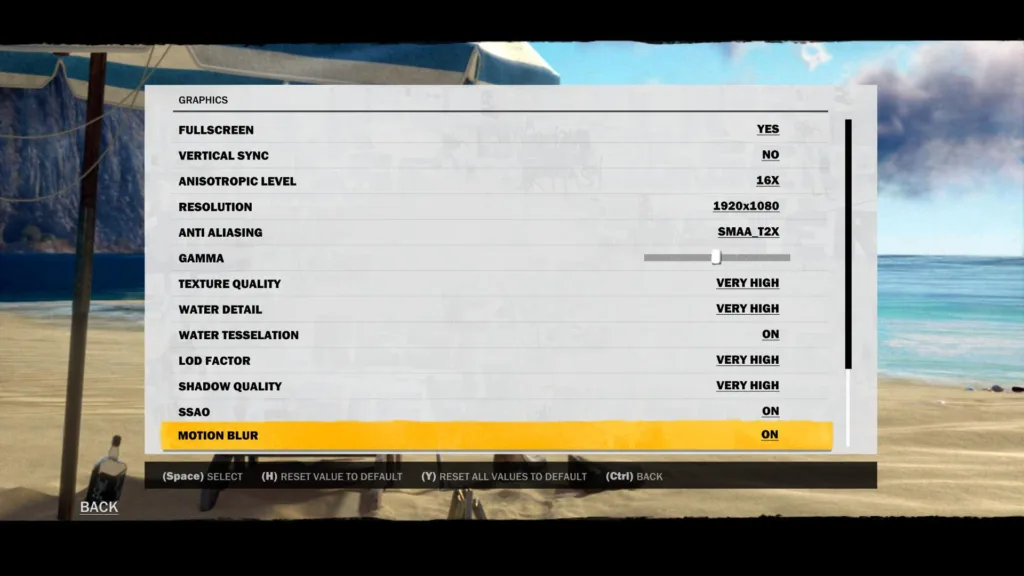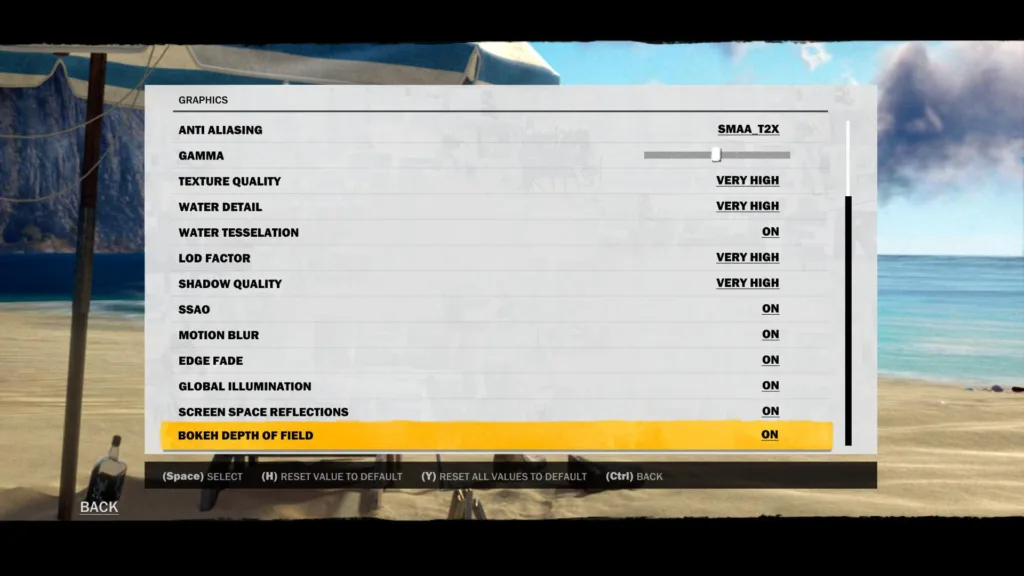 Performance
Performance is reasonable for an open world game, and a GTX 980 Ti can play it with maxed out (with SMAA-T2X) settings with minimums in the 30s fps at 4K resolution, while Fury X can manage the same settings with minimums dropping to the middle 20s. Ideally, these minimums should be brought up for smoothness of gameplay by lowering some settings.

Just Cause 3 also requires a decent quad-core CPU of at least an i7-3770 to maintain high minimums during the explosions as it is CPU-bottlenecked rather easily.
Just Cause 3 is a very welcome addition to BTR's regular benching suite, and we look forward to playing more of this game!
Rainbow Six: Siege
Tom Clancy's Rainbow Six Siege is the latest installment of the first-person shooter franchise, developed by the Ubisoft Montreal studio for the newest generation of home consoles and PC. On PC there are enhanced graphics, higher rendering resolutions, and it also uses Nvidia's GameWorks effects.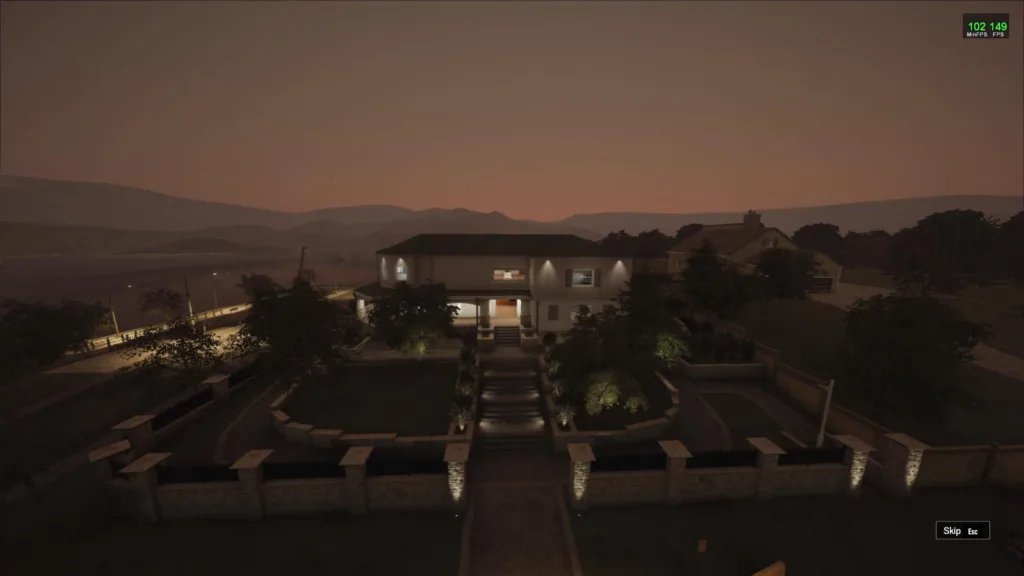 The Gameplay
Tom Clancy's Rainbow Six Siege focuses on tactical and very slow-moving gameplay that requires that you check every corner and turn before proceeding, or you will die very quickly. This kind of slow movement is interrupted by bursts of gunfire and explosions which require the player to instantly react. This game is a a multiplayer-focused title without a single-player campaign although you can play Terrorist Hunt missions solo for practice.
You have only one life and when you die, you're incapacitated for the rest of the round. Although there is no respawning, you can still help your team by watching a multitude of available camera feeds to report the enemy team's positions back to your team. Rainbow Six Siege is an excellent multiplayer game with all of the usual choices of characters, weapons, modifications, and equipment. But the matches usually play out unpredictably and often very well, even with random publicly available teams due to the complexity and multitude of the choices of tactics, mods, and gear. It is a very well-balanced multiplayer experience.
The destructible environments help to create the realism and immersion of Rainbow Six Siege. Different materials in the game react differently and realistically to different weapons and explosions. The audio is extraordinary. Weapon sounds are loud and realistic, including the way that sound travels through different environments. If you don't have an excellent audio system, a good pair of headphones is a must.
The Graphics
Ambient Occlusion (AO) adds contact shadows where two surfaces or objects meet, and where an object blocks light from reaching another nearby game element. The AO technique used affects the shadow's accuracy. Without Ambient Occlusion, scenes look less realistic and objects can even appear to be floating.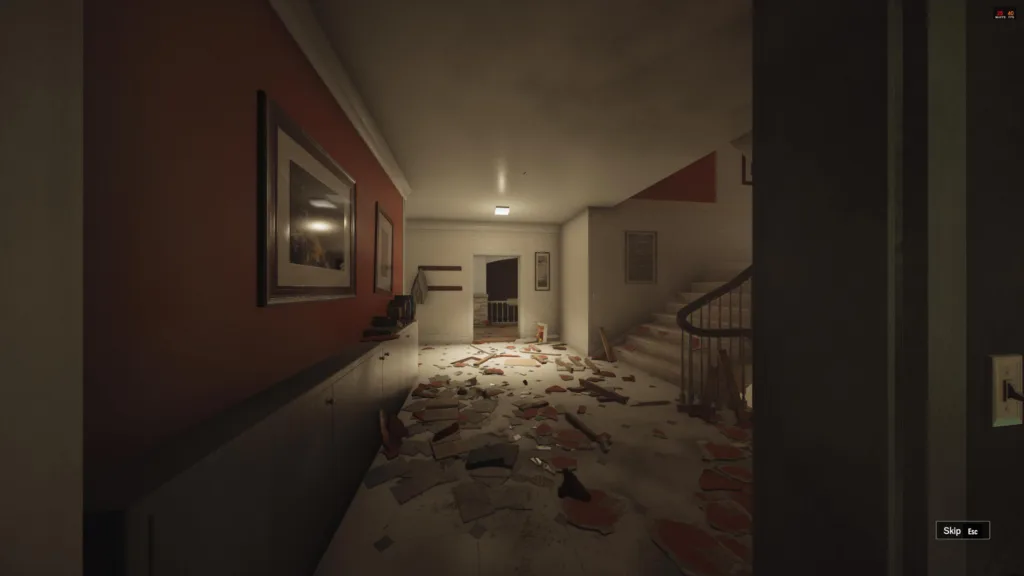 In Rainbow Six Siege, there are two Ambient Occlusion options: Ubisoft's own SSBC effect and Nvidia's HBAO+. Picking SSBC delivers greatly improved AO compared to SSAO as implemented in previous Ubisoft titles. However, HBAO+ is more accurate and it is usually worth the small performance hit over SSBC as the halos and other distortions are mostly eliminated. Using AO is crucial in such an unforgiving game where accuracy in aiming is crucial – you only get one life to complete a mission – and many players will prefer the higher draw distance and better accuracy that HBAO+ offers over SSBC.
The Settings
Here are the settings that we used: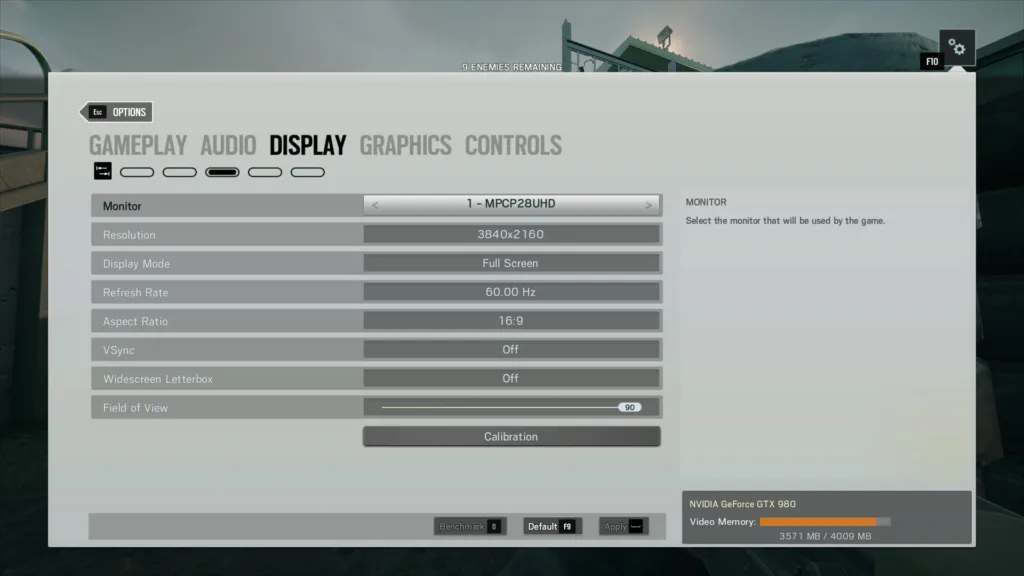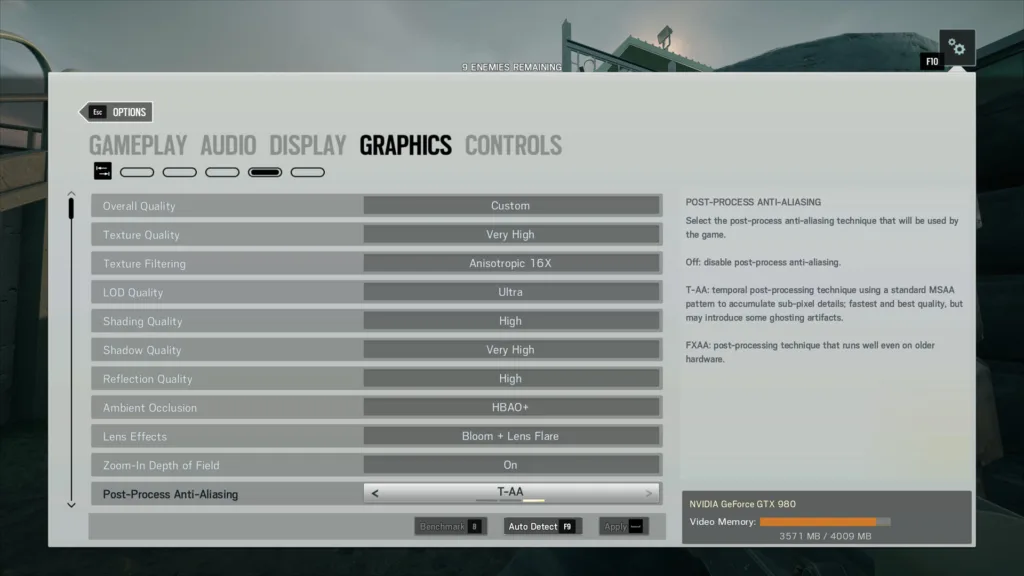 We enabled T-AA and only Temporal Filtering, but not MSAA as the performance hit was too great, cutting frame rates by more than half using a GTX 980 or a Fury X!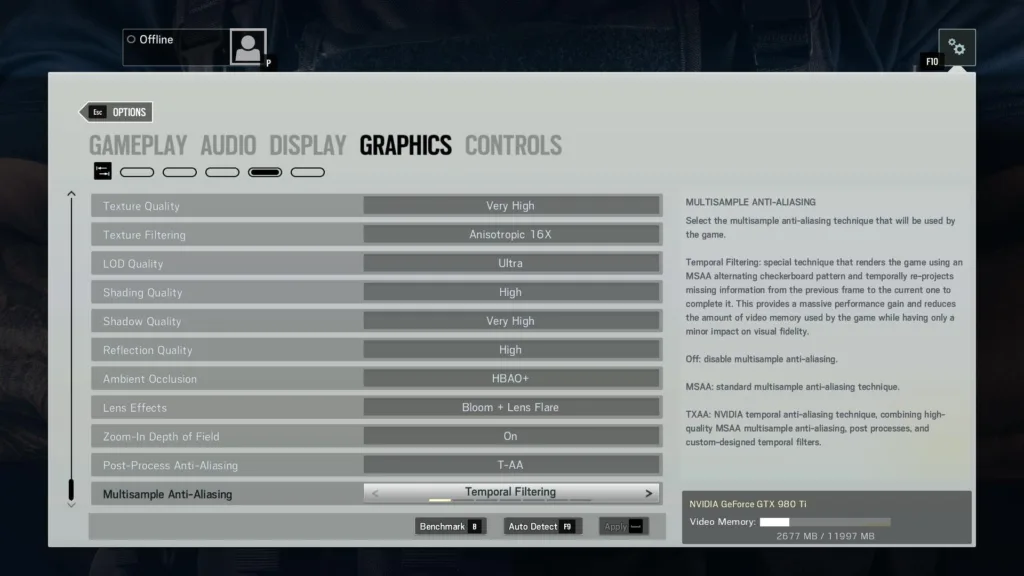 The Benchmark results
For our performance evaluation we use the built-in benchmark which requires that it be run from the starting menu – not in-game – by pressing "B" from the graphics options menu. This benchmark is very repeatable and accurate in comparing the performance of video cards although it is not absolutely representative of each multiplayer experience. This time we are also giving the minimum frame rates (m) together with the averages.

Tom Clancy's Rainbow Six Siege is an excellent multiplayer game that has good visuals and we have added it to BTR's regular benchmark suite.
DiRT Rally
DiRT Rally is the DiRT 4 that DiRT fans have been waiting for. Rally is true to its origins in the Colin McRae series. It is all about adrenaline-fueled simulation driving against the clock, across large expanses of countryside at top speeds amid changing and challenging weather conditions. Rally captures the essence of what makes a rally sim unique – the sense of trying to stay in control, racing along at breakneck speed while maximizing everything out of your car, and knowing that one crash will ruin your run.
DiRT Rally is not an easy game, and it is best played with a wheel. Although there is support for the keyboard plus mouse, at the least it should be played with a controller. It is very challenging and it will make you pay for every error. However, it is very satisfying to handle a good section perfectly, and it is very rewarding to complete a course with a good race stage time.
AMD sponsors DiRT Rally with advanced features like Forward+ Lighting, Contact Hardening Shadows, HDAO+ and GPU Particle Effects. Play on a 4K panel and Virtual Super Resolution are supported for AMD Eyefinity, AMD FreeSync and CrossFire technologies.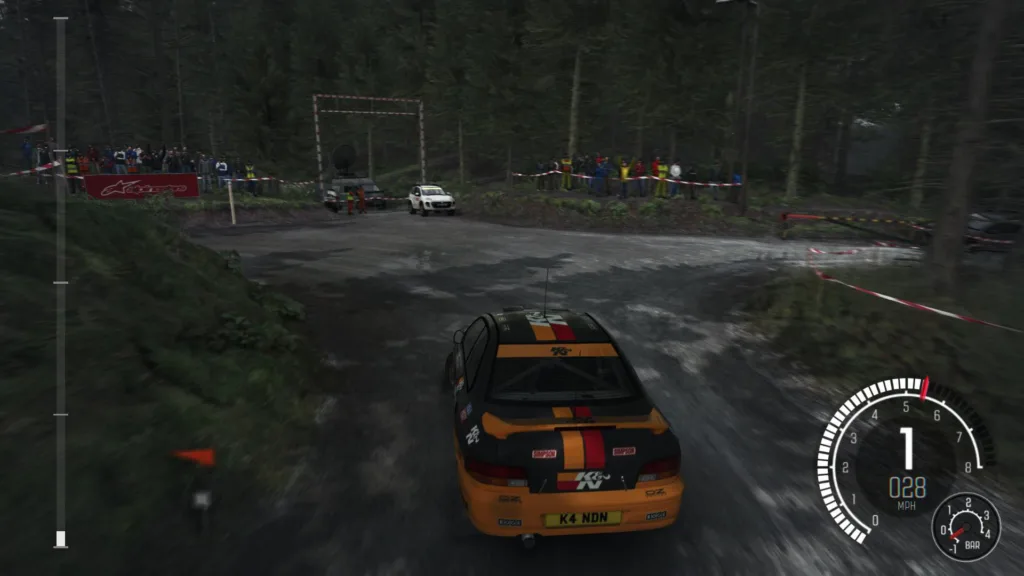 The game is extraordinarily fun and there is also a PvP Rally online to experience. However, it is not a beginner's driving game. DiRT Rally originally launched with 3 real world locations and with 36 stages with more to follow. There are 17 cars in 6 classes currently with more being planned. Best of all, the physical simulation for Di​RT Rally has been completely reworked in Codemaster's upgraded Ego engine to capture the feel of racing across changing surfaces and roadways.​
The Settings
Here are the settings that we used: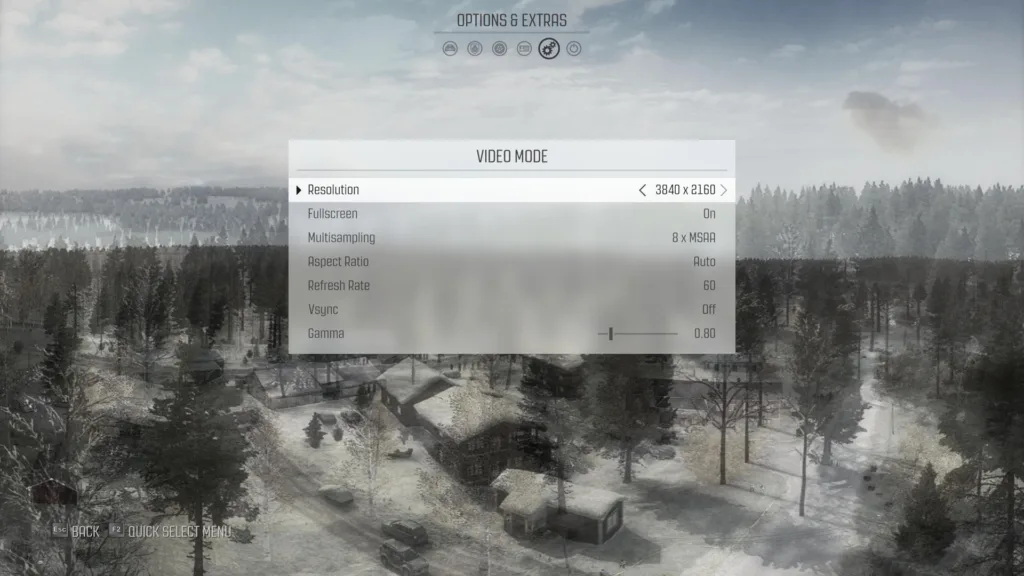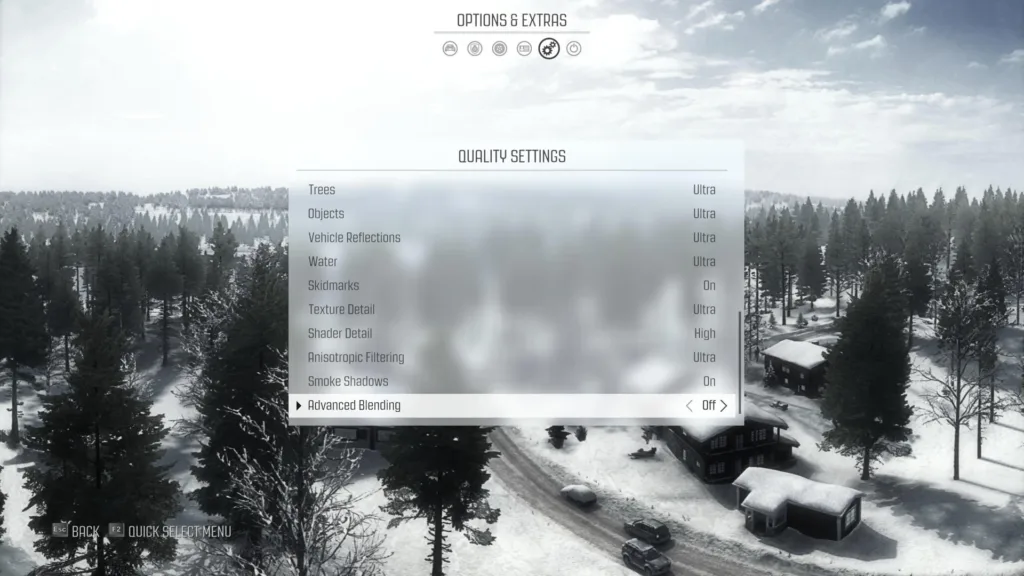 Performance
Dirt Rally is a demanding game especially at higher resolutions with all settings maxed out. We did not use Advanced Blending as it is beyond Ultra settings and it completely destroys frame rates at any resolution. For example, a GTX 980 playing at 4K resolution will average about 31 frames per second (with 26 fps as minimum) with everything maxed out except for Advanced Blending. Just turning it on drops the frame rates to 12.7 fps average, and AMD's Fury X fares no better!
Advanced Blending is transparency blending that calculates the texture alpha level when blending multiple layers of transparent textures. It improves the way that transparent areas of textures are rendered when they are layered over the top of each other. It looks nice in places but is evidently best reserved for next generation GPUs.
Here are our performance results using the built-in benchmark which is quite accurate:

DiRT Rally is a welcome addition to BRT's benchmark suite and it is recommended as a fun game for rallycross aficionados but beginners may have a difficult time with it.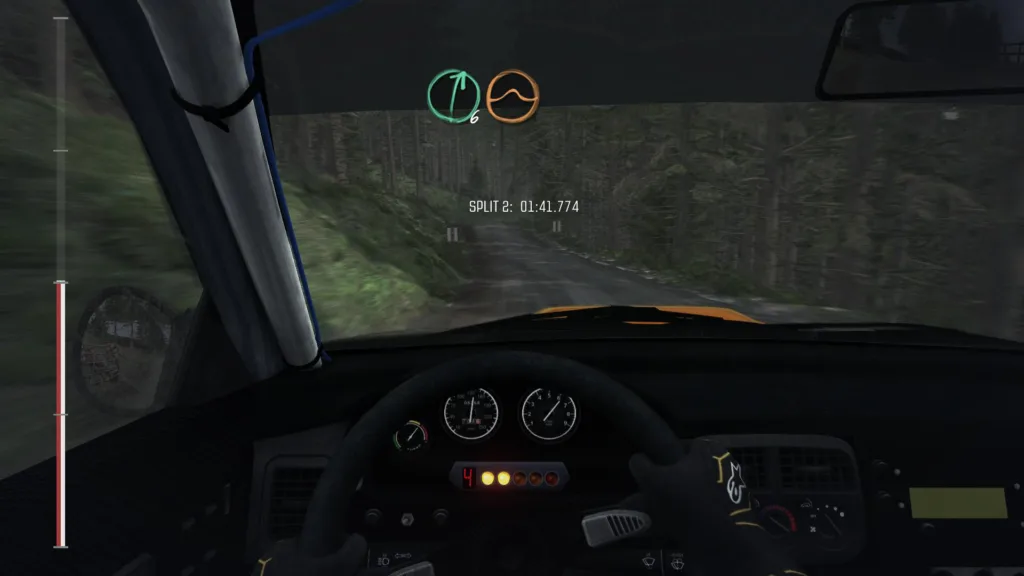 Let's head to to the next page featuring our Driver Performance Analysis and Big Picture charts. We will compare the overall driver progress of GeForce 359.06 over GeForce 359.00 with the GTX 970, the GTX 980, the GTX 980 Ti, and with GTX 980 Ti SLI since we tested them the last time. And of course, we shall compare them with the Fury X, 390X OC, 290X, and 290X CrossFire results. We are not attempting to directly compare GTX 980 Ti SLI results with R9 290X CrossFire, but we are attempting to look at multi-GPU scaling from AMD and from Nvidia.
Benchmarks & Performance Analysis
GeForce 359.00 versus GeForce 359.06
Here are our results of 31 games and 2 synthetics compared between GeForce 359.00 WHQL drivers, and GeForce 359.06 WHQL drivers using the GTX 970, the 980, the GTX 980 Ti, and GTX 980 Ti SLI. Our four latest games – Assassin's Creed Syndicate, Just Cause 3, Rainbow Six Siege – use the very latest drivers – GeForce 361.43 and Crimson 15.12 – for the GTX 970, the GTX 980, the GTX 980 Ti, as well as for The Fury X and for the 290X.
Each set of drivers are compared against the other in the adjoining results column and the higher performance number is in bold. If there is a tie, both results are given in bold type.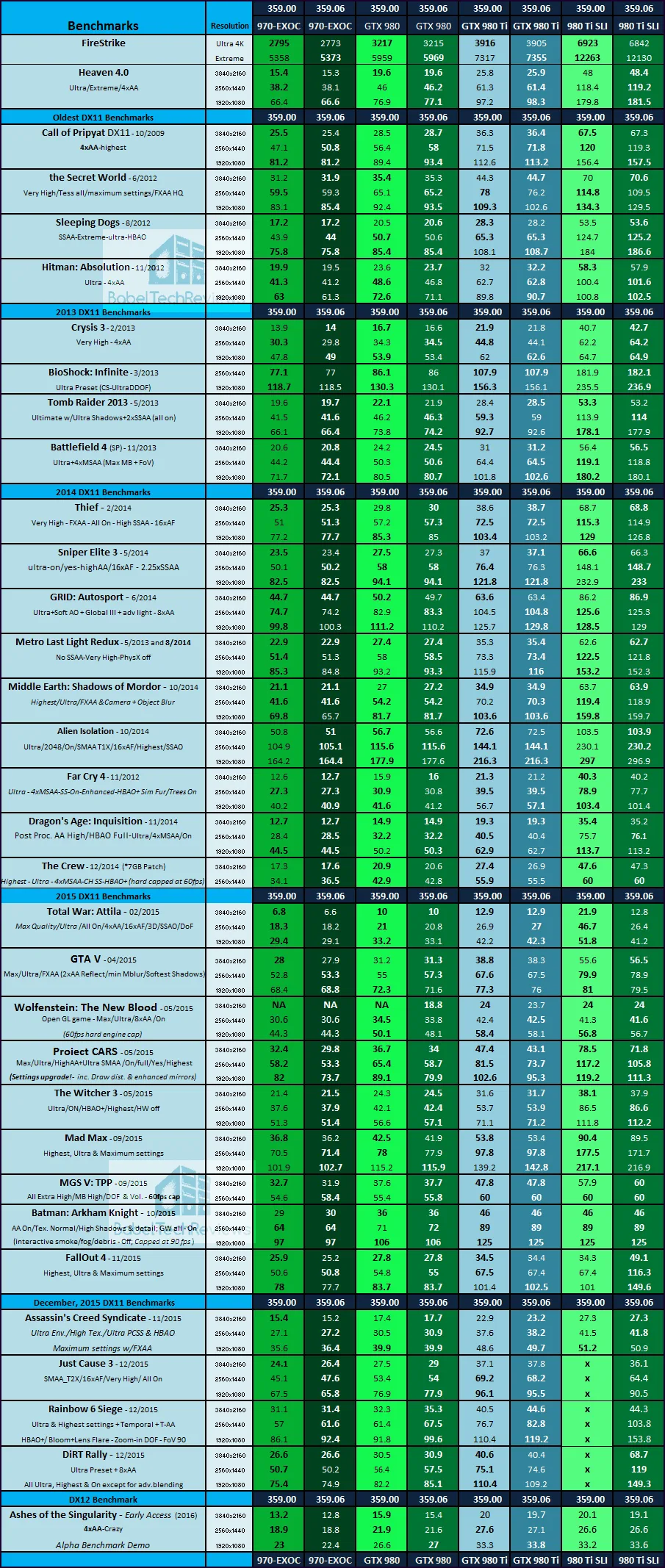 As usual, we note mostly incremental improvements with the latest WHQL GeForce drivers, and they are generally positive. Fallout 4 has benefited from a SLI profile for the GTX 980 Ti with GeForce 359.06, and there is good positive scaling now. On the other hand, it appears that the latest patch for Total War: Attila broke SLI scaling.
Several games got large patches including Ubisoft's The Crew which recently got a mega 7GB patch which made the game much better looking and also more responsive for driving, but it is also far more demanding now. We note that our 4 latest games are being patched regularly and that their performance changes with each patch.
Please also note that we upgraded the settings for ProjectCARs with enhanced mirrors and improved draw distances, so the results will not line up from one driver to the next.
The Big Picture
The Big Picture, once reserved solely for our video card reviews, has been recently expanded to feature all of our competing top video cards on recent drivers. We are benching the GTX 980 Ti versus the Fury X, the GTX 980 versus the R9 390X OC, the GTX 970 OC versus the R9 290X; and for added information, 290X CrossFire and GTX 980 SLI results.
The Fury X results are from older Crimson Software 15.11.1 betas, and the GTX 980 Ti/SLI, GTX 970, and GTX 980 are on the Nvidia 359.06 drivers. This means that the results from The Crew will not match across vendors or driver sets. The 290X and the Fury X are benched on Crimson 15.11.1 while 290X CrossFire is benched with Catalyst 15.11 drivers, and the 390X OC is stuck on Catalyst 15.8 as shown on the top and last lines of our chart. For Assassin's Creed Syndicate, Just Cause 3, Rainbow Six Siege, and DiRT Rally, we show the GTX 970/980/980 Ti and R9 Fury X/290X on the very latest drivers, GeForce 361.43 and Crimson Software 15.12 respectively.
This is the last time that the 390X OC will be evaluated as our next driver analysis will drop it. Instead we will add the R9 280X, an excellent stand-in for the R9 380X since they share almost identical performance.
This time, "X" means the benchmark was not run, and "NA" means the benchmark could not be run or completed. And an Asterisk (*) means that there are some real issues with the visuals. Please also note that we upgraded the settings for ProjectCARs with enhanced mirrors and improved draw distances, so the results will not line up from one vendor to the other.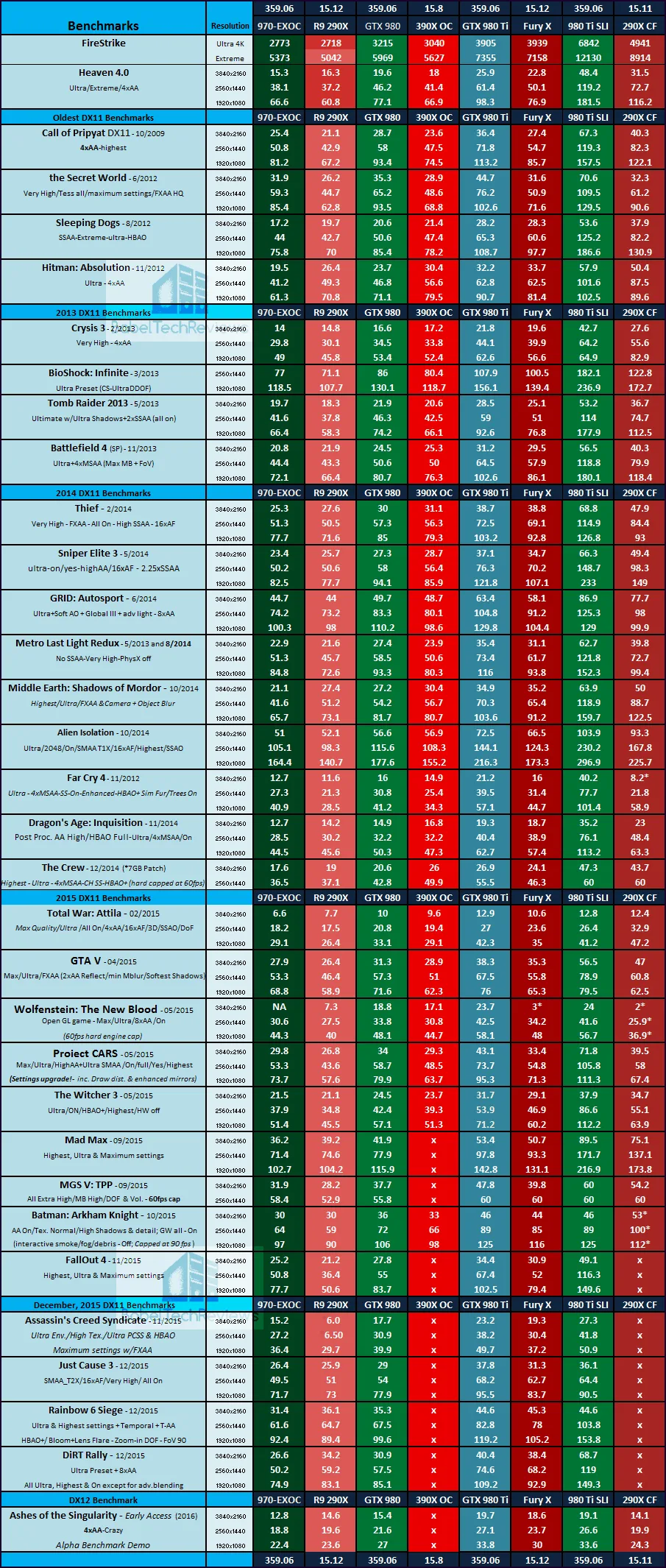 Let's head to our conclusion.
Conclusion:
We would recommend upgrading to the latest GeForce 361.42 drivers as they have brought solid improvements to some of the very latest games. We didn't see any significant performance differences in other games over 359.06 using our GTX 980, except with Wolfenstein. And as we saw with GeForce 359.06, there are generally incremental advantages over 359.00, and no large performance-impacting negatives that we have encountered. We recommend always using Nvidia's latest WHQL driver for Windows 10.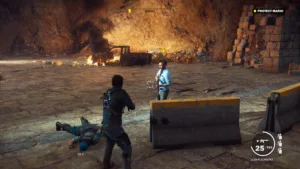 AMD's latest driver Crimson Software 15.12 also brings real performance improvements in Assassin's Creed Unity for the Fury X over Crimson 15.11.1, and we would also recommend upgrading to AMD's latest drivers.
GeForce 361.43 and Crimson Software 15.12 are the best drivers to use for the latest really fun games that we are playing, including Mad Max, Metal Gear Solid V: The Phantom Pain, Fallout 4, and especially for Assassin's Creed Syndicate, Just Cause 3, Rainbow Six Siege, and DiRT Rally.
It appears that both Nvidia and AMD intend to release new drivers with each new major PC game release, and we are looking forward to our next Driver Performance Evaluation, next year.
Stay tuned, next up we are auditioning Grado's newest entry-level headphones, the SR-60e. We got them this week to replace our older original Grado SR60s that finally wore out after many years of service. These are headphones that have had a good reputation for pure audiophile sound over their frequency range.
Happy gaming!