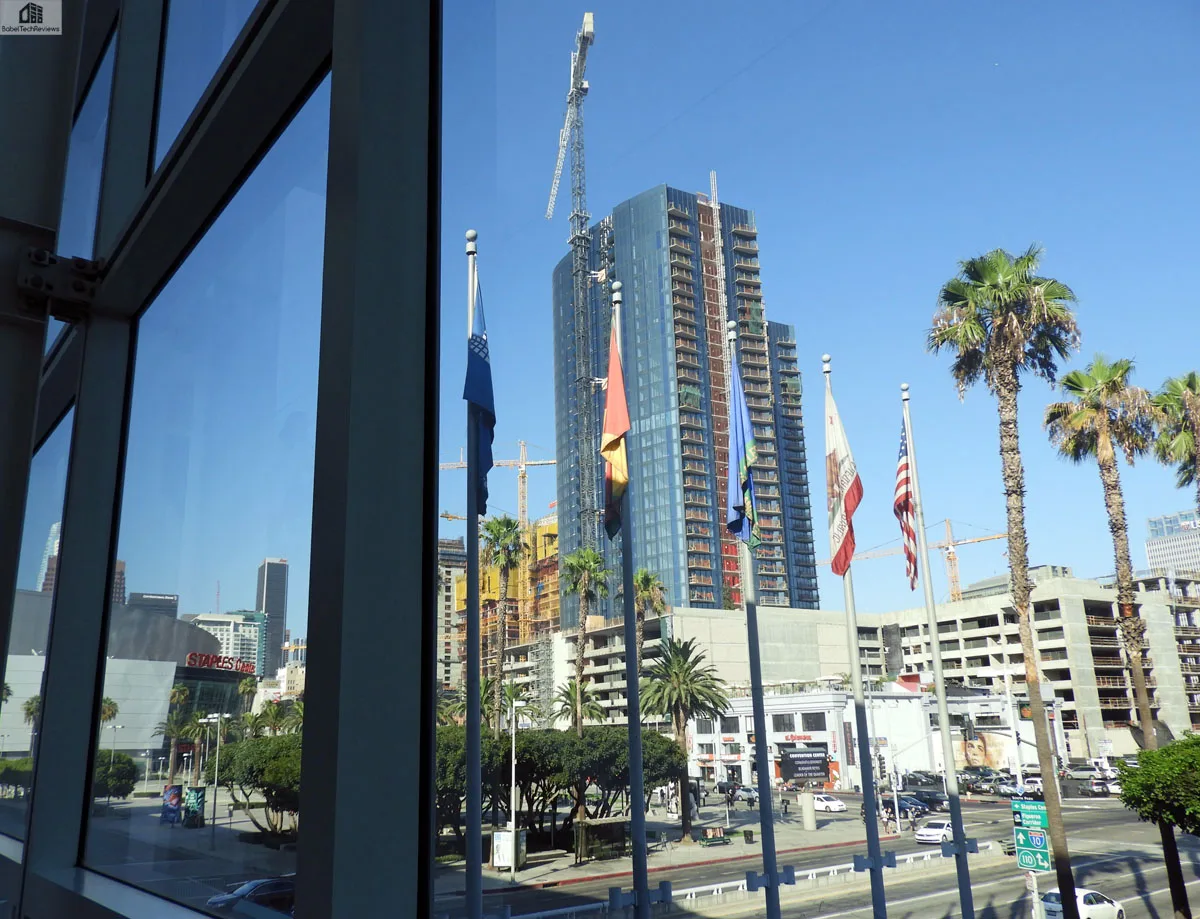 BTR attended SIGGRAPH last Sunday and Monday as media with a special focus on both AMD's and NVIDIA's events that were held at nearby venues. The highlight of the AMD Capsaicin Event at The NOVO was the release of the RX Vega and Threadripper, while NVIDIA's press event at the Marriott emphasized improving software and support for Pascal and for deep learning/AI. We want to give a gamer's perspective of SIGGRAPH highlighting the similarities and the differences between AMD's event and NVIDIA's presentation.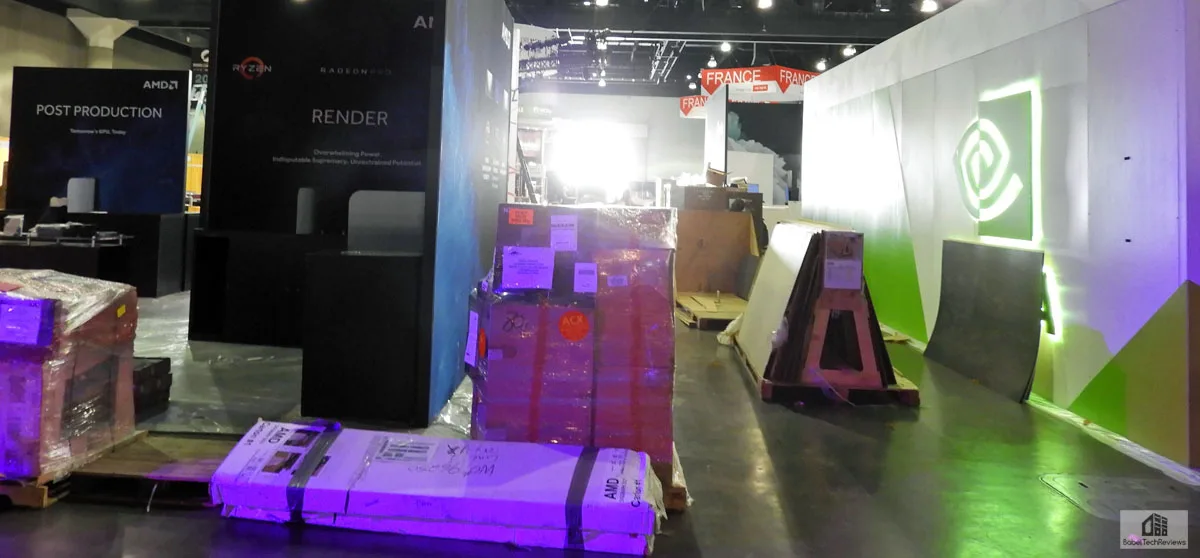 SIGGRAPH (Special Interest Group on Computer GRAPHics and Interactive Techniques) is the name of the annual conference on computer graphics which has been running since 1974. This year's important conference was attended by 16,500 computer professionals including game developers who are mainly focused on content creation. Raja Koduri, the primary presenter of AMD's event, mentioned that he has attended SIGGRAPH for 20 consecutive years while Bob Pette, Vice President of NVIDIA's Quadro business unit, said that he has attended for thirty years.

Sunday, the first day of SIGGRAPH, was far less crowded than on the other days, and there was a strong emphasis on interactivity. Sunday is evidently the day to ask questions and to get quality time with the exhibitors. SIGGRAPH highlights include its VR Village where there are live demonstrations of virtual and augmented reality, and the Animation Theater and Electronic Theater presentations, where recent CG films are shown, and attendees also got to view VR short films in the Computer Animation Festival VR Theater.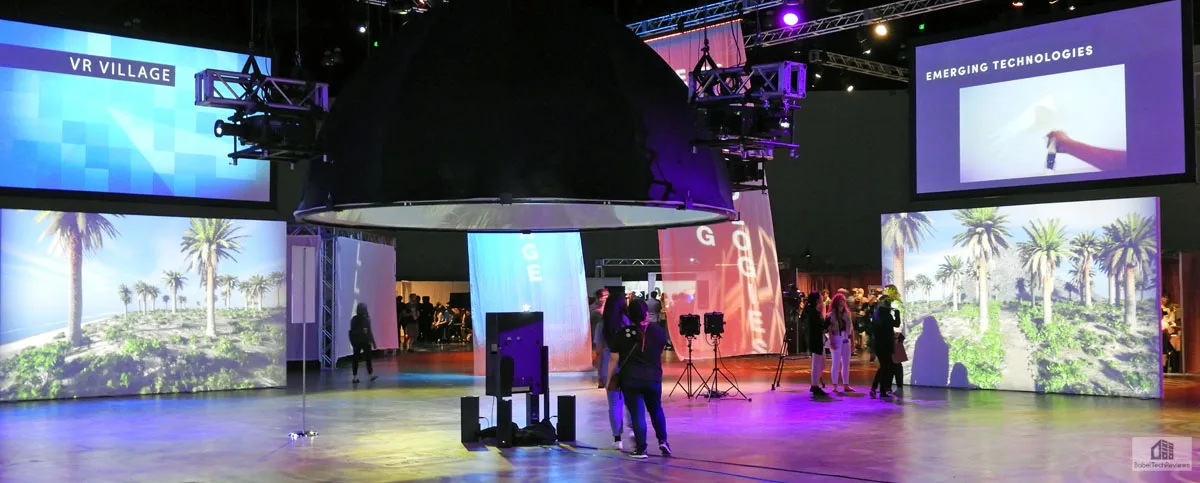 There was a huge exhibition floor in the South Hall of the LA Convention Center, where hundreds of companies including schools in the engineering, graphics, motion picture, or video game industries set up booths.


Hundreds of serious computer graphics research papers are presented each year at SIGGRAPH but only about one-quarter of them are accepted for publication.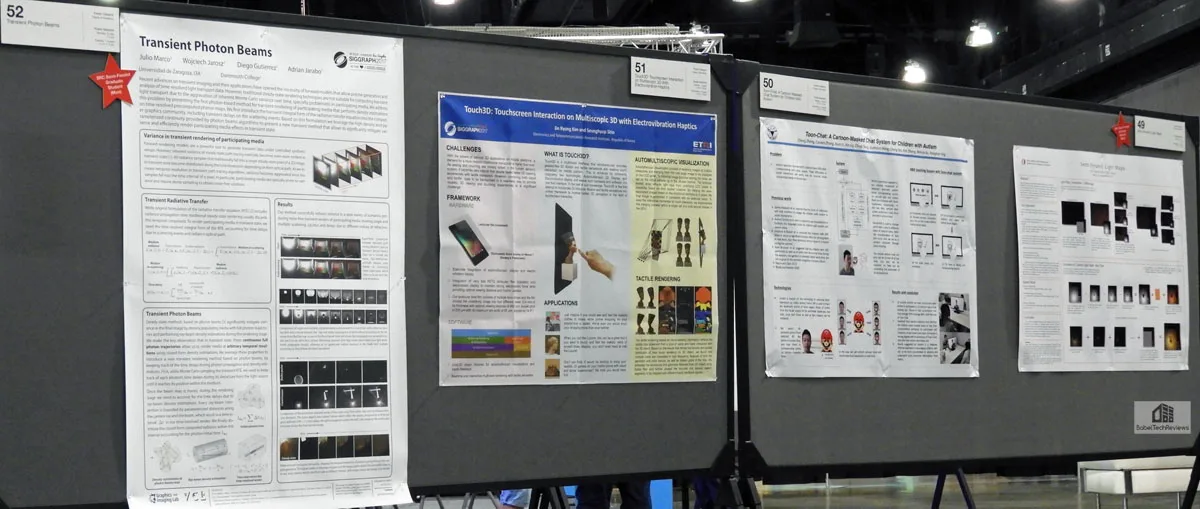 In addition, there are many panels of industry experts set up to discuss a wide variety of topics and there are keynote presentations from industry leaders. SIGGRAPH also offers many topics and courses in the latest computer graphics related topics.


Digital printing is a large part of SIGGRAPH and there were some truly impressive printers showcased.

Emerging technology is also highlighted at SIGGRAPH and this year there is a lot of emphasis on virtual reality (VR) and augmented reality (AR).
Emerging Technology including VR
SIGGRAPH has a large portion of its floor space devoted to emerging technology. Much research has been devoted to improving the VR and AR experiences, and there were many show floor demonstrations using HMDs (Head Mounted Displays).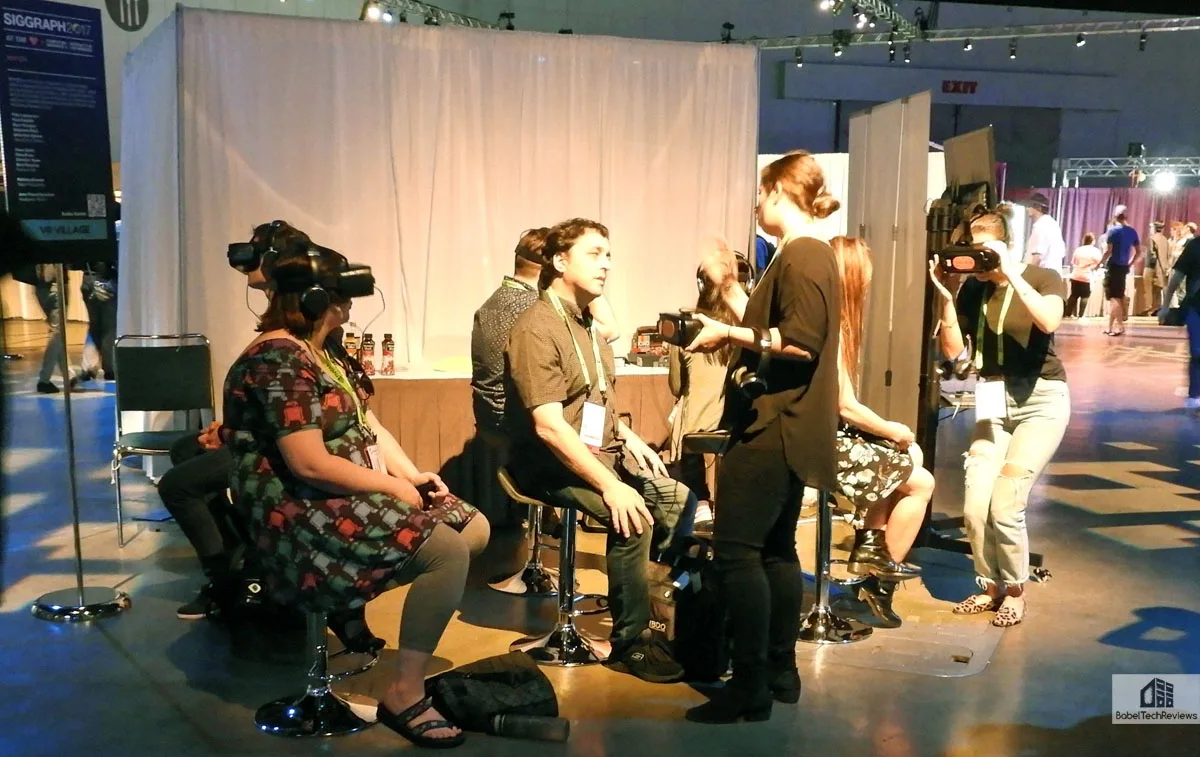 Everywhere we turned, we saw new VR tech technology being displayed including improved "shape-shifting" controllers to bring improved haptics, and even prototype balance boards were demonstrated as a good means for maneuvering realistically in the VR space.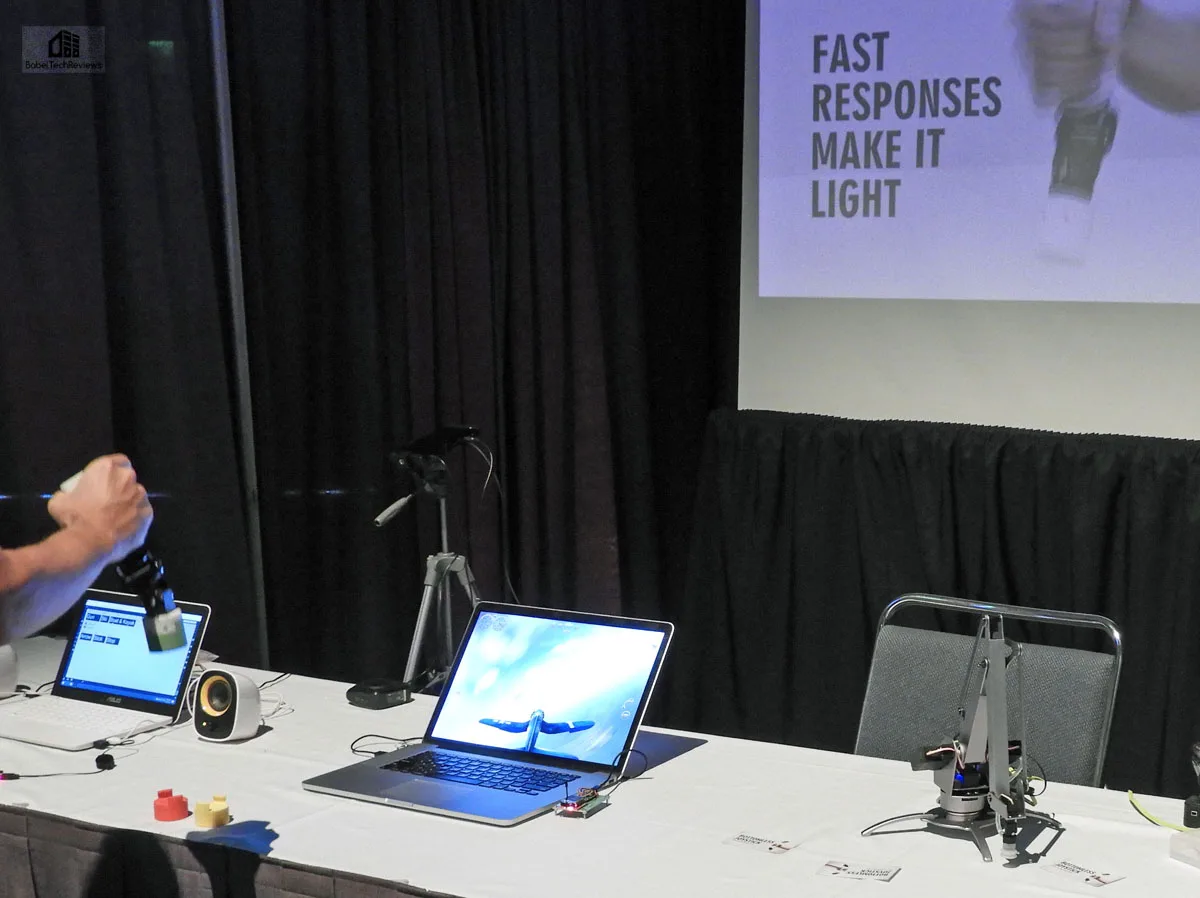 We even saw VR teleconferencing demonstrated with avatars that express emotion by using eye and facial and gesture recognition.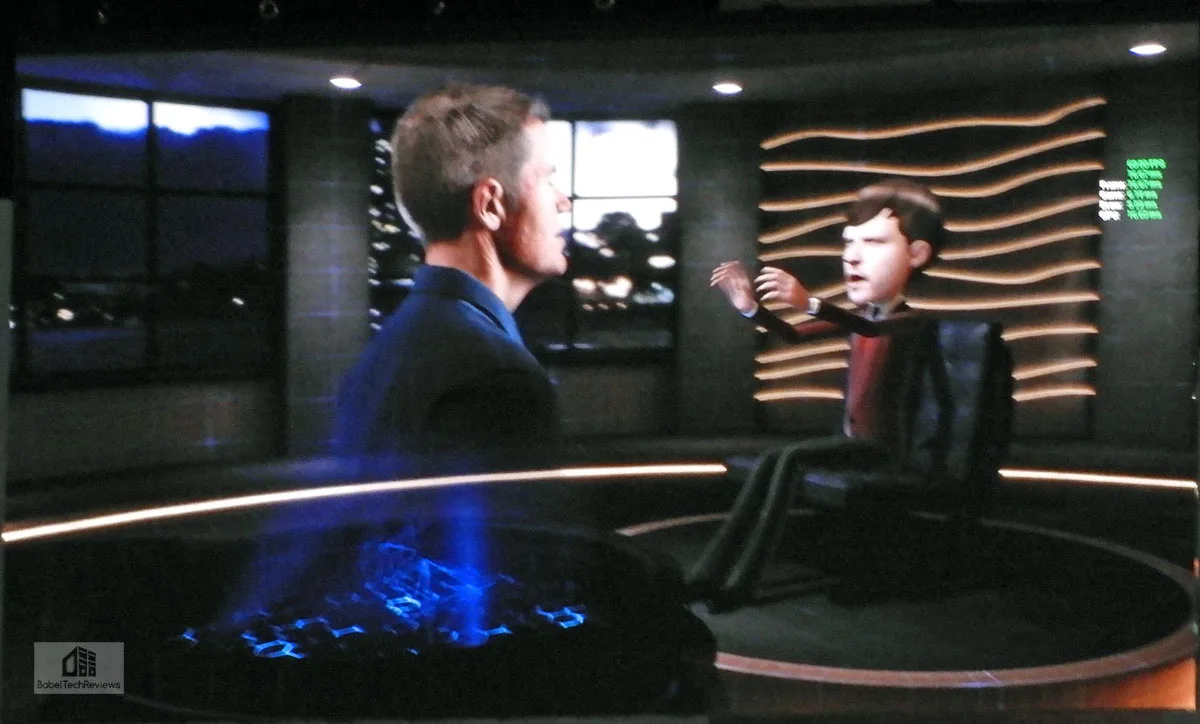 There were of other projects including magnetic levitators and dancing 3D images that caught our eye.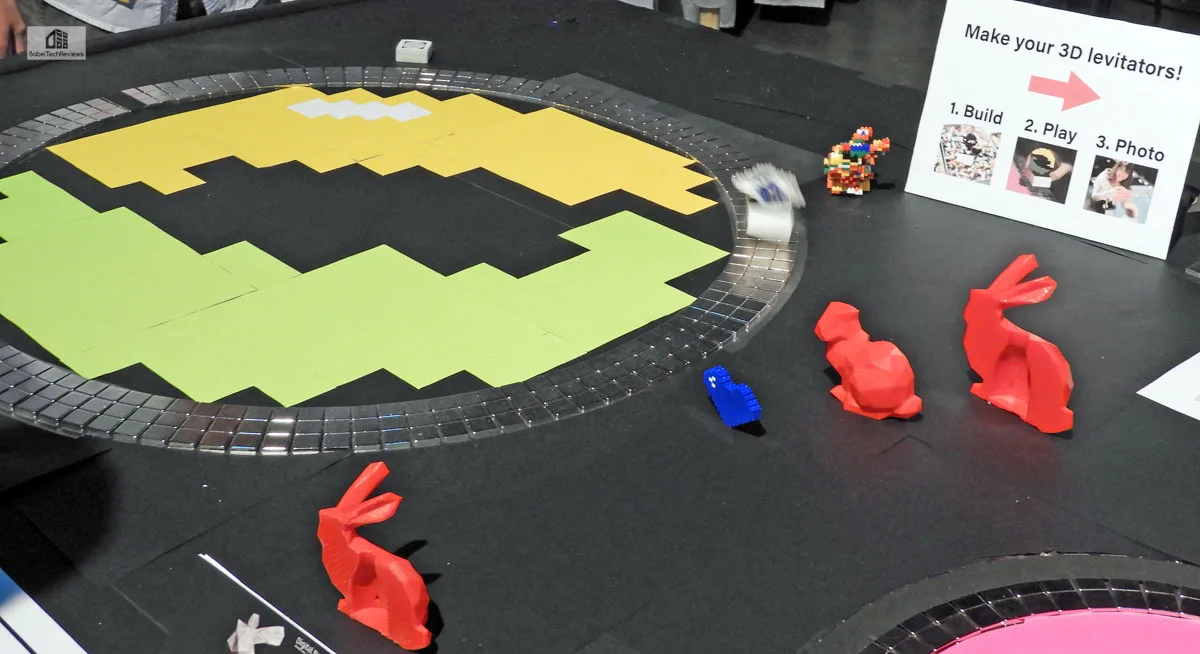 It's hard to tell what's happening, so here is a short video.
Other emerging companies showcased their technology.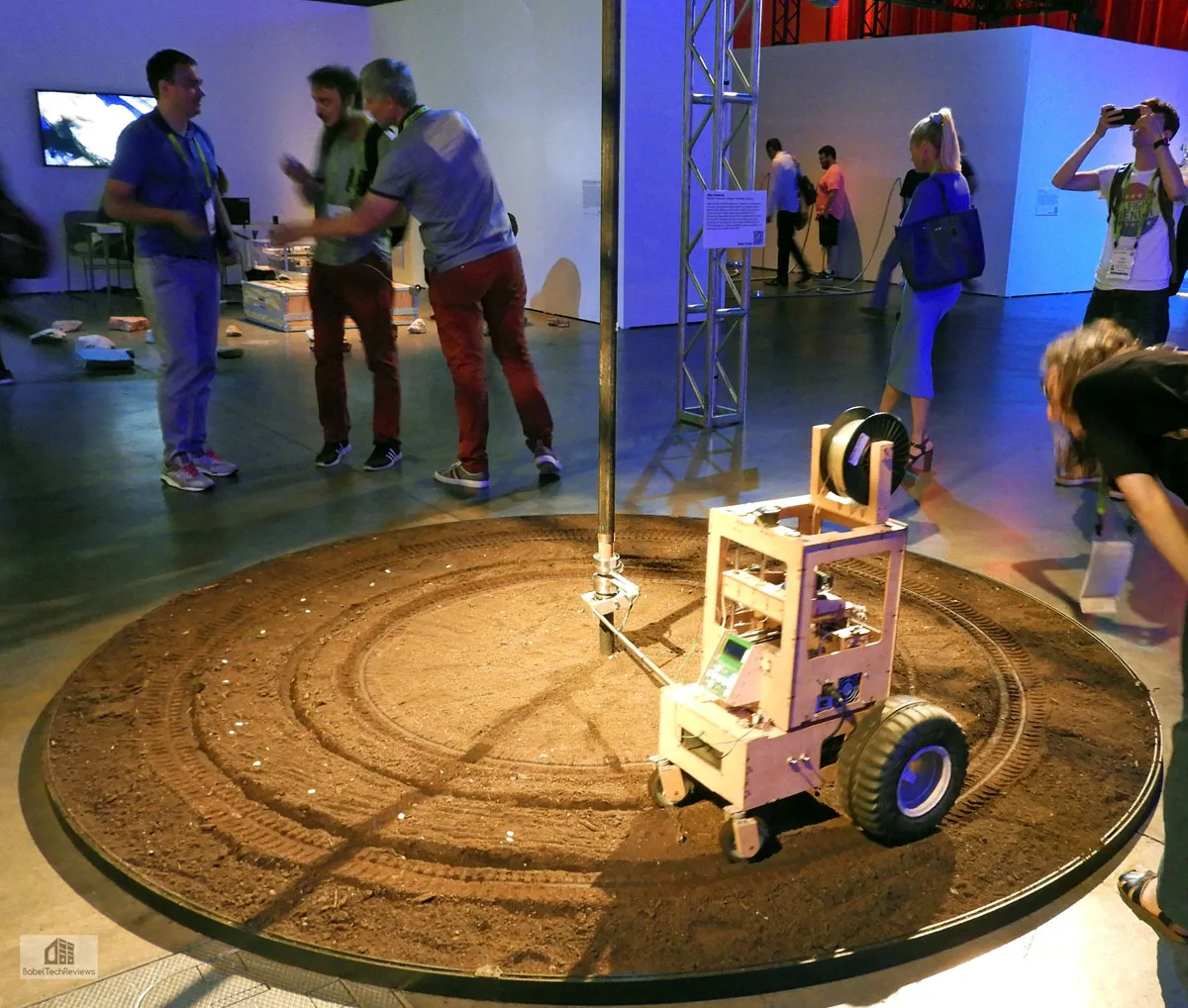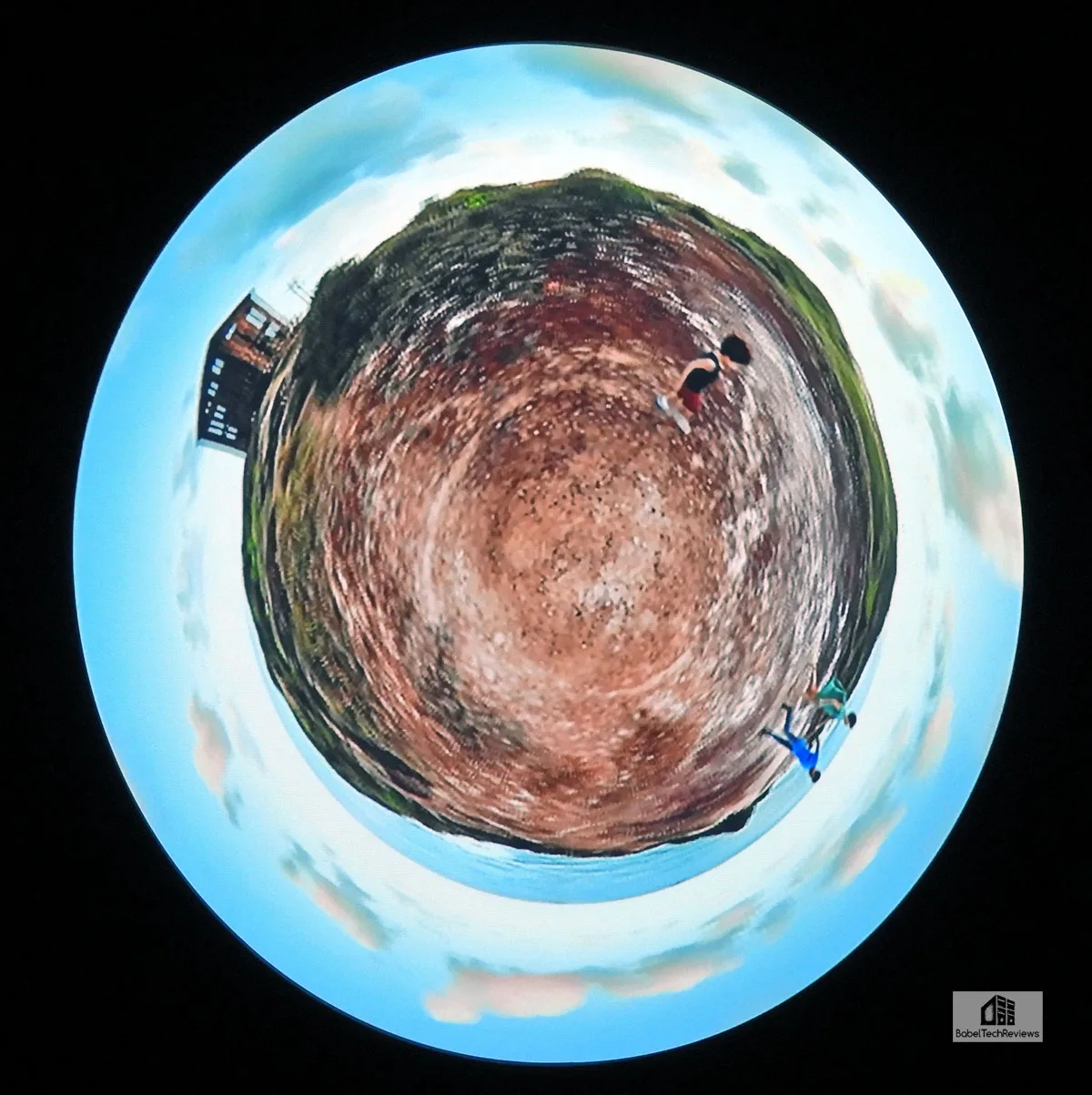 We aren't exactly sure what this does.
New techniques in 3D printing were displayed.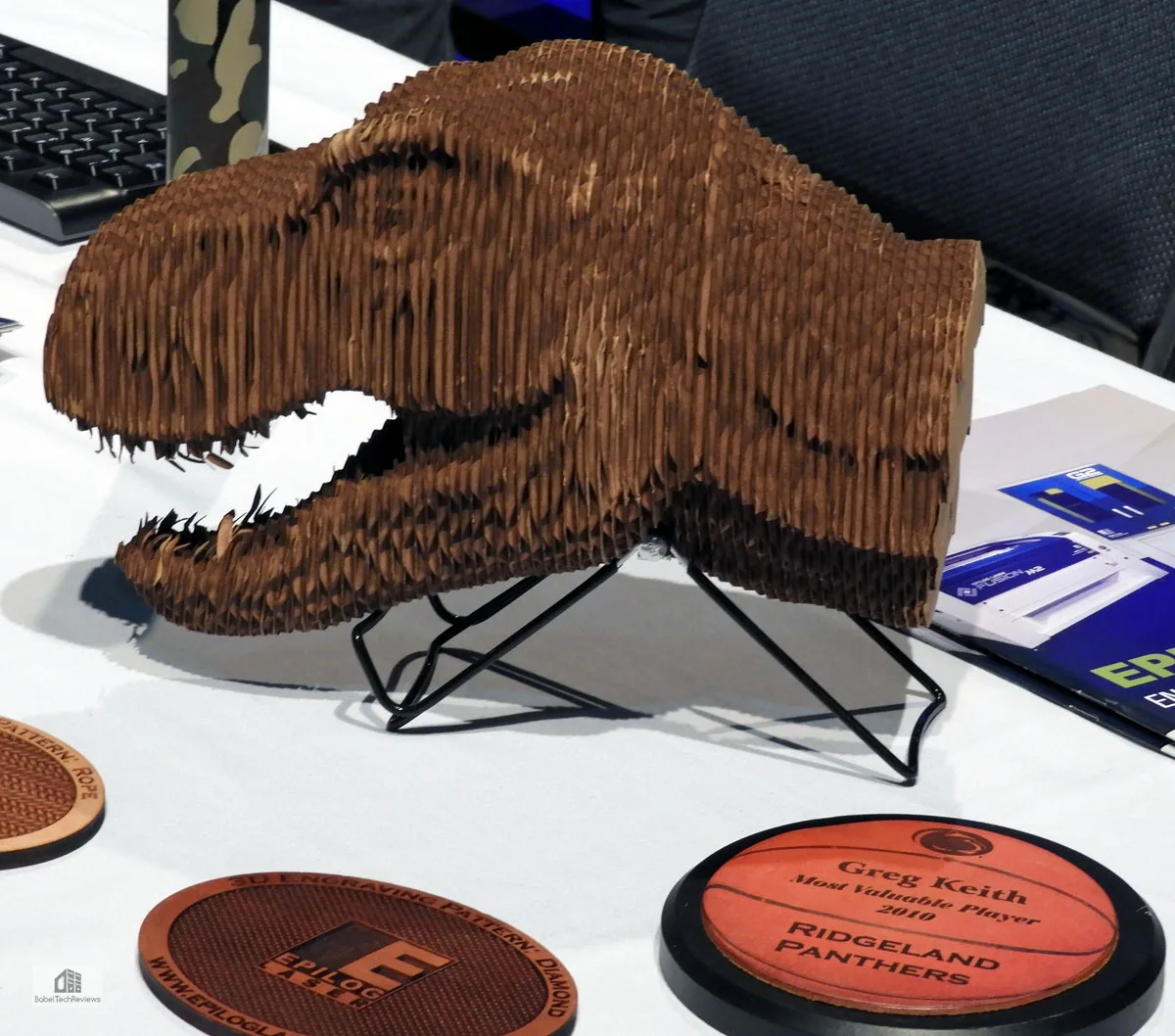 New techniques for super-fine engraving were shown.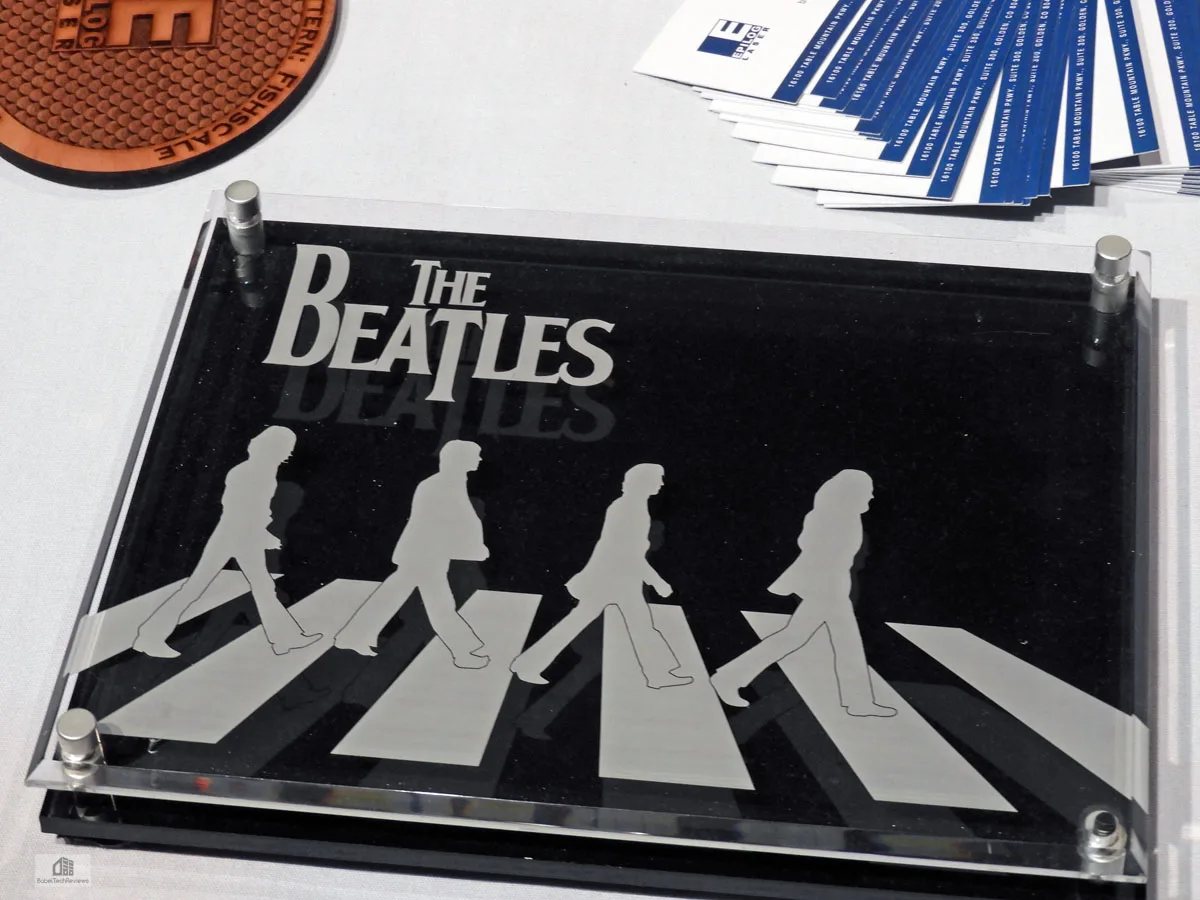 Everywhere we looked we saw demonstrations of new technologies.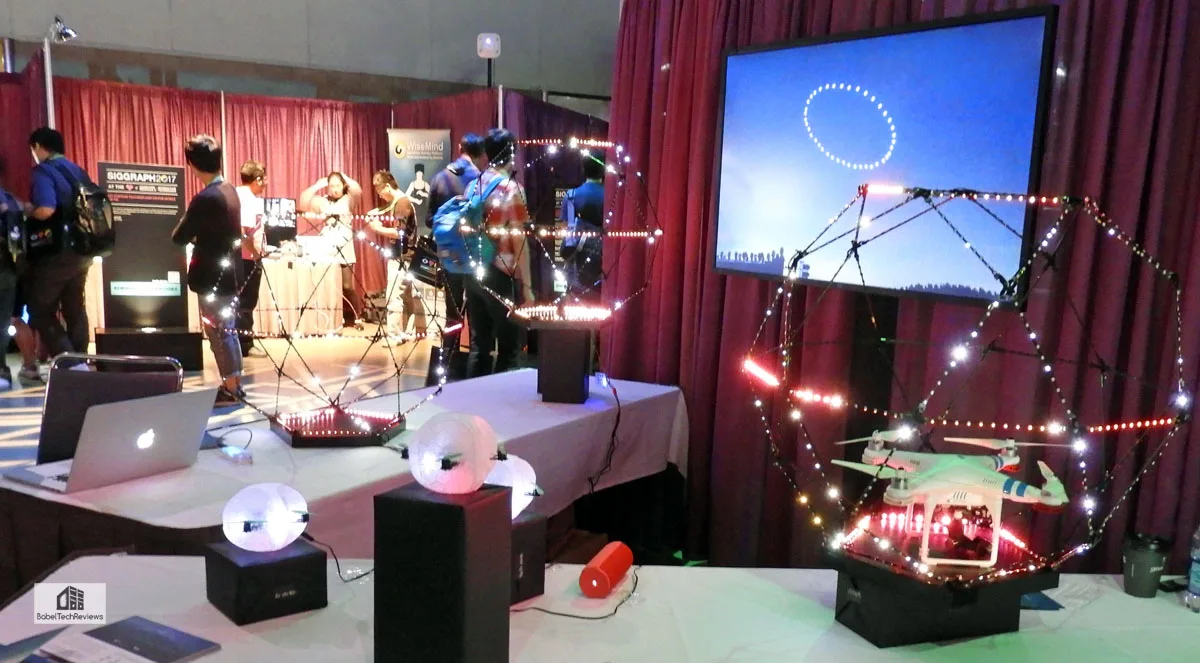 SIGGRAPH has large areas that are devoted to gaming and to movie creation.
Gaming & Movie creation
We got to check out an exhibit which showcased the art of producing Final Fantasy XV.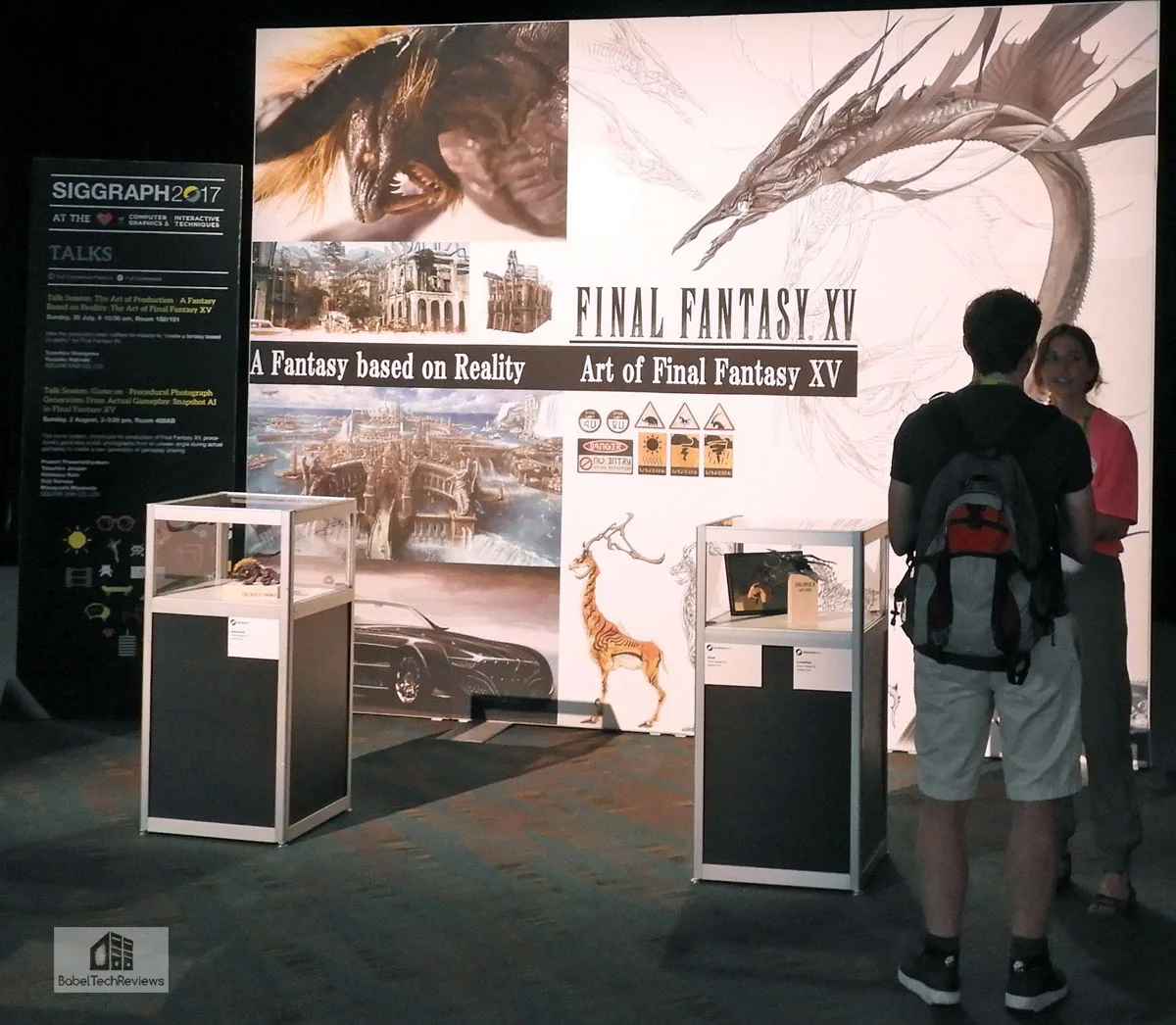 There were costumes and props from games and movies displayed.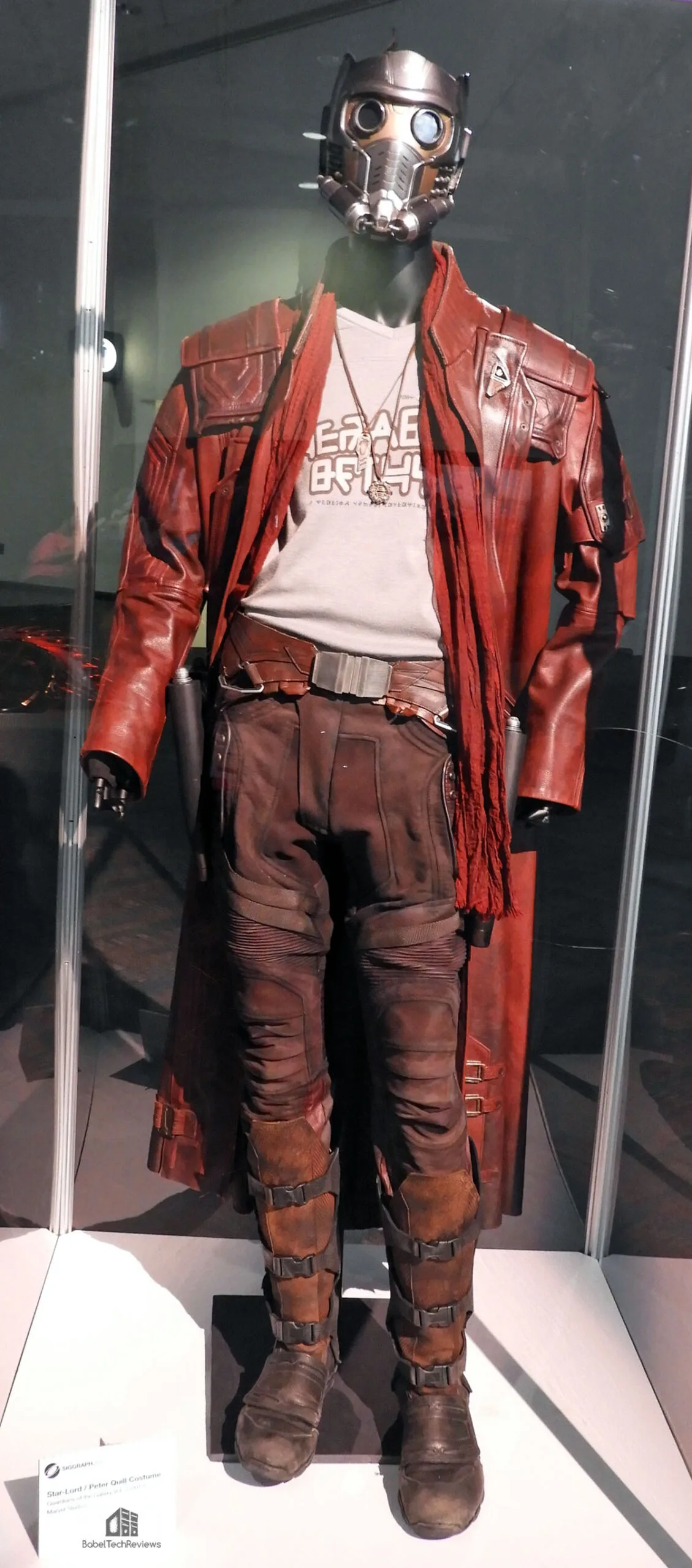 Below is the cycle from Men In Black.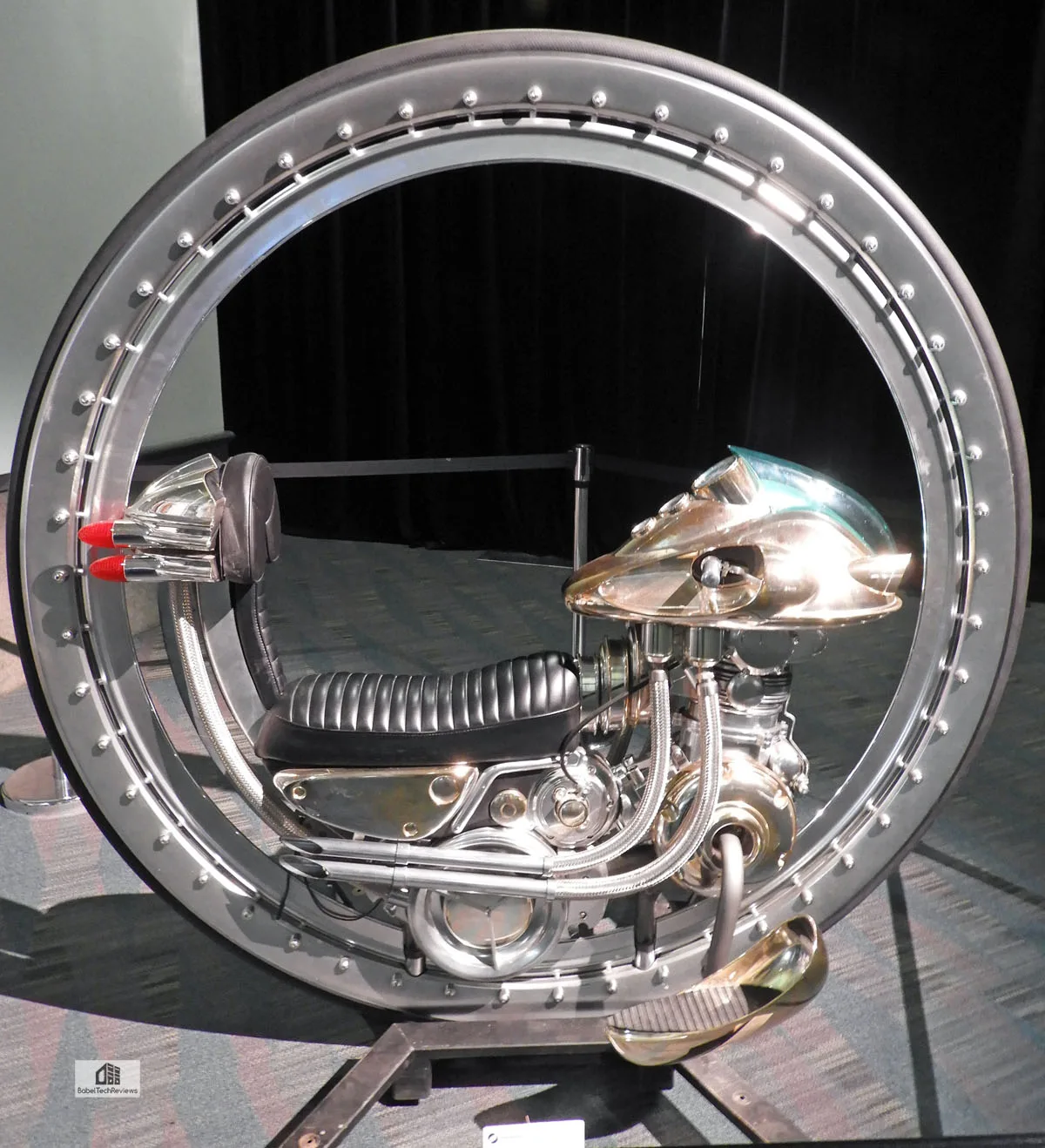 The display from the movie Cars showed its animation progression from concept to final frame.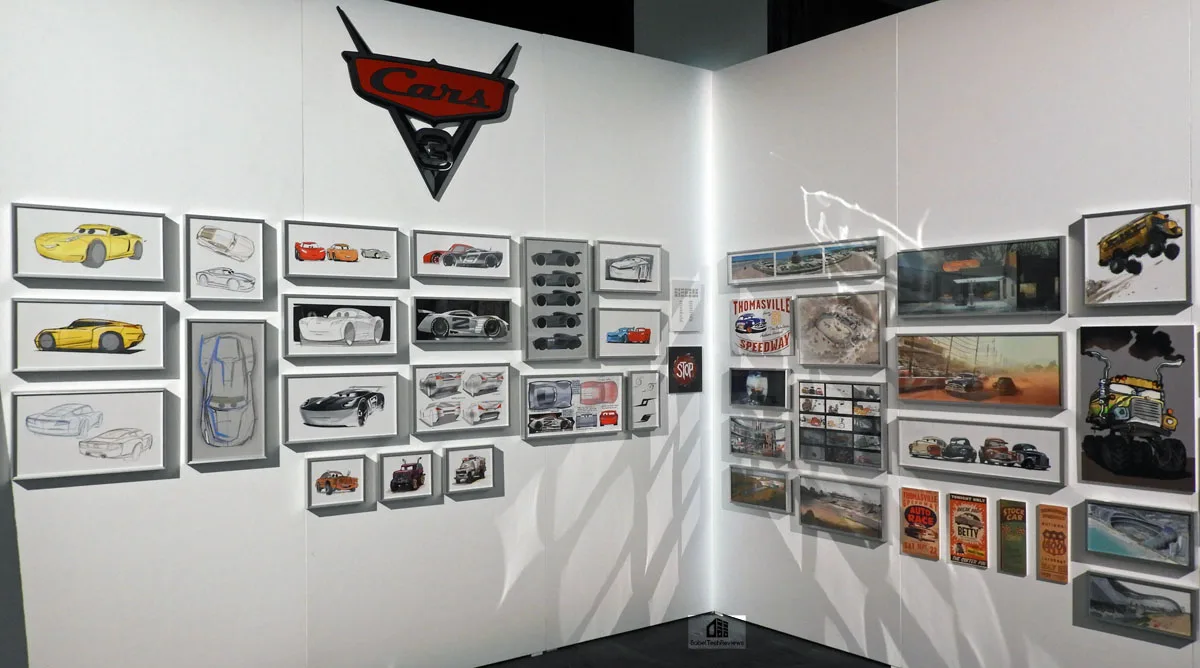 We attended NVIDIA's presentation on Monday afternoon in a large conference room of the nearby Marriott Hotel.
NVIDIA's Presentation
Just like at last year's SIGGRAPH, NVIDIA Vice President and General Manager of Professional Visualization (the Quadro business unit), Bob Pette, was the main presenter supported by Greg Estes, Vice President of NVIDIA Developer Programs, and Sandeep Gupte, Director of Professional Visualization at NVIDIA.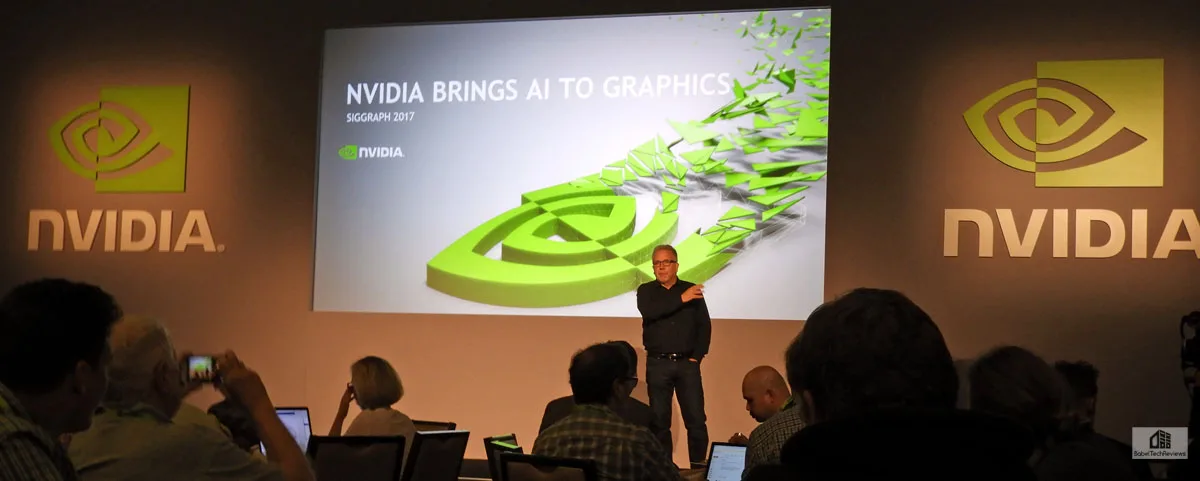 This year the theme of the presentation was NVIDIA Brings AI to Graphics.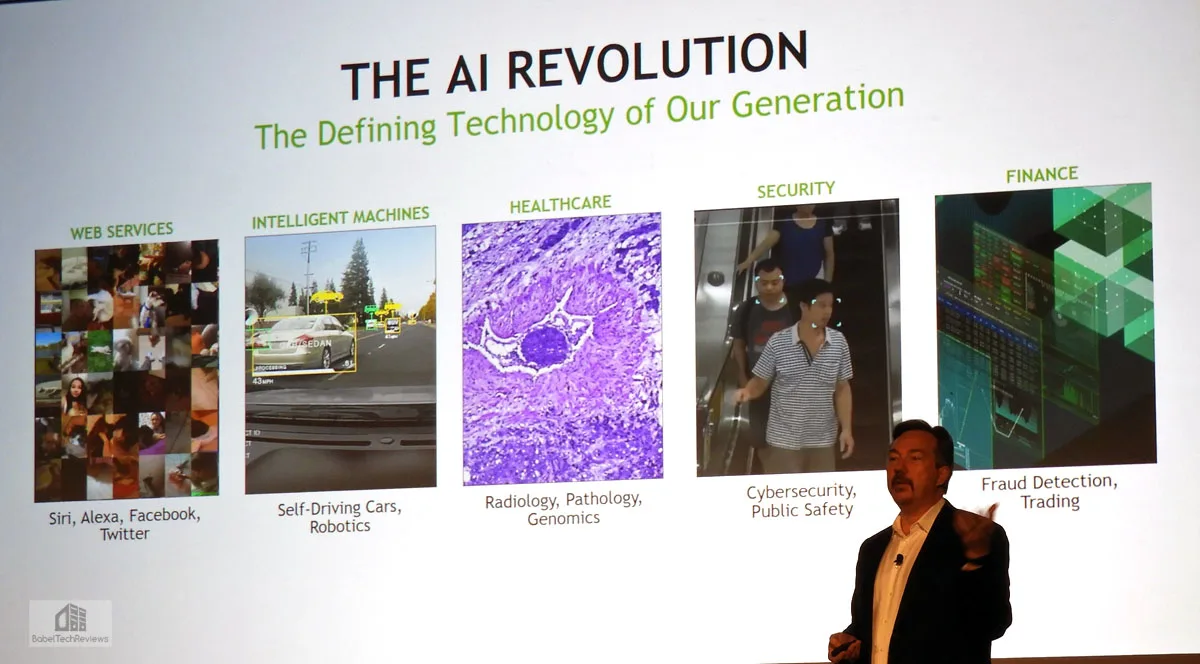 Greg Estes pointed out that the AI revolution is the defining technology of this generation and NVIDIA is also bringing AI to graphics for digital content creators.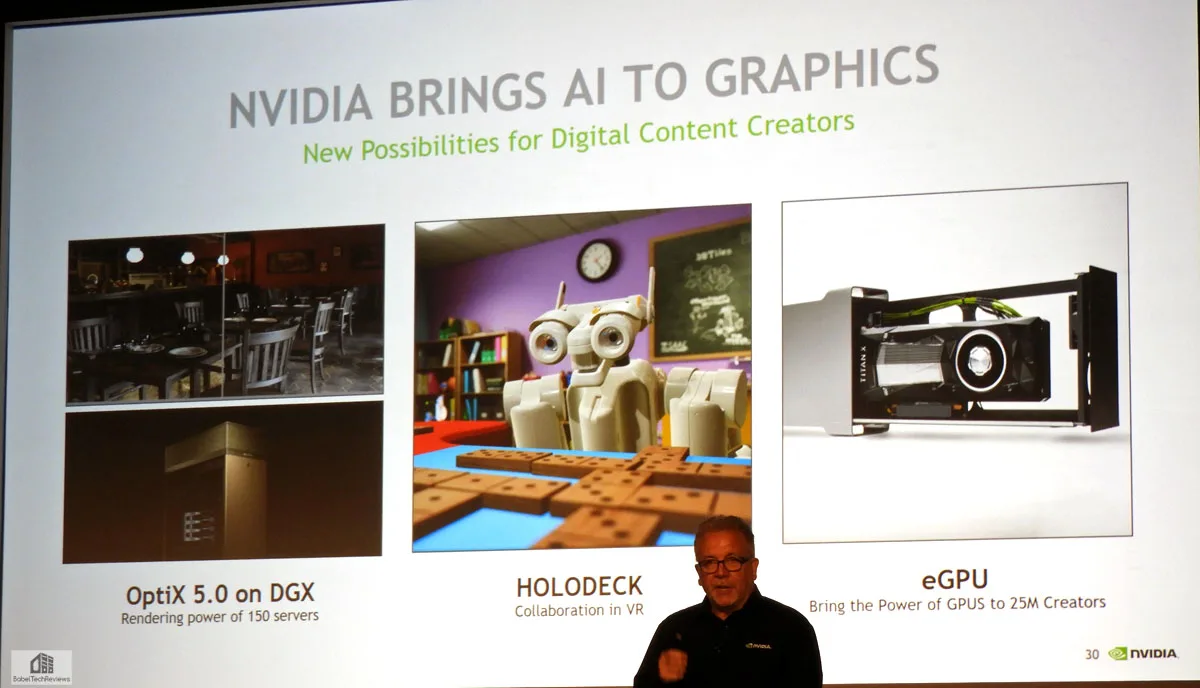 NVIDIA's presenter pointed out that everything starts with research. And NVIDIA has been partnering with multiple universities and also with game developers to use AI in graphics.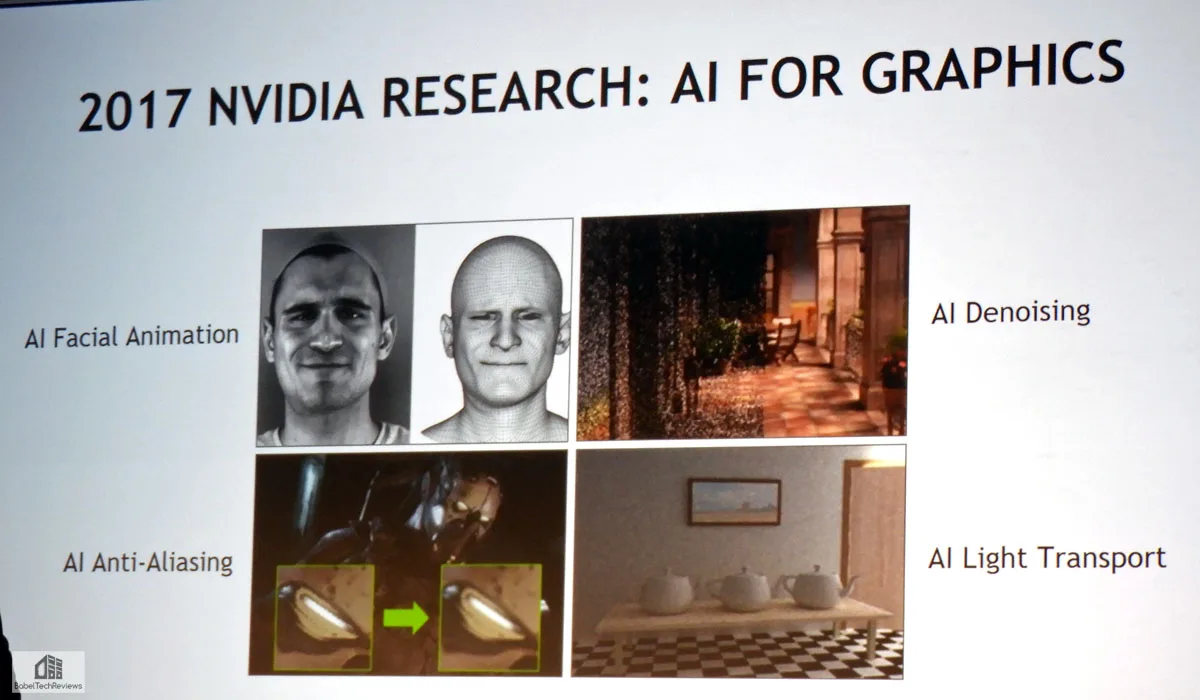 Instead of using artists to perform labor-intensive data conversion and touch-up for hours of actor videos, NVIDIA's solution requires only a few minutes of training data. The trained network then automatically generates all facial animation with the same or better quality than current methods for an entire game from a simple video stream. AI can also be used for temporal anti-aliasing to eliminate that shimmering and crawling in game when the camera is in motion. And AI can also be used for predicting which light rays are really important in a scene.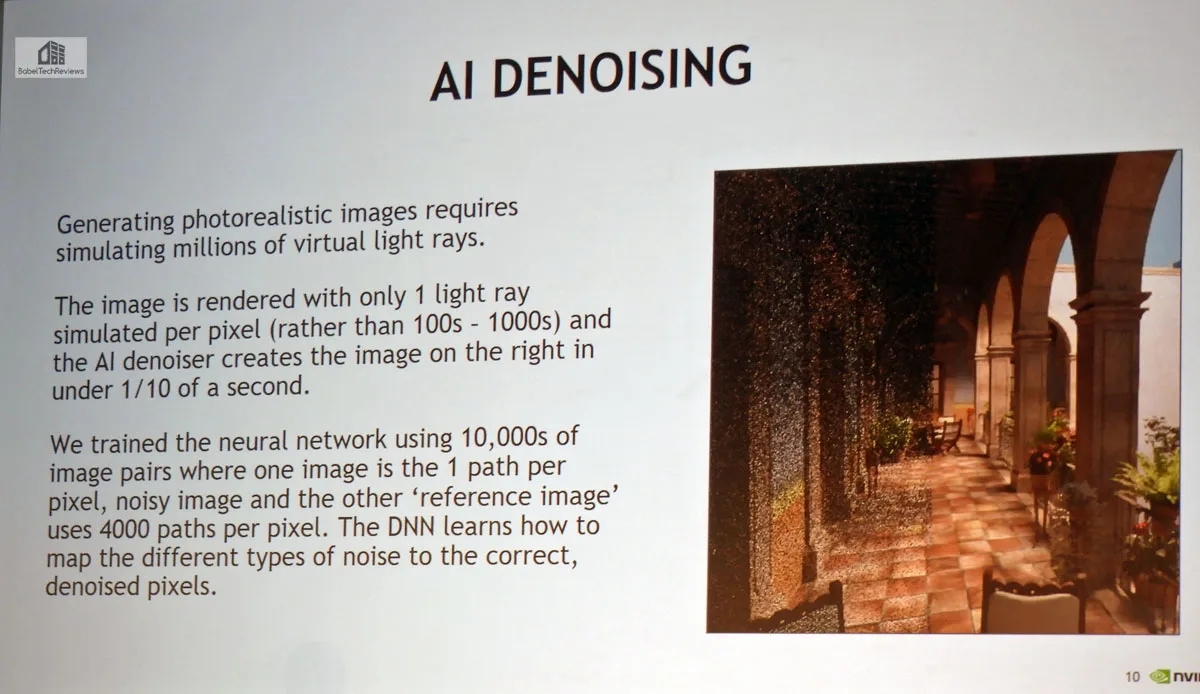 New research is ongoing in AI in the areas of facial animation, denoising, anti-aliasing and light transport. Denoising can now be done almost instantly using AI which allows content creators to have more control over their work and they are able to see their results far more quickly than previously.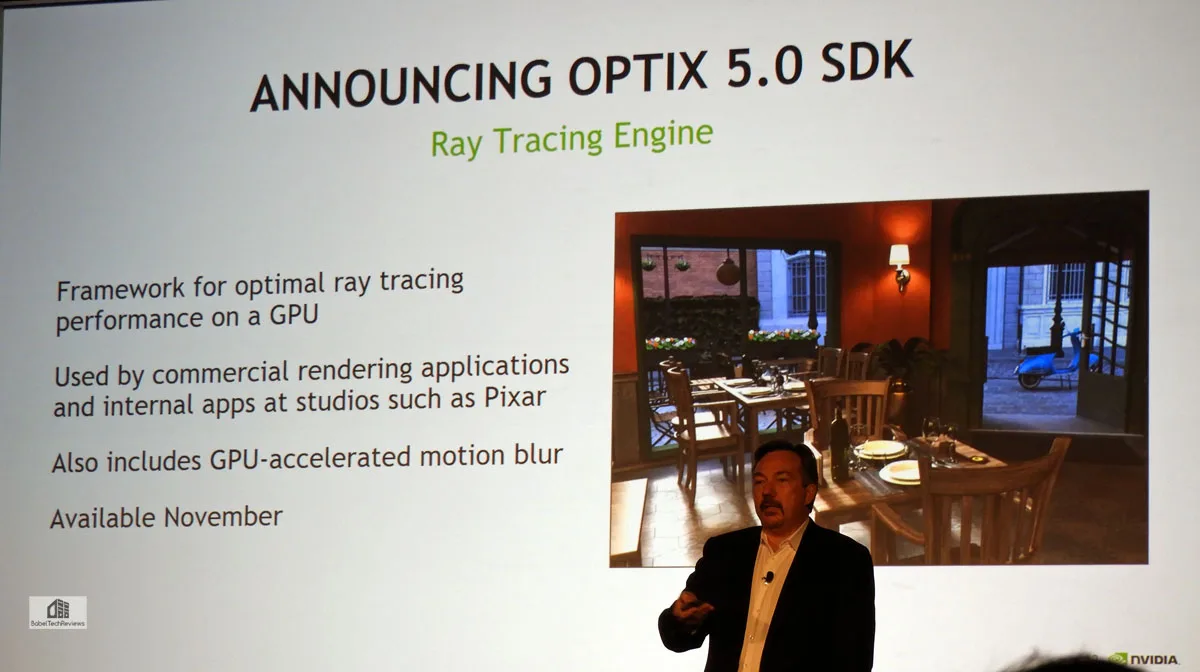 NVIDIA introduced Optix 5.0 SDK at SIGGRAPH which now uses AI-enhanced Ray Tracing. The new ray tracing capabilities will speed up the process required for visualization. It features new AI denoising capability to accelerate the removal of graininess from images, and brings GPU-accelerated motion blur for realistic animation effects.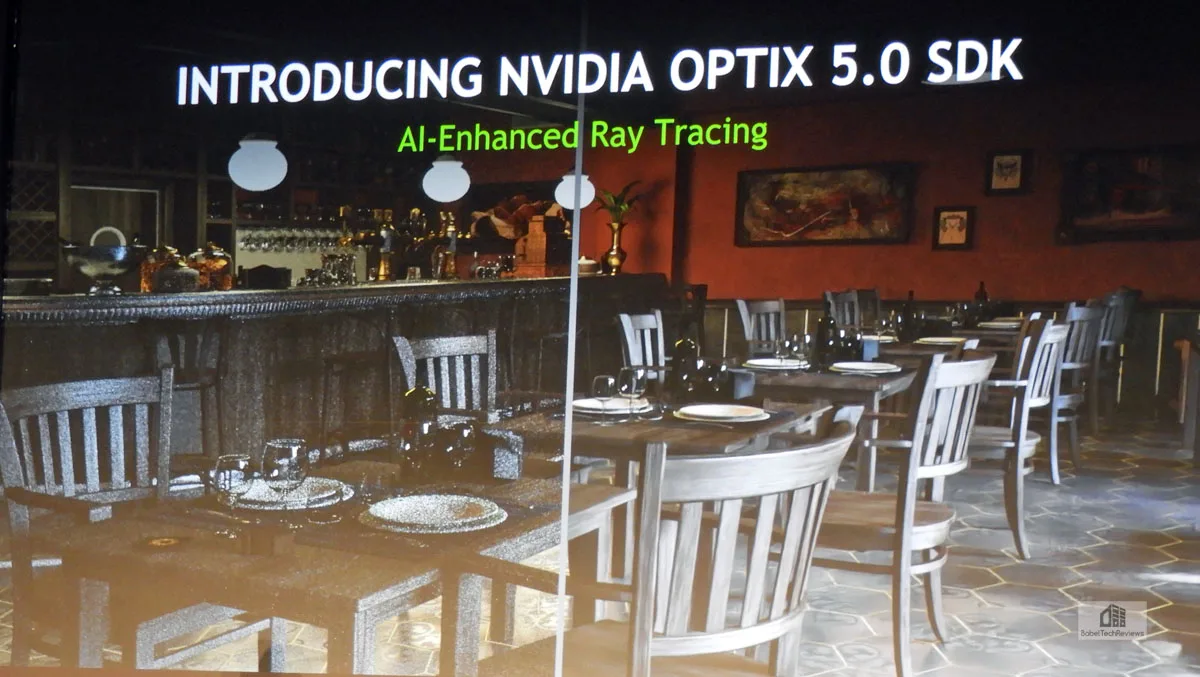 Here's a few seconds of video that we shot of AI denoising in action:
Running OptiX 5.0 on NVIDIA's DGX Station AI workstation will give content-creatiors the rendering capability of 150 standard CPU-based servers. To achieve equivalent rendering performance of a DGX Station, NVIDIA claims that content creators would need access to a render farm with more than 150 servers that require some 200 kilowatts of power costing $4 million dollars over 3 years, compared with 1.5 kilowatts for a $75,000 DGX Station.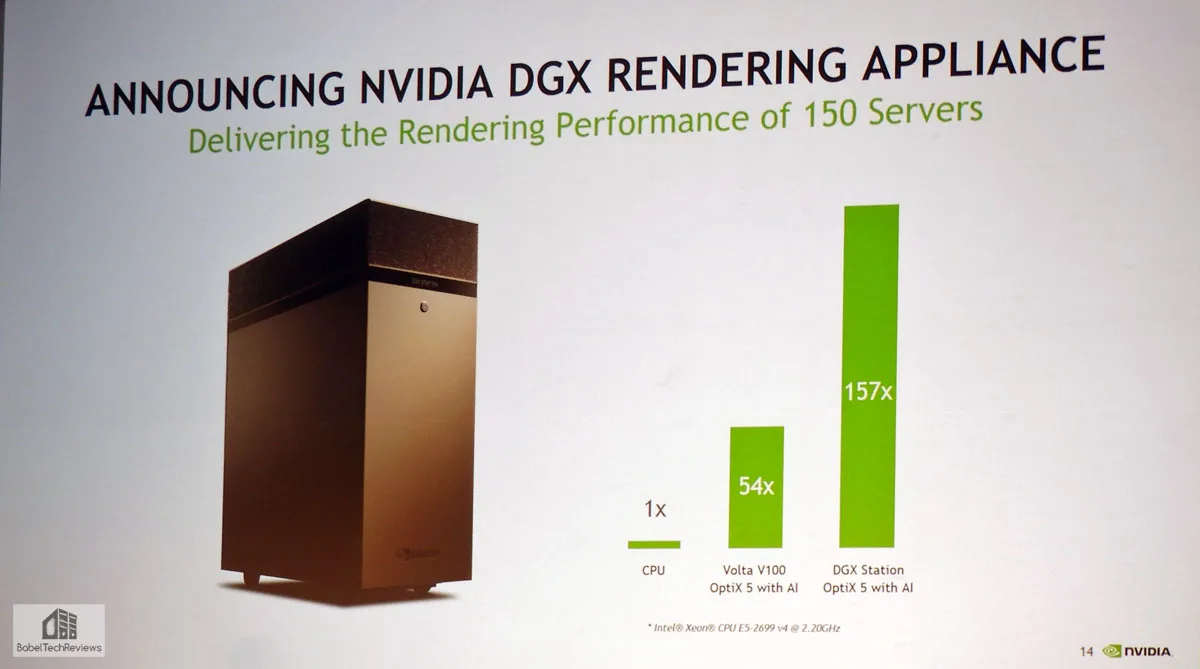 We got very close to the DGX station which was running 4 water-cooled Tesla GV100 cards, but we could not hear it running in a moderately noisy room.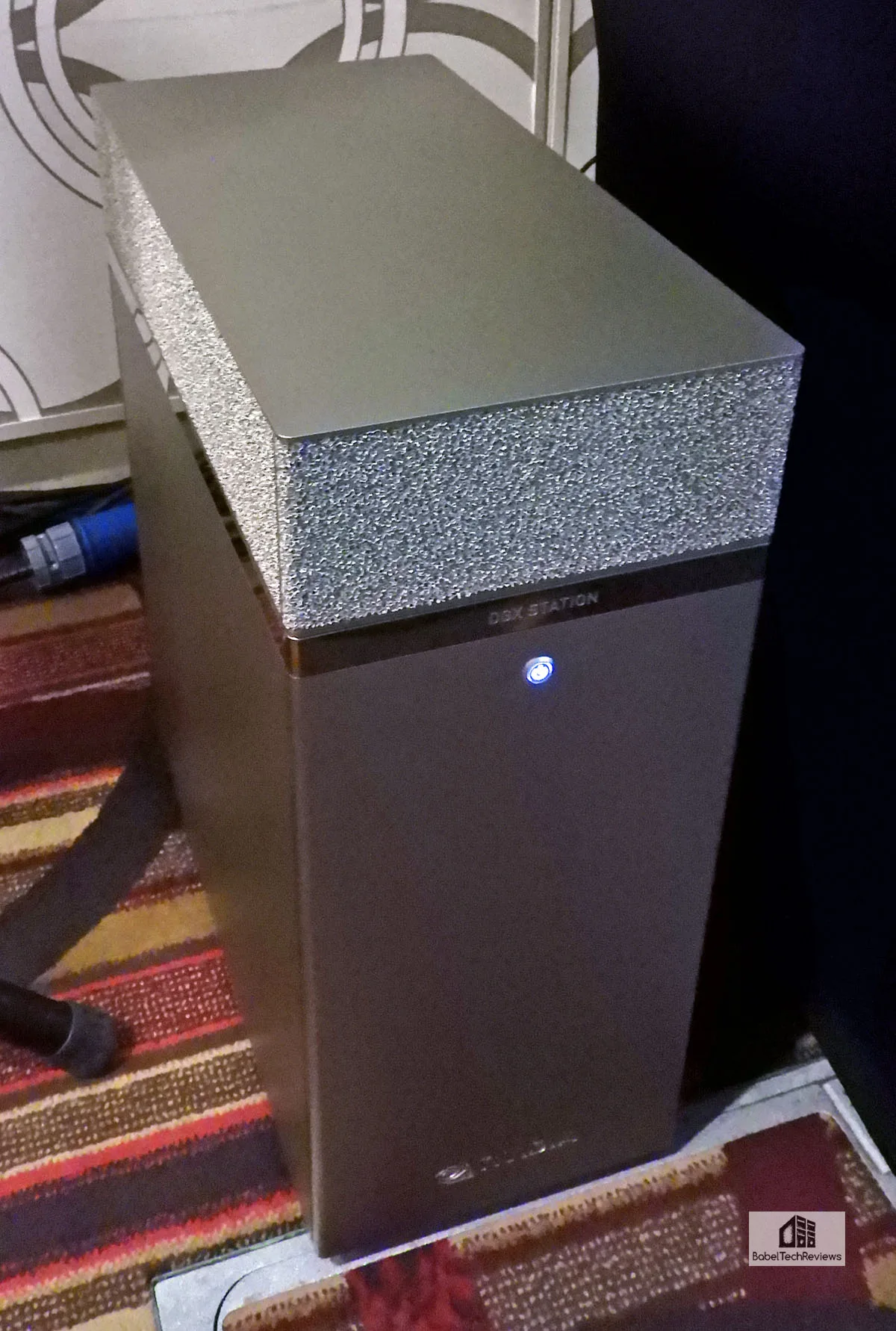 NVIDIA also released a new performance driver for TITAN X to make it faster than ever before with applications such as Autodesk, Maya, and Adobe Premier Pro.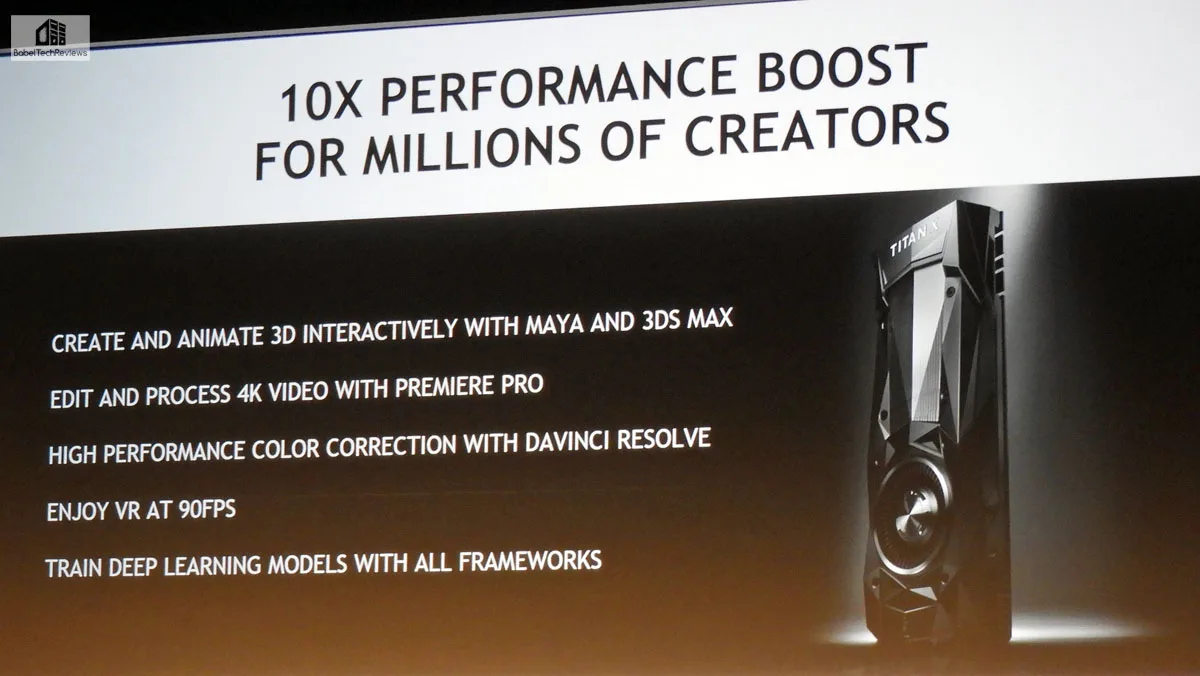 NVIDIA also pointed out that most designers like a thin and light notebook but generally need much more power than CPU graphics can generally provide.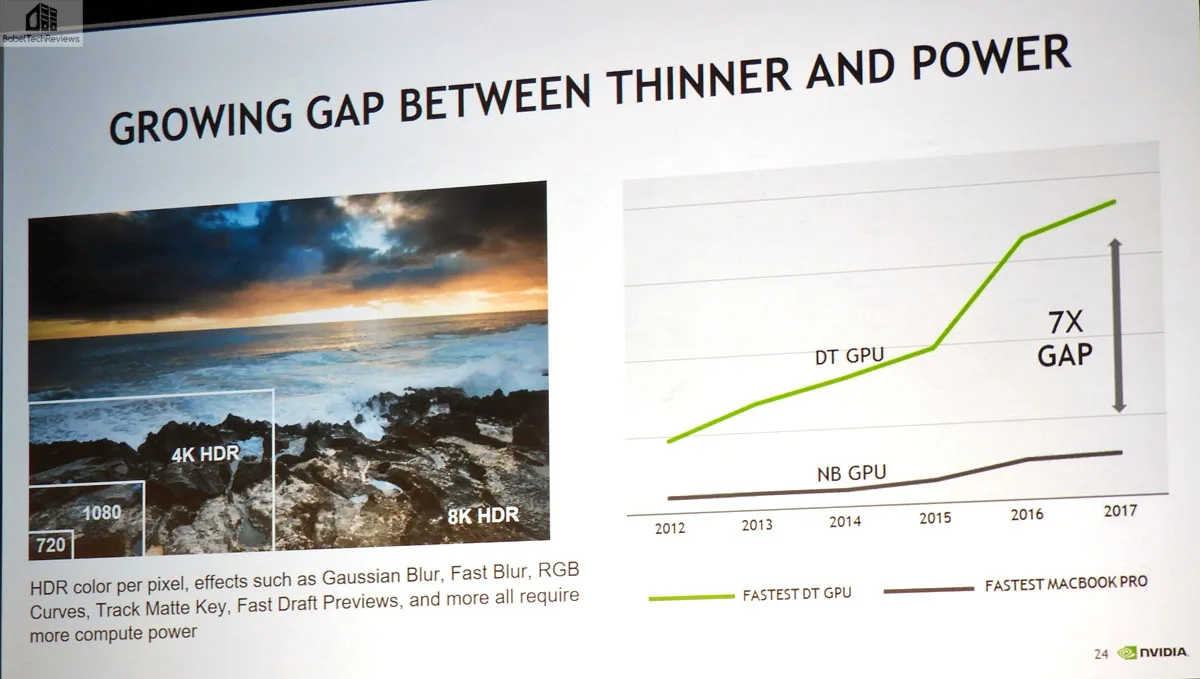 Professionals with underpowered graphics notebooks can now harness the power of discrete NVIDIA TITAN X or NVIDIA Quadro graphics cards through an external GPU (eGPU) chassis and significantly boost the performance of their applications. Beginning in September, Quadro graphics will be available through NVIDIA qualified eGPU partners for those who use high-end content-creation applications as well as for CAD and simulation apps.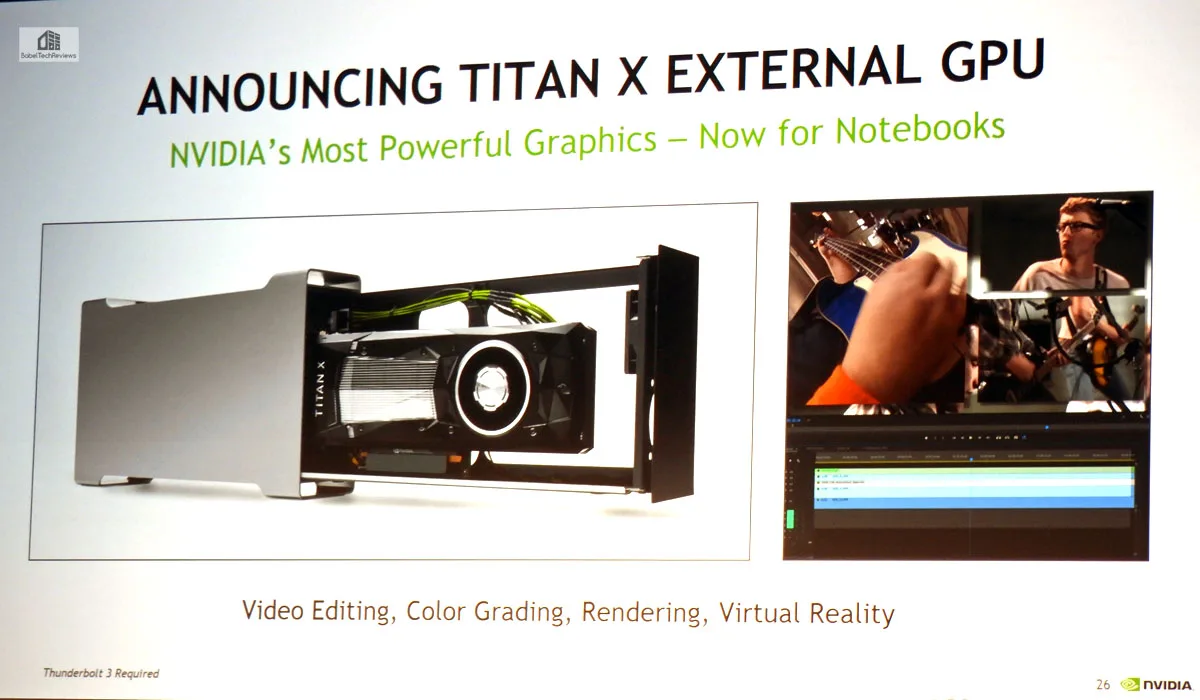 NVIDIA is continuing to support the VR ecosystem. We found NVIDIA Research in the Emerging Tech area demonstrating their work in Optic and Haptics for AR and VR\ and they also announced the ZCAM integration of VR Works 360 Video SDK.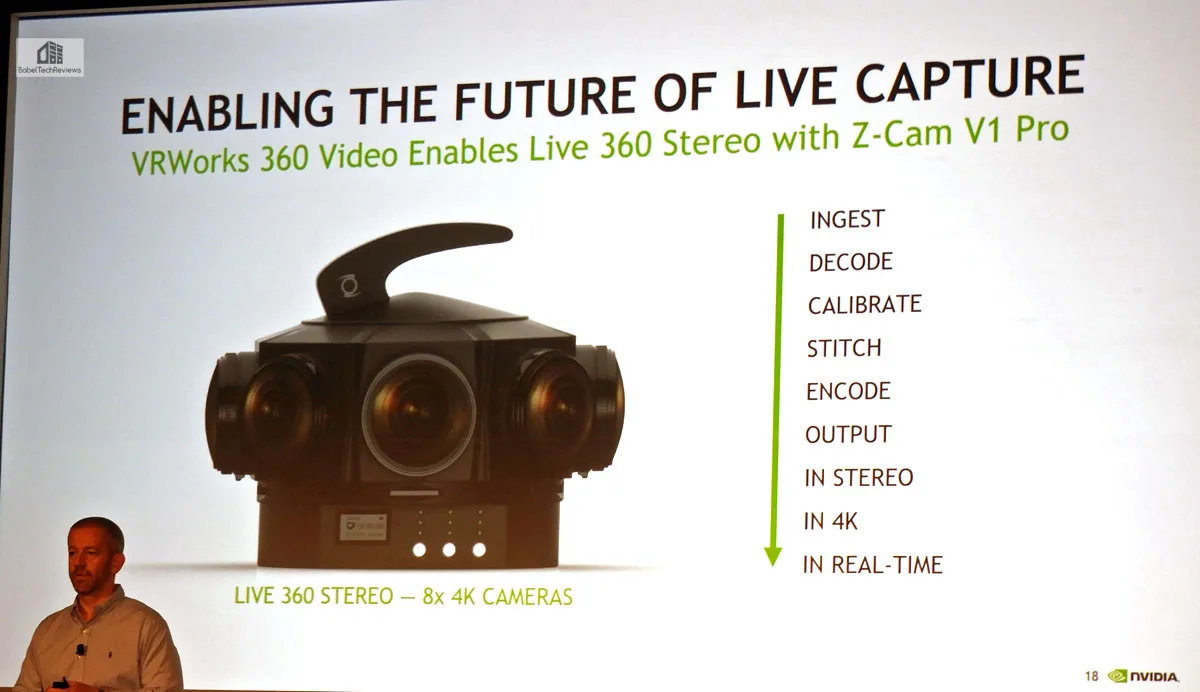 HP Mars is a NVIDIA project with Technicolor, Autodesk, and HP to bring designers, inventors, space enthusiasts and experts together to examine the possibilities for colonization of the red planet.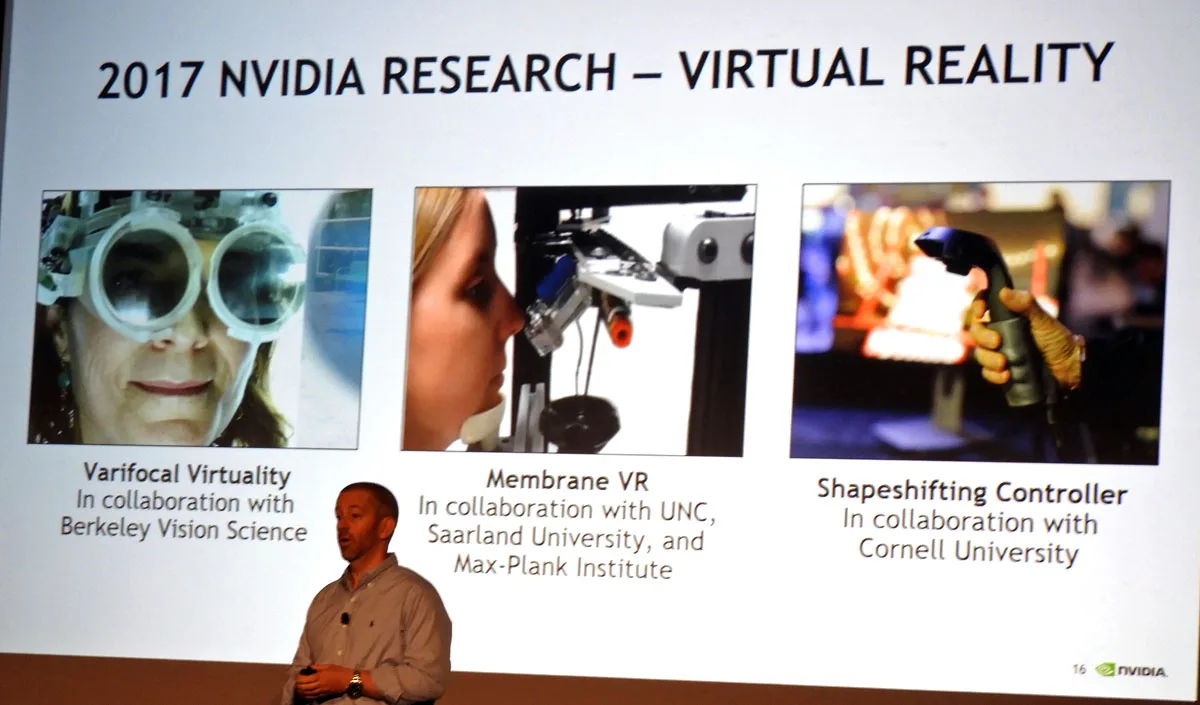 NVIDIA's VRWorks SDK uses research to bring more immersion to VR.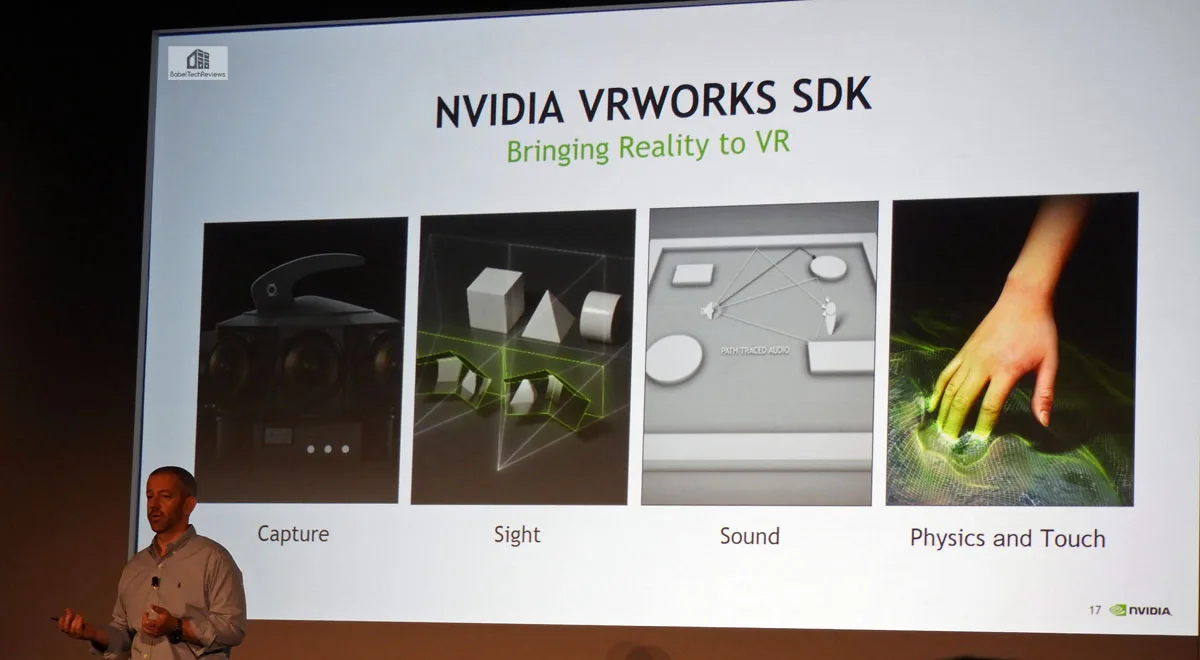 We have seen how VR works with fix foviated in VR to focus the most graphics power on where the eye actually looks, and NVIDIA has already been able to bring Lens Match Shading and Multi-Resolution Shading to allow for higher details using the same amount of graphics power.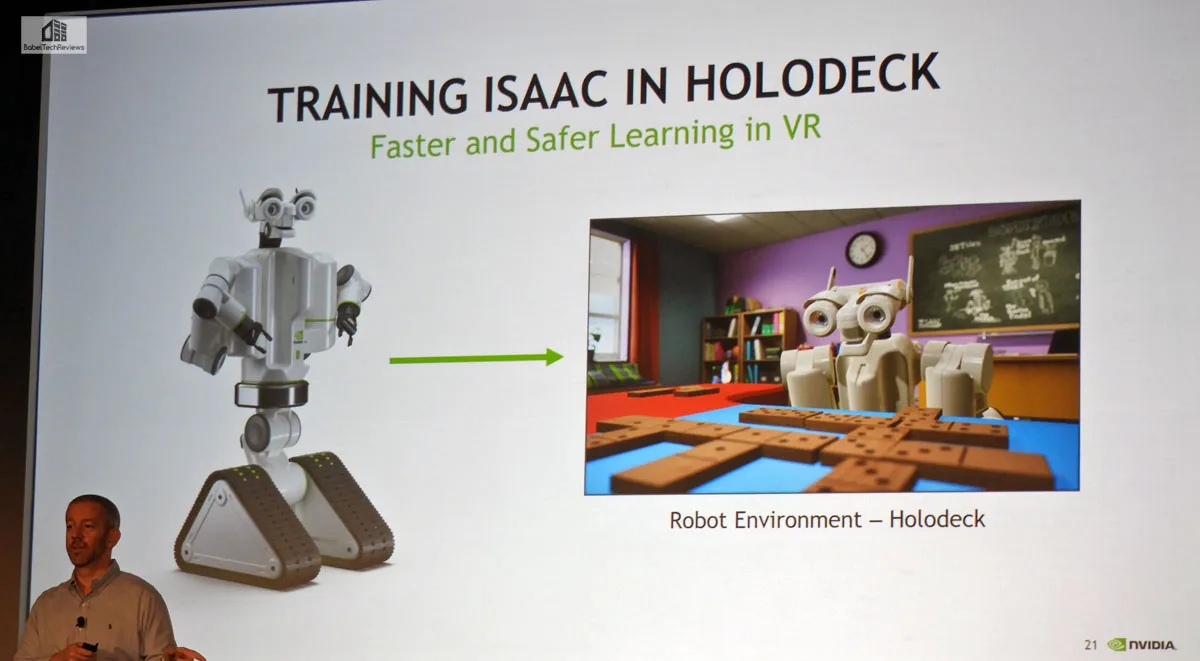 New simulators for AI in VR via an Isaac-trained robot in Holodeck. Here's a video of Isaac:

The following slide in NVIDIA's presentation is what they want us to take away from their hour-long presentation – that NVIDIA is the world leader in computer graphics and they already provide a complete solution for gamers, developers, scientists, and content creators. We saw NVIDIA introduce new cameras, new SDKs, and new support at last year's SIGGRAPH, and they are continuing to build on their strengths to deliver what they believe their customers want.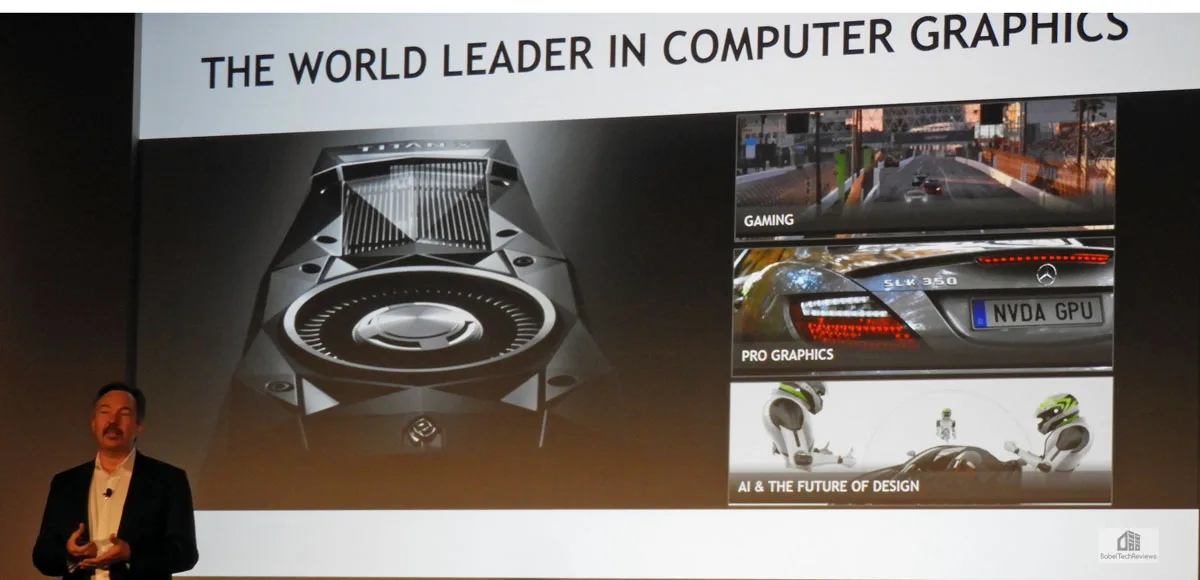 Of course, AMD has different strengths than NVIDIA as they can leverage both CPU and GPU, and they are just beginning to break into AI and deep learning. Let's take a look at their presentation which was held last Sunday evening attended by an enthusiastic crowd of 2,300 at the nearby club, The NOVO.
AMD's Presentation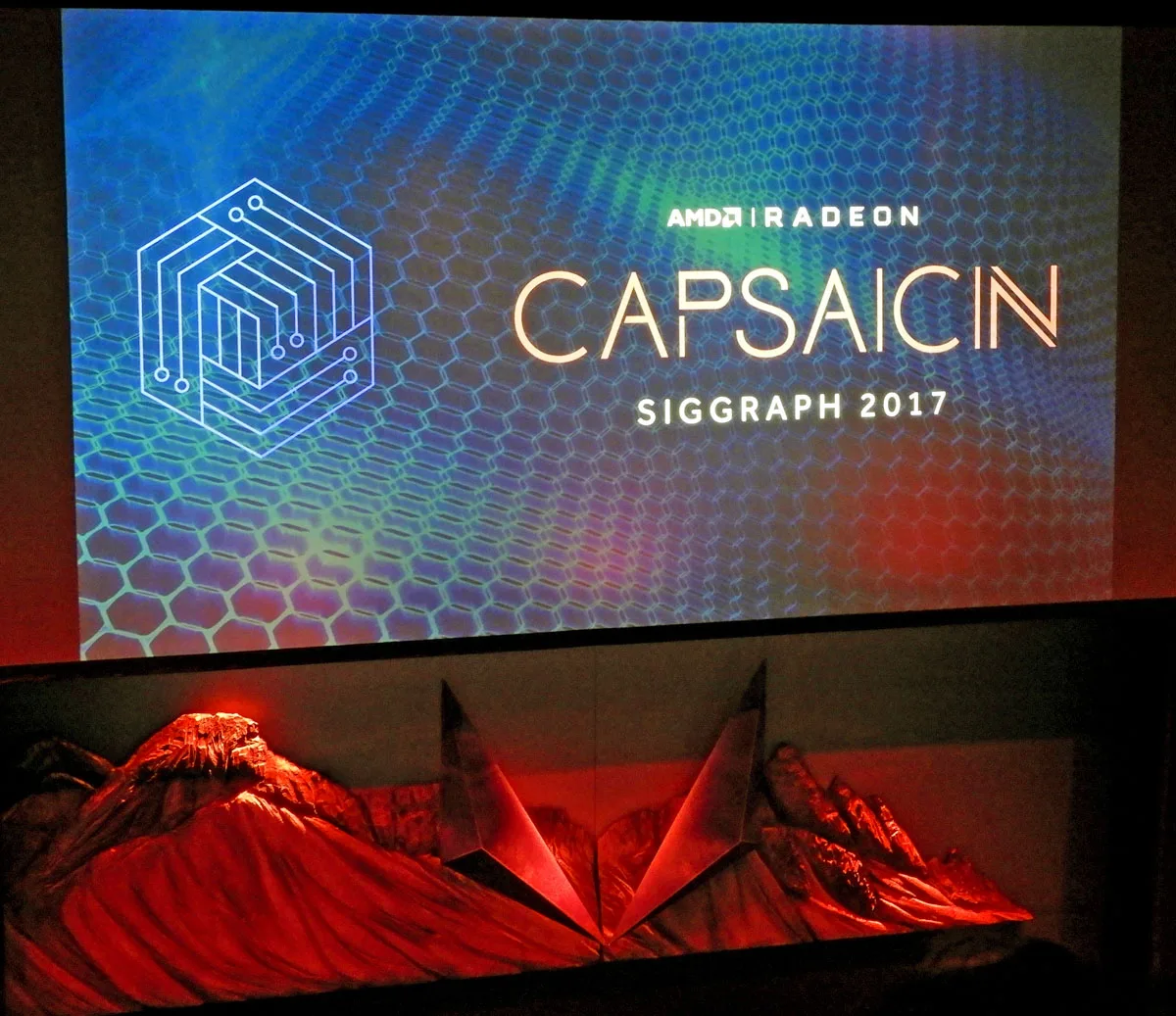 In front of an enthusiastic crowd of 2,300 fans, media, gamers, and content creators, AMD believes that they have reinvigorated the high-end PC market with new Ryzen Threadripper CPUs and Vega GPUs for gaming and content creation at their Capsaicin event at the nearby The NOVO.
This Capsaicin presentation was probably the best launch event in recent AMD history. This presentation was confident, slick, and professionally done, and it moved right along. It looks like AMD spent a lot of money on it.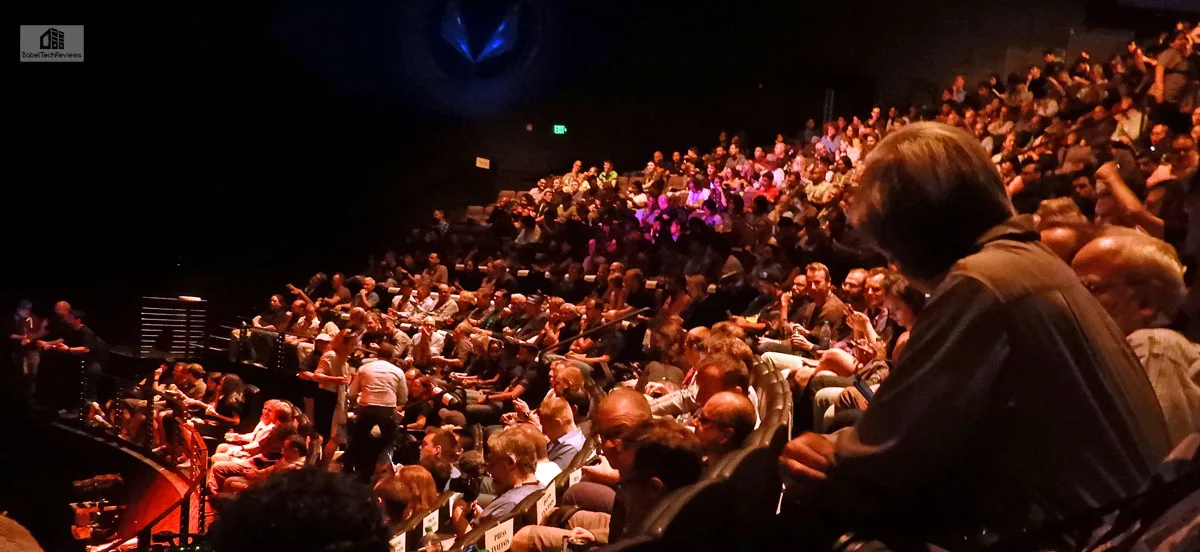 The Radeon Pro WX 9100 workstation graphics card was introduced, delivering up to 12.3 TFLOPS of peak single precision compute for the most demanding media and entertainment, and design and manufacturing workloads. There are solid performance improvements over AMD's current Radeon Pro top card.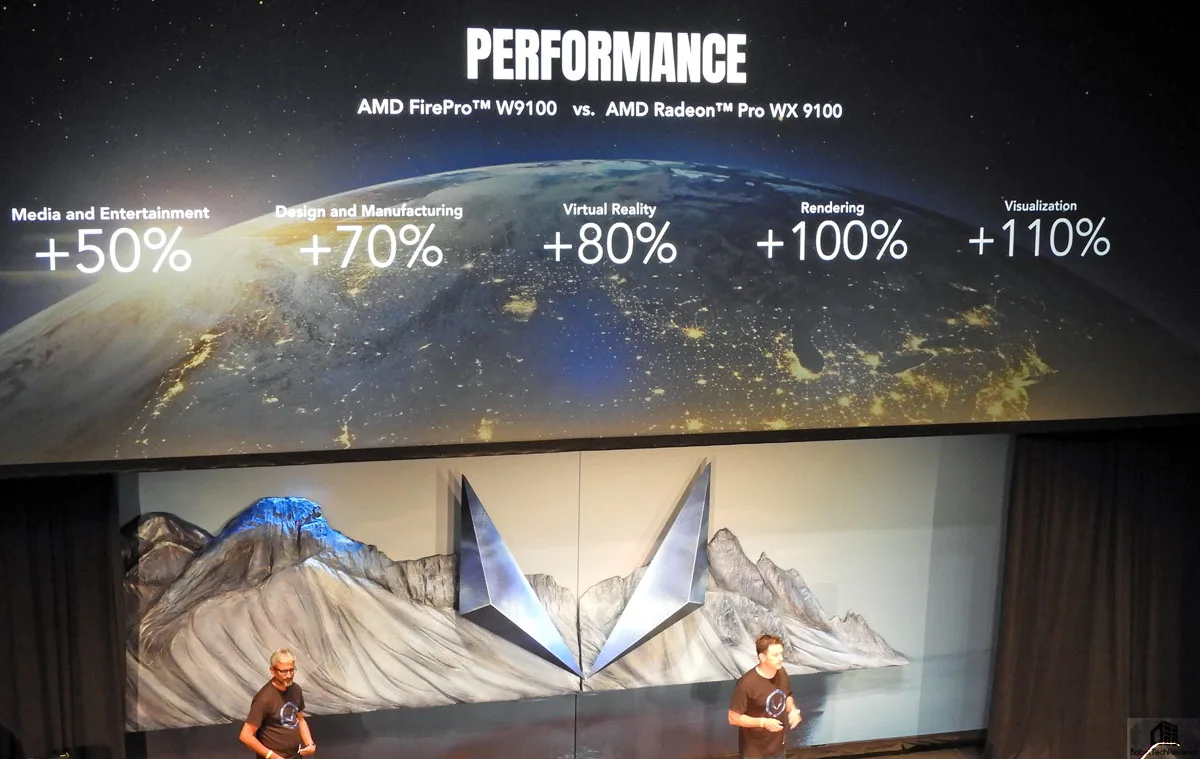 Next, Raja Koduri introduced Tim Sweeney of Epic Games.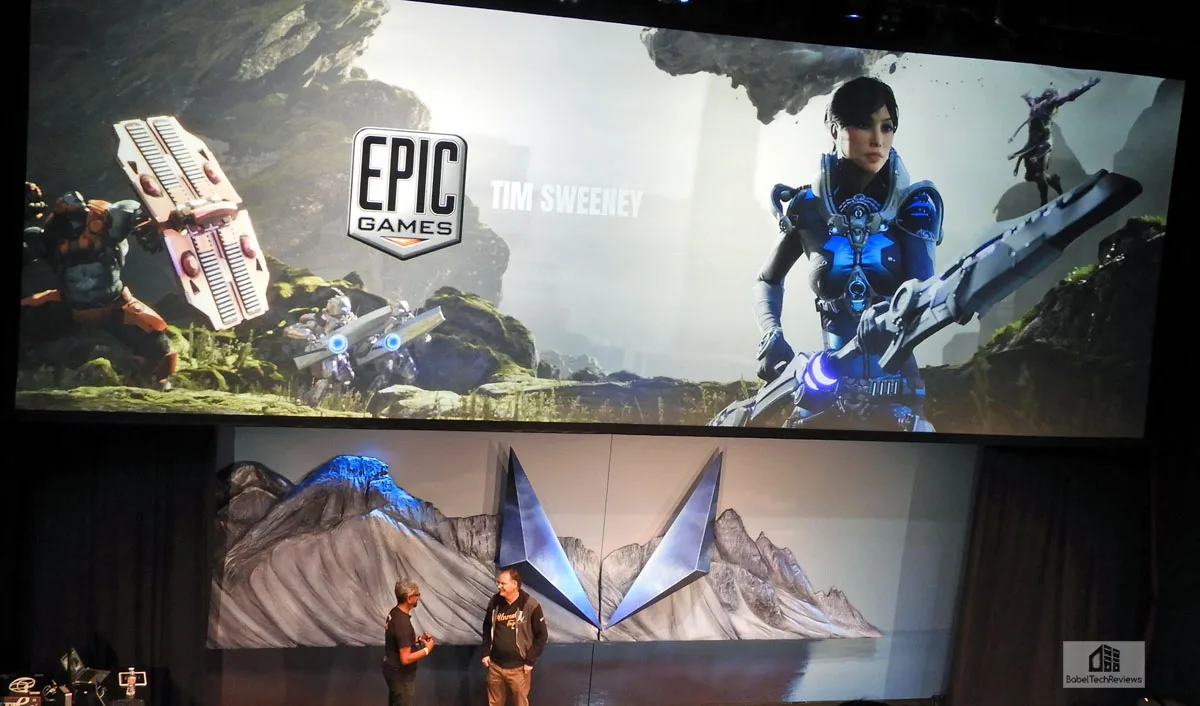 Tim got his own sample of the upcoming RX Vega Nano.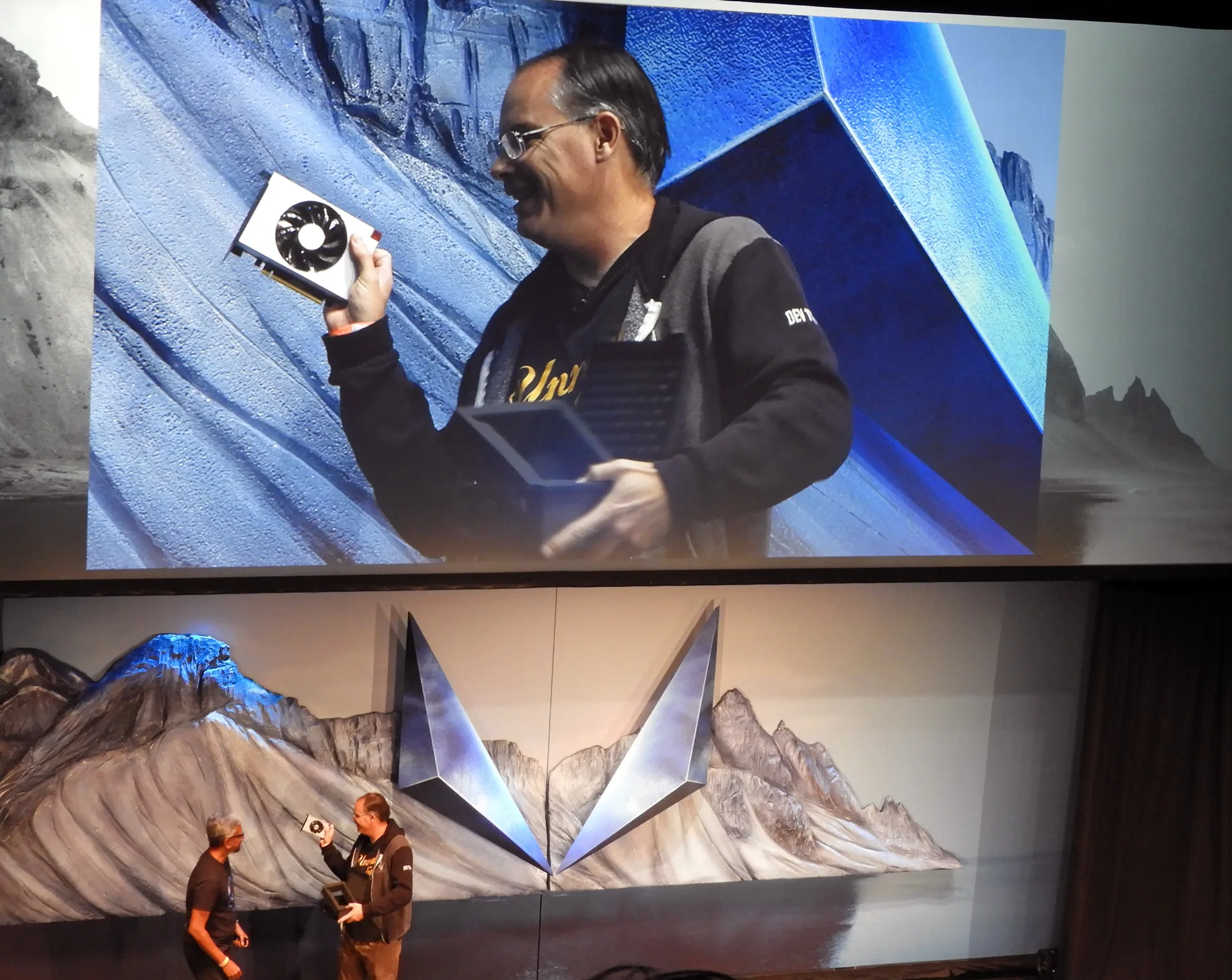 The Radeon RX Vega family of GPUs was then launched with availability starting from Aug. 14th. There are three new products based on the "Vega" GPU architecture to redefine gaming and content creation:
Radeon RX Vega 64 Liquid Cooled Edition, engineered with 64 compute units to be the most powerful Radeon ever built
Radeon RX Vega 64 with air cooling
Standalone Radeon RX Vega 56, available starting at $399 USD SEP and the Radeon RX 64 is available starting at $499 USD SEP
The takeaway from the presentation is that the Radeon RX Vega represents the most sophisticated GPU architecture ever designed for enthusiast-class gaming, delivering up to 13.7 TFLOPS of peak performance to power even the most demanding games and VR applications. The standalone Radeon RX Vega 56 is available starting at $399 and the Radeon RX 64 is available starting at $499.

AMD also introduced Radeon Packs which include a $200 discount on the 34" Samsung CF791 curved ultrawide FreeSync monitor, and a $100 discount on select Ryzen 7 1800X processor and 370X motherboard combos for a total of $300 in combined hardware savings. Each Radeon Pack also includes as part of this bundle, in select regions, Wolfenstein II: The New Colossus and Prey for free. There are Red, Black, and Aqua Radeon Packs to choose from:
Radeon Red Pack features the Radeon RX Vega 56, an air-cooled card for $499.
Radeon Black Pack features the Radeon RX Vega 64, an air-cooled card for $599.
Radeon Aqua Pack features the Radeon RX Vega 64 Liquid Cooled Edition, the apex Radeon RX Vega graphics card, for $699.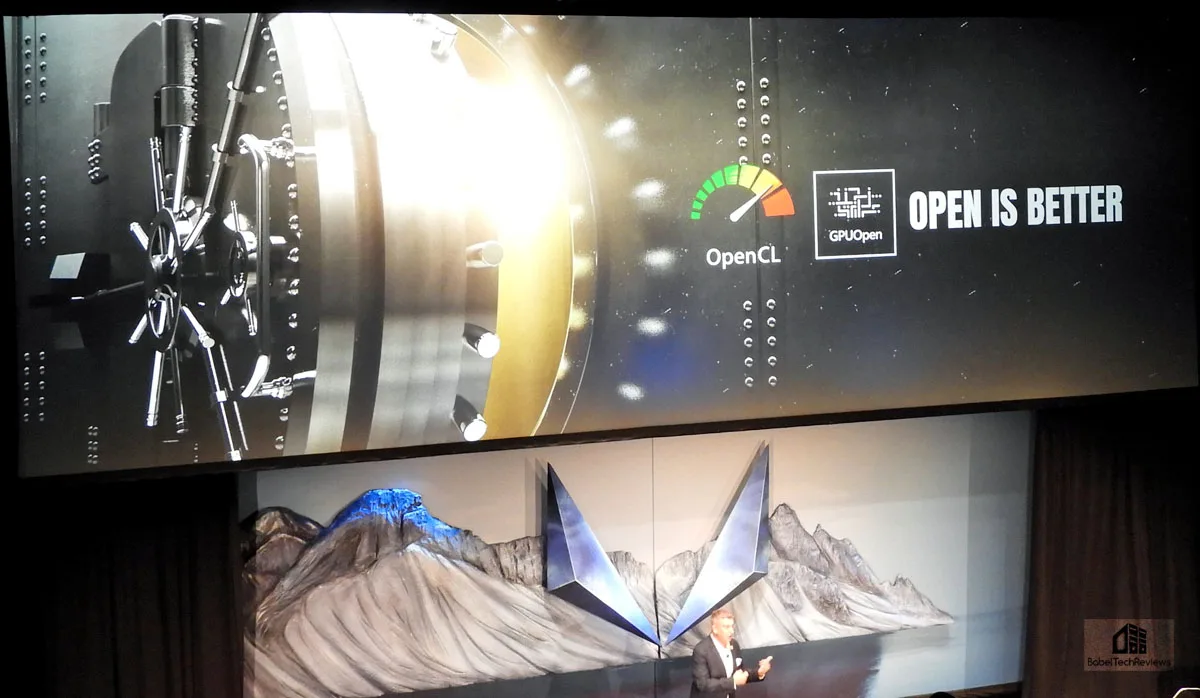 AMD naturally pointed out the differences between their philosophy and NVIDIA's – AMD believes in Open Source as better. They next introduced Threadripper.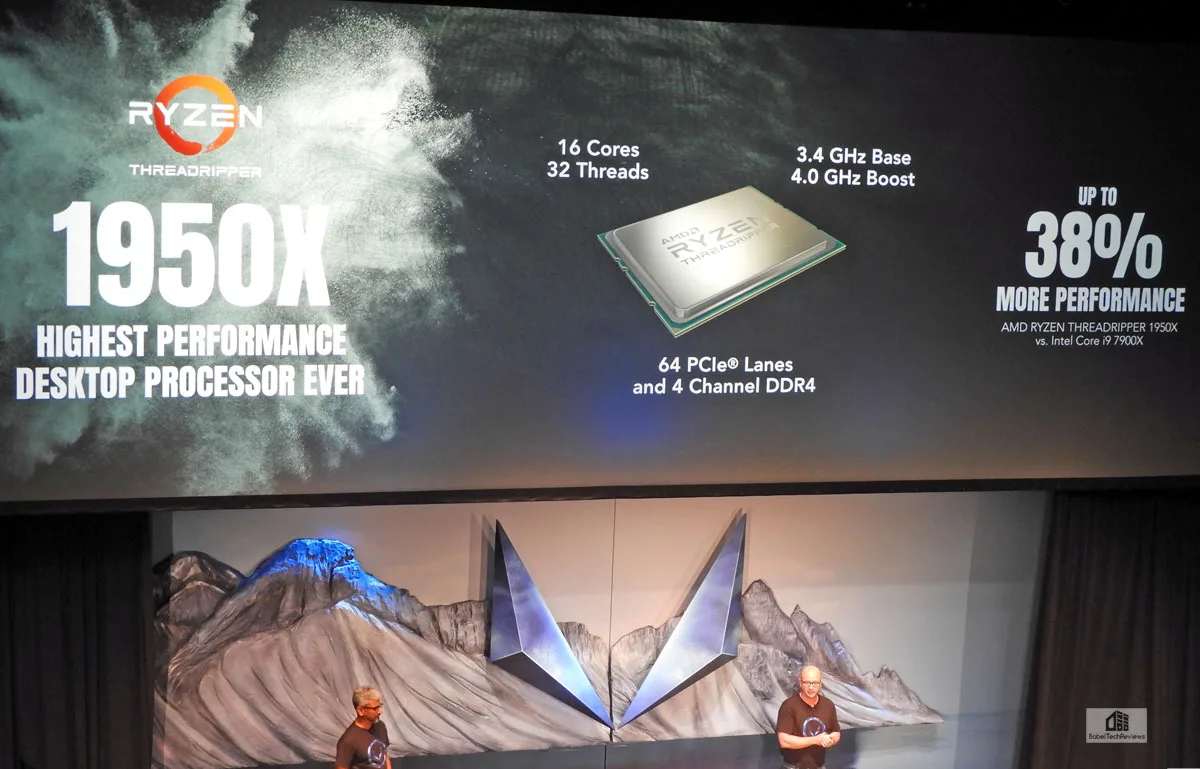 An Aug. 10 Availability of 16- and 12-Core Ryzen Threadripper Processors were promised to deliver advanced feature sets, increased efficiency, and leadership performance on today's most demanding PC workloads.
The 16-core, 32-thread Ryzen Threadripper 1950X, with a base clock of 3.4 GHz and a boost clock of 4.0 GHz, is available for pre-order for a suggested price of $999.
The 12-core, 24-thread Ryzen Threadripper 1920X, with a base clock of 3.5 GHz and a boost clock of 4.0 GHz, is available for pre-order for a suggested price of $799.
The new 8-core, 16-thread Ryzen Threadripper 1900X, with a base clock of 3.8 GHz and a boost clock of 4.0 GHz, is available on August 31st for a suggested price of $549.
All AMD Ryzen Threadripper processors are supported by the X399 platforms at launch, with motherboard designs already available from ASRock, ASUS, Gigabyte, and MSI. The TR 1950X was shown as being faster in certain benchmarks over Intel's much more expensive Core i9-7900X.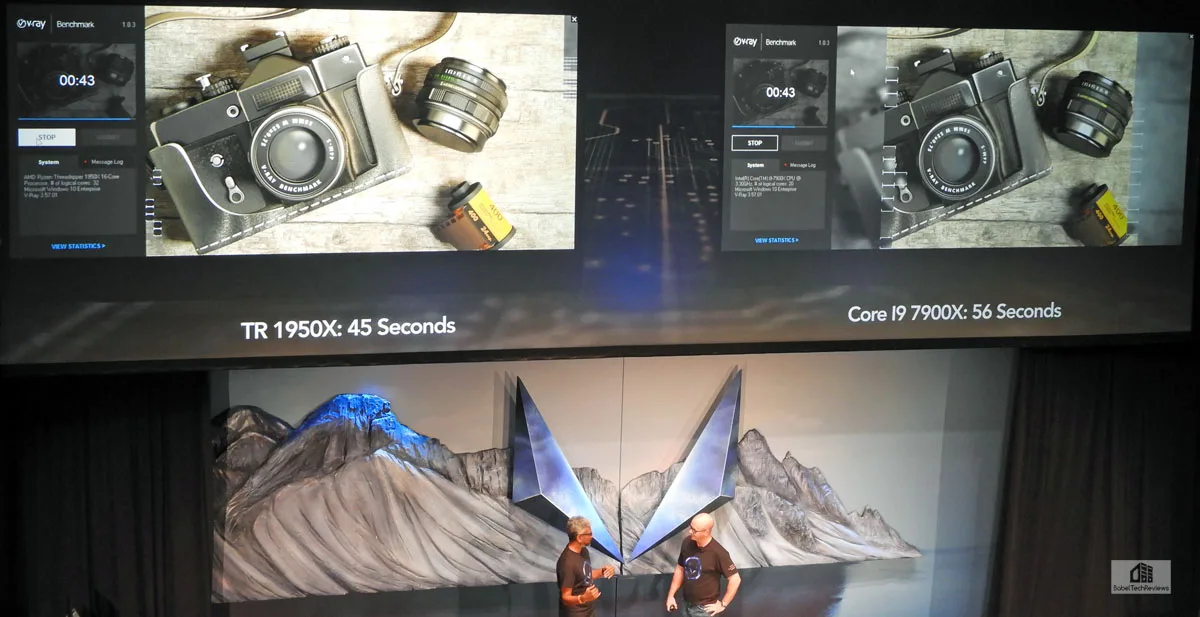 The Radeon Pro SSG offers the same performance and features of the Radeon Pro WX 9100, and it is the world's first GPU to break the terabyte memory barrier with 2TB of graphics memory.


This 2TB of graphics memory is to enable smooth 8K video editing in real-time. Raja Koduri even used humor to good effect when their comparative slides got mixed up, and AMD could not resist poking fun at their competition's top card (below) which is a lot more expensive.
Both graphics cards' planned availability is September 13. AMD also announced the open-source availability of Radeon ProRender.

AMD's CEO Lisa Su returned to the stage to introduce the new P47, a massively parallel computing platform in a 2U form factor designed to excel in a range of tasks, from graphics virtualization to machine intelligence. AMD has partnered with Iventec to develop the P47.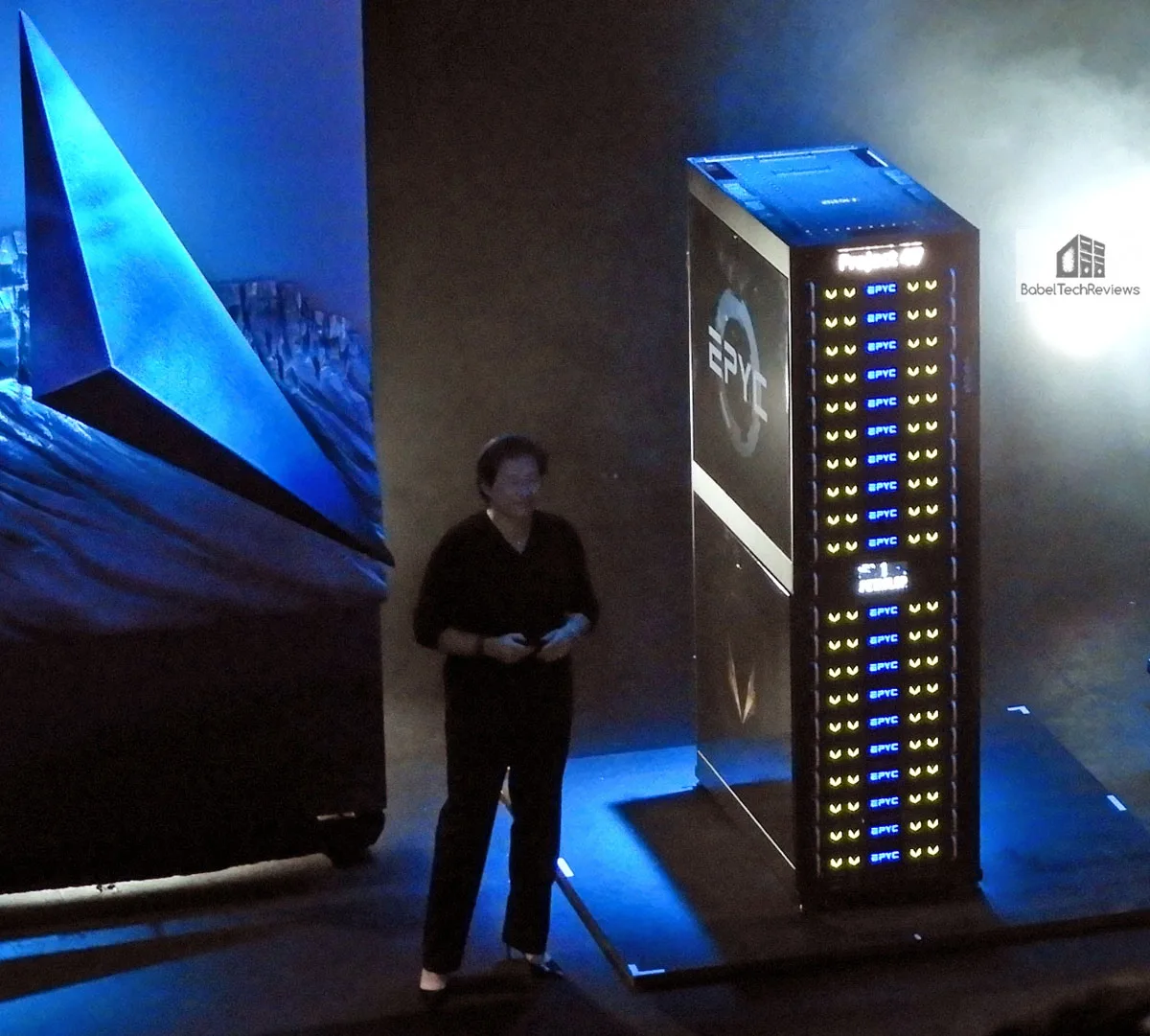 A single rack of Inventec P47 systems boasts 1 PetaFLOPS of compute power at full 32-bit precision delivering 30 GigaFLOPS/W. AMD boasts that this rack has more cores, threads, compute units, IO lanes and memory channels in use at one time than in any other similarly configured system.
In another big announcement, AMD Studios was announced as a new initiative to advance film, TV, VR and AR through technology by pairing AMD's hardware and software portfolio with leaders in content creation. The AMD Studios' goal is to harnesses open standards technologies based on the Radeon ProRender, and tools and technologies for content creation available through GPUOpen.com.
Conclusion
AMD clearly wants to be in the position that NVIDIA is in now with regard to AI and deep learning, and they have leveraged their Vega and Ryzen/Threadripper architecture to take advantage of their computing strengths with regard to open platform applications. Their strategy is very different from NVIDIA's which is a more of turn-key kind of setup with proprietary software and support. Both companies will compete directly with each other in this emerging huge market just as they do in gaming graphics. These are exciting times to be living in as AI comes to graphics and to gaming.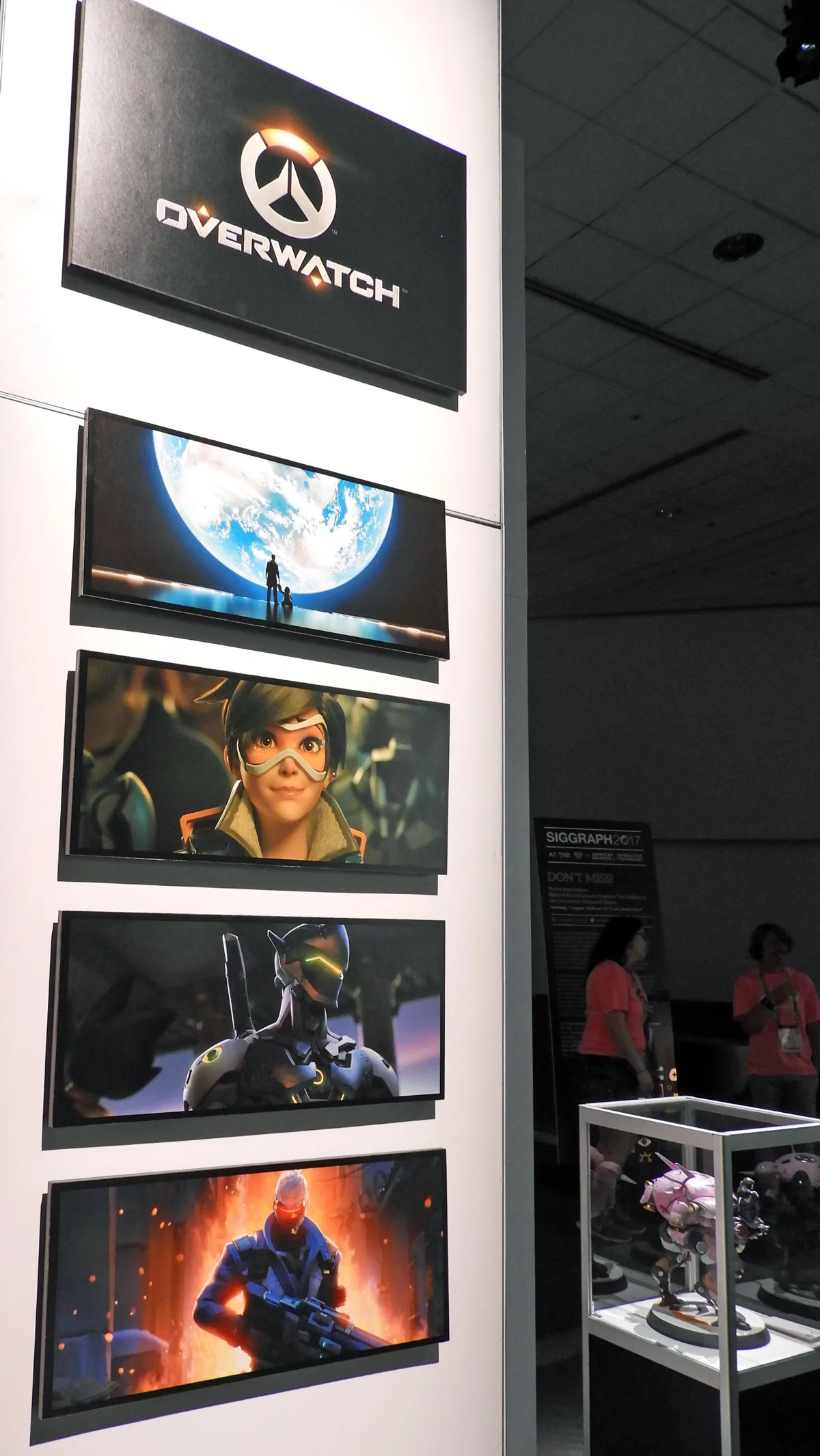 We enjoyed our days at SIGGRAPH last week and we hope to return next year for SIGGRAPH 2018 in Vancouver, Canada, to see what progress is being made especially by AMD and NVIDIA. Even though SIGGRAPH is focused squarely at content creators, what happens there will impact gamers and game creation trends for years to come, and especially with VR.
Next up, we will have a new VR evaluation of Darts VR and then we will begin to benchmark the GTX 1080 Ti/GTX 1080/GTX 1070 and the Fury X in preparation for RX Vega 64 which we hope to have shortly after it launches..
Happy Gaming (computing, and content creating)!