There are Still a Few Obstacles to Smooth, Beautiful OTT Viewing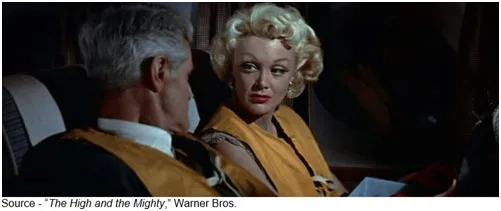 If you want to punish your kid today; you don't ground them, don't send them to their room, don't take away their Big Wheel, don't withhold their allowance.
Nope, you cut them off from the Internet – no streaming TV, no computer, no tablet, no smartphone … zip, zero, nada.
Of course, their lawyer will call it cruel and unusual punishment.
Even the United Nations Broadband Commission and International Community Forum (ICF) have said that Internet and broadband access is an essential service, a fundamental human right.
Lick (Joseph Carl Robnett Licklider) had no idea what a vital thing it would become for folks, businesses and countries when he came up with the concept 50 years ago.
Heck, all he wanted to do was develop an "intergalactic network" so people could pull data and computing resources from mainframes to free themselves from mundane and menial tasks.
Bam!!
Today:
4B +/- people around the globe are online
We connect everything into it – phones, cars, pipelines, homes, street lights …
82 percent of the wired/wireless traffic is video – movies, events, documentaries, ads, dumb/dumber stuff, "I am here doin' this" content, influencer endorsements
Nice going, Lick!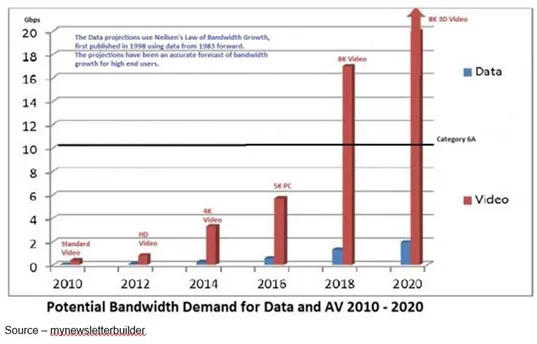 According to Cisco, we're hooked and there's no turning back.
By 2021:
IP (internet protocol) traffic will triple to a run rate of 3.3ZB
There will be 1.9B Internet video users (excluding mobile-only)
We'll be creating, storing, sharing three trillion video minutes per month (five million years of video per month)
Live streaming video will increase 15x, reaching 13 percent of traffic
VR/AR (virtual/augmented reality) will increase 20-fold to one percent of the traffic
56 percent (663M) of connected flat panels will be 4K
Cord-cutting traffic will generate 117GB/month, 2x more than regular pay TV
While that's not necessarily good news for fixed schedule regular TV content providers, it's great news for the more than 200,000 indie filmmakers around the globe and Facebook Live/YouTube teens.
The global video information/entertainment transformation seems equally rosy for streaming services like Netflix, Vimeo, Hulu, Sky, Rogers, Century Link, Canal, Amazon Prime, Singtel, Tencent, Alibaba and the growing number of online video services around the globe eager to be the viewers "channel of choice."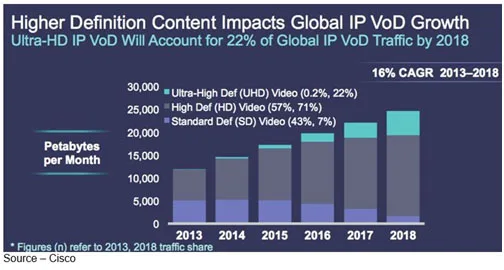 People not only want more online video, they want better quality – 4K, HDR (high dynamic range), and probably 8K by 2021.
If you live in an industrialized country you tend to take our global digital transformation — and the ready availability of content anywhere, everywhere, anytime — for granted; but fast, reliable connectivity isn't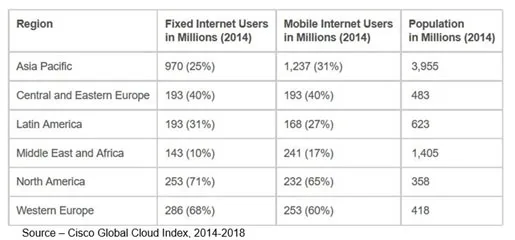 Performance – and price – varies dramatically.
Globally, fixed Internet connection speeds averaged 7.2 megabits per second this quarter, according to Akamai's latest State of the Internet Report. This is up 15 percent over a year ago.
The U.S. finally broke into the top ten countries for average fixed Internet speed with 18.7 Mbps, up 22 percent compared to last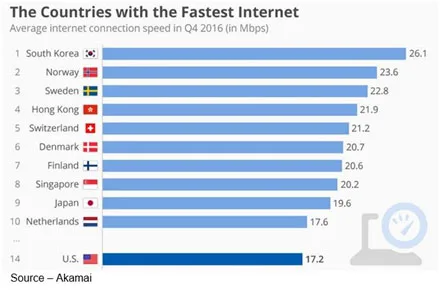 South Korea continued to lead the performance speed race with 28.6 Mbps.
Connection Speeds:
27 of European countries have average connection speeds at or above 10 Mbps
28 of the 31 European countries had average peak connection speeds of at least 50 Mbps
average connection speeds increased in 19 European countries – from Greece (7.9 Mbps) to Denmark (20.1 Mbps)
Broadband Adoption:
5 European countries were in the global Top 10 Country category with 25 Mbps broadband
50 percent of European countries had average speeds of 10 Mbps or higher
Growth trends:
BT announced the rollout of 330 Mbps service with full deployment in the second half
Virgin Media announced increases across all service tiers – entry package of 100 Mbps up to 300 Mbps
Global broadband speeds will reach 42 Mbps by 2018
55 percent of broadband connections will be faster than 10 Mbps by 2018
Average broadband speeds in Japan and South Korea will be100 Mbps
Vodafone Iceland launched 500 Mbps fiber-based services
Telecom Italia announced 300 Mbps fiber-based broadband
Finland's Starman/Nokia announced 10 Gbps European service in the next 5 years
European Commission reported fixed broadband to 98 percent of Europe with 76 percent at 30 Mbps plus
Key to success will be the last 100 ft., FTTH (fiber to the home) or implementing GFast (speeds content over copper/phone wires)
Great. But
Broadband and Internet service to the home is in "pretty good" shape in most industrial countries because of the build-out by broadband providers, ISPs (Internet Service Providers) and tens of thousands of dark fiber (unused, unlit fiber cable) in the ground.
However, our kids live on their smartphones accessing everything, doing everything but make calls.
In emerging countries, it is faster and less expensive to build out the wireless infrastructure than run underground cable.
A major push is on to deliver more speed and lower latency for mobile communications since industry experts expect it to grow 3x faster than fixed IP traffic.
While voice mobile calls grew 46 percent over the past five years, data traffic grew 1,600 percent; according to Akamai.
Last year, the ITU (International Telecommunications Union) reported that there were about 5+B mobile subscribers (67% of the global population).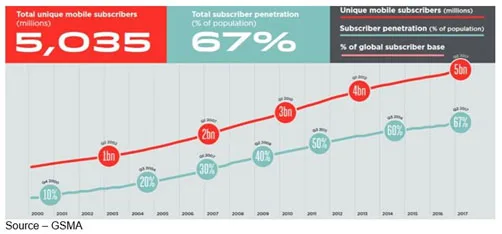 For the beginning of the year, wireless/mobile performance was:
Average speeds ranged from U.K. 26 Mbps to 2.8 Mbps in Venezuela
Germany's peak speed was 200 Mbps
37 countries have average mobile connection speed of 10 Mbps
70 countries had average speeds of 4 Mbps
Cisco noted that mobile will drive most of the data traffic next year, about 33 percent; and it will grow to 57 percent by 2021.
Fourth-generation (4G) technology – depending on your provider – can deliver download speeds of 8-12Mbps. which most kids will tell you is marginal.
5G, or fifth generation, was the talk of the show at MWC (Mobile World Congress) and IBC last year as the answer to the solution for streaming content on-the-go. It will be competing with terrestrial copper and fiber for speed and latency (1ms latency, 100Mpbs speed), enabling 4K content to be streamed without hiccups.
Of course, that has been a work-in-progress for years.
Technology to improve speed and capacity is readily available; but the stumbling block is who will pay for it.
While Lick and his idea team may have developed the Internet concept and enabled the U.S. to build out a very robust wired/wireless network; it came at a cost.
According to the FCC (Federal Communications Commission), choosing a provider is very easy. You can choose any one of one – Comcast, Time Warner, AT&T or Verizon.
In most of Europe, competition is required by insisting that the folks who own the pipes lease space to rivals (usually at a very discounted rate).
According to Tom Wheeler, former FCC chairman, "Three-quarters of American homes have no competitive choice for the essential infrastructure for 21st century service."
Governments have two choices – regulate or follow a hands-off approach and let them compete.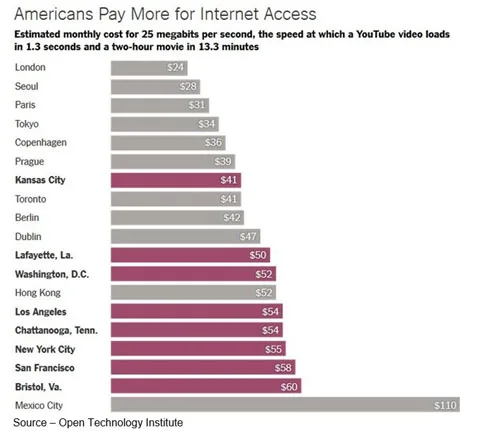 Yeah, the track record is good so far.
New America found broadband plans ($35 and $50 a month) in Seoul, Hong Kong, Paris provided 10X more speed than U.S. cities. At almost every speed, Internet access costs more in the U.S. than Europe and consumers often pay added fees of about $100 a year.
While mobile providers today offer unlimited data plans (great for streaming kids), they also think unlimited doesn't mean the same thing you think it does. So, when your streaming content goes above their unlimited level, they throttle (slow down) your streams leading to buffering, frozen frames or other performance issues.
Some folks, like Richard Bennett, of the American Enterprise Institute, and a few government officials; know the streaming problem isn't the networks, but you – browsing, websites, heavy usage.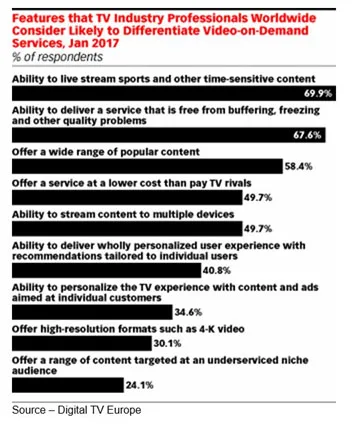 If the content folks want to serve up the cool stuff, and folks are eager for the stuff, both sides should support the lifestyles they want to become accustomed to.
Because of the lack of competition and oversight, we find ourselves reasoning with monopolies/duopolies.
To bypass this "inconvenience," large content providers like Google, Facebook, Netflix and others set up their own CDNs (content delivery networks) and peering connections to deliver content faster and more efficiently to consumers.
It's estimated that about half of the Internet traffic comes from 30 CDNs; and of course, when they improve their networks, everyone benefits.
So, consumers should be super happy, right?
Well, not quite.
They've solved the distribution problem right down to the last 100 ft. to your device(s).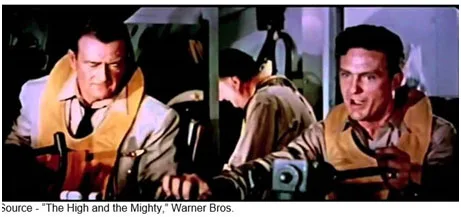 That's one hurdle we all have to address; and ultimately, we can.
Just keep in mind what Ben Sneed said, "Yep, Dan Roman is one guy who had guts enough not to commit suicide."
# # #