The highlight of Editor's Day 2017 which wrapped up in San Francisco on Tuesday, February 28, was the release of the GTX 1080 Ti. It is NVIDIA's flagship $699 video card which is supposed to be faster than the $1200 TITAN X and is about 35% faster than the GTX 1080 which just got a $100 price cut to $499. NVIDIA has thrown down the gauntlet to AMD as they have set the performance bar very high for the upcoming Vega video cards which are expected in the April-June time frame. However, there was a lot more to Editor's Day than the launch of the GTX 1080 Ti.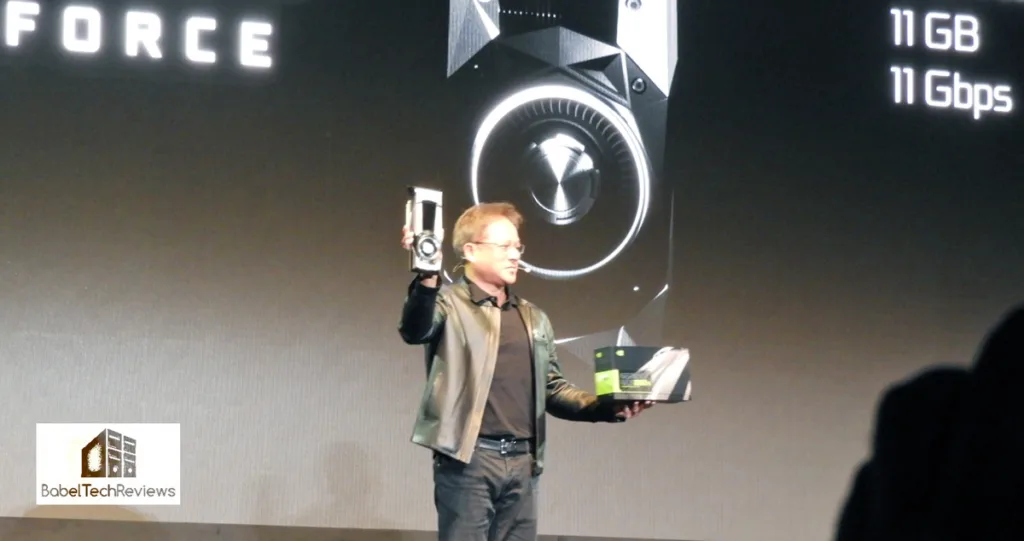 This editor was privileged to be invited to Nvidia's GTX 1080 Ti launch event in San Francisco, California. It was actually a 2-day event with a jam-packed schedule for the tech press that began last Monday evening, February 27, with a welcome, and ended on Tuesday evening with NVIDIA's CEO Jensen as the main presenter.
The event included extensive hands on with VR demos, time with NVIDIA's new FCAT VR benching tool, and with the latest games. This brief wrap-up is this editor's personal experience of the Editor's Day 2017 event with thanks to NVIDIA for inviting us in behalf of BTR.
This editor's journey began early on Monday with a nine-hour drive from the Palm Springs area to San Francisco. The weather was good for late February and a rainstorm was just ending. San Francisco was sunny and clear and in mid-50s F for daytime highs and dropping into the upper 40s by the early evenings. I generally kept a light jacket with me for nighttime events.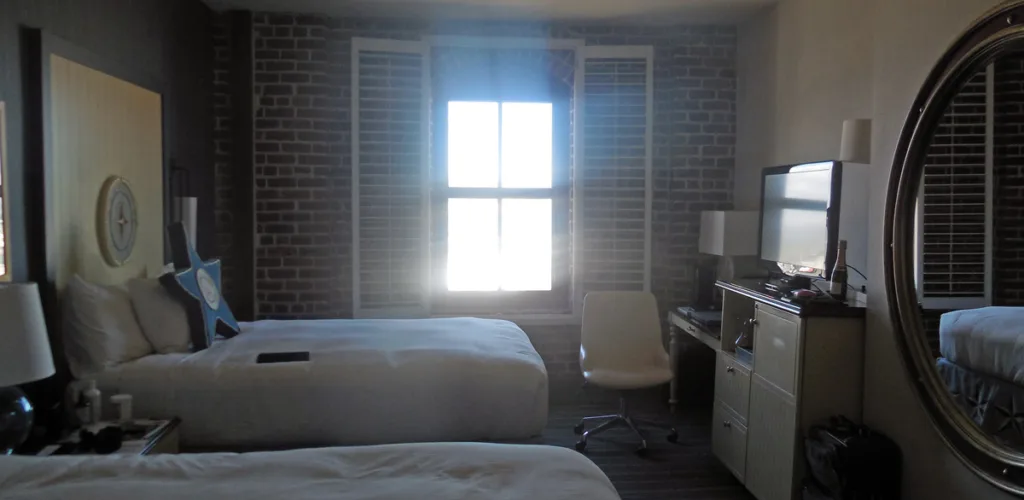 I arrived at the Argonaut Hotel overlooking Fisherman's Wharf with an amazing view of the marina and its surroundings as NVIDIA's guest, and immediately took a shower and then a nap to prepare for NVIDIA's welcome event with food and drink for the attending media.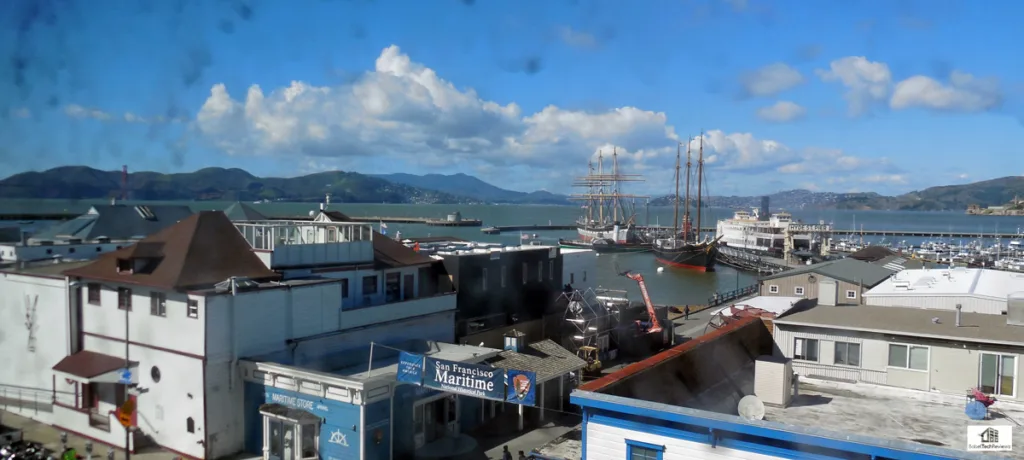 It was great to meet up with editors that I knew from other events, but to also make new contacts, then it was back to the hotel to prepare for a long day on Tuesday.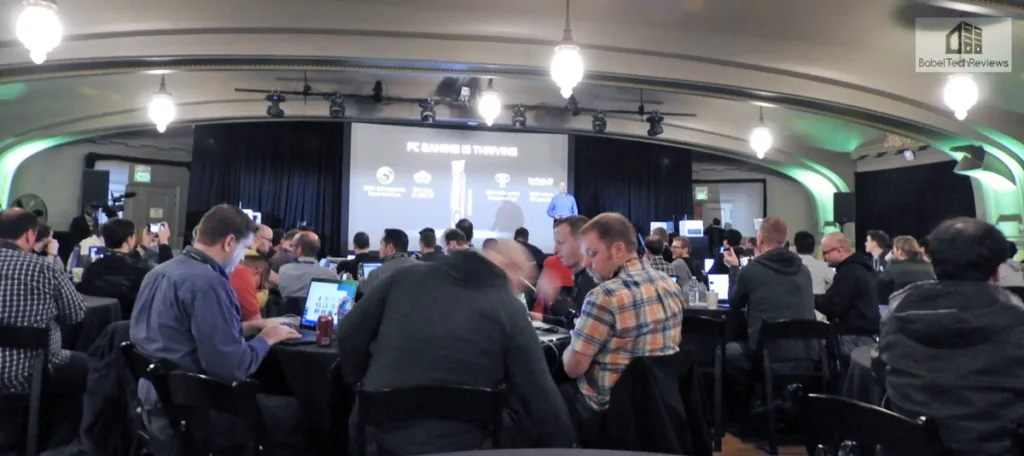 Breakfast was covered by NVIDIA at the Argonaut's restaurant, then off we went to the main presentation which formally began at 10 AM and which ran all day long punctuated by lunch and dinner, and was finally topped off with Jensen's half-hour long presentation at 7:30 PM.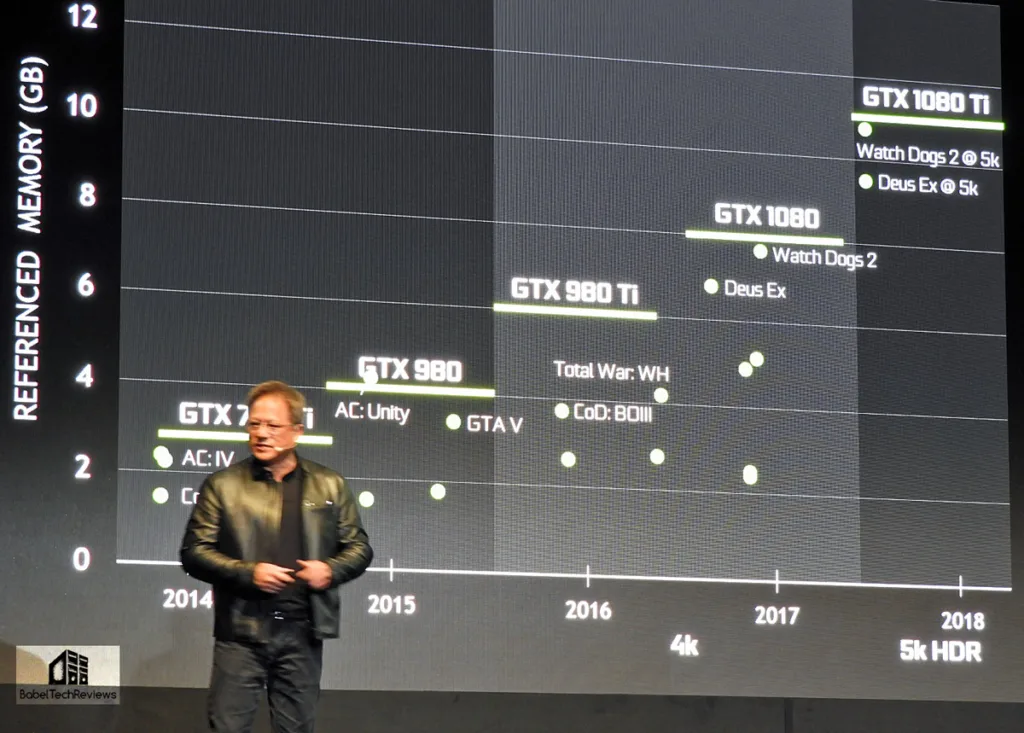 At 7 PM the attending press walked next door to the main auditorium and to NVIDIA's GTX 1080 Ti launch event where we sat a few rows back from the presentation. Judging by the applause, the attendees enjoyed Jensen's presentation and we were particularly interested in the GTX 1080 Ti launch. However, there was a lot more presented than just a new flagship video card. Here's a summary of the presentations at Editor's Day:
GameWorks DX12
NVIDIA announced GameWorks DX12 which is a collection of resources for game developers for the purpose of shortening product cycles in titles designed using DirectX 12. This implementation will work across all graphics cards. These resources include updates to the NVIDIA GameWorks SDK, updates to the NVIDIA VRWorks SDK for creating VR experiences, new developer tools, and a new Game Ready Driver. Taken together, these resources provide developers with substantial performance gains as well as with multiple new rendering and simulation effects to help create DirectX 12 games more quickly.
DX11 is a higher level API than DX12 and it requires less work for developers.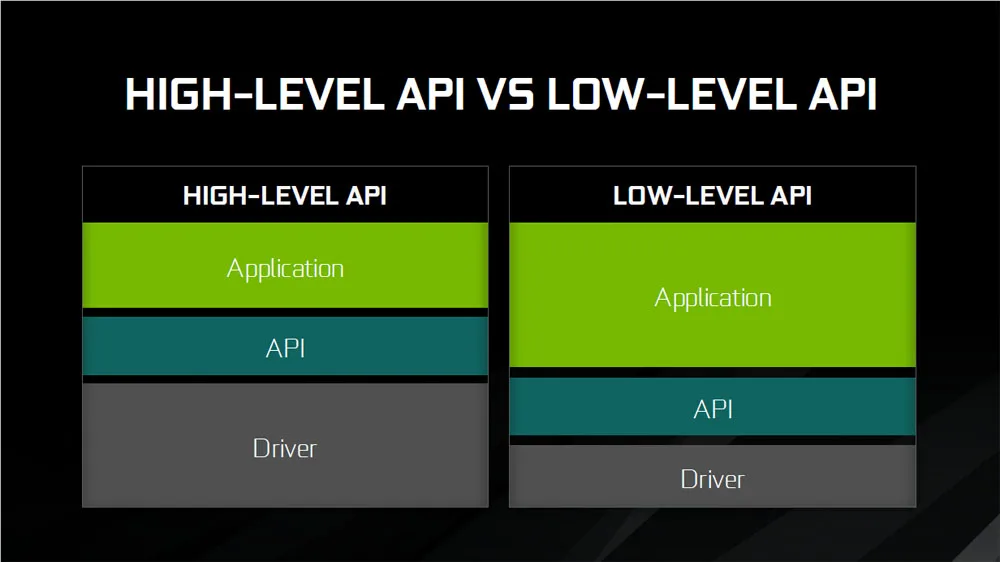 GameWorks moving to DX12 should not only result in better-looking games, but games will become more realistic for physics simulation. NVIDIA's GPU accelerated physics technology has been moved from CUDA to DX12 for a more unified gaming experience across vendors.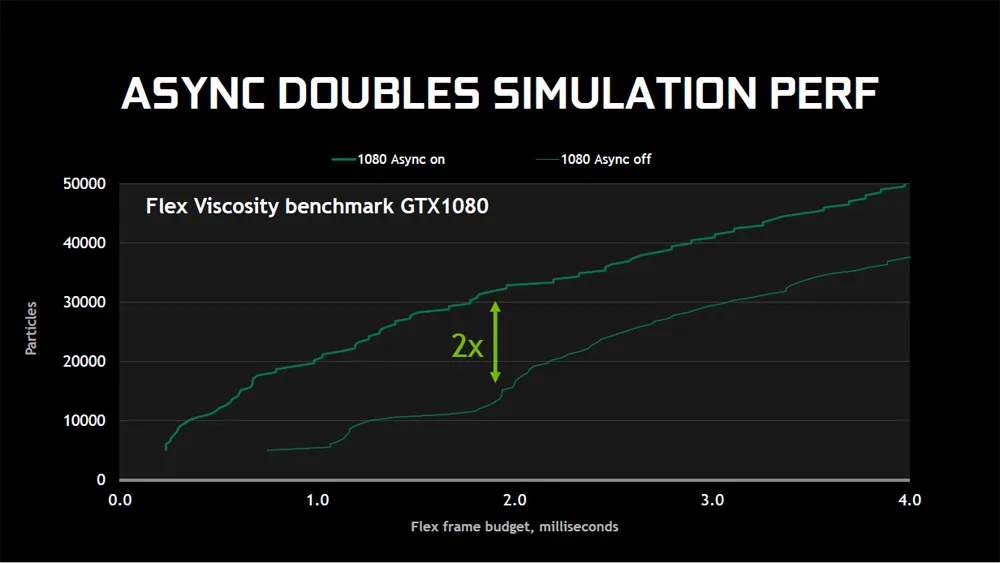 This latest version of GameWorks builds on over 2 million lines of documented code that are available to developers, providing them with a huge range of rendering and simulation effects. GameWorks technologies are currently used in more than 1,000 titles.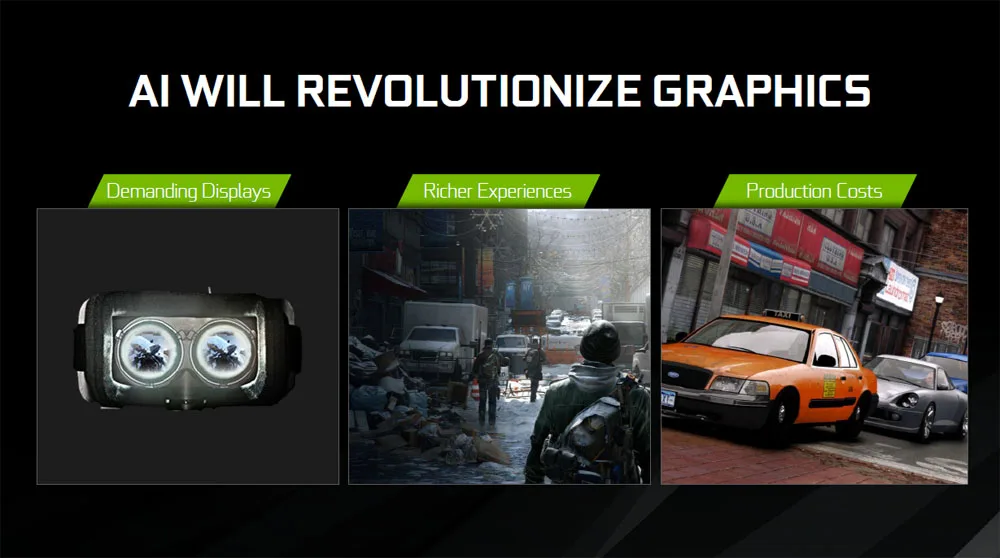 DirectX 12 introduced asynchronous compute which unified graphics and simulation by allowing GPUs to run non-graphics workloads for effects such as post-processing, lighting and physics. To maximize the efficiency of asynchronous compute for gaming effects, NVIDIA introduced its own physics simulation engine to DX12, with two technologies including FleX and Flow that take advantage of asynchronous compute which are available immediately for free to registered developers.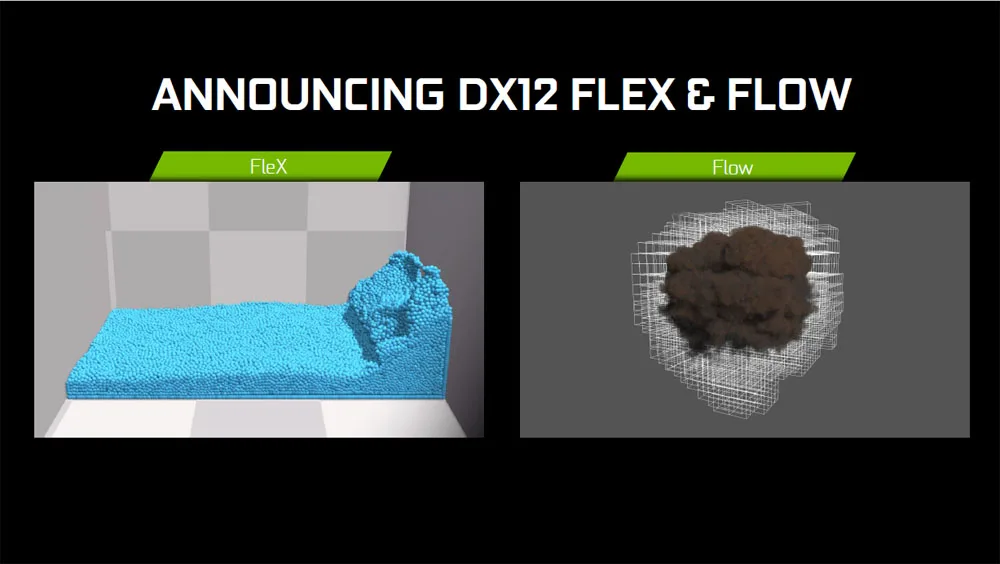 NVIDIA Flow 1.0 is a visual effects library that provides simulation and volume rendering of dynamic, combustible fluid, fire and smoke that supports both DirectX 12 and 11.
NVIDIA FleX 1.1 is a unified particle-based simulation technique for real-time visual effects. Supports DirectX 12 compute.
GameWorks partly deals with rendering and its updates also include NVIDIA HairWorks 1.3, a library that enables developers to simulate and render realistic fur and hair for their games. Version 1.3 supports DirectX 12 and is also available immediately.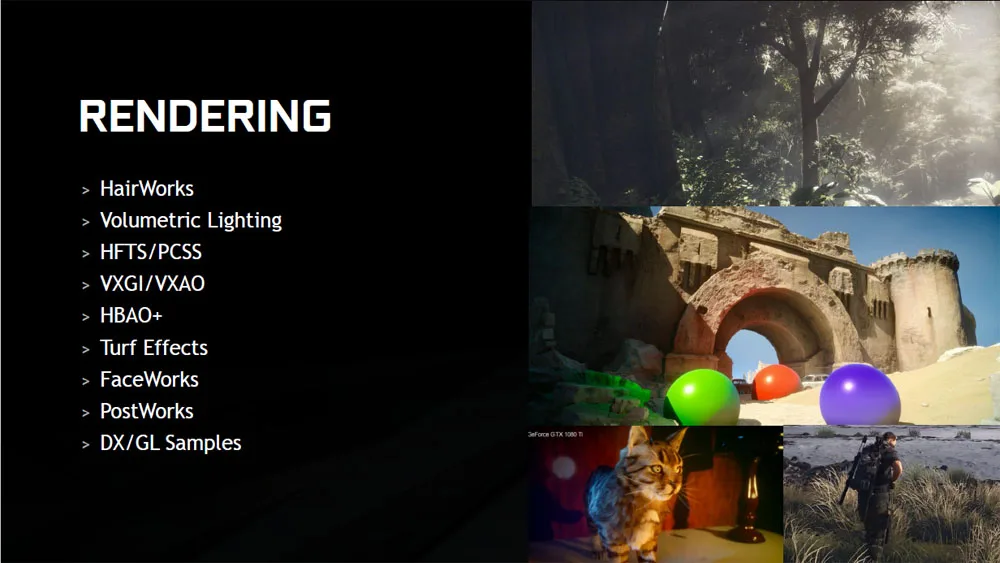 VRWorks includes APIs, libraries and features that enable headset and application developers to achieve a higher level of immersion in VR. It has been updated to support DirectX 12 with better performance, lower latency, and plug-and-play compatibility. It will be supported in the Unity 2017.1 beta, which ships this spring, and in the Unreal Engine 4 game engines.
Amazon's Lumberyard Engine also supports many of these features.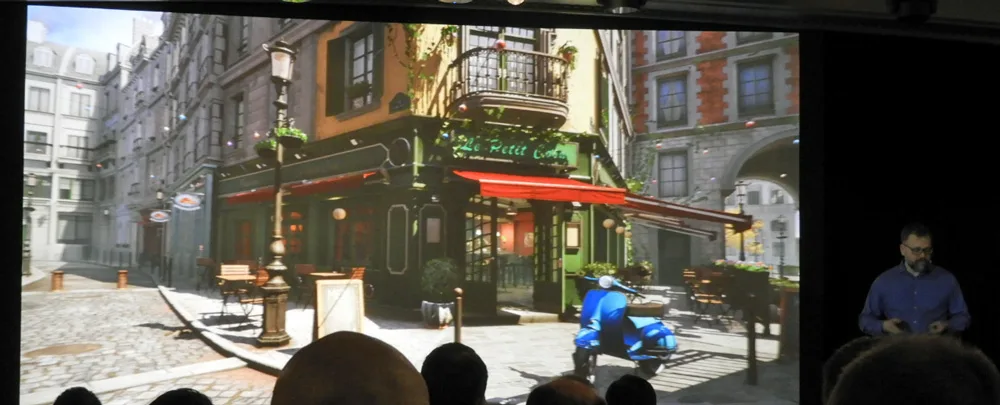 NVIDIA's Advanced DirectX 12 Developer Tools
NVIDIA also introduced several developer resources created to improve DirectX 12 game development, including the following.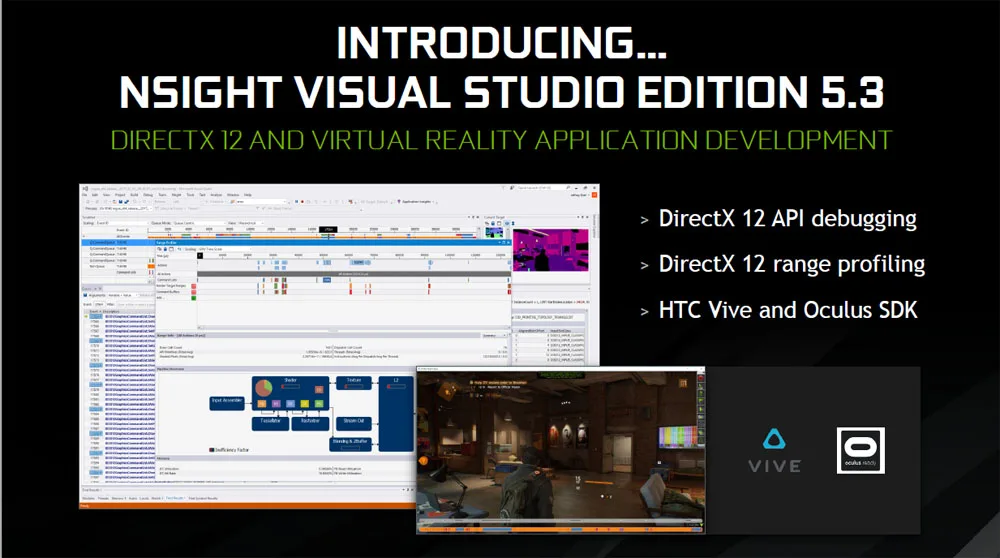 Nsight Visual Studio Edition 5.3 is another dev tool to help debug and profile VR and DirectX 12 applications in real time. It includes VR support for the Oculus, OpenVR (HTC Vive) and DirectX 12 APIs.
NVIDIA Aftermath 1.0 is a debugging and diagnostic utility that developers can use for analyzing DirectX 12 error reports.
PIX Plug-in is a DirectX 12 debugging tool developed by Microsoft. NVIDIA collaborated with Microsoft to expose NVIDIA GPU Performance Counters to PIX for Windows via a PIX Plug-in to make it easier for devs.
NVIDIA is also using Deep Learning and AI to create content more easily.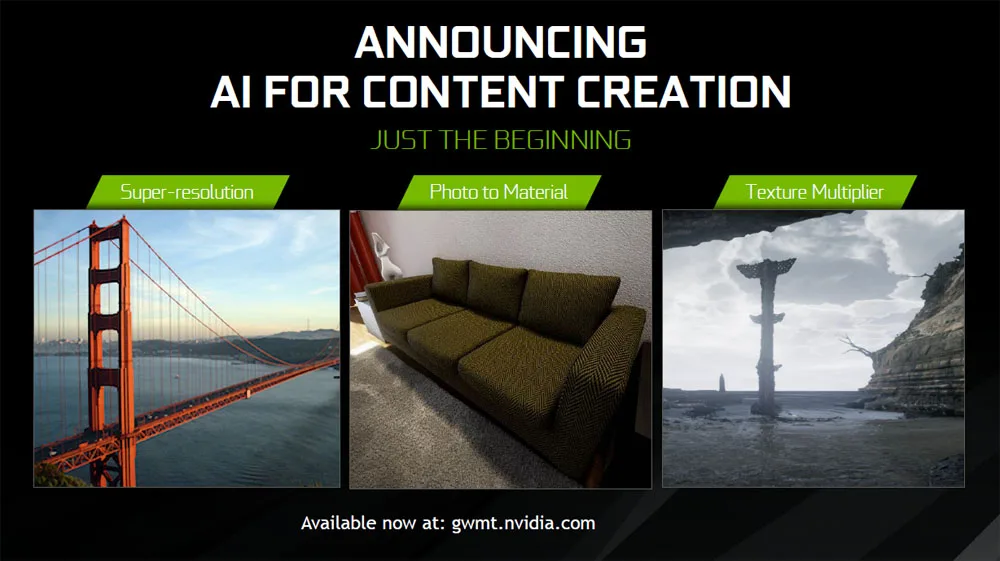 Game Ready Driver Optimized for DX12 and Vulkan
At one of the sessions, NVIDIA also revealed an upcoming Game Ready Driver optimized for DirectX 12 games and for Vulkan. DirectX 12 games, such as Ashes of the Singularity, Gears of War 4, Hitman, Rise of the Tomb Raider and Tom Clancy's The Division have evidently seen some solid performance gains. We plan to test these games soon with this upcoming new DX12 driver and will report on the performance changes.
Since the first launch of its Pascal architecture, NVIDIA has continuously improved DX12 game performance through releases of Game Ready drivers. These drivers are timed with the release of the latest AAA games. More information on NVIDIA's developer resources, including GameWorks and DirectX 12 developer tools, are available at https://developer.nvidia.com/.
ShadowPlay Highlights
ShadowPlay Highlights is a new addition to ShadowPlay as part of the 430 games now supported by the GeForce Experience.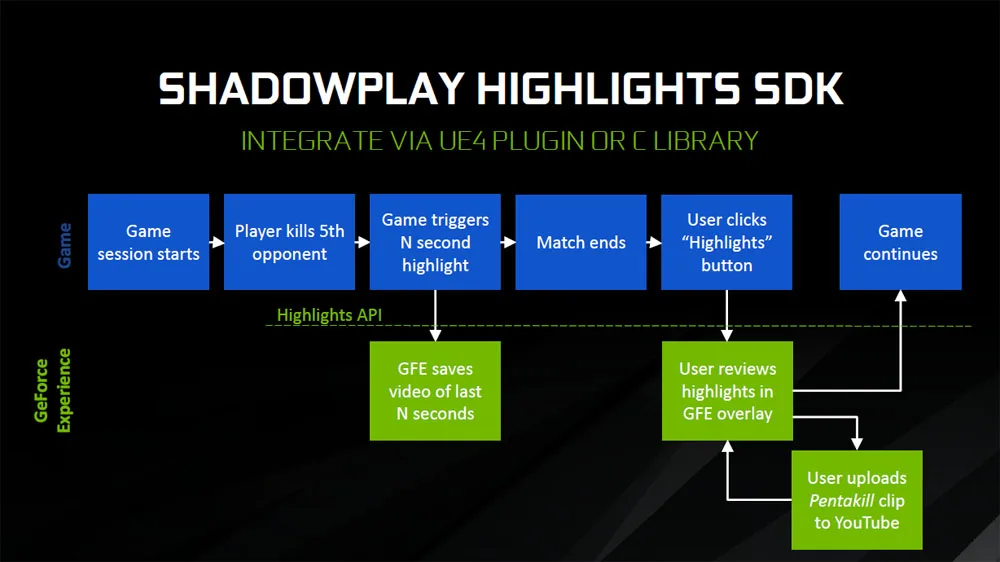 ShadowPlay Highlights automatically identifies and captures a players' best moments so he can focus on playing the game instead of capturing video. For example, in LawBreakers, ShadowPlay Highlights enables players to save and record in-game events, ranging from multi-kill annihilations to game-winning scores.
At the end of each match, in-game menus will give the player the option to review captured videos and screenshots through the GeForce Experience overlay for sharing to social media immediately.
Users are given full control over which highlights are captured, and whether the feature is on or off, so gamers only get the types of videos they want to match their storage capabilities.
NVIDIA also announced the expansion of Ansel as a simple plug-in for Unity Engine and Unreal 4 Engine. Ansel is a game capture tool for gamers to explore, capture, and share the artistry of gaming. With Ansel, gamers can compose the gameplay shots by pointing the camera in any direction and from any vantage point within a gaming world allowed by the devs. They can capture screenshots at up to 32X screen resolution, and then zoom into a chosen location without losing fidelity. With photo-filters, they can add effects in real time before taking their shot. They can even capture 360-degree stereo photospheres for viewing with a VR headset or with Google Cardboard.
Virtual Reality (VR)
VR is going to be a game changer in every way and NVIDIA has also been developing a software tool for measuring its performance. BTR is also benching VR games and we are looking forward to bringing you performance results from our own Oculus Rift.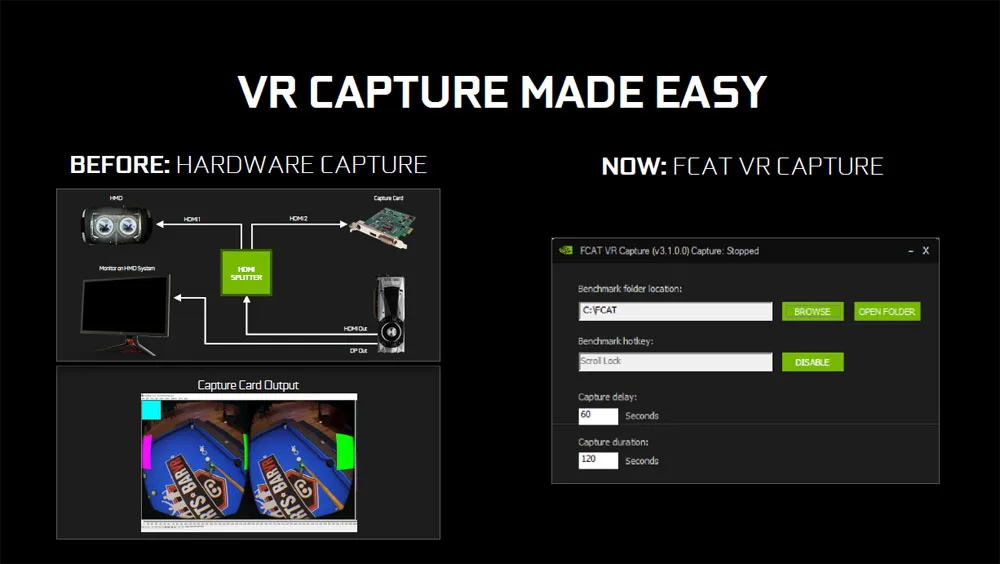 The GTX 1080 Ti
Of course, the highlight of the evening was the GTX 1080 Ti announcement.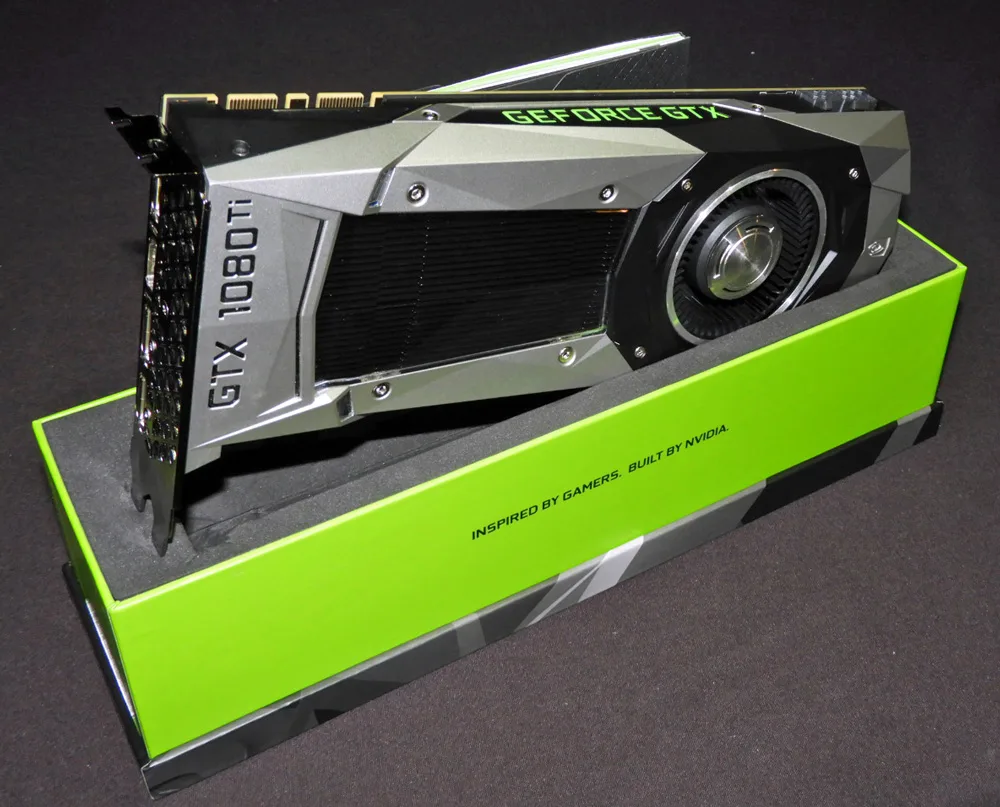 The GeForce GTX 1080 Ti "Founders Edition" will be available on March 8 for $699. It will be available from NVIDIA's partners also. Custom boards from partners will vary by region, and pricing is also expected to start at $699.
The GTX 1080 Ti is a very powerful card which is supposed to match the $1200 TITAN X in performance. Although it has less CUDA cores, the GTX 1080 Ti is clocked higher on the core, and it has faster and more overclockable memory. Here are the details below: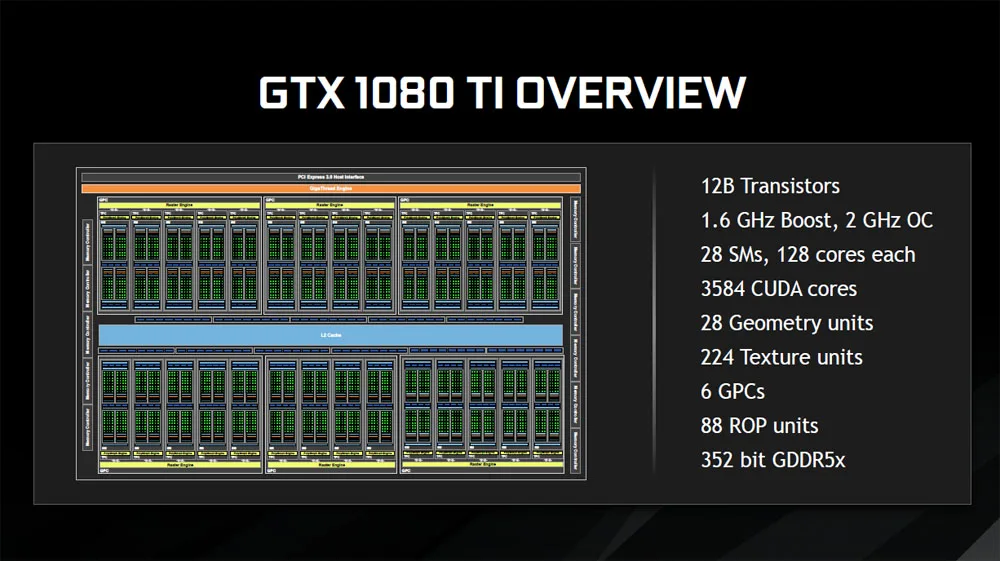 This new Micron GDDRX5 is supposed to be more overclockable and it will also be a new option for the GTX 1080 and the GTX 1060.

There is much more to be said from this event including how the GTX 1080 Ti's bandwidth has been boosted by compression algorithms and by Tiled Caching, but that will be saved for the evaluation review of the GTX 1080 Ti later this week. We will focus then on the GTX 1080 Ti's performance compared with the GTX 1080 and the TITAN X using 25 modern games at 1920×1080, 2560×1440, 3440×1440, and at 3840×1060.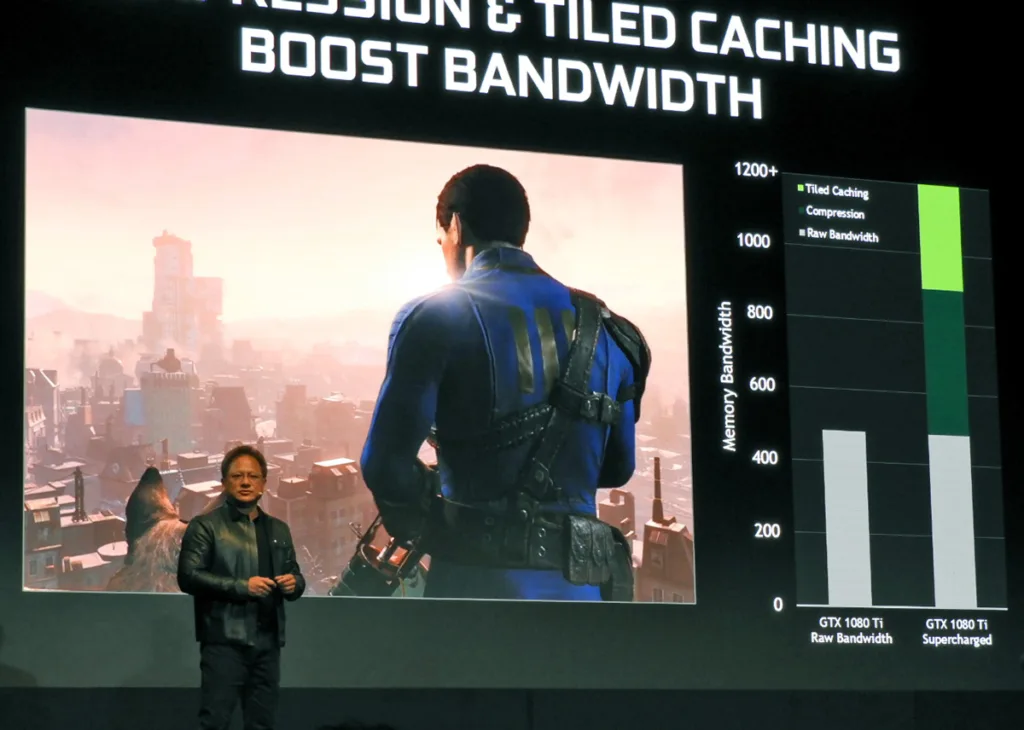 This editor also got some nice parting gifts from Nvidia including earbuds. And there was one other thing that arrived by FedEx the following day.
Unboxing the GTX 1080 Ti
The Founders Edition of GTX 1080 Ti comes in NVIDIA's own custom designed box.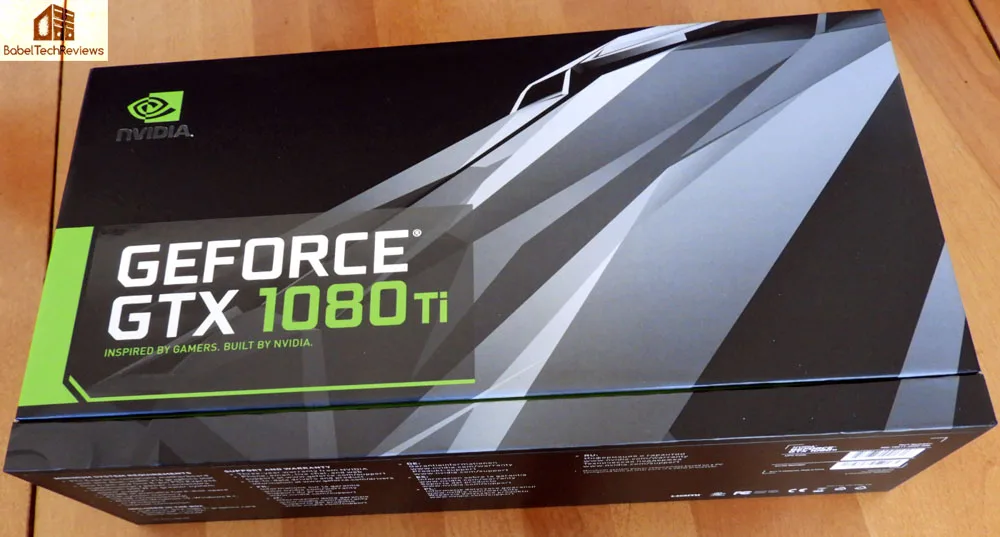 The specifications and requirements are listed on the bottom of the box.

Here is the end flap.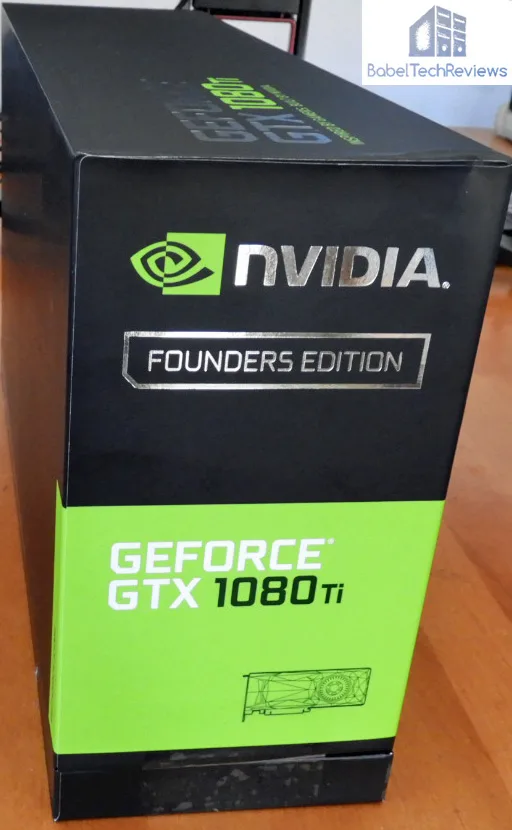 Here is what you get for $699 … the World's Fastest Video Card …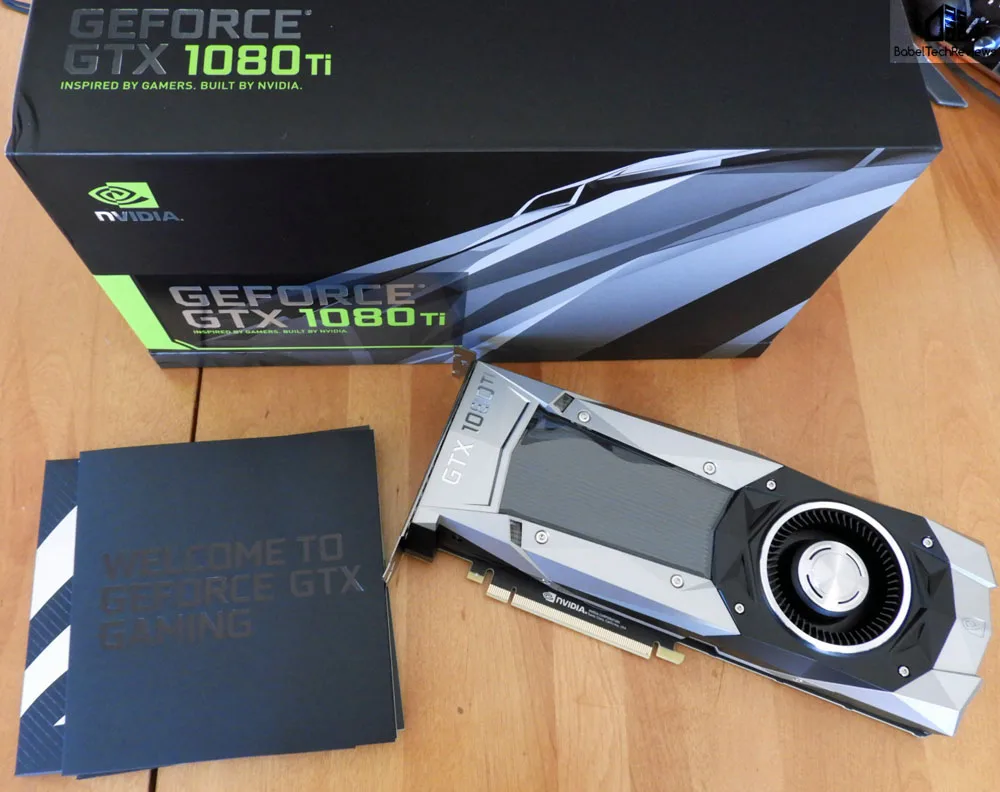 Here is everything opened up.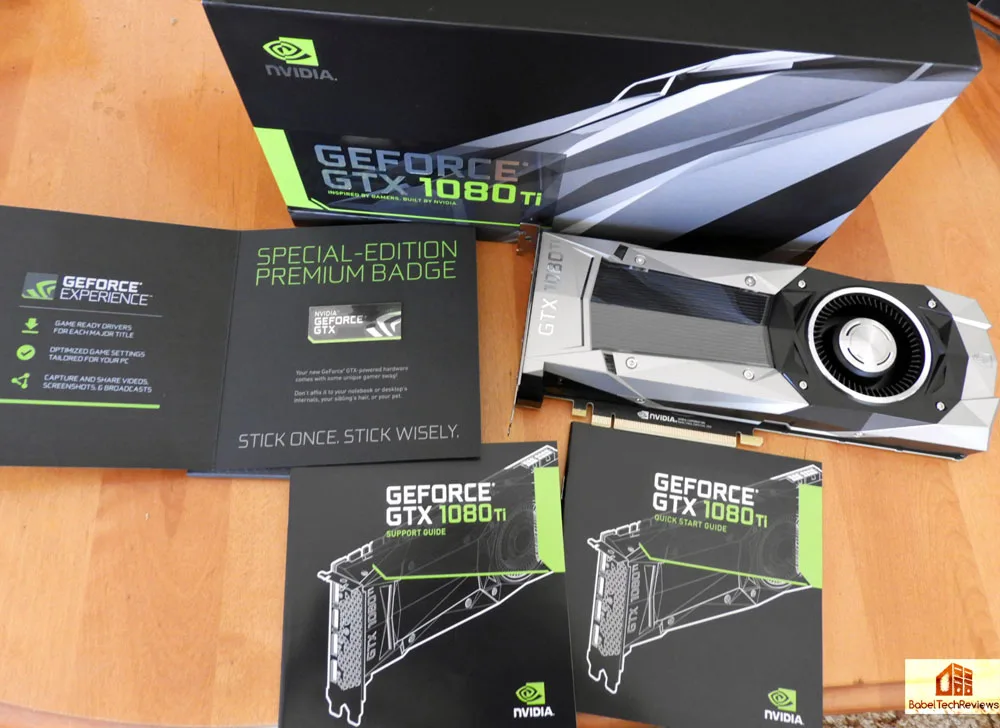 Too significantly improve the cooling, NVIDIA left off the DVI connector.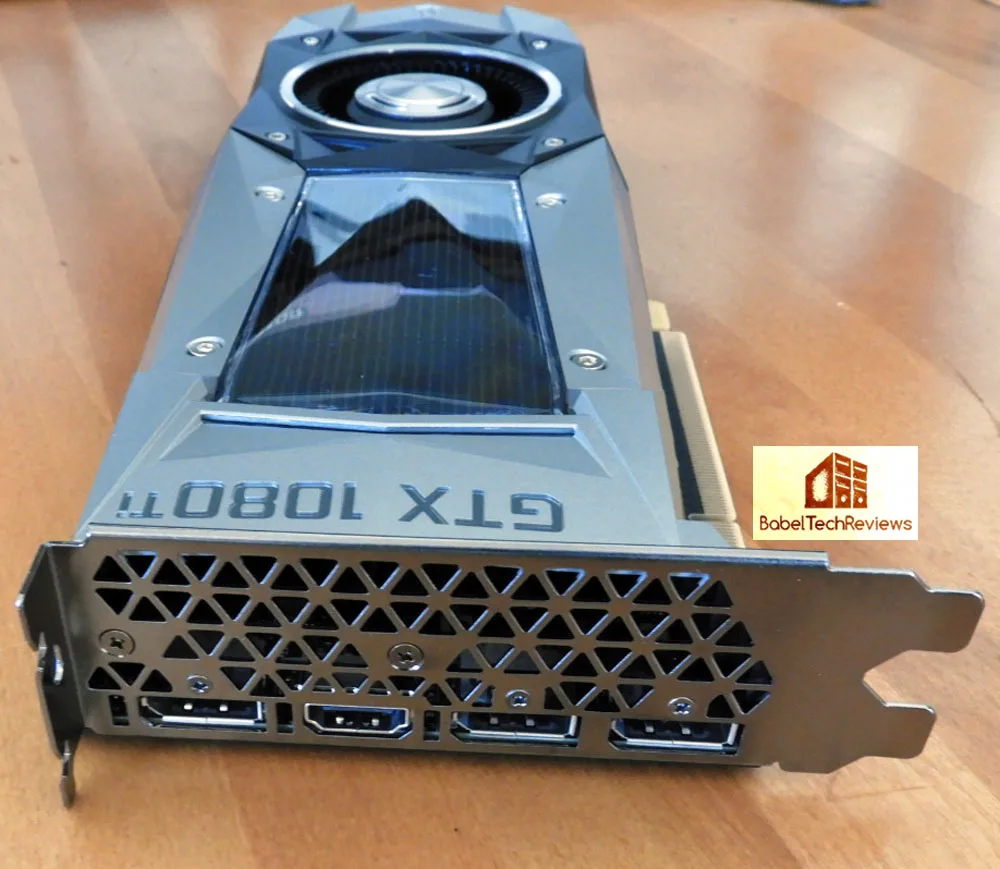 NVIDIA also includes a DP to DVI cable.

Here is the card from one view.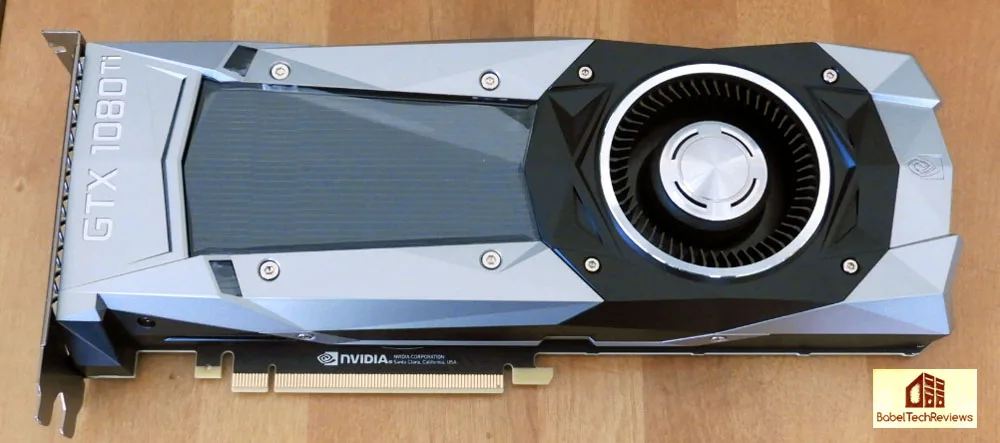 And here it is from another angle.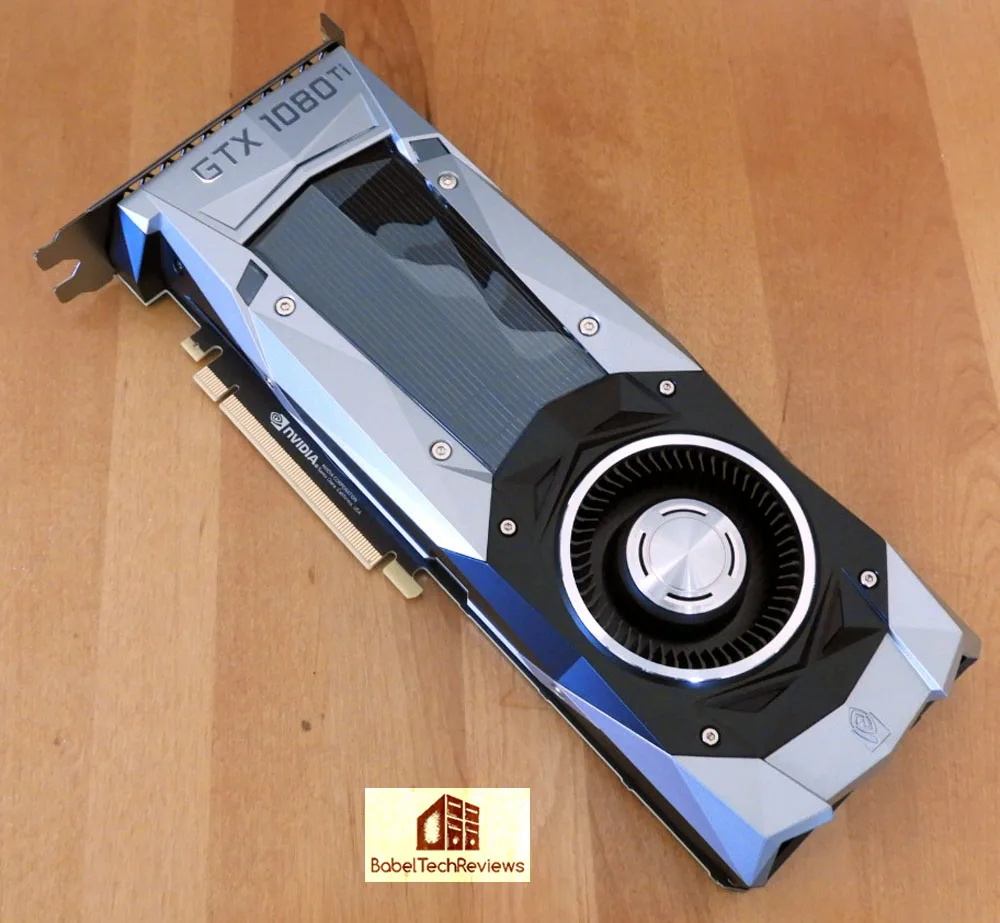 The GTX 1080 Ti comes with a very nice backplate.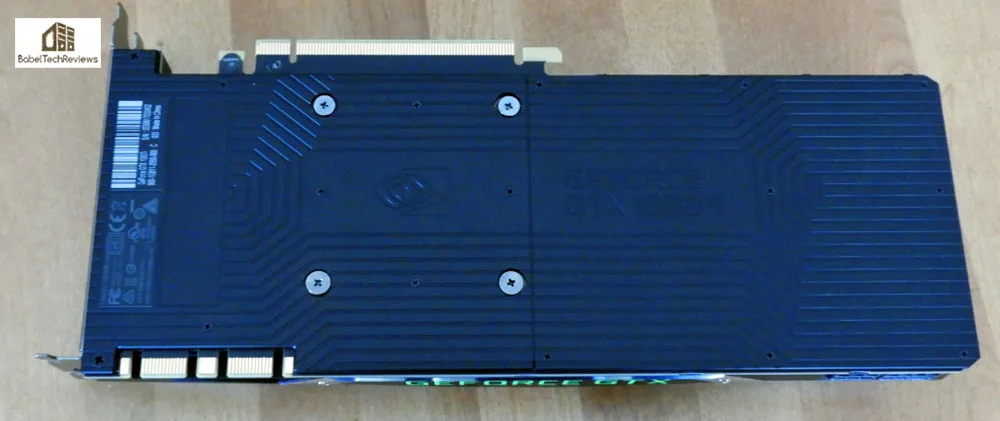 Here is a professional image by NVIDIA with half of the backplate removed.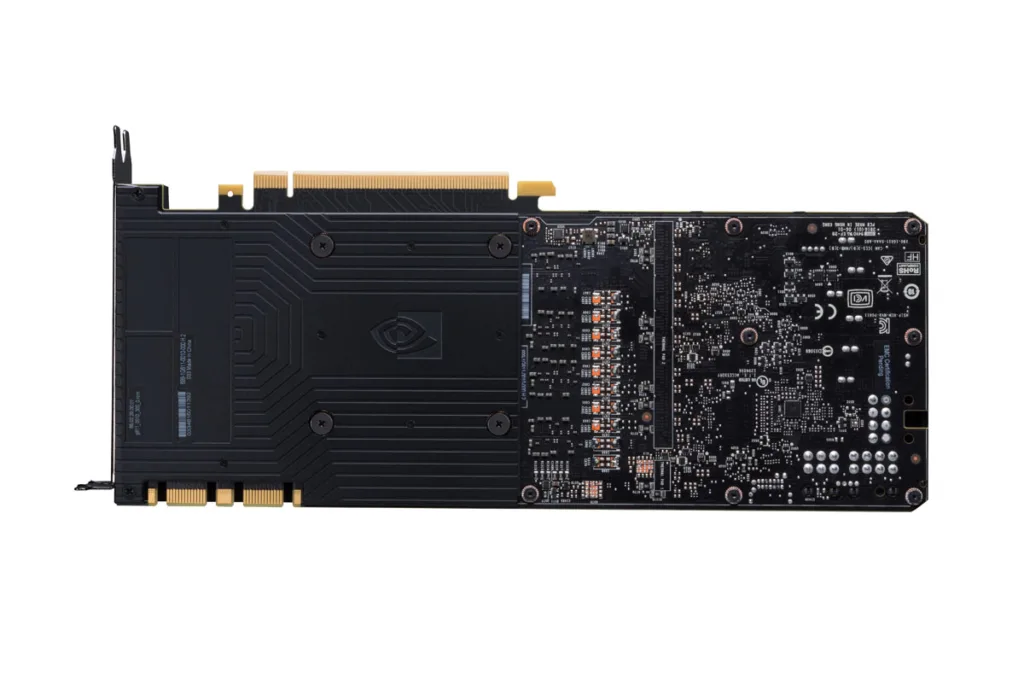 Here is another professional photo courtesy of NVIDIA showing the PCB layout including the 11 GDDR5X memory chips.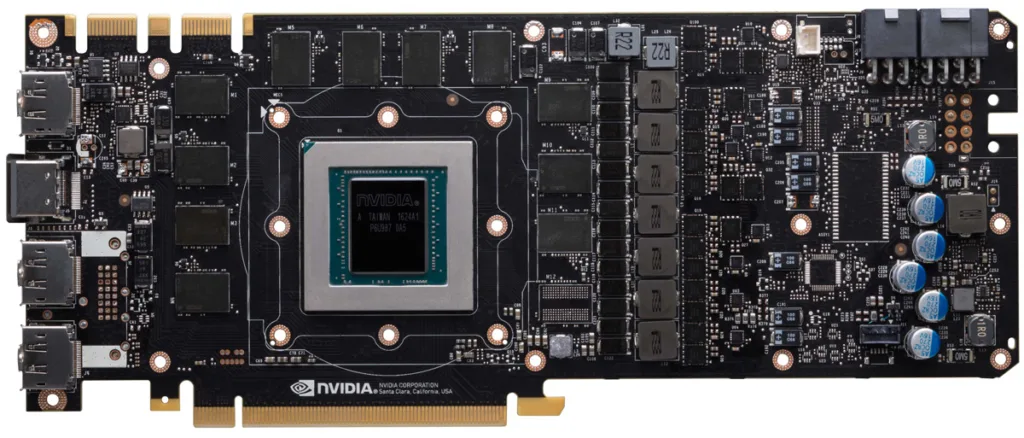 Of course, there will be more versions of the GTX 1080 Ti than the Founders Edition. Here is the EVGA GTX 1080 Ti FTW using their latest iCX3 technology.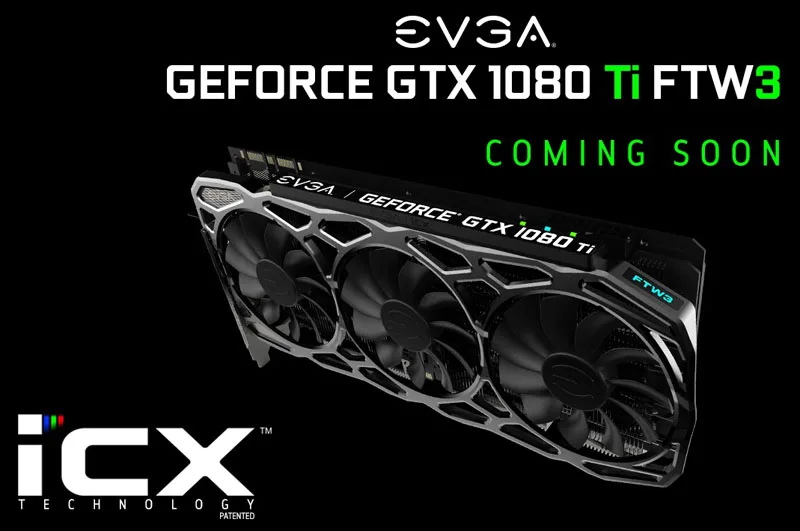 We enjoyed our adventure at NVIDIA's Editor's Day 2017 and we can't wait to bring you the performance results of the GTX 1080 Ti compared with the GTX 1080 and the TITAN XP using 25 modern games at 4 resolutions.
Happy Gaming!