On August 3, 2016 NVIDIA launched their Pascal flagship TITAN X at $1200. With 3584 CUDA cores and 12GB of VRAM, it is significantly faster than the (now) $499 GTX 1080, and much faster than AMD's aging flagship, the Fury X. Now it is 7 months later on March 9, and NVIDIA has just launched their new GeForce gaming flagship for $699, the GTX 1080 Ti, which is supposed to be faster than the TITAN X!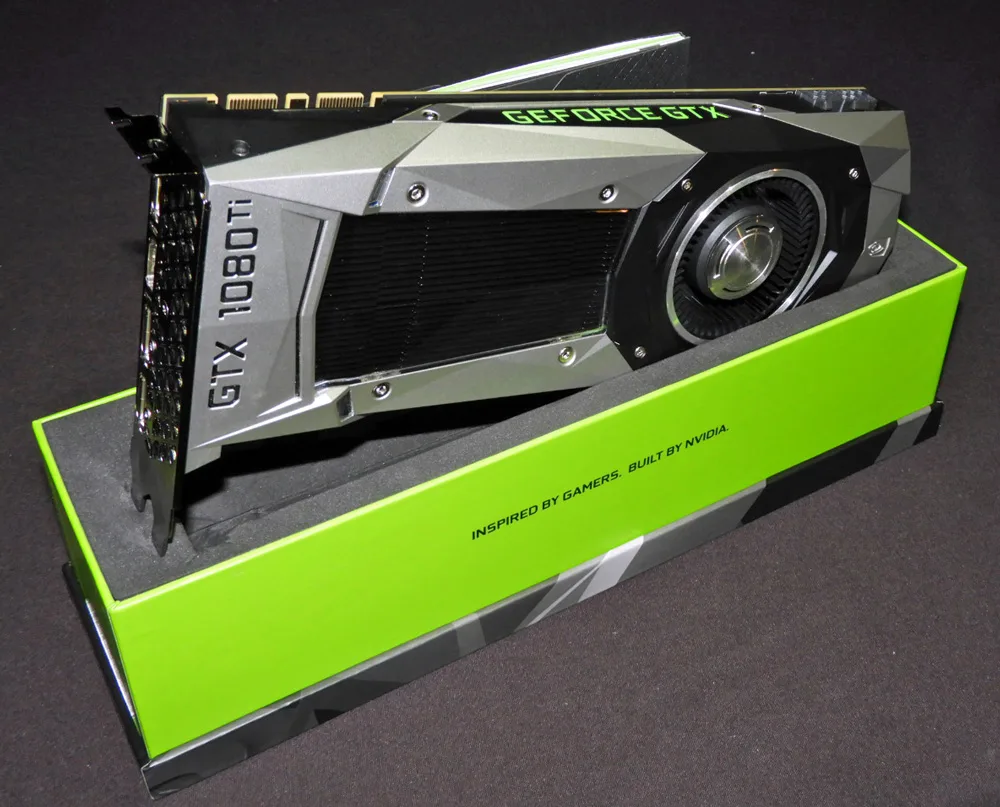 BTR received a GTX 1080 Ti from NVIDIA about a week ago, and we have put it through its paces with our updated 25-game benchmark suite against the TITAN X, and versus the GTX 1080. This evaluation will determine the world's fastest video card using the top three fastest single-GPU cards, but we did not include AMD's top card as it falls well below GTX 1080 performance.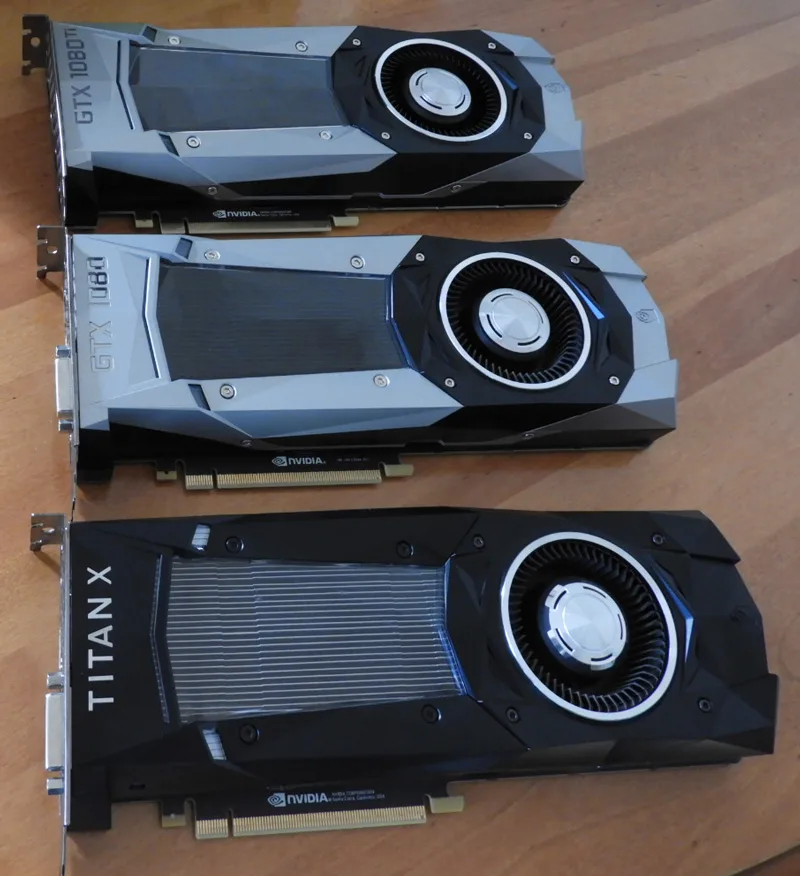 We are testing our three competing cards on a clean installation of Windows 10 64-bit Home Edition using resolutions of 1920×1080, 2560×1440, 3440×1440 and at 3840×2160. As befits testing top video cards, we use Intel's enthusiast Z7170 platform with Core i7-6700K's all 4 cores locked and turboed to 4.6GHz, and 16GB of Kingston's 3333MHz DDR4.
We have already covered NVIDIA's Editor's Day 2017 launch of the GTX 1080 Ti which updated GameWorks for DX12 and brought us a new software benching tool for VR, but here is a brief summary of the specifications and features of the new gaming flagship, the GTX 1080 Ti.
Key Features of the GTX 1080 Ti
The next generation of games will not only look better and run faster on the Pascal GPUs, they'll also be more immersive thanks to virtual reality headsets like the Oculus Rift and the HTC Vive. NVIDIA has developed a number of advancements for virtual reality called VRWorks for reducing latency, improving image quality, and bringing a whole range of new content to VR. VR framerates need to be locked to a minimum of 90 fps for fluidity – and they need to be rendered twice, once for each eye so using a very fast video card is essential. NVIDIA also uses Multi-Res and Lens Match Shading for higher performance in VR games and applications.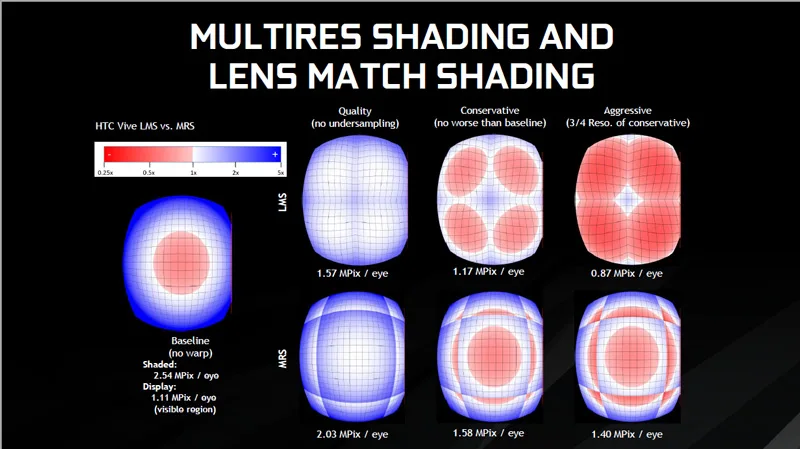 The TITAN X versus the GTX 1080 Ti
To produce the GTX 1080 Ti variant of the TITAN X, its 12GB of GDDR5X was cut to 11GB so the memory interface has also dropped, from 384-bit to 352-bit. In addition, the Ti's ROP count is down from 96 to 88 and 256K of the Titan X Pascal's L2 cache is gone.
To balance the effects of the drop in memory bandwidth from using 12GBs down to 11GB, NVIDIA uses a higher speed GDDR5X which means that GTX 1080 Ti actually has slightly more bandwidth than that of the TITAN X.

The base clock speed of the GeForce GTX 1080 Ti is 1480MHz and the typical Boost Clock speed is 1582MHz, slightly above the TITAN X boost of 1530MHz. The GeForce GTX 1080 Ti has also been outfitted with next generation GDDR5X memory modules running at 11 Gbps – the TITAN X memory is 10Gbps.
Check out the GTX 1080 Ti overview and block diagram.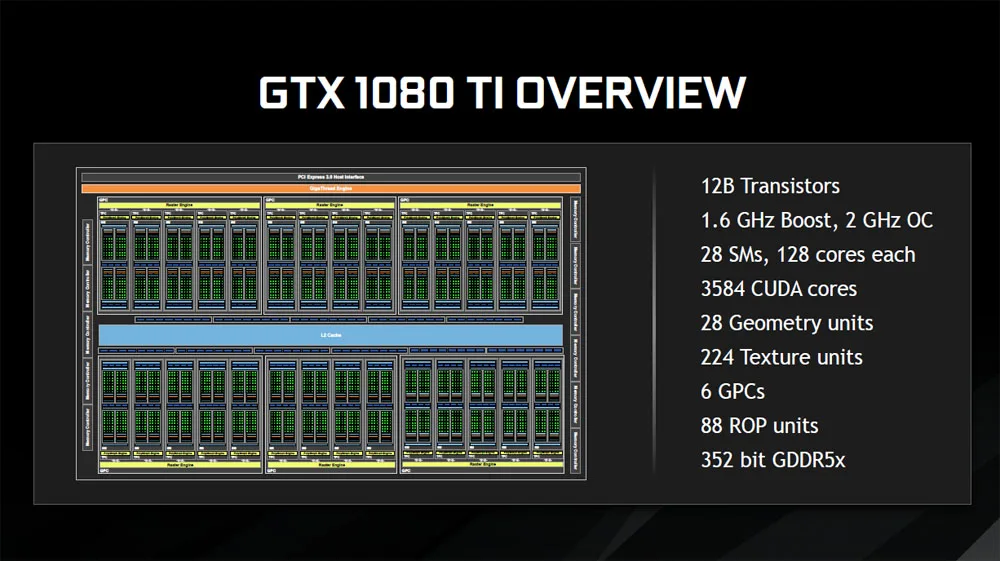 Here are some more specifications for the GTX 1080 Ti: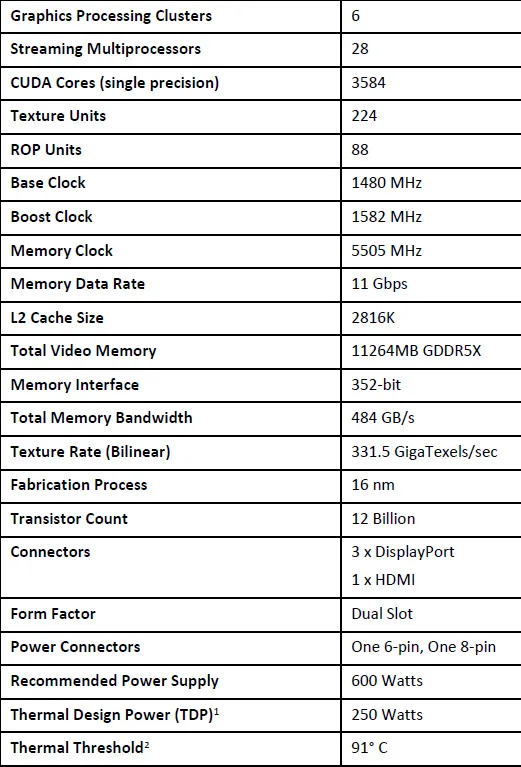 From comparing the specifications of both cards, we can predict that the TITAN X will be up to about 5% slower than the GTX 1080 Ti. The price of GTX 1080 Ti is set to start at $699 and will also include a choice of a bundled copy of For Honor or of Ghost Recon Wildlands.
Since the GTX 1080 Ti is a new addition to NVIDIA's product lineup, the original GTX 1080 is moving to occupy the $499 spot by dropping $100 off of its launch price. The GeForce GTX 1080 Ti will be released on March 10th, tomorrow. It will be a hard launch, with immediate availability and will be sold on nvidia.com as well as by their board partners. Board partners will offer GeForce GTX 1080 Ti cards based on their own custom designs in April along with overclocked GeForce GTX 1080 boards with 11 Gbps G5X memory and overclocked GTX 1060 boards with 9 Gbps G5 memory.
Here is NVIDIA's line up with the GTX 1080 Ti now the gaming flagship. The TITAN X will remain at $1200 and will mostly remain popular among the scientific application crowd for Deep Learning calculations.
GeForce GTX 1080 Ti
GeForce GTX 1080 11 Gbps
GeForce GTX 1080
GeForce GTX 1070
GeForce GTX 1060 9 Gbps
GeForce GTX 1060
GeForce GTX 1050 Ti
GeForce GTX 1050
How does the GTX 1080 Ti compare with AMD's flagship, the Fury X?
It doesn't. The GTX 1080 Ti and the TITAN X are simply in a class or two above the Fury X as the GTX 1080 dominates also. In fact, NVIDIA's 4th card, the GTX 1070, is also faster than the Fury X. Because of this performance disparity, we did not test the Fury X in this evaluation. We are looking forward to testing AMD's upcoming Vega video cards which should be significantly faster than the Fury X.
However, before we do performance testing, let's take a closer look at the GTX 1080 Ti and check out overclocking and noise.
A look at the GTX 1080 Ti, Overclocking, and Noise
The GTX 1080 Ti is good-looking card as NVIDIA's industrial design has not changed very much since the GTX 690 launched nearly five years ago. For more pictures, check out BTR's GTX 1080 Ti unboxing.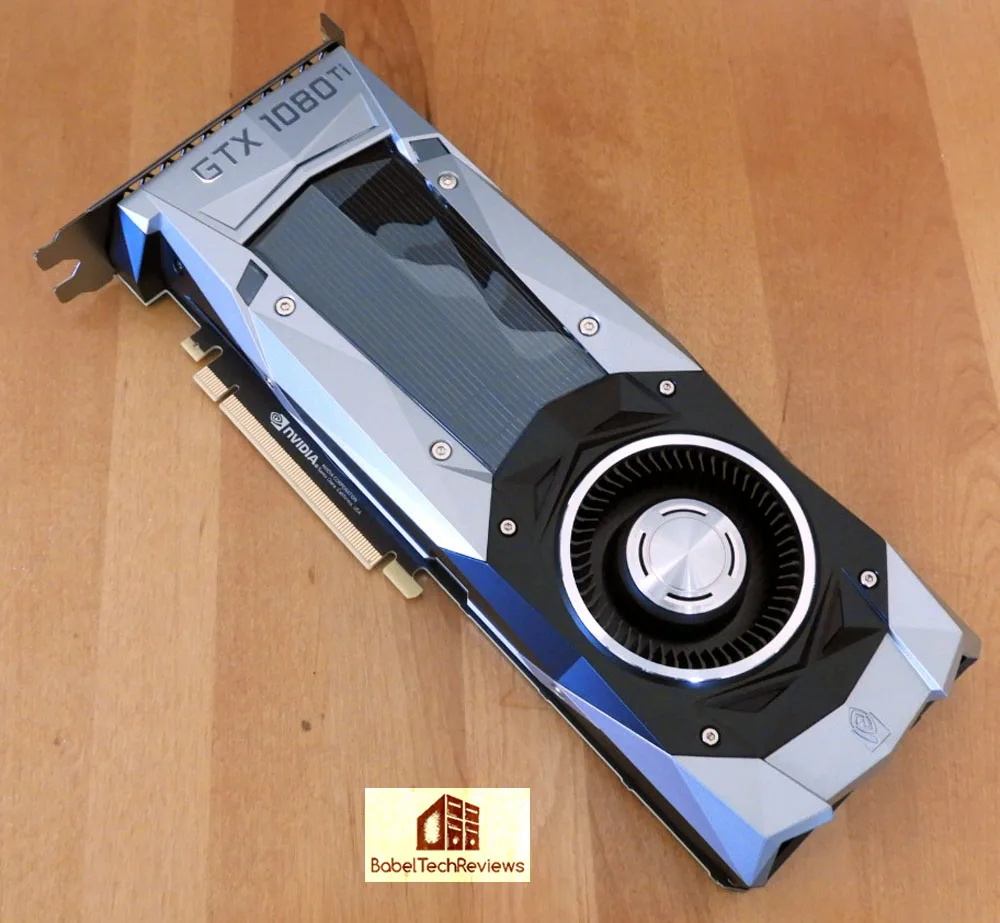 We can see that there is a HDMI port and three DisplayPorts. The DVI connector has been removed to make way for better cooling by providing a larger exhaust and NVIDIA includes a DisplayPort to DVI cable in the GTX 1080 Ti box.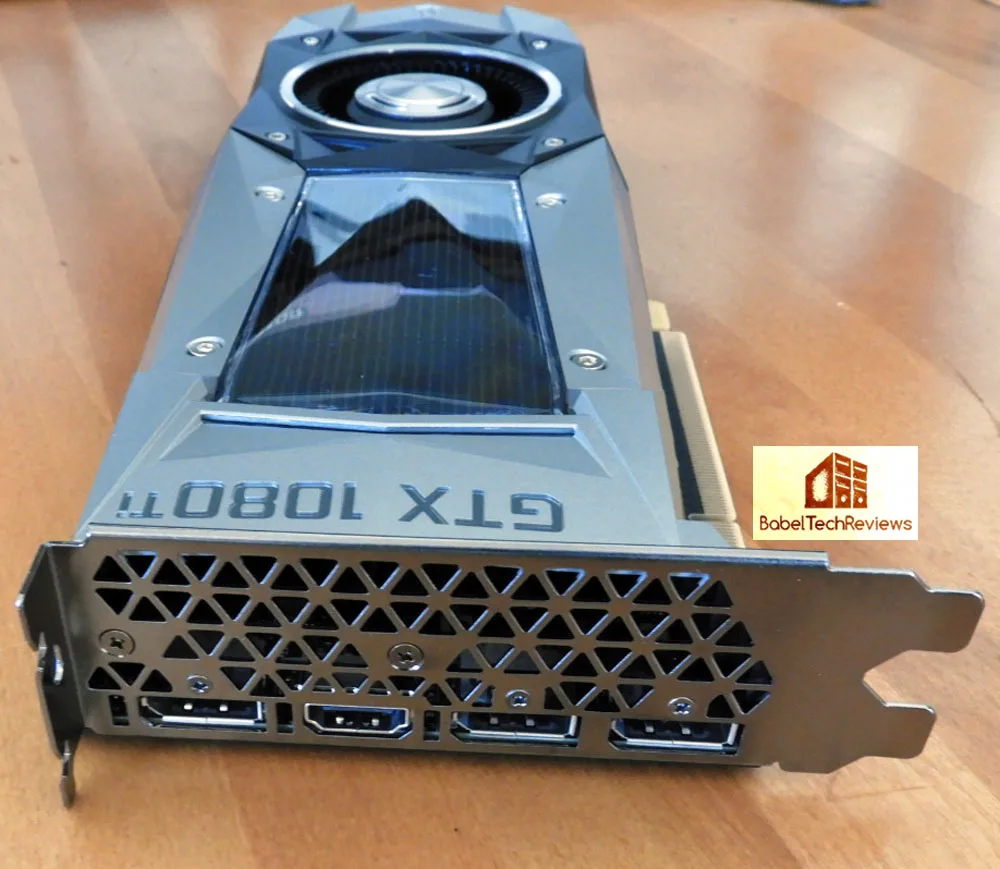 The GeForce GTX 1080 Ti Founders Edition uses a 7-phase 2x dual-FET power design which is superior to the TITAN X design that's capable of supplying up to 250 amps of power to the GPU.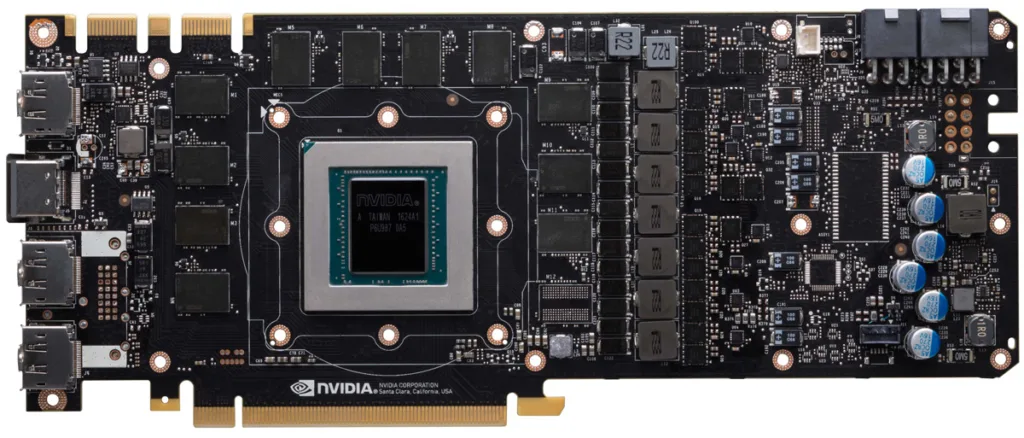 The GTX 1080 Ti has a very decent cooling system which is sufficient under overclocked full load without becoming audible. The bottom image is of the stock GTX 1080 Ti looping 2560×1440 maxed out Heaven 3.0 for over an hour with the automatic fan profile at 26% in a very warm test room (76F).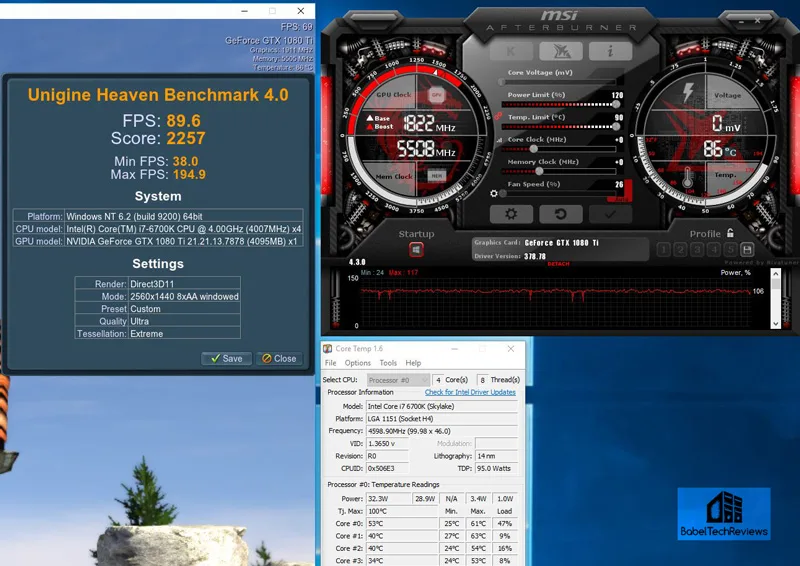 The GTX 1080 Ti appears to run very similarly to the TITAN X although our overclocking results were different. The maximum temperature we observed with both video cards was 87C with the memory and core each overclocked as far as we could stably push them. Overclocking the GTX 1080 Ti, we managed a preliminary stable offset of +120MHz to the core which resulted in a peak boost of 1936MHz, a bit less than we overclocked our TITAN X. However, our preliminary Ti memory overclock is +500MHz for an effective rate of 12000Gbps! In contrast, we hit +150MHz offset for our TITAN X but only +200MHz offset to the memory.
Notice that Ti overclocked temperatures remain at 86C but the fan's auto profile allows for 72% fan speed. Even at 72%, the noise was not loud nor irritating.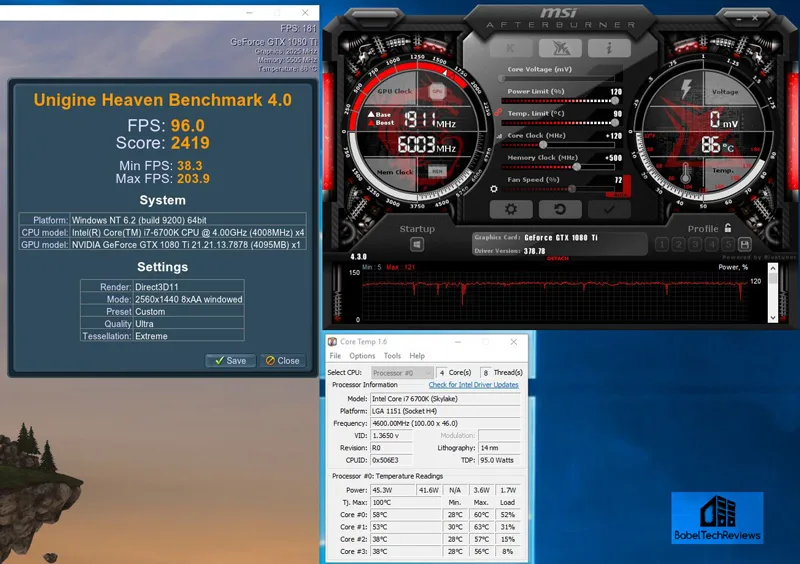 Let's check out performance after we look at our test configuration on the next page.
Test Configuration – Hardware
Intel Core i7-6700K (reference 4.0GHz, HyperThreading and Turbo boost for all 4 cores are locked on to 4.6GHz by the motherboard's BIOS).
ASRock Z7170M OC Formula motherboard (Intel Z7170 chipset, latest BIOS, PCIe 3.0/3.1 specification, CrossFire/SLI 8x+8x)
HyperX 16GB DDR4 (2x8GB, dual channel at 3333MHz), supplied by Kingston
Founders Edition GTX 1080 Ti 11GB, reference clocks, supplied by NVIDIA
TITAN X Pascal, 12GB, reference clocks, supplied by NVIDIA.
Founders Edition GTX 1080 8GB, reference clocks, supplied by NVIDIA
2TB Seagate FireCuda 7200 RPM SSHD
EVGA 1000G 1000W power supply unit
EVGA CLC 280 watercooler supplied by EVGA
Onboard Realtek Audio
Genius SP-D150 speakers, supplied by Genius
Thermaltake Chaser MK-1 full tower case, supplied by Thermaltake
ASUS 12X Blu-ray writer
ACER Predator X34 GSYNC 3440×1440 display, supplied by NVIDIA
Monoprice Crystal 4K 28″ 3840×2160 display.
Test Configuration – Software
All games are patched to their latest versions at time of publication.
Windows 10 64-bit Home edition. Latest DirectX and fully updated.
Highest quality sound (stereo) used in all games.
VSync is off in the control panel.
NVIDIA's GeForce GTX 1080 Ti 378.78 launch drivers (also compared with 378.66). High Quality, prefer maximum performance, single display.
MSI Afterburner used for overclocking the GTX 1080 Ti and for setting all NVIDIA cards' power limit/temps to maximum
OCAT/PresentMon for DX12/Vulkan benching
Fraps for benching DX11 games
Synthetic Benchmarks
Firestrike – Ultra & Extreme
Time Spy DX12
DX11 Games
Crysis 3
Metro: Last Light Redux (2014)
Grand Theft Auto V
The Witcher 3
Fallout 4
Assassin's Creed Syndicate
Just Cause 3
Rainbow Six Siege
DiRT Rally
Far Cry Primal
Call of Duty Infinite Warfare
Watch Dogs 2
Resident Evil 7
For Honor
Ghost Recon Wildlands
Vulkan Games
DX12 Games
Tom Clancy's The Division
Ashes of the Singularity
Hitman
Rise of the Tomb Raider
Total War: Warhammer
Deus Ex Mankind Divided
Gears of War 4
Battlefield 1
Sniper Elite 4
Calculating Percentages
There are two methods of calculating percentages. One is the "Percentage Difference" that we originally used to compare the GTX 1080 versus the TITAN X, and the other is "Percentage Change" which we are using now to show the improvements of the GTX 1080 Ti over the Pascal TITAN X and over the GTX 1080.
For the percentage change, we mean the change in framerates between the GTX 1080 and the GTX 1080 Ti, or the change in framerates between the GTX 1080 Ti and the TITAN X, divided by the absolute value of the original value in fps, multiplied by 100.
Percentage change may be expressed by the algebraic formula: ( ΔV / |V1| ) * 100 = ((V2 – V1) / |V1|) * 100
Let's head to our performance charts.
A new DX12 performance driver
At Editor's Day and at GDC last week, NVIDIA introduced a collection of resources that provide developers with substantial performance gains, multiple new rendering and simulation effects, and other capabilities to help create games optimized for DirectX 12. This collection included updates to the NVIDIA GameWorks SDK, updates to the NVIDIA VRWorks SDK, new developer tools, and a promise of a new Game Ready Driver that we have tested today as the launch driver 378.78 for the 1080 Ti compared with the last WHQL driver 378.66.
This new Game Ready Driver is optimized for DirectX 12 games. By refining their driver code, and working side-by side with game developers, NVIDIA has claimed performance increases of an average of 16% across many DirectX 12 titles, including:
Ashes of the Singularity – 9%
Gears of War 4 – 10%
Hitman – 23%
Rise of the Tomb Raider – 33%
Tom Clancy's The Division– 4%
What did we actually see? Well, the most dramatic gain that we noted was in Vulkan DOOM where our GTX 1080 went from 77.6 average fps at 3440×1440 to 98.2 fps!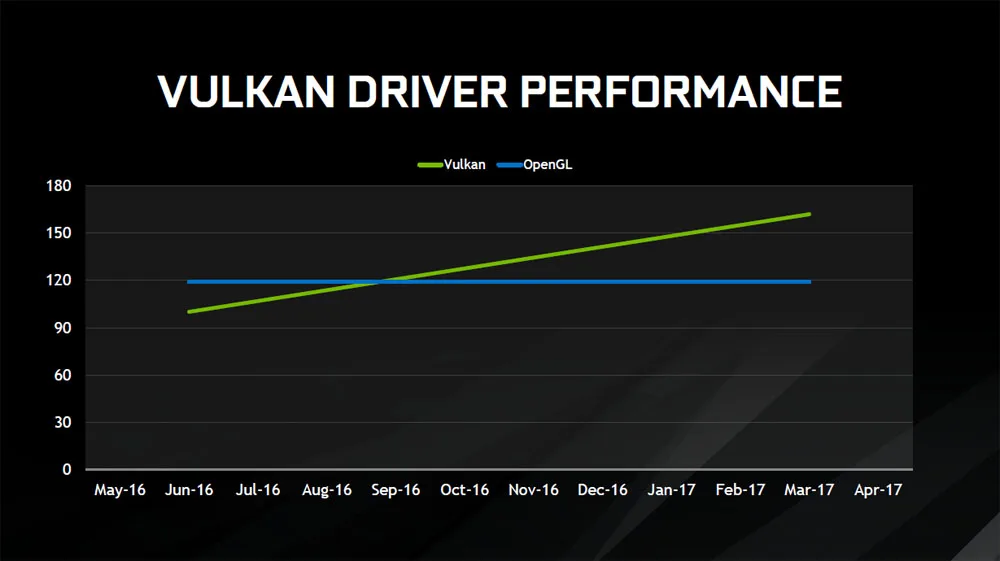 The second most dramatic gain was 75.6 fps to 86.4 fps in Hitman at 3440×1440. We also noted good gains with Ashes of the Singularity and with The Division.This driver also adds Ansel toTom Clancy's Ghost Recon Wildlands. When Ansel is supported, players can move the camera to any angle they wish, apply filters, use super resolution capture and even capture in 360 for viewing in VR.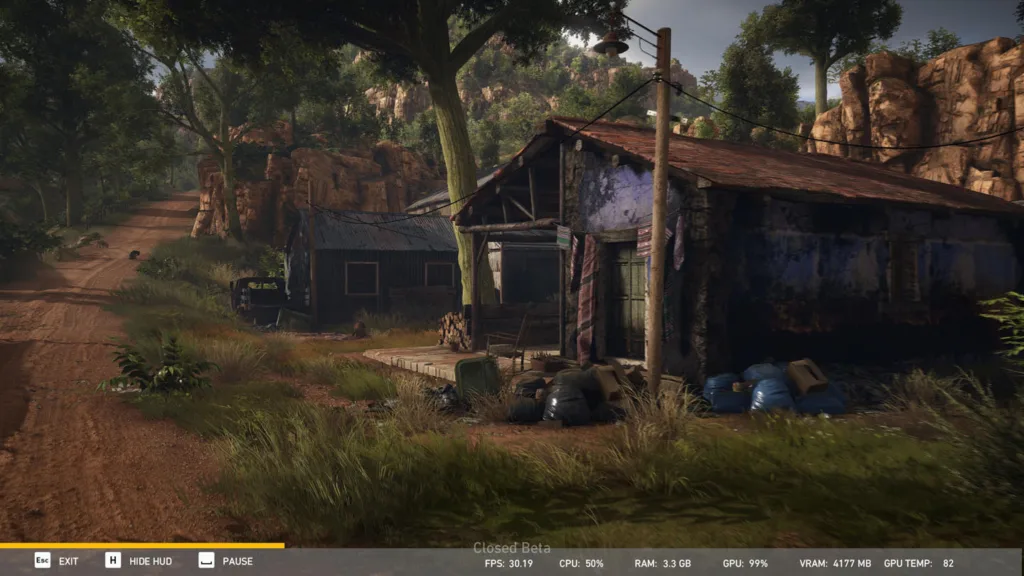 Tom Clancy's Ghost Recon Wildlands is the first game to use NVIDIA Turf Effects. It also uses NVIDIA Volumetric Lighting, and HBAO+.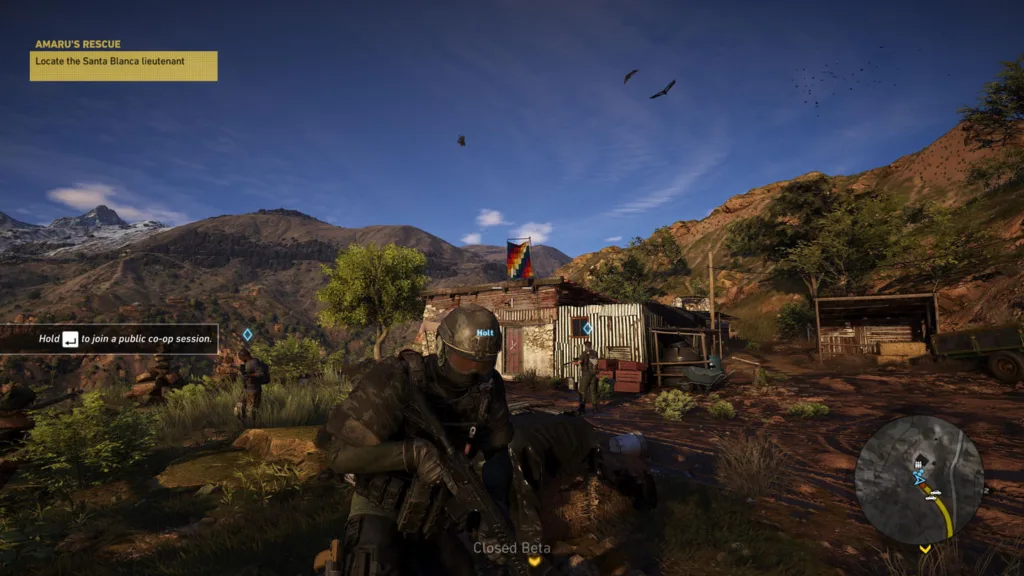 NVIDIA Turf Effects simulates and renders massive grass simulations while allowing for physical interaction. Grass blades can be represented from as low as 3 triangles to several 100 triangles per blade using a continuous level of detail.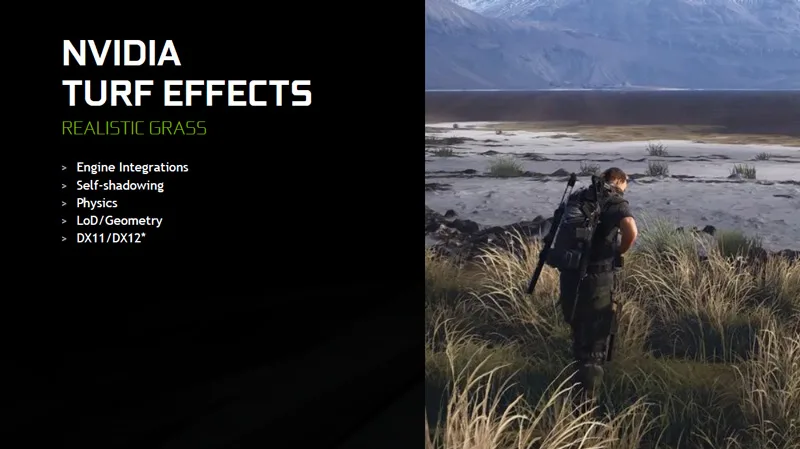 The rendering supports natural shading with correct shadows from the individual blades of grass as well as self-shadows, two sided lighting and correct occlusion for scene geometry.
Wildlands also features a very decent in-game benchmark that is reasonably representative of game play. It has become BTR's 25th benchmark and will be featured regularly in our reviews including this one.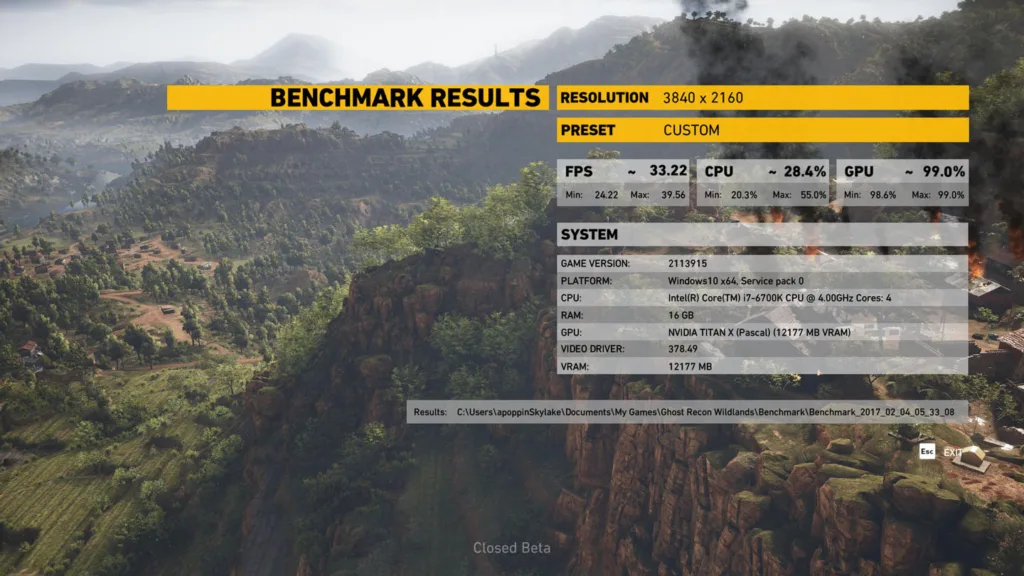 GeForce games can get a free copy of either For Honor or Tom Clancy's Ghost Recon Wildlands through NVIDIA's Prepare for Battle GeForce GTX bundle.
The Performance
Here are the summary charts of 25 games and 2 synthetic tests. The highest settings are always chosen and it is DX11 or DX12 with the settings at ultra or maxed. Specific settings are listed on the main performance chart.
The benches were run at 1920×1080, 2560×1440, 3440×1440, and at 3840×2160. All results, except for Firestrike and Time Spy, show average framerates, and higher is always better. In-game settings are fully maxed out and they are identically high or ultra across all platforms.
The first green column is devoted to the TITAN X results with the GTX 1080 Ti results compared in Green column 2. The GTX 1080 results are given in the third green column. The first yellow column shows the percentage increase (or decrease) of the GTX 1080 Ti over the Titan X and the last yellow column shows the percentage increase of the GTX 1080 Ti over the GTX 1080.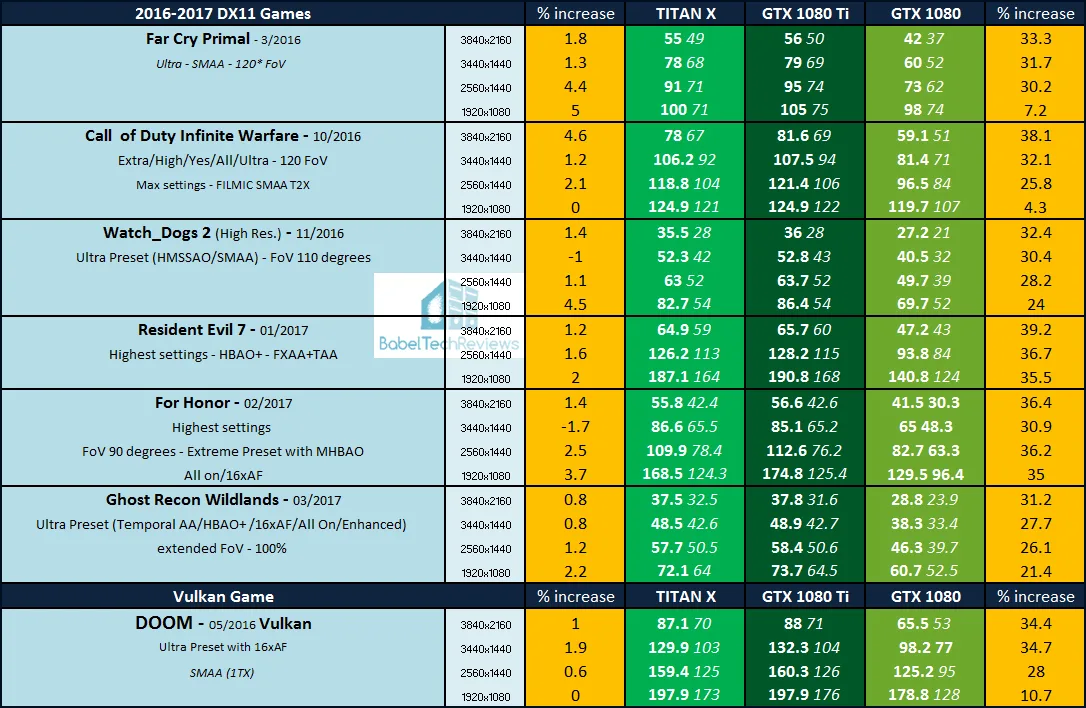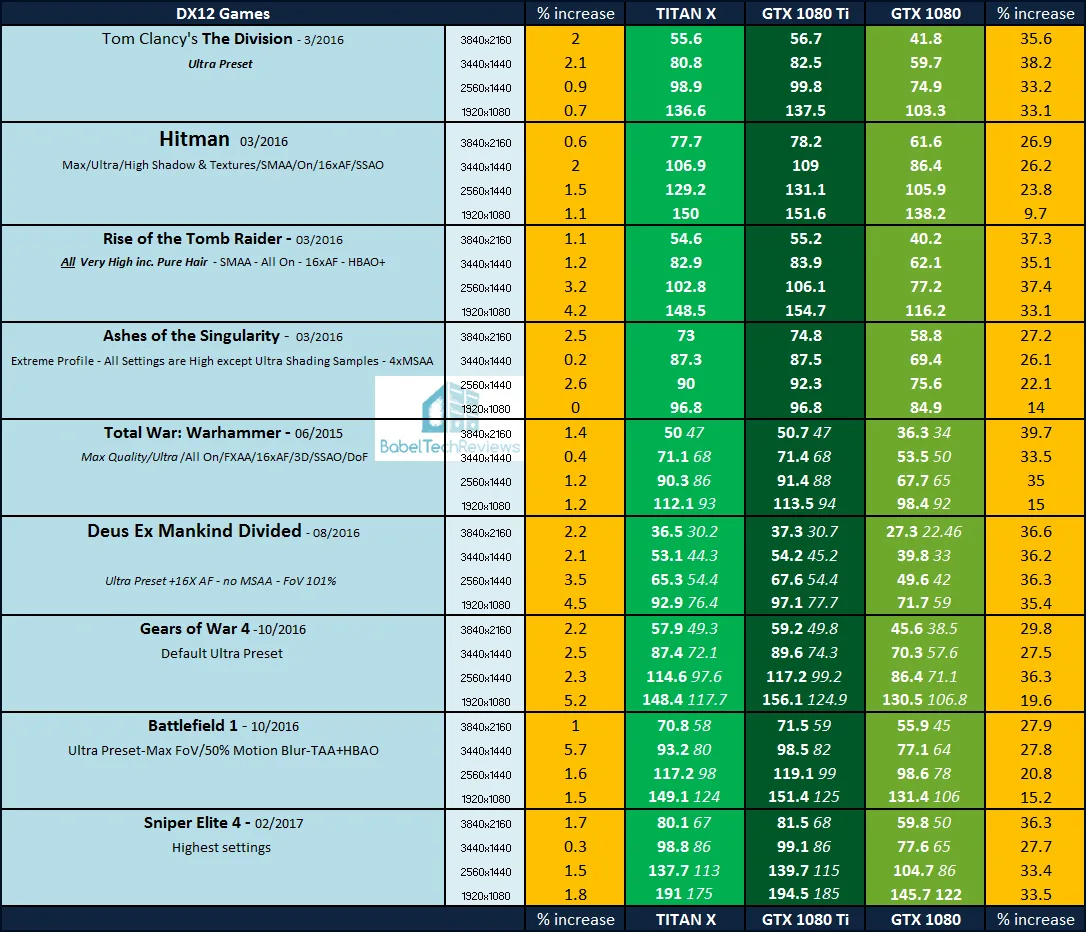 Well, we can see that the GTX 1080 Ti is about 1 to 5% faster than the TITAN X while it is about 1/3rd faster than the GTX 1080 as NVIDIA has claimed. We also can see that 1920×1080 is somewhat "CPU bound" even by Intel's Core i7 at 4.6GHz. The GTX 1080 Ti is clearly the fastest single-GPU video card in the world.
Let's head for our conclusion.
Conclusion
Our $699 GTX 1080 Ti did very well performance-wise comparing it to the $499 GTX 1080 where it brings about one-third higher performance. We are totally impressed with this high-performance Pascal flagship chip that has such an outstanding price considering its ultra performance at 4K compared with the much more expensive $1200 TITAN X. It slots just above the TITAN X and well above the GTX 1080.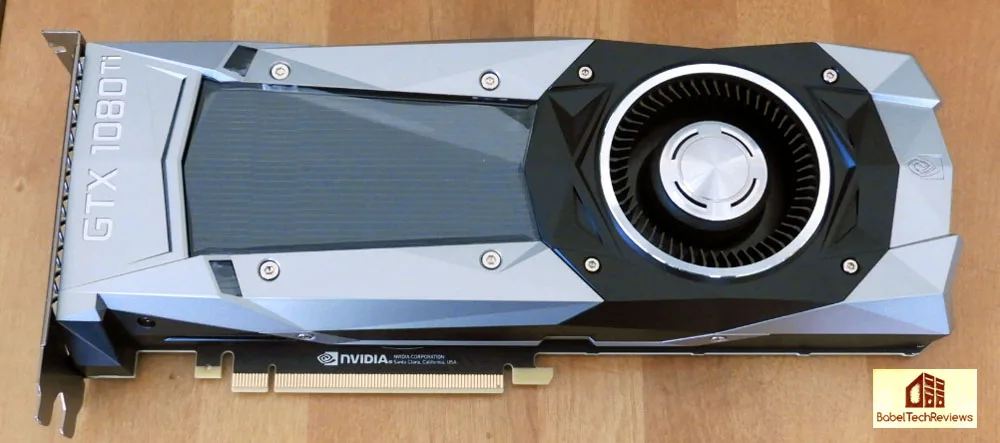 We see good overclockability with quietness at stock voltage and fan profile from the reference design Founders Edition of the GTX 1080 Ti and we look forward to NVIDIA's partner designs. And when you factor in that the GTX 1080 Ti is $500 less expensive than the TITAN X while giving more performance, it is the only high end choice for a gamer. The only reason a gamer might choose a TITAN X instead would be if he also works with Deep Learning algorithms.
Pros
TDP and power draw is superb at 250W for such a large high-performance GPU.
Overclockability is excellent – GPU Boost works as advertised
The reference design cooling is quiet and efficient; the card and well-ventilated case stay cool even well-overclocked on a warm Spring-like day.
Physics enhance gaming immersion and NVIDIA has made GameWorks available free of charge to devs through DX12. And more premium VR becomes possible with the GTX 1080 Ti as well as by new tools NVIDIA has developed.
GameWorks brings new features to gaming.
New Driver brings more performance to DX12 and to Vulkan
New ShadowPlay Highlights allows for automatic capture and sharing of best gaming moments.
G-Sync displays reduce and eliminate stuttering while retaining the advantages of minimizing tearing.
The GTX 1080 Ti along with the TITAN X are the fastest single-GPU video cards. At $699, a GTX 1080 Ti will represent a much better value for most gamers than the TITAN X at 1200 dollars.
For Honor or Tom Clancy's Ghost Recon Wildlands available from participating retailers as a bundle with the GTX 1080 Ti.
Cons
The Verdict:
If you are buying the ultimate flagship video card right now and looking for the highest performance, the GTX TITAN X is no longer the only choice. For $699, or about $500 less, the GTX 1080 is slightly faster than the TITAN X.
We would like to award the GTX 1080 Ti the BabelTechReviews "Great Value" Award. It is just as powerful and much less expensive than a TITAN X. The TITAN X has no advantage in any gaming situation.
We do not know what the future will bring, but the GTX 1080 Ti brings a superb top-performer to the GeForce gaming family. With great features like GameWorks and the GeForce Experience, you can be assured of immersive gaming by picking this card for 1080P, 1600P, 4K, or even higher 5K resolutions including for VR.
If you currently game on any other video card, you will do yourself a favor by upgrading. The move to a GTX 1080 Ti will give you better visuals on the DX11 and DX12 pathways and you are no doubt thinking of SLI if you want to get the ultimate gaming performance. We plan to feature GTX 1080 Ti SLI performance in our follow up review, and we will also host an overclocking showdown between the TITAN X and the new flagship Ti.
AMD offers their own set of features including Eyefinity, GCN 2.0, and Mantle. However, none of their current cards can compete with the GTX 1080, never mind with the GTX 1080 Ti. We are looking forward to AMD's upcoming Vega video card which may bring them back into competition with NVIDIA's high end.
Stay tuned, there is a lot coming from us at BTR. Besides a GTX 1080 Ti SLI evaluation and overclocking vs. the TITAN X follow up, we plan to look at Ryzen's latest 1800X CPU in gaming. We also plan to explore VR performance of the Oculus Rift using our own video benchmarking coupled with NVIDIA's new FCAT software benching tool.