Consumer Drones Are Nuisances, Not Profits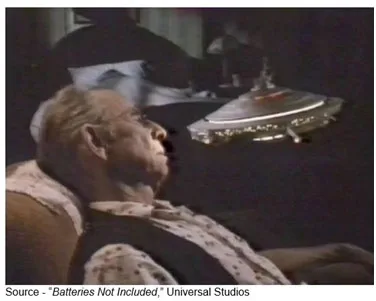 At CES, a whole new flock of fly-high, fly-fast, fly-bad drones were introduced and now the category is suddenly destined to be the next monstrous consumer category.
Some were so small they fit in the palm of your hand. In fact, I think I stepped on one in the show's crowded aisles … but it might have been popcorn. I couldn't see with all the folks mobbing the show floor, but I distinctly heard a crunch.
Speaking of crunch, just in case you missed the "hot" news, Bezos' Amazon drone delivered some guy a box of popcorn and suddenly the postal and every delivery services are facing extinction?
Of course, at shows like Drone World, InterDrone and even the annual EAA (Experimental Aircraft Association) show in Oshkosh; the BS flies less than the drones or UAV's (unmanned aerial vehicles).
About 1.2M of the 2.8M sold last year were gifts at Christmas according to the CTA (Consumer Technology Association but only about 500,000 were registered by the FAA so far (most of the others probably crashed by inept folks).
The global market is already big and it's getting bigger fast as people see what is possible. Firms like The Teal Group estimate it could be a $91B market over the next few years.
That's probably why everyone and his brother/sister has entered the hardware/software market– even though China's DJI and Parrot are the most recognized/respected drone providers.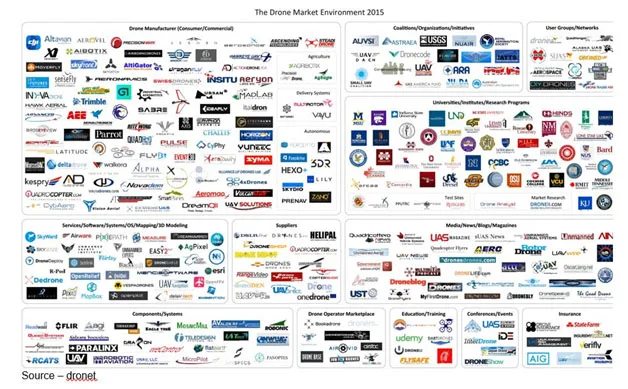 Drones are more than neat toys. Filmmakers are finding they add a whole new dimension to film and video work when used to enhance the storyline rather than just gee whiz effect.
No wonder folks like David Helmly Jr. (son of Adobe's Dave Helmly, Head of Global Field Operations for Professional Video in Maryland) got his commercial pilot license from Embry Riddle Aeronautical University and immediately added a class for his FAA 107 drone license. For him, flight was a logical addition to his photography/film work, having worked with Camp RED and the current drone pilot for the powerboat legend Nigel Hook who races for Lucas Oil offshore racing.
Then there's the American Airline AirBus captain, Scott Strimple, who divides his off-duty time between helping new drone pilots learn how to do things right to avoid accidents and legal issues in addition to shooting video sequences for studios, producers
The cushy movie contracts for helicopter pilots are drying up fast because filmmakers (large and small) can screw up 10 times with a drone shoot and hardly notice the impact on their budget.
That's why last year, DJI introduced a family of drones featuring professional imaging solutions tailored to the needs of film and video creators. The flight platforms stabilize aerial cameras that capture in 4K, HDR to produce dazzling images of breathtaking scenes that were previously out of financial reach for most filmmakers.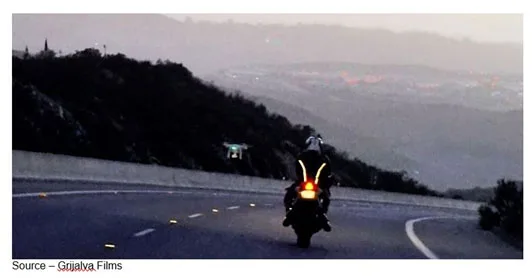 In fact, people like Carlos Grijalva and Rob Tharp, of San Diego-based Grijalva Films, regularly utilize DJI technology in a variety of their projects, ranging from feature films to commercials.
Carlos Grijalva noted, "The low-altitude flights enable us to produce a high-level of production value for our client projects. We can capture unprecedented angles that typically would have cost a significant amount. Forgive the bad pun, but the use of drones and reasonably priced cameras really lets your creativity take flight.
"They let clients and filmmakers differentiate themselves," he added, "UAV technology has really proven that stunning, economic and safe aerial cinematography is within the reach of even independent filmmakers."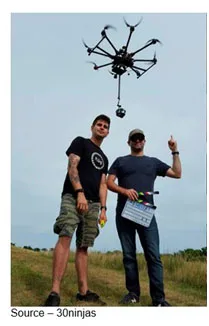 Since VR (virtual reality) film work is founded on a lot of trial and error to find out what works and what doesn't, 30ninja's Lewis Smithingham has done a number of trials with drones and 360-degree rigs to see if an aerial view can add to the viewer's story.
"VR has been breathtaking in special projects like 'The Martian VR Experience' and 'Star Wars VR' because it works, it feels natural," he commented. "But using it just because VR and drone shooting are the sexy new kids on the block won't enrich the storyline and may damage the technology's long-term potential.
"The industry and the viewer deserve the best we can possibly deliver," he concluded.
Film work is perhaps the most glamorous use of drones/cameras; but it is also one of the more modest application areas (still ahead of consumer applications though).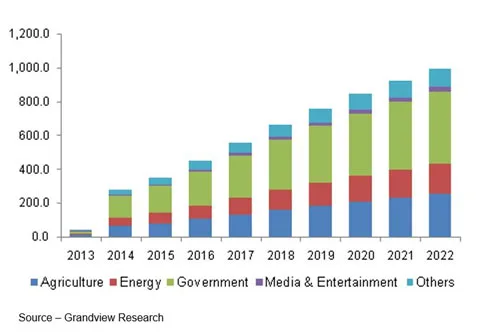 The stuff that always gets VCs' and media folks' motor running is whatever is going to be the next instant mass toy market – VR headsets, mobile game, smart home, smart car, robot and yes, drone.
It's O.K., just not great!
Parents bought them for their kids – all ages — for Christmas. They'll fly them over their neighbor's yard just to tick them off. They'll fly them over accidents/events, inhibiting first responders and they'll hurt people when their drones fall out of the sky.
It just isn't a real market you can count on for tomorrow.
Sure, there's something kinda' cool in watching young guys pumped up on Red Bull trying to make drone racing look as good as NASCAR and Formula1racing; but still, they're nothing but pumped up toys!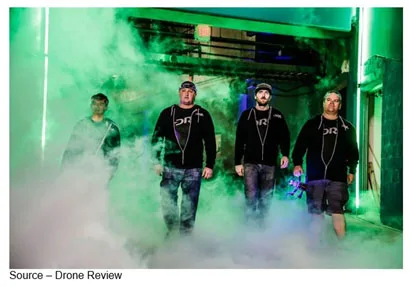 O.K., the accidents are spectacular at the CES races, but a serious sport?
Naw … beyond the military applications and film work, the real sales (profits) aren't with a bunch of kids – actually dads getting their kicks – flying 'em in Central Park but stuff that's talked about every day on the Drone Coalition's website.
These less obvious markets are too big to ignore.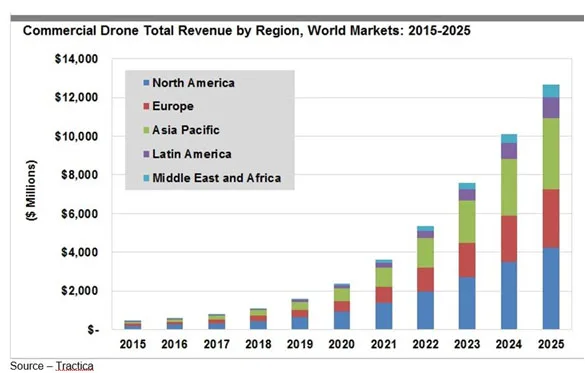 Flight governance folks like the U.S.'s FAA (Federal Aviation Administration) historically restricted the use of drones to military and intelligence applications. Now, they're opening the skies to commercial usage and ingenious folks are letting their imaginations take flight.
It's amazing how quickly farming is using aerial technology to monitor and manage their far-flung operations.

With readily available software, they can constantly produce 3D and thermal images of the acreage and crops.
The only way to get better detail is on foot, which is time-consuming, expensive, and usually inconclusive. Flying even basic, cheap hobbyist drones can cut their costs, improve yields, and do a much better job of conserving their land.
An AUVSI (Association for Unmanned Vehicle System International) feels that agriculture is going to be the biggest drone market because farmers can monitor and treat large areas of land, regardless of the terrain, in less than an hour.
Drones are being regularly used to monitor nitrogen levels, watch the growth of specific field sections and determine the health of plants.
They can precisely identify areas that need pesticides, water and fertilizer to produce the food we eat and improve their bottom line.
It's a lot better than when my grandfather toiled away in the Mid-West. It also enables land management and conservation groups to monitor the health of our environment and land usage locally, regionally and nationally.
Governmental and conservation organizations around the globe are economically using drones daily to monitor and protect the health and numbers of animal and plant species in remote, inaccessible areas. An impossible task to do with helicopters, satellites or on foot.
AUVSI officials note that the maps provide up to 30 times more detail than the ones from satellites, enabling them to chart changes like deforestation and endangered species.
That's sorta' important since this is the only planet we can currently live on.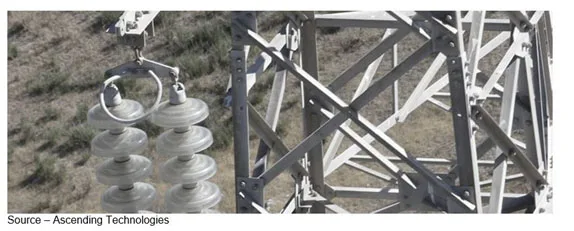 While drones gained notoriety for their ability to handle hostile activities silently and economically; the hardware isn't where the real money is.
The profits are in application/data products/services, licensing and the ever-popular legal services.
Government agencies have been quick to approve the use of drones for inspecting wind turbines, powerlines, pipelines and production facilities as well as the transportation infrastructure around the globe.
The other fast-track application has been to use drones of all sizes for surveillance, public safety and search and rescue operations.
The compact units can be airborne and on-scene in minutes to monitor illegal activities at public gatherings and assess local dangers and problems or fires that cover acres of land.
Heck, thousands could be used to patrol borders in place of walls folks can climb over or dig under.
While legislators struggle to develop new flight/safety rules, the biggest issue for drone operators is battery life.
Most use rechargeable lithium ion batteries, which are both expensive and have a very limited battery life (read short flight times).
Musk and others have been producing hydrogen fuel cells for car and home applications and if some innovative person can make some then small, light and cheap newer drones will be able to fly for hours and be recharged in minutes.
Hydrogen cell drone prices will be "a little" steep but longer flights might offset the cost when it means longer video shoots and business savings.
Kids toys will remain cheap and bothersome; and long distance popcorn delivery will probably win over lots of folks.
Still, aerial delivery of packages, pizza, coffee or whatever doesn't impress me much!
However, Amazon must be serious about what they're doing. They just got a patent to protect their drones against hacking and arrows.
Still the idea of "innovative Prime Air" dropping stuff on my doorstep isn't half as exciting as all those drones shooting video and storing TBs of content on stacks of SD (secure digital) cards and SSD (solid state drives.)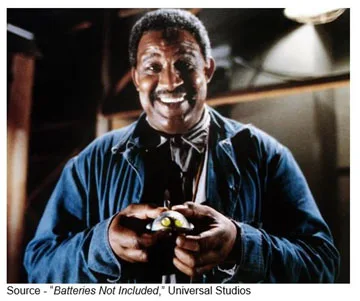 Of course, as Pamela noted, "This is the '80s! Nobody likes reality anymore."
# # #