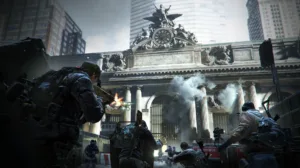 Today's driver performance analysis charts the performance of 27 games using the GTX 980 Ti with the latest GeForce WHQL driver 364.51, and we are also focusing on the competing Fury X and AMD's Crimson Software version 16.3.
We are also testing the GTX 980 and the GTX 970 versus the R9 290X and the R9 280X with the latest drivers from both AMD and Nvidia using our newest 2016 games: Rise of the Tomb Raider, Far Cry Primal, and Tom's Clancy's The Division.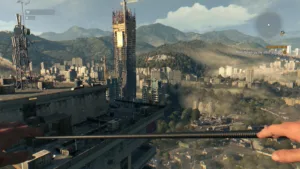 We are also going to look closely at ARMA III and its new expansion which received HBAO+ in a major patch, and at Dying Light and its expansion that got PCSS to improve the shadows. With a couple of important patches, Rise of the Tomb Raider got DX12 and also added VXAO, a new kind of ambient occlusion that promises greater visual fidelity than HBAO+. And The Division got a new kind of hybrid shadowing, Nvidia's HTFS, that is supposed to be more accurate than PCSS. We will also chart the performance changes of the soon-to-be-released DX12 game Ashes of the Singularity that received major upgrades to its visuals.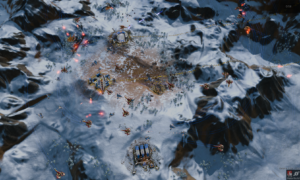 For this evaluation, we are comparing the GTX 980 Ti and the GTX 980 to the Radeon Fury X, and the 290X and the 280X to the GTX 970. We will compare the performance of the very latest PC games at 1920×1080, 2560×1440, and at 3840×2160 resolutions for our completely revamped new benching suite.
BTR's The Big Picture, once reserved for video card reviews is now included in every driver performance analysis. We want to document the performance changes of the GeForce WHQL 364.51 driver since we tested Nvidia's 359.00 WHQL driver set on Windows 10, as well as taking a closer look at the performance changes of this latest driver with our newest target games. In like manner, we will chart the performance changes of the Crimson Software driver 16.3 since 15.12.
We have benchmarked our entire 27 game benchmark suite using the GTX 980 Ti with Nvidia's latest driver and have benched the Fury X with AMD's latest Crimson Driver suite. This comparison is completely up to date at the time of publication including the testing of all games with their very latest patches.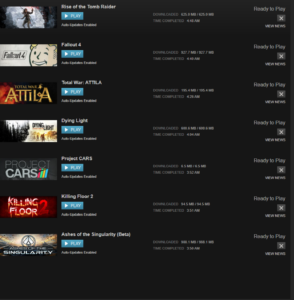 Benchmarking has proved to be somewhat problematic recently when many major patches were often released one after the other, sometimes altering the performance picture from one patch to the next. This has happened regularly with Ashes of the Singularity, and right after benching 6 video cards last weekend with the first Rise of the Tomb Raider DX12 patch, a second 666 MB patch was released the following day which required us to start benching it all over again.
It is clear that Nvidia is focusing on VR and especially on the very latest games including DX12 games with their newest driver GeForce 364.51. AMD also appears to be focused on these same games with Crimson Software 16.3, so this will be an interesting evaluation.
Our testing platform is Windows 10 Home 64-bit, using an Intel Core i7-4790K at 4.00GHz which turbos to 4.4GHz for all cores, an ASUS Z97E motherboard, and 16GB of Kingston "Beast" HyperX DDR3 at 2133MHz. The settings and hardware are identical except for the drivers being tested.
At R9 280X or at GTX 970 performance level and above, we test at higher settings and resolutions generally than we test midrange and lower-end cards. All of our games are now tested at three resolutions, and we use DX11 or DX12 when available with a very strong emphasis on the latest demanding 2015-2016 PC games.
Let's get right to the test configuration, to the driver release notes, and then to the results.
Test Configuration – Hardware
Intel Core i7-4790K (reference 4.0GHz, HyperThreading and Turbo boost is on to 4.4GHz; DX11 CPU graphics), supplied by Intel.
ASUS Z97-E motherboard (Intel Z97 chipset, latest BIOS, PCIe 3.0 specification, CrossFire/SLI 8x+8x)
Kingston 16 GB HyperX Beast DDR3 RAM (2×8 GB, dual-channel at 2133MHz, supplied by Kingston)
GeForce GTX 980 Ti, 6GB reference clocks, supplied by Nvidia
EVGA GTX 980 Ti SC, 6GB, at reference clocks in SLI, supplied by EVGA
GeForce GTX 980, 4GB, reference clocks, supplied by Nvidia
GALAX GTX 970 EXOC 4GB, GALAX factory clocks (1164MHz/7010MHz with 1430MHz boost on this sample), supplied by GALAX
PowerColor R9 Fury X 4GB, stock clocks.
VisionTek R9 290X 4GB at stock Uber clocks but with the fan allowed to spin up to 100% to prevent throttling.
PowerColor R9 290X PCS+ ( overclocked reference design), at stock Uber clocks in CrossFire with the fan allowed to spin up to 100% to prevent throttling.
VisionTek R9 280X, 3GB at stock clocks (1000MHz/1500MHz).
Two 2TB Toshiba 7200 rpm HDDs
EVGA 1000G 1000W power supply unit
Cooler Master 2.0 Seidon, supplied by Cooler Master
Onboard Realtek Audio
Genius SP-D150 speakers, supplied by Genius
Thermaltake Overseer RX-I full tower case, supplied by Thermaltake
ASUS 12X Blu-ray writer
Monoprice Crystal Pro 4K
Test Configuration – Software
Nvidia's GeForce 364.51 drivers were used to benchmark the GTX 980 Ti, and also used for the GTX 970 and GTX 980 for ARMA III, Dying Light, Far Cry Primal, Rise of the Tomb Raider, and The Division. GeForce cards not using GeForce WHQL 364.51 generally used GeForce driver 359.06 or newer as noted on the chart. High Quality, prefer maximum performance, single display.
The AMD Crimson Software 16.3 beta drivers were used for benching the Fury X and we used 16.1 or 15.12 for the 290X and 280X, except for 16.3 used for ARMA III, Dying Light, Far Cry Primal, Rise of the Tomb Raider, and The Division for all AMD cards.
VSync is off in the control panel.
AA enabled as noted in games; all in-game settings are specified with 16xAF always applied
All results show average frame rates including minimum frame rates shown in italics on the chart next to the averages in smaller font [<<UPDATED and Typo fixed].
Highest quality sound (stereo) used in all games.
Windows 10 64-bit Home edition, all DX11 titles were run under DX11 render paths. Our only DX12 title is run under the DX12 render path. Latest DirectX
All games are patched to their latest versions at time of publication.
EVGA's PrecisionX, latest version for Nvidia cards.
The 27 PC Game benchmark suite & 1 synthetic test
Synthetic
Firestrike – Basic & Extreme

DX11* Games

Crysis 3
Metro: Last Light Redux (2014)
Sniper Elite 3
GRID: Autosport
Middle Earth: Shadows of Mordor
Alien Isolation
Dragon's Age: Inquisition
Dying Light
Total War: Attila
*Wolfenstein: The Old Blood (*OpenGL game)
Grand Theft Auto V
ProjectCARS
the Witcher 3
Batman: Arkham Origins
Mad Max
Fallout 4
Star Wars Battlefront
Assassin's Creed Syndicate
Just Cause 3
Rainbow Six Siege
DiRT Rally
Rise of the Tomb Raider (DX12 & DX11 and VXAO vs. HBAO+)
Far Cry Primal
Tom Clancy's The Division (PCSS+ vs. HTFS)
DX12 Game
Ashes of the Singularity – Beta Demo benchmark
The Crimson drivers came out recently with a new interface that may take users some time to get used to. We feel the new interface is a big improvement over the older one, but there are still some issues – especially with changing resolutions and refresh rates that still need to be changed by Windows.
Here are the settings that we always use in AMD's Crimson Control Center for our default benching. They are identical settings to what we used in the older Catalyst Control Center. The new Power Efficiency Toggle which was made available for the Fury X and some 300 series cards by Crimson Software 16.3, is left off in our benching.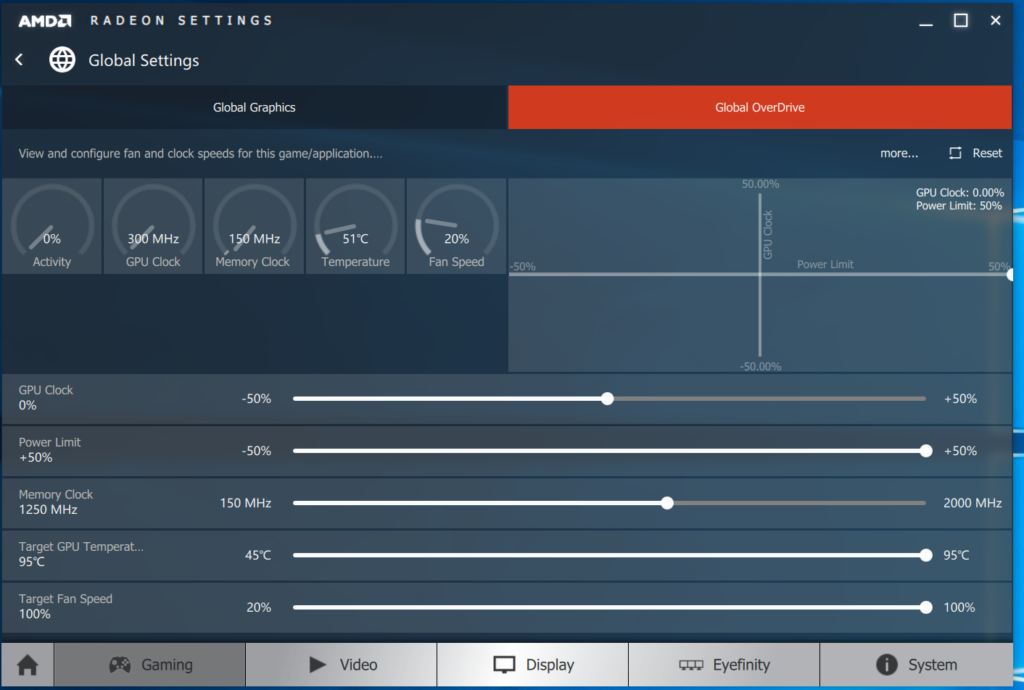 Notice that we bench our 290X with the fan set to allow it to spin up to 100%. It never throttles under our benching conditions.
Nvidia's Control Panel settings:Changes to BTR's benching suite
At BTR we regularly benchmark 25 of the latest and most important PC games. Because of size/time constraints, we recently dropped Call of Pripyat, the Secret World, Hitman Absolution, BioShock Infinite, the Crew, and Metal Gear Solid V: The Phantom Pain, although we will occasionally bring them back for special evaluations together with other games that we have previously dropped. Since we have added Far Cry Primal, we will drop the older Far Cry 4 game even though the older game has more demanding visuals, and we will no longer bench Sniper Elite 3 which mostly requires SuperSampling to remain relevant.
We are currently evaluating the latest DX12 Hitman game and may include it in our benching suite once its issues are worked out. If we add Hitman, Grid: Autosport will be retired.
We also dropped Heaven 4.0 from our benching suite recently as it is relatively old, and the Unigine engine is still not used in very many games. We plan to bench a minimum of 25 of the newest and especially demanding games regularly, and we will add new games as they are released.
Release Notes Highlights for Crimson Software 16.3 Drivers
The release notes and download links for the Crimson Catalyst 16.3 beta drivers can be found here for Windows 10. We have benched the Fury X using this driver for this evaluation. The 280 and the 290X are still benched on Catalyst 16.1 except for our six target games on 16.3, and the other configurations specify which driver is used on the chart. As this evaluation was being written, Hotfix 16.3.1 beta was released with a further updated CrossFire profile for Hitman.
The release notes for Crimson Software 16.3 can be found here along with the download links. We have benched the Fury X using 16.3 with all games, and the 280X and the 290X with the very latest AMD drivers for our six featured games: ARMA III, Dying Light, Far Cry Primal, Rise of the Tomb Raider, and The Division.
Radeon Software Crimson Edition 16.3 Highlights

Updated Crossfire Profiles available for

Support for​

Performance and Quality improvements for​

Rise of the Tomb Raider™(2)

​Up to 16% on AMD Radeon™ R9 Fury X Series vs AMD Radeon™ Software Crimson Edition 16.2.

​Gears of War Ultimate Edition(3)

Up to 60% on AMD Radeon™ R9 Fury X series vs AMD Radeon™ Software Crimson Edition 16.2.1
Up to 44% on AMD Radeon™ R9 380 series vs AMD Radeon™ Software Crimson Edition 16.2.1

​Vulkan™ Support (1) : Vulkan™ is the successor to OpenGL and a descendant of AMD's Mantle. Vulkan™ is a powerful "low-overhead" graphics API that gives software developers deep control over the performance, efficiency, and capabilities of Radeon™ GPUs and multi-core CPUs. More information on Vulkan™ can be found at https://www.khronos.org/vulkan/.
​

Per-Game Display Scaling: A new feature introduced in Radeon™ Settings that allows per game Display Scaling to be set within the Radeon™ Settings Gaming tab under "Profile Options".

Language Menu: A new feature introduced in Radeon™ Settings that allows the end user to select their preferred language from a drop down menu under the "Preferences -> Language" tab.

Two Display Eyefinity: Two Display Eyefinity is now an available option under the Eyefinity tab in Radeon™ Settings.

AMD Crossfire™ Status Indicator: A new feature in Radeon™ Settings that allows users to toggle an AMD Crossfire™ status indicator on their screen when running in AMD Crossfire™ mode.

Updated Social Links: New Social links are now available for Radeon™ Settings home page and have also updated based on geographical region.​

Power Efficiency Toggle: A new feature introduced in the Radeon™ Settings Gaming tab for select AMD Radeon™ 300 series and AMD Radeon™ Fury X available under "Global Options". This allows the user to disable some power efficiency optimizations.

AMD XConnect™ technology: This driver provides initial support for external GPU enclosures configured with Radeon™ R9 300 Series GPUs are now supported over Thunderbolt™ 3 (USB-C) connections. AMD XConnect™ technology additionally provides plug'n'play support and an integrated management interface. Base system must have BIOS support for external GPUs (e.g. Razer Blade Stealth).

Resolved Issues

Core clocks may not maintain sustained clock speeds resulting in choppy performance and or screen corruption (Fixed with new Power Efficiency feature toggled to off)
Gears of War Ultimate Edition – Random freezes may be experienced during gameplay
Ashes of the Singularity 2.0 Benchmark now supports DirectFlip
XCOM 2 flickering textures may be experienced at various game locations
Rise of the Tomb Raider™ – The game may randomly crash on launch if Tessellation is enabled

Known Issues

A few game titles may fail to launch or crash if the Gaming Evolved overlay is enabled. A temporary workaround is to disable the AMD Gaming Evolved "In Game Overlay"
Installing via command line may not work for some users. As a workaround please use the default GUI installer
League of Legends may experience some graphical corruption on characters death animation in AMD Crossfire™ mode
Rift may experience a hang when playing with FRTC and V-Sync enabled. As a work around users are suggested to disable V-Sync
Plants vs Zombies: Garden Warfare 2 may experience some flickering in AMD Crossfire™ mode
Rise of the Tomb Raider may experience graphical corruption in some cinematics
The Division may experience flickering in AMD Crossfire™ mode
Star Wars Battlefront users may experience flicker in AMD Crossfire™ mode on battle and tutorial loading screens
Star Wars Battlefront users may experience ground texture issues in certain locations on Survival Hoth missions

Package Contents

The AMD Radeon Software Crimson Edition 16.3 Driver contains the following:

AMD Radeon Software Crimson Edition 16.3 Driver Version 16.15
Release Notes Highlights for GeForce 364.51
The release highlights for GeForce 364.51 can be found here together with a download link for Windows 10/8.1/7 64-bit. Below is a short list highlighting the fact that Nvidia's WHQL driver release schedule is tied to the release of AAA games. All of our games are benchmarked with this latest WHQL driver using the GTX 980 Ti, and the GTX 980/970 use it for our six featured games: ARMA III, Dying Light, Far Cry Primal, Rise of the Tomb Raider, and The Division.
Prior to a new title launching, our driver team is working up until the last minute to ensure every performance tweak and bug fix possible makes it into the Game Ready driver. As a result, you can be sure you'll have the best day-1 gaming experience for your favorite new titles.

Game Ready
Learn more about how to get the optimal experience for Tom Clancy's The Division, Hitman, Need for Speed, Ashes of the Singularity, and Rise of the Tomb Raider

Gaming Technology
Support for Vulkan API
For the comprehensive release notes, you will need to download the .pdf
Let's look at our performance evaluation using AMD's and Nvidia's latest drivers for ARMA III, Dying Light, Far Cry Primal, Rise of the Tomb Raider, and The Division.
Ashes of the Singularity
Ashes of the Singularity is an AMD Evolved title which has progressed from an alpha in early release last year, to a raw beta, and finally to a polished beta by the many patches released over the months that BTR has been benching it in DX12.
Ashes of the Singularity is an RTS much in the style of Supreme Commander, and it uses DX12 to make it possible for very large numbers of units to interact at one time onscreen. It will be released in its final form on the last day of March, 2016 with upgraded visuals.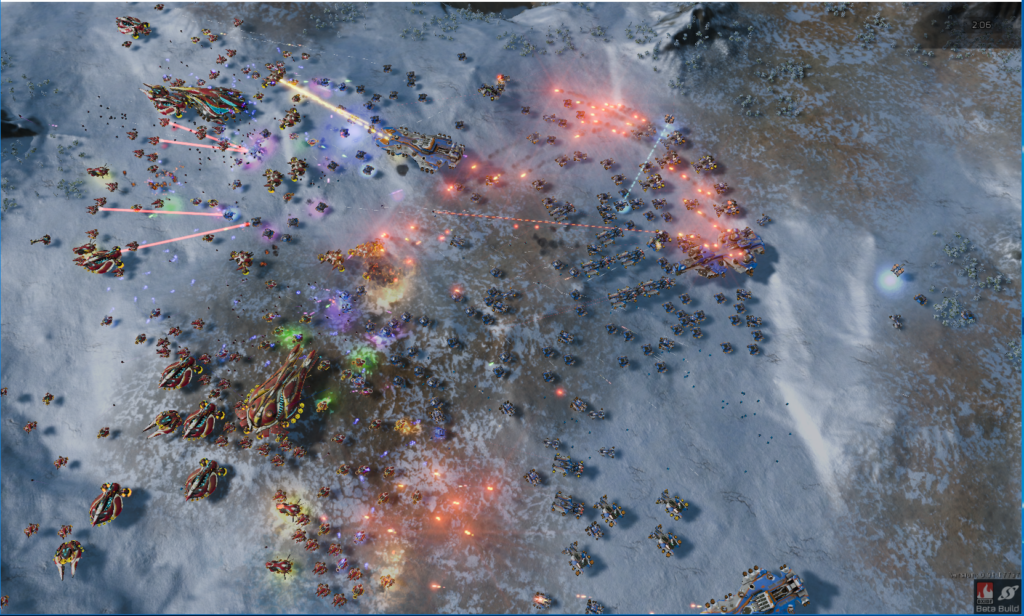 Compare the latest DX12 image above with earlier editions of the Alpha below, and one can see there are a lot of new details and visual upgrades.
Here is the official announcement:
Now it's time for the game's release, and we are ready to bring you what you've been waiting for! We have listened to your feedback and have continued torefine and balance the game all through its time in Early Access. With your help, we have improved our multiplayer experience and have been enjoying our "Devs vs. Fans" Fridays.

We have added several maps since our first beta and by the time we release 1.0 you will have the ability to edit maps to your own preferences! Closer to release, we will create a post with instructions and tips for how to do this.

Finally, we can't wait to tell you all more about the Ascendancy Wars campaign that will become available in full at the time of release. Keep an eye out on our forums for more information, and certainly load the game up when 1.0 releases on March 31st and give it a try for yourself!

Ashes of the Singularity 1.0 will be available on March 31st, 2016.For more information, check out www.ashesofthesingularity.com.
With each patch, the performance has changed for both AMD and Nvidia video cards, and this particular set of benchmark runs was performed on the same version of the game with the latest drivers.
Here is the progress using our test cards since the last major DX12 patch was released:

We can see good progress with both sets of drivers over time although AMD cards hold the performance advantage in this game.
ARMA III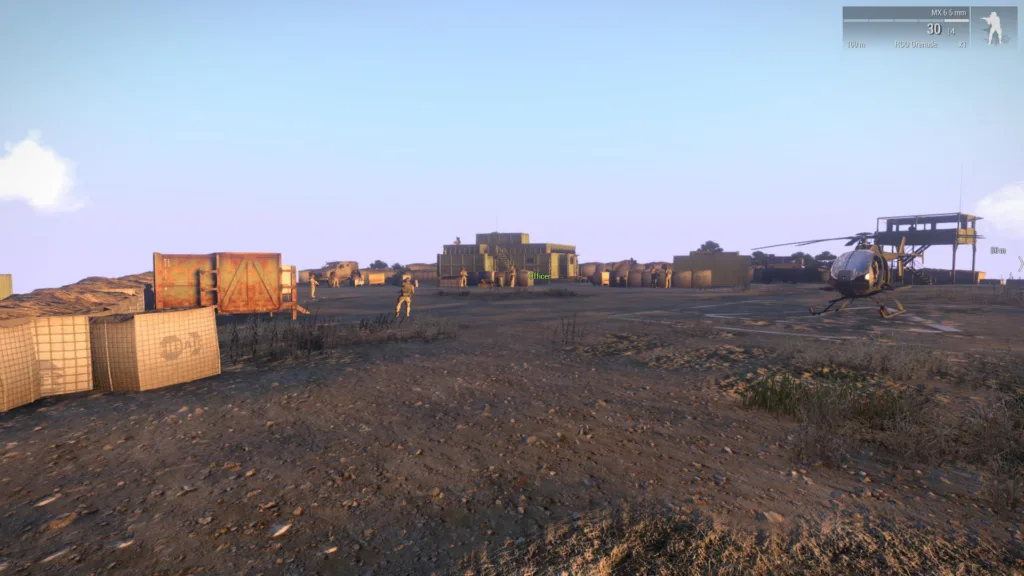 ARMA 3 is an open-world military tactical shooter that currently sits at #17 on the Steam charts of its most popular games. It offers an incredibly detailed military simulation attracting a dedicated group of players that offers an experience unlike any other. ARMA 3 even models bullet physics as they pass through different kinds of materials. Draw distances are incredibly long and detailed.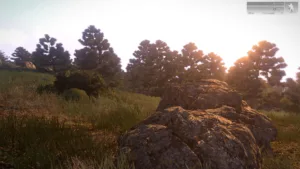 Recently ARMA 3's developer, Bohemia Interactive, released a new patch for ARMA 3 with support for Nvidia's HBAO+ (Horizon-Based Ambient Occlusion). ARMA 3 already uses Nvidia's CPU PhysX for physics.
HBAO+ adds significantly to the visuals, and particularly adds definition to items that are shadowed in a scene, dramatically enhancing the image quality and perhaps improving the chances for a player to be more accurate in his targeting.
As we look at the performance changes over several drivers and since the big patch adding HBAO+, we notice that frame rates drop very little which are mostly noticed in the minimums along with the upgraded visuals.

Here are some ARMA III Related Links:
Dying Light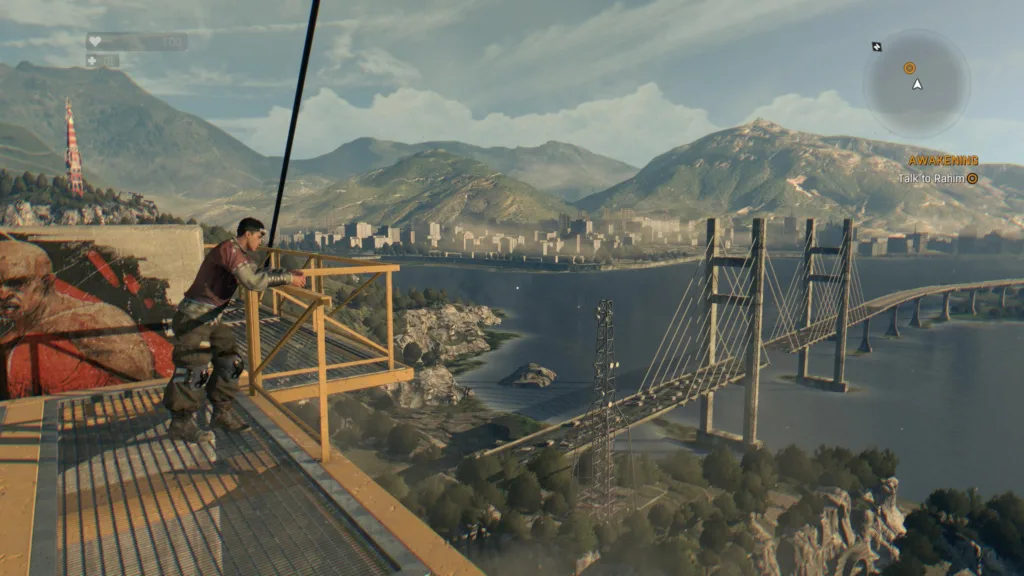 A new patch was also recently released for the very popular open-world zombie game Dying Light which adds Nvidia PCSS to the original game and to The Following expansion pack. Nvidia's HBAO+ and Depth of Field are GameWorks technologies found in the original Dying Light game.
PCSS is used to make shadows more realistic. Nvisia's PCSS uses an algorithm that more closely mimics natural shadows in the real world. Shadows progressively soften as the distance from the casting object increases. PCSS provides an added benefit of reducing the prominence of shadow aliasing (jagged lines on the edges of shadows) at the expense of performance.
In addition to Dying Light: The Following, PCSS has been used in The Division, Grand Theft Auto V, Assassin's Creed: Syndicate Assassin's Creed IV: Black Flag, Far Cry 4 and other games. In this particular case, we can see that since the PCSS setting was made available, the frame rates have dropped rather noticeably while giving higher visual fidelity, and a player has to decide whether to enable the new setting or not depending on how powerful their GPU is.

Related Links:
Far Cry Primal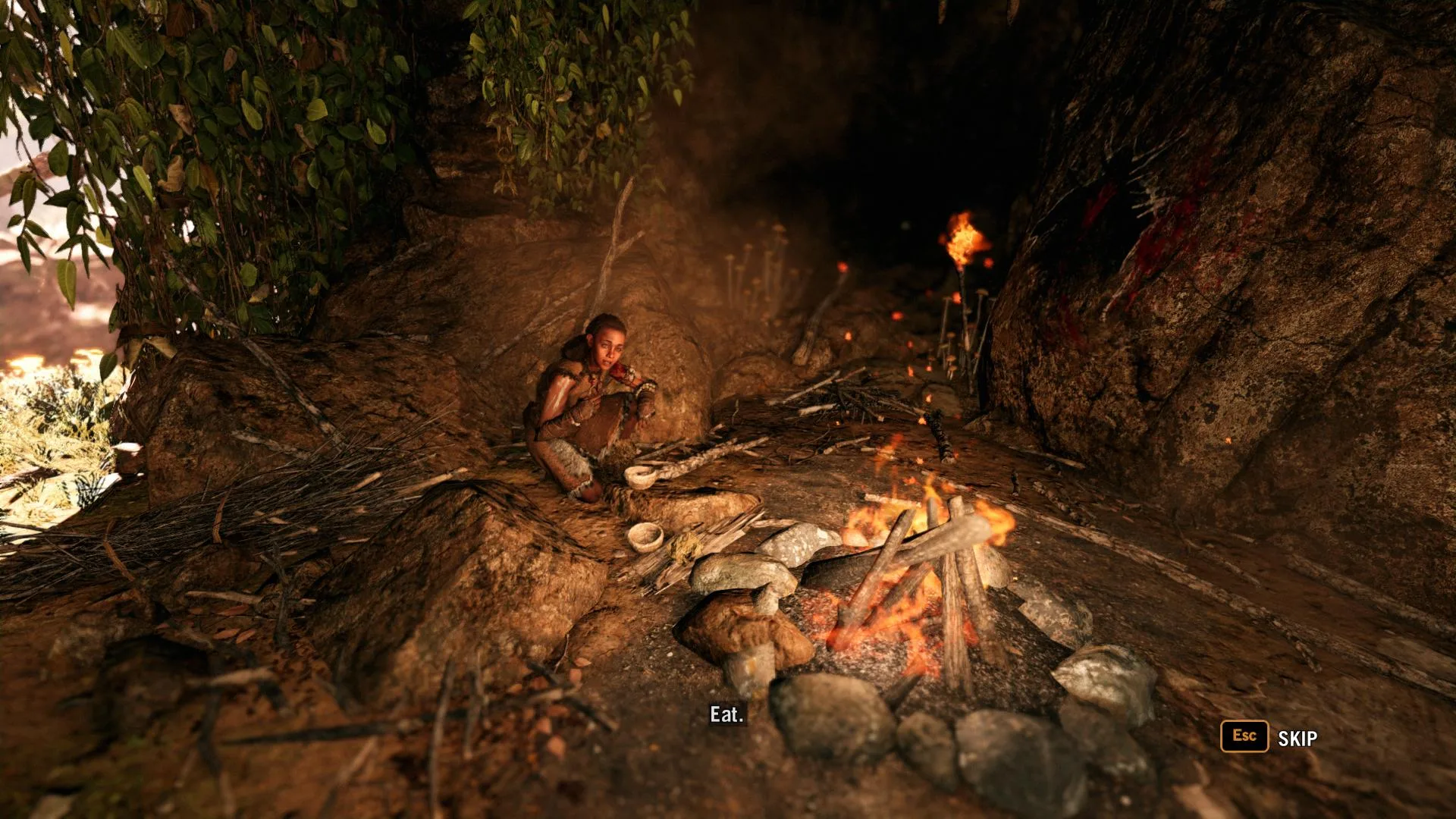 Far Cry Primal doesn't see any significant graphics upgrade over Far Cry 4, although it is a beautiful game with next generation visuals. The devs decided not to include Nvidia's Hair/FurWorks and the fur and hair simulation suffers somewhat although Ubisoft has made use of their own proprietary tech for tessellated God Rays.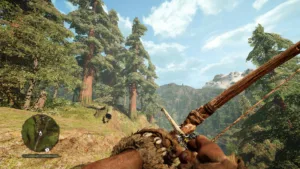 Far Cry Primal is a beautiful video game that plays exactly like Far Cry 2, 3, and 4, except that it is set in 10,000 BC with primitive weapons. Like the earlier games, the player gains in strength and abilities, unlocking achievements as he progresses.
The same elements of the earlier games in the Far Cry series have been adapted and expanded so that long time series players will feel right at home. The game mechanics has been tweaked, balanced, and fine-tuned to give an excellent gaming experience, but there is really nothing new – you still command beasts, liberate camps and outposts, and grow in strength and abilities.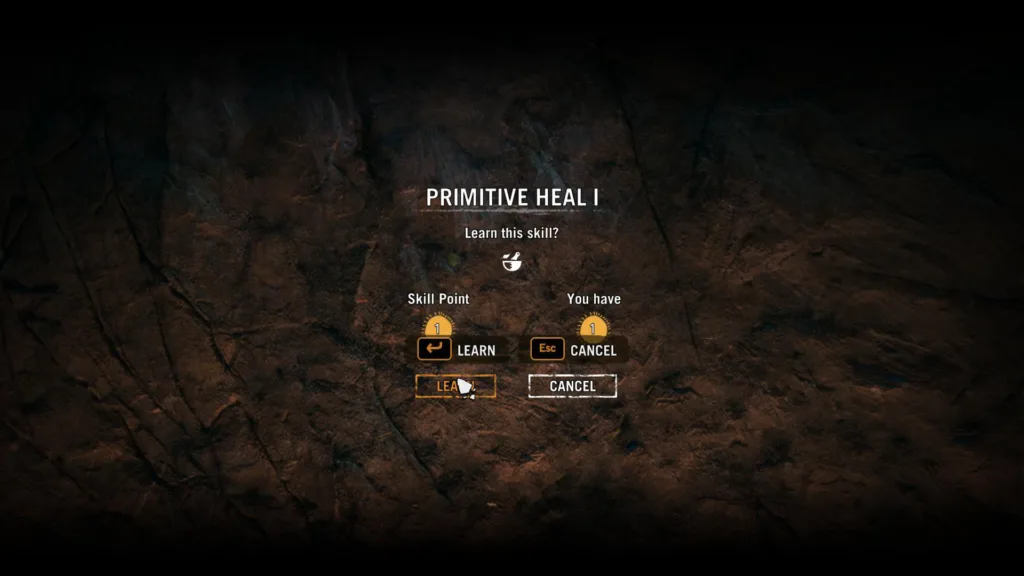 Although Far Cry Primal does not push the graphics envelope further than Far Cry 4, it is a very good-looking and demanding game, and it is a very welcome addition to BTR's regular benching suite, and we look forward to playing more of it! Unfortunately, due to the size limitations of 25 games as our benching suite, we must drop Far Cry 4 as Primal has now become its replacement.
We do not chart the driver progression of Far Cry Primal as there has been very little change in performance even after several patches and over a couple of driver updates from both AMD and from Nvidia.
Tom Clancy's The Division – including HTFS vs. PCSS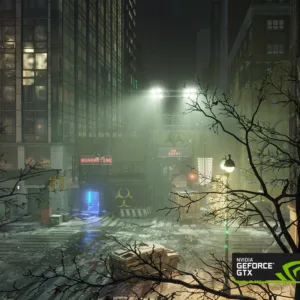 Ubisoft has released Tom Clancy's The Division as an open world role playing shooter. Tom Clancy's The Division takes place in an apocalyptic Manhattan which is in crisis as an open world with destructive environments that are free for players to explore either solo or in multiplayer with a team.
Included in Tom Clancy's The Division is support for HBAO+ (Horizon-Based Ambient Occlusion), PCSS (Percentage Closer Soft Shadows) and a new GameWorks technology that makes its debut in the game called Nvidia HFTS (Hybrid Frustum Traced Shadows). HFTS is a combination of hybrid ray traced shadows and PCSS that will slow your frame rates down further since you are not replacing PCSS but rather adding to it. Hybrid Ray Traced Shadows uses ray tracing instead of shadow maps to create sharper shadows that look better up close, while PCSS looks better at longer distance. Moving from indoors to outdoors will turn on HFTS if you have the setting enabled, and you will notice as your frame rates drop.
NVIDIA HFTS is a new technique that interpolates between geometrically correct hard shadows and percentage closer soft shadows. It is an advanced hybrid shadow technique that combines frustum tracing, screen-space anti-aliasing, and variable penumbra soft shadow filters. It smoothly transitions from a geometrically accurate hard shadow to a super soft result in real time.
Common problems of aliasing and overlapping blockers are fixed with HTFS. But it also means that running with HFTS will require that you play at 1920×1080 with a GeForce GTX 980 Ti. HFTS is a forward-looking algorithm that may be better suited for future Pascal GPUs rather than the current generation of Maxwell GPUs.
To learn about HFTS, please check out Nvidia's GDC 2016 session on Advanced Geometrically Correct Shadows for Modern Game Engines.
Gamers who purchase a GeForce GTX 970 or above add-in card or a notebook with a GeForce GTX 970M, 980M or 980 can receive a free copy of The Division. For details on Nvidia's bundle visit here.
Related links:
The Division has a built-in benchmark sequence that we use for its consistent results. Unfortunately the benchmark results are inaccurate as they appear to take into account a portion of the loading screens. Using Fraps is more representative of the framerates generated by the benchmark and this is what we are using. Also, the game's benchmark strangely reports a 99 percentile FPS which is not very useful.
Since the benchmark is scripted it is not a great indication of actual gameplay which can be significantly more demanding in certain scenes. But it is useful as it indicates relative performance between video cards and it is especially useful to compare performance when changing settings.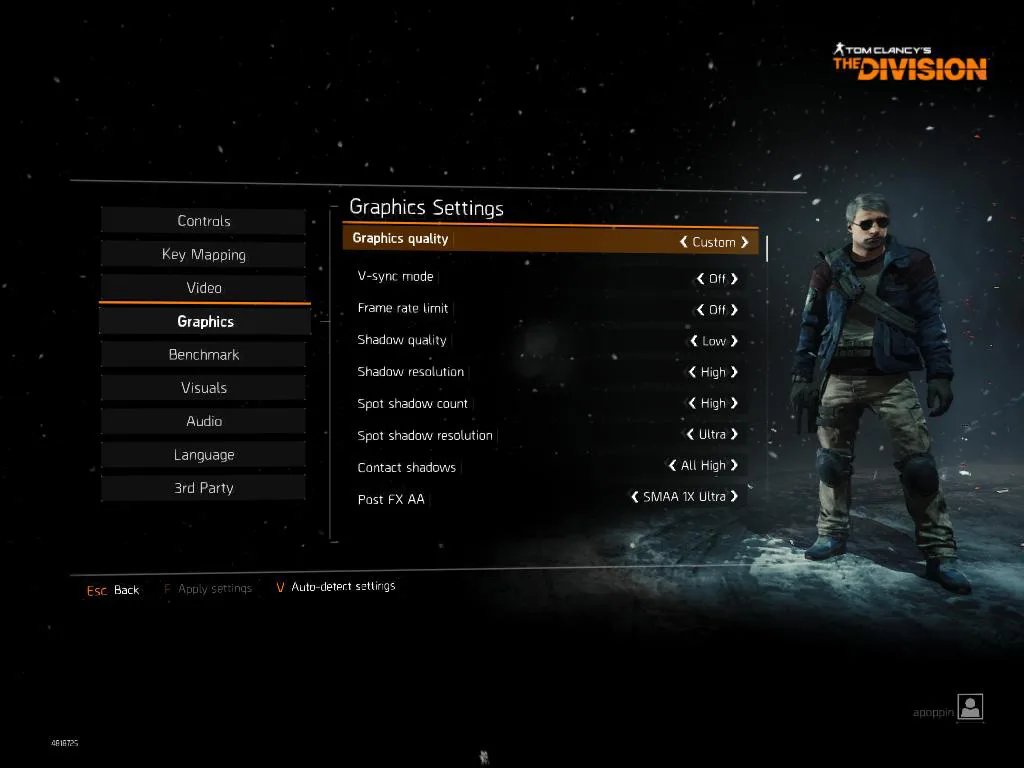 The minimum and low quality settings look very flat while playing the game although it is not as apparent in screen shots. Below is The Division with ultra settings except for AO which is Off. The shadows look like they are painted on and all of them have hard edges.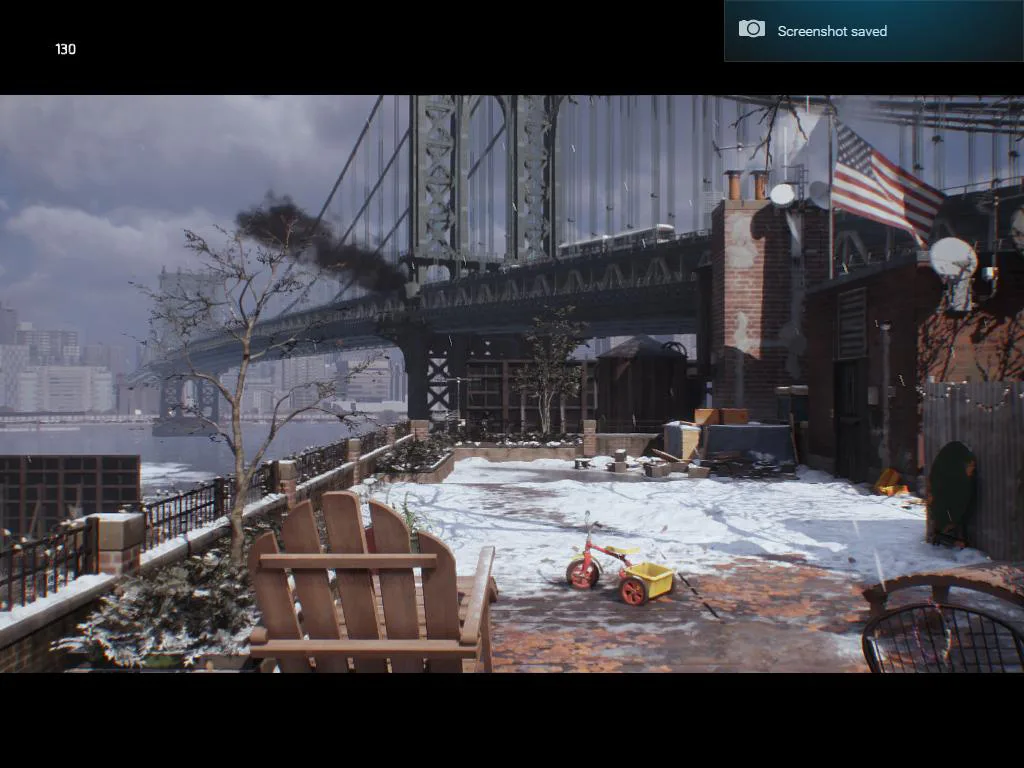 On medium settings the game becomes more alive looking and it becomes more difficult to see differences between medium and the higher settings. Below are Ultra settings with PCSS. The shadows tend to blur as they naturally do in the real world.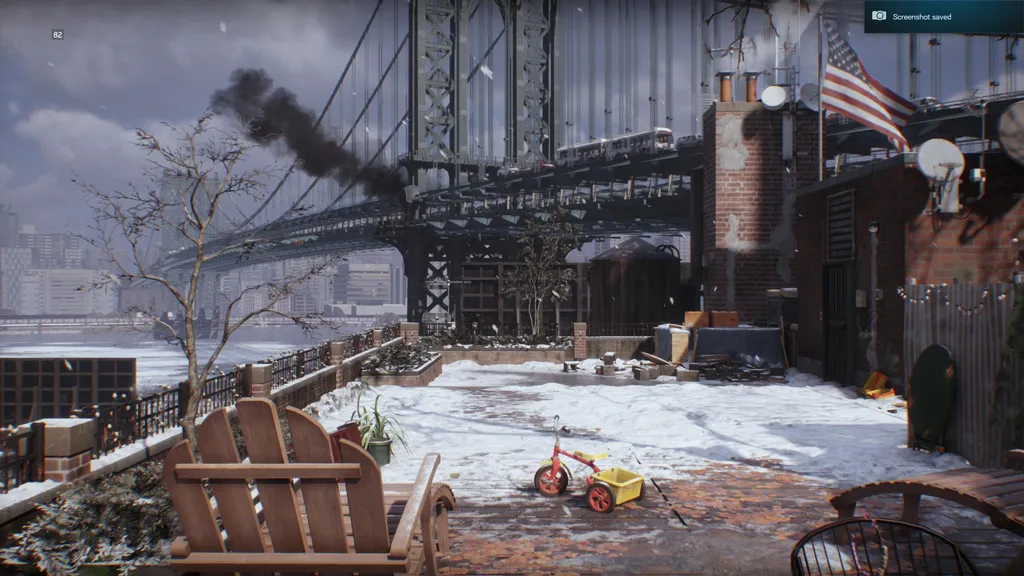 Enabling HFTS, below we can see a further change as the shadows at distance are still blurred, but the closer shadows are more razor sharp as in nature.
Nvidia has created a couple of screenshots which illustrate the differences between PCSS and HFTS perfectly. First, we look at PCSS below.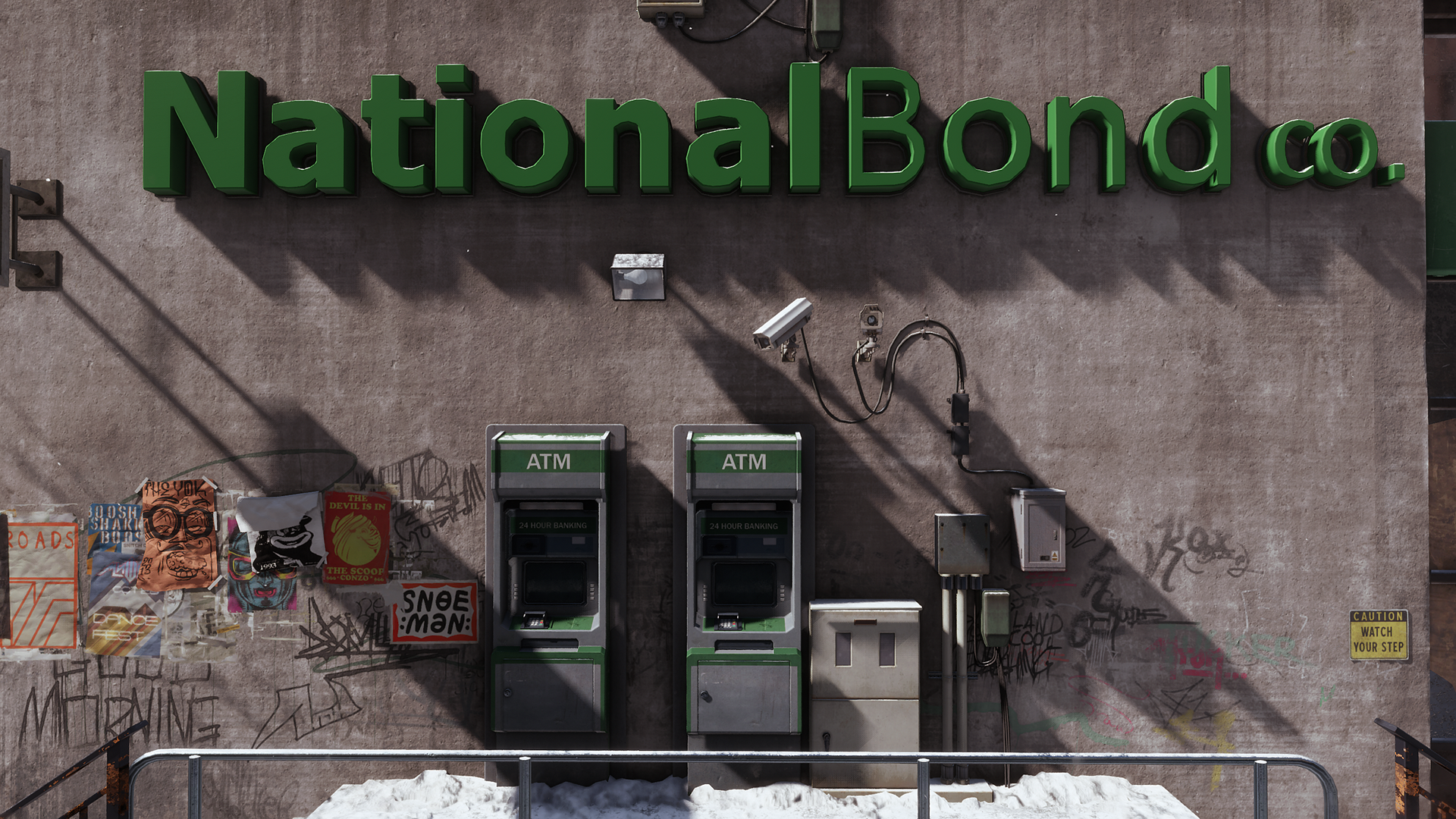 Now check out HFTS below.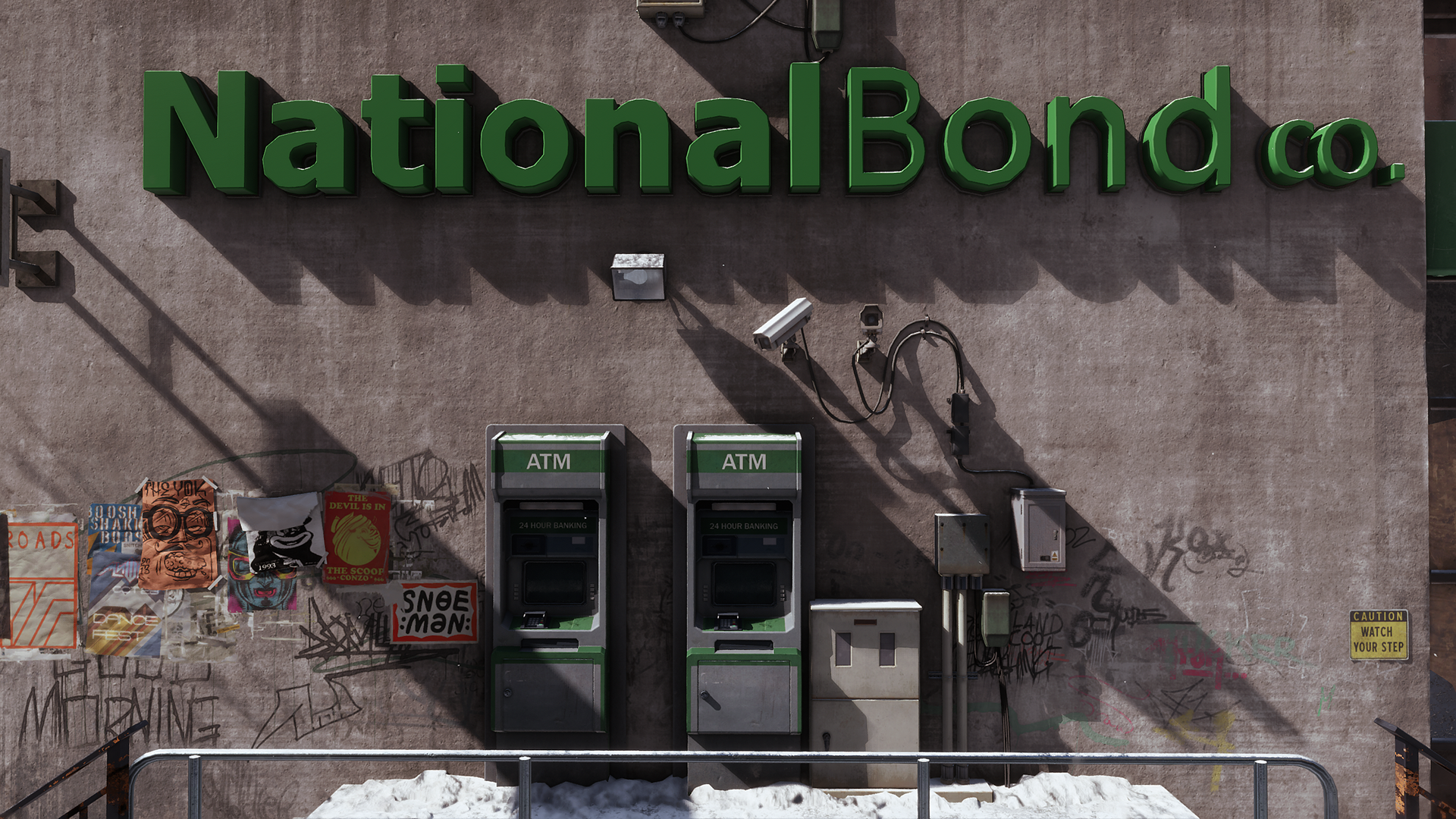 There are many individual settings that can be adjusted in The Division, but shadow quality settings have the largest performance impact followed by Volumetric Fog and also Ambient Occlusion settings of which two Nvidia modes that most impact shadow quality are PCSS and HFTS.
Here is the performance impact of using HTFS in addition to PCSS using Maxwell Nvidia cards (only). The GTX 980 Ti suffers less with this setting and is suited for playing with Ultra maxed-out settings at 1920×1080.

Of course, HTFS cannot be enabled on AMD cards or on Nvidia cards earlier than Maxwell. AMD cards suffer a relatively large impact from just enabling PCSS, and the Fury X, although close to the GTX 980 Ti at 4K in raw frame rates, flashes the textures while attempting to play the game or run the benchmark. This texture flashing at 4K are Fury X issues probably unrelated to vRAM capacity that the 290X does not share, although 4K is a slideshow for the lesser card, and the Fury X has no such issues at 2560×1440 or at 1920×1080.
Rise of the Tomb Raider – DX11 versus DX12 and HBAO+ vs. VXAO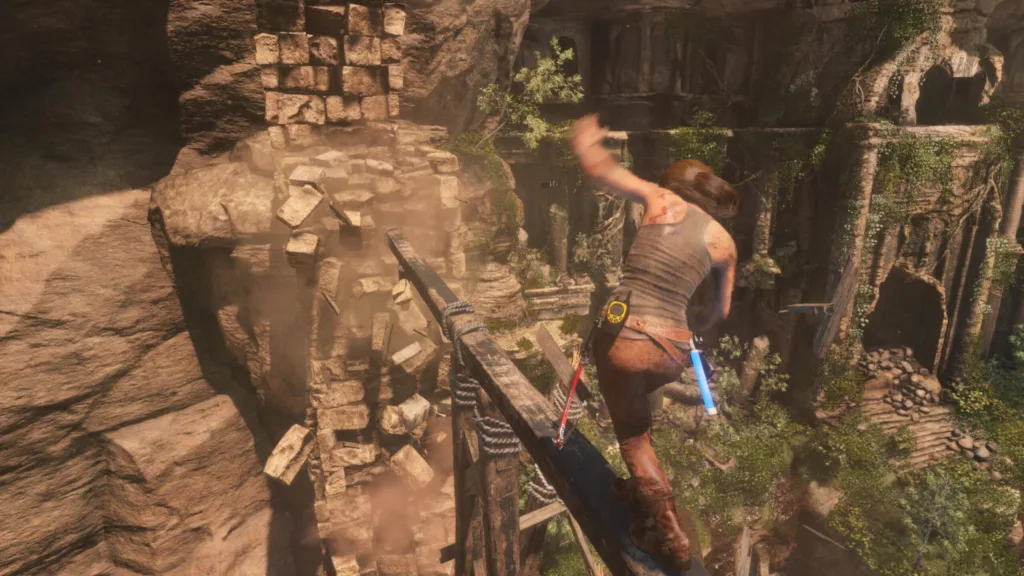 Rise of the Tomb Raider is a visually stunning game and a big upgrade graphically over Tomb Raider 2013. The new game plays as a continuation of the first game, and it is clearly the second game of the rebooted series. In Rise of the Tomb Raider, Lara uncovers an ancient mystery that places her at odds with a secret organization known as Trinity that she must race to the Lost City to uncover its mysteries first.
Rise of the Tomb Raider was also patched recently to run on the DX12 pathway. Although there are no differences visually between DX12 and DX11, the game's performance suffers using our Core i7 4790K and the cards we tested.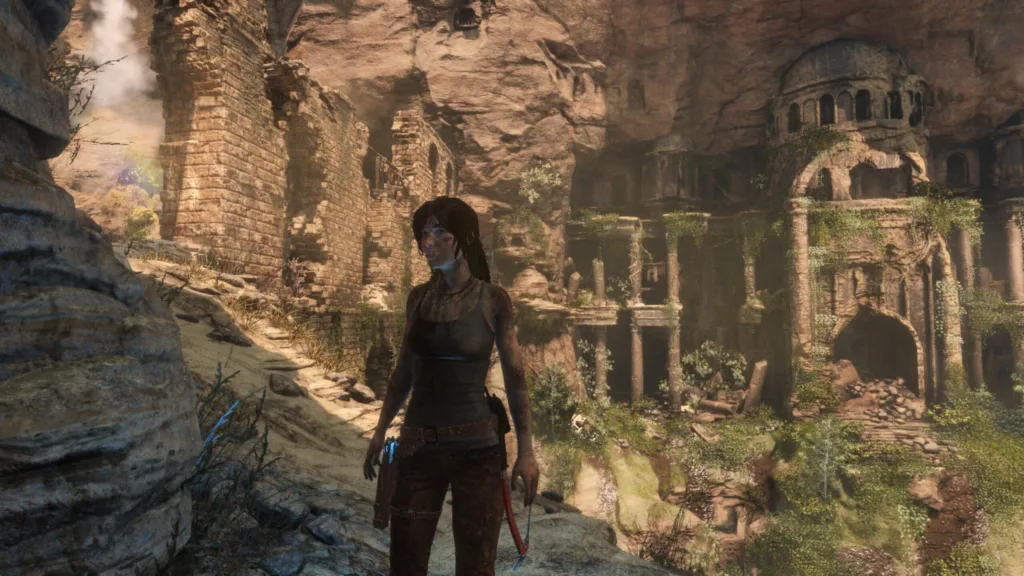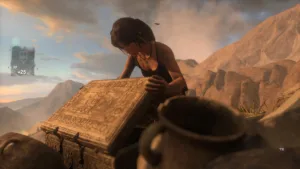 Rise of the Tomb Raider is based on the Foundation Engine built in-house by Crystal Dynamics. This engine includes all of the new technologies including HBAO+ and a new in-house hair simulation system.
Instead of going with TressFX, or with Hair Works, Crystal Dynamics devised its own hair simulation called PureHair. PureHair can add up to 30,000 strands of hair to Lara's character model. The individual hairs react properly to physics in the game. There are three PureHair settings – (1) off, (2) on, or (3) "very high" quality settings.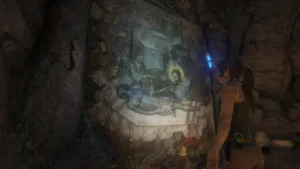 HBAO+ (Horizon Based Ambient Occlusion) adds more realistic Ambient Occlusion shadowing and shading around objects and surfaces that occlude light with a high degree of precision. AO and especially HBAO+ helps scenes to look less flat and more realistic. HBAO+ is an efficient method of modelling occlusion shadows, and the performance hit is small when compared to other AO solutions.
Nvidia's VXAO in Rise of the Tomb Raider is the highest quality Ambient Occlusion available in PC games currently. Voxel Ambient Occlusion VXAO is the name given to the VXGI mode of operation that computes ambient occlusion effects based on voxel data. VXAO is produced from VXGI by removing the lighting part and keeping only the occlusion part, which is the percentage of ambient light that's blocked before it falls onto the surface. VXAO fixes many of the issues associated with screen-space ambient occlusion algorithms.
Instead of relying on screen space data, VXAO gathers information from a world space voxel representation of the scene, which covers a large area around the viewer.
Unfortunately, although it is easy to tell if AO is off or on by the flat look versus more realistic shadowing, it is very difficult to capture the differences between HBAO+ and VXAO from our screenshots. In this case, we defer to Nvidia's screenshots.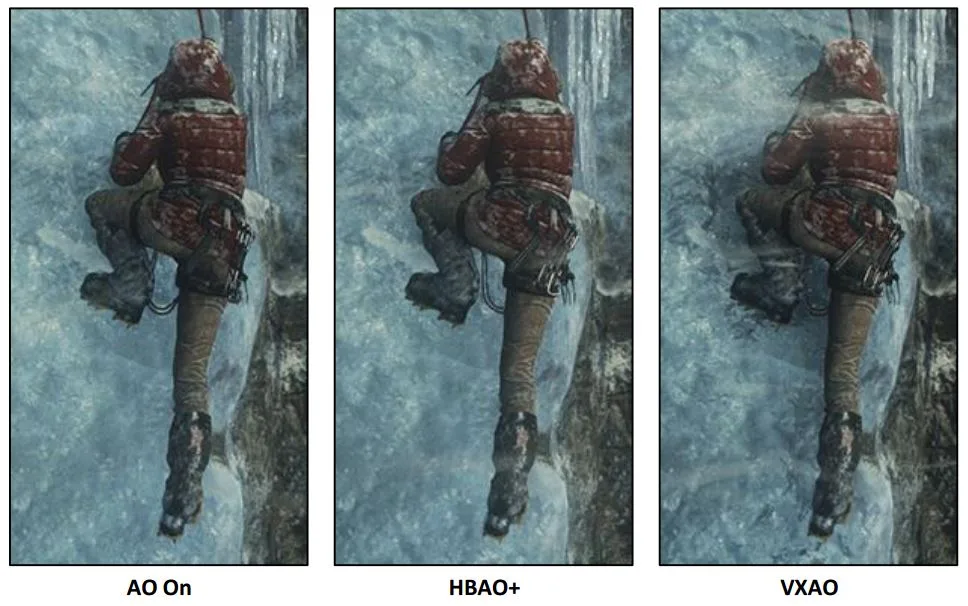 It appears that VXAO adds more detail and realism at a cost of performance. Please note that VXAO is only working on the DX11 pathway for now. Here are the settings that we use – everything is set to Very High.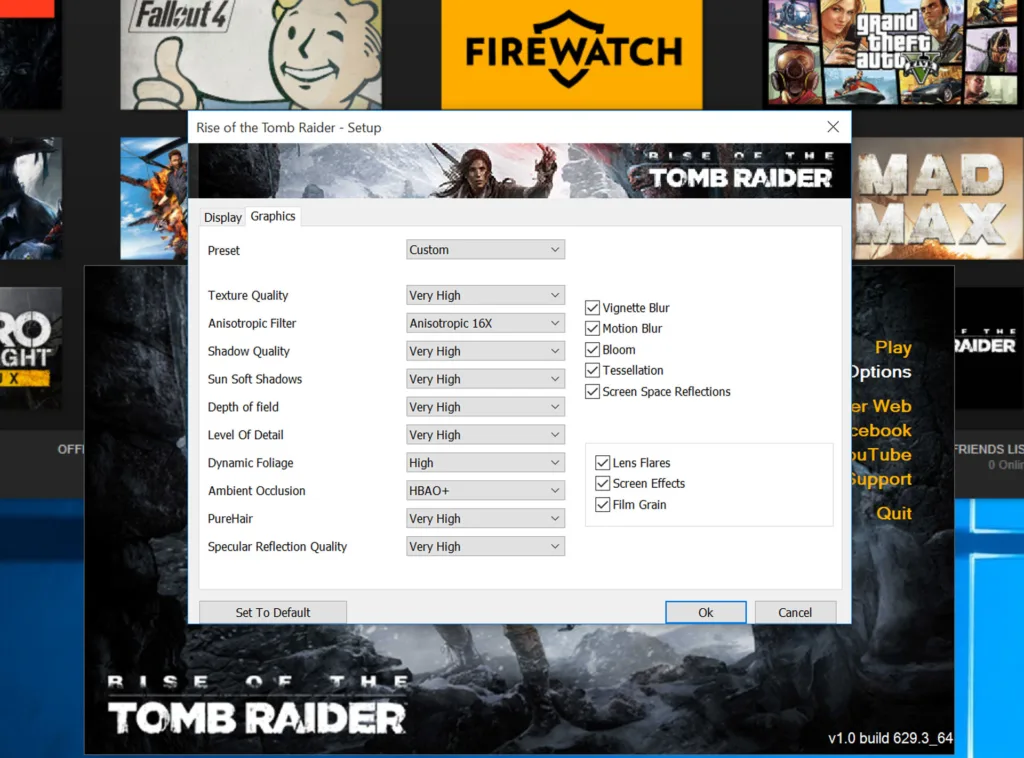 The chart below illustrates DX11 vs. DX 12 performance. For now, if you are running a high end Core i7 CPU, it is probably better to stick with DX11 for best performance


The chart below shows VXAO vs HBAO+ using Nvidia video cards.

Although VXAO takes a substantial hit to performance on Maxwell GPUs, we applaud Nvidia's efforts at creating more realism and differentiating the PC gaming experience from the consoles. Nvidia are clearly looking forward to their next Pascal generation which will shortly bring significantly more performance and will be able to more easily enable settings that bring more realism to PC games.
Let's head to our full 27-game benchmark suite and driver performance analysis.
Benchmarks & Performance Analysis
GeForce 364.51 versus GeForce 359.06
Here are our results of 27 games and 1 synthetic compared between GeForce 364.51 WHQL drivers, and GeForce 359.06 WHQL drivers using the GTX 970, the 980, and the GTX 980 Ti. Our four latest games – ARMA III, Dying Light, Far Cry Primal, Rise of the Tomb Raider, and The Division – use the very latest drivers, GeForce 364.51, for the GTX 970, the GTX 980, and the GTX 980 Ti; and Crimson 16.3 for The Fury X and for the 290X and the 280X.
Each set of drivers are compared against the other in the adjoining results column and the driver version and video card used are noted on the chart.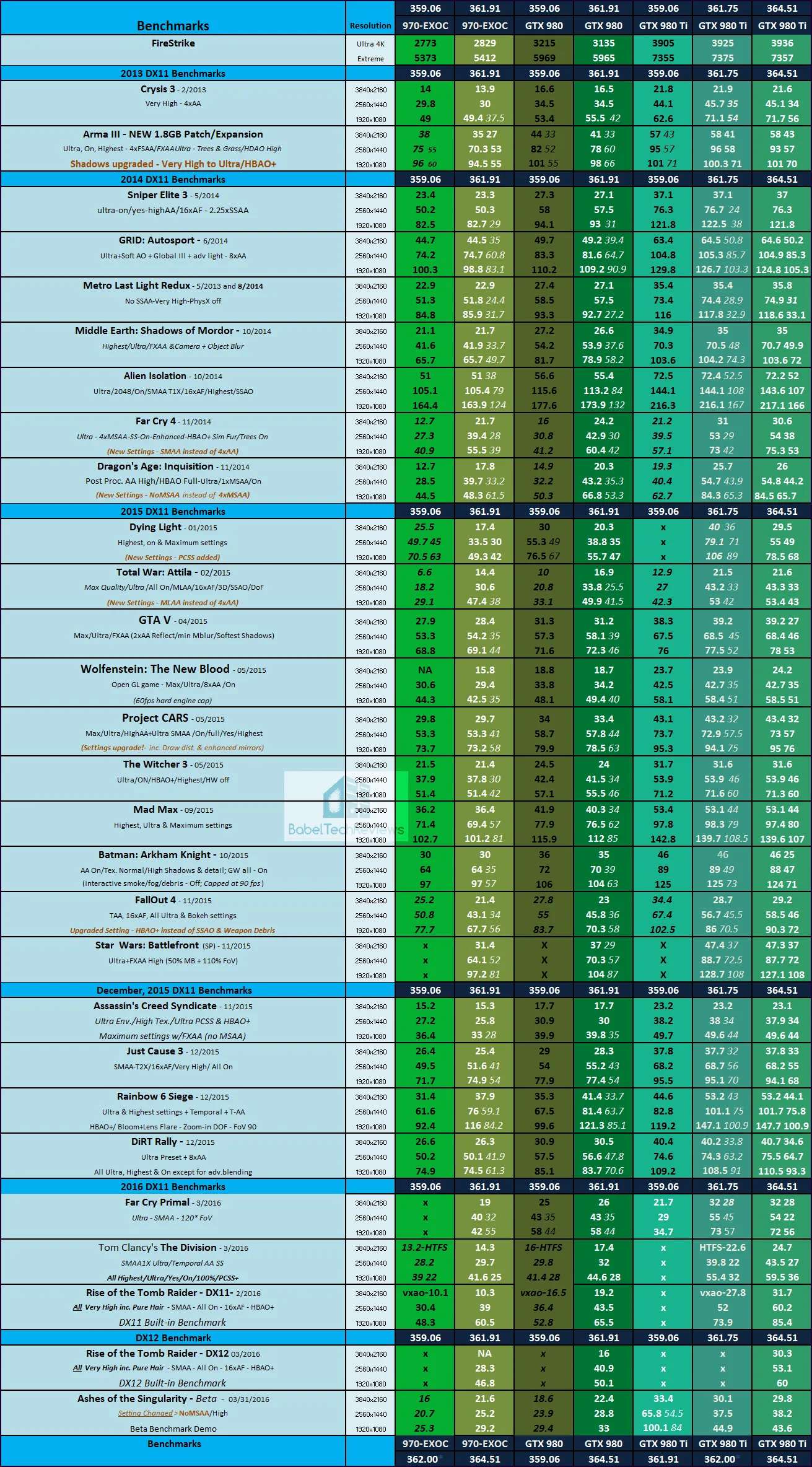 We can see good performance gains for the GTX 980 Ti with the newest drivers with our target games although generally there were decent performance increases overall.
Catalyst Crimson Software 16.1 versus 16.3
In the chart below, we track the Fury X from Crimson Software 15.12 to 16.2 to 16.3, while with the 290X we note the performance changes from 15.12 to 16.1.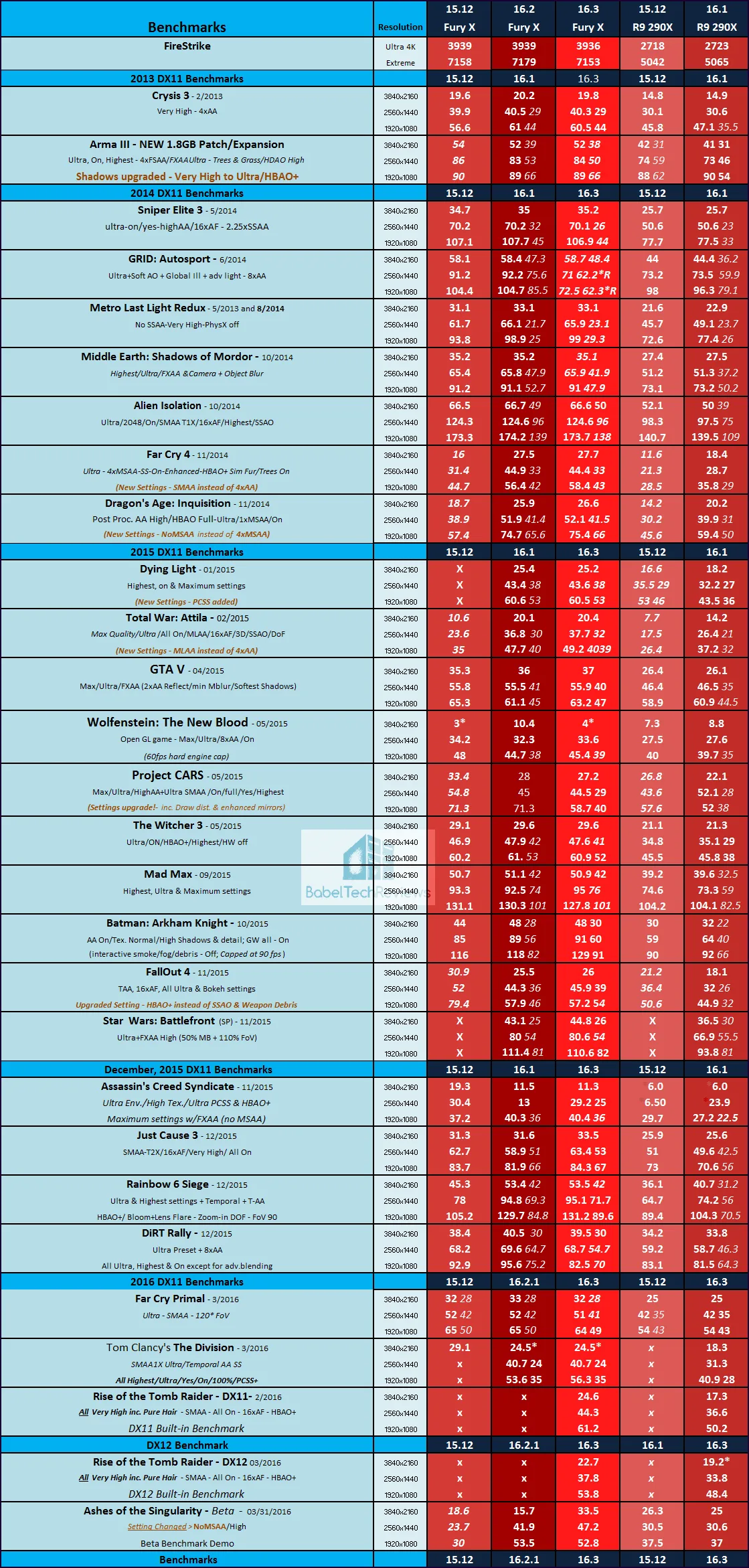 We can see good performance gains for Fury X with 16.3 even over 16.1, and even the 290X got some nice performance improvements from driver version 15.12 to 16.3.
AMD vs Nvidia – Fury X vs GTX 980 Ti and 280X & 290X vs. GTX 970 & GTX 980
Of course, we want to directly compare the Fury X versus the GTX 980 Ti along with several other competing cards.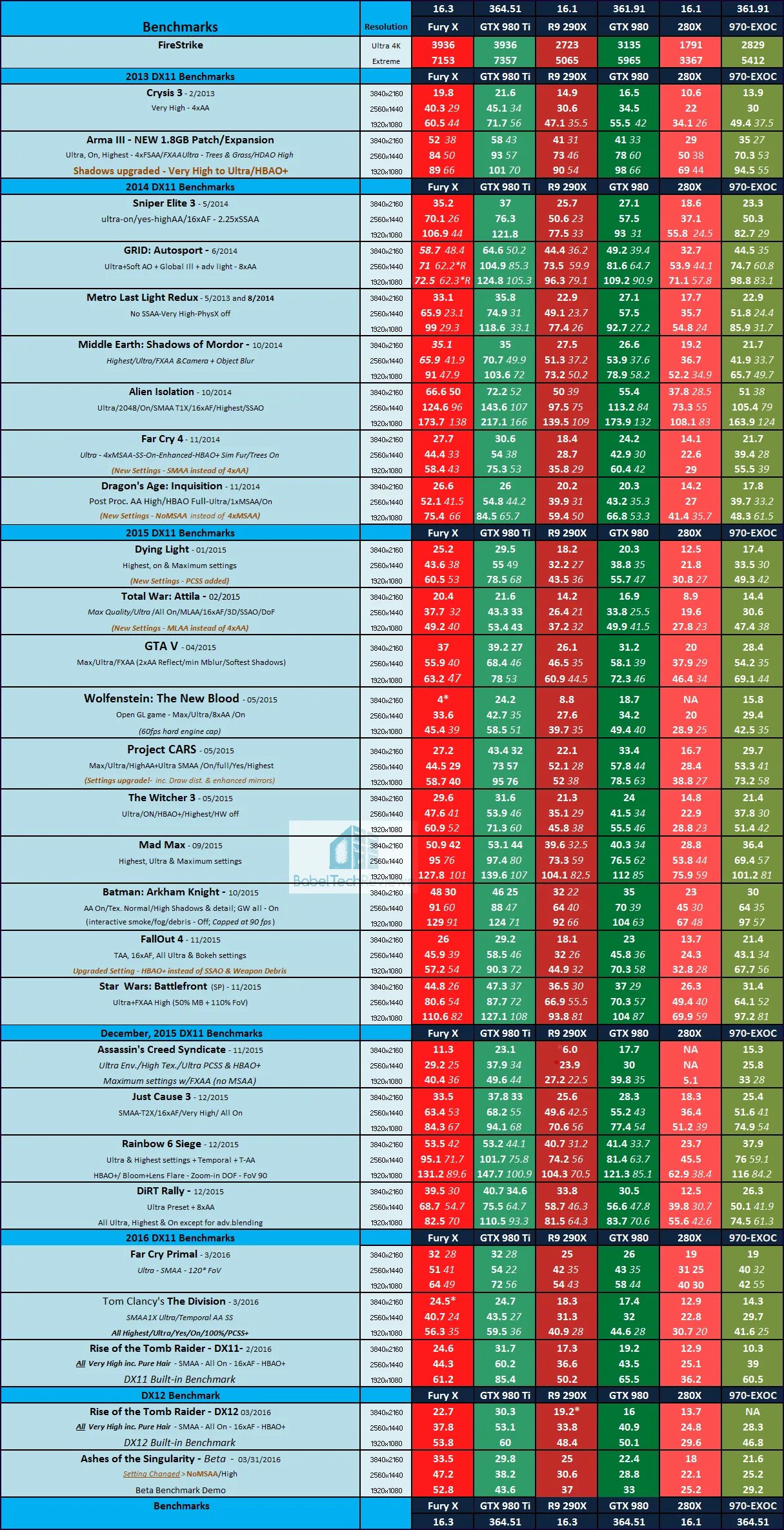 Finally, let's check out our bigger picture next.
The Big Picture
The Big Picture, once reserved solely for our video card reviews, has been recently expanded to feature all of our competing top video cards on recent drivers. We are benching the GTX 980 Ti and the GTX 980 versus the Fury X, the GTX 970 OC versus the R9 290X and even the 280X; and for added information, 290X CrossFire and GTX 980 SLI results. We even include the GTX 680 and the HD 7970 on recent drivers.
This time, "X" means the benchmark was not run, and "NA" means the benchmark could not be run or completed. And an Asterisk (*) means that there are some real issues with the visuals.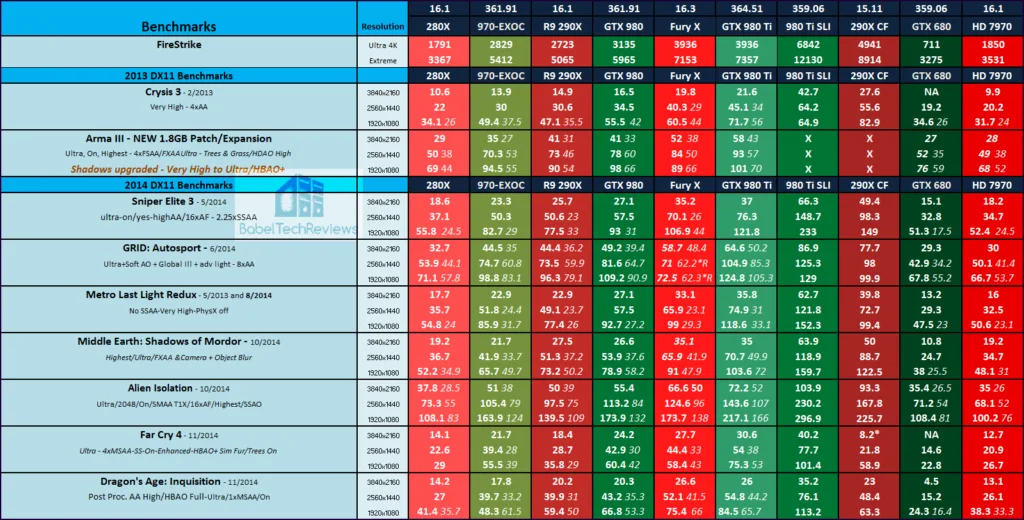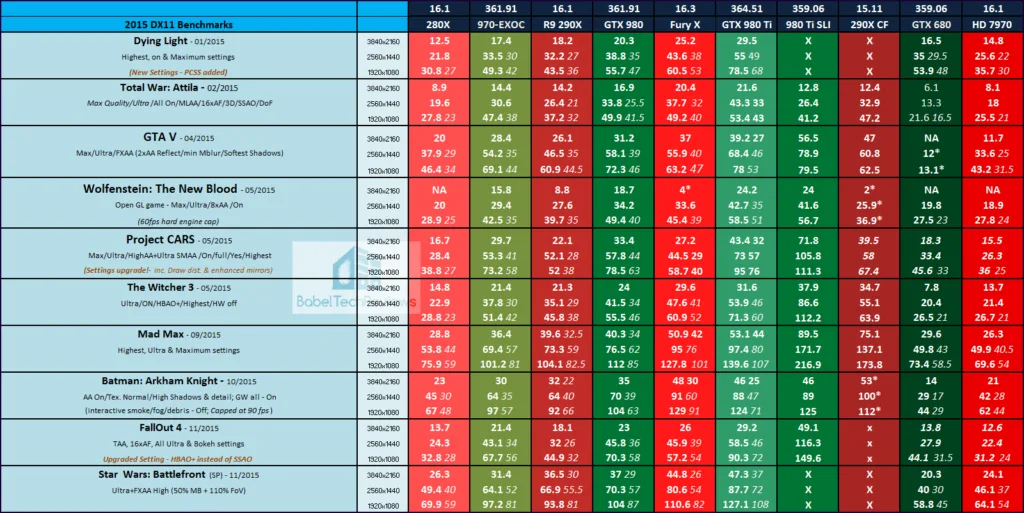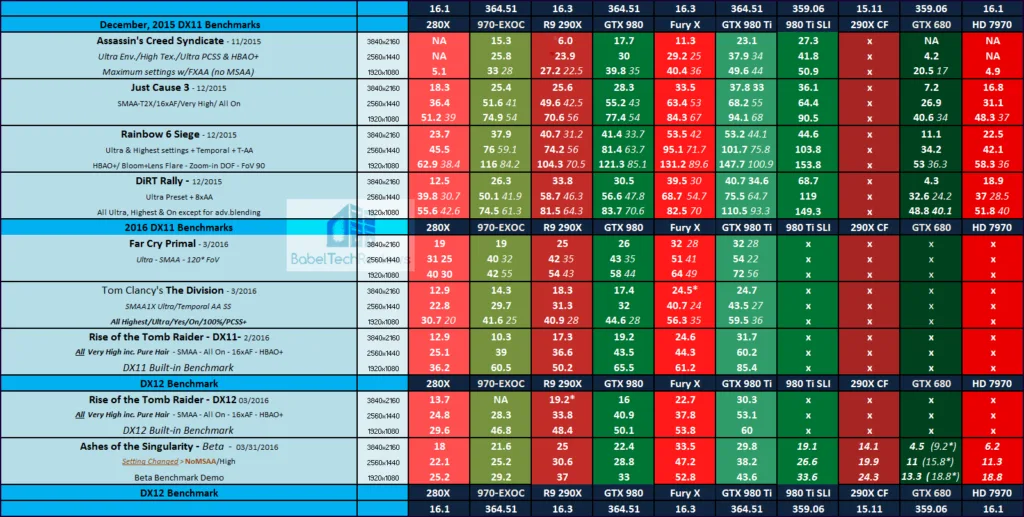 Let's head to our conclusion.
Conclusion:
We would recommend upgrading to the latest GeForce 364.51 drivers as they have brought solid improvements to some of the very latest games. There are generally incremental advantages over older drivers, and no large performance-impacting negatives that we have encountered. We recommend always using Nvidia's latest WHQL driver for Windows 10.
AMD's latest driver Crimson Software 16.3 drivers also bring real performance improvements for the Fury X and other AMD cards over earlier drivers, and we would also recommend upgrading to AMD's latest drivers.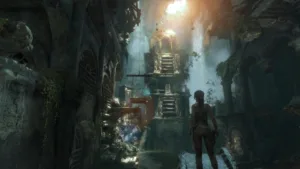 GeForce 364.51 and Crimson Software 16.3 are the best drivers to use for the latest really fun games that we are playing, including Rise of the Tomb Raider, Far Cry Primal, Hitman, and Tom's Clancy's The Division.
It appears that both Nvidia and AMD intend to release new drivers with each new major PC game release, and we are looking forward to our next Driver Performance Evaluation. Stay tuned, next up we are comparing vRAM capacities using our latest benching suite and the 3GB GTX 780 Ti versus the 4GB 290X and versus the 6GB original TITAN.
Happy gaming!