VR Film – The Virtual Road to Tomorrow's Films Begins in Earnest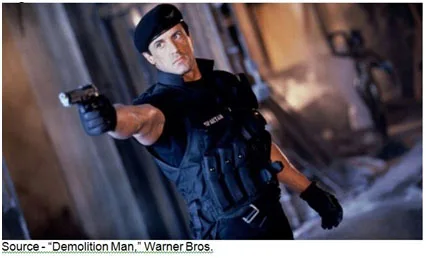 O.K., I admit it… VR (virtual reality) is going to be big in a few years.
After experiencing The Martian at SMPTE (Society of Motion Picture & Television Engineers) and hearing from friends at Sundance about the lines of folks waiting patiently to put on the gear for the dozen or so films.
Then there was the drill-down VR session at HPA (Hollywood Post Alliance) Tech Retreat.
It's safe to say that the industry is taking VR film work seriously.
VR isn't really new, although my kid swears it was because he wanted to be in the thick of the battle with his newest games.
It wasn't until he saw some pictures of the ViewMaster his grandfather had as a kid that he acknowledged that maybe, just maybe, VR has been around longer than he has.
We just needed tech advances to really bring it to life.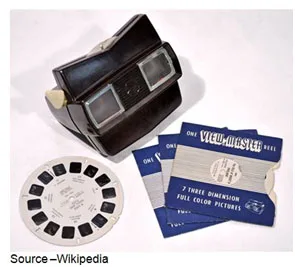 He also forgot about the failed Nintendo Virtual Boy that I didn't buy for him.
We finally gave in and got him the HDM for his game console. I don't care what he says; he still looks like the one-eyed Illumination Entertainment Minion.
Films like 13th Floor, Tron and Matrix set the stage for accepting existence in VR, even though unlike those movies we do have to put on the headsets and isolate ourselves from the real world.
Most experts estimate it'll be a good 10-15 years before the headsets disappear.
VR is often confused with its sister, AR, which is dropping some virtual reality into your real life. You know, Google Glass that lets you access virtual stuff into your hear-and-now.
VR on the other hand is so immersive that when it's done well, you can't tell what's real or not, except you're viewing the world through your HDM.
Not that it matters, but AR is probably going to be bigger than VR because you still have your feet firmly in the real world rather than a fabricated world.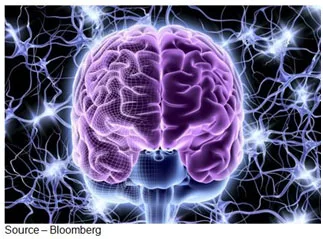 The big difference I've found is that while the HMD is cumbersome and awkward (O.K., dumb), it's amazing how quickly you forget about the display as your mind is absorbing your new surroundings.
VR has a long way to go before it will be mainstream (3-5 years), but there's a helluva' lot of hardware being thrown out there to make it interesting.
More importantly, every major studio is spending heavily to refine the technology and learning all of the tricks required to make compelling VR movies.
Thanks to folks and their games, we already have affordably priced headsets from Samsung, Sony, HTC, Facebook (Oculus VR) and all the rest promised at CES (Consumer Electronics Show).
I'm a little partial to the ones that incorporate a smartphone because well, you've already sorta' used it for this when you do a 180 – 360 degree pan; so why not use the power and hi-res screen you already have?
The only problem in our commitment was the first thing we had to do was get a new computer. VR requires a lot of power and it turns out very few of the systems in use today can run the stuff without getting you a little queasy.
The standard PC game runs at 30fps but you need natural, fluid motion for the brain to be convinced the image is real, which is why VR films are done at 90fps.
Disney, Comcast, Fox, Time Warner, Legendary and others are testing the waters to develop content for us. They're just small projects right now, like Fox's The Martian, X-Man, How to Train Your Dragon and Warner's Batman vs. Superman.
While entertainment is the goal of the studios and filmmakers, there are real world apps for VR right now such as the old standards – military, flight training, industrial, scientific – but also new areas like healthcare and real estate.
Filmmakers like Fred Beahm, Spliced VR's founder, are at the leading edge of 360 workflows. Spliced VR recently won Samsung's "There in 60 Seconds" VR Content Contest where filmmakers were challenged to tell a story using 360 video in 60 seconds.
"It's still an industry niche, but it's gaining momentum and it's great to see all of the major players getting involved," Beahm noted
While every camera manufacturer is working on a VR solution, most of the initial units are what I would call cludges – a bunch of cameras mounted on a 360 degree shooting frame grabbing all the content they can. Then, as has been the common phrase in the film industry, "We'll fix it in post."
One of the best VR video cameras (so far) was introduced by Jaunt, which has the backing of Disney and many in the M&E arena.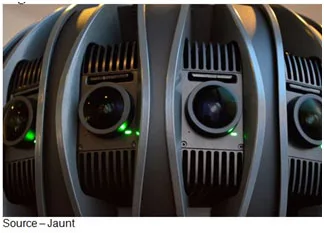 It's definitely not cheap, but was clearly designed to be a professional-grade VR camera capable of filming high-quality movies.
The Jaunt camera produces cinematic virtual reality — live-action video and a 360-degree, stereo 3-D VR experience. The camera captures full 360 degrees, up, down, all around.
We're sure there will be a lot more solutions introduced and demoed at NAB (National Association of Broadcasters). Maybe some will even be delivered by IBC (International Broadcast Convention).
Getting the content into and out of the cameras is sorta' the easy part.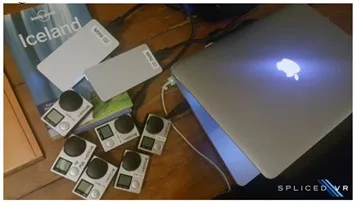 The real issue for pros was brought up during the HPA Virtual Reality panel discussion moderated by Debra Kaufman. Panelists Philip Lelyveld, VR/AR Initiative, USC Entertainment Technology Center; Steve Schklair, 3ality/Technica; and Annie Lukowski, Vanishing Point Media all agreed that the new film work required some significant enhancements to film production's workflow.
Spliced VR's Beahm said it is possible to edit VR content using tools such as Avid, Premiere, Final Cut Pro X, Nuke, RV, Shotgun, Maya, 3Ds Max, After Effects, DaVinci Resolve, Assimilate's Scratch, Lustre and others to create high-quality VR content.
"The technology is advancing quickly and there are major changes happening every day. That makes it hard to keep up," Beahm explained. "What is exciting is that a movie is no longer just a movie. We get to provide an immersive, complimentary and rewarding experience every time the film is viewed because it will be different every time."
The biggest concern is that firms like Facebook and YouTube are trying to rush VR film production into the consumer arena. Too many poorly trained people will rely on gimmicks and parlor tricks. The result will be poor storytelling and dissatisfied consumers.
Fox's Futurist Ted Schilowitz citing the firm's The Martian VR Experience noted that VR is very distinctive/disruptive filmmaking.
Fortunately, there's good content you can enjoy now!
With your headset, you can experience the bombing of Belgrade in Giant, dive beneath the ocean to swim with dolphin and whale in Click Effect, walk/work on the surface of Mars with Fox's The Martian VR Experience, climb the Himalayas, see/"feel" the effects of being displaced in war-torn areas of the world and enjoy a fantasy world from the inside.
You feel and have empathy with what you see and the environment. You experience things, places with all of your senses and each visit is different.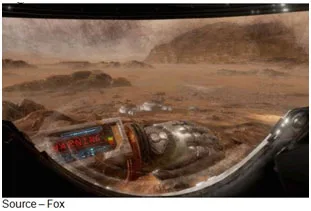 VR films are different from anything you've seen at the theater or on your TV screen.
Because of this, the entire approach for the filmmaker has to change because he/she is no longer telling a story. They are creating an experience that the individual can feel/enjoy. The viewer has to feel that he or she is affecting the story, even while the filmmaker works to maintain some control over the flow.
When it reaches its fullest potential, the viewer will never see the same movie twice.
They'll look in a different direction, encounter different scenes, different people, different activities.
At the same time, the professional VR filmmaker will have to guide the viewer with sound, images, scenes and transitions to tell a strong, compelling story.
Filmmakers will have to focus on developing tentpole creative work that is the benchmark people will use to determine if the VR film hits the mark.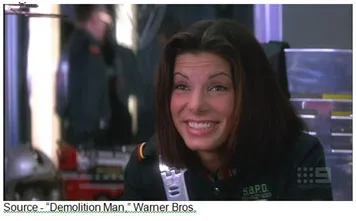 The good content is out there and with every really creative film you see you'll immediately know whether Lenina Huxley will say "You are a savage creature John Spartan, and I wish for you to leave my domicile now!" or something else.
VR filmmaking isn't a passing fad. The medium is compelling. The content is coming and there are already a number of filmmakers are eyeball deep in creating the content.
In fact, industry experts project it could be a $20+B market by 2020.
But as someone at HPA said, "If anybody tells you that they know what works, they're probably selling you something."
# # #