Don't Look Back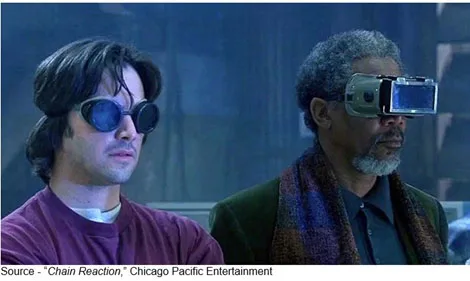 I don't want to say that the AV (autonomous vehicle) is old news but … it's old news.
One of the first videos on the subject, "The Automatic Motorist." was back in 1911 when filmmaking was really, really hard work. Today, you can see it on YouTube from the BFI National Archive.
What we've learned over the last 100 plus years is that the world has gotten more complicated and it takes time to translate film ideas into reality.
The key to what it will take to make this long-term dream a reality is to understand the underlying technologies and their changing usage.
A good example of these educational/informational events was last month's FMS (Flash Memory Summit) in Santa Clara. (The stuff was so hot, the event even had a little fire.)
However, that didn't dampen the enthusiasm for listening to Kia's Henry Bzeih give a no-nonsense, no-BS, no-Hyundai/Kia-veiled pitch.
Unlike memory folks in the audience who like to keep their secrets secret, Hyundai/Kia and Bzeih have laid out their roadmap for the next decade with some autonomous systems by 2020 and mass production by 2022.
Why?
Probably because the auto industry and Kia need help in achieving their goals and memory is going to be a key part of the solution if the flash folks understand the solutions they're going to have to deliver.
The way folks in the audience were taking notes, it was obvious some understood where their next meal was coming from.
Focused on becoming a key component in tomorrow's autonomous transportation, the memory people came to learn more about the new levels of performance, security, privacy and liability they were facing.
Auto manufacturers have come out of their cloistered walled environment and brought in a whole new set of products, ideas, people but the same rules apply.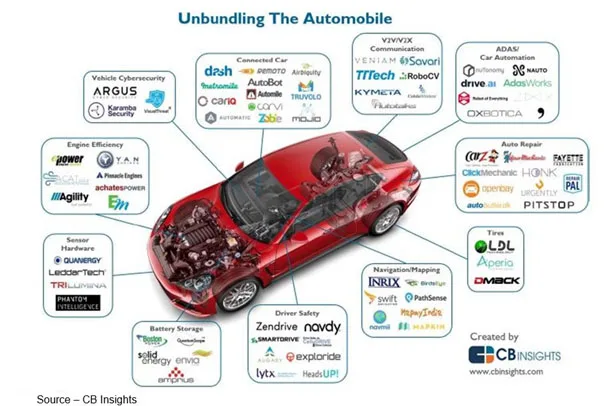 Everyone who's anyone has auto products on their roadmap and the big boys – car, chip, software and cloud – are investing in/buying anything that will give them an edge.
Suddenly, it's a new playground with a new set of rules that 'Thing' manufacturers (consumer, IoT, automotive, etc.) aren't used to playing in.
Their normal mode of operation doesn't work anymore – design it, make it, ship it, fix it … later. Move to next gen and forget yesterday.
It just doesn't work in the world of connected devices and software.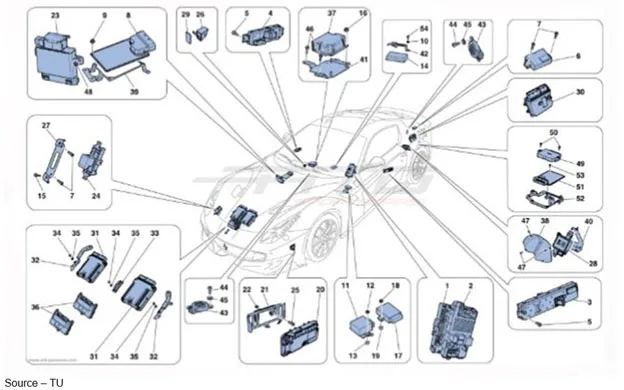 Right now, it still looks/feels sorta' like your dad's car; but it's different.
More than 30 percent of the vehicle's cost is processors and storage. And the computerization – in the car and the total ecosystem – is growing at a blistering pace.
However!
Hyundai/Kia, Volvo and the other manufacturers understand that they are the suppliers of the solutions and they are ultimately responsible for everything in the car and cloud as it becomes more and more autonomous.
Consumers and the global legal community agree.
Tesla's Elon Musk said the probability of having an accident is 50 percent lower if you have an autopilot. That'll make all the difference and all the time you spend annually to compare car insurance will go down the drain.
Even in Tesla's one fatal accident, the NHSTA (National Highway Safety Transportation Administration) said the vehicle wasn't at fault … but still.
While Tesla has more than 100M plus autopilot miles, RAND believes hundreds of billions of miles will be needed to "prove" autonomous vehicle safety.
We talk about the vehicle we jump in and it does our bidding with complete safety, but we're barely out of the garage.
Today's 'autonomous' solutions provide barely SAE (Society of Automotive Engineers) Level 1 or 2 functionality and even in those cases, they often have issues!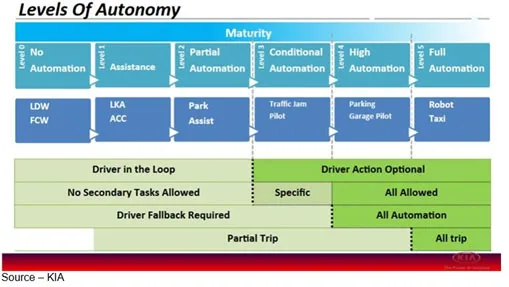 But the key players in the technology industry are already up to their necks in projects that they hope will put them in the driver's seat of tomorrow's cars.
Nvidia, Intel, Qualcomm, NXP and others are already making major hardware/software investments.
And because all those processors are using and generating a ton of data, flash memory people aren't far behind.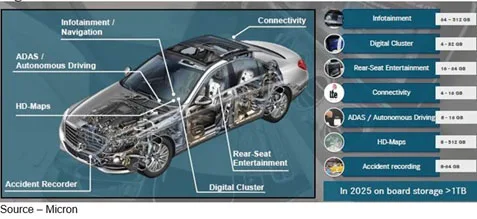 During the first FMS auto day session, Alan Messer, CEO of InnovationShift, noted that today's cars already process massive amounts of information and the processing, storage requirements are growing rapidly as we move from connected to autonomous vehicles.
Messer noted, "The biggest challenge for the industry, is that connected cars are a lot more than smartphones on wheels."
"This new breed of personal assistant captures and processes massive amounts of data — including personal information about you," he continued. "Future vehicles will use what you do, where you go, how you act/react to create a rich personalized experience."
Even though regular folks don't seem to care, vehicle manufacturers are increasingly pushing that the information remains private and secure for their consumers and are already addressing the issue with secure hardware and advanced software technology.
Dennis Mattoon, of Microsoft, introduced DICE (Device Identifier Composition Engine) on behalf of the industry's TCG (trusted computer group) that costs almost nothing and can be implemented in vehicle chip design as well as almost any IoT (Internet of Things) application.
Simply stated, the solution can be adapted to any system/component and provides HW-based identity and attestation as well as sealing, data integrity, device recovery and update.
And because so much data is being stored in the car, Bob Thibideau, of DriveTrust, suggested that self-encrypted storage will rapidly become a standard across the entire transportation industry.
While we're still at level 2 of autonomy, Messer emphasized that moving to levels 3, 4 and ultimately 5 vehicles will require powerful computer resources in the car.
"The industry is quickly beginning to implement CPU, GPU and flash solutions that take advantage of new high-performance, secure embedded intelligence technologies (AI, deep learning)," he said. "This is especially true because the entire ecosystem – not just the car – will need to support a variety of intelligent services for the whole lifetime of the vehicle."
The biggest challenge appears to be that when you give people even a little connectivity and autonomy they seem to think the car – like their smartphone – will take care of everything else and play nice with their increasingly digital lifestyle.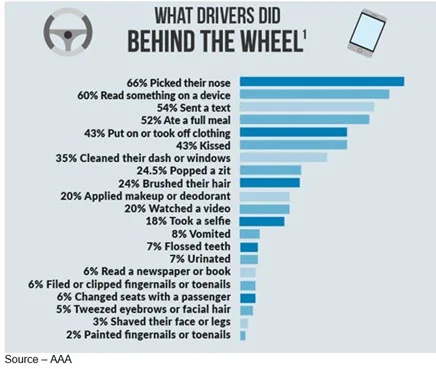 State Farm Insurance and AAA found that even though there are only a few of the "added features, benefits" available, the driving skills of people are deteriorating rapidly.
Sure, traffic sucks but it gets even worse when you take the job for granted and put too much faith in the technology.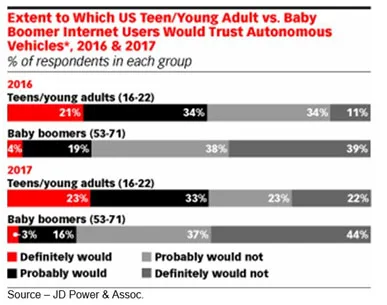 As a result, Hyundai/Kia, Daimler and the other speakers at the FMS auto day sessions emphasized they were adding huge volumes of software into today's and tomorrow's cars.
Micron's Bielby and Daimler's Hounker noted that today's high-end vehicles already rely on bringing hardware and software together along with new technologies like big data and AI (Augmented Intelligence).
While it may not be a perfect measure, today's advanced autos already rely on more than 100M lines of code.
To put that in perspective:
Space Shuttle 2M +/-
Mars Rover 5M
Android about 12M
Boeing 787 15M
Large Hadron Collider 50M
And it seems even that's not enough to force folks to put down their smartphone.
Being sympathetic to the auto manufacturers and tier 1 providers; Greg Basich, of Strategy Analytics, noted that the industry is being conservative with its design and is emphasizing safety over convenience but people seem to be more attracted to the system features/benefits.
Messer, who has spent years working with leading auto and consumer electronic products explained, "Consumers are comfortable using the latest systems/tools, given their smartphone and smart home experiences. In an emergency, the tendency is to assume the systems are better than they are today. "
"Parts of the industry have been a little aggressive in pushing the boundaries of safety technologies in tomorrow's cars to highlight their leadership," he commented. "So, improving the capability, reliability and security of those systems to meet consumer expectations are paramount in the design concepts that are being implemented for tomorrow's vehicles."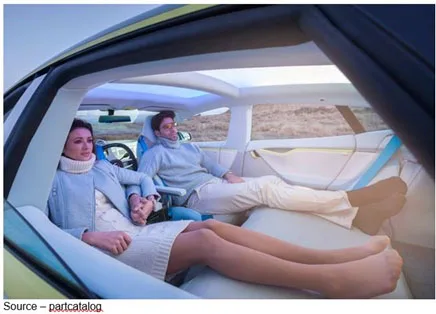 One of the "features" of the newer cars that got my attention was the inclusion of a subsystem I know no one told me about when we got our new car last year.
While Lucid Motors Stephan Heinrich referred to the addition nicely as an autonomous technology data recorder, Messer translated the phrase for me … a black box. You know, those things they go looking for after an accident.
It turns out, NHSTA wants to try and get ahead of the issue by adding a recorder in the vehicle that will capture and store data from all the vehicle functions 30 seconds before a collision and at least five seconds after.
If folks can't understand that a little automated control doesn't mean you can hop in the back seat and let the car take care of everything – a few YouTube videos highlight stupidity – then at least the industry will have the data they need to work on protecting people from themselves.
At the expert roundtables following the auto technology sessions; all the speakers agreed with InnovationShift's Messer summary…storage – especially flash memory – is going to be a growing part of the vehicles we buy tomorrow.
The big shift from Lucid's Heinrich and Messer's perspective is that storage folks will have to pay close attention to the performance, privacy and security issues for the life of the vehicle.
"Everyone in the auto ecosystem needs to focus on the best way to collect, store and analyze data to ensure positive outcomes," Messer commented. "We're just on the leading edge of implementing the technology and need to develop reliable, secure solutions that will enable us to speed and anonymously use and share the data.
A leader in the autonomous car (and truck) race, Volvo Cars president Hakan Samuelsson hasn't pulled any punches in leading his firm into the new arena.
"Autonomy is not perfect," he said. "There will be accidents but industry participants – which includes suppliers – have to do everything possible to make the technology as safe, secure and reliable as possible."
And that means for the life of the vehicle.
Other manufacturers agree and emphasize that firms that won't make that long-term commitment won't be invited to participate.
More importantly, he believes that country and global guidelines must be established and clearly understood for self-driving vehicle testing and certification.
Once that is achieved (O.K., there are other "minor" issues to be solved) then Volvo, Daimler, Ford and the other car manufacturers along with Nvidia, Intel, Micron, Samsung and the other suppliers will be able to stand in front of and support their vehicles from the time they're sold until they're "retired."
They're each confident of their own work and agree with Lyman Collier, "If someone's going down for this, it is not going to be I."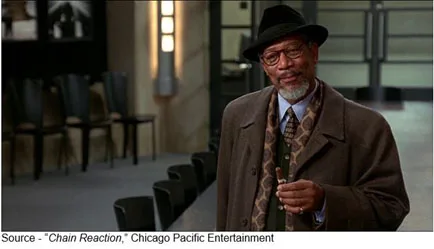 ###