Apple Scores Just Enough to Put Big Points on the Board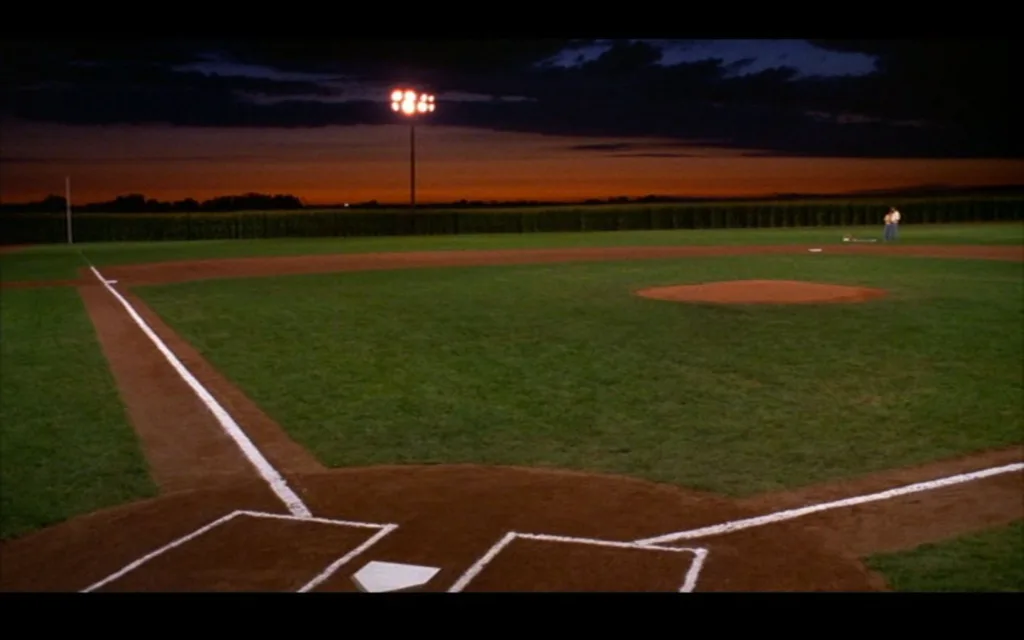 In the name of full disclosure:
– I don't worship at One Infinite Loop
– I don't have an Apple voodoo doll
I do enjoy reading about the company's hiccups and folks who jump on 'em saying:
– They've lost their mojo
– They just can't innovate since Steve died
– Tim just doesn't have the magic touch Apple needs
– The company is on its way to bankruptcy
And still, the company beats the odds and is the largest company in the world with a market value of $700B.
It took cajones for Cook to step into the boss job at Apple because no matter what he did, he would always be compared to the front man for the company.
Jobs stumbled and made mistakes … so has Cook; but no one slams a homerun every time they're at bat.
Heck, Ted Williams, dubbed the greatest baseball player of all time, only had a batting average of .344 and on-base percentage of .482.
That's not even 50 percent.
But $700B is $700B.
Of course, Tim has a lot of help.
When he announces something he has a first-class management and design/development team plus 80,000+ players who actually make the stuff.
People worldwide actually go to the store and buy Apple's stuff to make the company bigger than Microsoft (1.78x bigger) and Exxon (1.75x bigger).
As the Voice said, "If you build it, they will come."
In fact, the Wall Street Journal recently said that Apple is bigger than Google, Samsung, HTC, BlackBerry, Lenovo, HP, Cirrus Logic, Samsung, Sony, Broadcom and Pandora … combined!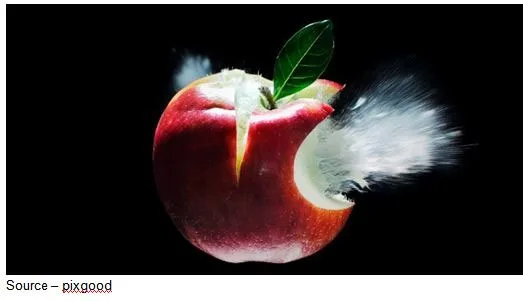 Exploding, Imploding – Every time Apple introduces a new generation of product or a new product, there are people standing in line to say it's not innovative, it's a failed product, it's a tired/old company that lacks a strong leader. Somehow, consumers – both personal and business – don't get the message because they buy the newest as fast as they can, even as they complain about what else they wanted on this version.
So is Apple too big to fall?
Of course not; but then, they're not going to knock it outta' the park every time they step up to bat.
One OS
One of the key advantages Apple has is that all of their things work and work together because the company controls one of the key components – the operating system (OS).
Personally, that's always irritated me because they didn't let others use it, modify it to their unique way.
Microsoft climbed to the top of the heap by offering their OS to people who paid royalties and spend a lot of time chasing down people who "borrow" it. They also spend a lot of time fixing the old stuff and the new stuff.
Apple? Not so much. And when they move to the next generation, they tell folks, "Hey, support for you will disappear." It isn't nice, but it's tough to be able to keep ancient software running on newer, more powerful systems.
Google likes to shout how their mobile OS leads the pack and that's sorta', kinda' true; but every manufacturer that uses Android has a slightly different version, so there are really 150 versions of Android.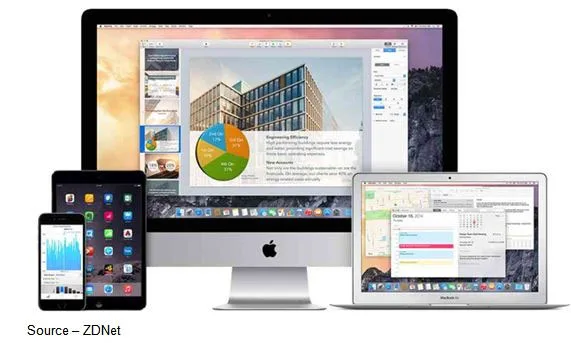 Fine Family – Apple didn't develop all of the markets it is involved in, it just made them glamorous and more important to people. Their mobile products helped the industry spread BYOD across the industry spectrum from healthcare, government, finance, general business.
Apple makes it easy to work across devices (tweaked for each).
Apple's Cachet
The second big difference that every CE (consumer electronics) manufacturer lusts for is Apple's cachet.
Connected kids started out with iPhones, then had to have an iPad and when they had to study or work, they had to have a Mac.
Ray Kinsella commented, "That's a good point."
And no, I can't say no to my pouty, sulking daughter!
Most journalists I know are freakin' walking ads for Apple because they "know" they just work, don't crash and are more secure. That may not be 100 percent accurate, but that's their story and they're sticking to it.
And as Walt Mossberg, ReCode, recently pointed out; if you're at a conference or presentation, the room is aglow with those damn Apple icons on the lid.
Watch a movie or a TV show and most of time the smartphone, tablet, notebook will be from Apple. Times may have changed but historically, the company didn't pay for placement; and in fact, production companies had to pay retail … OMG!
Speaking of movies, most of the production work is done on a Mac, with 80 percent of the editing, production, post production being done on an Apple system running Final Cut Pro or Adobe Premier Pro.
Business Penetration
BYOD (bring your own device) gave Apple a huge boost in the corporate environment because when the boss saw what a status symbol the iPhone and later the iPad was, he/she told IT they had to have one of those sexy things like the new kids in the company were insisting on using.
Obviously, 2nd, 3rd and 4th- tier folks had to have theirs as well; until someone finally said, "Oh heck, use what you want."
Suddenly Apple products were everywhere … except with the IT techies who refused to follow the crowd.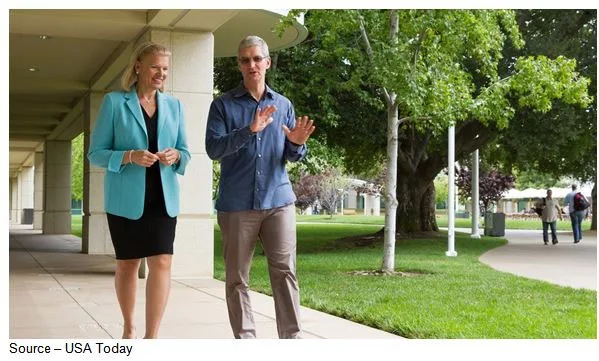 Reunion – When IBM and Apple joined forces to delier a complete family of mobile solutions for enterprises, it's doubtful that Tim spent a lot of time telling Ginni about his years working for IBM; but they did have something in common – focus on the future.
Cook surprised a lot of folks when he joined forces with IBM, still a huge global power in the corporate/governmental environments. It may have helped that he once worked for the company Ginni Rometty heads, but it sure didn't hurt.
Jobs couldn't be bothered with the enterprise BS; but that was then, this is now and well … good business is good business.
The whole idea the two (Cook, Rometty) pitched was Mobility First and that was even before the iPhone 6s were introduced.
As Ray Kinsella said, "I know more than you think I know."
When the latest iPhone was introduced, folks loved to poke at its "weaknesses" – it didn't do this like so-and-so, didn't do that like you-know-who, didn't have features like "them."
So what happened?
Damn, they went and beat their own record with 72+M units sold (and counting) crushing their iPhone 5 record.
And the other strong competitors? Sony and LG lowered their projections and shuffled management, Amazon had a fire phone sale, Samsung titles changed and projections were lowered.
There's An App for That
There are a lot of companies that are out to manage corporate mobile devices–VMware, Citrix, Microsoft and a herd of others that all play nice with IT.
Apple's phones are already there in spades because they're what C executives and business managers like/use; and most of the time, they've gone around IT to get the tools they want/need to get their jobs done. That's because there are tons of apps out there that they use, their families use and they can work around with them to do their work.
MS, Google, Blackberry (remember them?) all say they're enterprise-ready.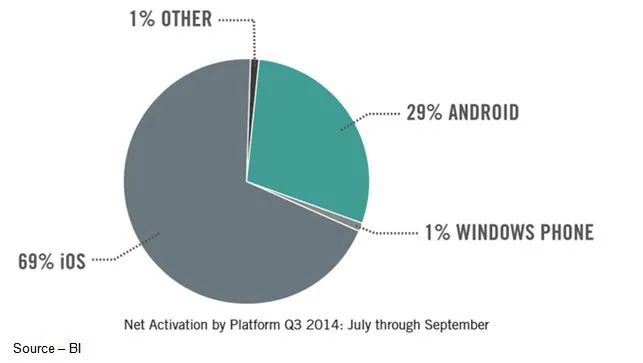 First Choice – Apple isn't the leader in its hardware categories but it does lead in one important area – the number of applications that are not only downloaded but actively used by consumers. That's what is important to software/app developers.
The problem is if you're building an app, the first place you're going to stop is the Apple store because more folks – young and old – not only download them, they actually use them.
More people use the Apple device (as holiday shopping proved) for shopping and buying.
And if the smartphone/tablet is used for an individual's own purchases, then it's easy to believe it's better for their job.
I'll Buy That
There are a few Apple fans that have gone so far as to say it really isn't a market until Apple announces their new whatever.
So Google had their Wallet since like forever, but who knew?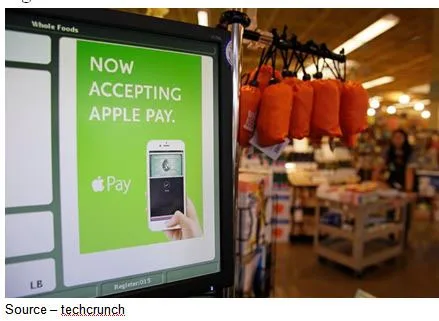 Phone Purchase – With the introduction of Apple Pay, the people who actively use their smartphone for almost everything can finally begin seriously thinking about ditching their billfold and plastic cards. The only source that comes even close to the payment's ease of use is the one you use to buy your coffee concoction at Starbucks.
Apple Pay comes along and suddenly it's a good thing to use mobile payments and PayPal is feeling the heat.
Folks who are into mobile payments say it's just flat easy to use, not clunky, and junky.
Places like Whole Foods, Walgreens and thousands of other large/small retailers have adopted Apple Pay because iPhone users do so much with their devices.
The card companies like Visa have said what the **** since they don't have to print/ship plastic, transactions are instant and folks always have their phones with them so they're easy to whip out and use.
Of course, there are always folks who don't want to play well with others so they'll do it their way, thank you very much. You know, companies like Walmart, CVS, RiteAid and others whose mobile pay solution is a bitch to work with according to mobile financial experts.
The difference is Apple manages the OS, devices, apps and pipe transfers so people feel safer (or it's the devil, you know).
And I dislike saying it, but the damn stuff just works.
One More Thing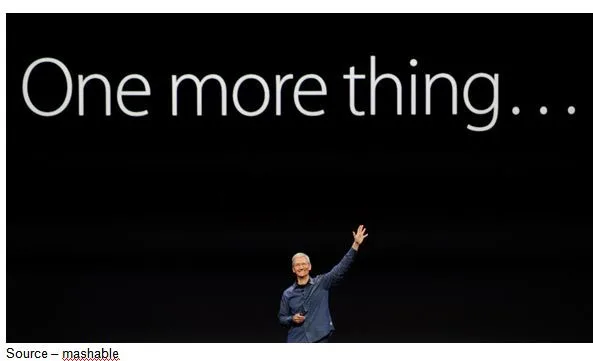 One More Thing – It has been an interesting couple of years since Cook took the helm of Apple; a lot of things have changed, but a lot have stayed the same. He's not only apologized for things that have gone wrong, he's even standing tall enough he can use the closing phrase of his predecessor.
Did I mention that Apple is worth roughly $700B, which is more than California needs to spend on infrastructure over the next 10 years, what it took to bail out the US economy and a figure that US construction won't hit until 2018?
They're sitting on so much cash outside the US that Icahn bought in just so he could encourage Cook to give a bunch of it to shareholders (him) and Cook said … "sorry."
No, Cook and the team don't do everything right but neither does Dell, HP, Samsung, Lenovo, AT&T, Verizon, Vizio, Nvidia, Qualcomm, Intel or heck, anyone in the industry.
I'm not keeping score, but are they batting what, .500? .344?
Just enough for CNN Money to name him MVP (most valuable president) this year.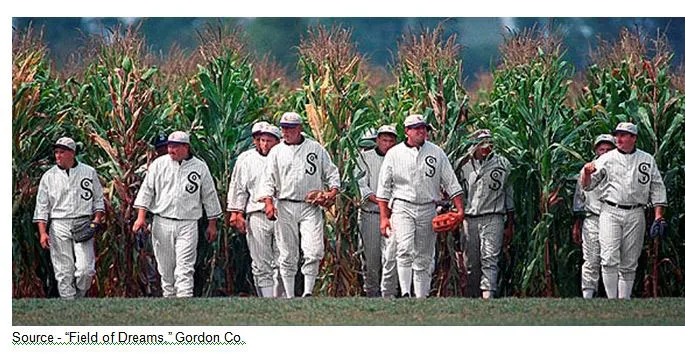 But as Moonlight Graham said, "We just don't recognize life's most significant moments while they're happening. I didn't realize that that was the only day."