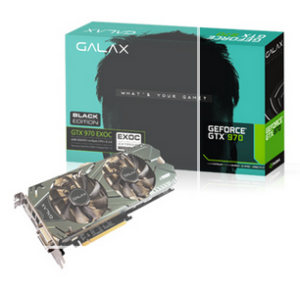 We just received a GALAX GTX 970 EXOC from GALAX that we will be putting through extreme performance testing this week using our recently updated 30-game benchmark suite. It is an exciting card that launched mid-September last year, about the time that GALAX merged from Galaxy and KFA2. The GTX 970 EXOC is built with the latest Maxwell GPU architecture to deliver more performance with double the efficiency of previous generations, while also featuring an aggressive factory overclock, enhanced PCB design, and a superior custom cooler.
The GALAX GTX 970 EXOC is a good looking black and gray card that features a 11% overclock over stock speeds with its factory overclock guaranteed to reach 1317MHz. Of course, we plan to overclock it further and we will naturally compare with the reference GTX 980, the GTX 780 Ti, and it's competitor the AMD Radeon R9 290X reference version which is priced about the same. Pictured below are some of the cards up for benchmarking next.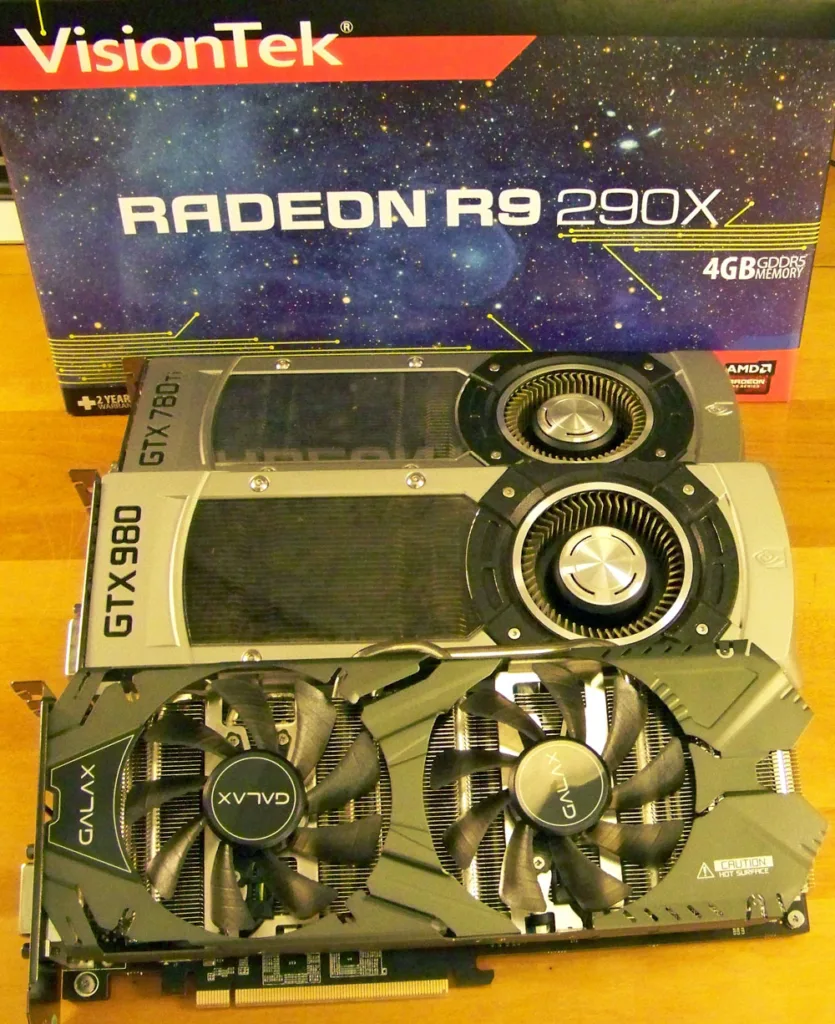 Let's unbox the GALAX GTX 970 EXOC.
Unboxing the GALAX GTX 970 EXOC
The GALAX GTX 970 EXOC Black Edition arrives in a box that advertises the card without its specifications, other than it is a "GeForce GTX 970 EXOC". We also learn that EXOC stands for "Extreme Overclock" and that it features 6- plus 8-pin PCIe 3.0, its 4GB framebuffer, dual-link DVI, Display Port 1.2, and HDMI connectors. The box also features Nvidia's GameStream, GameWorks, G-sync, and DX12, as well as a new slogan – "What's Your Game?"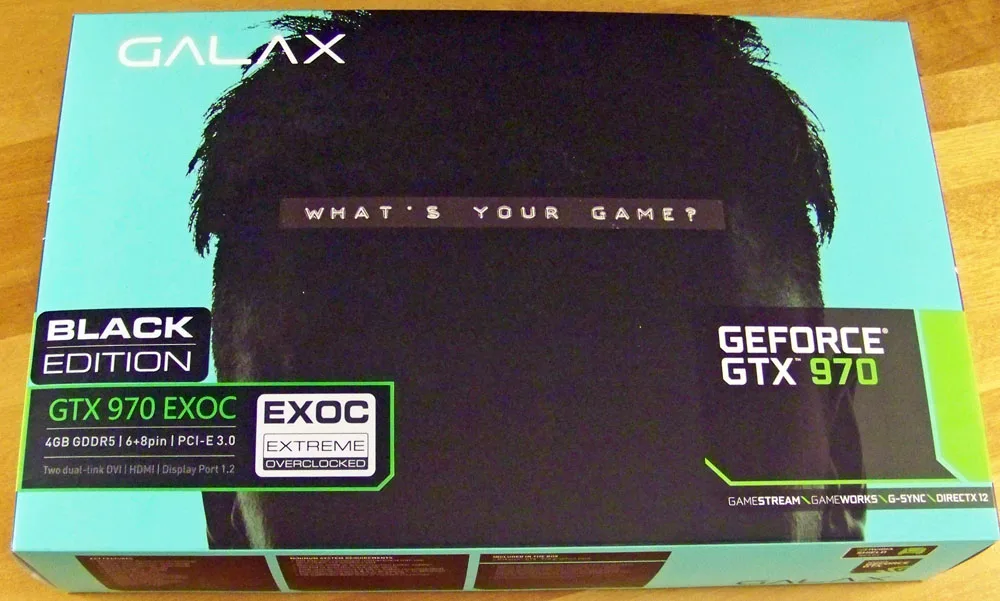 The back of the GALAX box goes into more details and shows exactly what is included with the card. Surround, SLI, PhysX and 3D Vision are featured also on the box, along with performance for up to 4K resolutions.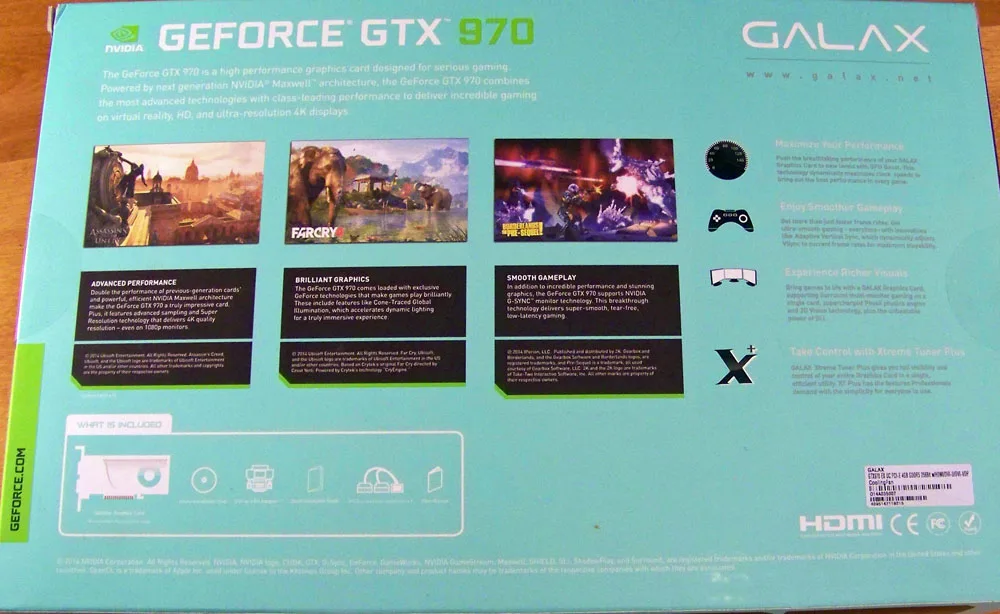 Great utilities are included, including GALAX's Xtreme Tuner Plus which includes an improved GPU voltage tuner. One end panel shows the card's key features and minimum system requirements (500W PSU).

The end panels gives the key features, minimum system requirements as well as what's included in the box. The card comes well-protected and in an anti-static bag.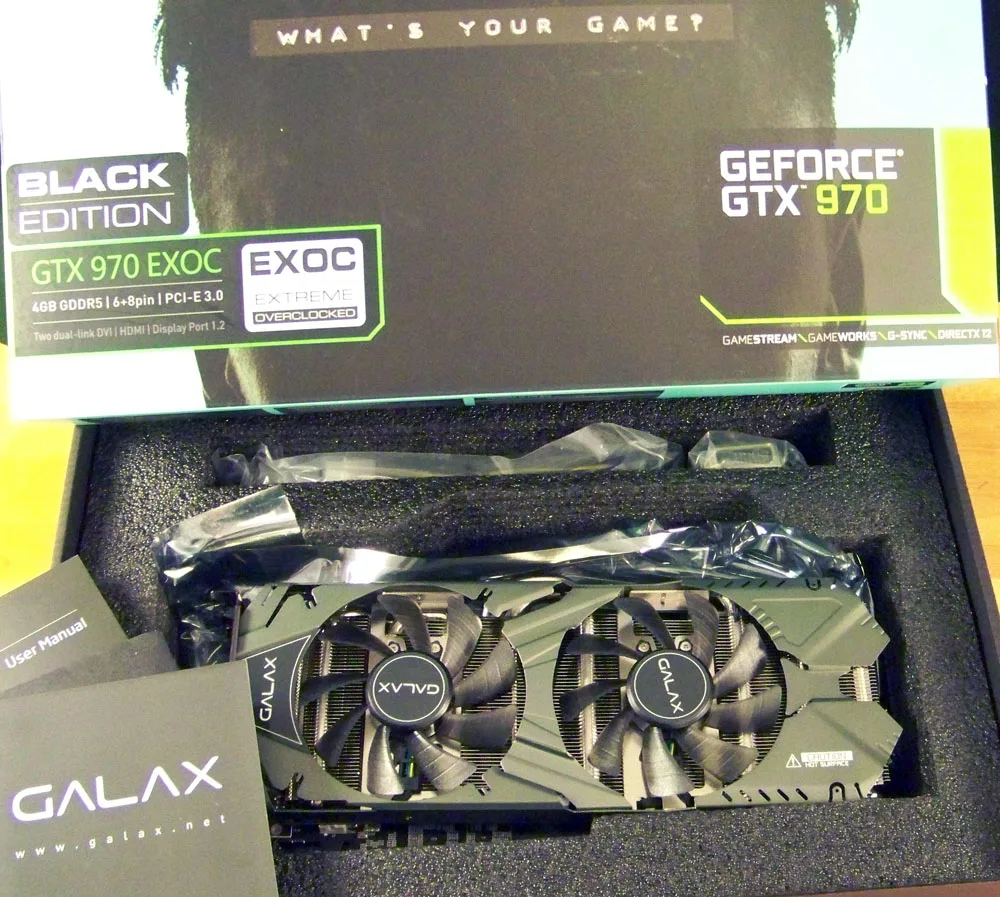 Inside the box, besides the new GALAX GTX 970 EXOC, we find a driver CD, manual, two molex to PCIe connectors, a DVI to DVI connector, and warranty service information.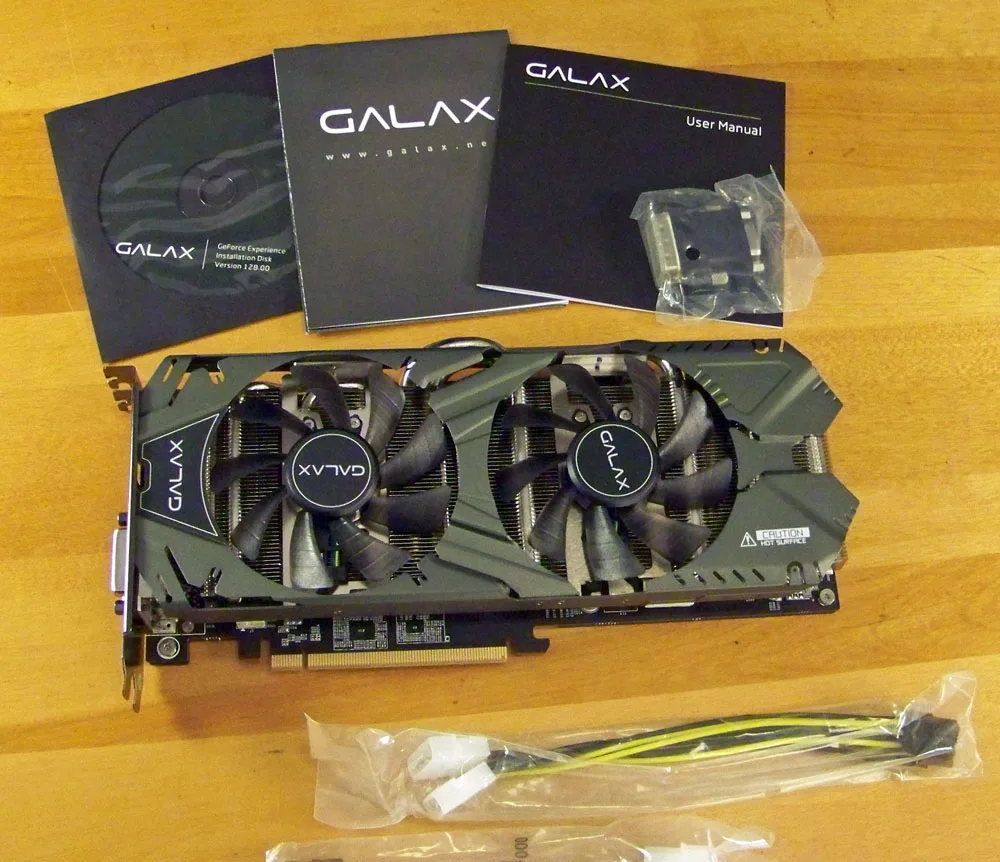 The GALAX GTX 970 EXOC is on a relatively small PCB with two very large quiet-running fans and a beefy cooler to keep the GPU cool.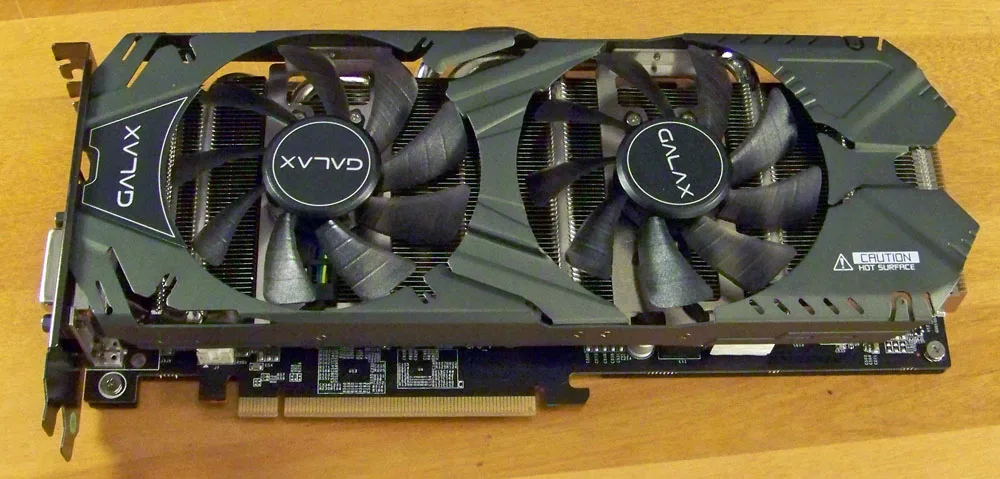 Another angle shows the 6-pin plus 8-pin PCIe connectors which are an upgrade over two 6-pin connectors. It should be useful for overclocking.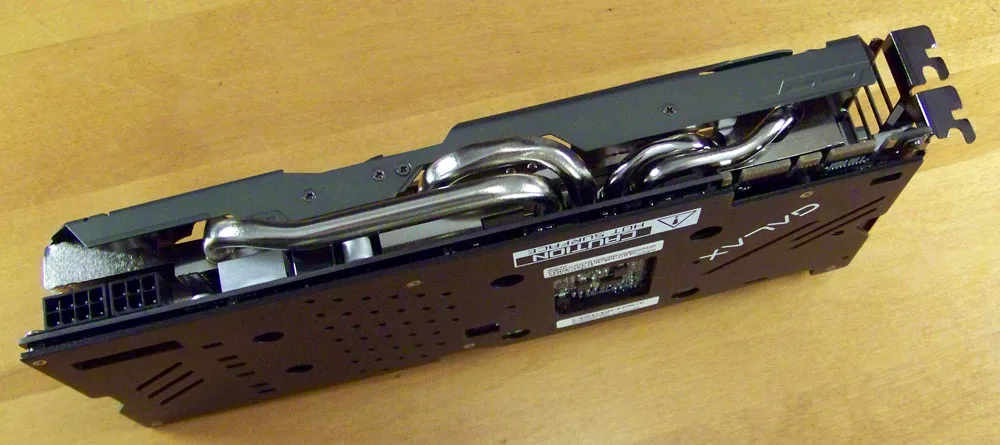 The connectors include2 dual-link DVI DisplayPort 1.2, and HDMI.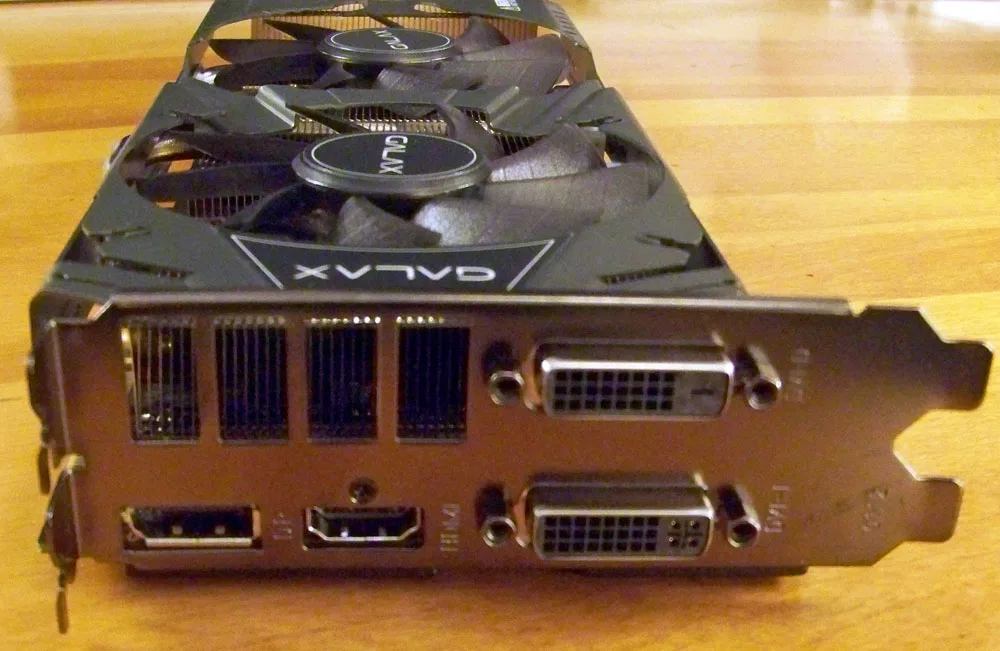 Let's turn it over. It uses GALAX' custom design to maximize the cooling over the entire video card and the backplate make it look better as well as cool better.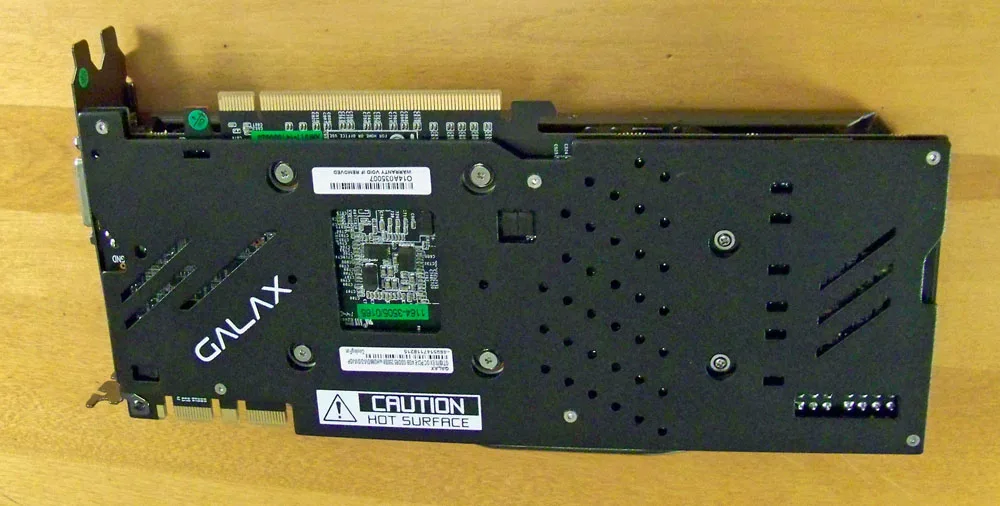 The GALAX GTX 970 EXOC video card is warrantied for three years. GALAX has included their Xtreme Tuner overclocking software on the driver CD or as a download on their site and you can even raise the voltage.
The GALAX GTX 970 EXOC looks like a great card. l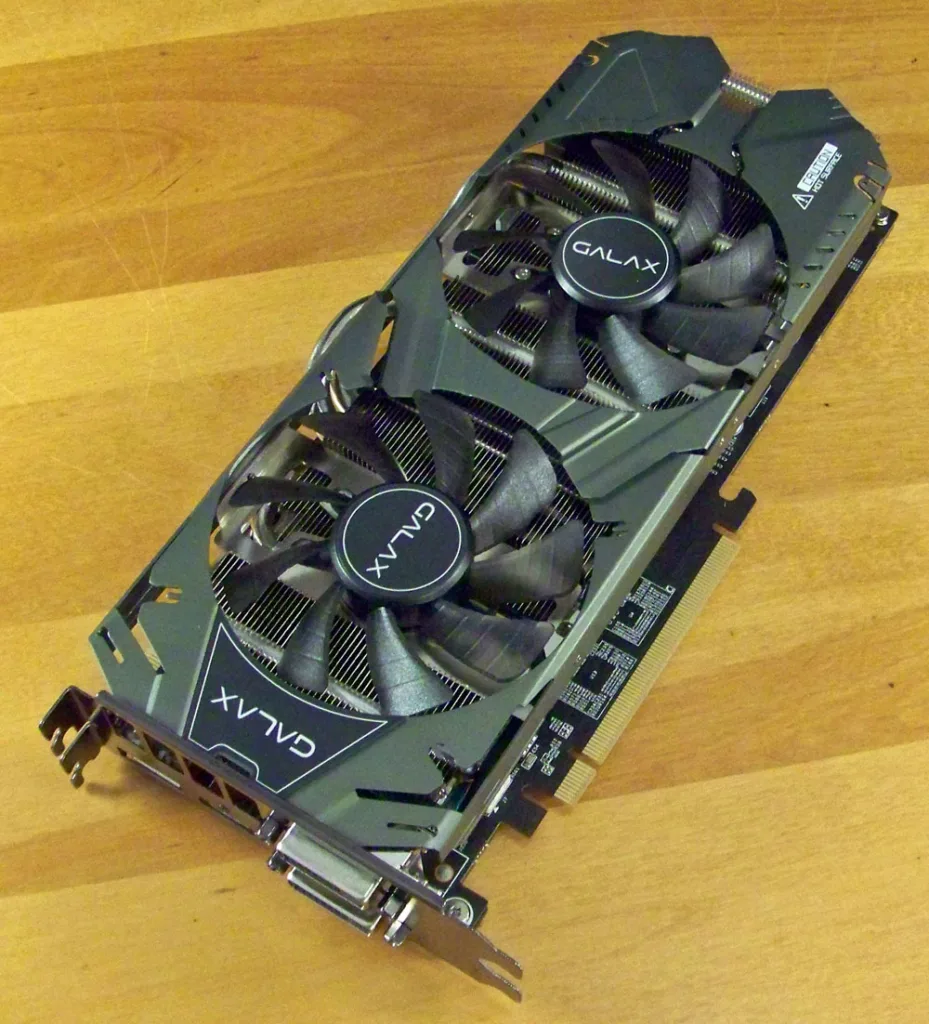 Above we see it from another angle.
We can't wait to test out our new card! Stay tuned to BTR.
Next up is a major performance evaluation using 33 games and GTX 980/SLI testing 3 motherboard platforms – Z77 versus Z87 versus Z97, using 3 CPUs each at stock and overclocked, including Devil's Canyon i7-4790K at 4.6GHz.
After that we shall feature the GALAX GTX 970 EXOC for a major performance evaluation versus the GTX 980 and GTX 780 Ti as well as versus the R9 290X.
Happy Gaming!