VULCAN 5200MHz CL40 DDR5 Review – Is it better than DDR4 3600 for Gamers?
When TeamGroup sent us a T-FORCE 2x16GB VULCAN 5200MHz CL40 DDR5 memory kit for review, we were eager to compare it with our 2x16GB T-FORCE DARK Z 3600MHz CL18 DDR4 kit. We used a full set of benchmarking tools and 31 games to see if gamers should choose DDR5 over DDR4 for Intel's newest Z690 CPU platform. This is the first installment of BTR's memory review series that compares DDR4 with progressively faster DDR5 and also focusing on latency to measure DDR5 performance for gaming.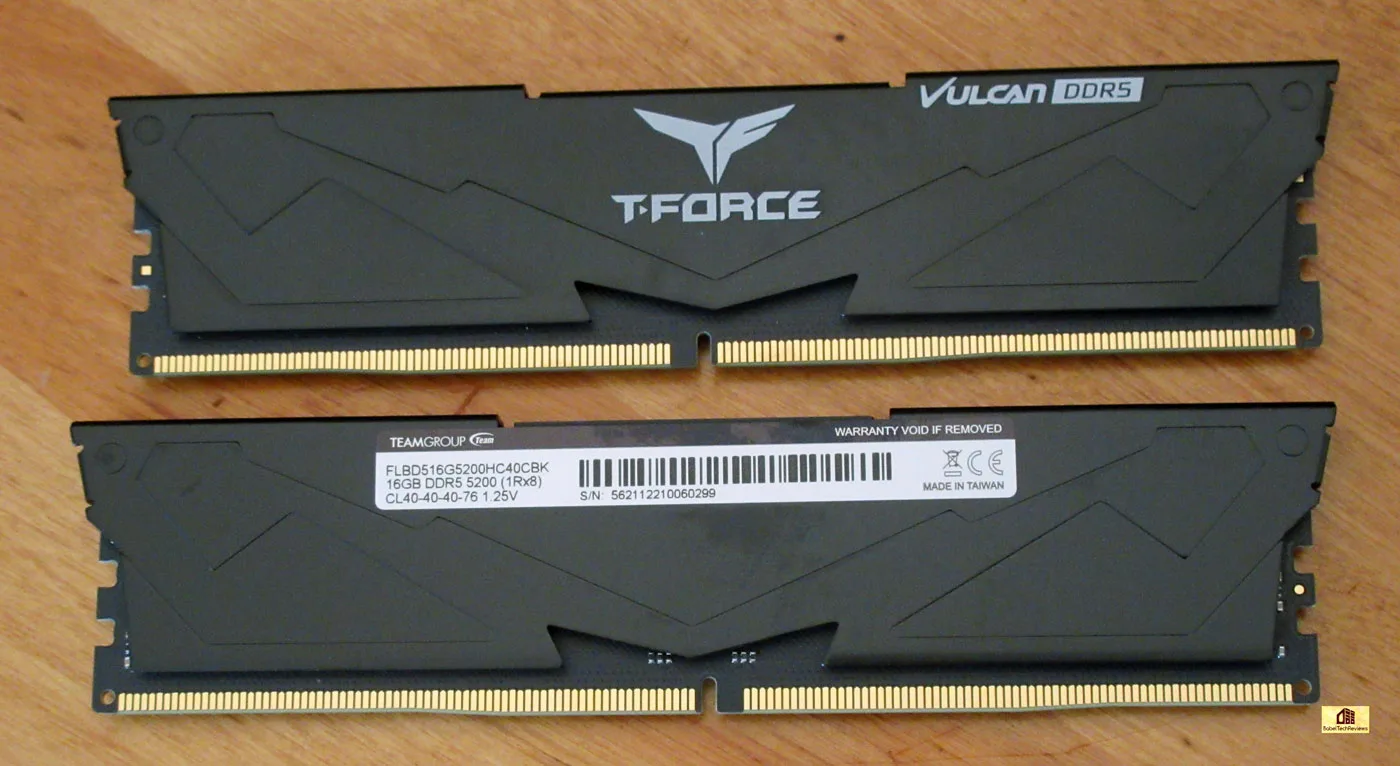 Last year, BTR ran an exhaustive set of tests comparing DDR4 3600MHz CL 18 with CL16 and the performance results were very similar for gaming, so our T-FORCE DARK Z 3600MHz CL18 2x16GB kit is representative of today's fast DDR4. We started over with new benchmarks and have updated our testing tools to focus narrowly on DDR4 3600MHz CL18 versus DDR5 5200MHz CL40. We use an i9-12900KF on an ASUS Prime Z690 P-D4 Z690 DDR4 motherboard to compare memory performance against an ASUS ROG Maximus Apex Z690 DDR5 motherboard.
Both the VULCAN 5200 CL40 black kit that we are testing today as well as the red kit have a MSRP of $349.99 and the lower latency VULCAN 5200 CL38 kit has a MSRP of $359.99. TeamGroup informed us that all of their preorders at MSRP sold out almost instantly and most DDR5 kits are now ridiculously over-priced. In contrast, the T-FORCE DARK Z 3600MHz CL18 DDR4 2x16GB kit sells for $115.00 on Amazon.
Since no motherboard supports both types of memory, most gamers have a choice of using their current DDR4 memory on a Z690 DDR4 motherboard or buying new memory for a Z690 DDR5 motherboard. When BTR originally upgraded its flagship PC from an i9-10900K to an i9-12900KF, we picked a solid midrange ASUS Prime Z690-P D4 board for our DDR4 3600 memory. We then purchased an ASUS ROG Maximus Apex Z690 DDR5 motherboard for this review and will overclock our Vulcan DDR5 to see if we get any additional performance.
From our testing with Ivy Bridge, Haswell, Skylake, Coffee Lake, and Comet Lake platforms, using faster DDR over slower DDR brings only limited performance improvements for a few CPU-dependent games. However, we found that using faster memory brings extra overall performance gains for many other tasks and applications and we will compare overall DDR5 5200 performance with DDR4 3600.
Our review sample of VULCAN 5200MHz CL40 DDR5 desktop memory is a medium speed high-capacity 16GBx2 gaming memory kit for Intel's 12th Generation CPU platform. Here are the two memory kits that we are comparing:
T-FORCE VULCAN PC5-41600 5200MHz DDR5 CL40 2x16GB kit
T-FORCE VULCAN DARK Z PC4 28800 DDR4 3600MHz CL18 2x16GB kit
Just like with video cards, predatory resellers are buying large quantities at MSRP to resell them at inflated prices to turn a profit. If you want DDR5, please don't buy from them. It is better to wait until supply becomes plentiful, or perhaps you can get a near-MSRP deal from the Newegg Shuffle, from Microcenter in person, or you can possibly find Amazon etailers that don't gouge their customers. Although DDR5 is ridiculously overpriced in the United States, gamers in Europe are finding DDR5 at or close to MSRP.
Testing Platform, Product Specifications & Features
Our testing platform is a recent clean installation of Windows 11 Professional, using an Intel Core i9-12900KF at stock settings using either a 1) ASUS Prime P-D4 Z690 motherboard for DDR4 benchmarking or 2) an ASUS ROG Maximus Apex Z690 motherboard for DDR5 benching; a 2TB T-Force C440 Cardia NVMe PCIe 5,000MB/s SSD, and with either 1) 2x16GB T-FORCE Dark Z DDR 3600MHz CL18, or 2) 32GB of T-FORCE Vulcan 5200MHz DDR5 CL40 memory. We use an RTX 3080 Ti Founders Edition at stock clocks for our testing. The settings, benchmarks, testing conditions, and hardware are identical except for the two memory kits and their respective motherboards being compared.
Voltages are set at 1.35V for the DDR4 3600MHz memory and 1.25V for the DDR5 5200MHz memory, and both Command Rates are set at 2T by their respective default XMP profiles in the BIOS. The default XMP 2.0 Profile 1 of the T-FORCE DARK Z 3600MHz is CL18-22-22-42, while the T-FORCE Vulcan DDR5 5200MHz XMP 3.0 timings are CL40-40-40-76.
There are several variants of Vulcan DDR5 as TeamGroup's chart shows.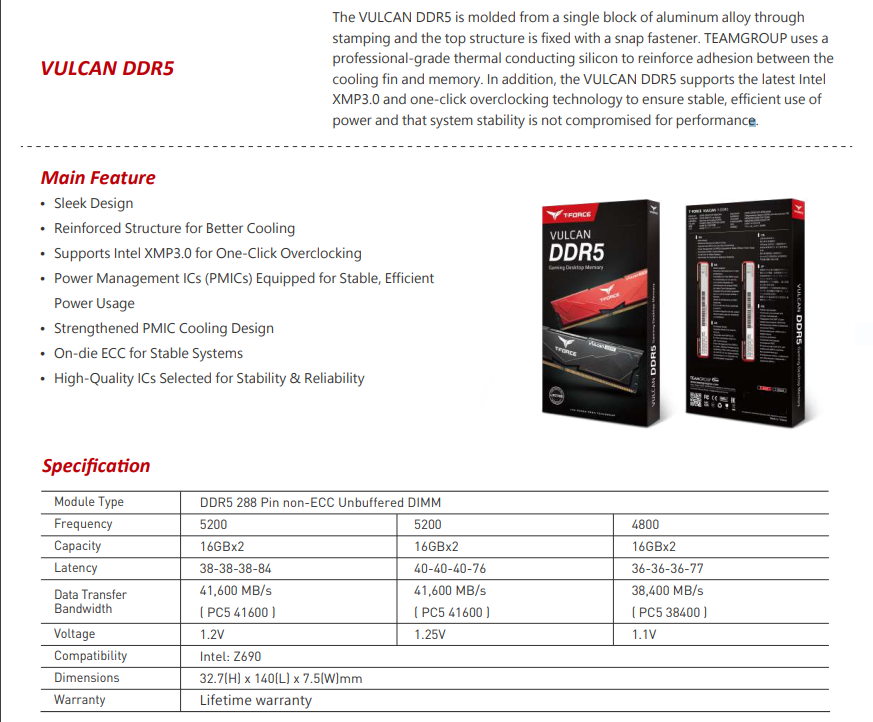 We compare the performance of both DDR kits, and we will also overclock the DDR5 memory. As this is a series comparing multiple DDR5 speeds/latencies on gaming performance, we benchmark the performance of 31 modern games at a maxed-out/ultra 3840×2160, 2560×1440, and 1920×1080 resolutions to see which games benefit from faster memory. We also benchmark using many of the recognized memory-related benchmarking tools including AIDA64, SANDRA 2020/21, PCMark 10, SPECworkstation3, 3DMark, Blender Benchmark, Cinebench, Frybench, GeekBench, Novabench, RealBench, CPU-Z Bench, 7-Zip Bench, Kraken JavaScript Bench, and Wprime.
Here are the Vulcan DDR5 5200MHz CL40 features from TeamGroup's website.
Features
Sleek Design
Reinforced Structure for Better Cooling
Supports Intel XMP3.0 for One-Click Overclocking
Power Management ICs (PMICs) Equipped for Stable, Efficient Power Usage
Strengthened PMIC Cooling Design
On-die ECC for Stable Systems
High-Quality ICs Selected for Stability & Reliability
TeamGroup offers a lifetime warranty for their T-FORCE DDR5 desktop memory and Vulcan DDR5 is available in black or red.
Let's unbox the memory kit on the next page and take a closer look.
Unboxing
The T-FORCE Vulcan 5200MHz DDR5 2x16GB memory kit comes in a anti-static blister pack inside of a box that pictures it on the front and advertises its features on its reverse.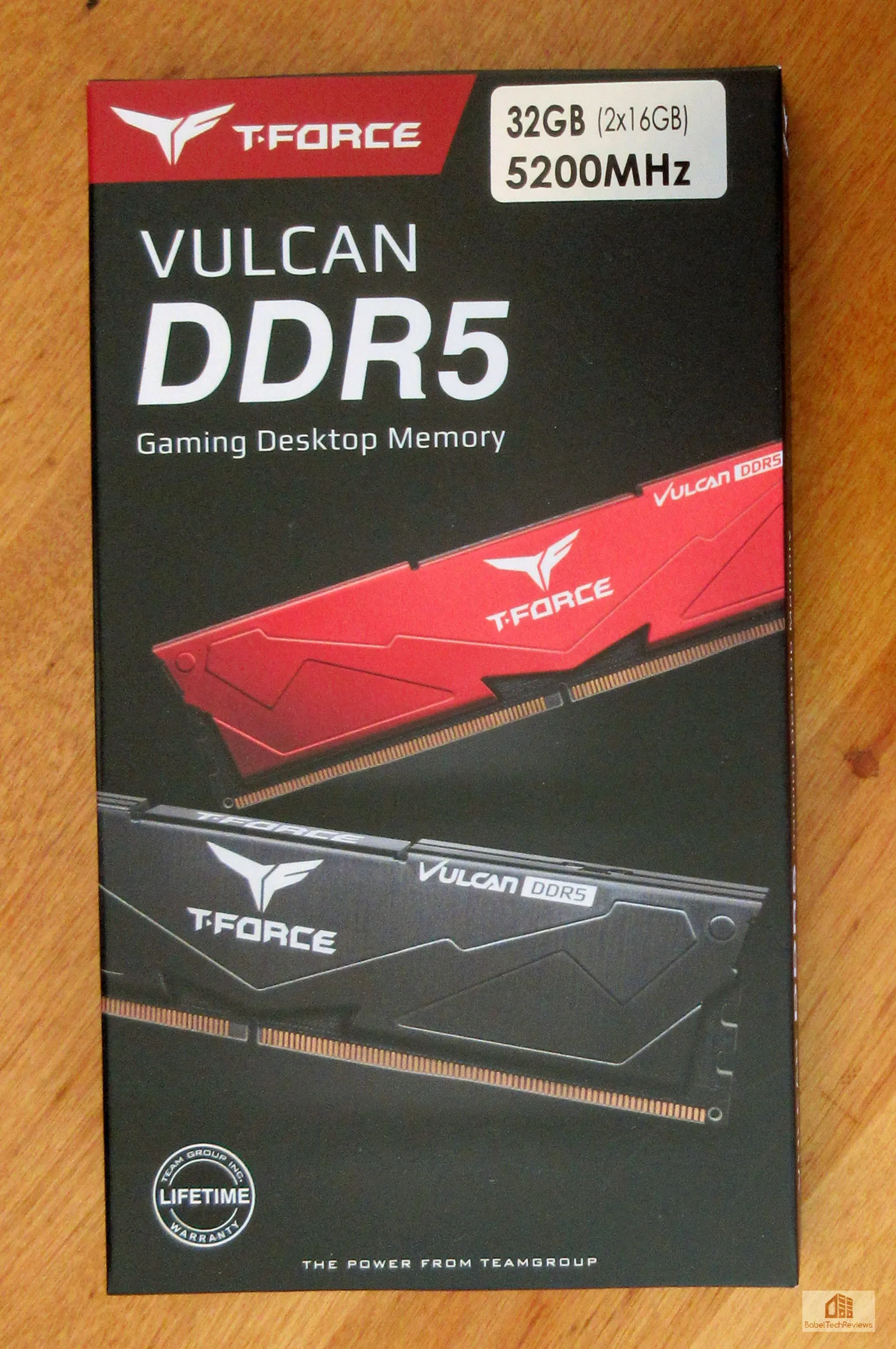 The T-FORCE logo uses a stylized hawk symbolizing a gamer's independent spirit of flying free. Its features include one-click overclocking to 5200MHz supported by Intel's XMP 3.0 profile of most Z690 motherboards. Of course, check your motherboard's qualified vendor list (QVL) to be sure the memory has been tested to support it or you may need to spend some time in the BIOS tweaking RAM settings.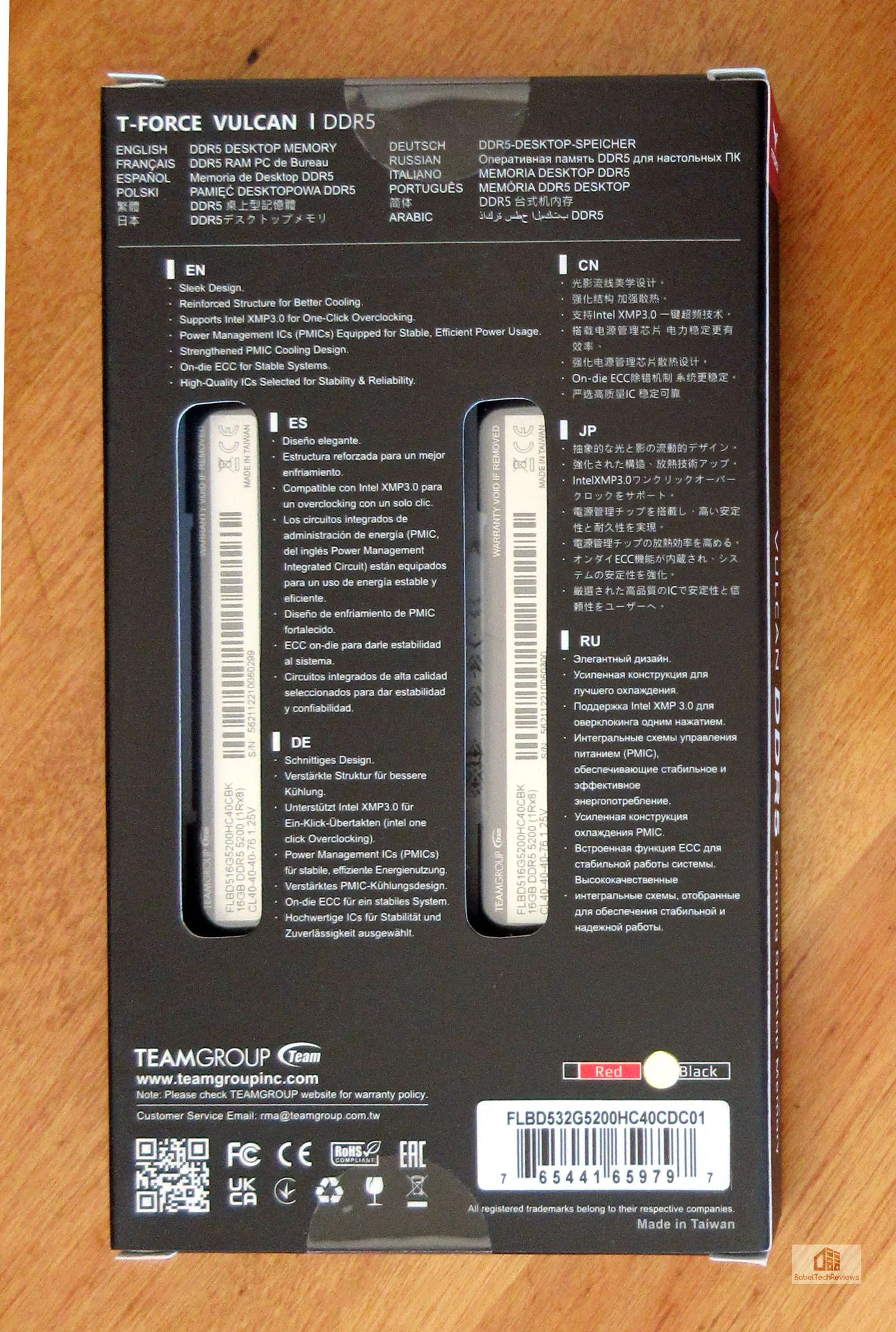 After we removed the memory out of the box, we placed it next to it.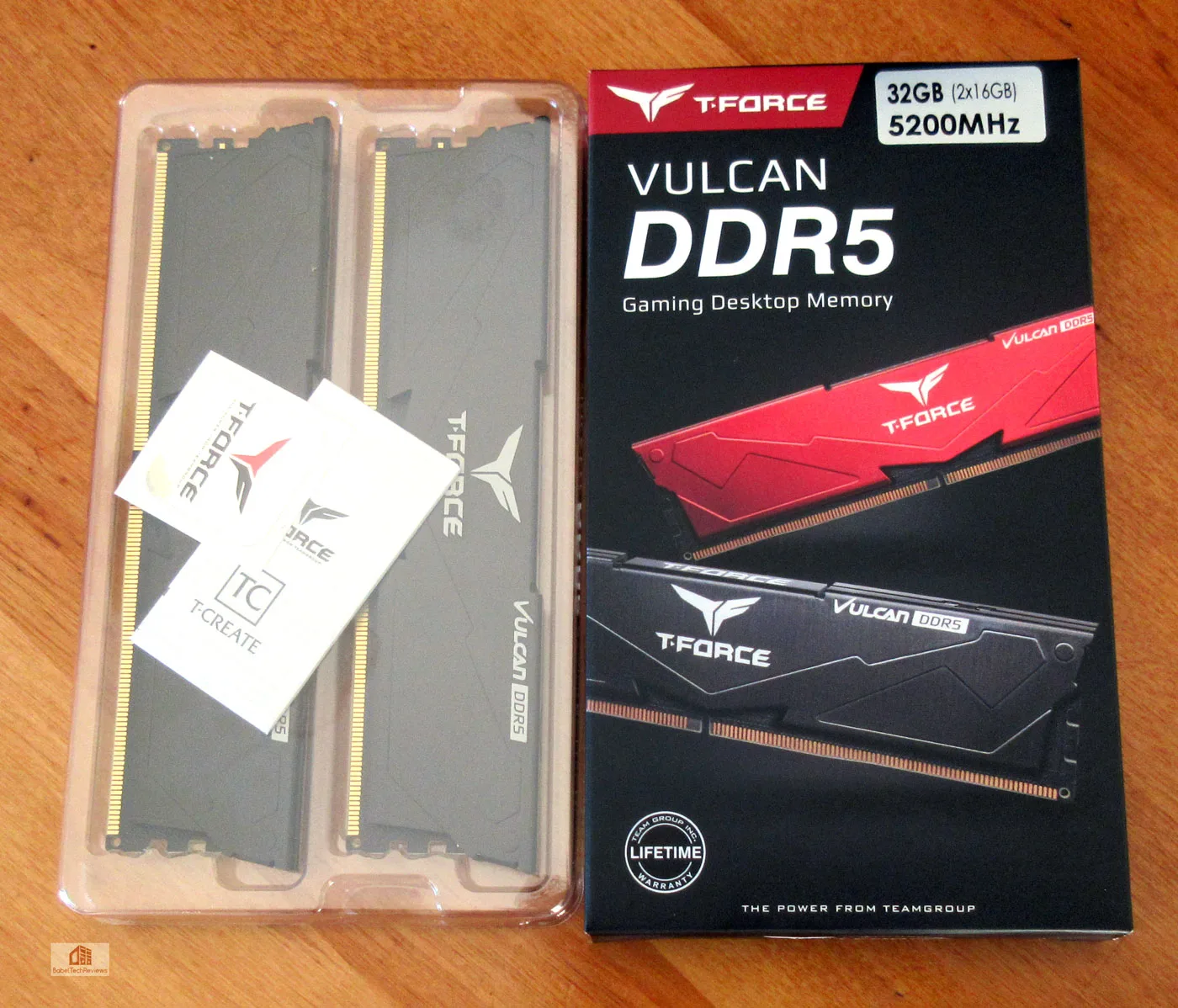 The installation guide is illustrated and is easy to follow.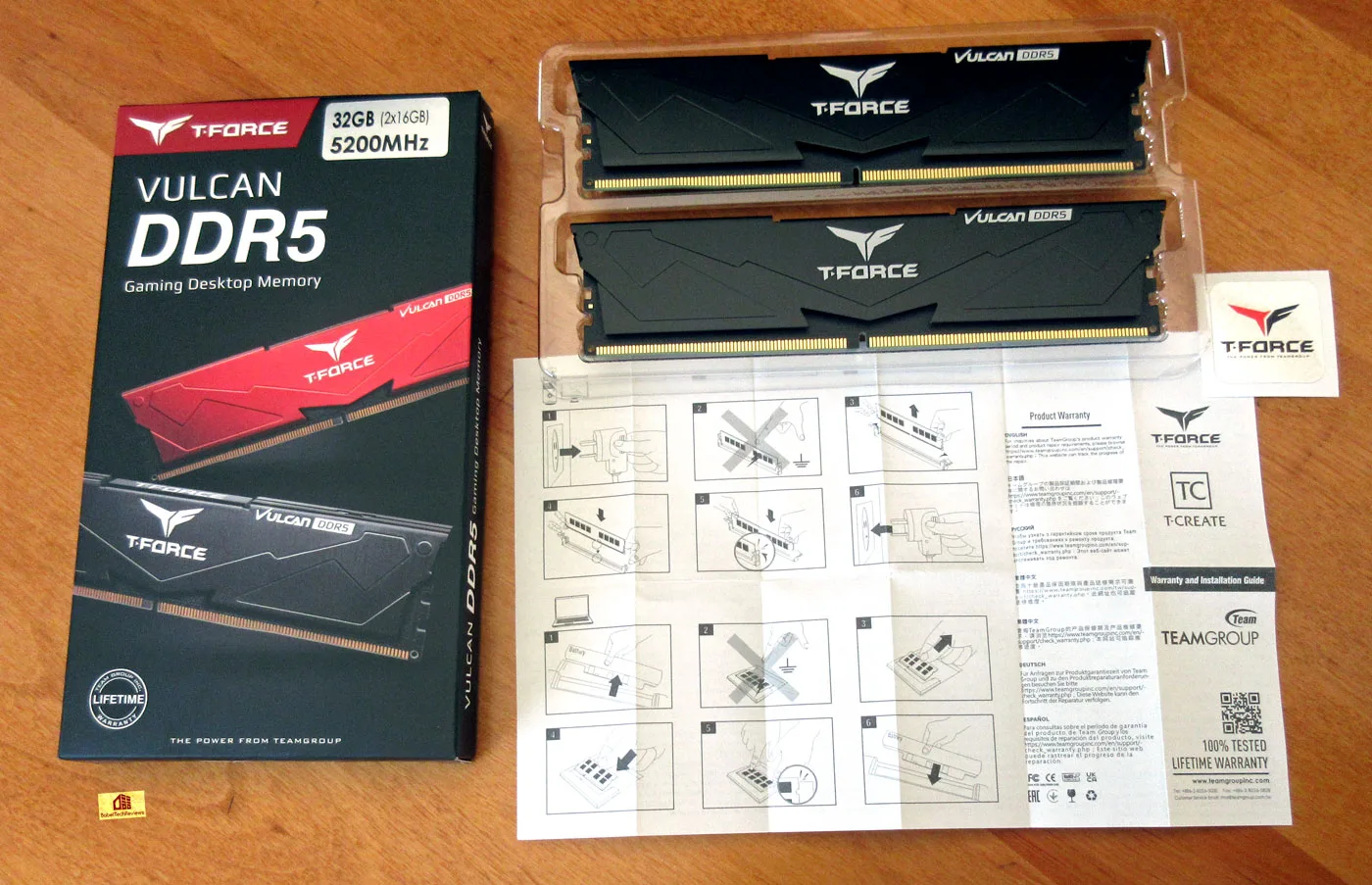 There is plenty of room for this Vulcan memory unlike some taller RGB memory modules that may interfere with some large CPU air cooler installations.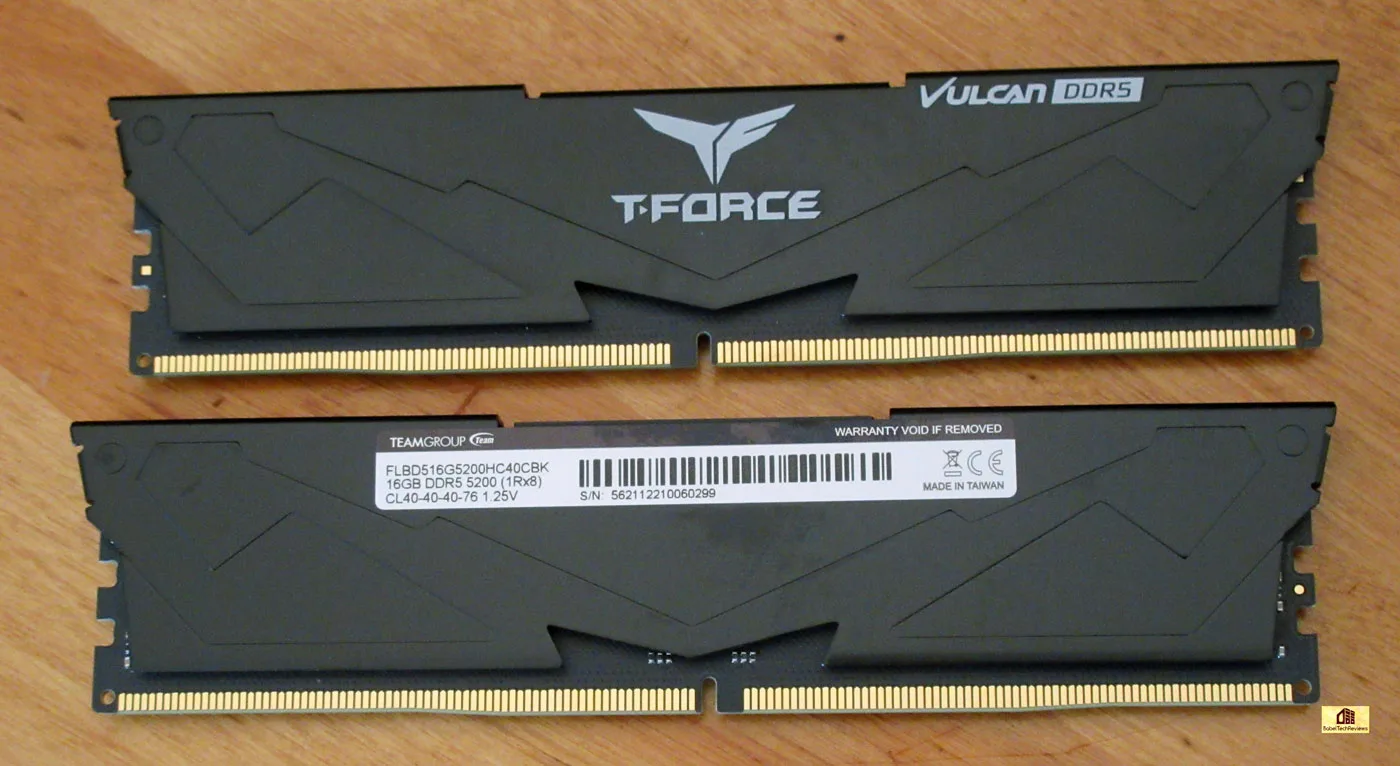 Vulcan 5200MHz DDR5 looks great installed in a conservative build and it is currently featured in BTR's flagship i9-12900KF PC below.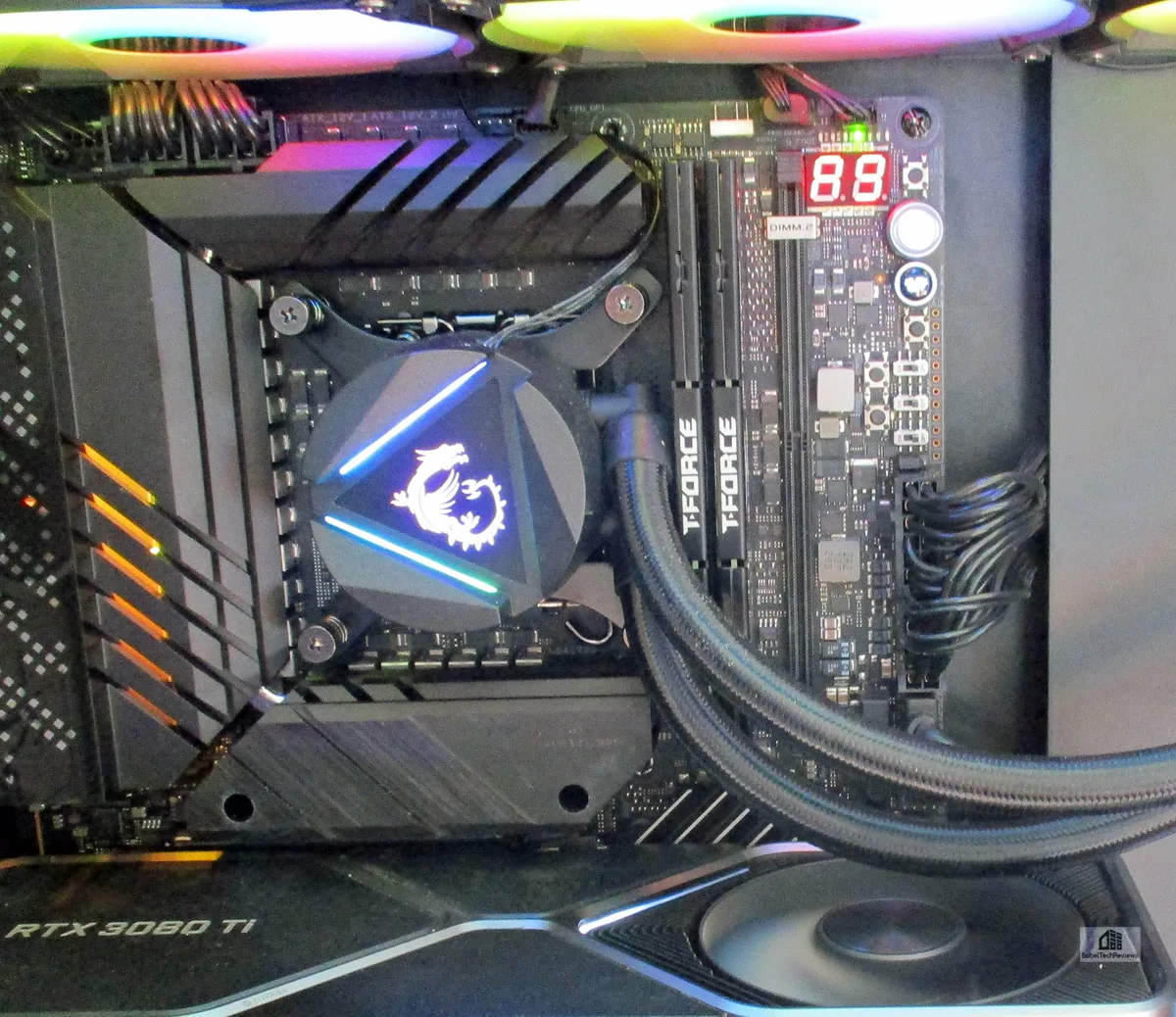 First, let's look at our test configuration before we benchmark performance.
Test Configuration – Hardware
Intel Core i9-12900KF (HyperThreading and Turbo boost are on to 4.9GHz for all cores; Alder Lake DX11 CPU graphics) stock settings.
ASUS Prime Z690-P D4 LGA 1700 motherboard (Intel Z690 chipset, latest BIOS, PCIe 5.0, DDR4)
ASUS ROG Maximus Z690 Apex LGA 1700 motherboard (Intel Z690 chipset, latest BIOS, PCIe 5.0, DDR5)
T-FORCE DARK Z PC4 28800 DDR4 3600MHz CL16 2x16GB kit, supplied by TeamGroup
T-FORCE VULCAN PC5-41600 5200MHz DDR5 CL40 2x16GB kit, supplied by TeamGroup
RTX 3080 Ti Founders Edition 11GB, at stock FE clocks, on loan from NVIDIA
2TB T-FORCE C-440 Ceramic NVMe SSD C: drive
1TB T-FORCE A-440 NVMe SSD, supplied by TeamGroup
1.92 TB San Disk enterprise class SSD
2 TB Micron 1100 SSD
1TB Delta Max RGB SSD, supplied by Team Group
Super Flower Leadex Platinum SE 1200W 80+ Platinum power supply unit
MSI MAG Series CORELIQUID 360R, ARGB CPU Liquid Cooler (AIO) 360mm CPU water cooler
CORSAIR 5000D Mid-Tower ATX PC Case + 2 x 120mm + 1 x 140mm Noctua Fans
BenQ 32″ 4K/60Hz display
Test Configuration – Software
Nvidia's GeForce 496.98 WHQL drivers. High Quality, prefer maximum performance, single display
VSync is off in the control panel
AA enabled as noted in games; all in-game settings are specified with 16xAF always applied
Highest quality sound (stereo) used in all games
Windows 11 Professional edition
Latest DirectX
MSI's Afterburner, latest version.
CPU-Z
Karhu RAM Test
Windows Memory Diagnostics
31 PC Game suite
Vulkan
DOOM Eternal
Wolfenstein Youngblood
Red Dead Redemption 2
Ghost Recon: Breakpoint
World War Z
Strange Brigade
Rainbow 6 Siege
DX12
Forza Horizon 5
Guardians of the Galaxy
Far Cry 6
Resident Evil VIllage
Metro Exodus – Enhanced Edition & regular edition
Hitman 3
DiRT 5
Assassins Creed Valhala
Watch Dogs Legions
Horizon Zero Dawn
Death Stranding
F1 2020
Borderlands 3
Tom Clancy's The Division 2
Civilization VI – Gathering Storm Expansion
Battlefield V
Shadow of the Tomb Raider
DX11
Chernobylite
Days Gone
Crysis Remastered
Destiny 2 Shadowkeep
Total War: Three Kingdoms
Overwatch
Grand Theft Auto V
Synthetic Game Benchmarks
Firestrike
TimeSpy
VRMark
Superposition
Synthetic/Real World Benching Suites & Tools
SANDRA 2020/21 Engineer version courtesy of Sisoft
AIDA64 courtesy of FinalWire
PCMark 10 Professional Edition courtesy of UL
SPECworkstation3
3DMark Professional Edition courtesy of UL
Blender Benchmark
Cinebench
Frybench
GeekBench
RealBench
Novabench
CPU-Z benchmark
7-Zip benchmark
Kraken JavaScript Bench
Wprime
Nvidia Control Panel settings:
Texture Filtering has been set to High with 'prefer maximum performance' power selected and V-sync disabled, but the other settigs are left stock. Before we head to our benching results, let's briefly cover overclocking.
CPU-Z and Overclocking
Here is the CPU-Z 12900KF report.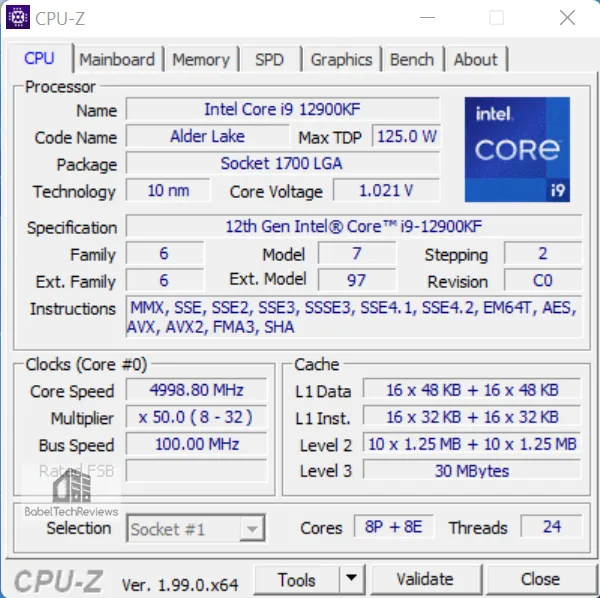 Vulcan 5200MHz DDR5 stock clocks and details are shown below.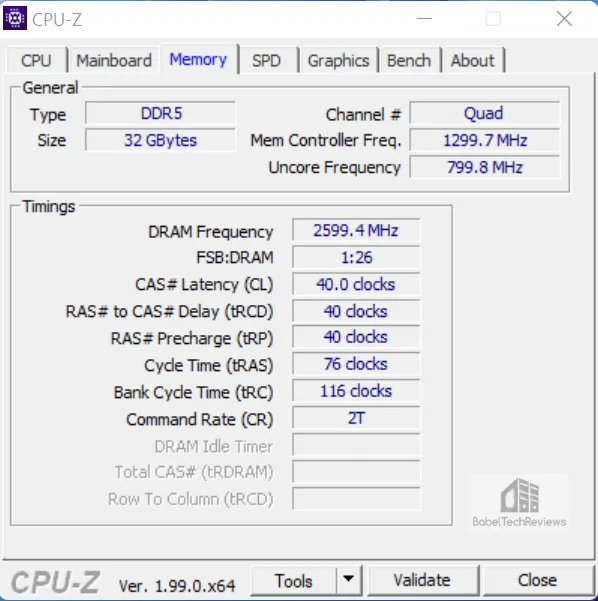 The SPD is set as below by the XMP 3.0 BIOS profile for 2600MHz (x2).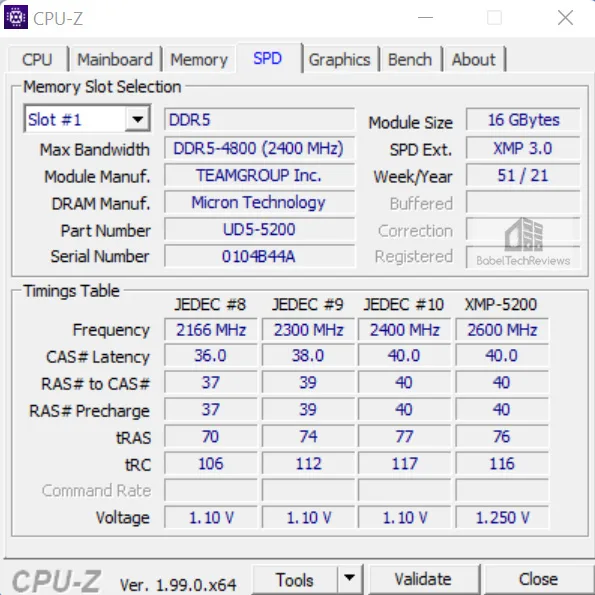 Before we look at benches, let's explore overclocking the Vulcan DDR5 above 5200 MHz.
Overclocking
We used the Vulcan DDR5 5200 DDR4's default timings to increase its clocks until we reached its maximum stable speed of 5400MHz at a fixed 1.25V. Increasing the voltage to 1.4V made no difference and we could go no higher – At 5600MHz, Windows wouldn't boot.
Tightening DDR timings tend to bring less performance gain than increasing clock speed and should probably be left until after preliminary overclocking and stability tests have been completed. However, the timings could not be set from CL40 to CL36 at 5200MHz nor at CL38 at 5400MHz with any reasonable voltage. We concluded that there is very little performance headroom in our particular sample. From past experience with DDR on a new process, the overclocking headroom varies from sample to sample, often by a large margin.
Here is CPU-Z showing the Vulcan DDR5 5200 stock XMP 3.0 Profile 2 timings and speeds overclocked to 5400MHz.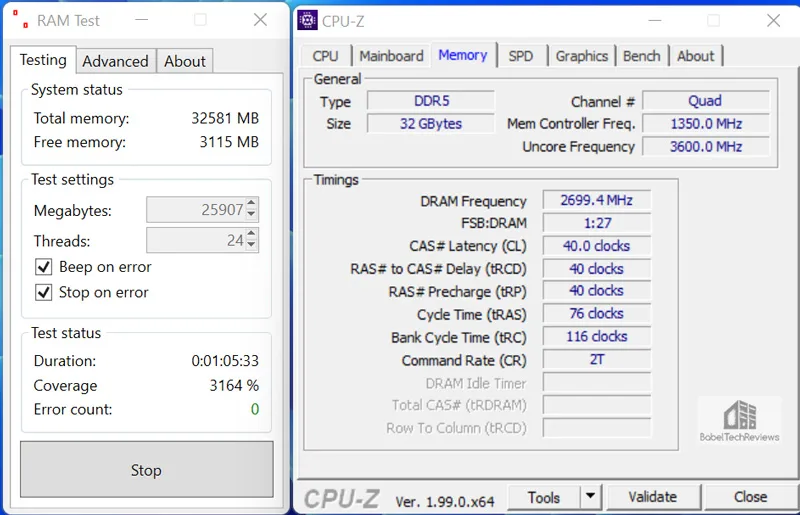 We tested our overclock's stability using Karhu's excellent RAM test as well as AIDA64's System Test. Since a +200MHz is a minor overclock, we did not benchmark overclocked performance but will leave it for a follow-up review using higher frequency DDR5.
A hardcore overclocker may wish to aim for the highest overclock that their memory can reach by using extreme voltage well beyond the recommended 1.25V to likely exceed 1.4V, and then fine-tune the timings and voltage for maximum memory performance without concern for their memory's longevity. As a gamer, we don't see large gaming performance increases from memory overclocking that we see with GPU/CPU overclocks, so we left clocks at stock for our benchmarking and to set a baseline for upcoming higher-clocked DDR5 reviews.
Benchmarking
Individual chart results are always listed in order: 1) Vulcan 5200MHz DDR5 and 2) DARK Z 3600MHz DDR4.
Synthetic and Real World Benches
To see where memory performance results differ, and there is no better tool than SiSoft's Sandra 2020/21. SiSoftware Sandra (the System ANalyser, Diagnostic and Reporting Assistant) is an complete information & diagnostic utility in a complete package. It is able to provide all the information about your hardware, software and other devices for diagnosis and for benchmarking. Sandra is derived from a Greek name that implies "defender" or "helper".
There are several versions of Sandra, including a free version of Sandra Lite that anyone can download and use. It is highly recommended! We are using the full engineer suite courtesy of SiSoft. The latest version features multiple improvements over earlier versions of Sandra. It will benchmark and analyze all of the important PC subsystems and even rank your PC and give recommendations for improvement.
We run Sandra memory intensive benchmark tests focusing on the CPU. Here is the chart summarizing the results.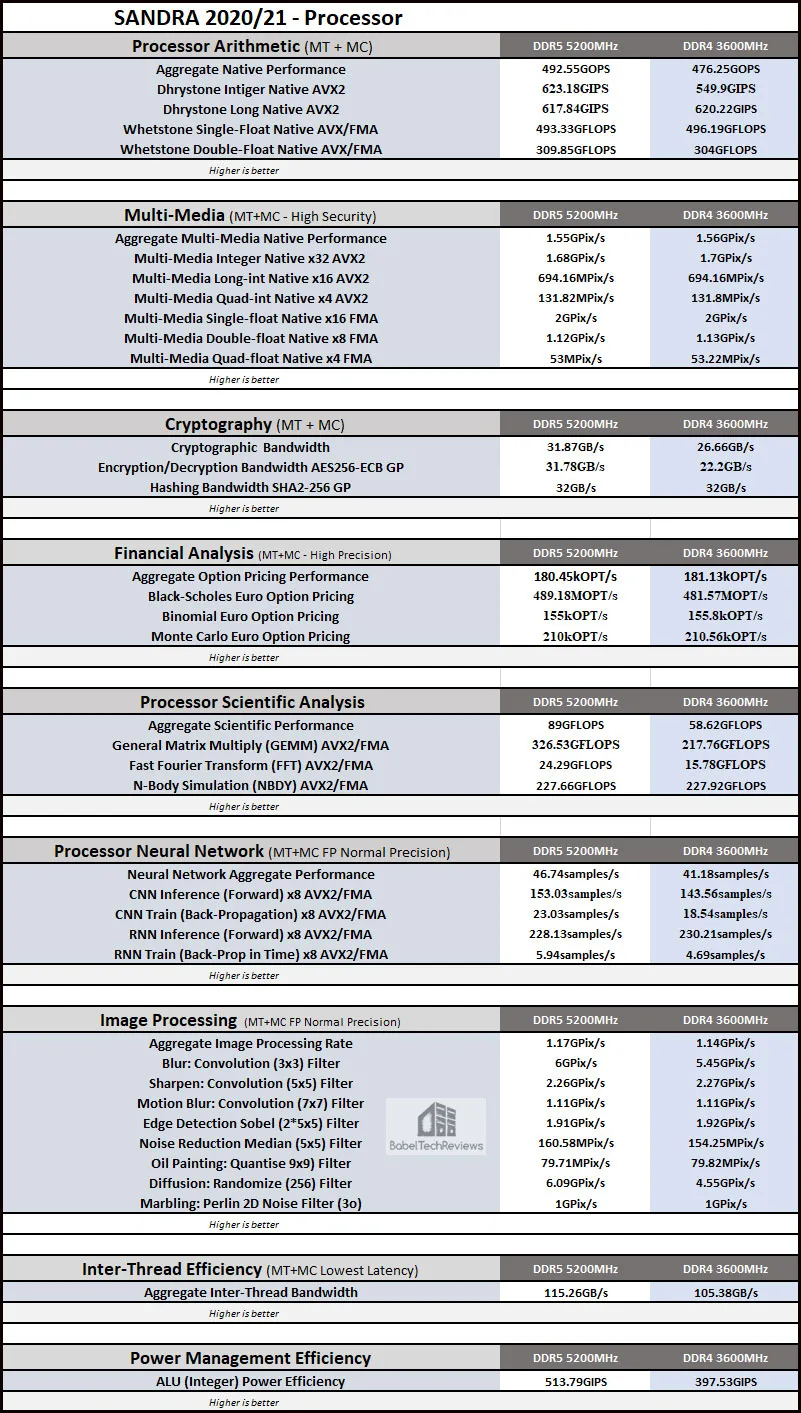 The higher bandwidth generally gives DDR5 5200MHz a large edge over DDR 3600MHz in many of Sandra's synthetic benches.
We next feature AIDA64.
AIDA64 v6.60.5900
AIDA64 is the successor to Everest and remains an important industry tool for benchmarkers. Its memory bandwidth benchmarks (Memory Read, Memory Write, and Memory Copy) measure the maximum available memory data transfer bandwidth. AIDA64's benchmark code methods are written in Assembly language, and they are extremely optimized for every popular AMD, Intel and VIA processor core variants by utilizing the appropriate instruction set extensions. We use the Engineer's full version of AIDA64 courtesy of FinalWire. AIDA64 is free to to try and use for 30 days.
The AIDA64 Memory Latency benchmark measures the typical delay from when the CPU reads data from system memory. Memory latency time means the time is accurately measured from the issuing of the read command until the data arrives to the integer registers of the CPU. It also tests Memory Read, Write, and Copy speeds besides Cache.
The T-FORCE VULCAN 5200MHz DDR5 results are first.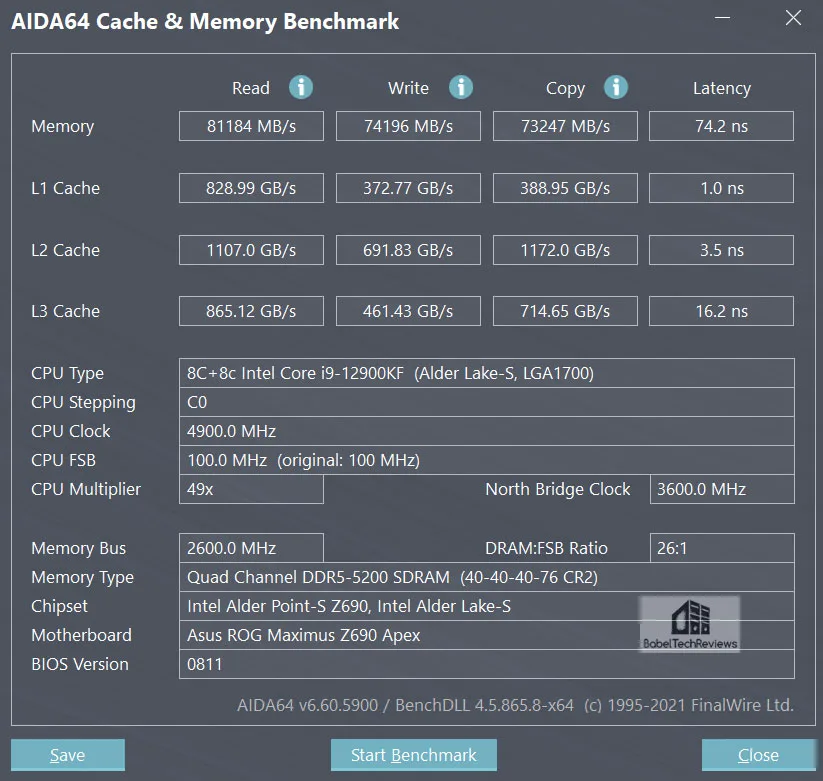 The T-FORCE DARK Z 3600MHz DDR4 results are next.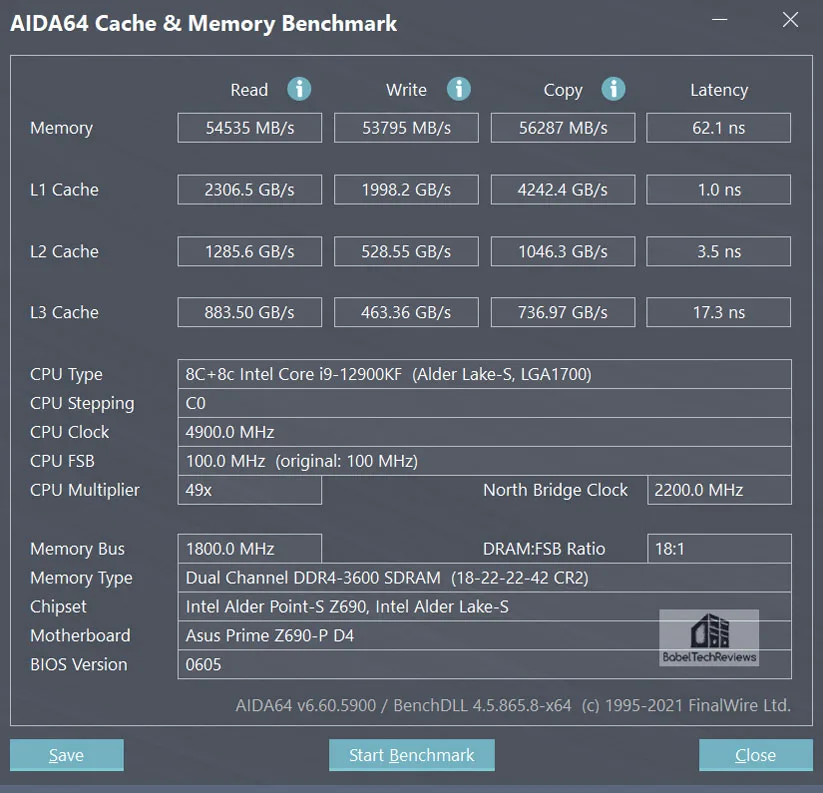 Here is the summary chart

Here is the summary chart of multiple AIDA64 CPU benchmarks that depend on fast memory.

The AIDA64 FPU benchmarks results are less dependant on memory than the CPU benches.

Faster memory scores higher and T-FORCE VULCAN 5200MHz DDR5 memory results/scores are generally higher than DDR4 memory in AIDA64 synthetic benching.
Let's look at PCMark 10 next to see if its benchmarks can reflect memory speed increases.
PCMark 10 Professional Edition
PCMark 10 has multiple tests which use real world timed benchmarks including web browsing, video group chat, photo, batch, and video editing, music and video tests, and even mainstream gaming. The PCMark 10 test offers three primary tests and we chose the Extended and also the Express version. We use the Professional Edition courtesy of UL.
First are the Express version results including the online results that show individual test results starting with the Vulcan 5200MHz DDR5 with a score of 7025.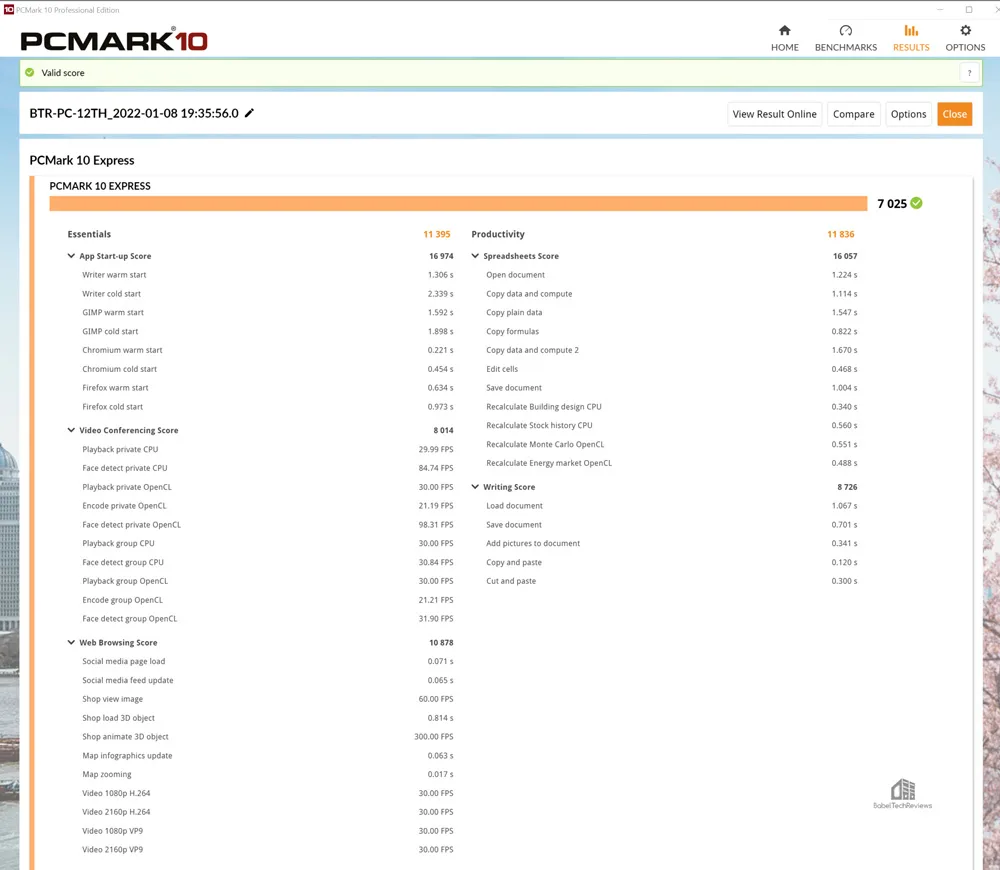 Here are the DDR5 Express benchmark results validated online scoring in the top 2% of PC tested.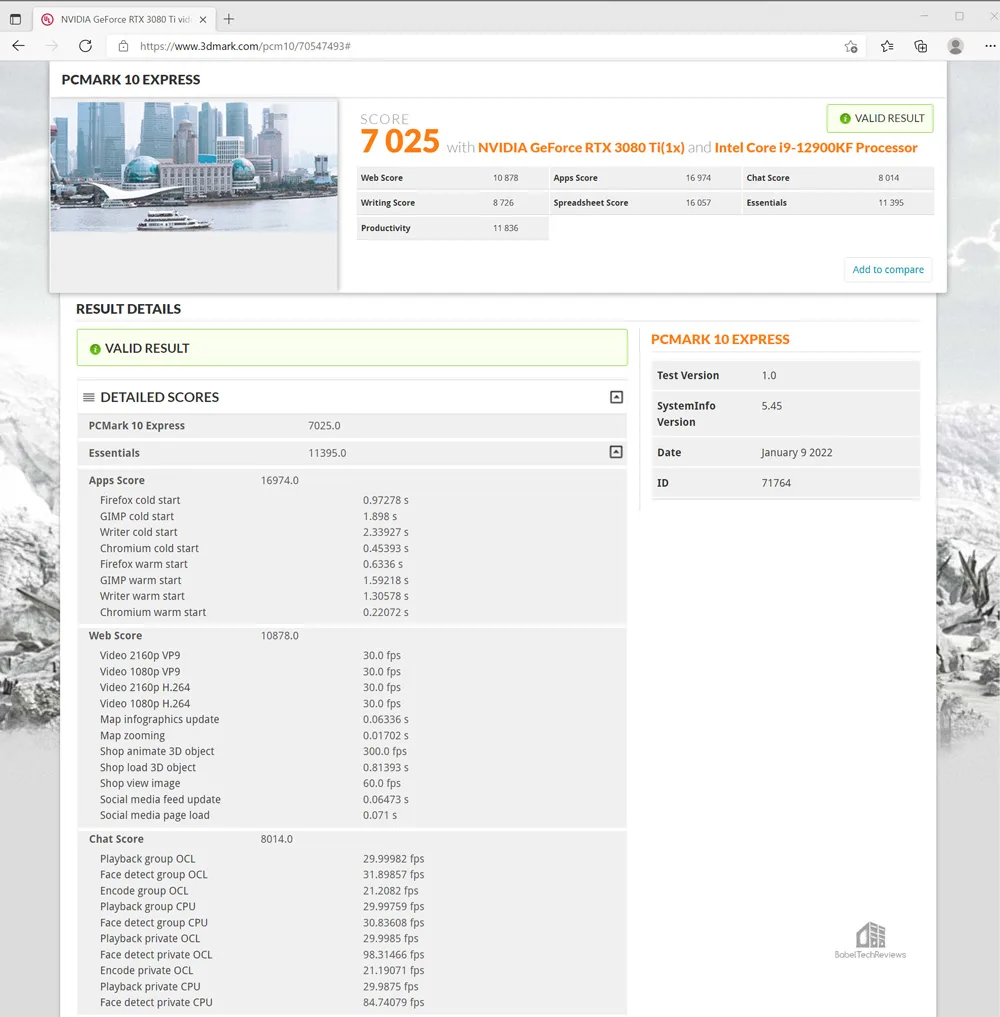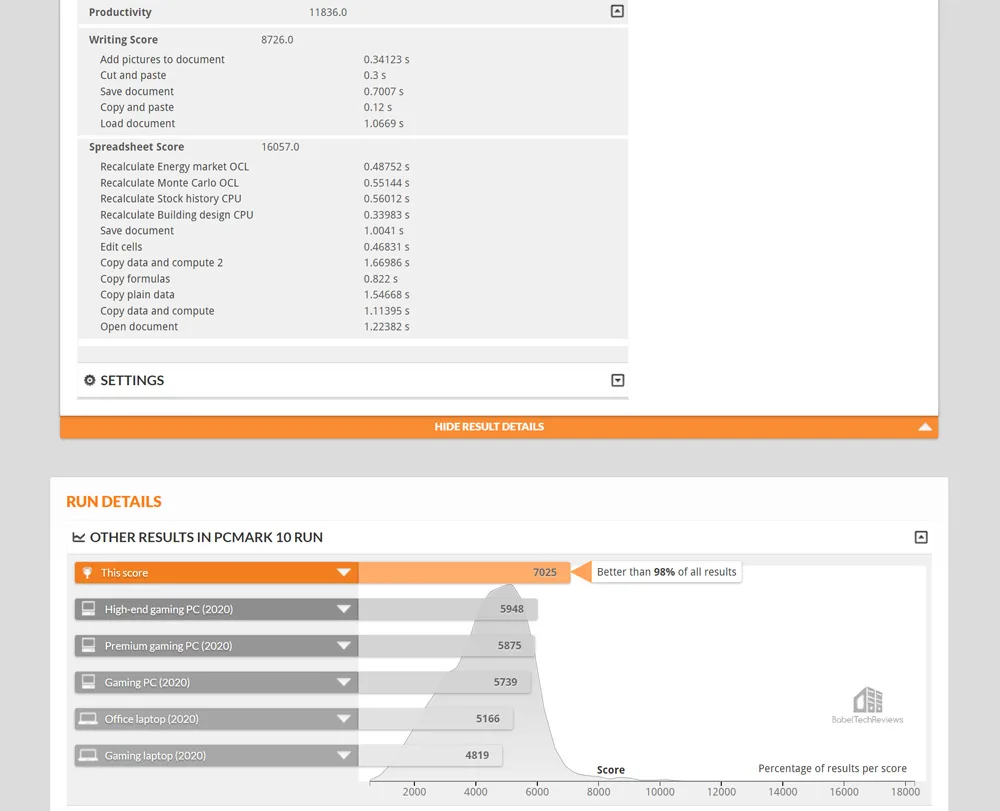 The DARKZ 3600MHz DDR4 scores higher – 7188 – on the Express test.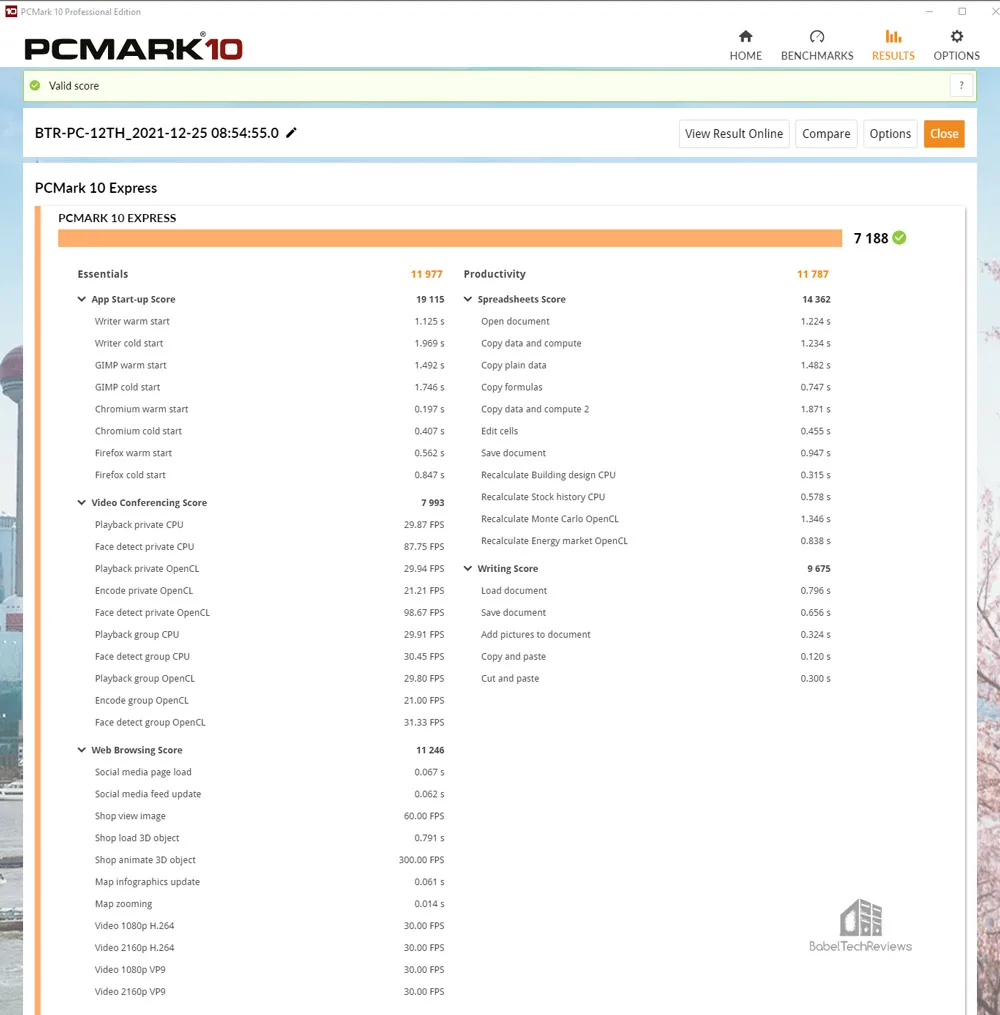 Surprise! The DDR4-equipped PC scores higher. Here is the online validation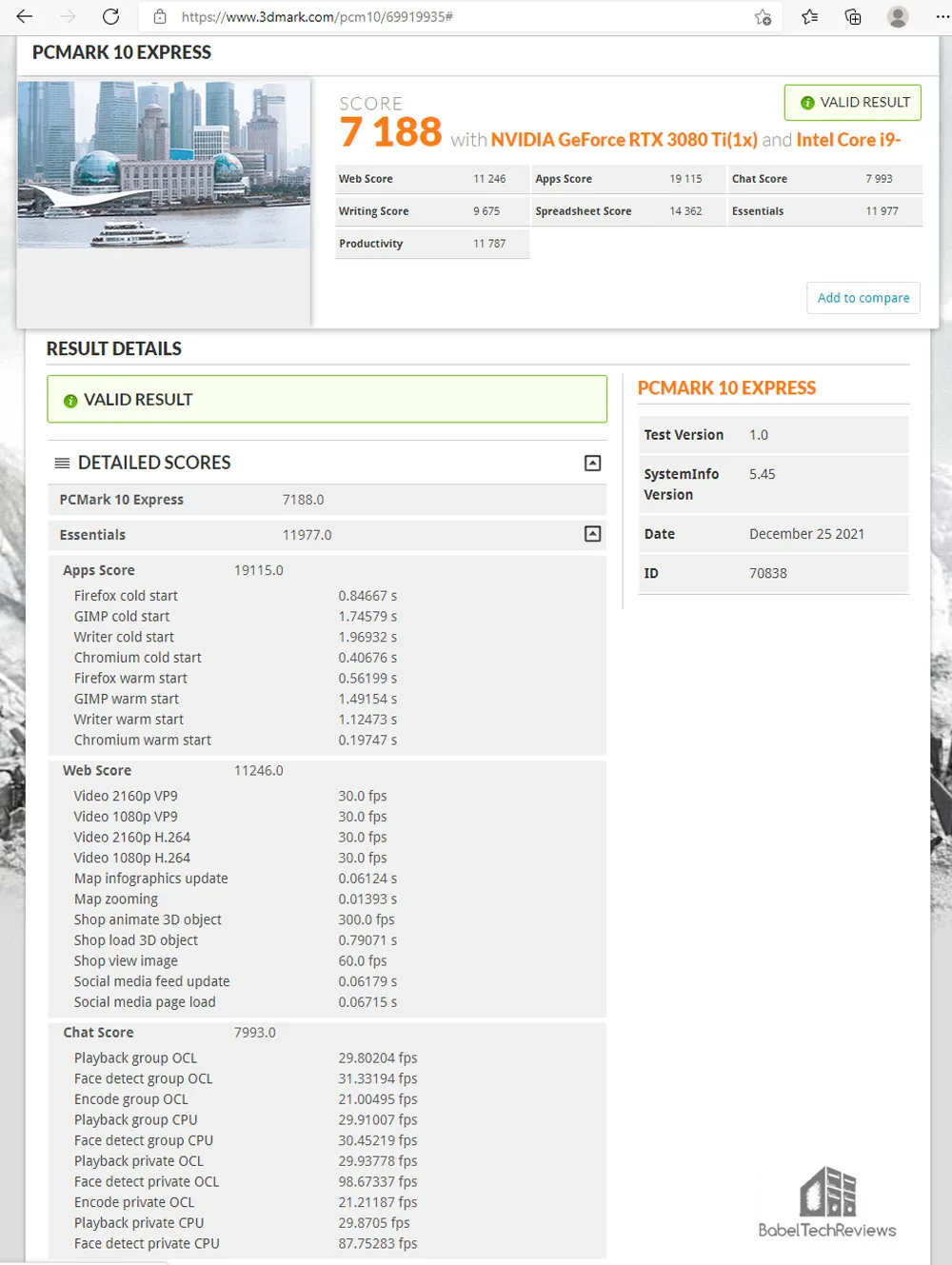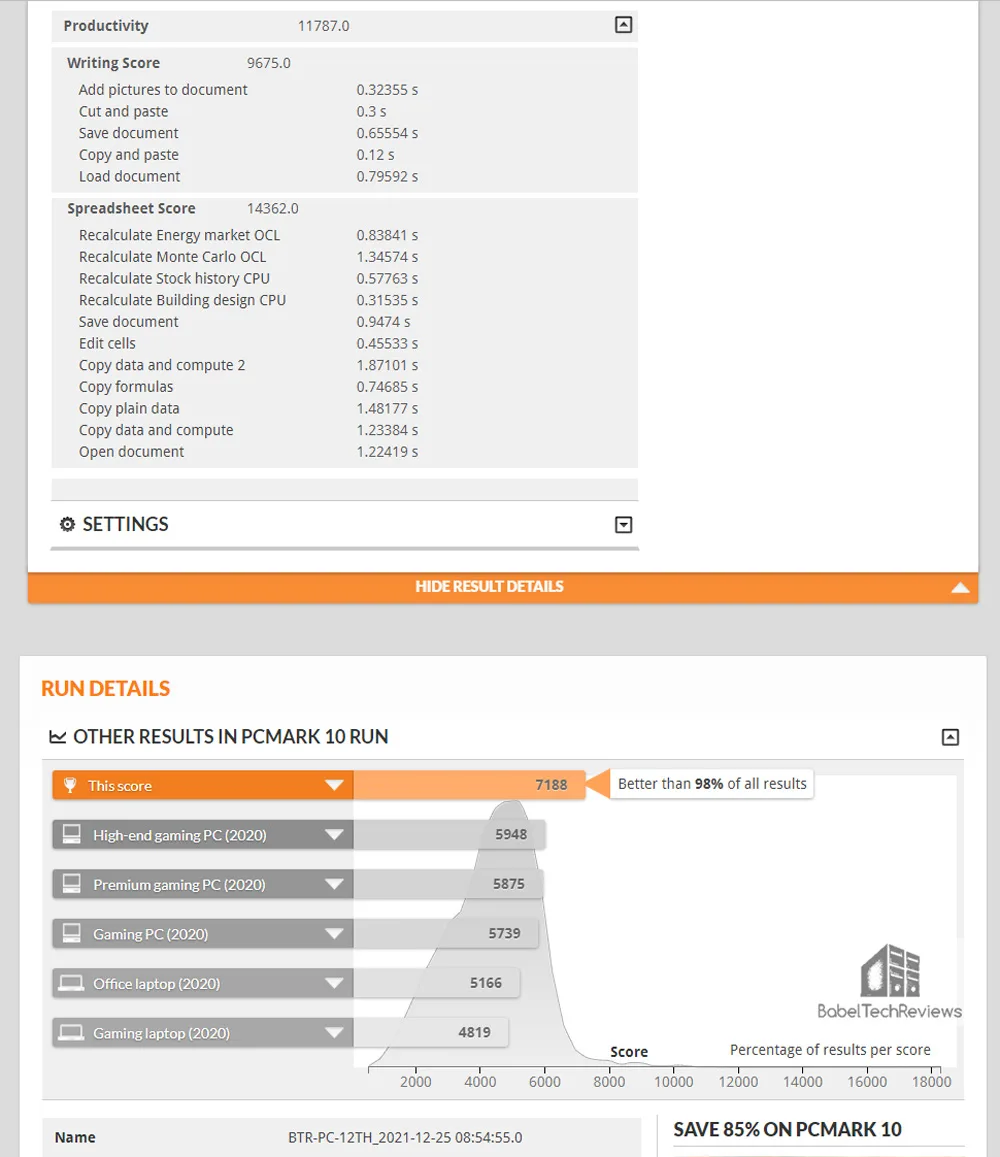 Next is the Extended test and the DDR5 scores 12829.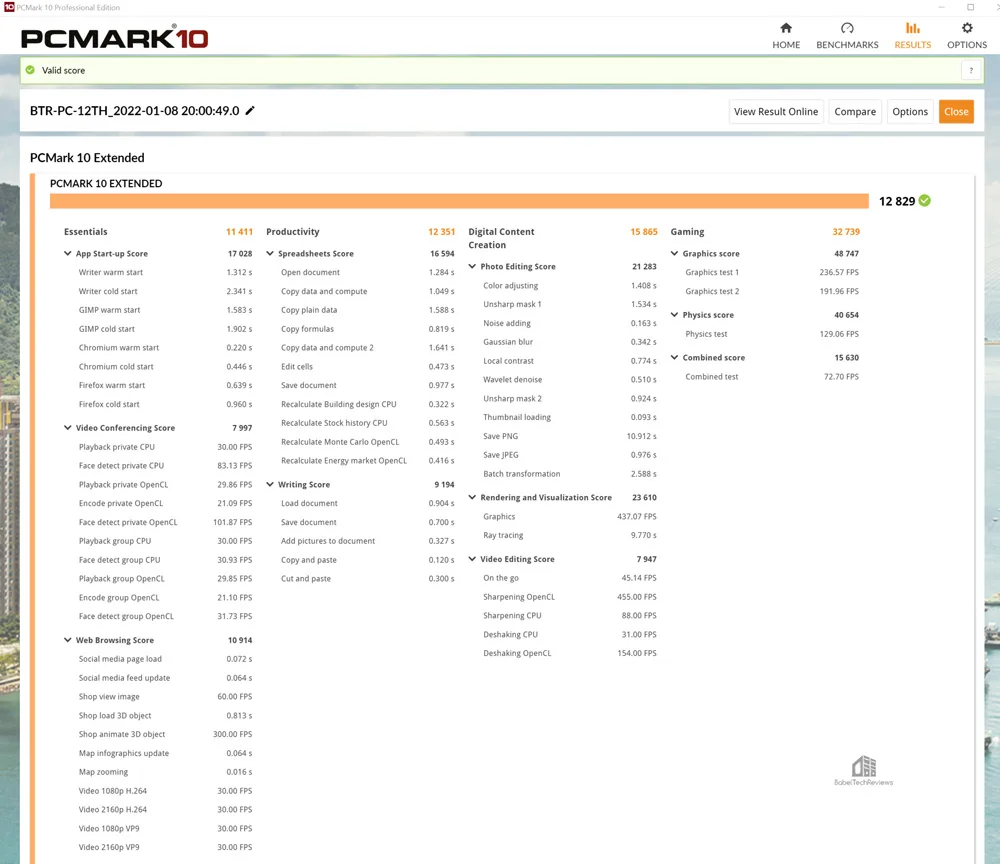 Here is the online validation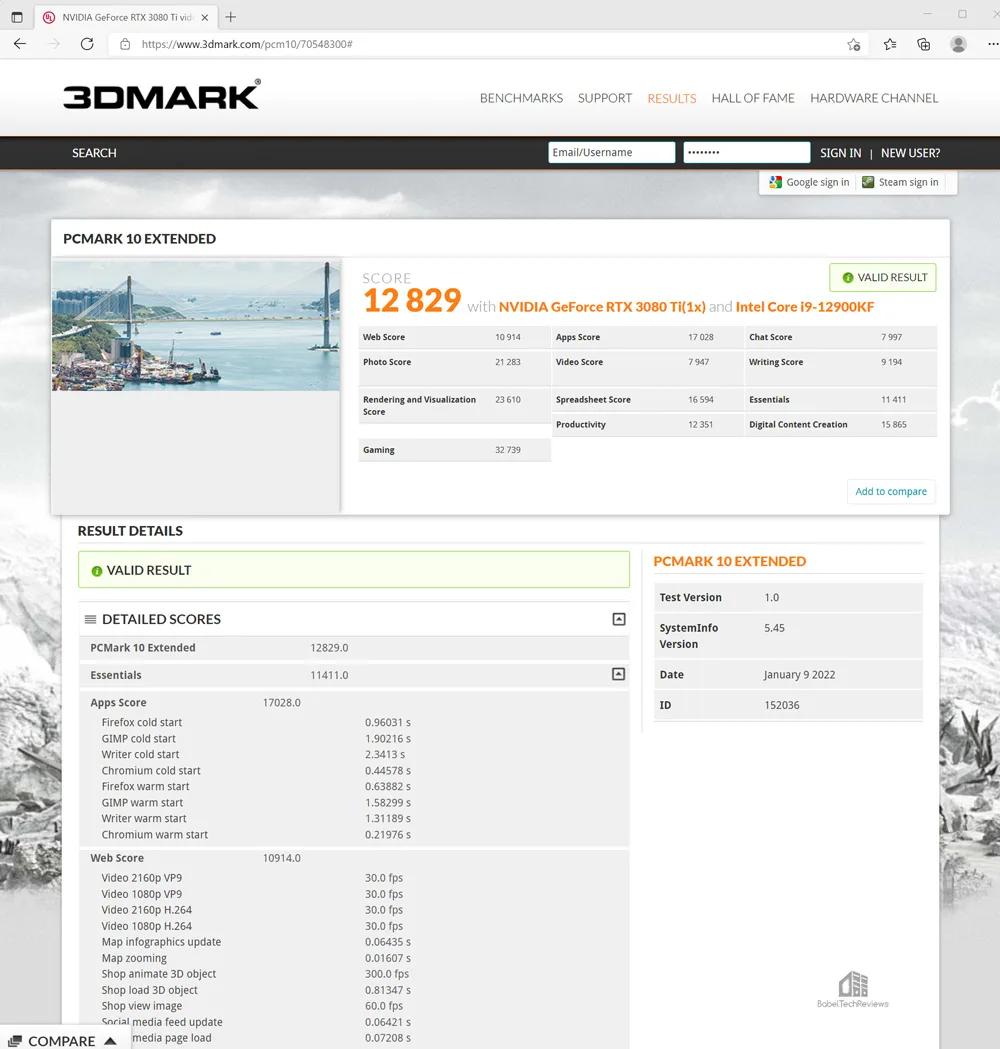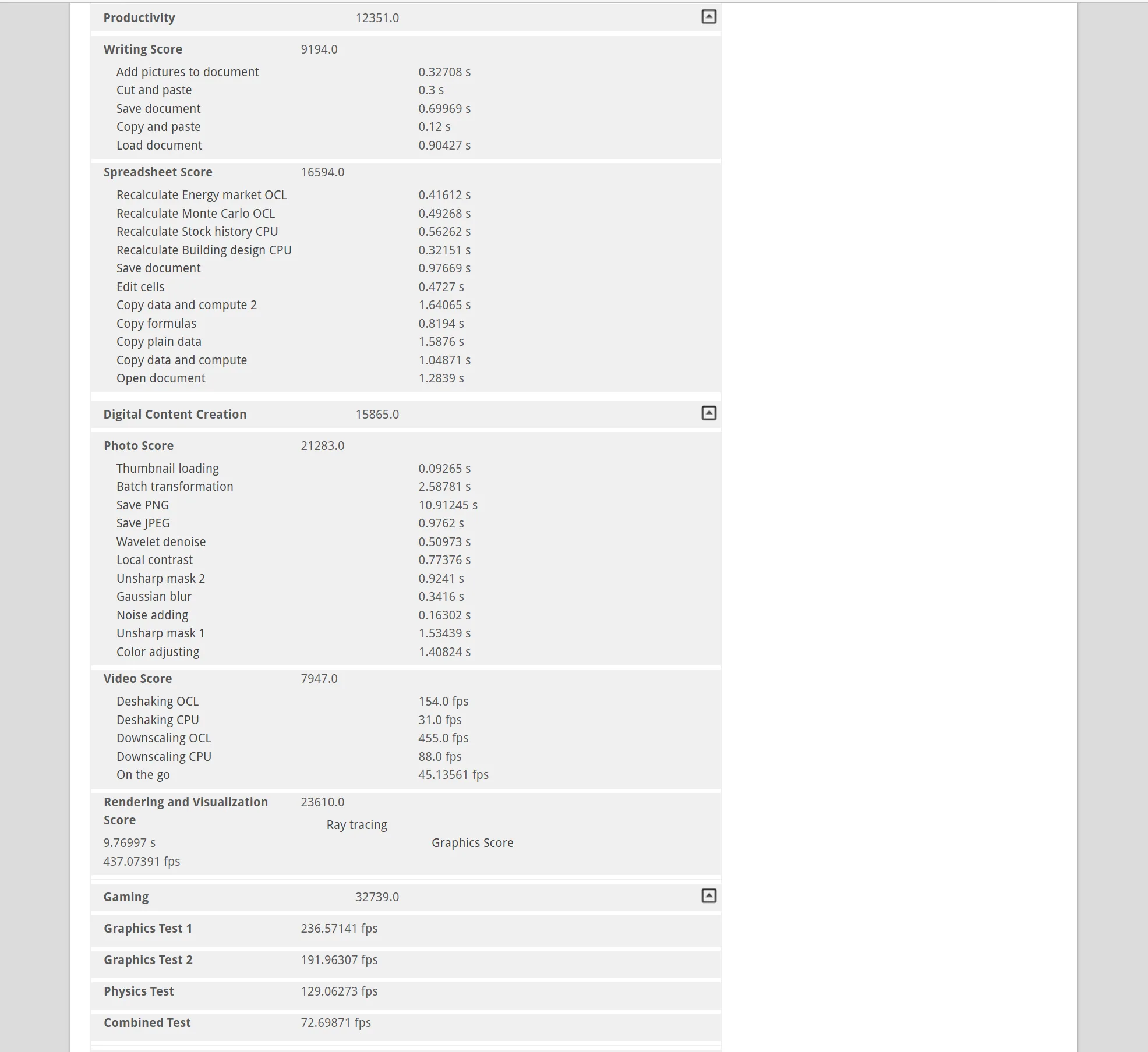 Now, DDR4 results with a higher score of 13384.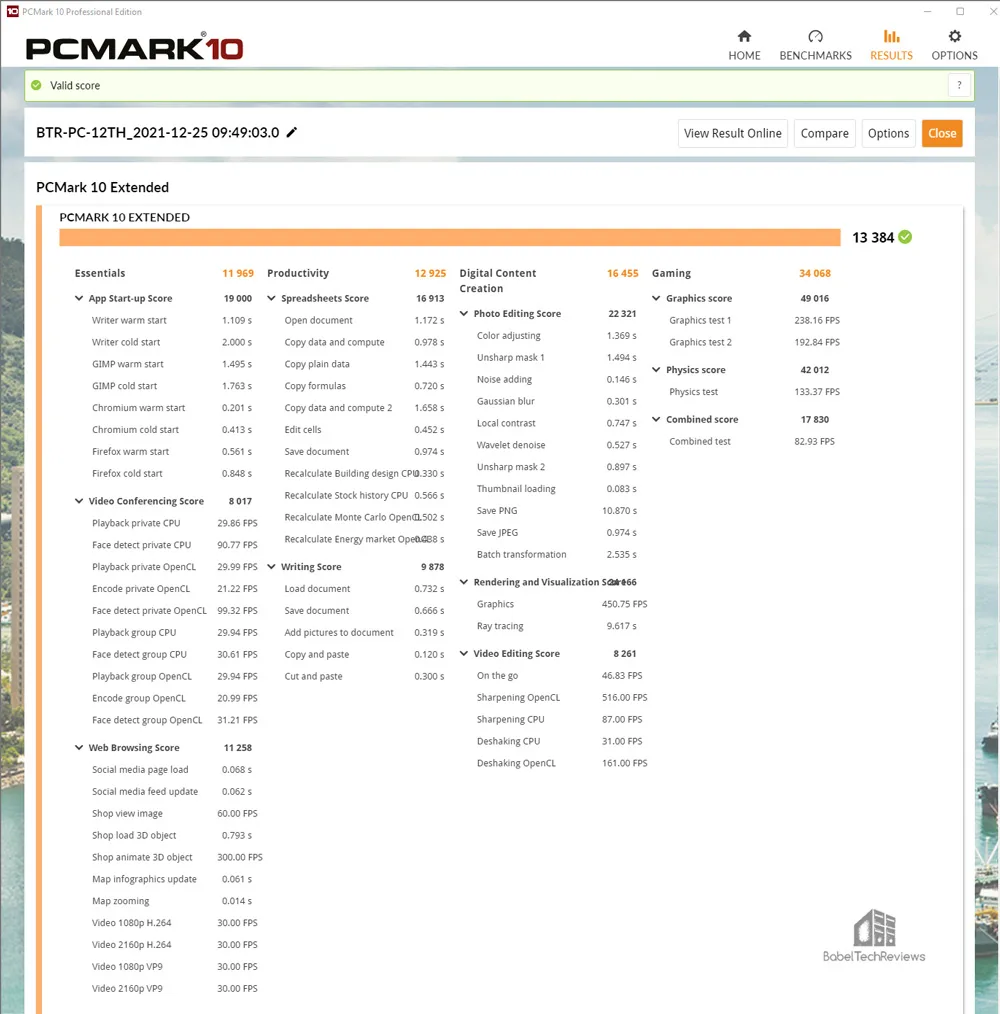 Here is the online validation.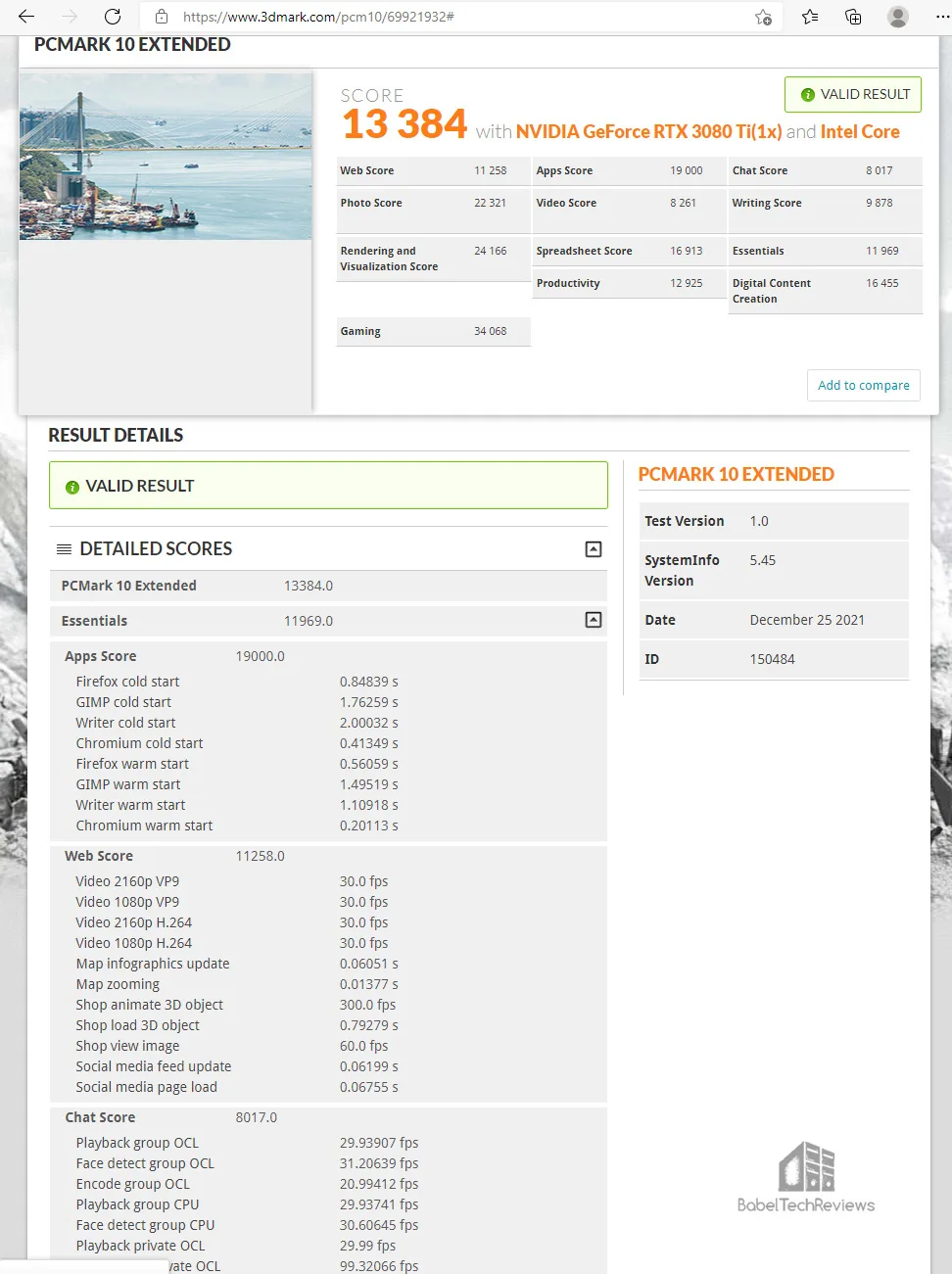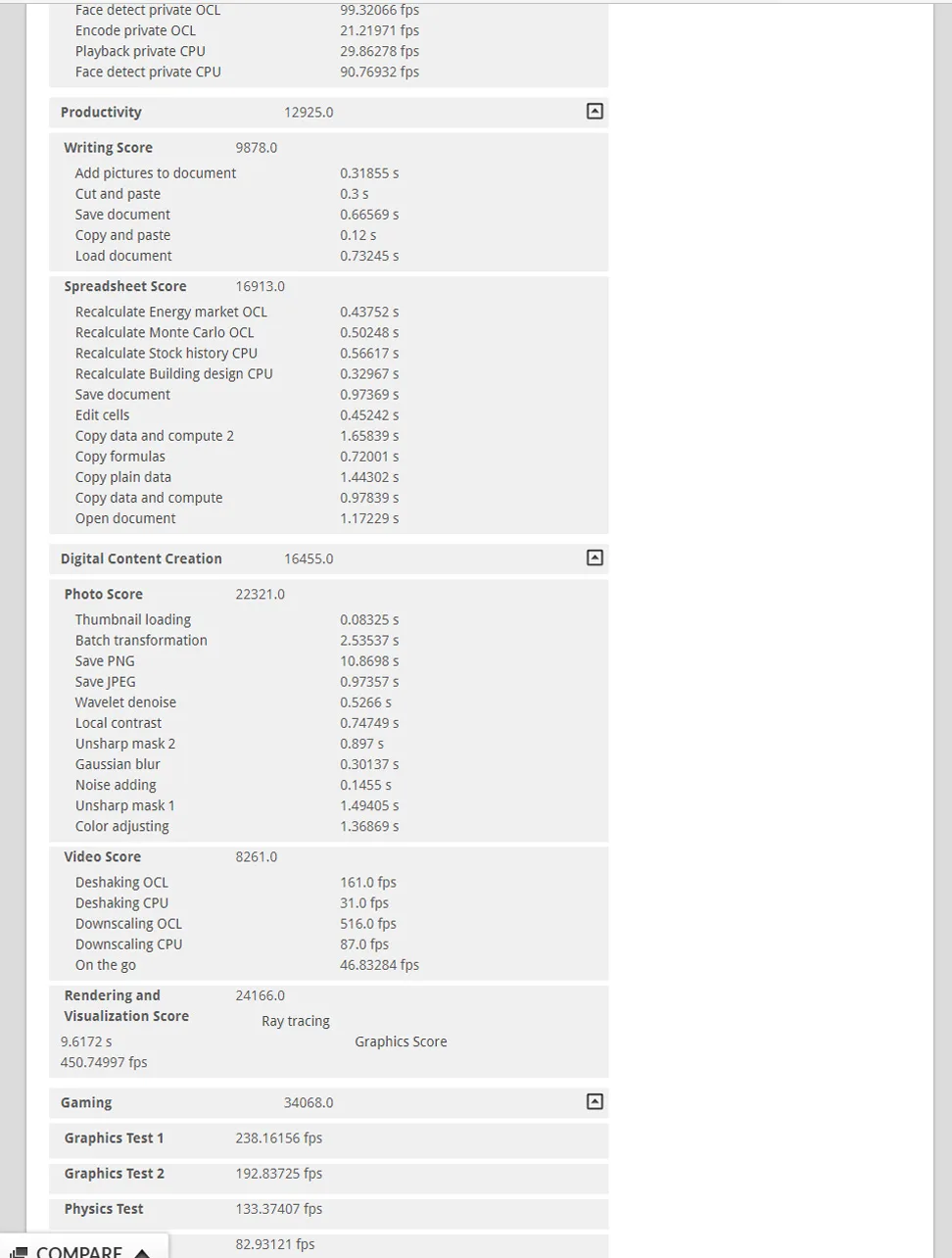 Here is the summary.

In both cases, using PCMark 10, the DDR4 equipped PC scores higher.
SPECworkstation3 Benchmarks
All of the SPECworkstation3 benchmarks are based on professional applications, most of which are in the CAD/CAM or media and entertainment fields. All of these benchmarks are free except for vendors of computer-related products and/or services.
The most comprehensive workstation benchmark is SPECworkstation3. It's a free-standing benchmark which does not require ancillary software. It measures GPU, CPU, storage and all other major aspects of workstation performance based on actual applications and representative workloads. We only tested the CPU-related workstation performance.
Here are our SPECworkstation 3.1.0 summary and raw scores for Vulcan DDR5 5200.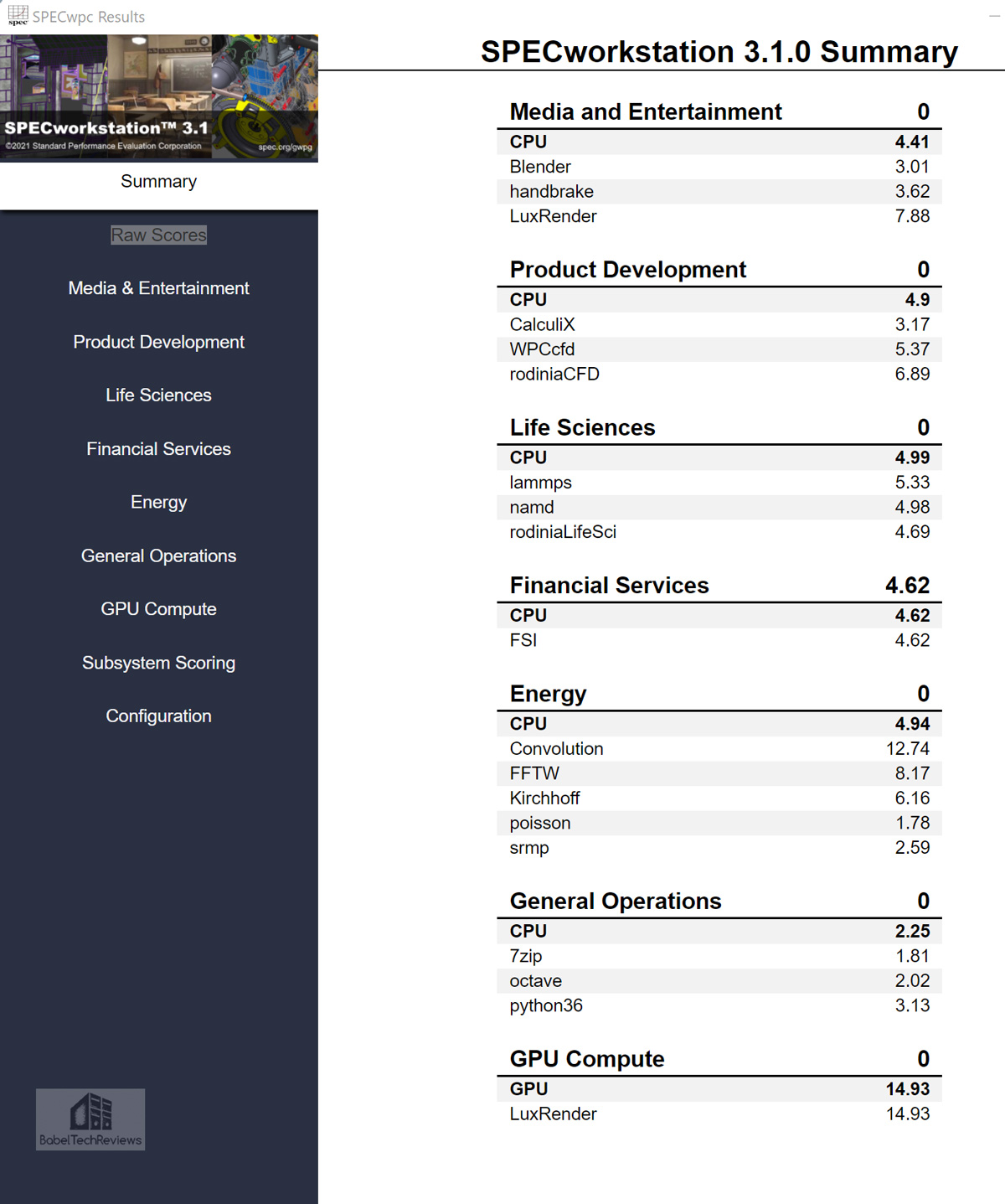 Here are the raw scores and individual tests.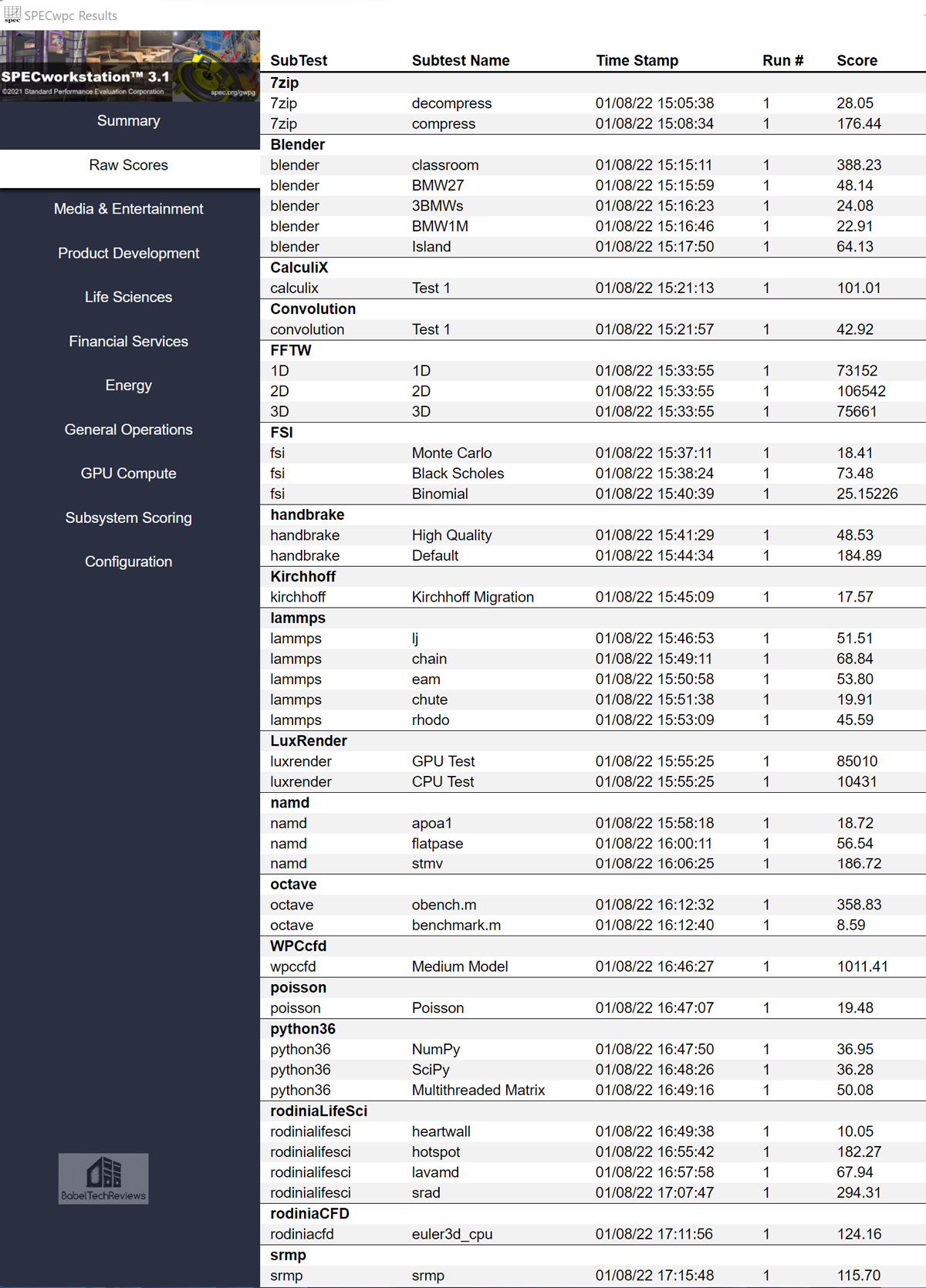 Next, the DDR4-equipped PC.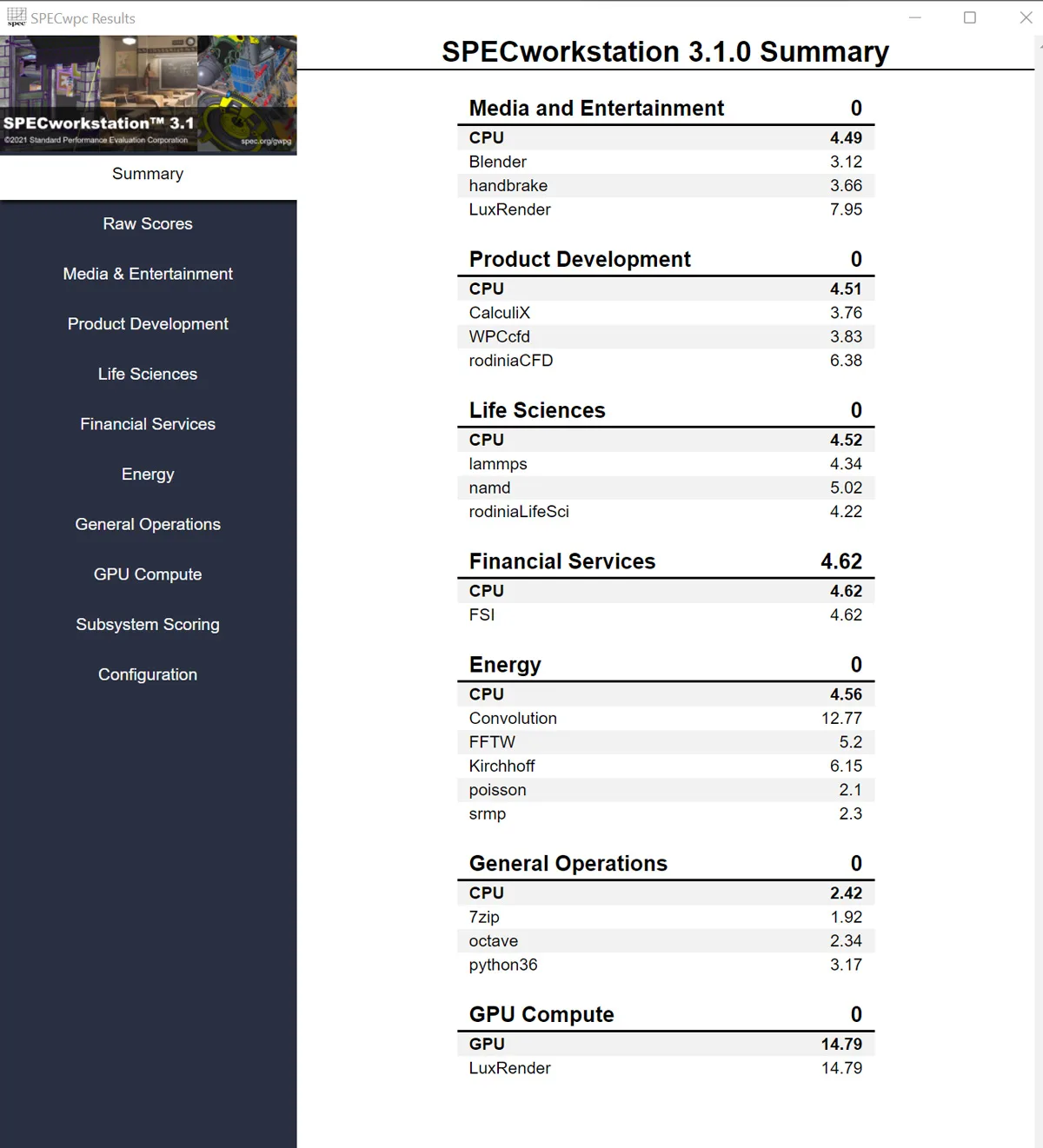 The raw scores and individual results are below.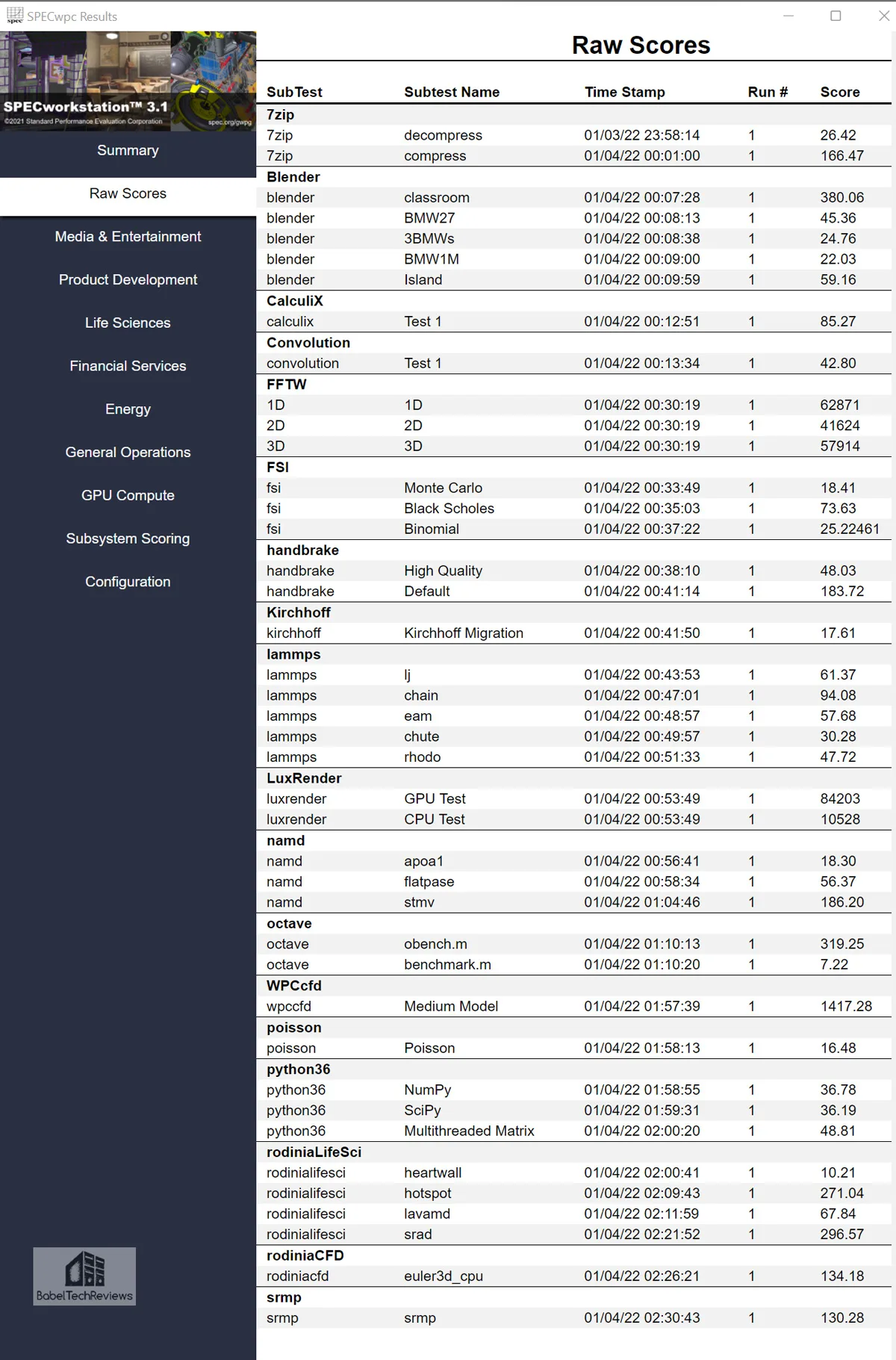 Here is the summary of the DDR5-equipped PC compared side-by-side with DDR4.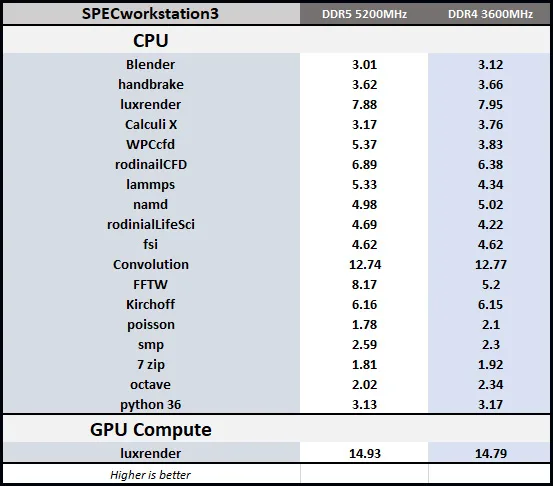 In a few benchmarks, the DDR5 PC is faster and sometimes by a significant margin, but in many others DDR4 is better.
Let's take a look at Blender.
Blender 2.93 Benchmark
We generally see the performance increasing with faster CPU and memory speeds, so we used Blender 2.93 benchmark which primarily measure CPU performance for rendering production files. Lower is better as the benchmark automatically renders a scene multiple times and gives the results in minutes and seconds. It may be downloaded from here.
The T-FORCE VULCAN 5200MHz DDR5 is first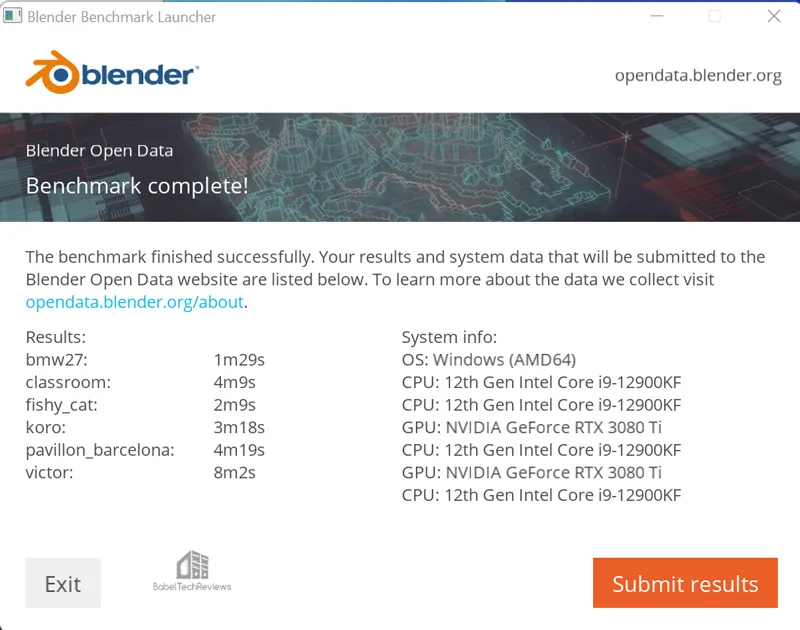 The T-FORCE DARK Z 3600MHz DDR4 is next.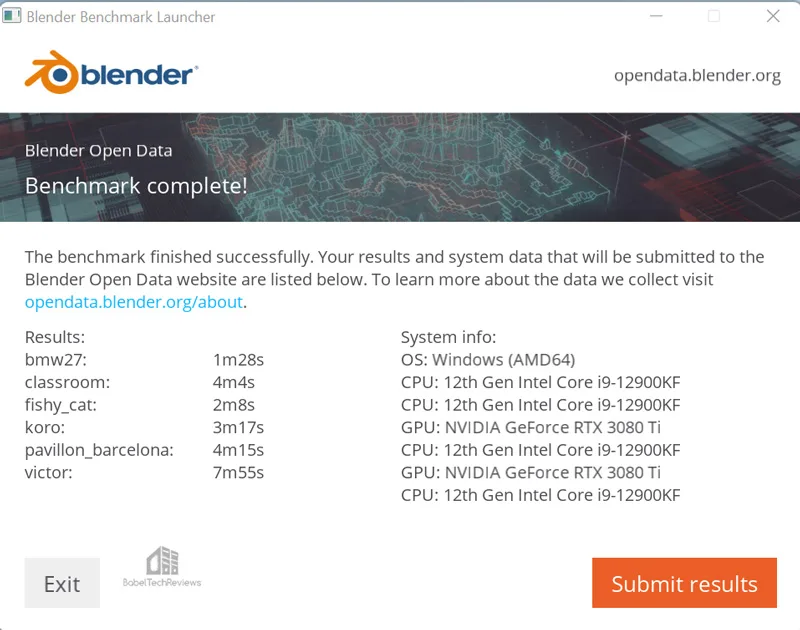 Here is the Summary.

Our conclusion from Blender benchmarking is that there is little performance difference, but the DDR4 equipped PC has a slight advantage.
Next we benchmark using Cinebench.
Cinebench
CINEBENCH is based on MAXON's professional 3D content creation suite, CINEMA 4D. This latest R20.0 version of CINEBENCH can test up to 64 processor threads accurately and automatically. It is an excellent tool to compare CPU/memory performance and higher is always better.
The T-FORCE VULCAN 5200MHz DDR5 is first and scores 27312 Multi Core and 2008 Single Core.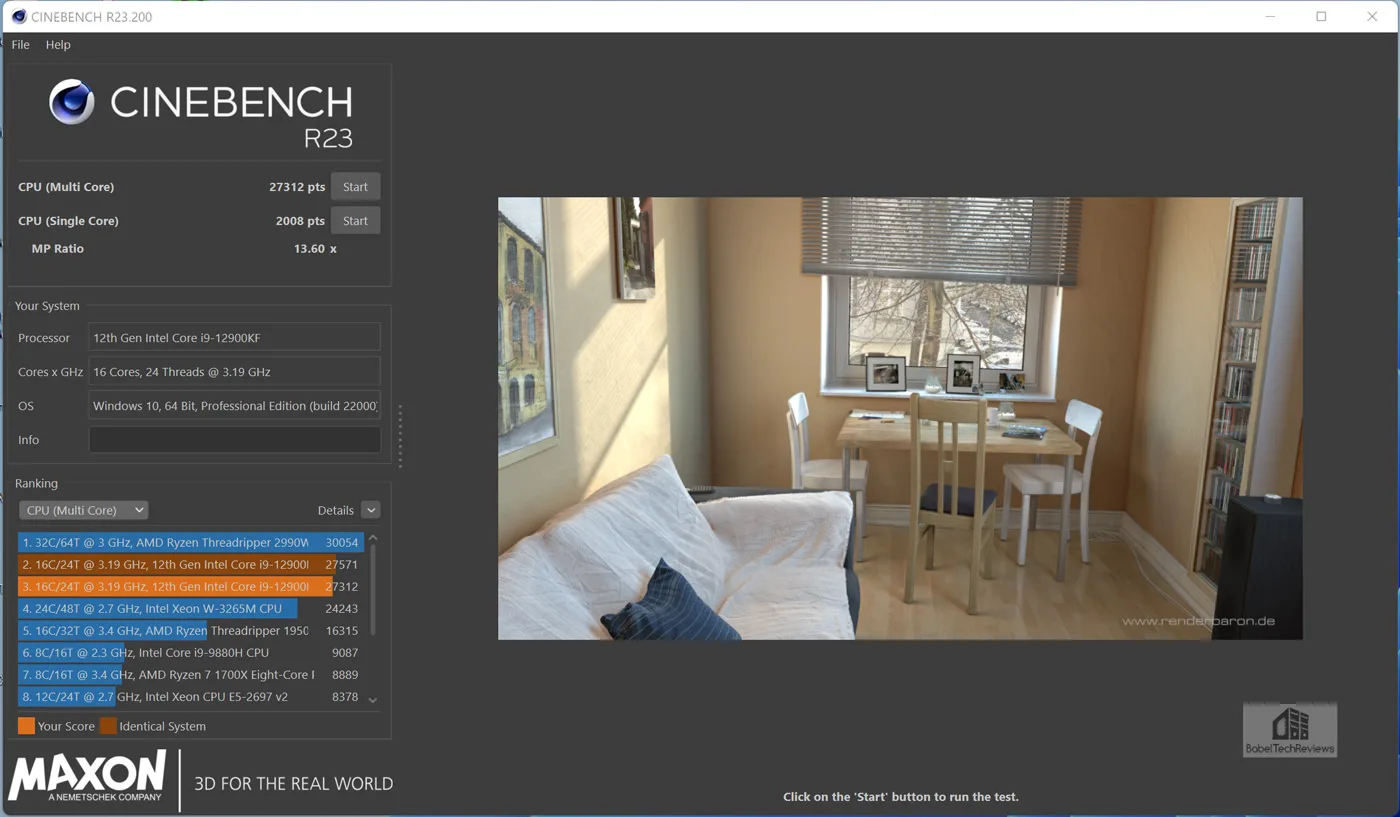 The T-FORCE DARK Z 3600MHz DDR4 scores a bit higher with 27585 Multi Core and 2012 Single Core.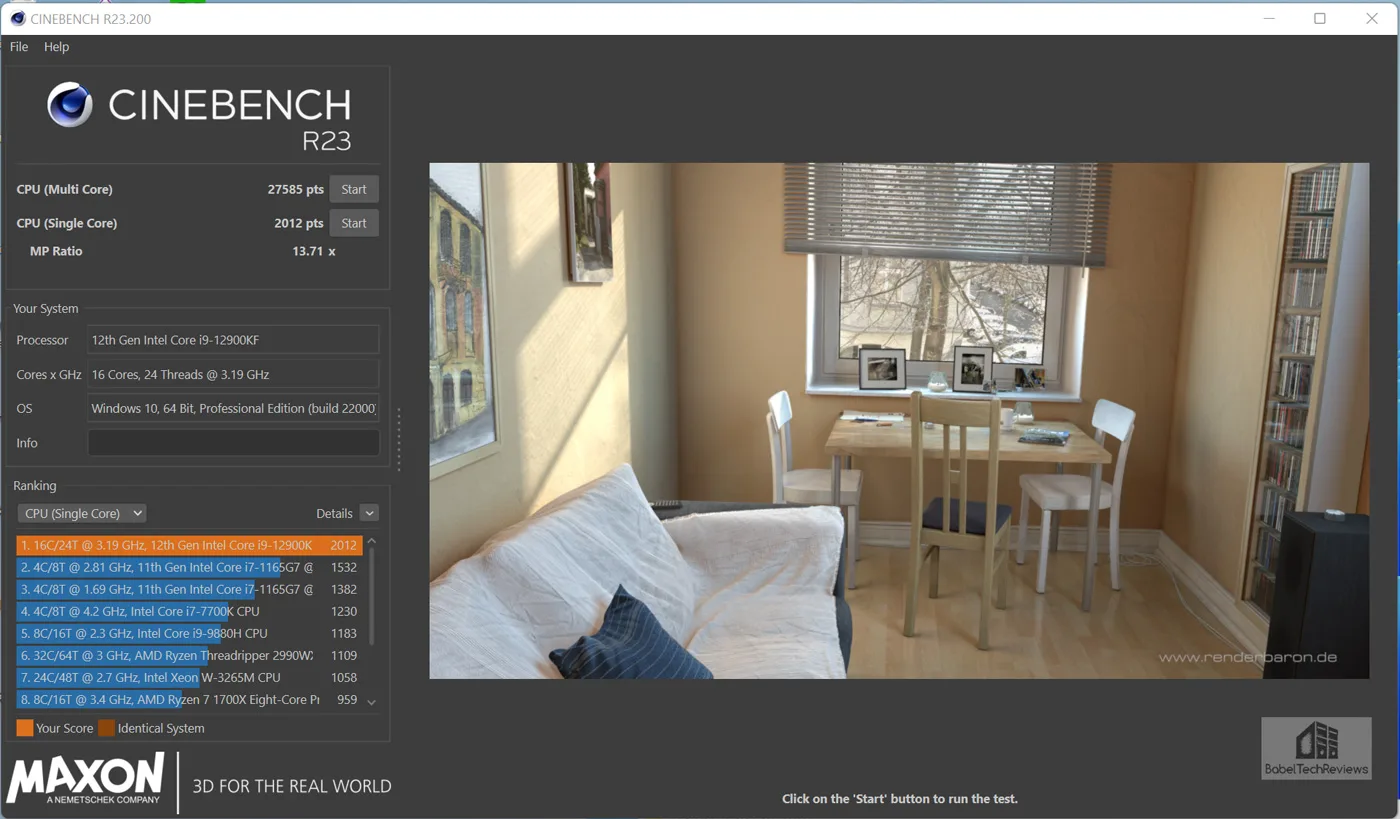 There is very little difference between the scores as shown by the chart summarizing the Cinebench runs.

Let's look at Frybench next.
Frybench
Frybench uses Fryrender in a similar manner as Cinebench uses the Cinema Rendering engine. The objective is to render as quickly as possible.
The T-FORCE VULCAN 5200MHz DDR5 is first and it completes the render in 58 seconds.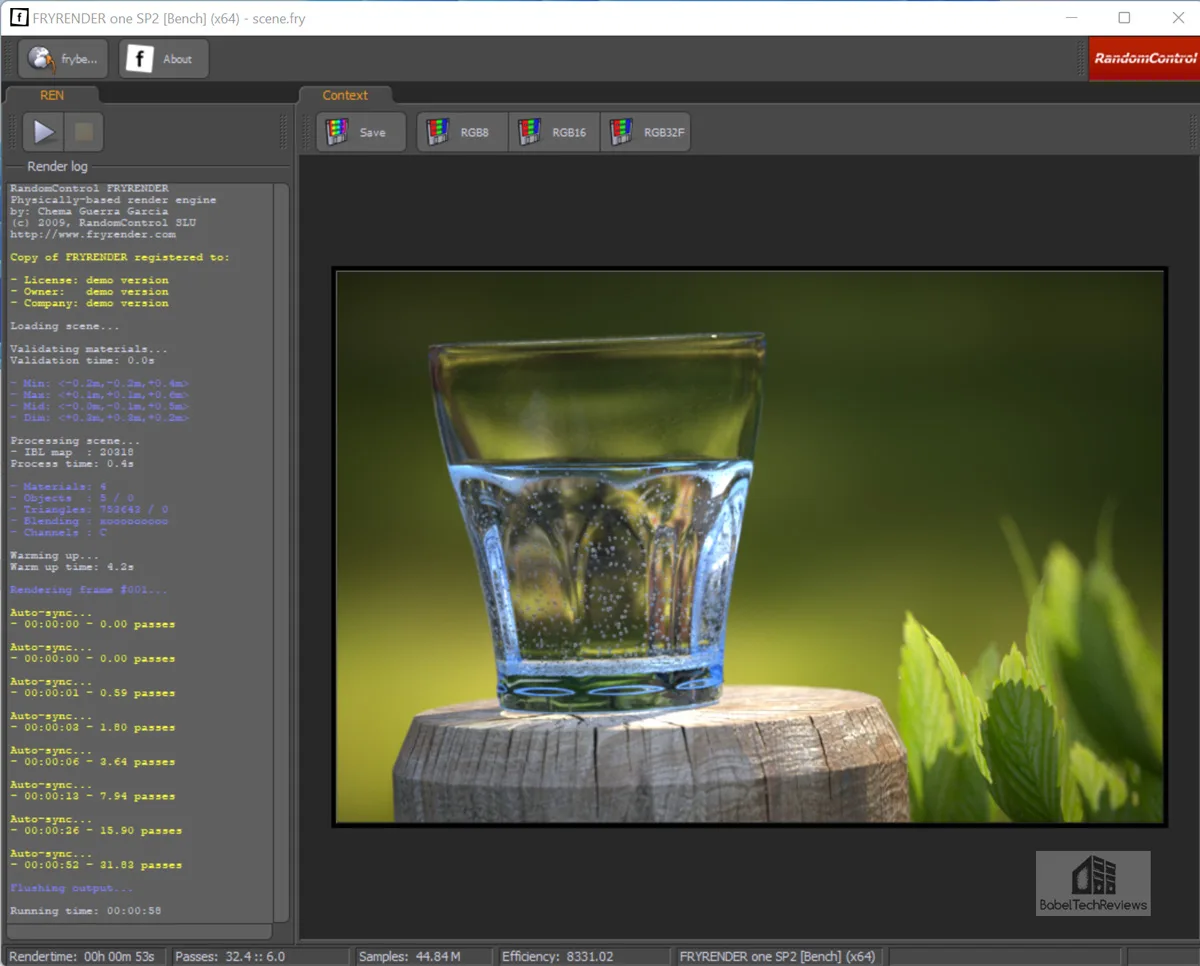 The T-FORCE DARK Z 3600MHz DDR4 is next and completes the render in 57 seconds..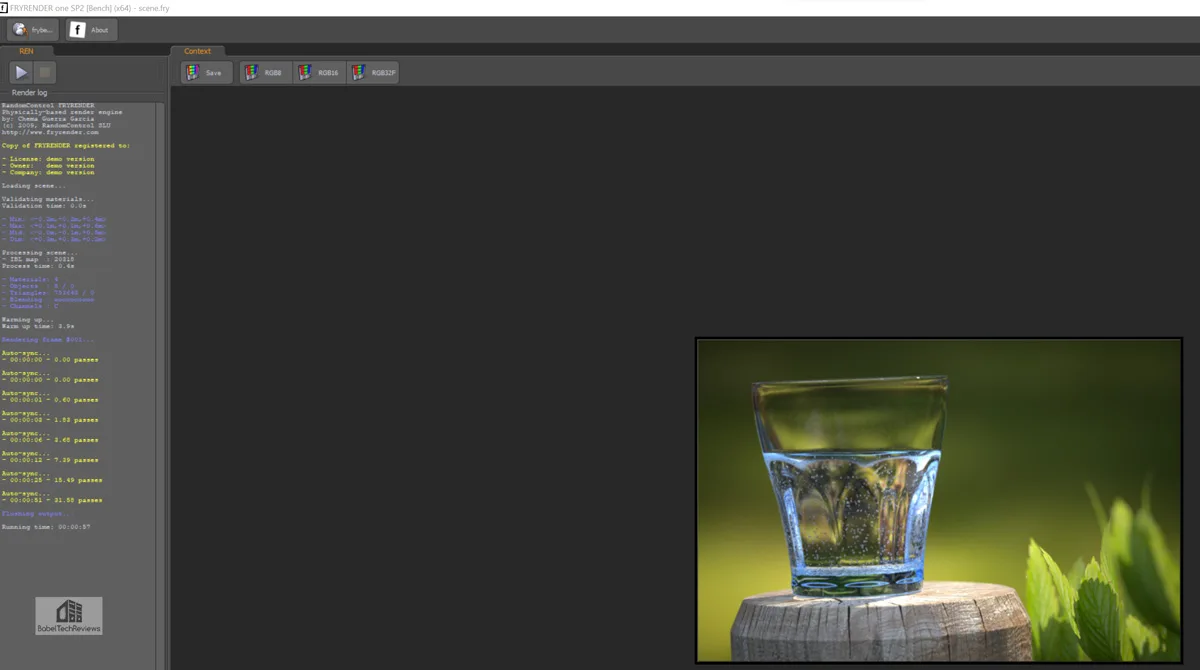 Here is the summary chart.

Next up, GeekBench.
GeekBench
GeekBench is an excellent CPU benchmarking program which runs a series of tests and times how long the processor takes to complete the tasks. Faster memory means the CPU may be able to complete tasks faster than with slower memory.
The T-FORCE Vulcan 5200MHz DDR5 is up first and here are the overall results.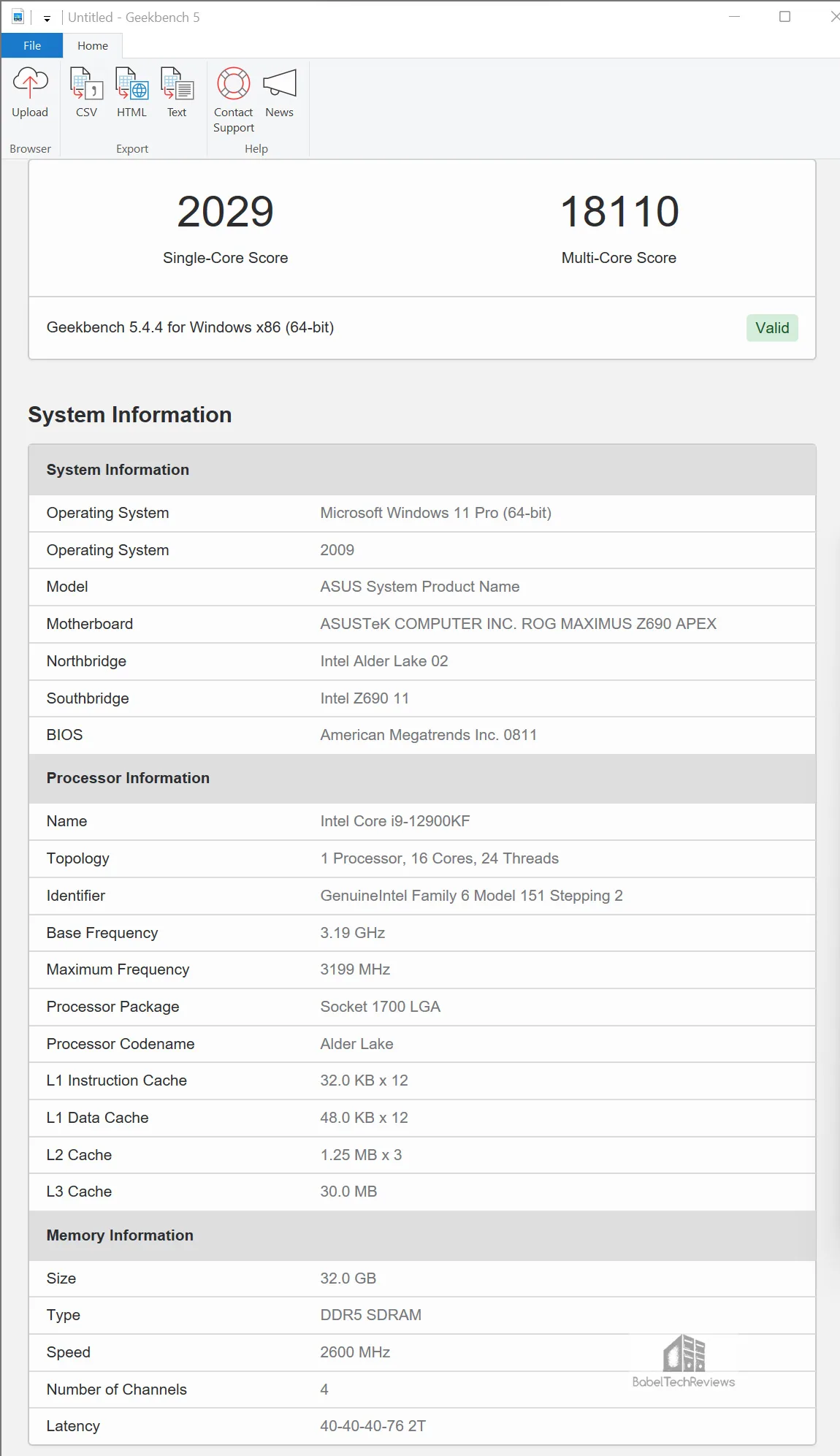 Here are the detailed single-core test results.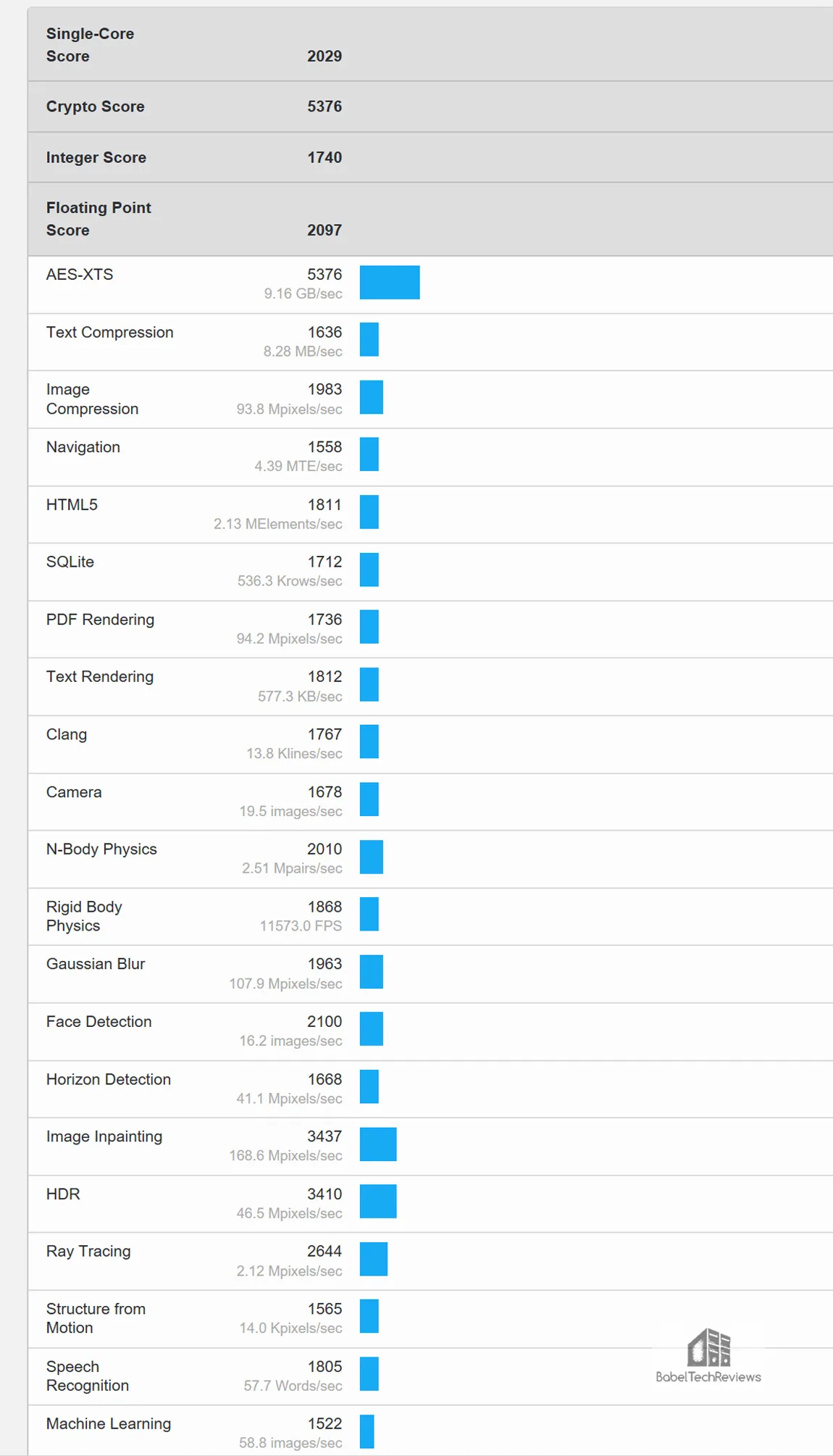 Multi-core results are presented below.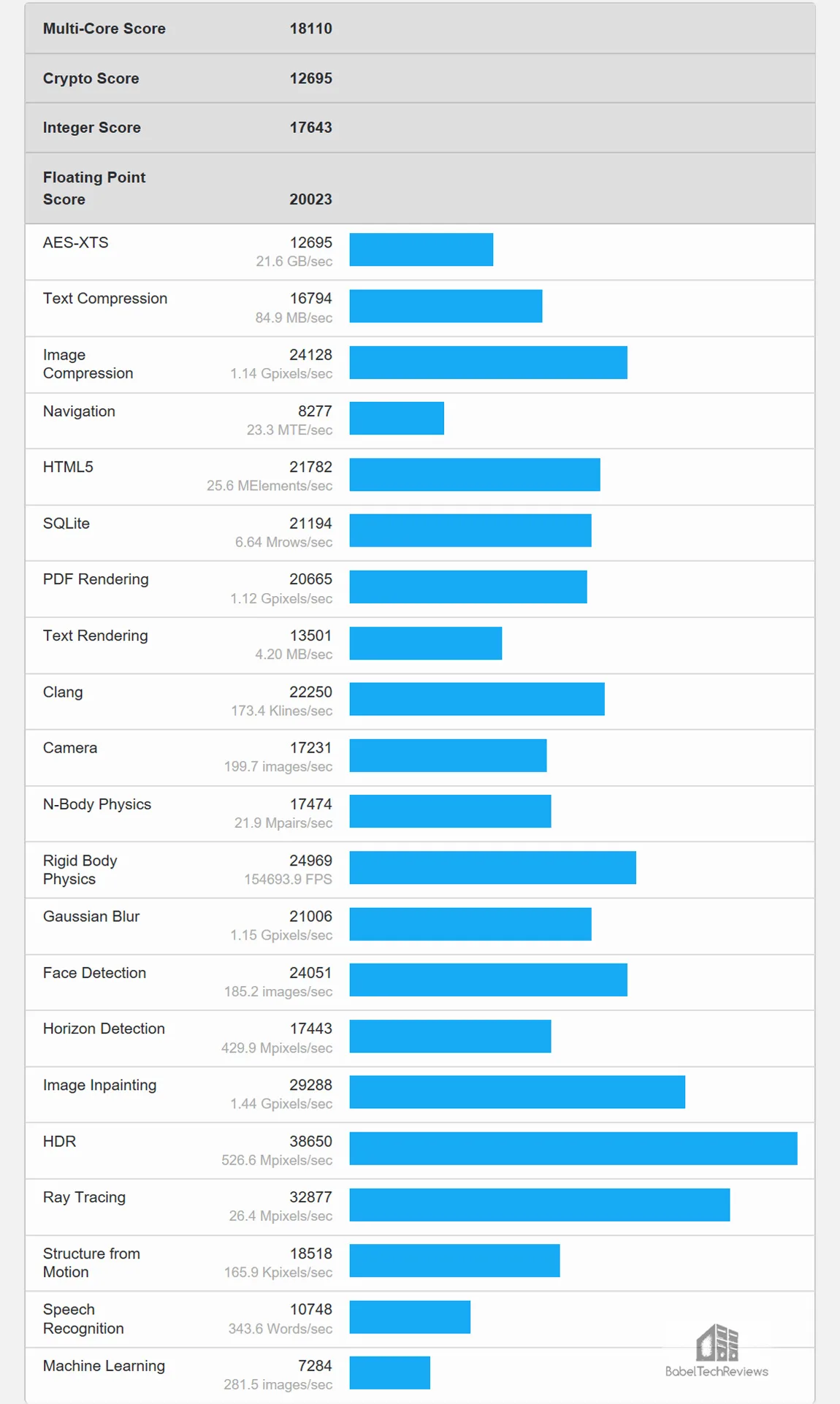 The T-FORCE DARK Z 3600MHz DDR4 is tested next and the overall results are below.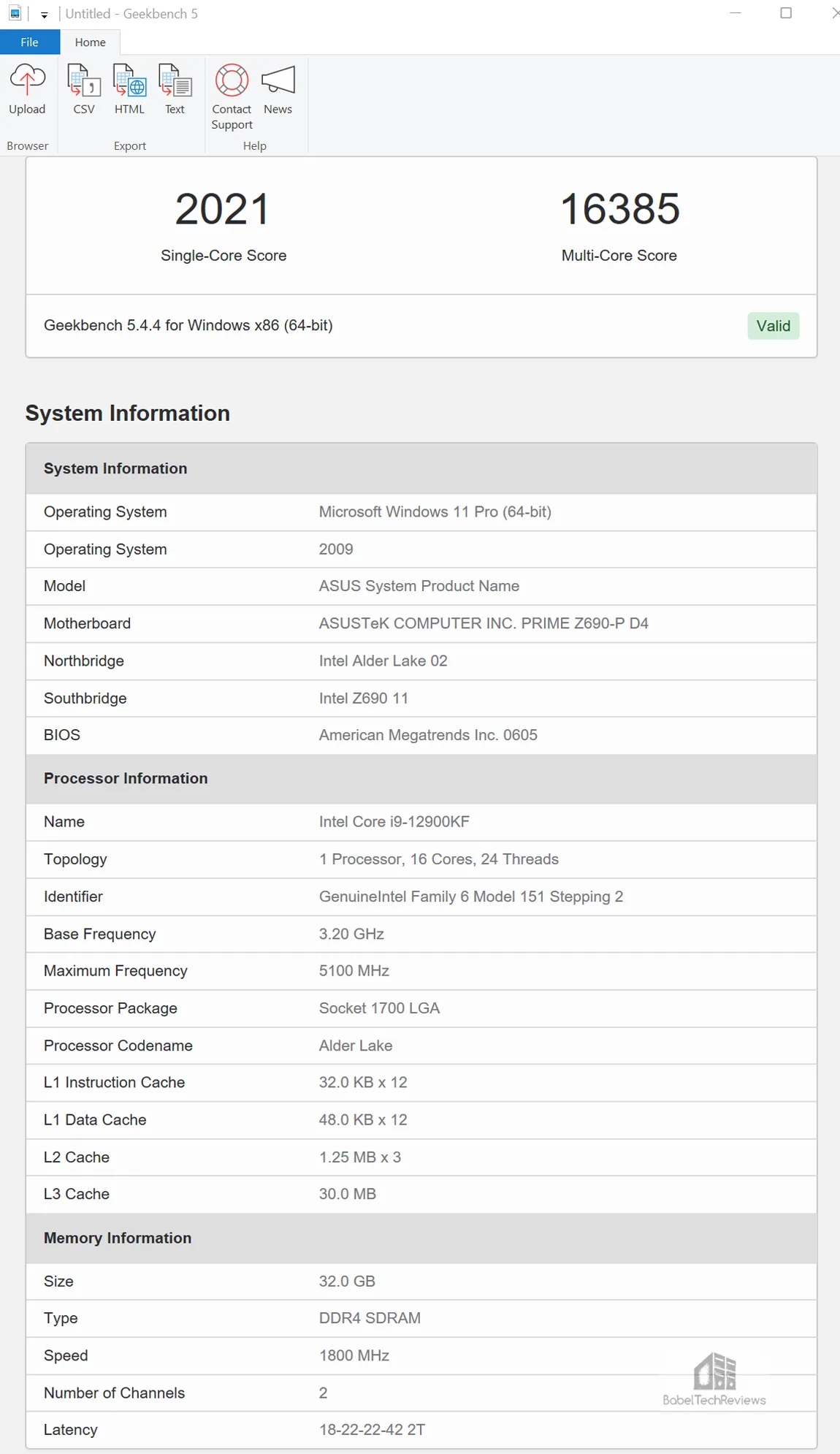 Here are the single-core test results.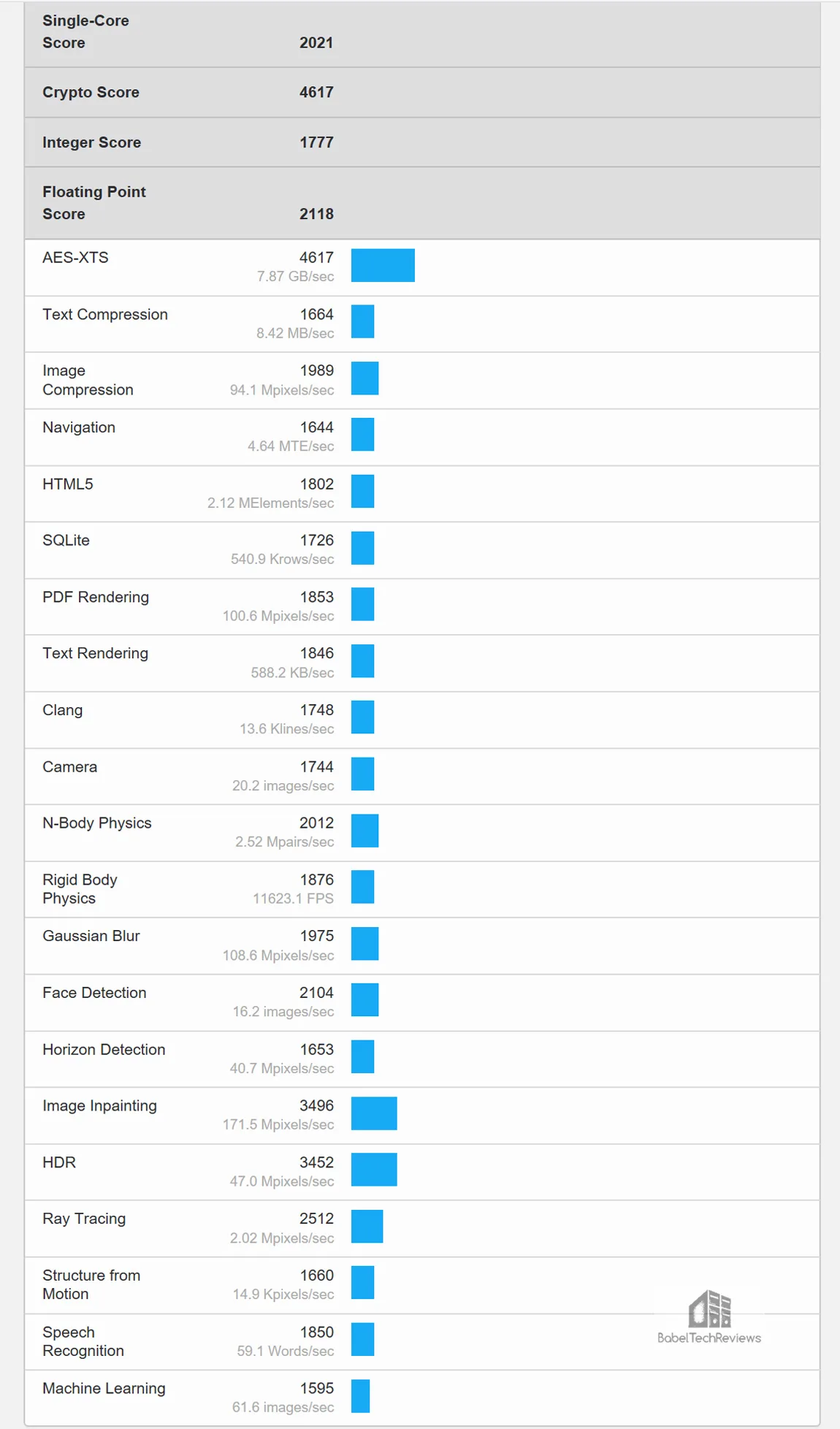 Multi-core DDR4 results follow.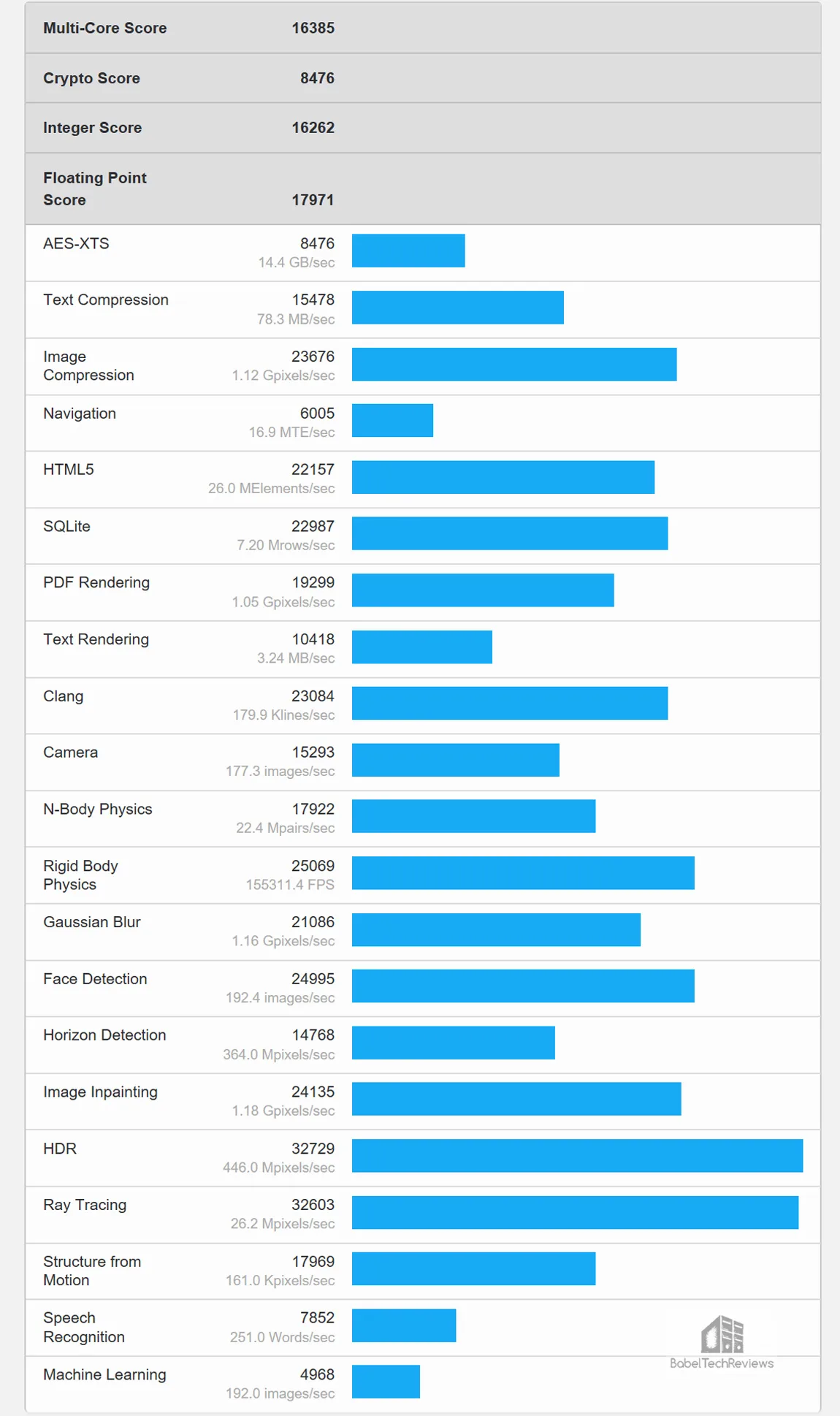 Here is the Geekbench summary chart.

This time, the DDR4 5200 PC scores higher overall.
Next we check out Real Bench.
RealBench v2.56
RealBench is a benchmarking utility by ASUS Republic of Gamers which benchmarks image editing, encoding, OpenCL, Heavy Multitasking, and gives an overall score. Some of these tests are affected by CPU and memory speeds.
The T-FORCE VULCAN 5200MHz DDR5 is first and scores 343,096.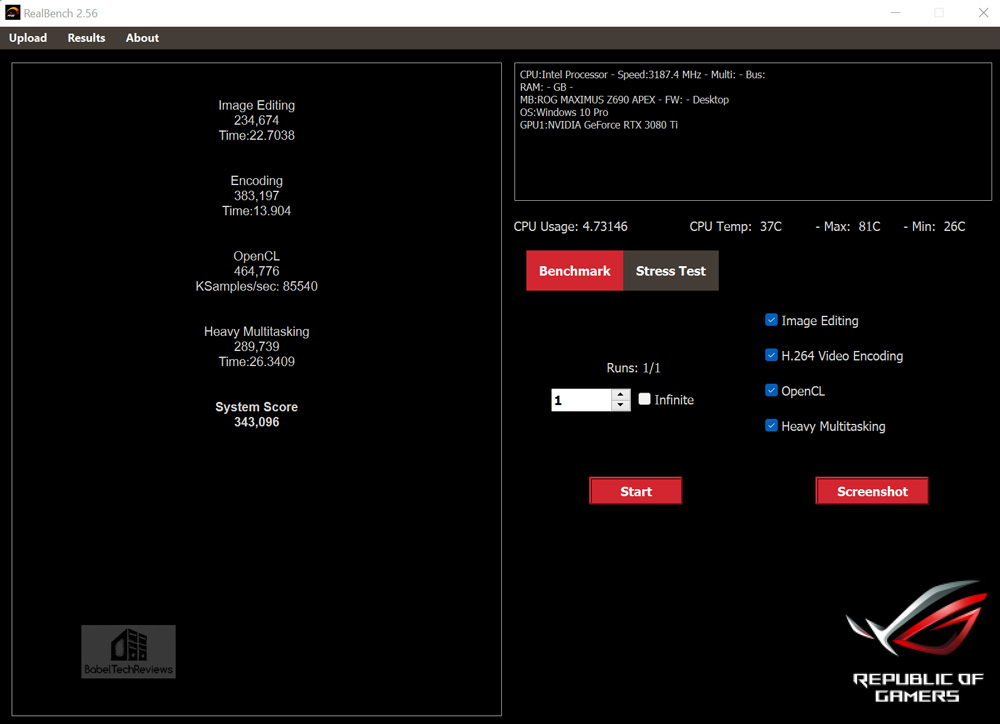 The T-FORCE DARK Z 3600MHz DDR4 scores higher with 365,051.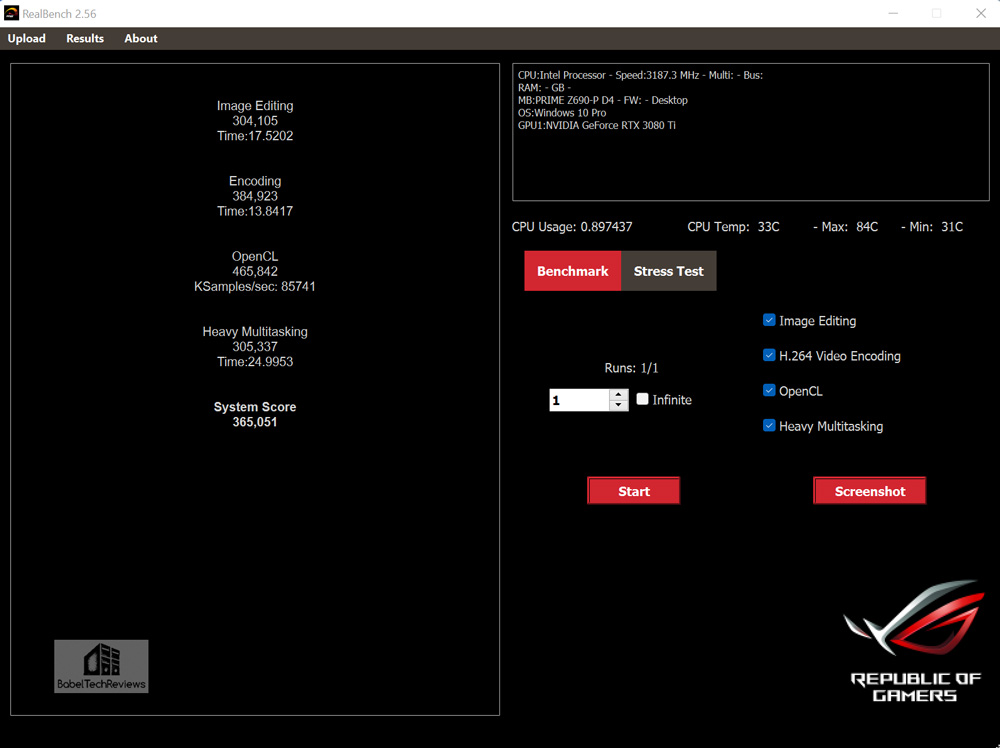 Here are the individual tests summarized.

Just like with PCMark 10, the results favor DDR4.
Next up, Novabench.
Novabench
Novabench is a very fast benching utility that spits out a memory score showing the overall bandwidth speeds.
The T-FORCE VULCAN 5200MHz DDR5 is first and the RAM scores 353.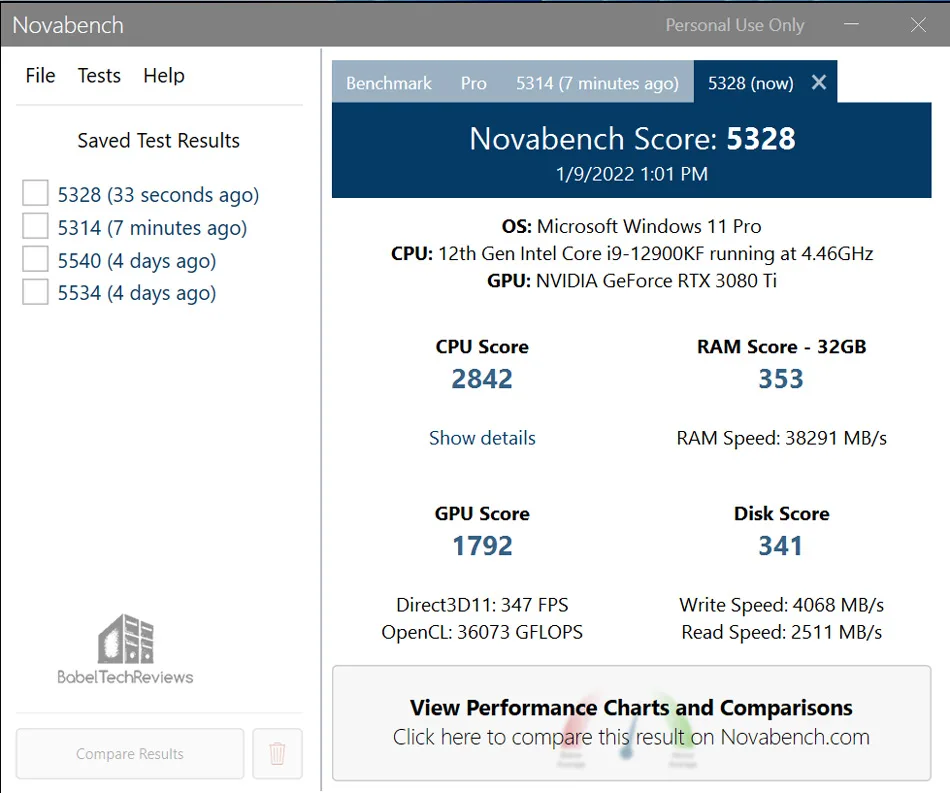 The T-FORCE DARK Z 3600MHz DDR4 RAM scores 365.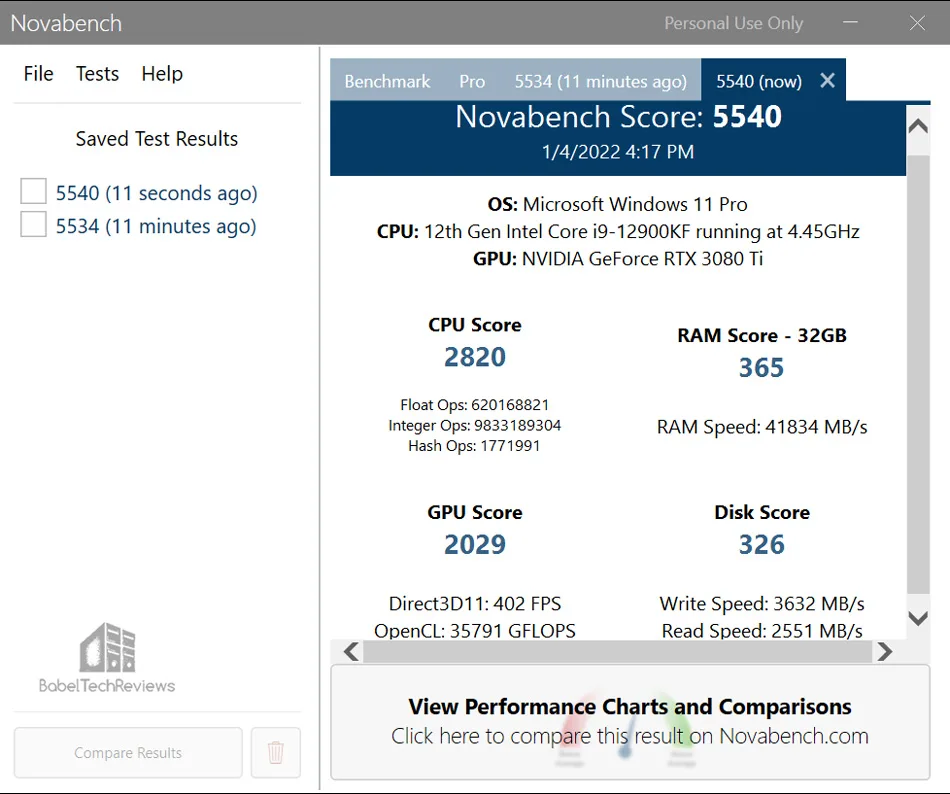 Here are the Novabench memory scores summarized in a chart.

The Novabench results show the DDR4-equipped PC is faster.
Next is the CPU-Z benchmark
CPU-Z bench
The CPU-Z benchmark can show differences in IPC between CPUs to generate a score to compare both CPU single-core and multi-core performance.
The Vulcan 5200MHz DDR5-equipped PC is first and it scores 818.9 single-core and 11386 multi-core.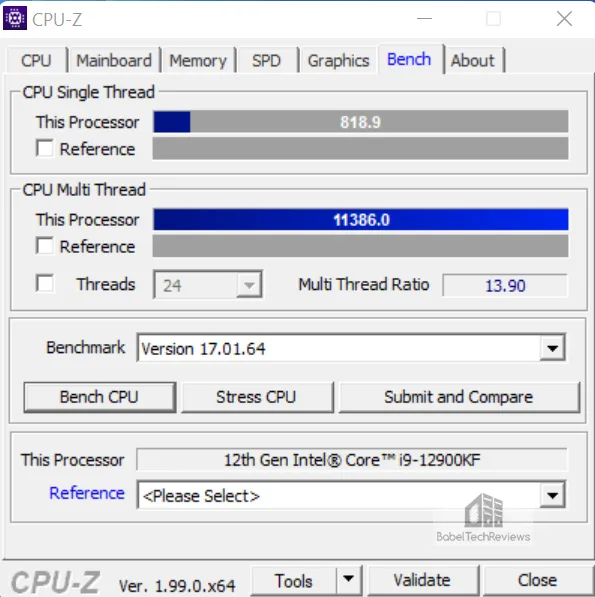 The T-FORCE DARK Z 3600MHz DDR4-equipped PC scores 822.0 single-core and 11463 multi-core. .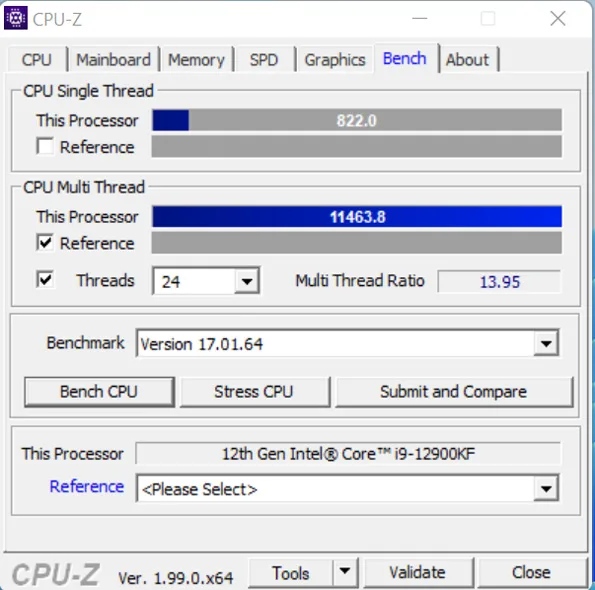 Here is the summary

Again, the DDR4-equipped PC scores higher.
The Z-Zip benchmark is next.
7-Zip benchmark
The 7-Zip benchmark tests LZMA compression/decompression and gives a rating in MIPS (million instructions per second) which is calculated from the measured speed. It is highly dependent on RAM latency and a good test to compare DDR4 against DDR5.
The T-FORCE VULCAN 5200MHz DDR5 is first.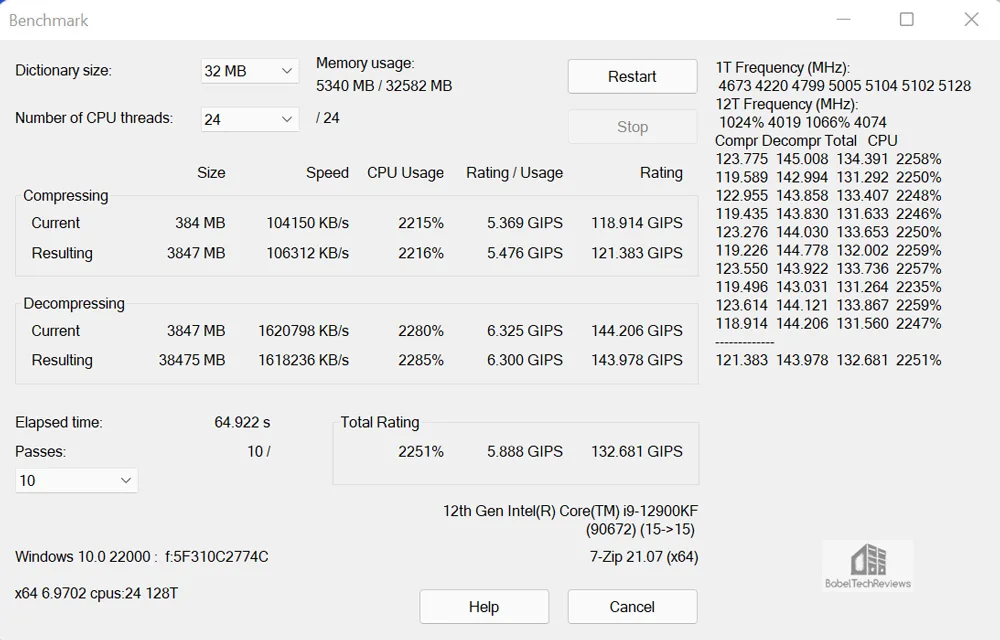 The T-FORCE DARK Z 3600MHz DDR4 is next.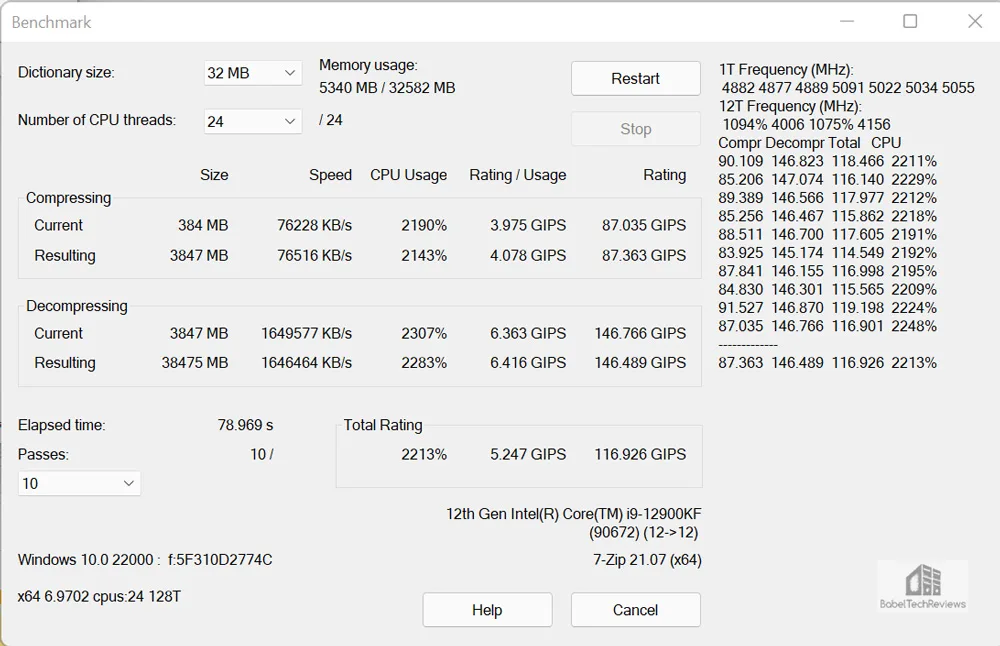 Here is the summary showing an advantage of lower-latency DDR4 over faster/higher bandwidth high latency DDR5.

On to Wprime and number crunching.
WPrime v2.10
WPrime is a multi-threaded benchmark which can show the differences in IPC between CPUs, and faster memory may also make a difference. Here are the tests using 24 threads, and we choose to calculate 1024 million digits and 32 million digits using multiple runs.
The Vulcan 5200MHz DDR5 is presented first.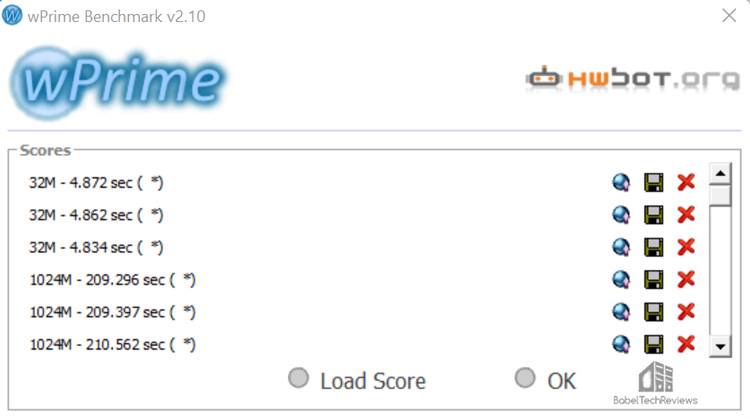 The DARK Z 3600MHz DDR4 is next.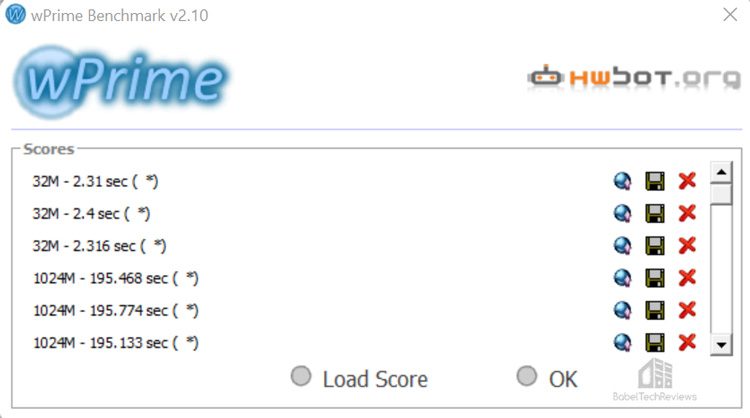 Here is the Wprime comparison chart with the fastest numbers from each set of runs compared.

If you increase the memory speed, the CPU may crunch numbers a little faster and DDR4 is significantly faster in the 32M tests,
Kraken JavaScript Benchmark
The Kraken JavaScript benchmark was created by Mozilla to measures the speed of several different tests based on the SunSpider benchmark. The results are reported in milliseconds and lower (quicker) is better.
The T-FORCE VULCAN 5200MHz DDR5 is first.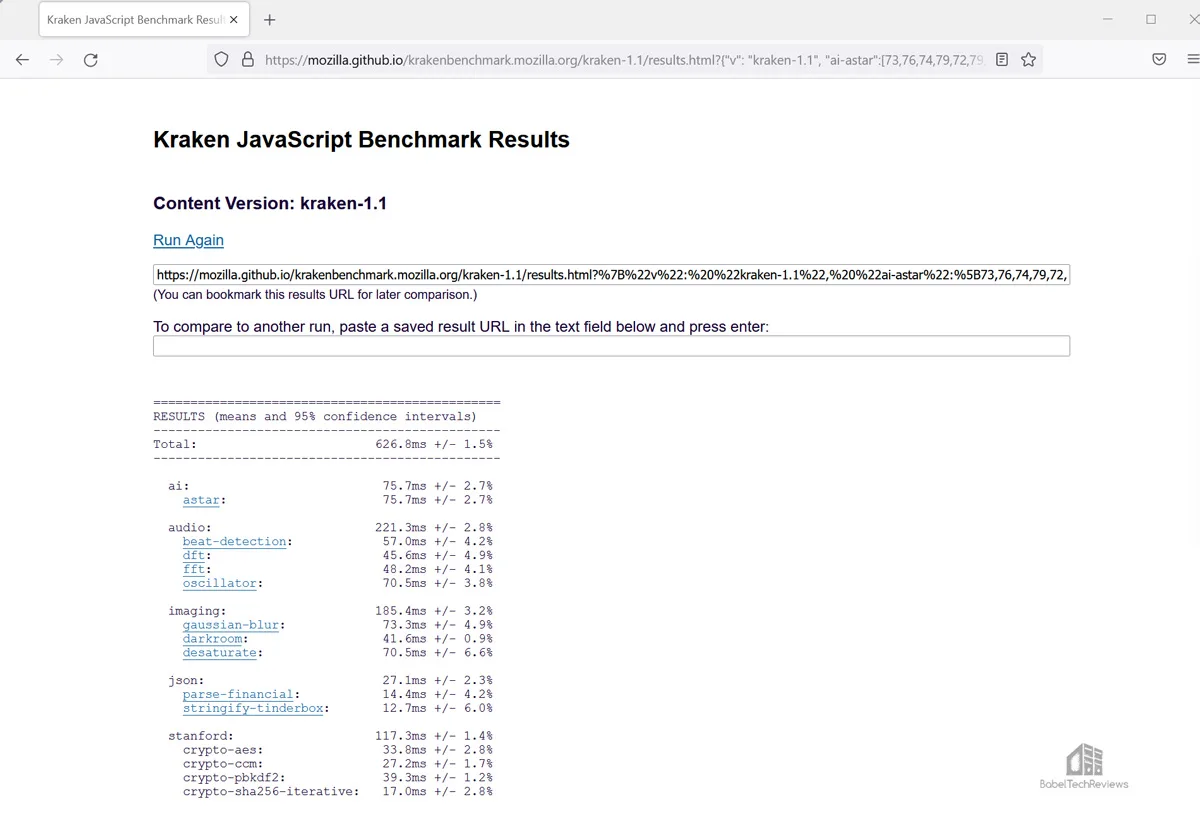 The T-FORCE DARK Z 3600MHz DDR4 is next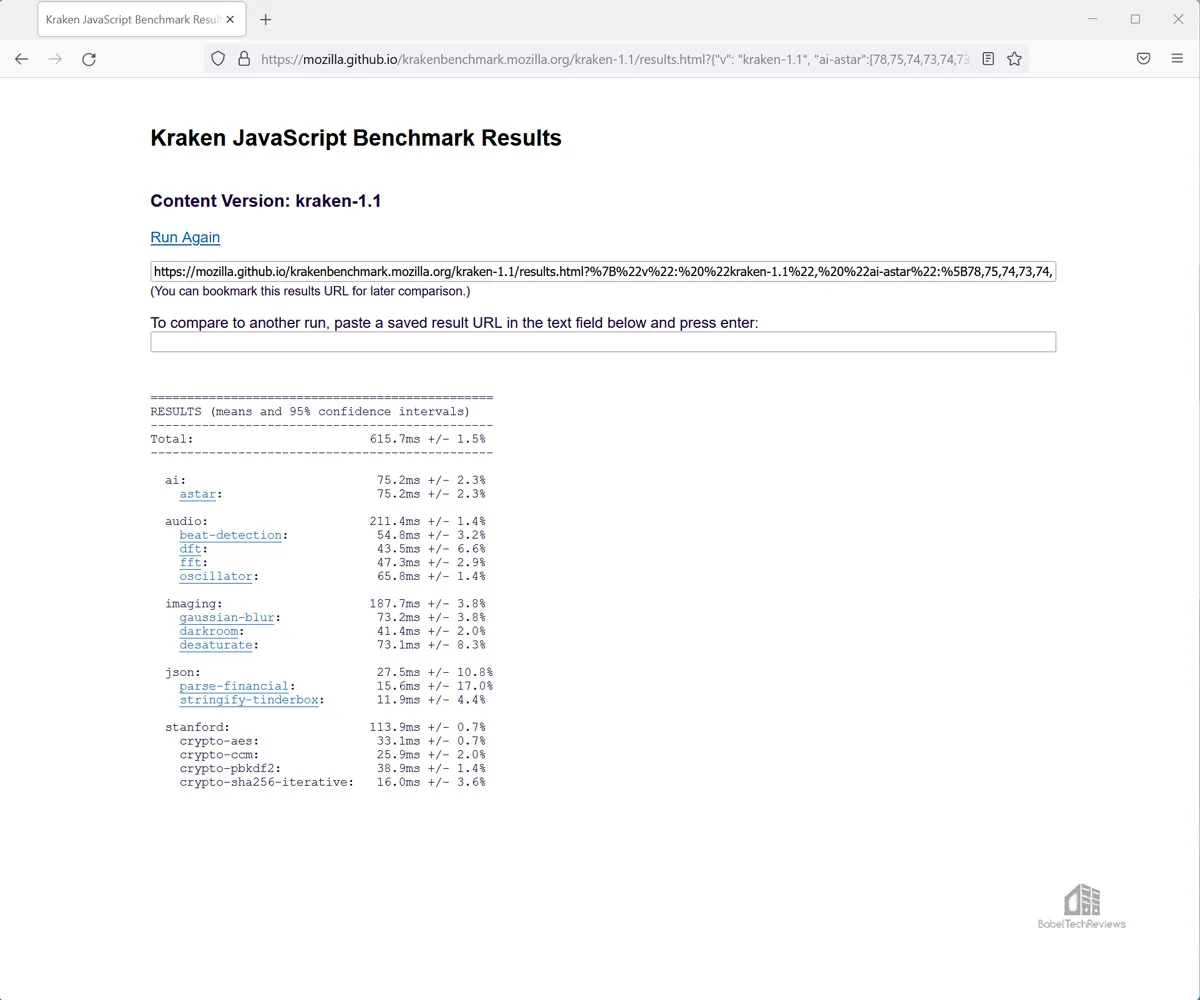 Here is the summary:

Again, the DDR4-equipped PC is faster.
Next, the gaming benchmarks, the summary charts, and then followed by the conclusion.
Game Performance Results, Summary Charts, & Conclusion
Gaming Performance Summary Charts
Here are the summary charts of 31 games and 6 synthetic tests. The highest settings were always chosen and the settings are listed on the chart. The benches were run at 1920×1080, 2560×1440 and at 3840×2160 to compare DDR5 vs DDR4 platforms.
Most results, except for synthetic scores, show average framerates, and higher is better. Minimum framerates are next to the averages in italics and in a slightly smaller font. Games benched with OCAT show average framerates, but the minimums are expressed by frametimes (99th-percentile) in ms where lower are better.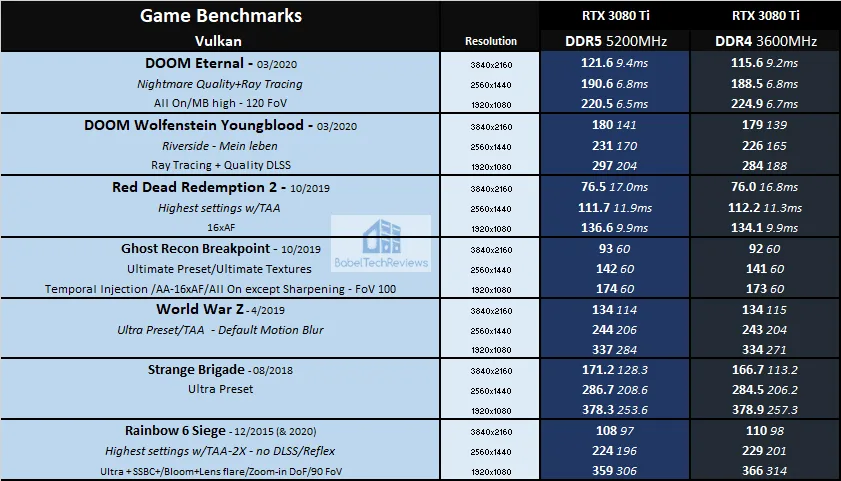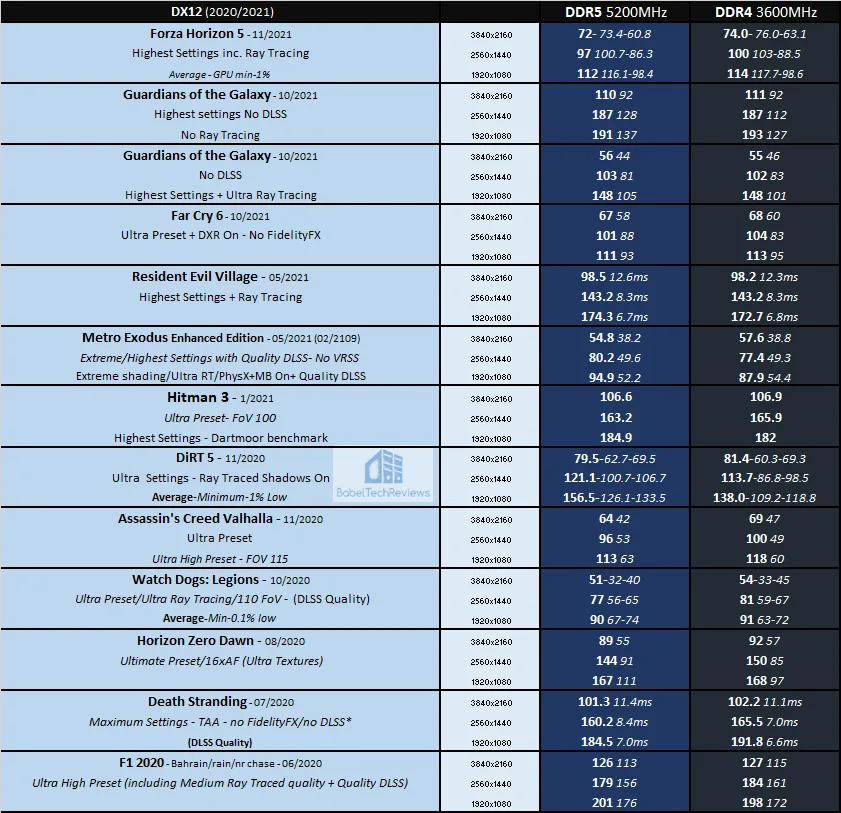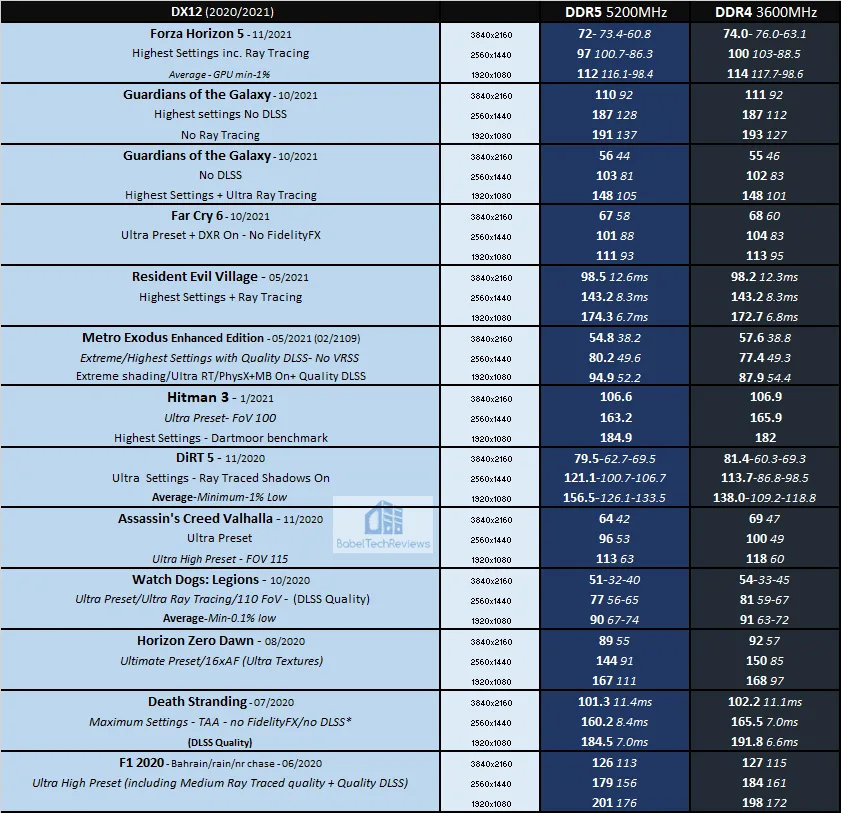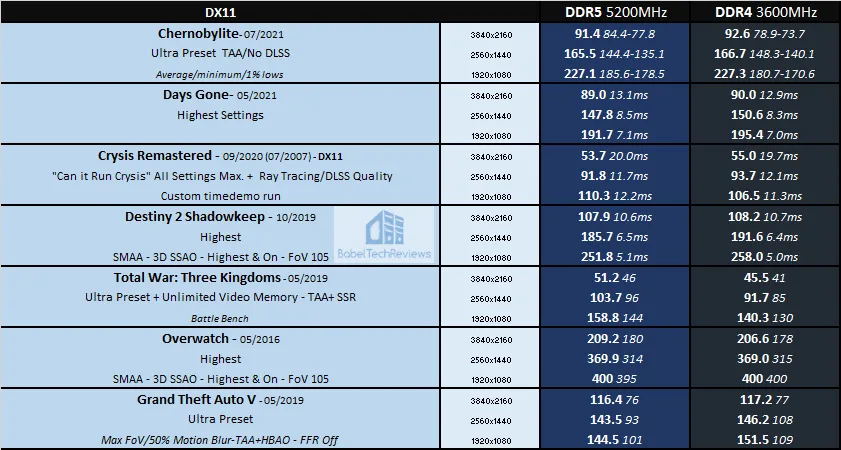 Although the benchmarking margin of error may cloud the results, there is a trend showing that although the DDR5-equipped PC is faster in some games, others show higher framerates for the DDR4 equipped PC.
Synthetic Summary Chart
Here are all of the Summary charts in one location.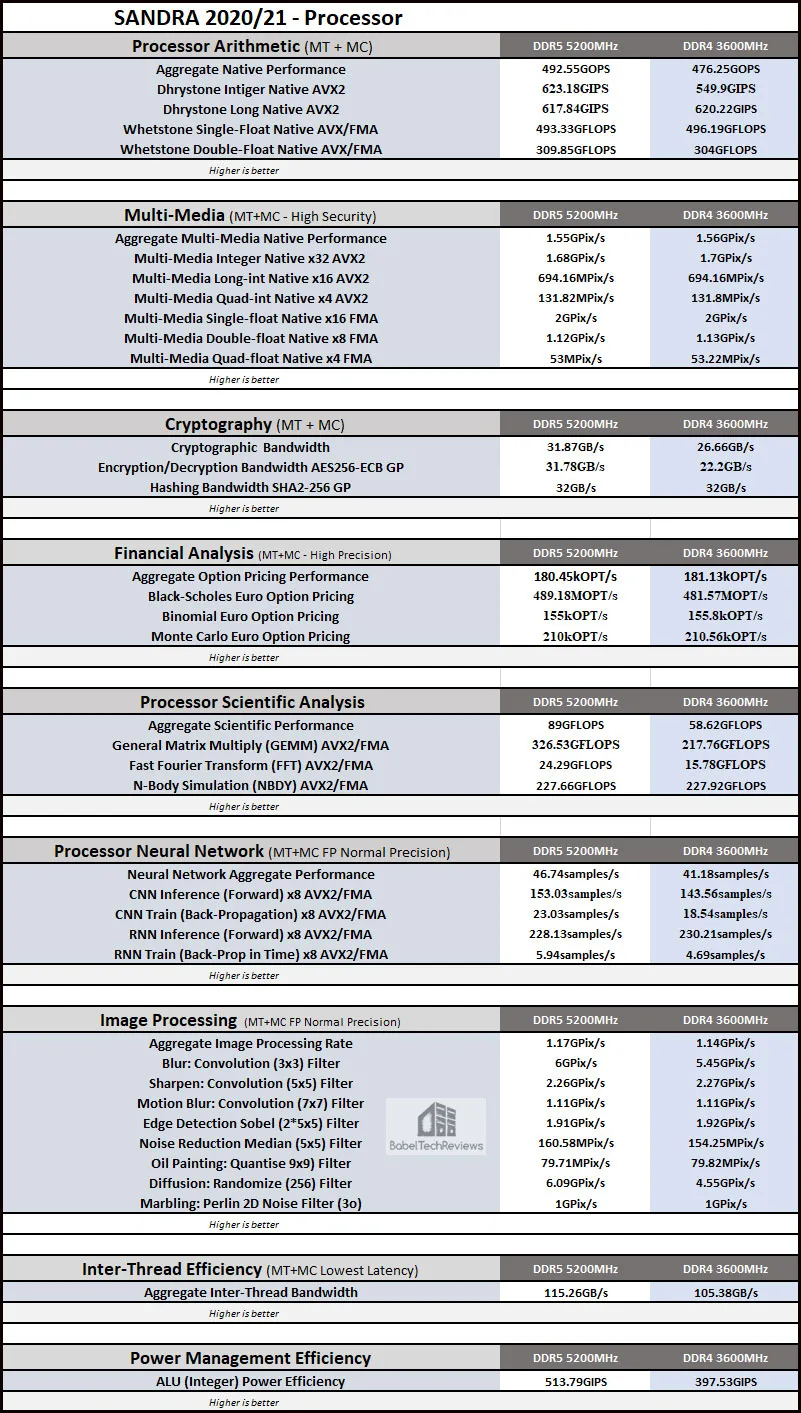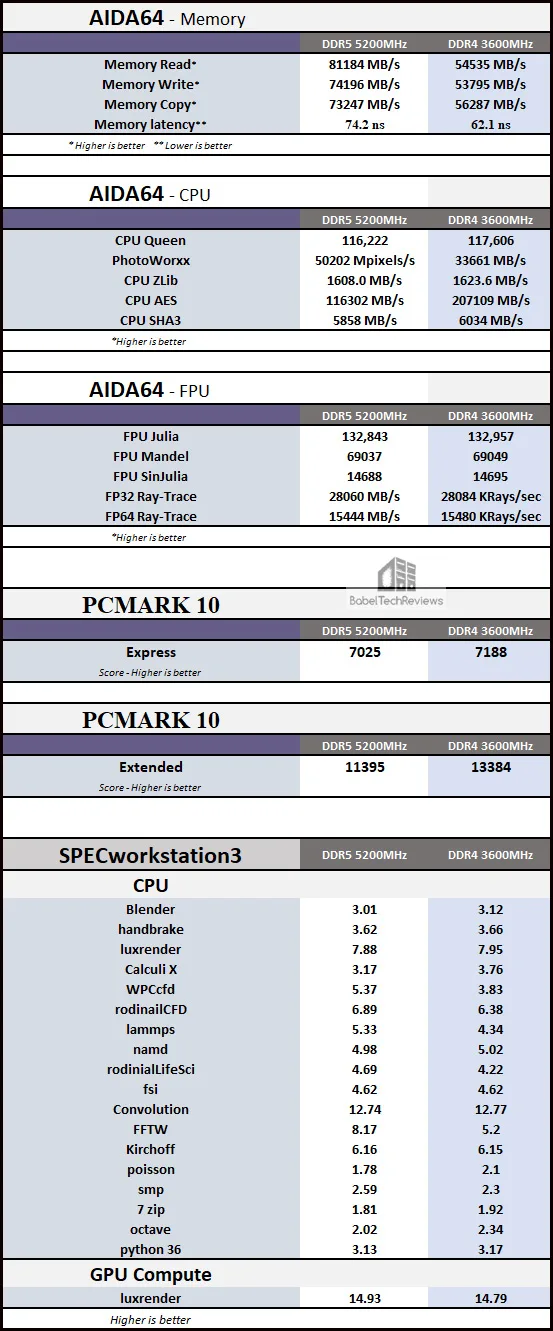 Let's head for the conclusion.
Conclusion and Verdict
We have previously seen that that running DDR memory at a faster clock speed produces performance gains and saves time with some tasks. In addition, some CPU-dependent games may benefit from faster system memory and the higher bandwidth of DDR5. However, the higher latency of Vulcan DDR5 5200MHz CL40 platform appears to put it at a disadvantage overall versus the DDR4 3600MHz CL18 platform.
There is no way that we can recommend the Vulcan DDR5 5200MHz CL40 memory to a gamer especially at today's pricing. Even at the MSRP of $349.99, the Vulcan 2×16 GB DDR5 kit is triple the price, and the overall performance favors the DDR4 equipped PC. Besides, it is almost impossible to find DDR5 for MSRP. Perhaps there are some applications where the DDR5 PC may really benefit from the higher bandwidth, but gamers need not bother. Stick with DDR4 3600MHz for your 12th generation Intel CPU platform if you are considering DDR5 5200MHz as your only DDR5 choice.
It is possible that faster DDR5 will benefit gamers and our memory series will next test G.Skill DDR5 6000MHz CL36 versus T-FORCE DELTA DDR5 6400MHz CL40. Stay tuned.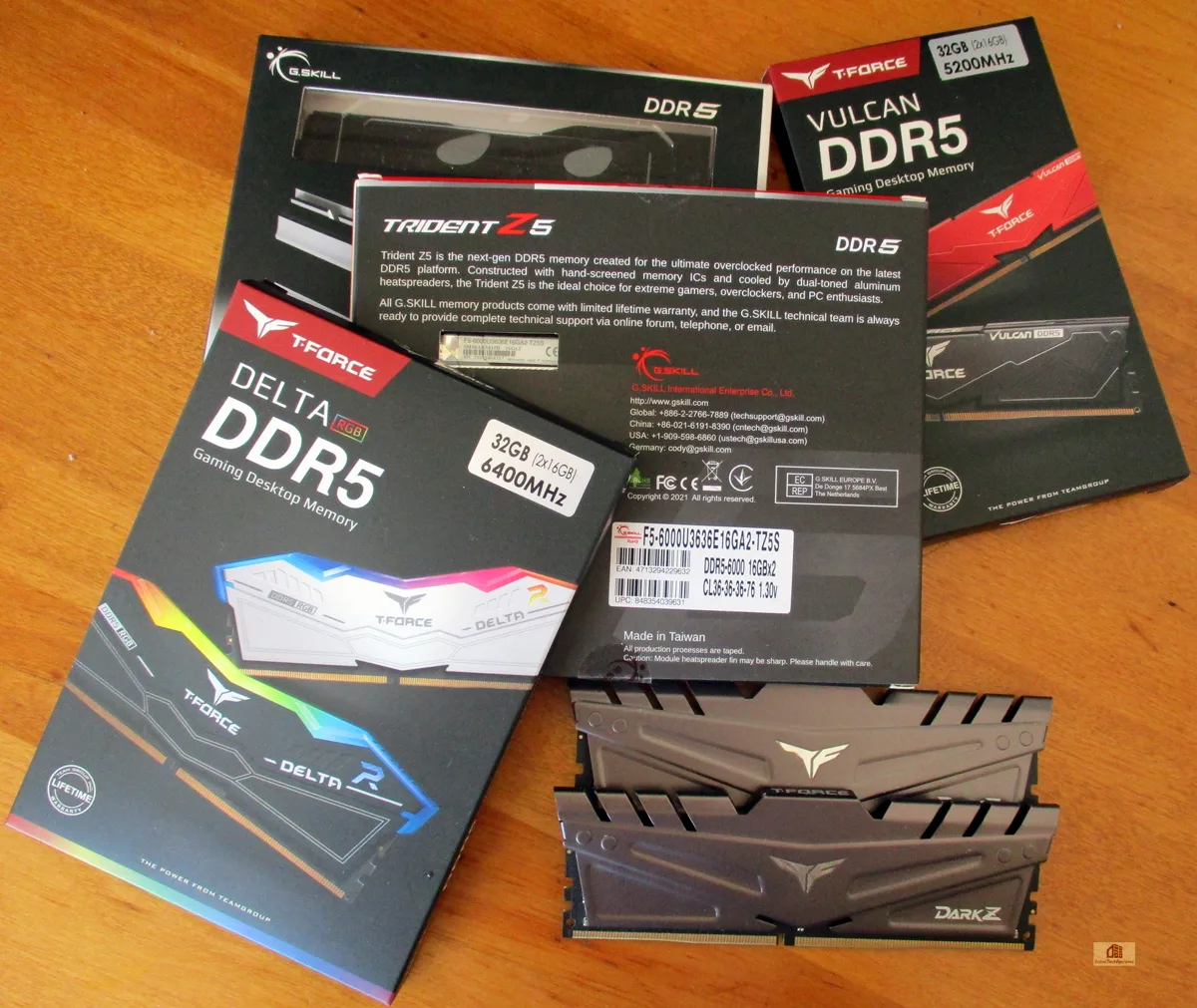 When you buy memory, you cannot go wrong with T-FORCE as TeamGroup offers great choices and a lifetime warranty. But pick DDR4 3600MHz over DDR5 5200MHz for the Z690 platform if these are your memory choices.
Stay tuned. Next up is Rodrigo's GeForce 511.23 Driver Performance Analysis featuring God of War later today, followed by a 7,000MB/s T-FORCE A440 SSD review by mid-week. After a VR review of a new video card, we will return to our DDR4 versus DDR5 series.
Happy Gaming!