Intro
VULCAN 5200MHz CL40 DDR5 Review – Is it better than DDR4 3600 for Gamers?
When TeamGroup sent us a T-FORCE 2x16GB VULCAN 5200MHz CL40 DDR5 memory kit for review, we were eager to compare it with our 2x16GB T-FORCE DARK Z 3600MHz CL18 DDR4 kit.  We used a full set of benchmarking tools and 31 games to see if gamers should choose DDR5 over DDR4 for Intel's newest Z690 CPU platform.  This is the first installment of BTR's memory review series that compares DDR4 with progressively faster DDR5 and also focusing on latency to measure DDR5 performance for gaming.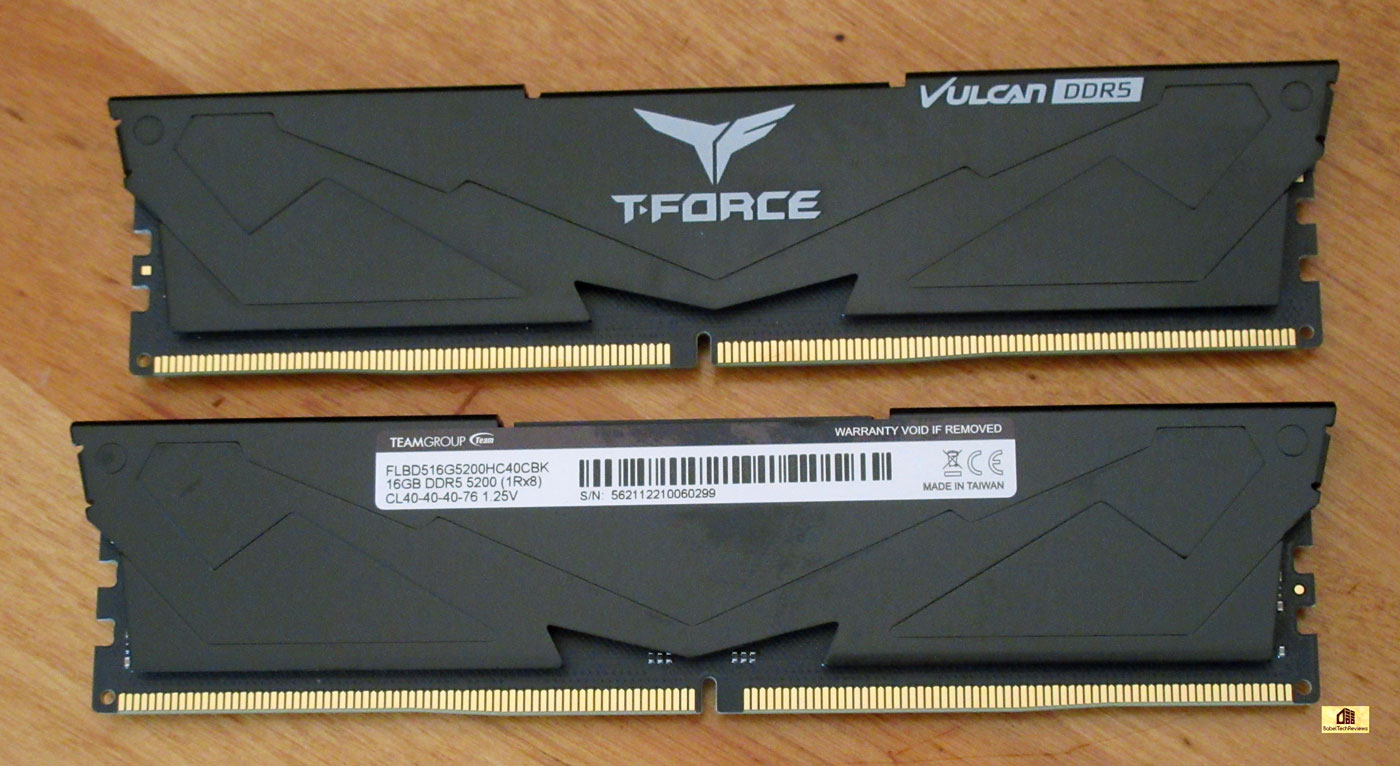 Last year, BTR ran an exhaustive set of tests comparing DDR4 3600MHz CL 18 with CL16 and the performance results were very similar for gaming, so our T-FORCE DARK Z 3600MHz CL18 2x16GB kit is representative of today's fast DDR4.  We started over with new benchmarks and have updated our testing tools to focus narrowly on DDR4 3600MHz CL18 versus DDR5 5200MHz CL40.  We use an i9-12900KF on an ASUS Prime Z690 P-D4 Z690 DDR4 motherboard to compare memory performance against an ASUS ROG Maximus Apex Z690 DDR5 motherboard.
Both the VULCAN 5200 CL40 black kit that we are testing today as well as the red kit have a MSRP of $349.99 and the lower latency VULCAN 5200 CL38 kit has a MSRP of $359.99.  TeamGroup informed us that all of their preorders at MSRP sold out almost instantly and most DDR5 kits are now ridiculously over-priced.  In contrast, the T-FORCE DARK Z 3600MHz CL18 DDR4 2x16GB kit sells for $115.00 on Amazon.
Since no motherboard supports both types of memory, most gamers have a choice of using their current DDR4 memory on a Z690 DDR4 motherboard or buying new memory for a Z690 DDR5 motherboard.  When BTR originally upgraded its flagship PC from an i9-10900K to an i9-12900KF, we picked a solid midrange ASUS Prime Z690-P D4 board for our DDR4 3600 memory.  We then purchased an ASUS ROG Maximus Apex Z690 DDR5 motherboard for this review and will overclock our Vulcan DDR5 to see if we get any additional performance.
From our testing with Ivy Bridge, Haswell, Skylake, Coffee Lake, and Comet Lake platforms, using faster DDR over slower DDR brings only limited performance improvements for a few CPU-dependent games.  However, we found that using faster memory brings extra overall performance gains for many other tasks and applications and we will compare overall DDR5 5200 performance with DDR4 3600.
Our review sample of VULCAN 5200MHz CL40 DDR5 desktop memory is a medium speed high-capacity 16GBx2 gaming memory kit for Intel's 12th Generation CPU platform.  Here are the two memory kits that we are comparing:
T-FORCE VULCAN PC5-41600 5200MHz DDR5 CL40 2x16GB kit
T-FORCE  VULCAN DARK Z PC4 28800 DDR4 3600MHz CL18 2x16GB kit
Just like with video cards, predatory resellers are buying large quantities at MSRP to resell them at inflated prices to turn a profit.  If you want DDR5, please don't buy from them.  It is better to wait until supply becomes plentiful, or perhaps you can get a near-MSRP deal from the Newegg Shuffle, from Microcenter in person, or you can possibly find Amazon etailers that don't gouge their customers.  Although DDR5 is ridiculously overpriced in the United States, gamers in Europe are finding DDR5 at or close to MSRP.
Testing Platform, Product Specifications & Features
Our testing platform is a recent clean installation of Windows 11 Professional, using an Intel Core i9-12900KF at stock settings using either a 1) ASUS Prime P-D4 Z690 motherboard for DDR4 benchmarking or 2) an ASUS ROG Maximus Apex Z690 motherboard for DDR5 benching; a 2TB T-Force C440 Cardia NVMe PCIe 5,000MB/s SSD, and with either 1) 2x16GB T-FORCE Dark Z DDR 3600MHz CL18, or 2) 32GB of T-FORCE Vulcan 5200MHz DDR5 CL40 memory.  We use an RTX 3080 Ti Founders Edition at stock clocks for our testing.  The settings, benchmarks, testing conditions, and hardware are identical except for the two memory kits and their respective motherboards being compared.
Voltages are set at 1.35V for the DDR4 3600MHz memory and 1.25V for the DDR5 5200MHz memory, and both Command Rates are set at 2T by their respective default XMP profiles in the BIOS.  The default XMP 2.0 Profile 1 of the T-FORCE DARK Z 3600MHz is CL18-22-22-42, while the T-FORCE Vulcan DDR5 5200MHz XMP 3.0 timings are CL40-40-40-76.
There are several variants of Vulcan DDR5 as TeamGroup's chart shows.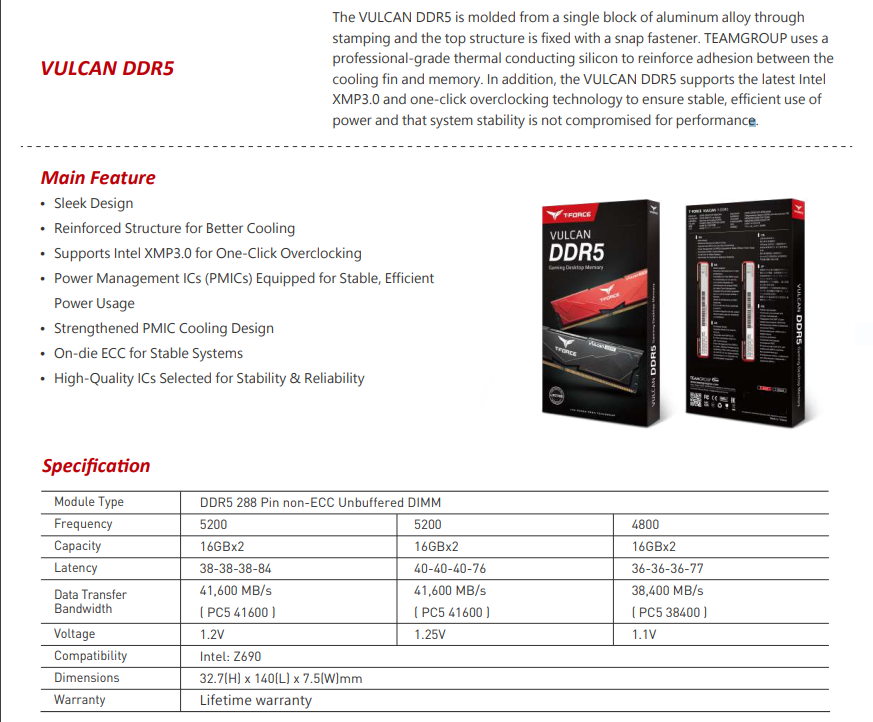 We compare the performance of both DDR kits, and we will also overclock the DDR5 memory.  As this is a series comparing multiple DDR5 speeds/latencies on gaming performance, we benchmark the performance of 31 modern games at a maxed-out/ultra 3840×2160, 2560×1440, and 1920×1080 resolutions to see which games benefit from faster memory. We also benchmark using many of the recognized memory-related benchmarking tools including AIDA64, SANDRA 2020/21, PCMark 10, SPECworkstation3, 3DMark, Blender Benchmark, Cinebench, Frybench, GeekBench, Novabench, RealBench, CPU-Z Bench, 7-Zip Bench, Kraken JavaScript Bench, and Wprime.
Here are the Vulcan DDR5 5200MHz CL40 features from TeamGroup's website.
Features
Sleek Design
Reinforced Structure for Better Cooling
Supports Intel XMP3.0 for One-Click Overclocking
Power Management ICs (PMICs) Equipped for Stable, Efficient Power Usage
Strengthened PMIC Cooling Design
On-die ECC for Stable Systems
High-Quality ICs Selected for Stability & Reliability
TeamGroup offers a lifetime warranty for their T-FORCE DDR5 desktop memory and Vulcan DDR5 is available in black or red.
Let's unbox the memory kit on the next page and take a closer look.