For under $20 you can enjoy increased storage & easy hot-swapping of 2.5 " SATA hard disk drives or solid state drives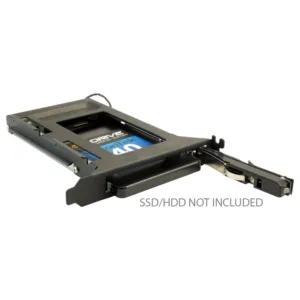 Today, VisionTek Products, a leading manufacturer of award-winning, high-performance upgrades and accessories for PCs and Macs, announced the new VisionTek DriveXpander 2.5″ drive expansion slot adapter. Designed to fit any full-sized PCI or PCIe expansion slot, the DriveXpander enables data transfer speeds up to 600MB/s from bare drives with nearly any Windows® based PC desktop or OS X® based 2006-2012 Mac Pro.
This looks quite interesting and BabelTechReviews is getting an evaluation sample from VisionTek along with a Wallet Drive Portable USB 3.0 2/5″ drive tomorrow. Expect a product review soon!
The DriveXpander increases the functionality of a PC or Mac Pro by:
adding additional storage capacity up to 2TB when internal bays are filled or are not accessible.
offering quick and easy bare drive status verification.
providing individual drive access from a storage array with minimal or no system down time.
enabling removable storage to be added to the rear of a system – especially handy for HTPCs – where it is less noticeable or accessible to unauthorized users.
Add A New Drive in Three Easy Steps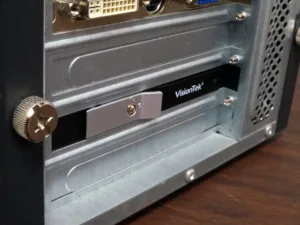 The DriveXpander eliminates the need for an external enclosure or power adapter for truly tool-free and screw-less drive use. After an easy, two minute installation, users can read and write a 2.5″ SATA I/II/III hard drive or solid state drive sized 7mm to 9.5mm by simply:
opening the drive access lever on the DriveXpander,
gently inserting a drive until resistance is felt,
and closing the DriveXpander's drive access lever to fully insert and connect drive.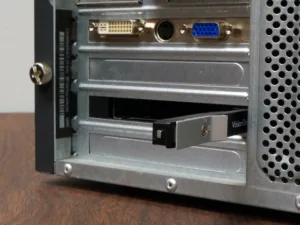 Custom Adapter Assures Perfect Fit with Any Expansion Slot
Unlike other hot-swap drive adapter designs that only work with PCI slots, the DriveXpander includes a custom PCIe slot stability adapter for a snug, secure fit on either expansion slot type.
Patented Design Assures Trouble-Free Use
The DriveXpander features a patented non-scratch SATA (NSS) connector that makes a direct connection with a drive's connector leads so users can install and eject a drive over 50,000 times with confidence. A perforated backplate and open cage design also ensures trouble-free drive use by providing effective passive drive cooling.
Lockable Access Panel Prevents Drive Theft
To prevent unauthorized removal of an installed drive, the DriveXpander features a special shaped key lock to provide peace-of-mind long-term drive installation.
Pricing & Availability
The $19.99 MSRP DriveXpander includes all data and power cables required for Plug and Play operation and is available immediately directly from VisionTek, select e-tailers such as Amazon, Tiger Direct, and Dell; and national distributors such as Ingram Micro and D&H. For more information on the new DriveXpander from VisionTek, as well as their existing high-performance adapters and accessories, visit: https://www.visiontek.com/cables-accessories.html
We are going to use, evaluate, and review VisionTek's Drive Xpander and Wallet Drive over the weekend, and we will give you our impressions of them shortly.
About VisionTek Products LLC
Since 1988, VisionTek Products LLC (VisionTek) has been recognized as a leading developer of performance memory, graphics cards, power supplies, and Solid State Drives for PC and Apple Macintosh® computers. Its products can be found at leading retailers, distributors, PC system builders and e-commerce sites. VisionTek is headquartered in East Dundee, Illinois, and can be contacted by calling 866-883-5411 or by emailing sales@visiontek.com.
###