Younger Crowd Impacts Success, Failure of Products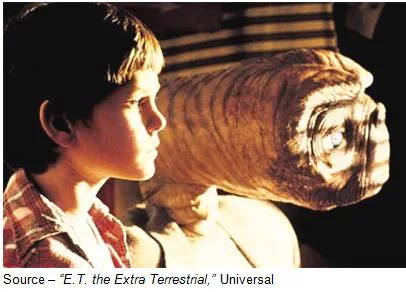 If you're like me, you have a couple of different calendars … yours – office, home; and those you use to keep track of your kids' activities.
Tracking, matching is like a 3-D chess game.
It's a lot different than when I was a kid. You only had a few choices – plop in front of the TV set, go play in the traffic or be bored.
Obviously, today's kids have more choices.
As Elliott said, "You're so immature!"
The problem is, they don't even think about their choices. They use the screen that's near them.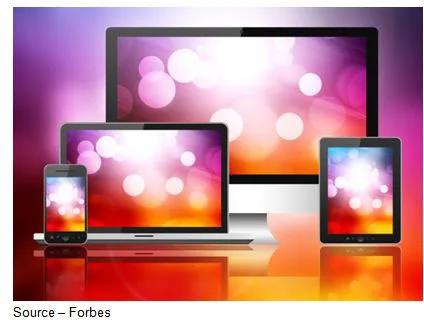 Choices – Today, parents have a wide choice of screens to educate/entertain their kids. They use them … all.
That's why Nickelodeon did a total remake on the types of shows they develop and disseminate.
Whether they're in front of a TV set, laptop, tablet or phone; it doesn't matter, they expect to use them all the same and get the same information/entertainment.
Nickelodeon scrambled to reinvent their content because their audience got older.
Sponge Bob Square Pants and Dora the Explorer didn't appeal to the new youngsters.
Hm-m-m, I grew up with Baywatch, Happy Days.
It's a lot easier to see the shift today. Rather than relying on the old Nielsen numbers, comScore showed they dropped 11M unique desktop/mobile site visitors.
Jeezz, that's gotta' hurt the ad rates!
Of course, there's also competition from Amazon and Netflix, the folks who funnel their shows to kids.
With friends like that, you don't need enemies!
Nickelodeon determined that the new stuff also had to be feature-rich for the couch potatoettes. Kids expect to scroll, swipe and interact with their content.
They may be connected out-of-the-chute but they still watch more TV.
Nielsen reported that for the last quarter of the year, children 2-11 spent 111 hrs. and 47 minutes a month in front of the set, compared to 108 hrs. and 45 minutes a month the year before.
If you believe the research the head of the Nickelodean Group cited, these kids could be the ones to change the world … they love their families, are well behaved, have few close friends but wide social circles and don't like bad language, meanness, bloody violence.
Maybe other generations could take a few lessons from them.
But the prices of smartphones and tablets have come down a lot; so today, more and more kids have their own personal mobile devices (and more).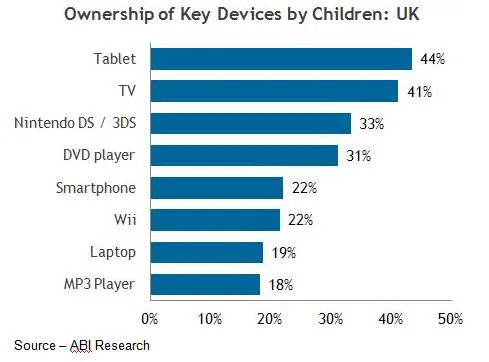 Devices Galore – It's little wonder that your rug rat is so connection savvy today. They have more options to work with and figure out so they can explain them to their parents.
Smartphones and tablet use has tripled since 2012.
According to eMarketer, Internet usage is rising. They expect the number of users to grow 6.7 percent this year or 24.3 M, roughly half the 2-11-year-olds in the U.S.
Michael saw the numbers and said, "You have absolute power!"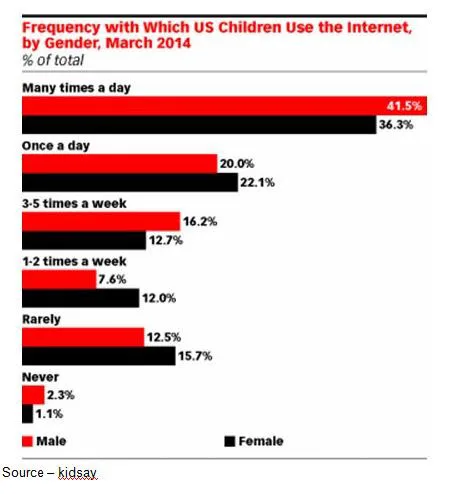 Online – Fast foods may contribute to our kids being overweight; but then, sedentary activities like being online with their device of choice don't help either.
eMarketer dubbed them Digital Kids – Digital Natives with Analog Tendencies.
I guess its good news but Common Sense Media found that with all the new devices vying for their time, the youngsters' TV time has actually declined – 65 percent to 58 percent between 2013 and 2014.
Of course, some of that decline can also be attributed to parents putting restrictions on the rug rats.
There was also a decline in DVD viewing (25 percent to 18 percent).
Naturally, they had to fill that dead time, so mobile device usage doubled from 8 percent to 17 percent.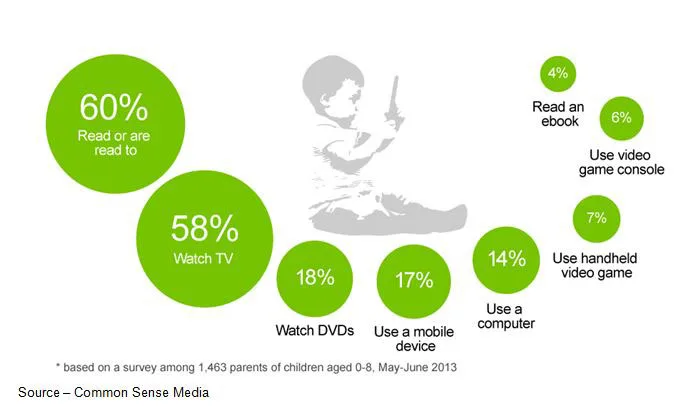 Busy Day – Nearly one in five youngsters use mobile devices every day. According to a study by Common Sense Media, youngsters from 2-8 engage in a wide range of media activities.
Much of the kid content on conventional TV is available via streaming services, along with those sites' original programming. In addition to letting kids get what they want on their own schedule, an option like Netflix appeals to parents because kids won't be inundated with commercials.
And according to a mashup of studies by Common Sense Media and Iowa State University, they use them … all
I know they are the connected generation and that they can pick up/master any mobile device– sometimes before they can even talk, but they're better equipped than I am!
Despite all the electronic choices, kids play sports at least twice a week (72%) and a lot traditional board games, jigsaw puzzles, etc. (37%) at least twice a week.
The other 63 percent play with traditional toys (construction sets, dolls, action figures).
But because they have all those connected devices, they use them.
Active Life – Why shouldn't kids choose to be online today, there is a world out there just waiting for them to tap into and enjoy.
I'm guessing the time spent with PC/console games isn't that much. But that changes as they get older with 63 percent of those over 10 playing connected games five or more hours per week.
After sitting/playing so much, Elliott said, "I can't feel anything anymore."
Obviously, this has psychologists all abuzz as they try to figure out how the technology will exert an influence on the kids' behavior.
More than half of them have used an online social network by the age of 10, according to a study; and Facebook tops the use list for the underage muppets.
Other popular sites are WhatsApp (40 percent of 8 to 16-year-olds), BBM (24 percent), SnapChat (11 percent) and Ask.fm (8 percent).
The tablet is quickly replacing the Nintendo 3DS with 44 percent of the children 3-12 owning one. It's actually one of the first devices parents will buy for the youngsters in the next six months, according to ABI Research.
They're more than twice as likely to get the child a tablet as a smartphone and that's pretty high on the list as it is.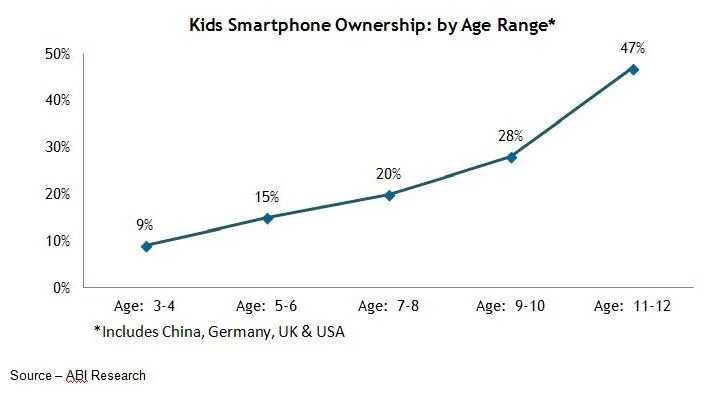 Smartphone Growth – With smartphones becoming less and less expensive, parents are getting them for even their youngest ones as a means of keeping them safe and staying in touch.
But as the youngsters hit 9 and up, the smartphone is the communications device of choice.
By ages 11/12, 53 percent of the girls have a smartphone and 38 percent of the boys.
In fact, parents regularly have calling/data plans set up for them so they can stay in touch.
Of course, that's also led to "a little surprise" for parents as the young ones think it's pretty cool to make in-app purchases through the free apps they've downloaded to their device.
It's pretty tempting for the kid to snap up a few gold bars, camouflage clothes and other items just to keep playing. This has produced a lot of push back from parents and legal action by consumer protection groups against Apple, Google and Amazon.
Because of recent Federal Trade Commission (FTC) rulings, in-app charges are more difficult for kids to use.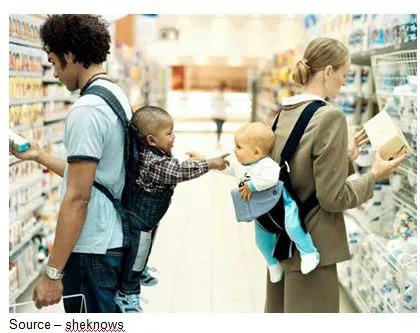 They Talk – Because our latest generation was almost born connected, they find today's devices are easier to use and versatile. They also know early on what they like/don't like about various products and they aren't afraid to express their opinions.
What is interesting is that since kids start using devices at an earlier age, are a heckova' lot more accomplished with all the buttons/features than millenniums and have already established their opinions on the best devices, best features, best games, best apps; they can be very influential in parent purchases.
It's hell when you have to take recommendations from your kids and … they aren't afraid to tell others about what to consider.
Think about it, word of mouth (WOM) advertising is more effective from a 3-5 year-old than a slick coupon appearing on your smartphone screen!
Because kids take to the technology devices so quickly and easily, they represent our next generation of inventors/developers because they know what they like/don't like, what works/doesn't work and have probably developed work-arounds and ways to improve/enhance the devices for the kids who will follow them.
They just accept technology as an integral part of their lives.
Can't wait for them to start delivering.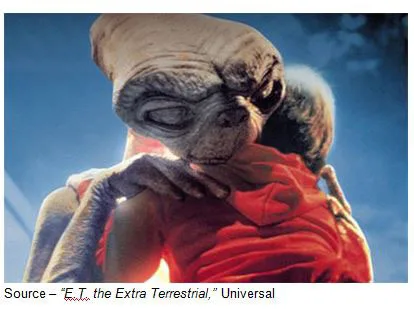 They'll probably reassure us like Elliot did, "You could be happy here, I could take care of you. I wouldn't let anybody hurt you."
Great, because I need all the help/protection I can get!