Test Configuration – Hardware
Intel Core i7-6700K (reference 4.0GHz, HyperThreading and Turbo boost is on to 4.6GHz; DX11 CPU graphics).
ASRock Z170M OC Formula motherboard (Intel Z170 chipset, latest BIOS, PCIe 3.0/3.1 specification, CrossFire/SLI 8x+8x)
HyperX 16GB DDR4 (2x8GB, dual channel at 3333MHz), supplied by HyperX/Kingston
Gigabyte RX Vega 64 Liquid Cooled Edition, stock clocks (1750Mhz/945MHz)
GTX 1080 8GB, Founders Edition, reference clocks, supplied by NVIDIA
GTX 1080 Ti 11GB, Founders Edition, reference clocks, supplied by NVIDIA
Two 2TB Seagate 7200 rpm SSHDs for each platform
EVGA 1000G 1000W power supply unit (for both platforms)
EVGA CLC280, 280mm CPU watercooler, supplied by EVGA
Onboard Realtek Audio
Genius SP-D150 speakers, supplied by Genius
Thermaltake Overseer RX-I full tower case, supplied by Thermaltake
ASUS 12X Blu-ray writer
Monoprice Crystal Pro 4K
ACER Predator X34 GSYNC display, supplied by ACER/NVIDIA
Test Configuration – Software
GeForce WHQL 384.94 was used for the GTX 1080 and WHQL 385.28 for the GTX 1080 Ti.  High Quality, prefer maximum performance, single display.  See 

control panel

 images below.
AMD ReLive Software RX Vega public launch drivers (17.30.1051-b6) were used for the benching the Vega 64.  See control panel image below.
VSync is off in the control panel.
AA enabled as noted in games; all in-game settings are specified with 16xAF always applied
All results show average frame rates including minimum frame rates shown in italics on 

the chart

 next to the averages in smaller font.  Percentage differences are calculated between the average frame rates of the RX Vega 64 and of the GTX 1080 and GTX 1080 Ti.
Highest quality sound (stereo) used in all games.
Windows 10 64-bit Home edition, all DX11 titles were run under DX11 render paths. Our four DX12 titles are run under the DX12 render path. Latest DirectX
All games are patched to their latest versions at time of publication.
WattMan
MSI Afterburner.
OCAT
Fraps
The 26 PC Game benchmark suite & 4 synthetic tests
Synthetic
Firestrike – Basic & Extreme
Time Spy DX12
VRMark Orange Room
VRMark Blue Room
DX11 Games
Crysis 3
Metro: Last Light Redux (2014)
Grand Theft Auto V
The Witcher 3
Fallout 4
Assassin's Creed Syndicate
Just Cause 3
Rainbow Si Siege
DiRT Rally
Far Cry Primal
Call of Duty Infinite Warfare
Battlefield 1
Watch Dogs 2
Resident Evil 7
For Honor
Ghost Recon Wildlands
Mass Effect: Andromeda
DiRT 4
DX12 Games
Tom Clancy's The Division
Ashes of the Singularity
Hitman
Rise of the Tomb Raider
Total War: Warhammer
Deus Ex Mankind Divided
Gears of War 4
Sniper Elite 4
Vulkan Game
Nvidia Control Panel settings:
These are the setting we use when testing NVIDIA cards.

AMD Radeon Global Settings:
Here are the global game settings in AMD's ReLive control panel that we use: 
These are the custom gaming global settings that we used for our RX Vega 64 that gave us slightly better performance than using the "Turbo" Preset.  The Power Limit is set to +50%, the temperature is allowed to reach the maximum 70C, and the fan is also allowed to spin up to its maximum.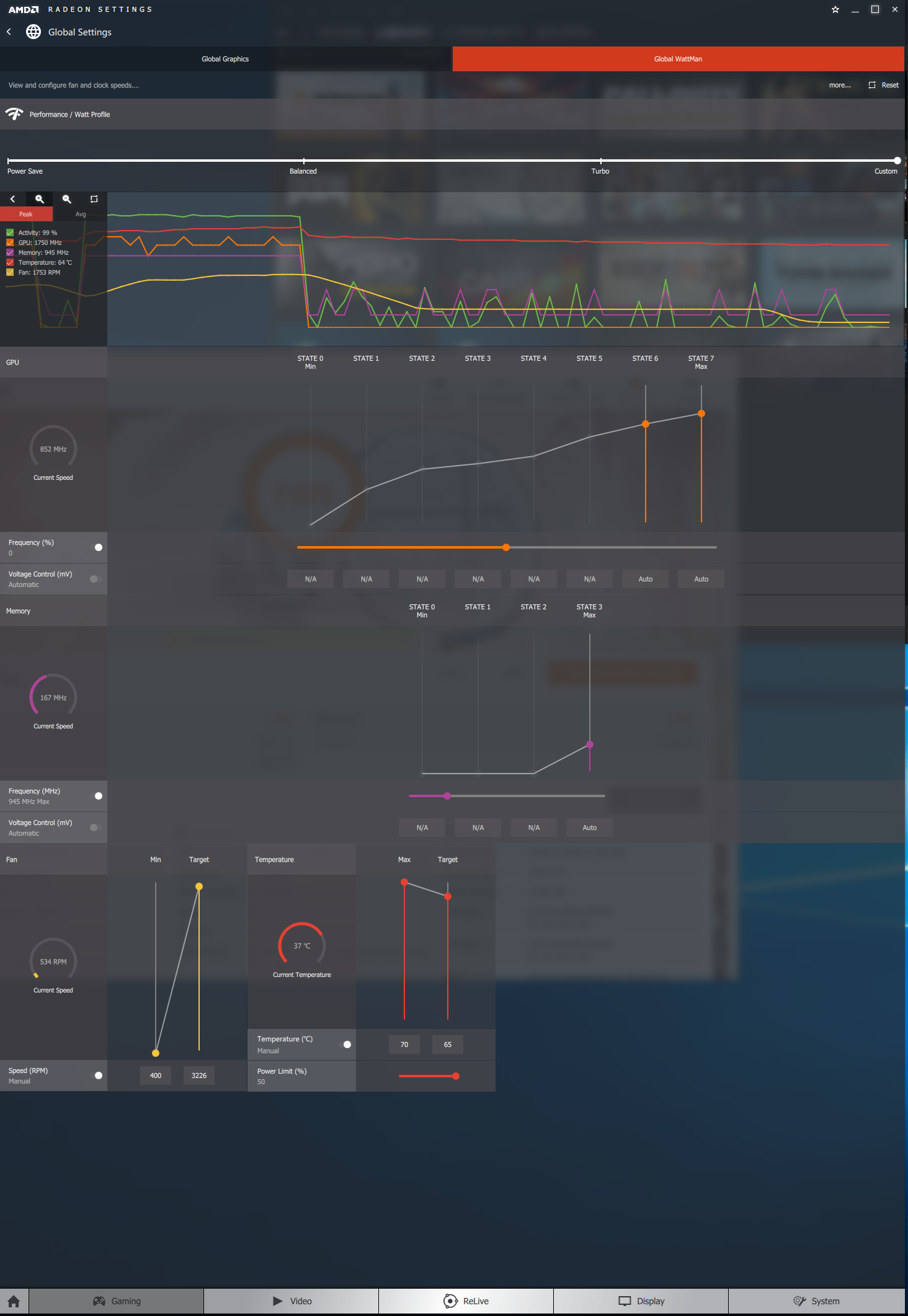 Here are the results of using the regular BIOS when running Heaven 3.0: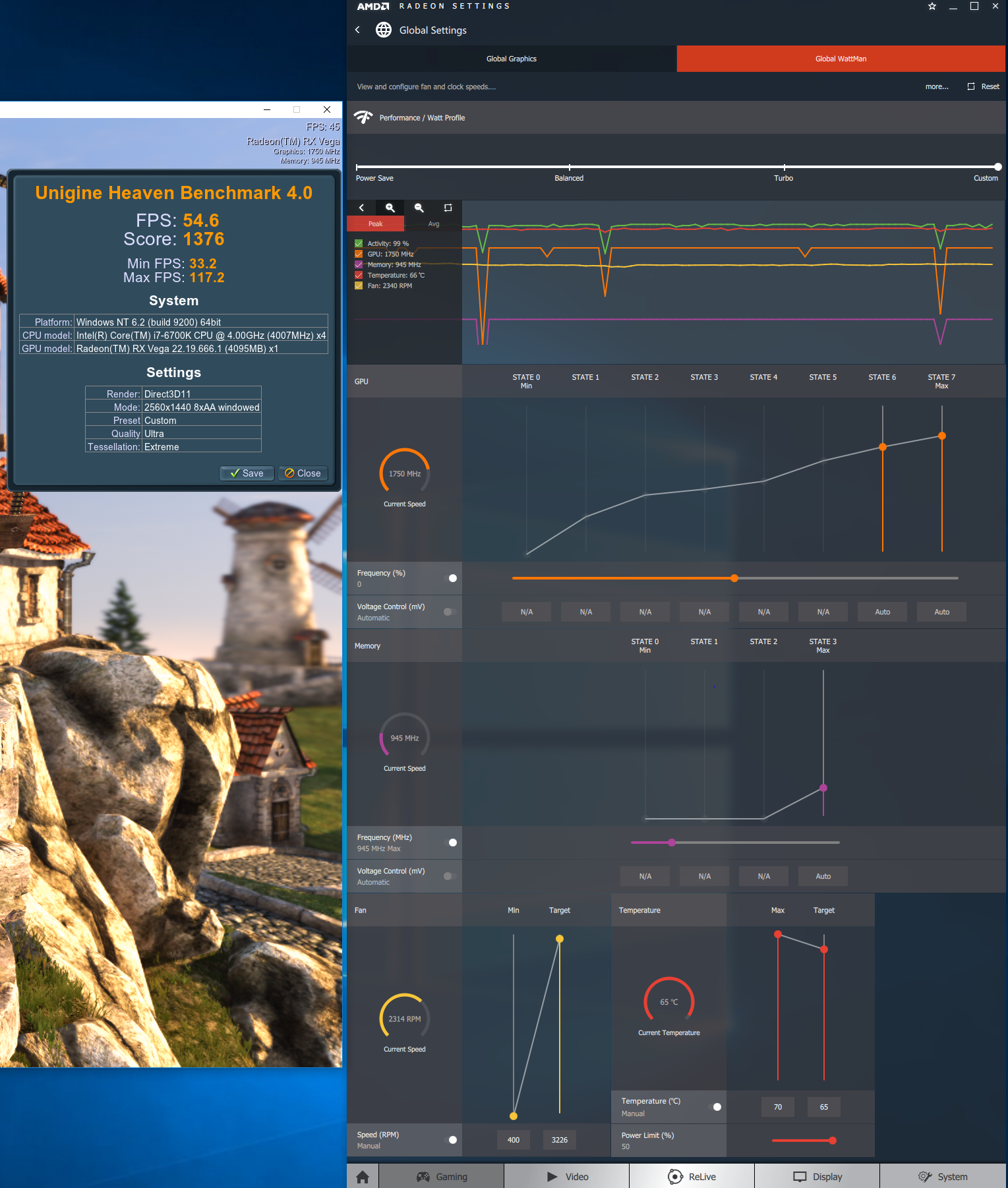 Here are the performance BIOS results of running Heaven 3.0: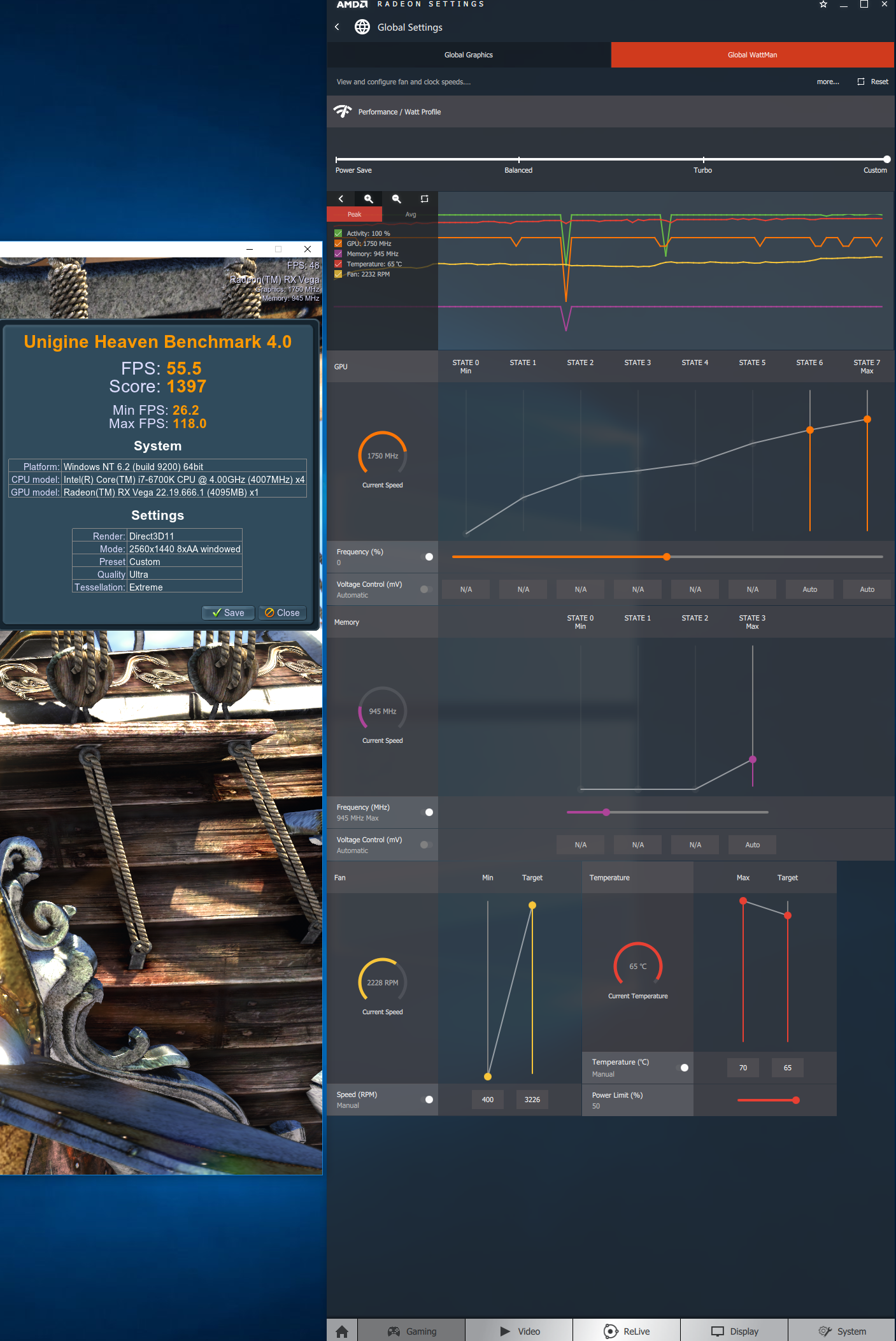 There is only about 1%-2% performance difference that we measured between the regular BIOS and the performance BIOS depending on the game or benchmark we used.  And we use the performance BIOS setting for all of our RX Vega 64 benchmarking.
The above is our test bench and the settings that we used.  Now let's see how we calculate percentage differences between the RX Vega 64 and the GTX 1080 and GTX 1080 Ti.
Calculating Percentages
There are two methods of calculating percentages.  This one we are now using is the "Percentage Difference" that we are using to compare the GTX 1080 and the GTX 1080 Ti versus the RX Vega 64 LC, and the other is "Percentage Change" which are usually used to show improvements.  Percentage difference is generally used when you want to know the difference in percentage between two values, in this case the difference in average frame rates (FPS) between RX Vega 64 and the GTXes 1080/Ti.
For the percentage difference we are simply dividing the difference between two numbers by the average of the two numbers.  This is usually expressed algebraically where "V" equals value:  ( | V1 – V2 | / ((V1 + V2)/2) ) * 100
We also made a BTR community forum post that explains the process of calculating percentage differences using frame rates as an example.
Let's check out our Performance Summary chart followed by our conclusion.