People Want Good Stuff to Watch, No Matter How You Label It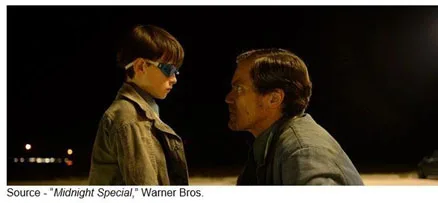 After attending The Pay TV Show a few months ago in Denver, we came to the conclusion that the M&E industry has a huge issue today … and an even huger opportunity.
It can't figure out what it is, how to label itself or what it wants to be when it grows up.
And surprise, our son and his friends – tomorrow's big content consumers – could give a rat's behind.
The other evening, we asked him what he was watching on his phone and in typical cryptic fashion he said, "TV."
Just to keep the conversation going we said, "Yeah, we can see that but what?"
"Cobra Kai."
On his way home from school he had caught up on the news of the day on CBS and then settled in to catch up on Game of Thrones before his newest "gotta watch" show.
And that is why the cable (news, entertainment, sports) bill we were determined to dramatically reduce remains stubbornly at about $100 per month!
It was simpler when we were growing up because everyone huddled around the TV set and watched whatever was on.
Today?

We have choices and everyone in the family exercises her/his right to choose what they want to watch, when they want to watch it, how they want to watch it and where they want to watch it.
The only people who care are folks in the M&E industry – analog terrestrial, satellite and cable folks as well as digital terrestrial, satellite, cable people; OTT bundlers/providers; and on the bottom of the pile, the folks who make the stuff…the content creators, developers, producers.
Increasingly, everyone is hellbent on becoming the sole provider of multi-channel services to the household – phone, internet, content.
The business used to be civilized. The cable guy had the pipe to the home and the network folks bundled a bunch of stuff – good, bad, mediocre – and sold it to the cable guy who put it all into an even bigger bundle and they didn't care if you watched the stuff or not.
As long as you didn't call 'em.
To make service better, they went digital and OTT started offering better stuff combined with convenience – on the viewers schedule – and things changed.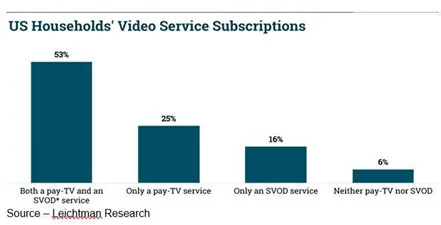 When Netflix, Amazon Prime and YouTube started streaming; our smart TV gave us a choice with stuff on our EPG (electronic program guide and the old cable guide).
People in the content food chain – Hulu, HBO, BBC, Vimeo, Disney, Apple, Sling, Philo, CCTV, PlayStation, Pluto, Fubo, TenCent, Hooq, Iqiyi, Voot, Sky, Viacom, AT&T, Verizon, you name 'em – envisioned a painless, virtually zero cost way of having direct access to the consumer.
Today, about everyone we know has an embarrassment of riches – hybrid TV.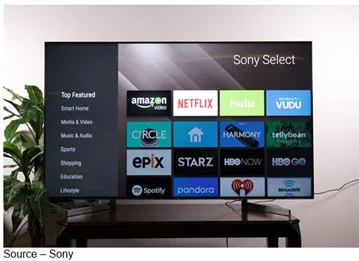 We can thank (or blame) the introduction of the Internet for giving rise to the dizzying array of content services.
"With all of the devices people now have at their disposal to access the content, the real race begins," Allan McLennan, CEO and chief analyst at PADEM Media Group, noted at the Pay TV Show. "Everyone in the industry is now focusing on getting the largest number of eyeballs tuned in to their streaming service."
Right now, there are two technologies rushing to be the one most used to access that content:
5G wired and wireless is just beginning to build-out high-speed, low-latency (lots of data, little delay) service
Cable people are taking a two-pronged approach to keep their service relevant
ATSC 3.0 – doesn't exactly roll off your lips – or Next Gen TV
Addition of wireless service to their home internet/TV service

If you just look at the numbers, there are plenty of growth opportunities for anyone/everyone in the TV/content development/distribution industry. After all, there are about 7.7B people in the world, about 1.7G TV households and 2.7B smartphone users worldwide.
It's little wonder everyone feels they are going to get their share because people just can't seem to get enough video content.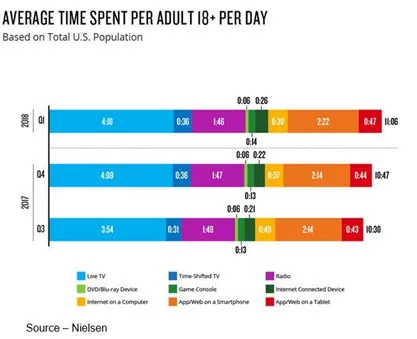 While it's true that today there is no prime-time TV, the proliferation of options — day/time viewing and OTT streaming — are creating a challenge for service providers and viewers.
We have a hodgepodge of services – Netflix, Amazon Prime, Hulu, HBO, YouTube – and may have to add Disney+ and Apple TV+ at the end of the year to satisfy the kids. It's not because we like all of their shows; in fact, we often sign up for one or two and each time rationalize to ourselves, "yeah, we'll watch more of so-n-so's and drop one of the other guys."
That's why DEG (Digital Entertainment Group) recently reported there are pay TV subscriptions for 517 operators with 747 platforms – digital/analog gable, satellite, IPTV, DTT across 135 countries with about 1.5M subscribers. In addition, there seems to be a new streaming service with some great new content that is going to capture folks' excitement (and subscription) every week.
"The content and distribution world is changing dramatically," McLennan observed. "Traditional TV, cord-cutters, cord-trimmers, cord-nevers are being bombarded with the next great entertainment solution and they're quickly becoming overwhelmed.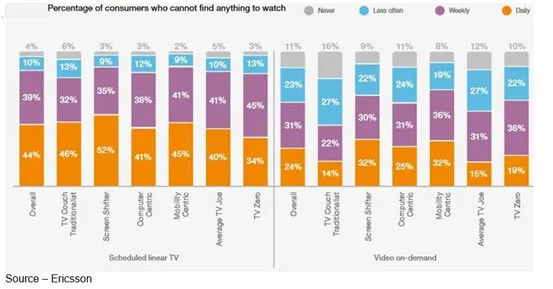 "They're finding it increasingly difficult to get an overview of all the content they have at their disposal so they can decide what they want to watch," he continued. "Content producers and distributors will have to begin talking with each other and develop strategies and solutions that will meet the consumers' ever-changing entertainment appetite in the digital age.
"In addition," McLennan added, "individually and together they have to focus on developing and enforcing robust cloud security, data protection, DRM (digital rights management) and high-bandwidth content protection as well as rights education at the consumer level. Defending content and revenues from bad actors is not something anyone in the industry can take lightly."
We did our part by telling the kids:
If they "shared" our passwords they'd lose access to the streaming service for a month
Most "free" film/show sites gave them something extra – malvertising – and if their activities infected the home network and Wi-Fi service for a helluva' long time, tough
In other words … it just isn't worth it!
We firmly agree with McLennan that the M&E industry is changing – rapidly; and don't see how SVOD services like Netflix, Disney and others can sustain their hefty investment in new, unique, ad-free content as sustainable.
Services like HBO and Hulu have been, and perhaps will continue to be, ad-free subscriptions but they also have deep pocket "parents" that cover the red ink for Emmy and Oscar bragging rights.
The statuettes are nice, but they don't put food on the table or money in investors' pockets.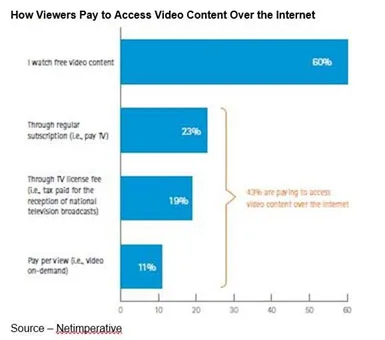 We're comfortable with the rumors that Netflix is considering including some ads, as long as they're in exchange for a lower monthly subscription and believe that most of the 158M plus subscribers will agree.
YouTube's CEO Susan Wojcicki aggressively promoted their advertising opportunities during this year's Digital Content Newfronts in NYC, noting that the service attracts over 1.8B users/viewers every month and it's all about the content not the name attached.
Walmart announced that its Vudu service will be ad friendly and you can bet that Amazon Prime will begin offering their "friends" see-it, buy-it opportunities.
It's not a pie-in-the-sky projection, it's only logical because the IP-based services already compile extensive user data; and when put to intelligent use, viewers will find it beneficial as long as that data is kept secure and private.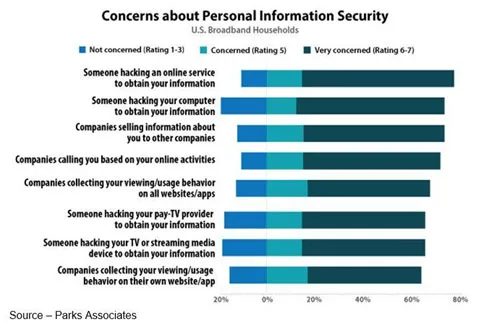 Okay, we admit that the security, privacy bit has been a huge hurdle for content providers/streamers; and we can only hope that bosses pay attention to McLennan's warning earlier because in the long run, their success/failure will depend on it.
Especially since Europe's General Data Protection Regulation (GDPR) has given the EU a ready source of income when folks mess up.
In the U.S., the CCPA (California Consumer Privacy Act) will lead to an equally broad view of personal data privacy, collection, sharing.
In addition, we're optimistic that the increased use of metadata collection, analytics and AI will ultimately lead to better quality, more meaningful personalized advertising.
All marketing has to do is understand the new challenges and opportunities that are available for them to really connect with the viewer/customer.
It will certainly help when they come to understand it isn't that people don't like ads, it's that they don't like 10 of the same ad in a two-hour time period.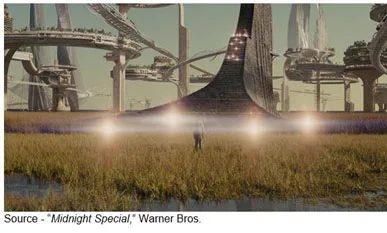 All that's required is an understanding what Alton Meyer meant when he said, "There's… There's a world, built on top of ours. People live there."
After all, TV is just TV, no matter how/where/when you watch it. And they will all be major topics at the SMPTE Tech Conference and especially at IBC.
# # #