From BTR's first review of an electric height-adjustable standing desk in April, we concluded that if you work mostly in a seated position, you are probably drastically shortening your life and killing your productivity. Since then, more studies have come out supporting this view and we would like to update our readers with the very latest findings as we have received the VertDesk v3 for review from the company, and we have been using it for the past several weeks.
According to the bulk of medical evidence available, sitting continuously causes muscles to burn less fat because blood flows more sluggishly which can also increase the risk of heart disease, high blood pressure, diabetes, cancers, and other serious health problems. The very latest studies overwhelmingly concur that sitting for prolonged periods is one of the most easily correctable health issues, and because of these findings some people have moved to working at fixed-height standing desks.
However, working for long hours on your feet can also spell health issues. Researchers say that standing for just five hours a day contributes to significant and prolonged lower-limb muscle fatigue which may raise your risk for long-term back pain and other disorders. So desk-centered workers are advised to switch from sitting to standing at least once every couple of hours. But if you just get up and walk around, you will probably break your train of thought, and it takes time to readjust back to working productively. The best solution is to use an electric motor-driven height-adjustable desk.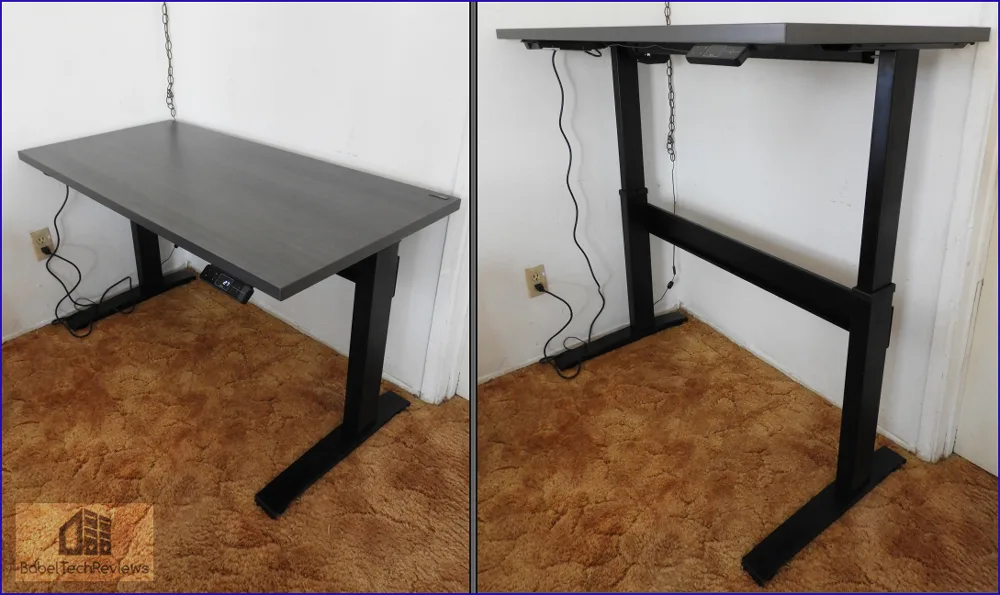 The Serious Health Risks From Prolonged Sitting
The evidence against prolonged sitting is overwhelming as there are over 10,000 studies showing that it will reduce your lifespan by promoting dozens of chronic diseases even if you exercise regularly. There are many serious health disadvantages to sitting for long periods of time that are well-documented in nearly 50 major peer-reviewed studies. There is one unified conclusion from analyzing all of the data:
Prolonged sedentary time was independently associated with deleterious health outcomes regardless of physical activity.
Recently, according to Bloomberg, sitting for prolonged periods can increase risk for hypertension, diabetes, cancers, back disorders, anxiety, and a higher probability of a premature death. Even working out at the gym or engaging in regular physical activity does not appear to offset the risk of sitting although some of the latest studies appear to suggest it may help somewhat. For those of us who work or game at a desk, this news is disturbing. According to many experts, one good solution is to alternate between sitting and standing. In fact, Bloomberg says that adjustable desks are the fastest growing office perk: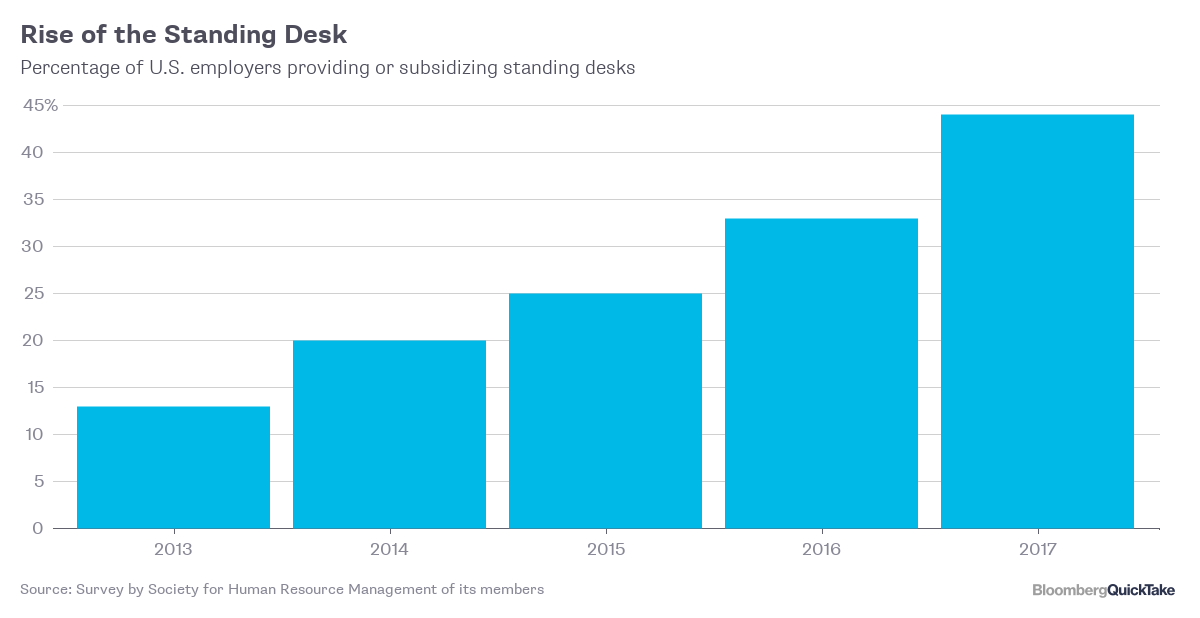 The reason that adjustable- height desks are becoming popular with employers is because they increase their workers' productivity. A recent study by Texas A&M University tracked the productivity of 167 workers in a call center over a 6-month period between a control group of seated workers and those given height adjustable desks. The researchers summarized their results and concluded the following:
Results: Users of stand-capable desks were ∼45% more productive on a daily basis compared to their seated counterparts. Further, productivity of the stand-capable desk users significantly increased over time, from ∼23% in the 1st month to ∼53% over the next 6 months.

Conclusions: These findings suggest important benefits of employing stand-capable desks in the work force to increase productivity.
Almost 50% more productivity from using stand-capable desks is a good reason to use height-adjustable desks in addition to the health benefits. The very best solution for health and productivity if you work at a desk all day evidently is to have an electronically operated height-adjustable desk.
There are mechanical lift desks available, but they defeat the purpose of being able to continue your train of thought as you have to work to lift the desk. So it's best to have an electrically operated desk that can move quickly with you as you rise or sit. Ideally, the desk should operate quietly in an office situation and also have presets for predetermined heights. It should also be stable with or without a load, and a desk should not rock in any direction. And very importantly, it should be reliable yet affordable. The VertDesk v3 claims to excel in all of these important areas.
Two Adjustable Desks
This editor works all day splitting his time between two desks. Our original adjustable desk houses a gaming PC with a 34″ display, and a notebook. Since it is centered around writing, it sits near the patio sliding glass door with a great view of the mountains for inspiration. The new VertDesk v3 now accommodates a second workstation PC in a corner for less distraction while working. It usually is set up with 2-displays, and it houses the printer and the copier, and it is also used for building and modifying PCs. We appreciate being able to adjust the height of our work surface without getting up and down or stooping over to work on our PCs.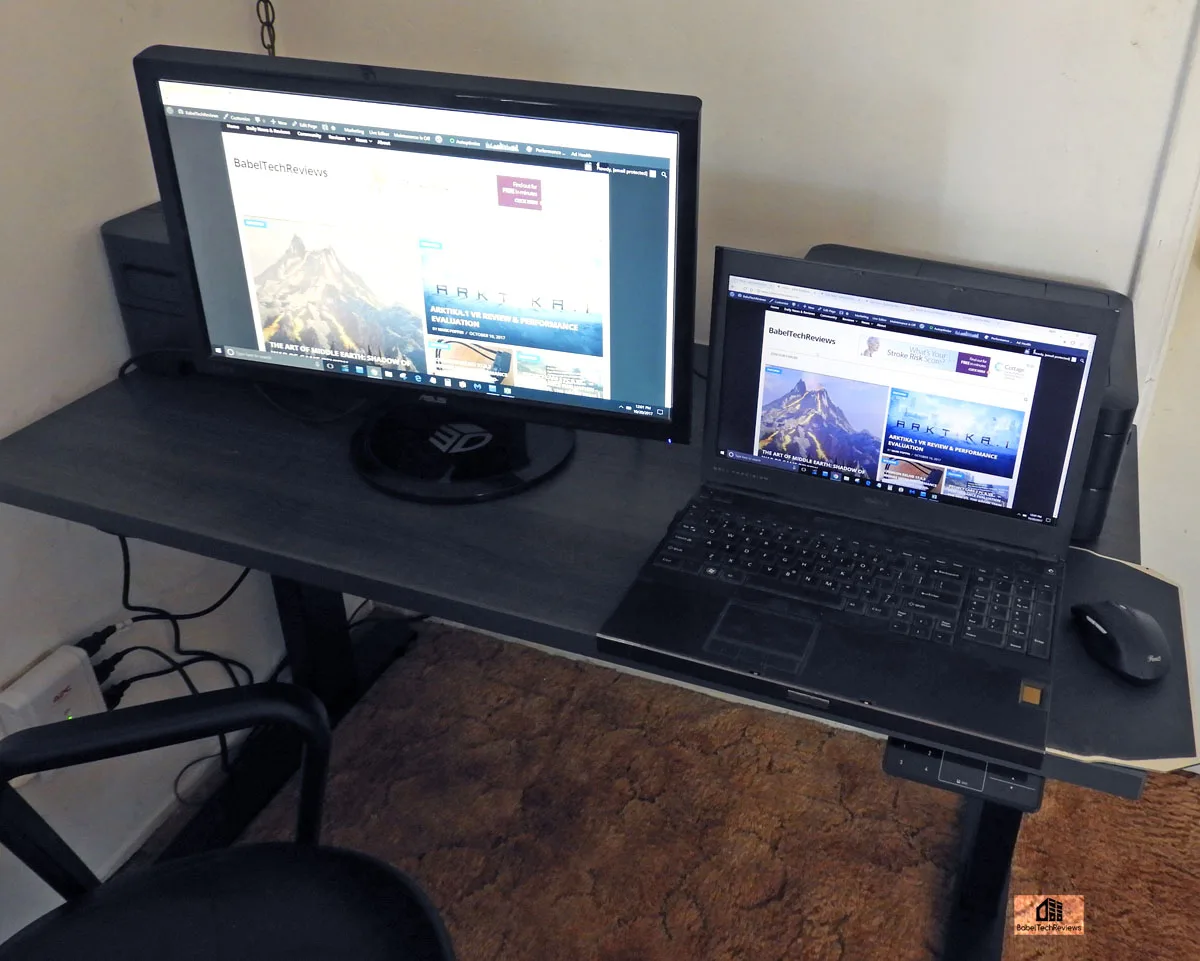 Two months ago BTR received a couple of heavy packages with parts for the sitting/standing VertDesk v3 directly from the company via FedEx. After removing our worn old traditional computer hutch with a sagging desktop, we built the VertDesk the following month and we have been using it ever since as our workstation.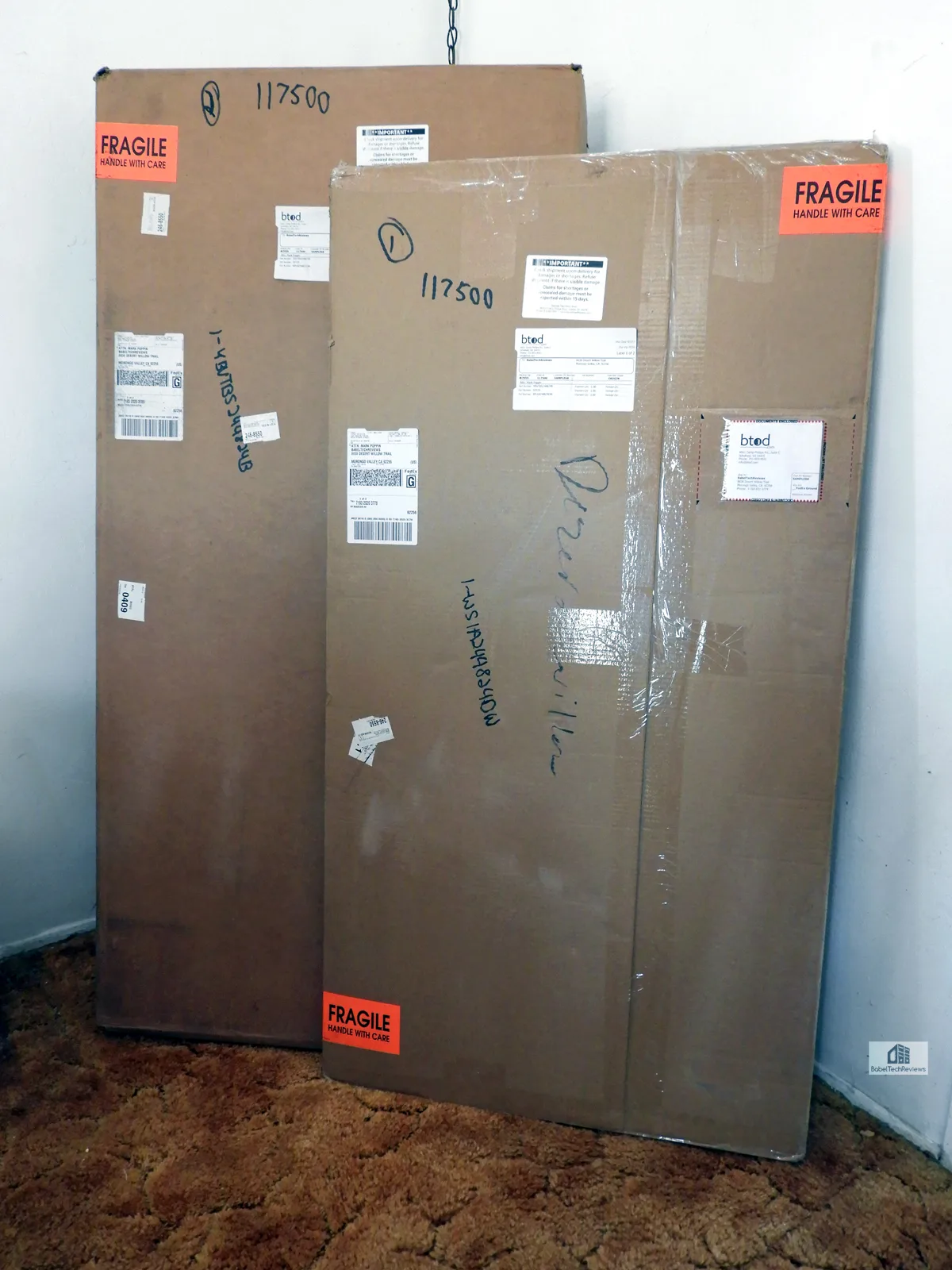 The 24×48″ VertDest v3 that we are evaluating today is a little smaller than our other height-adjustable desk, but it fits perfectly into the corner that we reserved for it. VertDesks start at $517.99 for the basic 24″x36″ desk with no options, to $637.99 as reviewed for our edition with programmable controls ($49) and a larger desktop ($71 extra).
VertDesk also included two cable management tracks for our review unit that we have not set up (at $29.99 each which if ordered, brings the total up to just under $734). As reviewed, without the optional cable management, this desk costs about $190 more than the standing desk that we reviewed back in April, and we will see what the differences are.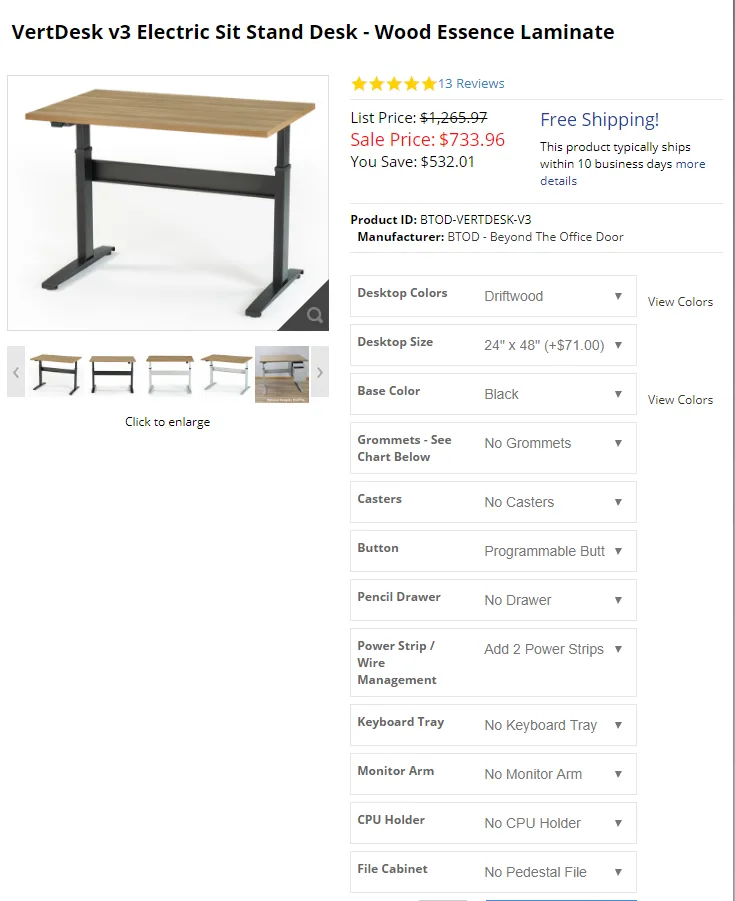 The VertDesk v3 is available with a choice of many options as above including a larger desk surface, a custom desk platform with a solid plank of real wood, or a built-in file cabinet, keyboard, or pencil tray which are installed under the desk. We picked a standard gray laminated driftwood top with black legs, and it looks very nice in our room.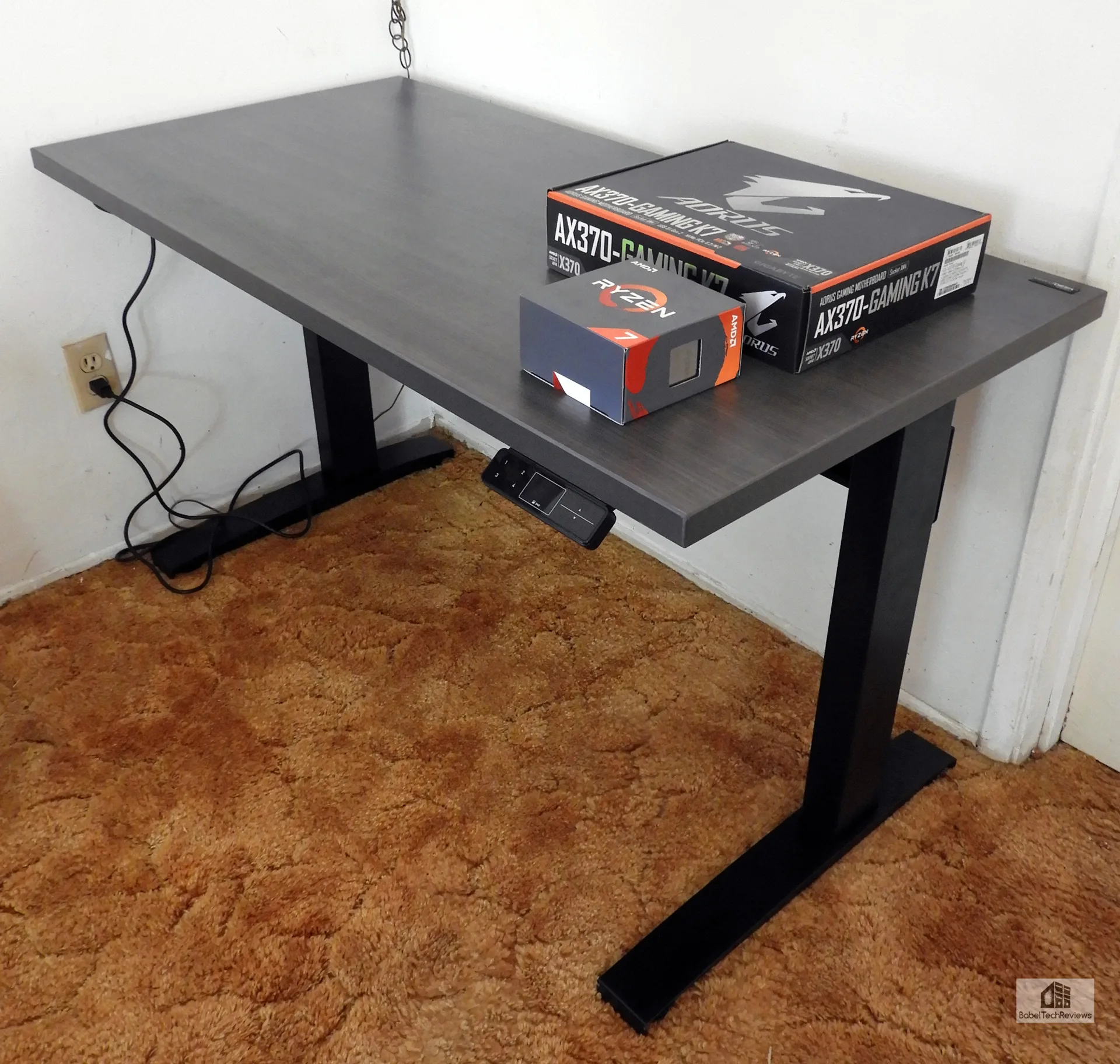 A good-quality desk is very important to desktop PC users including gamers. It has to be sturdy and it also has to be large enough to hold at least one display and the other accessories a PC user/gamer needs including a keyboard, mouse, mouse pad, and speakers. It also needs to handle the weight of the equipment that it supports for many years without sagging – or rocking. All of this is important for electronic height-adjustable desks, with the addition of needing a reliable motor, lifting mechanism, and electronics.
Until motorized desks were introduced, moving an entire desk from a sitting to a standing position was not an easy thing to do. The VertDest v3 is a desk that remembers four of your sit versus stand positions and allows you to effortlessly, quietly, and quickly change its position at the touch of the control pad.
Most of the competing automatically adjustable electrically-powered desks made in America are quite expensive in the "well-over $1,000" price range. On the other hand, many inexpensive desks are often cheap wobbly knockoffs made in China, and although they may start below $300, they are often only covered by a 1-year warranty, and many of them struggle with lifting very much weight. They may also be slow and noisy in operation. The VertDesk v3 starts below $520, it is quiet, fast, sturdy, powerful, the electronics are made in Europe and it is assembled in the U.S.A., plus it comes with a 5-year warranty on the electronics and ten-years on the frame and desktop.
Before we get to our impressions of the VertDesk v3, let's unbox it and put it together.
Unboxing
The VertDesk v3 came in two very heavy boxes. The smaller box contains the frame and the larger box contains the desk top.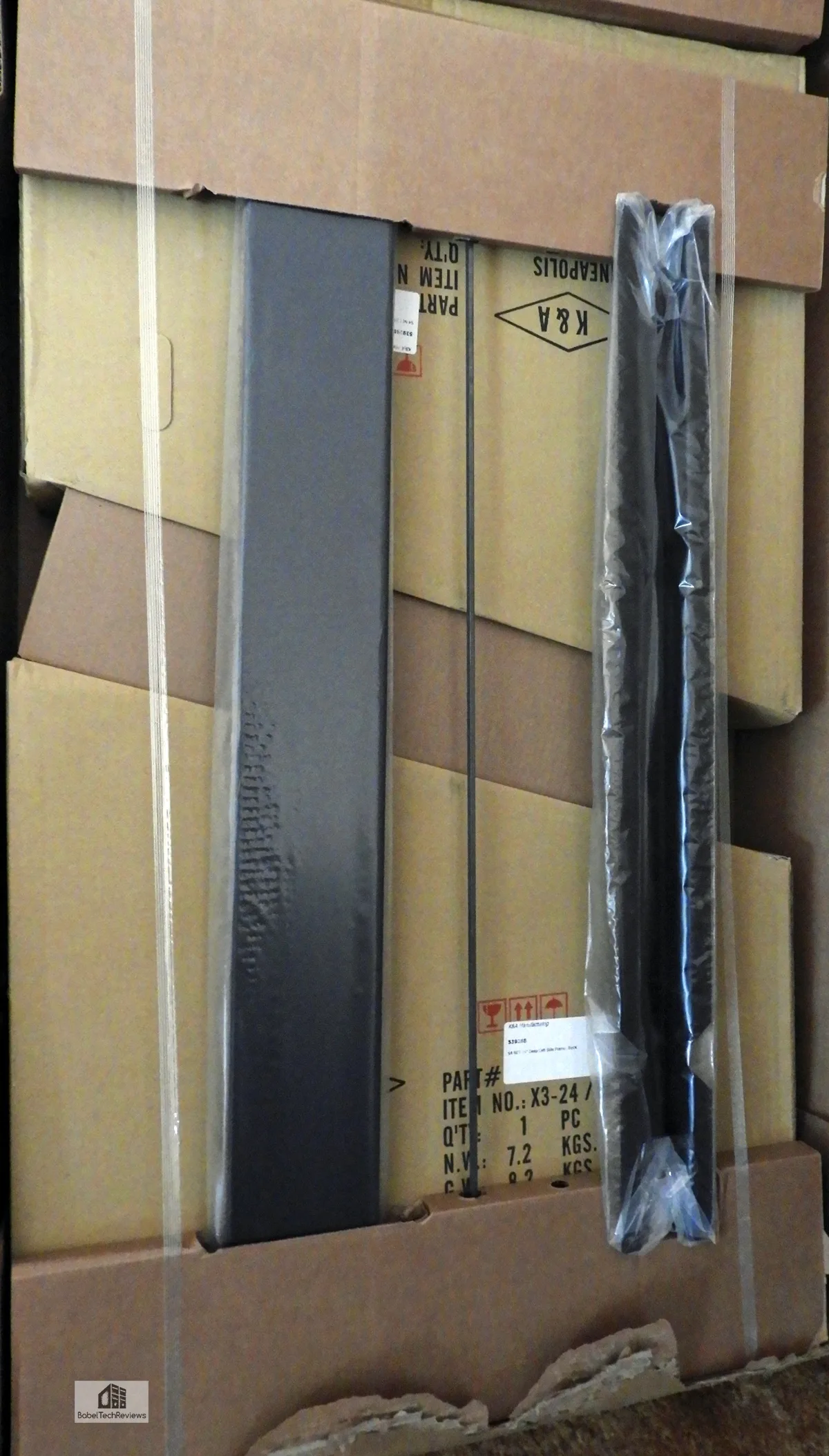 Everything is very well-packed and the contents arrived in perfect condition.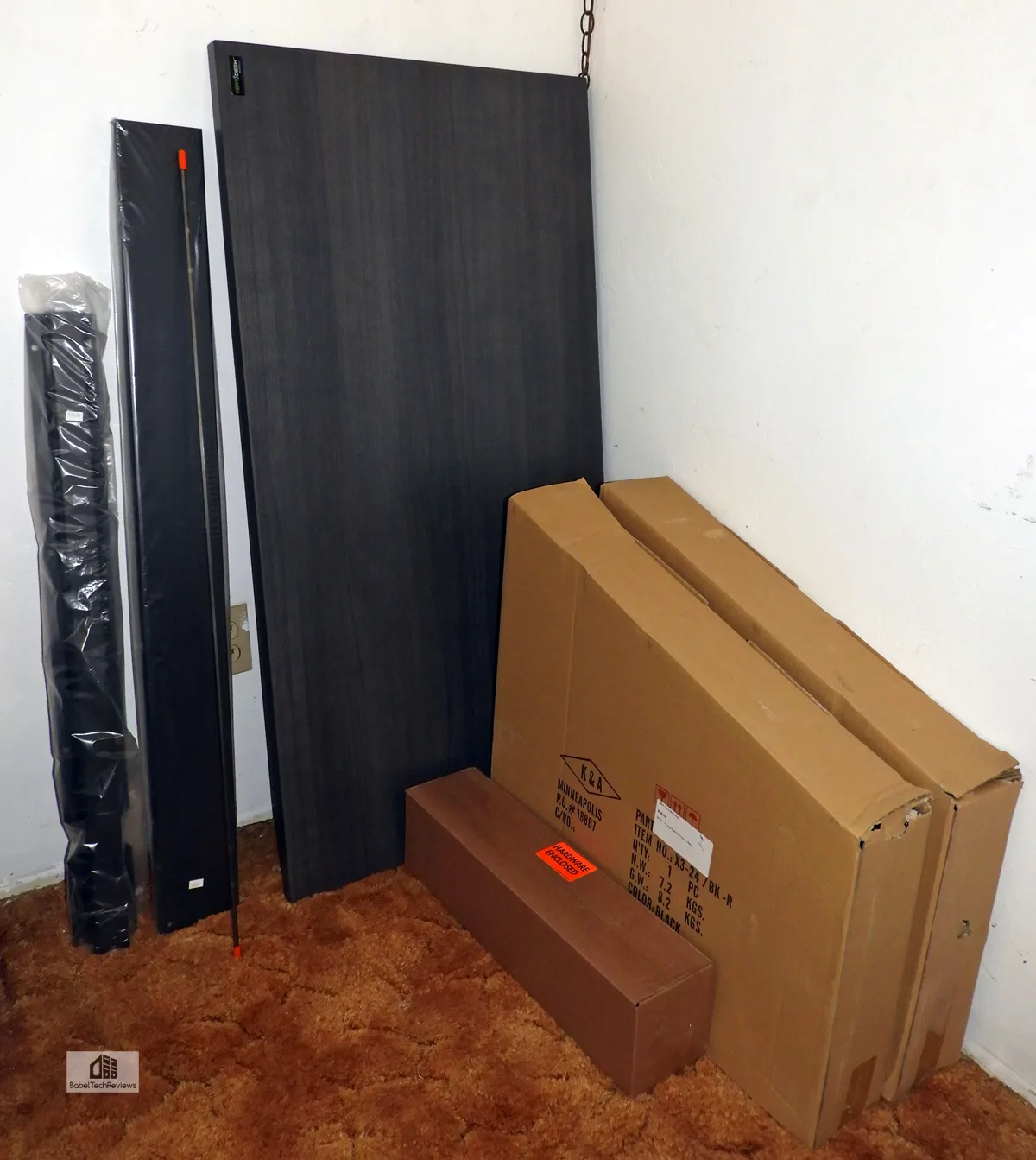 Below is pictured the VertDesk v3 desktop. It is solid and the driftwood laminate looks good, and it appears to be of good quality and well-made. There are no holes cut into the desktop for cable management. It isn't necessary for a smaller desk in our opinion, and there is a cable management option available to hold the cables well-hidden beneath the desktop.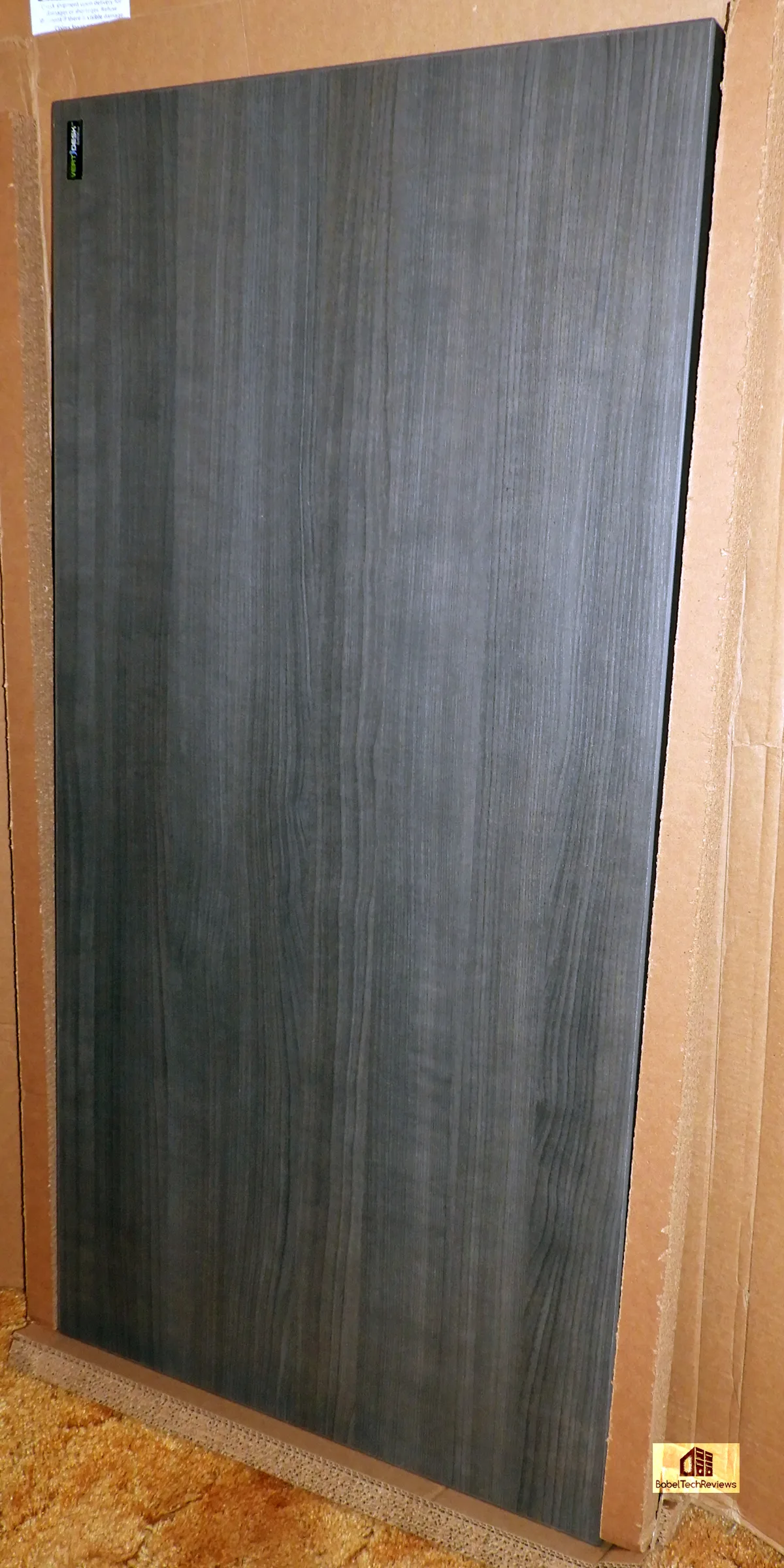 Your job as a do-it-yourself assembler is to make sure all of the parts are laid out to match the printed instruction guide. The parts that you need including the Allen wrenches are included, but you will have to supply your own sturdy screwdriver with a good handle, or else use an electric drill. Unfortunately, we couldn't find our Philips head driver bit attachment so we did everything manually.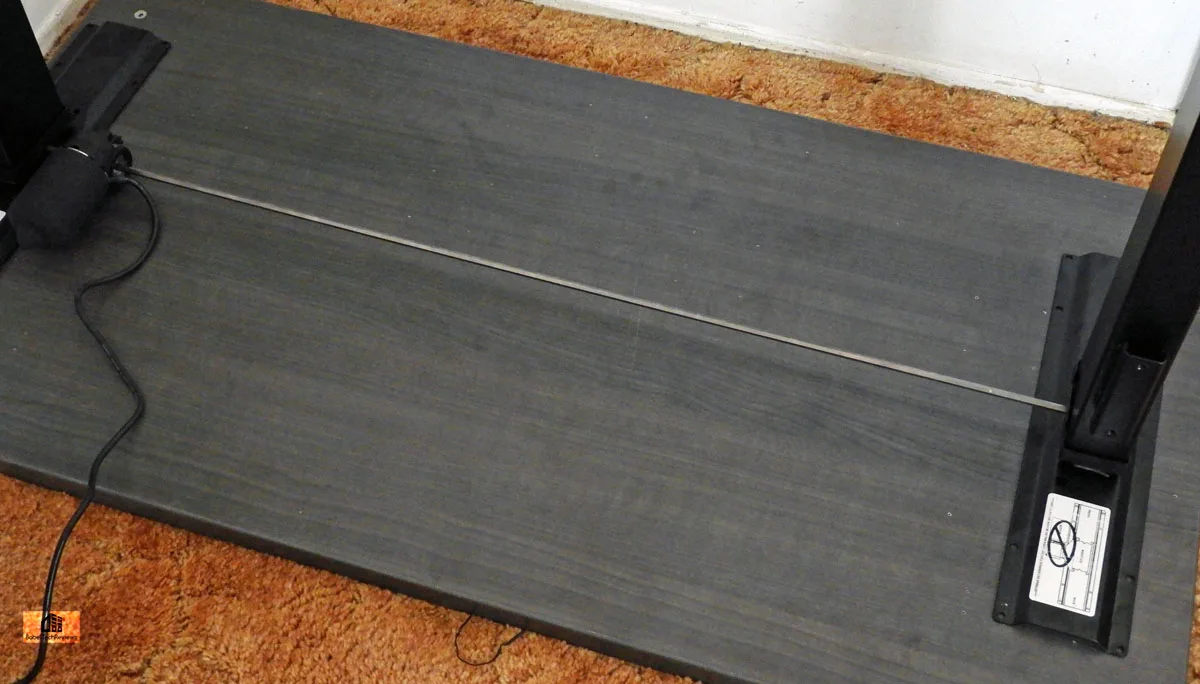 The assembly is step-by-step and the instructions are really easy to follow except for when we realized that the motor needed to be on the right side, so we turned the desk around. Even so, the VertDesk v3 was much easier for us to build than our first desk was. The only thing that may take a little extra time is the need to use a wrench to forcibly turn the hex rod through the motor so it will fit into the drive input hole in each telescoping leg. The motor is quite large, and it appears to be heavy duty.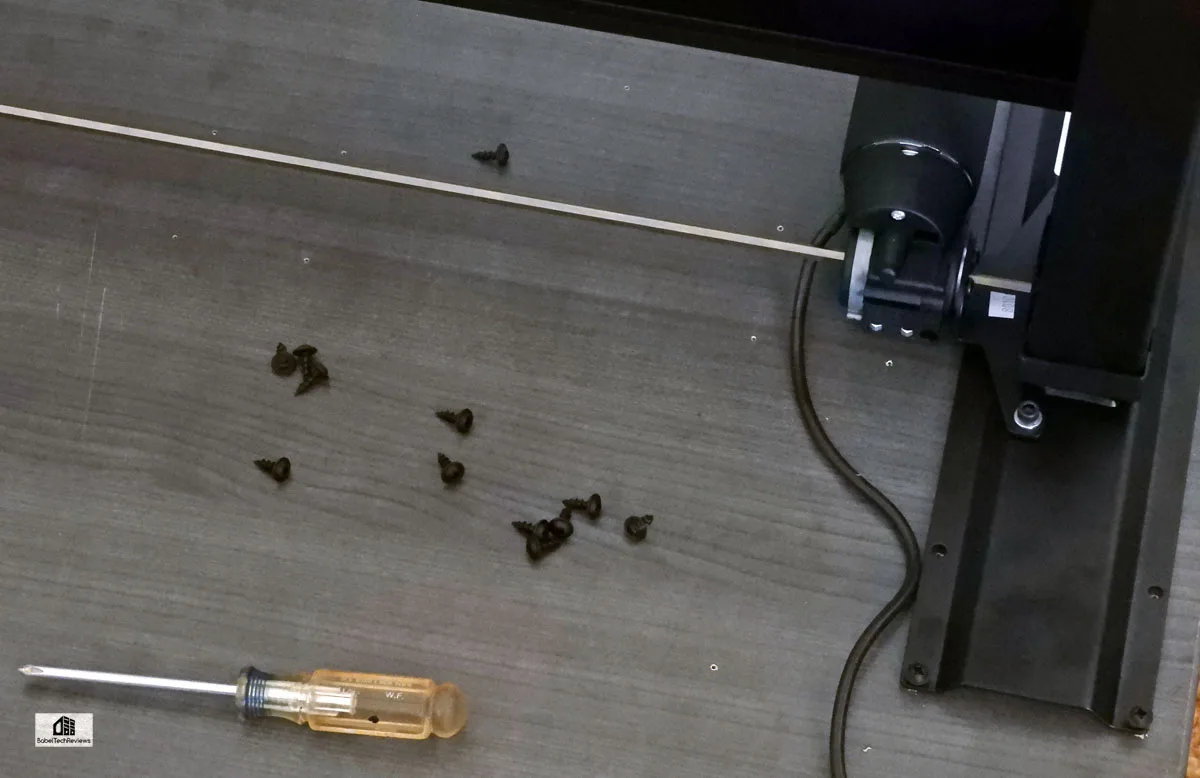 The next step is to tighten down the motor mounting nuts into the frame and then screw down the frame into the pre-drilled holes in the desktop before you install the control box. This is where an electric drill with a Philips head driver bit comes in really handy or you can muscle it as we did. It isn't that difficult with the proper size screwdriver as long as the handle has a good grip for turning. The cross support is then bolted to each leg to provide extra stability for the desk.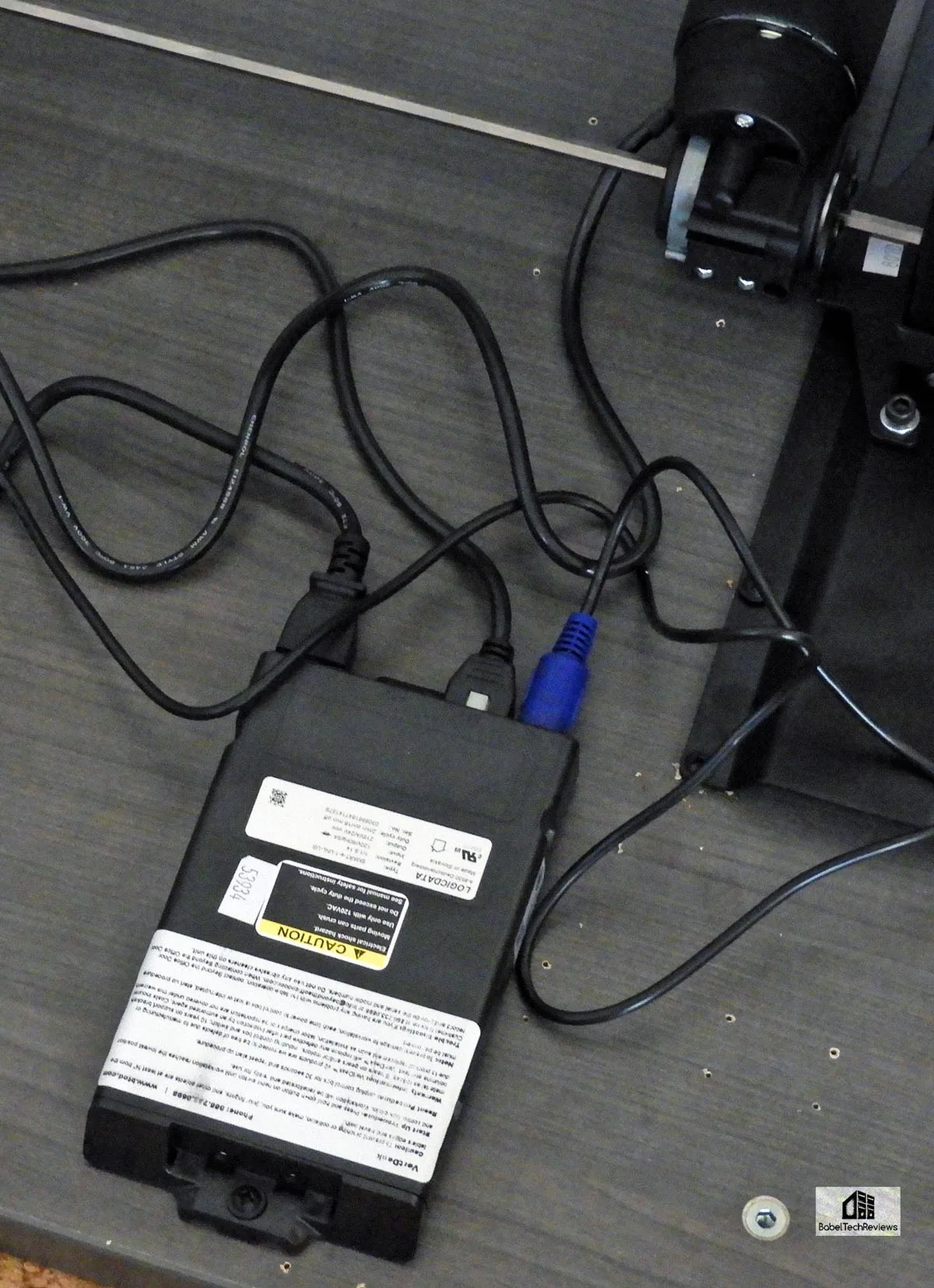 After the frame is screwed down into the pre-drilled holes of the VertDesk v3 top, it's time to install the controller which also fits into a predetermined area using screws to lock it down.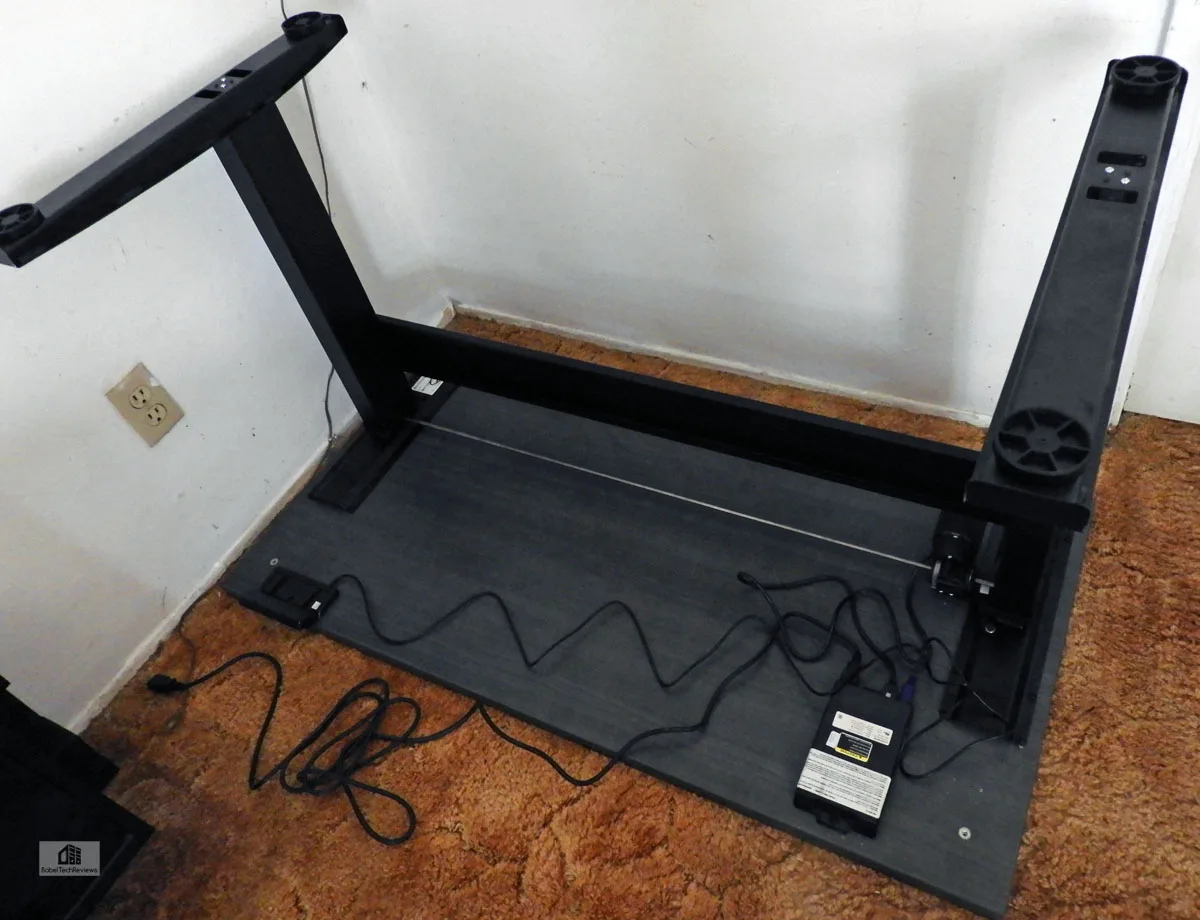 The controller is then plugged into into the motor and also into the programmable control panel (above image, bottom left) which is installed on the edge of the desk. To keep everything looking neat, you can use adhesive tape or the optional J-Channel wire management channels to hide the wires under the desk, completely out of sight.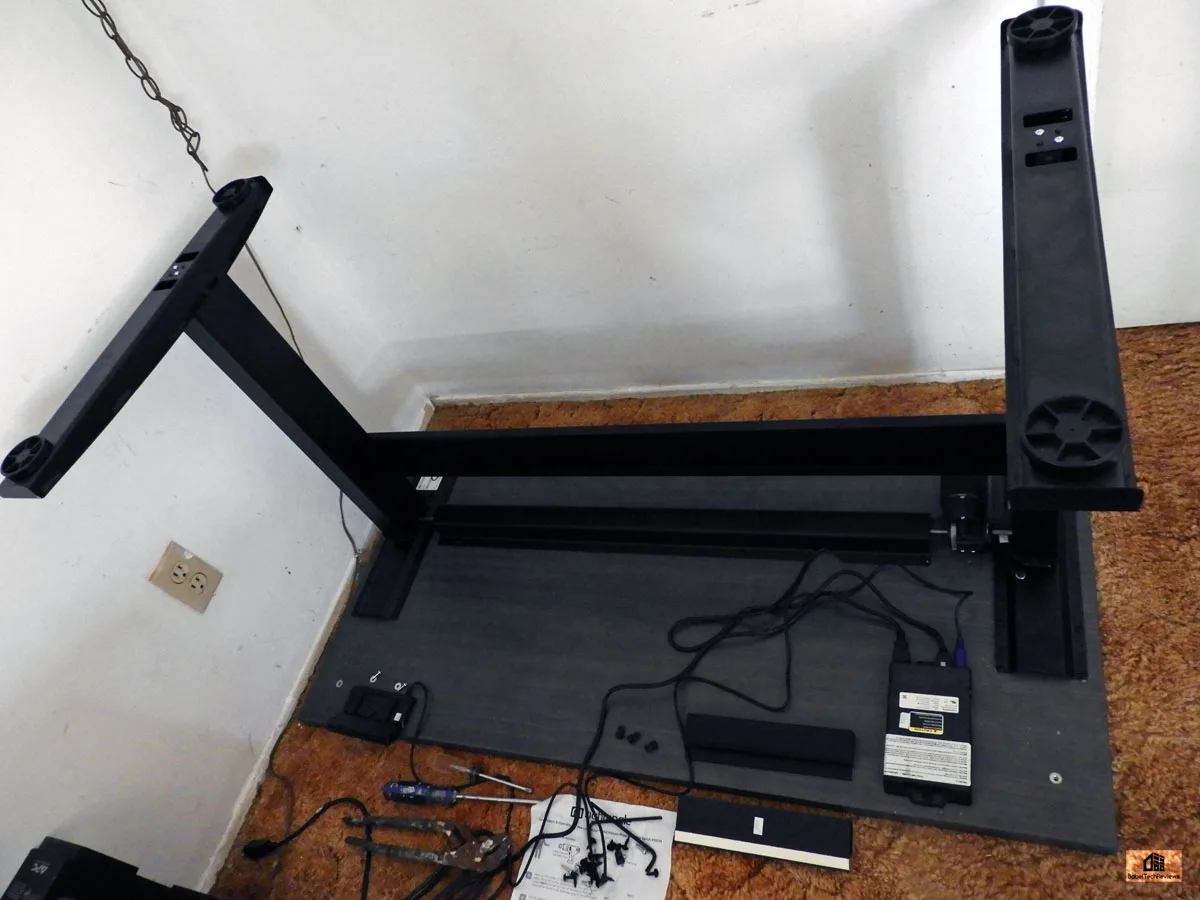 After everything is installed, one needs to tip the upside-down desk over and move it into place. It helps to have assistance with turning the desk over, but one person can probably manage it alone as we did. It took us well under an hour to fully assemble the desk which was partly due to the very clear instructions provided.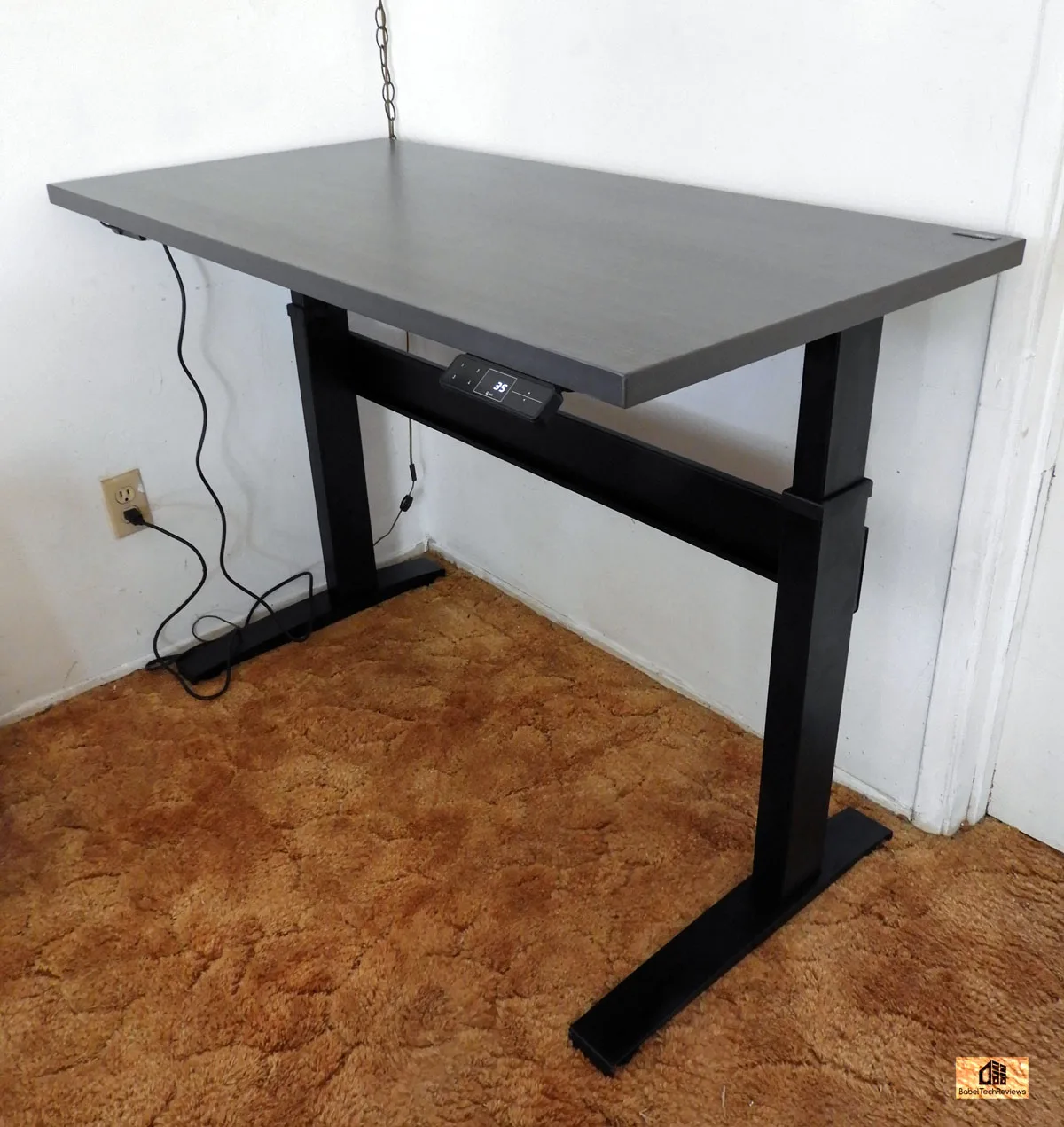 The tabletop is supported by a dual I-beam configuration which is quite sturdy. The legs use a telescoping structure that extends using a single powerful electric motor which turns a hex rod which then turns the mechanisms which raises each leg simultaneously, and it is rated to lift 275 pounds. The base is nearly as wide as the VertDesk v3's top which gives it extra stability, plus there is a cross bar for additional support.
The support cross-beam gives the VertDesk v3 extra stability especially when it is extended to its highest position. The support cross-beam goes on the back of the desk and although it seems like it would be more natural to be on the front, we realize that it is a style decision to give a very tall user extra leg room. We have to give the VertDesk v3 very high marks for stability. Our other desk was also stable, but it might rock a bit for a very tall person. The VertDesk v3 will not have this issue.
Using the VertDesk v3
The VertDesk v3 is a very good-looking desk with clean lines and it fits in well with any decor. There are 3 color options for the base – white, black, or silver – and many more options for the desktop including size and color which will allow it to fit in well with any home office or living room.
Below is the VertDesk v3 at an in-between seated height which is now programmed into the controller's memory along with our regular seated and standing height plus another standing height. The two extra settings are useful for a second user or for in-between heights. Instead of ever manually adjusting our display height again, we now use the VertDesk v3's height adjustment controller which requires a single touch of a button to remember your four settings or to find a new one.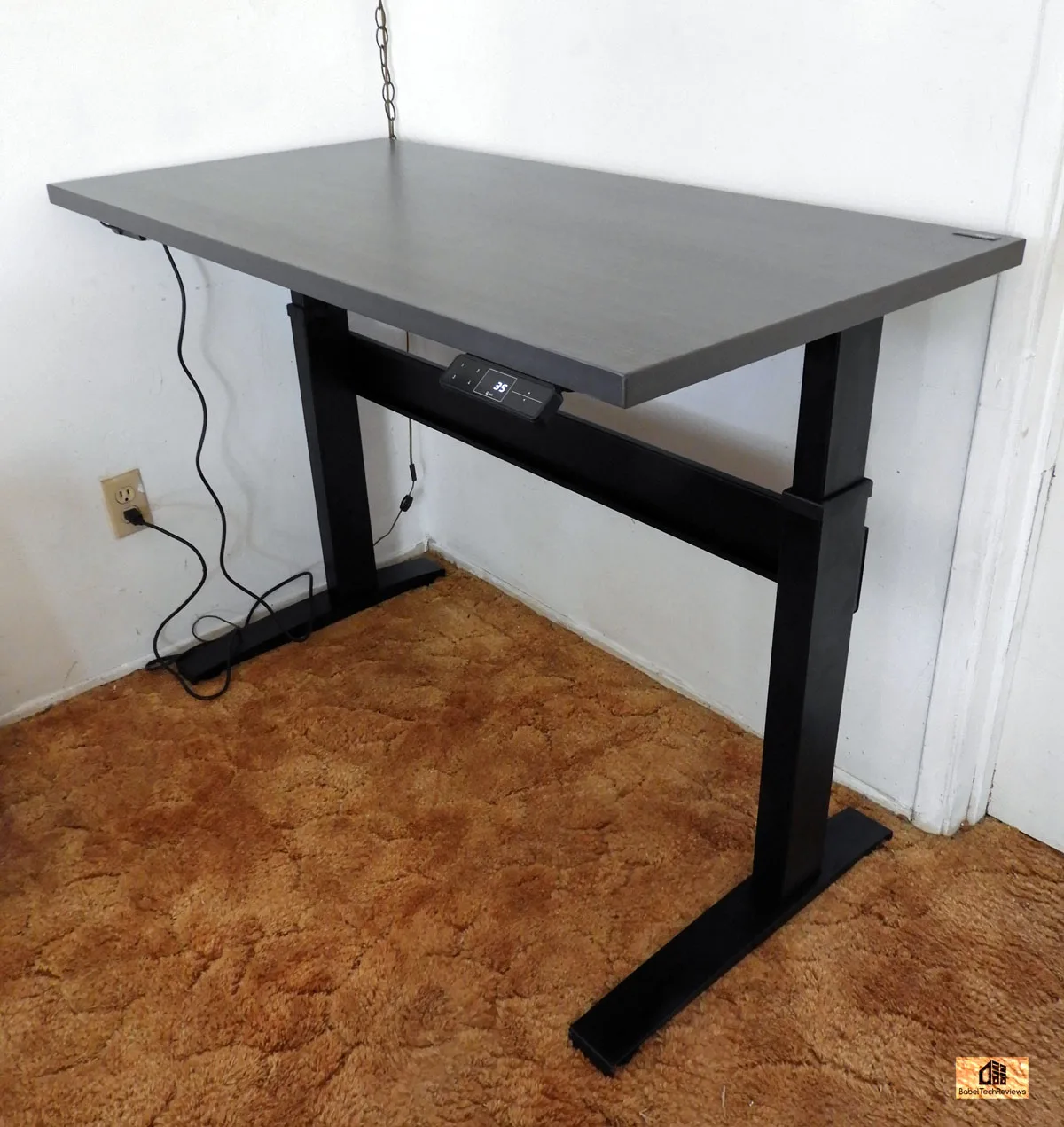 We use our workstation PC for video editing and for office productivity tasks. We also use this station to build and modify PCs, and it houses our printers. We do not find any advantage to desktop cutouts as they are usually insufficient for our mass of wires, and we have found no practical difference with running the cables and wires over the back edge of the desktop. One can also hide many of the wires right up against the bottom of the VertDesk v3 using the cable management channels that are available as an optional purchase. Just make sure to leave at least 1″ between the wall and the edge of the desk.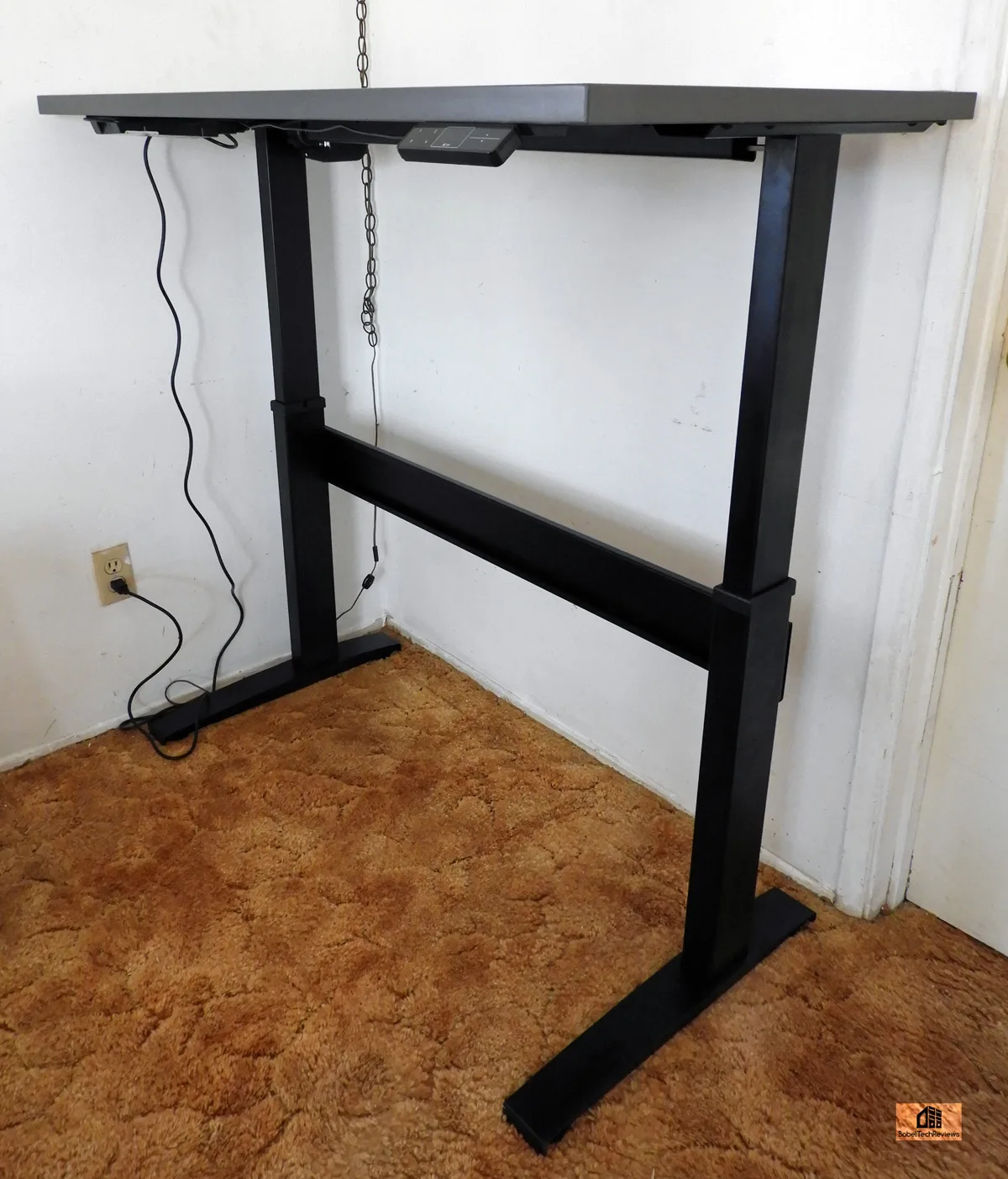 The desk extends from almost 27″ to 47.5″ which means that a tall person will have no difficulty using the desk in a standing position. It also moves quickly, at about 1.5″ per second. There is no monitor wobble whatsoever while typing or gaming even at the maximum extension because of the crossbeam support. And the desktop itself is 1-1/8″ thick wood with a wood grain laminate which means that it will not develop a bow over extended use. We also like the thickness of the laminate. A thicker laminate is more resistant to scratches and accidental scuffing or scrapes.
The VertDesk v3 easily extends from under 27″ to over 47″ in just a few seconds even fully loaded as it is here with two very heavy USPS batteries bringing it close to the total maximum weight this desk can handle! And as this video demonstrates, it is a very smooth and quick ride which will not upset anything that you may have on your desk – including a nearly full glass of water. Best of all, the motor is quiet enough so that you can raise the desk even while you are talking on the phone.
One added feature that we really like is that the VertDesk v3 has built-in protection. If you are lowering it and you forgot to take something out of the desk's path on its way down, it will stop automatically. And of course, the VertDesk v3 is not designed for giving your kids rides up and down. It is intended to be used multiple times a day, but not continuously. Of course, we deliberately overloaded it and ran it up and down many times to get this warning as it stopped on its own to cool down. Smart.

Our other height-adjustable desk is made entirely in China while the VertDesk v3 can claim to be Made in America although it does not advertise it. The VertDesk's electronics and the gears come from Europe, while the legs are built in Taiwan. These parts are then shipped to the VertDesk v3 OEM manufacturer in the U.S.A. to be assembled together with the rest of the parts that they fabricate. This is a solid reason why the VertDesk v3 is more expensive than desks made in China, but far less expensive than the desks made entirely in the U.S.A.
The VertDesk v3 is covered by a five year warranty for electronics, which includes switch, motor and control box. The VertDesk v3 frame and worksurfaces are covered for ten years which is double the warranty coverage for our other height-adjustable desk.
Let's head for our conclusion.
Conclusion
We love our VertDesk v3! It does everything that we could have possibly expected from an electronic adjustable sitting-standing desk, and we find that we are sitting less while significantly increasing our level of productivity while working at our workstation. It makes it far easier to build a PC when one can adjust the height of the work surface instead of stooping over.
If you have to stand up for health reasons while you are working and the desk doesn't rise with you, it my take quite awhile to get your train of thought refocused. With the VertDesk v3 you can continue your same train of thought and simply stand up while continuing to work as the desk automatically rises to your standing position effortlessly, quickly, and quietly. Both of our standing desks are outstanding values at each of their price points, and each one offers compelling arguments. The VertDesk v3 offers better electronics, a much longer frame warranty, and more stability.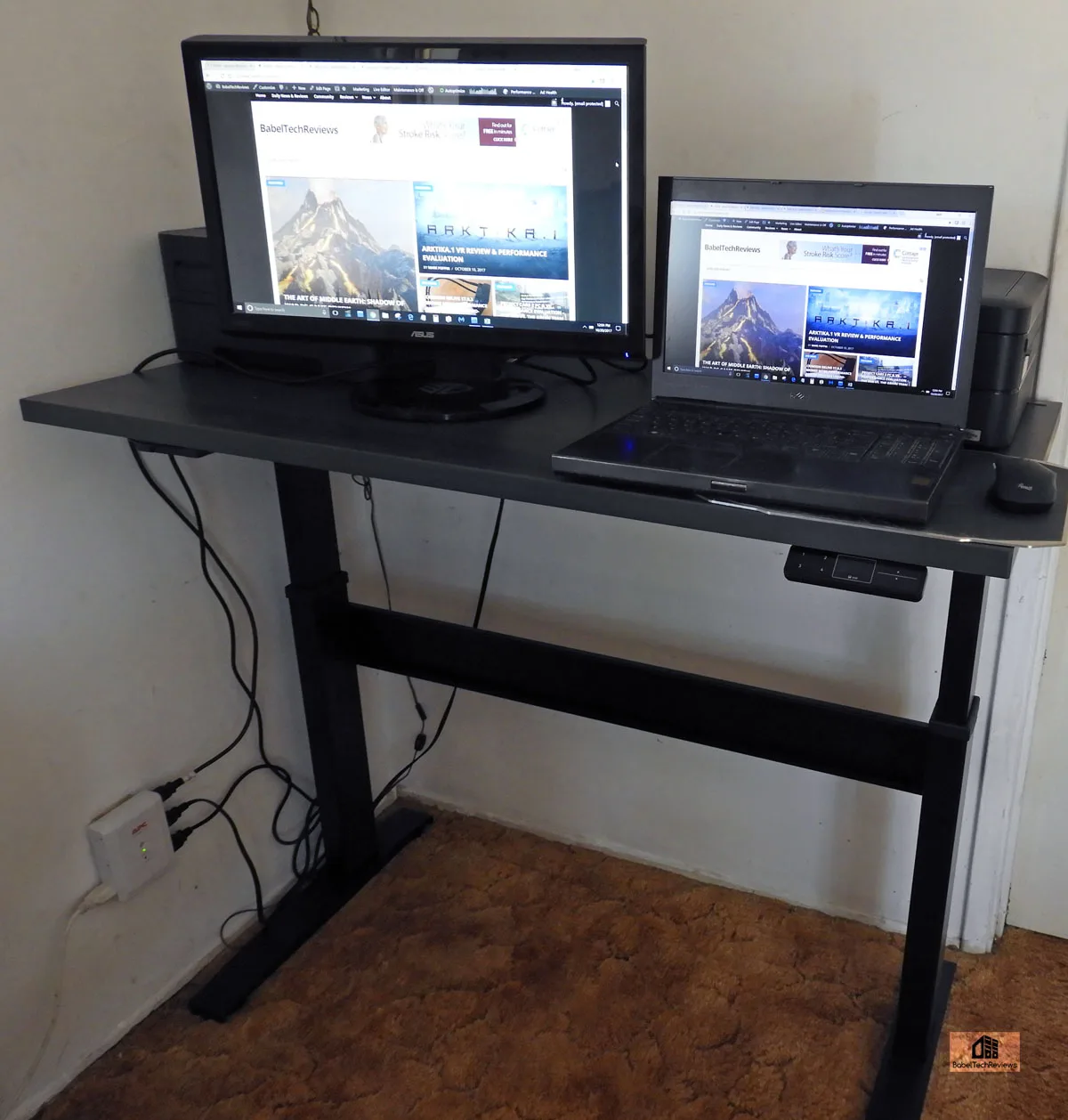 Let's sum it up:
The VertDesk v3 Pros
The VertDesk v3 has many options available starting at around $520. It is made in Wisconsin, U.S.A. using high quality electronics from Europe and a well-made frame fabricated in Taiwan.
The motor is very quiet and fast and there are 4 height options that you can pre-program for your best standing or sitting heights.
The desk is very sturdy, and it does not wobble.
It is easy to put together for a D-I-Y'er and the instructions are very clear
A 5 year warranty on the electronics and ten years on the frame and surface gives peace of mind.
There is a 30-day return window with a full refund available if you are not happy with your VertDesk v3.
The VertDesk v3 Cons
It is a little pricey until you consider that the VertDesk v3 benefits your health plus your productivity.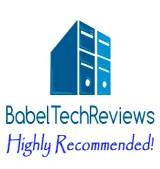 The Verdict
The VertDesk v3 is very solidly built and it does what it is supposed to do in style – it gets you out of your seat while allowing you to continue writing or working without interruption.
The VertDesk v3 represents a solid value in our opinion at just under $520 as reviewed, and it deserves BTR's Highly Recommended Award for a well-thought out and well designed electronic adjustable standing/sitting desk as one of the best possible replacements for any static desk that one may own. It is significantly better than many inexpensive standing desks from China, yet it offers most of the quality and features of desks costing twice or three times as much.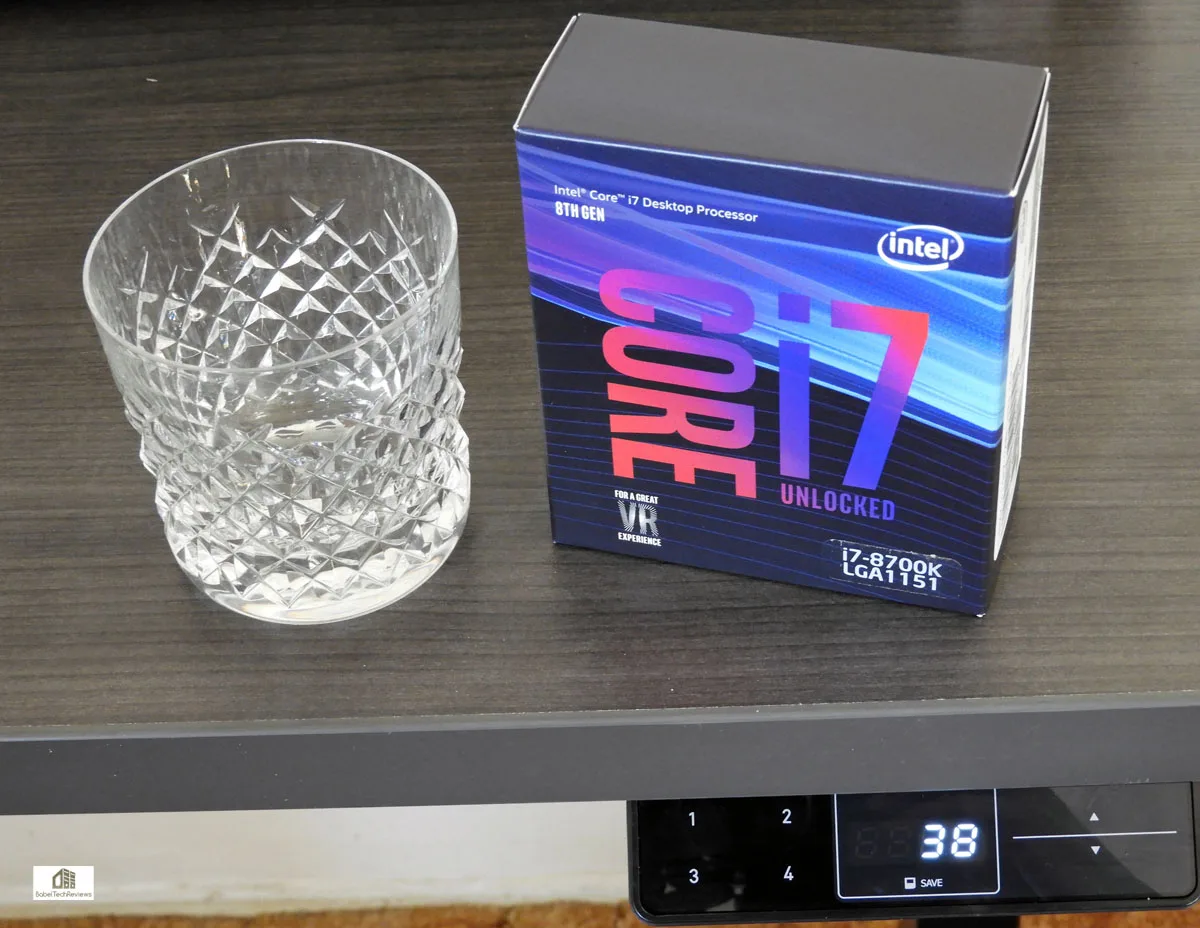 Stay tuned to BTR. Next up we are benchmarking in preparation for our i7-8700K which has just arrived.
Happy Gaming – and don't forget to stand up regularly!