Content is a Small Part of Streaming Leadership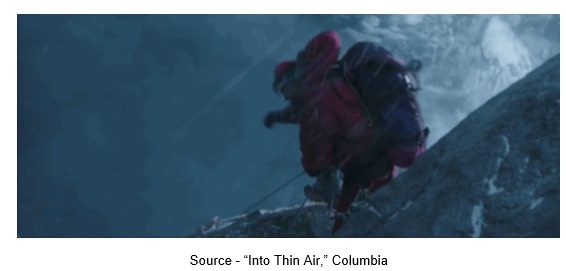 Shortly after Tim Berners-Lee launched the world's first web site, someone made the profound statement that, "if it's on the Internet, it should be free!"
So, how's that working out for you?
We didn't believe it either, especially when it comes to entertainment – reading, games, TV/streaming, stuff.
Actually, it was (sort of) until a couple of years ago, when your viewing bundles were only $100 per year, and you made up the difference by watching ads flash by.
This year, people decided they didn't want any or only a few ads and they began to subscribe to online content, so their media and entertainment budget jumped to about $300, according to Deloitte.
The industry can thank Netflix for getting the ball rolling with great unique movies and shows and yes, a ton of word-of-mouth advertising.
When its DTC (direct to consumer) service reached consumers in 190 countries and its subscriptions surpassed 216M worldwide (74 plus M in North America), everyone in the industry thought it might be onto something.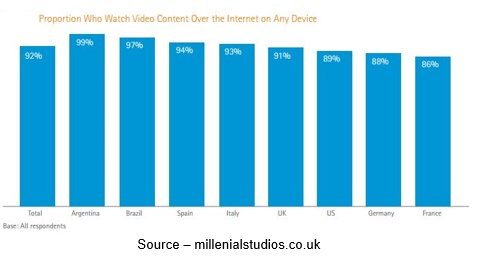 After all, every studio/network in every country knew they had the same high-quality content that people would gladly pay a "reasonable" fee to watch where they want, when they want, how they want.Of course, as people's entertainment choices become more diverse, the movie/show industry is no longer alone in the pursuit of consumer's leisure time.
According to Deloitte, movies and TV programming still represent the largest share of entertainment time, but other activities are rapidly encroaching.
Gaming, reading, short-form video (Spotify, Tik Tok), music, podcasts, live-streaming and even alternatives to premium video (ad-supported) are also filling consumers' limited time and budgets.  In fact, according to Intreped, mobile gaming accounted for nearly two hours per week this past year.
But being the leader – or at least a significant player – of regional/global video content leadership is the pinnacle every M&E organization/executive works for.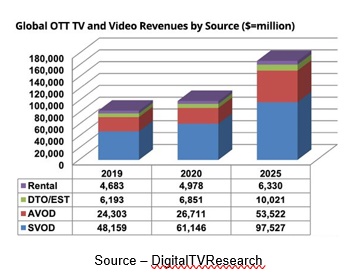 There's plenty of room in the complete market for leaders and followers to achieve substantial growth, especially in SVOD. Global SVOD subscriptions will grow nearly 490M to an estimated 1.64B by 2026. By then China and the US will account for about 49 percent of the global total.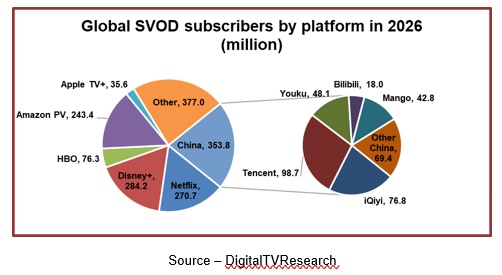 Digital TV Research projects that five major US-based platforms will control 53 percent (910M) of the world's 1.7 billion SVOD subscriptions by 2026Disney+ will be the biggest winner, overtaking Netflix in 2025. Disney+ will add 140 million subscribers between 2021 and 2026 to bring its total to 284 million with 43 percent of the total coming from the 13 Asian countries via Hotstar.
Even the industry's most established platform — Netflix — will add 53 million subscribers to reach 271 million subscribers by 2026.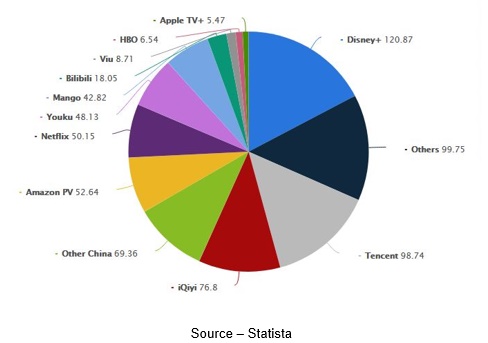 While it's market growth will slow, China and its leading streaming providers – iQiyi, Tencent, Youku – will remain dominant in the Asia Pacific region. Late last year, the government established new online anti-fan regulations that limit game time for minors and forced SVOD platforms to screen fewer reality shows. That will slow the demand for SVOD content and perhaps increase the interest in theatrical attendance and the ad-supported platform content.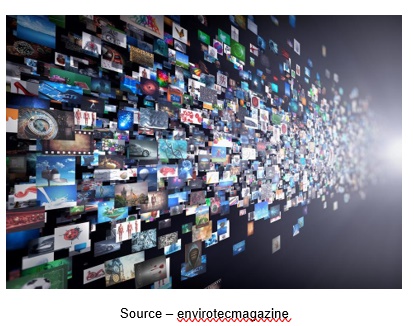 With "everyone" getting into and enjoying streaming content, it has been "relatively" easy for new entrants to attract eyeballs to their content location.  With free 30-day trials and really low monthly subscription fees, it's relatively easy to see how quickly and easily households suddenly had five to seven streaming sources.
At the same time, it's extremely easy to cut the relationship with one video subscription service and replace it with "a better choice" – hit unsubscribe … done and done!
While there is no such thing as a sure thing in the M&E industry, Netflix and Amazon Prime could/should remain at the top of the five streaming service offerings because of their major commitment to new/unique content and their special sauce.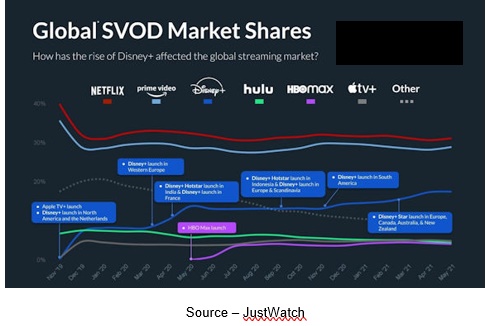 Because they have been in the home entertainment content delivery service since literally day one (first in red envelopes then OTT), Netflix established itself as an organization that didn't want to simply give consumers good content direct to their screen but great content. At almost the same time (first video stream dates are "a little" fuzzy), Jeff Bezos former CEO of Amazon, launched the company's video service – Amazon Prime Video.
Despite not being considered true movies by the Hollywood establishment, the two invested in and rolled out a steady stream of audience-gathering, award-winning content. It didn't take long for the two to be really big deals around the globe.
Then the content world changed as Disney and Apple entered the scene with WarnerBros/HBO hoping to replicate Netflix's and Amazon's success in Europe, LatAm, APAC, the Middle East and Africa (in other words, everywhere). But their extensive distribution deals will dramatically slow their subscription ascent.
Networks and studios got serious about being at the top of the streaming content mountain. Stumbling with their services at home, Comcast and ViacomCBS partnered with SkyShowtime that will launch this year in Europe with a lot of original content a, library titles in the NBCUniversal, Sky and ViacomCBS's portfolios plus a whole lotta luck
Getting subscribers isn't hard – free trial period, low entry price, week after week of new stuff. The challenge is keeping subscribers because it is 5 to 25 times less expensive to retain an existing viewer than get a new one.
This is where digitally born streamers like Netflix, Amazon and Apple have a significant advantage over networks and studios.
A key part of their foundation and success has been gathering customer/subscriber data to learn more about the individual, his/her viewing habits and often more than they know about themselves to develop new projects that will appeal to the audience to keep them connected and make informed content recommendations to keep them connected/involved.The three have spent years – long before their rise as first choice streaming video destinations – capturing data that enables them to understand how customers think, act, respond and feel rewarded by the products, services, content they receive, use/consume, enjoy.
Simply put, they invest in a deep understanding of their audience, their motivations, desires, pain points and actions.
Netflix, and to a lesser degree Amazon and Apple, have combined their treasure troves of rich, insightful data with A-list creators/talent, allowing them to develop films/shows that capture subscribers attention.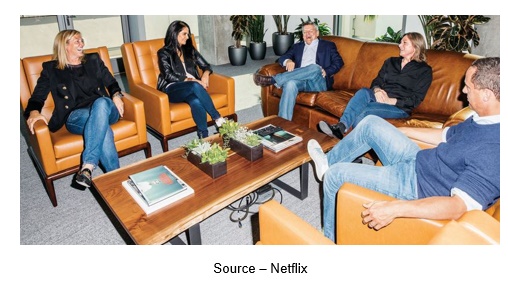 Of course, it is also frustratingly true that Netflix has been quick to end/replace projects on the streaming service's roster that didn't meet its customer data standards/interest. Projects like The Witcher, The Power of the Dog, Money Heist, Don't Look Up, and others easily won the time and eyes of subscribers while films and series we thought had some potential didn't make the cut.
To keep the excitement/interest growing for Disney + and its related international streaming service properties, the company marked its second Disney+ Day a few months ago with content from Disney, Pixar, Marvel, Star Wars and National Geographic across its service, social media platforms, parks and retail outlets with new shows, movies and a range of opportunities.
According to Digital TV Research, the in-depth understanding of the Disney-interested families and individuals is keeping Disney+ on target to have 271M subscriptions by 2026, slightly behind Netflix 275M viewers.
Trying to differentiate his Warner Bros Discovery service even before he successfully merges the two entertainment entities, David Zaslov is confident the fresh, original content and DC superheroes will help them win over 200M subscribers by 2026.
Just as the two studios outlined their plans for this year, Netflix again expanded its entertainment offering–first with in-person entertainment and then with an addictive behind-the-scenes tool for subscribers.
While many thought their announcement of Netflix Is a Joke: The Festival was a little self-deprecating, the 11-day, 25-venue event seems to reinforce the streaming video services ability to give global subscribers a much-needed break from two really tough years.
Featuring 130 comedians covering almost every subject imaginable, it will include a special LGBTQ+ celebration, as a way for co-CEO Ted Sandaros' public admission "I screwed up" regarding the support of some comic's past material.
The company is going to get a double bang out of the event by filming all of the shows and turning them into a series of shows subscribers around the globe can enjoy.
To control its coverage of its series and films while giving subscribers a closer relationship with shows and the behind-the-scenes activity, the company rolled out a special website, Tudum.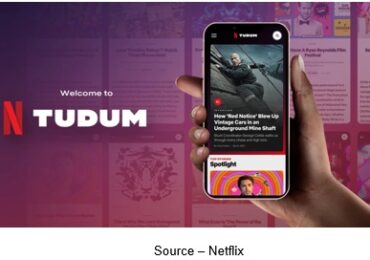 Building on the success of the global fan event, the site gives subscribers all of the "extras," insights, stories behind the stories, outtakes, talent interviews and more to make it more difficult for subscribers to leave/cancel "their" personal streaming service.
The constant tweaking and ethical use of subscribers' data enables streaming video services to create content people have to/want to watch and keeps them coming back for more.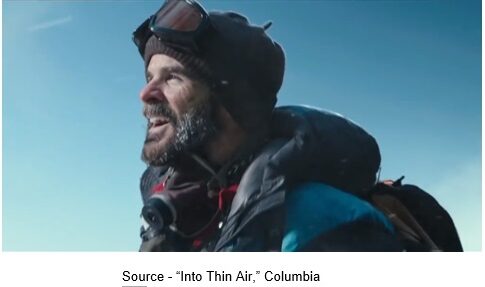 The rush to be the leading streaming video service is the industry requires a total view of the situation as Rob Hall noted regarding summiting Mt. Everest, "With enough determination, any bloody idiot can get up this hill. The trick is to get back down alive."
# # #
Andy Marken – andy@markencom.com – is an author of more than 700 articles on management, marketing, communications, industry trends in media & entertainment, consumer electronics, software and applications. Internationally recognized marketing/communications consultant with a broad range of technical and industry expertise especially in storage, storage management and film/video production fields. Extended range of relationships with business, industry trade press, online media and industry analysts/consultants.