Global Content Isn't Just Nice … It's Important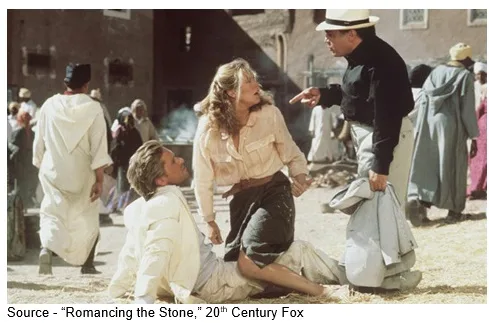 In college, we used to go to a kickback art theater.
It had huge, questionably clean pillows you could lay on and wipe your popcorn buttery hands if you didn't have a napkin with you and didn't want to use your pants.
Okay, TMI, but the flicks were great and from everywhere – France, Japan, China, India, Australia, Britain, wherever.
Sometimes, they were poorly dubbed or only had halfway decent subtitles. But it didn't matter because it was fun to see what people in other parts of the world thought was good/great cinema.
And yes, it also made us feel a little cool.
Periodically, we scrounge through YouTube to find decent foreign content. We also try apps like Cameo, Substack and Patreon. There is some creative stuff if you have the patience to dig around, but most of it is just young wannabes or worse.
That's why we're glad Netflix (214M global subscribers, 74M Americas) and Amazon (200M global subscribers, 153M Americas) expanded internationally a few years ago.
To stream their content in those countries, governments required that 30-40 percent of their libraries be local content.
Now that they're both in 190 plus countries, that's a helluva lot of localized original/licensed content costing them much less than producing/licensing content here.
Initially, they'd move completed projects into neighboring country libraries and folks would sign up to enjoy something new, different. Then someone had an epiphany … "If Indians liked Indonesian films and Germans liked French shows, maybe we could move content around the globe and really optimize our ROI (return on investment)."
Okay, maybe they didn't say that … but they could have.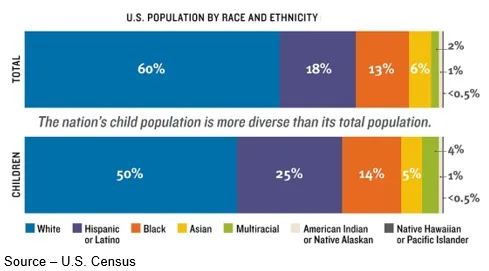 The census numbers clearly showed that there are more Indians, Aussies, Pacific Islanders, Mexican, Chinese, French, Dutch, Saudis, Kiwis, Nigerians–every nationality you can name living in North America than anywhere else outside of their native country.
They also knew that people really enjoy watching movies, shows that include people who look like them. If the visual story also takes place in the "old country," even better.
When the industry – and everyone around the globe – hit the virus brick wall and had to stay home, that localized content became interesting to people.
But to make the films/shows inviting in other countries – especially in the Americas – they had to be dubbed or subtitled—a minor expense to make the content inviting here and everywhere.
Heck, there are times we watch British and Aussie films and wish they had "English" subtitles.
Or paraphrasing playwright George Bernard Shaw's quote … three countries separated by a common language.
Sorry!

The U.S. continues to be the leading content production country in the world.
However, a growing volume of that content is being produced in other countries — Canada, England, Poland, Nigeria, Australia and India–that offer significant incentives and assistance.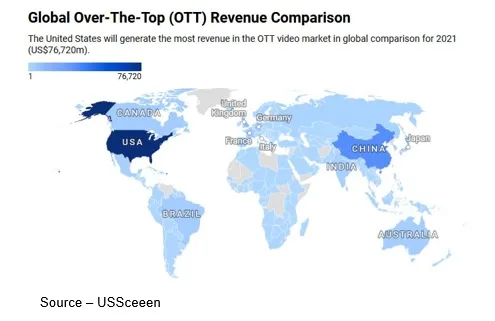 Until 2020, the Americas was also the major consumer of film and show content.
China's 1.4B plus population and 75.5 thousand screens were in second place for theatrical/streaming content with India's nearly 1.4B population a close third for movie, pay TV and streaming content.
But when China tightened content restrictions and beefed up its content production program, stuff produced at home and in the region quickly dominated the theatrical/home screens.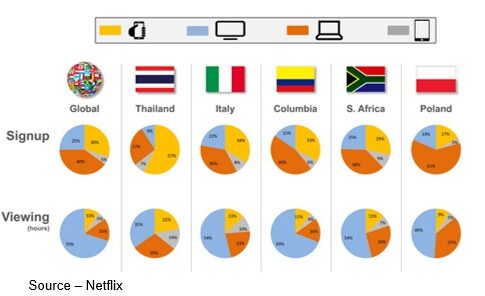 The AP (Asia Pacific) video streaming market was worth an estimated $10B last year with ad-supported services leading the race. Unlike the markets in the Americas and EU, viewers don't mind paying for their content with a few minutes of ads per hour.
According to studies by the GSMA (Groupe Speciale Mobile Association), more than 2.8 people (67 percent of the population) have mobile connectivity.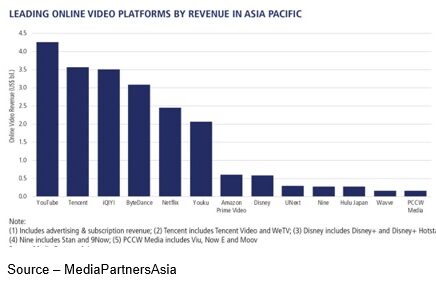 YouTube is the most widely used video streaming service because of the global availability of semiprofessional, professional, casual and OMG (oh my gawd) content. China's iQiyi, Tencent and Youku (all ad-supported services) dominate the Chinese market and have impressive subscriber bases throughout the rest of the SEA (Southeast Asia) region.
Because of the focus by Netflix, Amazon, Disney and Apple's mobile device/content activities (they aren't very transparent on subscription numbers), SVOD has become increasingly popular in nearly every APAC (Asia Pacific) country with a record 502M by the end of last year.
Netflix's aggressive content production/acquisition and marketing helped the organization sign up more than 50M subscribers in the area.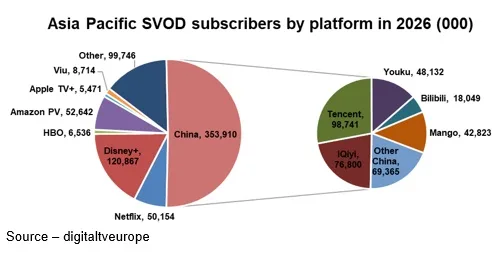 It is difficult/impossible to differentiate Amazon Prime's ecommerce customers and Prime + people who stream video content multiple times a month.
Including subscribers in India's Hotstar service (a division of Disney), Disney + has seen impressive growth in the APAC area.
The challenge, as Bob Chapek, company president, noted in his last investor's call; is that by law, subscriptions are cancelled automatically at the end of the year and have to be renewed unlike in the Americas/EU where subscriptions continue until someone ends the relationship.
That's a little tough because there are times (okay, often) we forget which SVOD services we have and which one is featuring a show/movie we're interested in.
With the number of subscribers and streaming services swelling; Hollywood, Bollywood, Nollywood and video story production centers around the globe are churning out more content, especially episoidic series which engage viewers longer than feature films.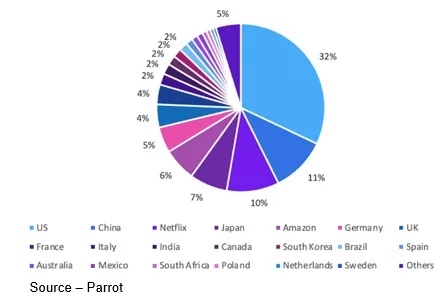 The U.S. demand for non-U.S. content was higher each quarter than in the previous two years, according to data provided to Axios.
Non-U.S. content accounted for nearly 30 percent of demand in the Americas last year as people suddenly discovered new shows/films from countries such as India, Spain and Turkey.
Netflix can be credited for the expansion of today's cultural diffusion (globalization of content) as they aggressively bought foreign rights to recreate them in Americanized versions.
Their investments in international content has influenced the entire industry across all genres.
Interestingly, international hits such as I May Destroy You, Lupin, When They See You and other overseas projects disproved an old Hollywood notion that films with Black characters wouldn't do well abroad.
They did very well, thank you!
Another misconception that Wall Street likes to cling to is that Netflix is losing market share, which isn't exactly true.
"The pie is still growing even if Netflix's slice is shrinking," Parrot's Christofer Hamilton said. "While demand share shows relative standing and 'who's winning,' it glosses over an important point: the size of the streaming pie is still growing."
To fuel its growth, Netflix will spend nearly $14B on content this year.
Disney is also targeting aggressive growth and is planning to invest about $33B this year; but that investment covers linear programming, sports … and streaming content. Insiders suggest that $8-$10B will be for Disney+ and Hulu content.
With aggressive plans to be one of the top five global streamers, Warner Brothers' Discovery's boss David Zaslav has said his firm plans to invest $20B on content this year and the financial market/shareholders will likely give him plenty of room to reinvent the organization and expand.
Organizations like Amazon Prime and Apple TV + will be happy with more modest growth, while other content producers/streamers will have to consolidate to achieve depth/breadth or resign themselves to be niche services.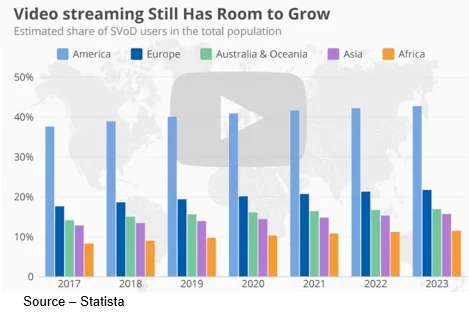 While SVOD subscriptions are growing rapidly (491M last year and a projected 1.64B by 2026), streaming still accounts for only about 26 percent of the home screen viewing in the U.S.
China and the Americas will account for 49 percent of the global content arena with China reaching about 354M subscriptions by 2026 and the Americas growing to 450M subscriptions.
Thanks to India, Disney + is projected to reach 284M subscribers by 2026 with Netflix reaching 271M global subscribers.
While the opportunities for the content creation industry look very positive in the years ahead, they will also be different.
In the past, films and shows tended to be Amereican and exported to the ROW. Tomorrow, for projects to succeed, they must be international and cover a broader spectrum of people, places and storylines.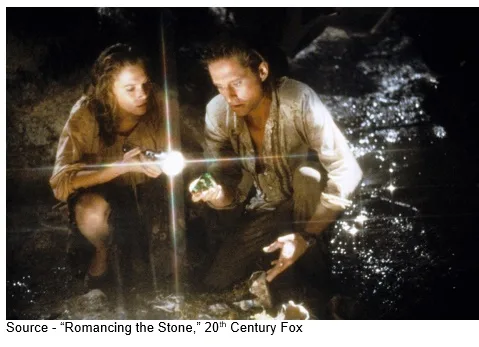 Successful entertainment will no longer have to come from the Americas. Creators will have to spend more time determining what is interesting/what's not and what people in other countries find appealing.
It's going to be a fresh, sometimes difficult, challenge for content creators everywhere or, as Jack Colton said in Romancing the Stone, industry folks may find, "One hell of a morning has turned into a bitch of a day!"
But when a project is a hit with people around the globe, success will be so sweet.
# # #
Andy Marken – andy@markencom.com – is an author of more than 700 articles on management, marketing, communications, industry trends in media & entertainment, consumer electronics, software and applications. Internationally recognized marketing/communications consultant with a broad range of technical and industry expertise especially in storage, storage management and film/video production fields. Extended range of relationships with business, industry trade press, online media and industry analysts/consultants.