The Star Wars TITAN Xp Collector's Edition Jedi Order Review
The TITAN Xp is not the latest GeForce GPU based on 16nm Pascal architecture, although today NVIDIA has just released a very special Star Wars Collector's Edition that we are going to introduce and review. It is faster than the $699 GTX 1080 Ti and it is also considerably more expensive at $1200 for the either the Empire (Red/Dark Side) edition or for the Rebel (Green/Light Side) which is now available directly from NVIDIA. This TITAN Xp is NVIDIA's flagship video card, the fastest video card in the world, and it will definitely appeal to Star Wars memorabilia collectors. There is no price premium for the Star Wars editions over regular TITAN Xp pricing.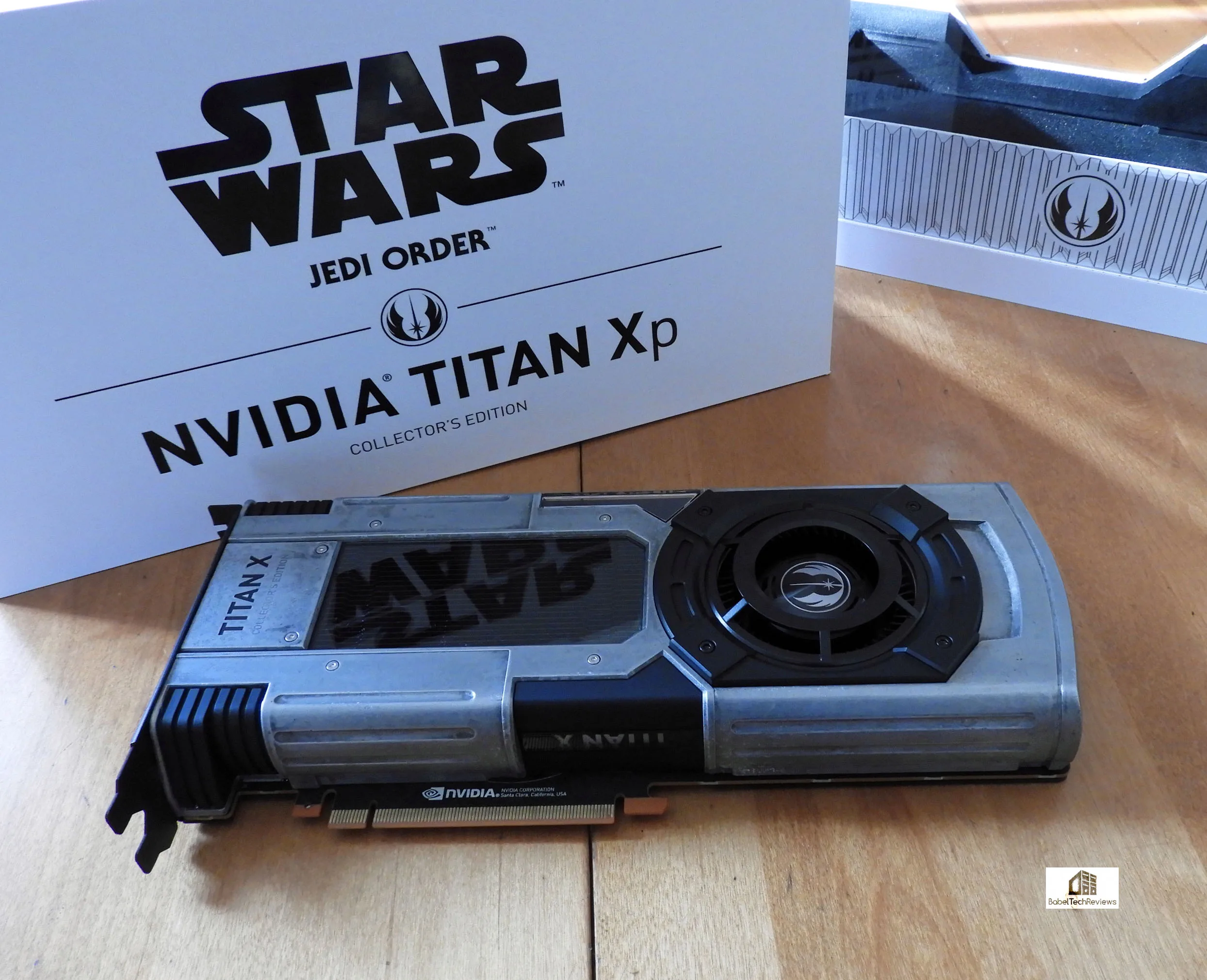 We remember being reluctantly dragged to a movie opening on May 25, 1977 in San Francisco, California by an enthusiastic roommate who had been following it for many months. Although the line was around the block, we got in and watched the public premiere of Star Wars. We realized as we watched this movie, that it was the beginning of something special, and the Star Wars saga was born. If you are a Star Wars fan, this new TITAN Xp Collector's Edition is an impressive and well-designed work of collectible industrial art.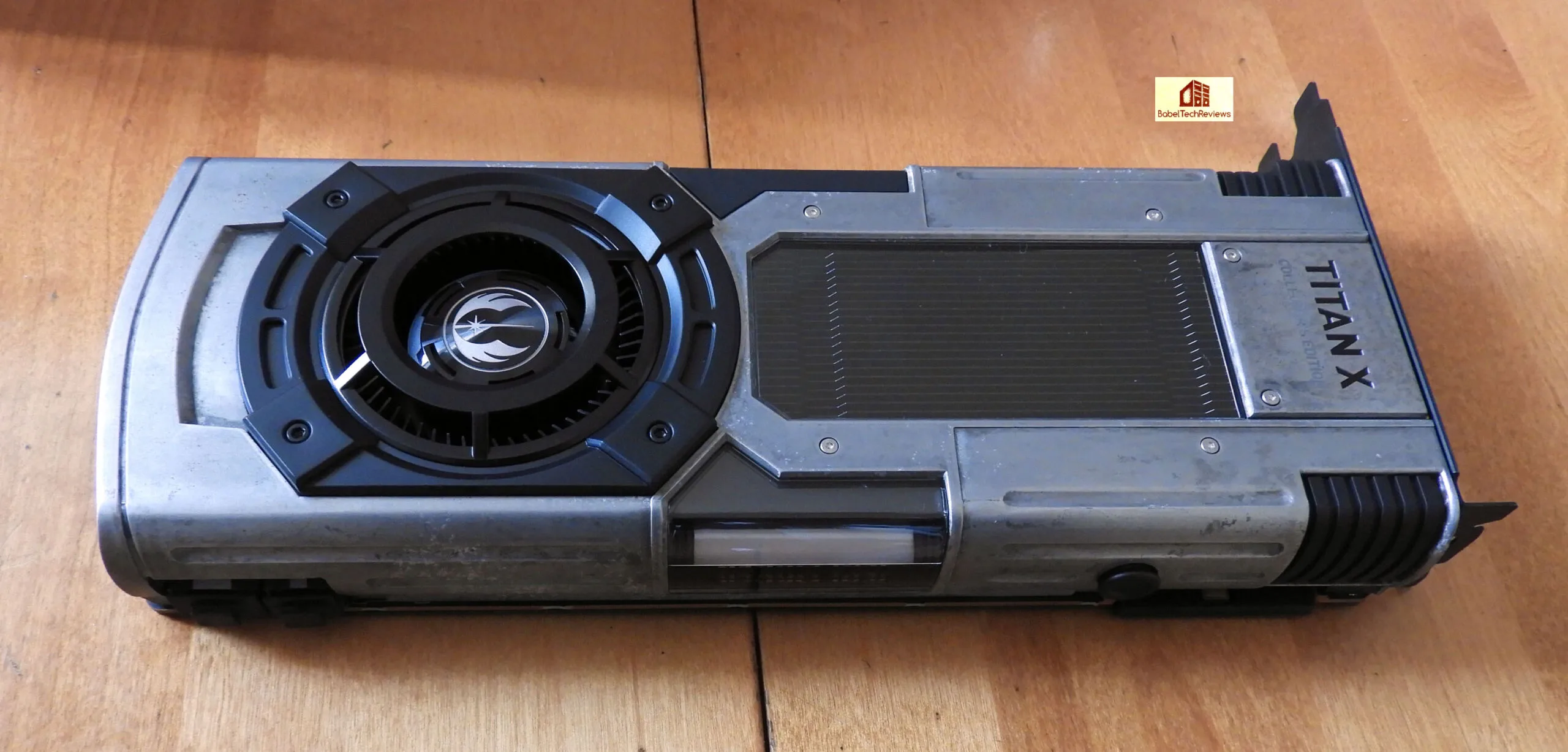 The new Jedi Order edition of the NVIDIA TITAN Xp is pictured above, and together with the Galactic Empire Edition, they have been crafted to reflect the look and feel of the Star Wars galaxy. These new Star Wars collector's edition video cards pay homage to the light side/dark side, and they are designed to appear as though they have come out of a Star Wars movie set. For example, the Jedi Order edition is a stylized rendering of the hilt of Luke Skywalker's lightsaber as pictured above, and the light panels of the Galactic edition represent the Death Star.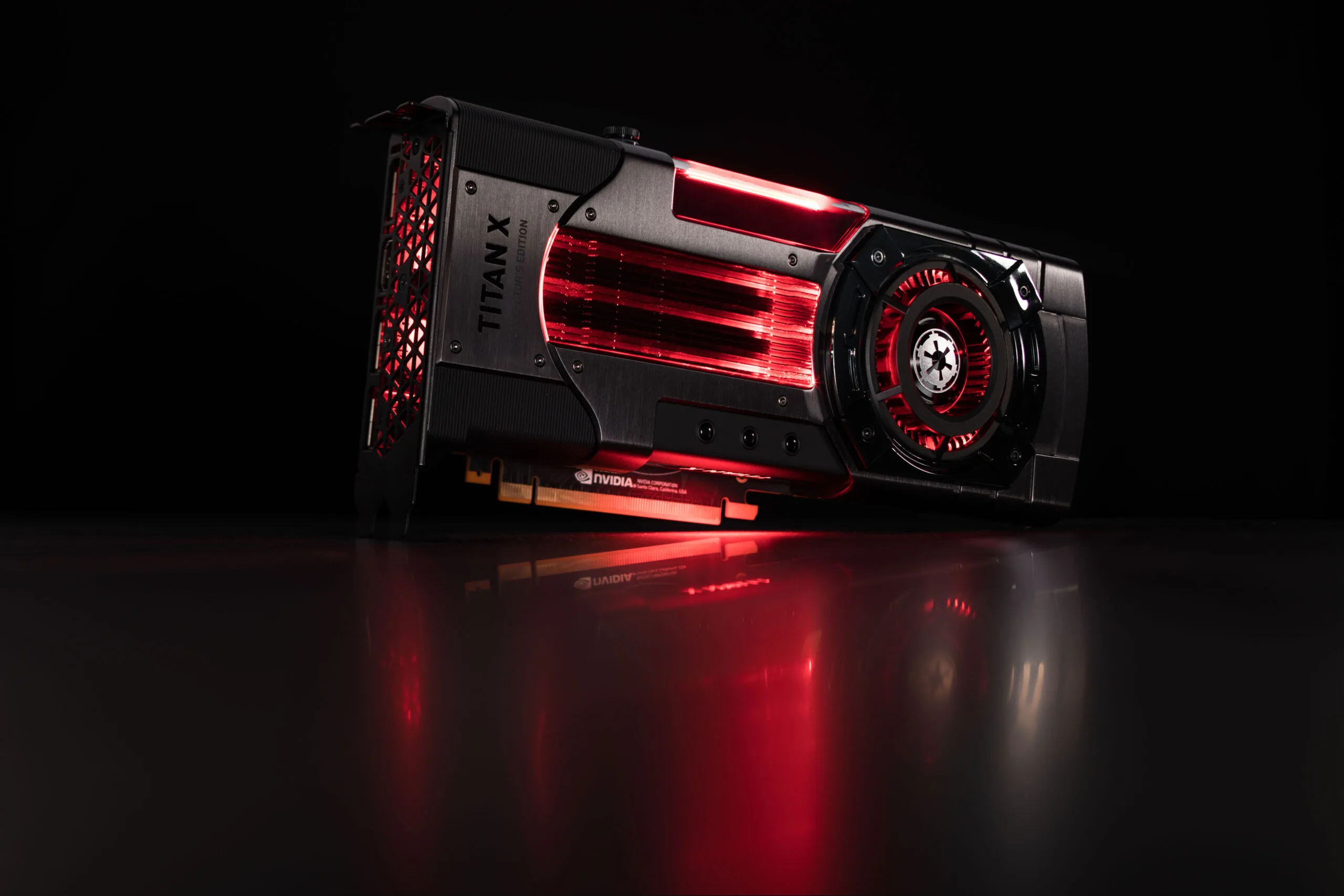 The Jedi Order TITAN Xp simulates the battle-worn finish of the items used by the Rebel Alliance by having its diecast aluminum cover subjected to a controlled corrosive salt spray.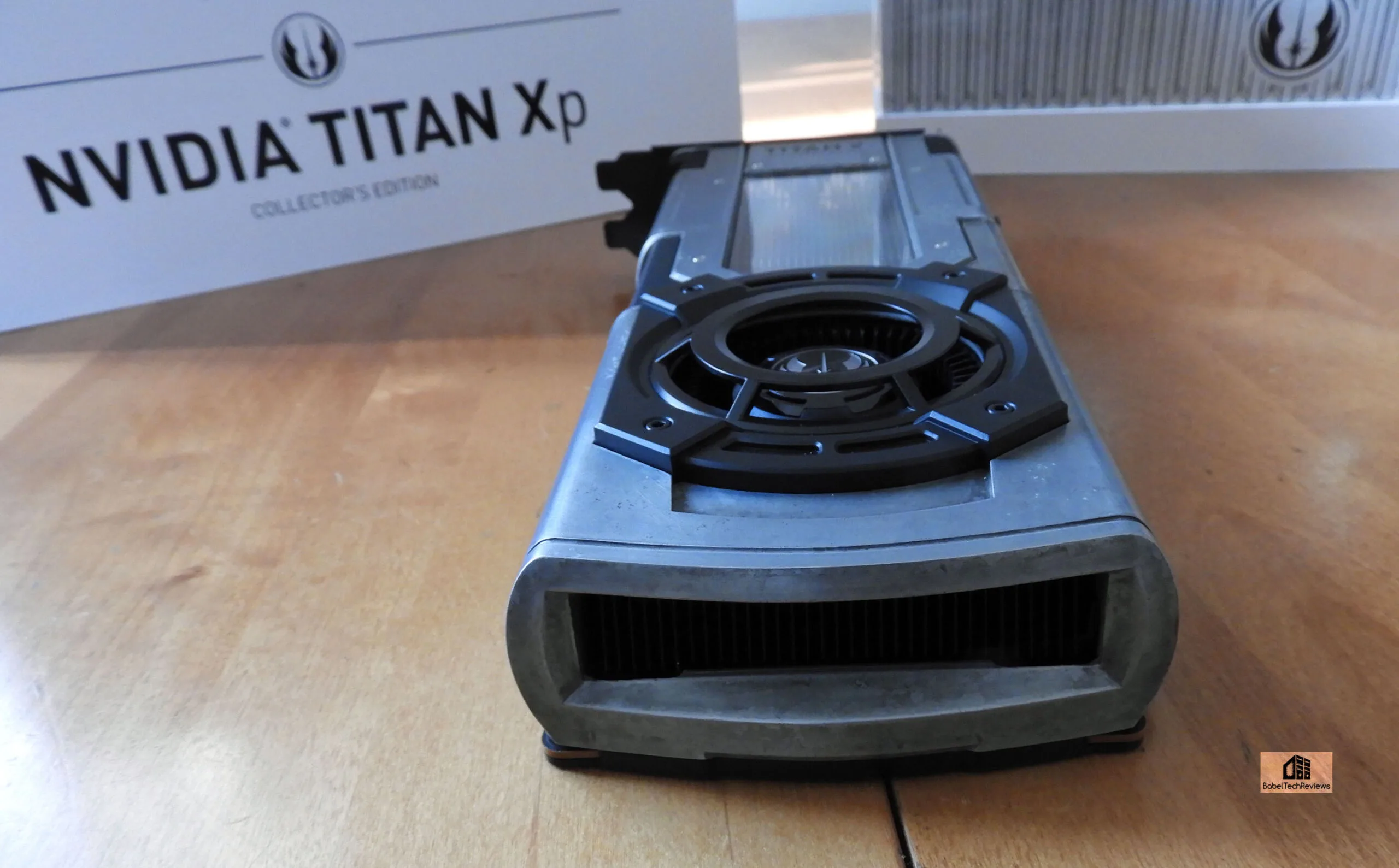 In contrast, the Galactic Empire GPU's finish emulates the high-end and orderly nature of the resource-rich Galactic Empire. And of course, the Empire's lighting is red for the Galactic Empire edition that we did not receive, and green lighting is used for the Jedi Order TITAN Xp.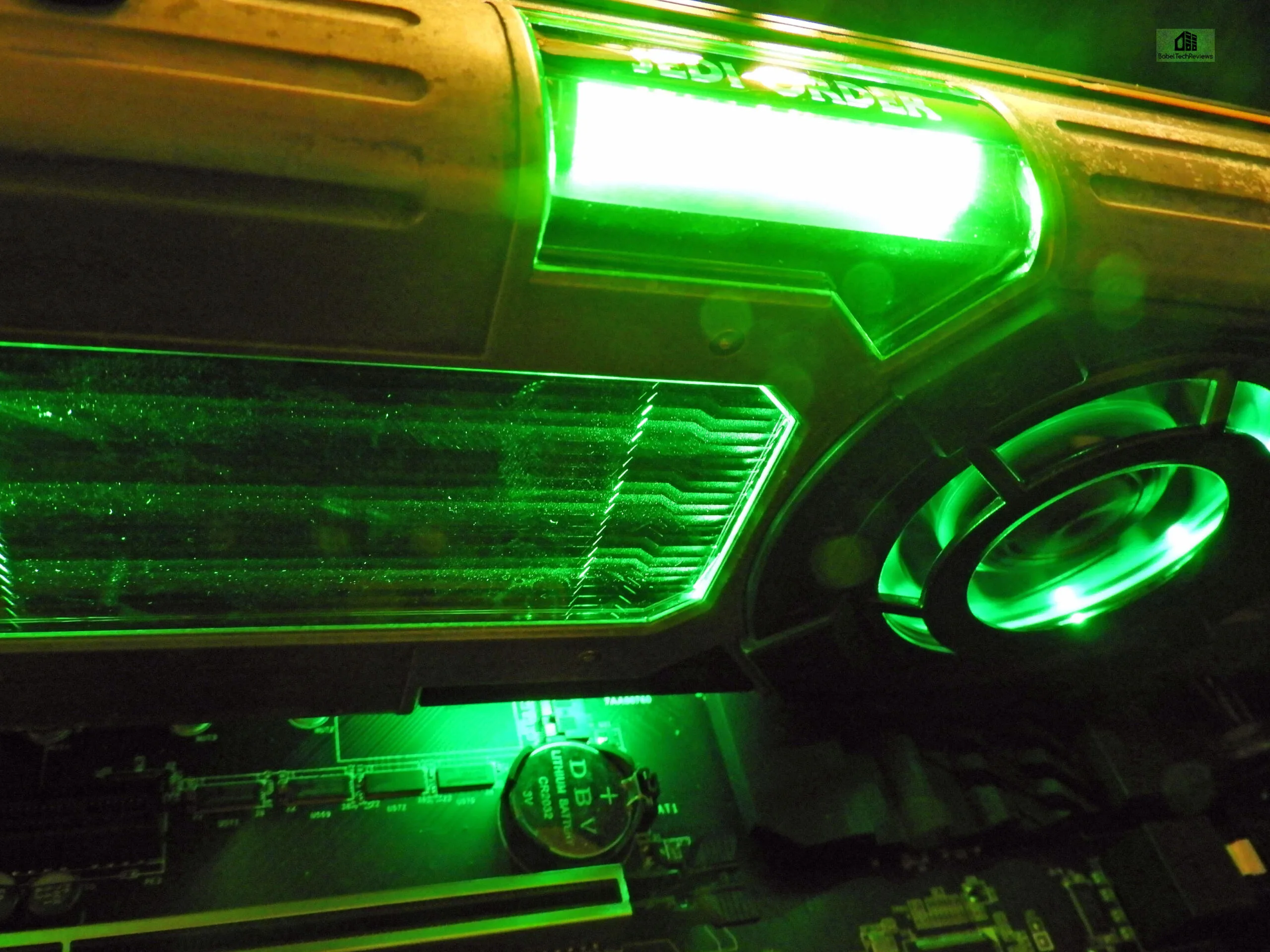 Both editions of the TITAN Xp have multiple windowed areas to showcase the cards' internals and lighting, simulating the effect of green versus red lightsabers. The finishes of each edition took NVIDIA more than a year to perfect, and their extreme attention to detail shows. In fact this card is so impressive that we asked to review EVGA's new DG-7 mid-tower case that will showcase a video card in a vertical position – we feel that it is a shame to turn this TITAN Xp over.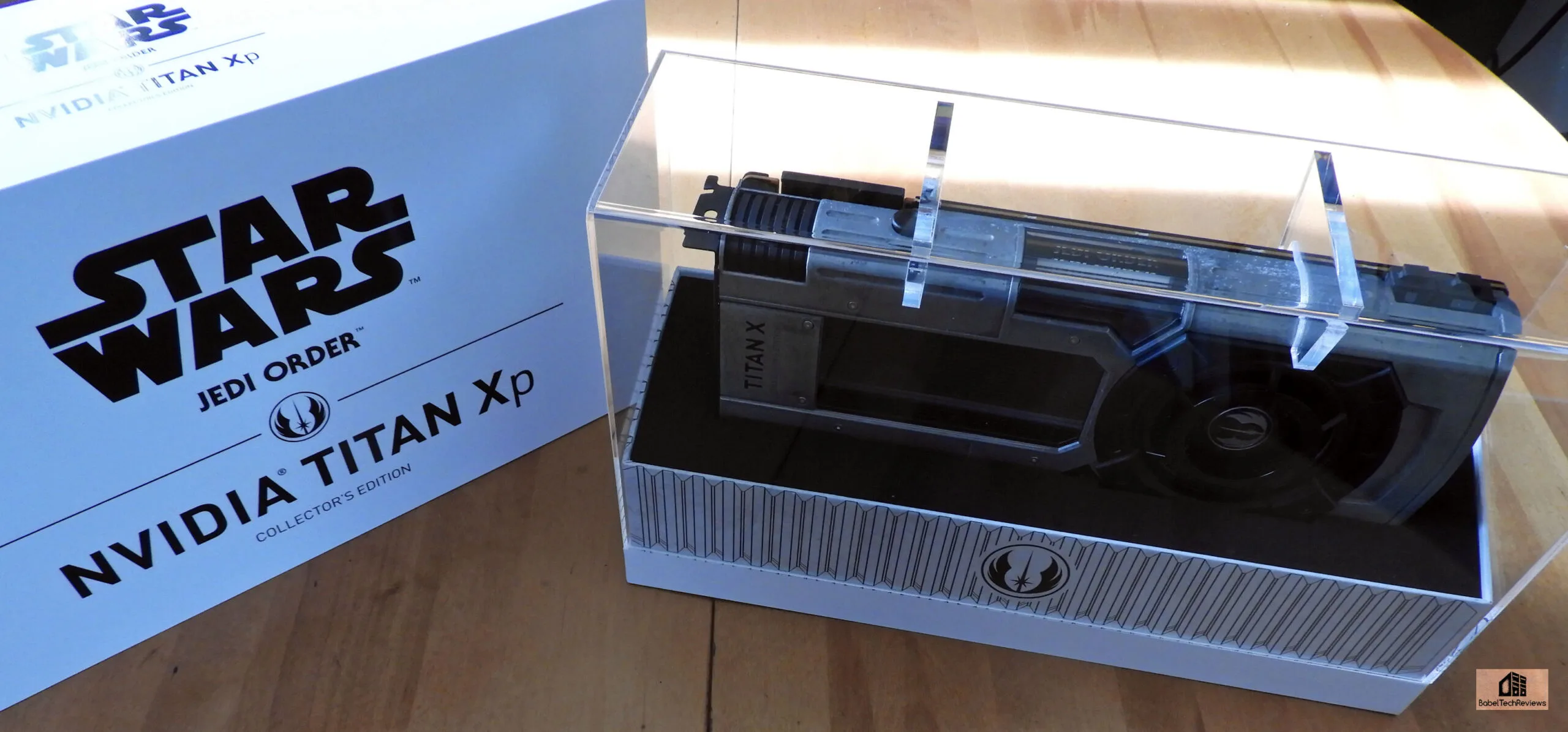 The retail box packaging also pays homage to the Light and Dark sides of the Force, with the Jedi Order edition being offered in white, while the Galactic Empire edition is available in black.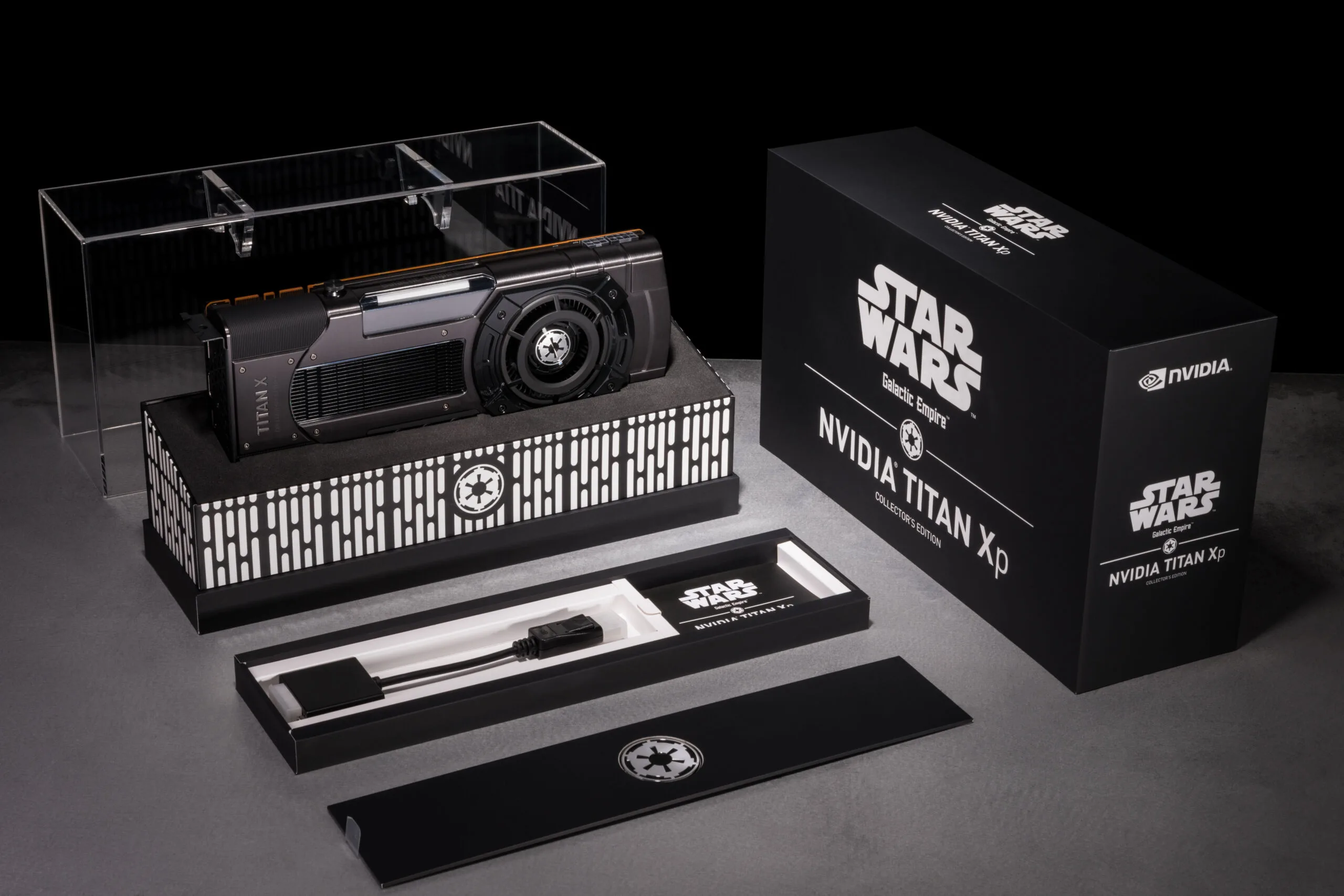 We were totally surprised by NVIDIA and we received this card less than two days ago. We were in the middle of benchmarking the i7-8700K using our new EVGA Z370 FTW motherboard, and our goal is to overclock it to 5.0GHz. Unfortunately, the overclocking process completely destabilized Windows 10 and we had to install it again yesterday morning – so we are presenting 20 games instead of our usual complete 30+ game benchmark suite.
This evaluation will also serve as the introduction to our TITAN Xp mini-series. In this Part 1, we are only going to cover twenty benchmarks at 3840×2160, 2560×1440, and 1920×1080 against the GTX 1080 Ti. The TITAN Xp is the fastest video card in the world at $1200 and we want to thoroughly test it.
The TITANs are hybrid gaming cards, and this TITAN Xp supports all of the same same features that Nvidia's Pascal architecture brings. Pascal delivers high clock speeds while using relatively little power – the GeForce TITAN Xp runs over 1.5 GHz. The TITAN Xp and the Quadro 6000 are based on the full GP102 chip, 3840 CUDA cores – all 30 of 30 SMs are enabled whereas the earlier TITAN XP (2016) only has 28 of 30 SMs as it is configured differently for a total of 3584 CUDA cores, and the GTX 1080 Ti is further slightly cut down from there. All of the TITAN X's comes equipped with 12GB of GDDR5X whereas the GTX 1080 Ti has 11GB of GDDR5X.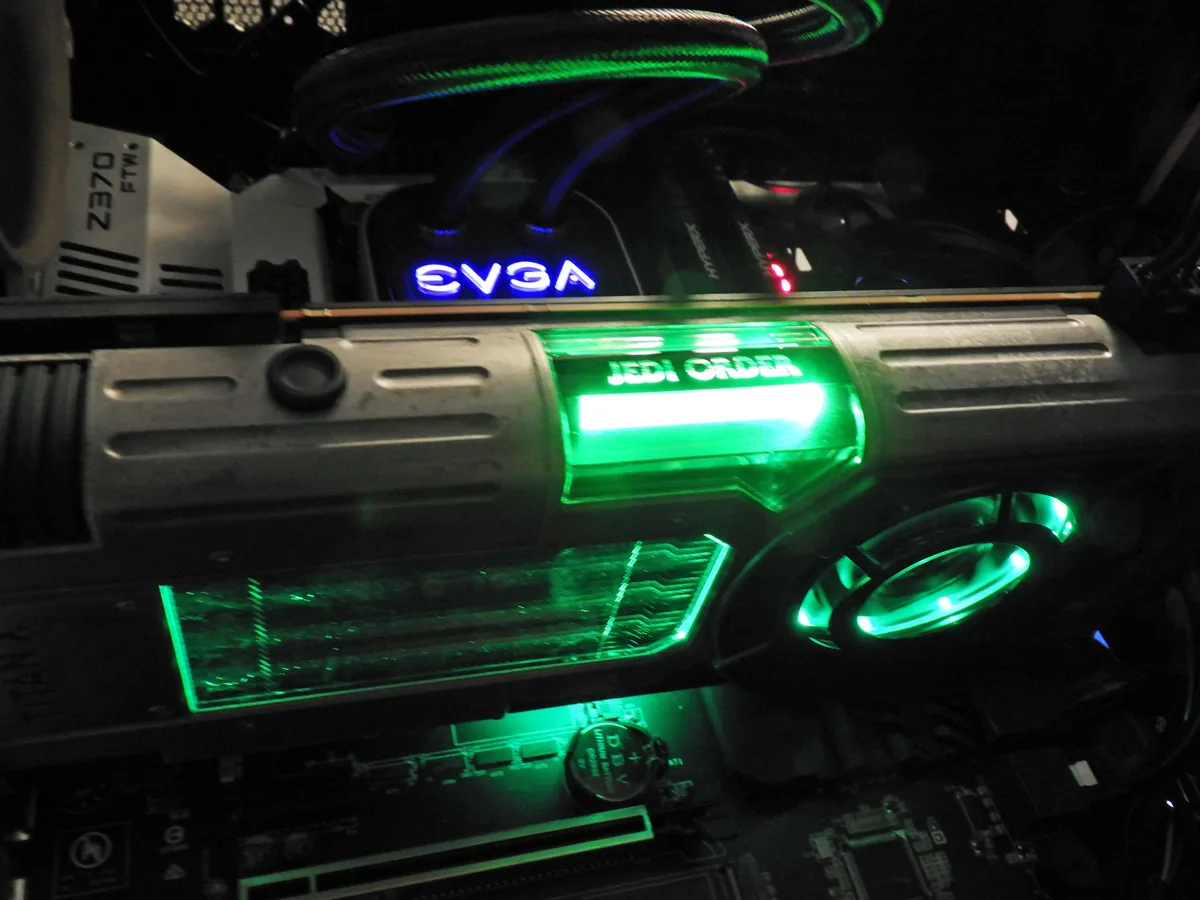 Our testing platform uses a clean installation of Windows 10 Home 64-bit, featuring an Intel Core i7-8700K which turbos to 4.6GHz for all cores as set in the EVGA FTW Z370 motherboard's BIOS, and 16GB of HyperX DDR4 at 3333MHz. The settings and hardware are identical except for the drivers being tested.
However, before we do performance testing, let's take a closer look at the Pascal Titan Xp Star Wars Jedi Order Collectors Edition .
Unboxing the TITAN Xp Star Wars Collector's Edition – Jedi Order
The TITAN Xp arrives in a sturdy box which can survive any normal shipping.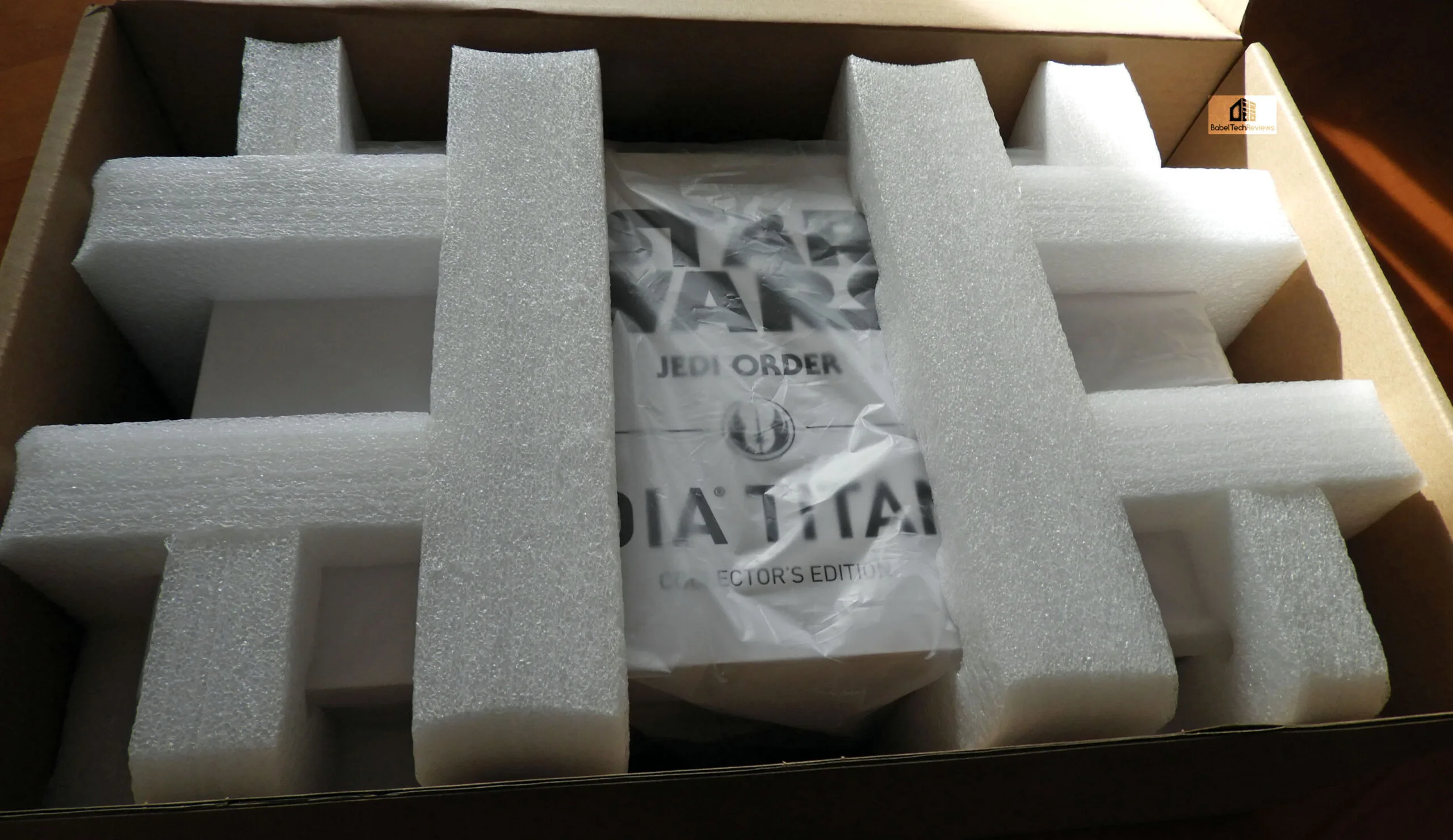 The TITAN Xp is made with premium materials and components, including a faceted die-cast aluminum body, and a thermal solution designed to run cool and quiet. Like the GeForce GTX 1080 Ti Founders Edition board, a dual-FETs power supply is used to improve power efficiency, along with a low impedance power delivery network and custom voltage regulators.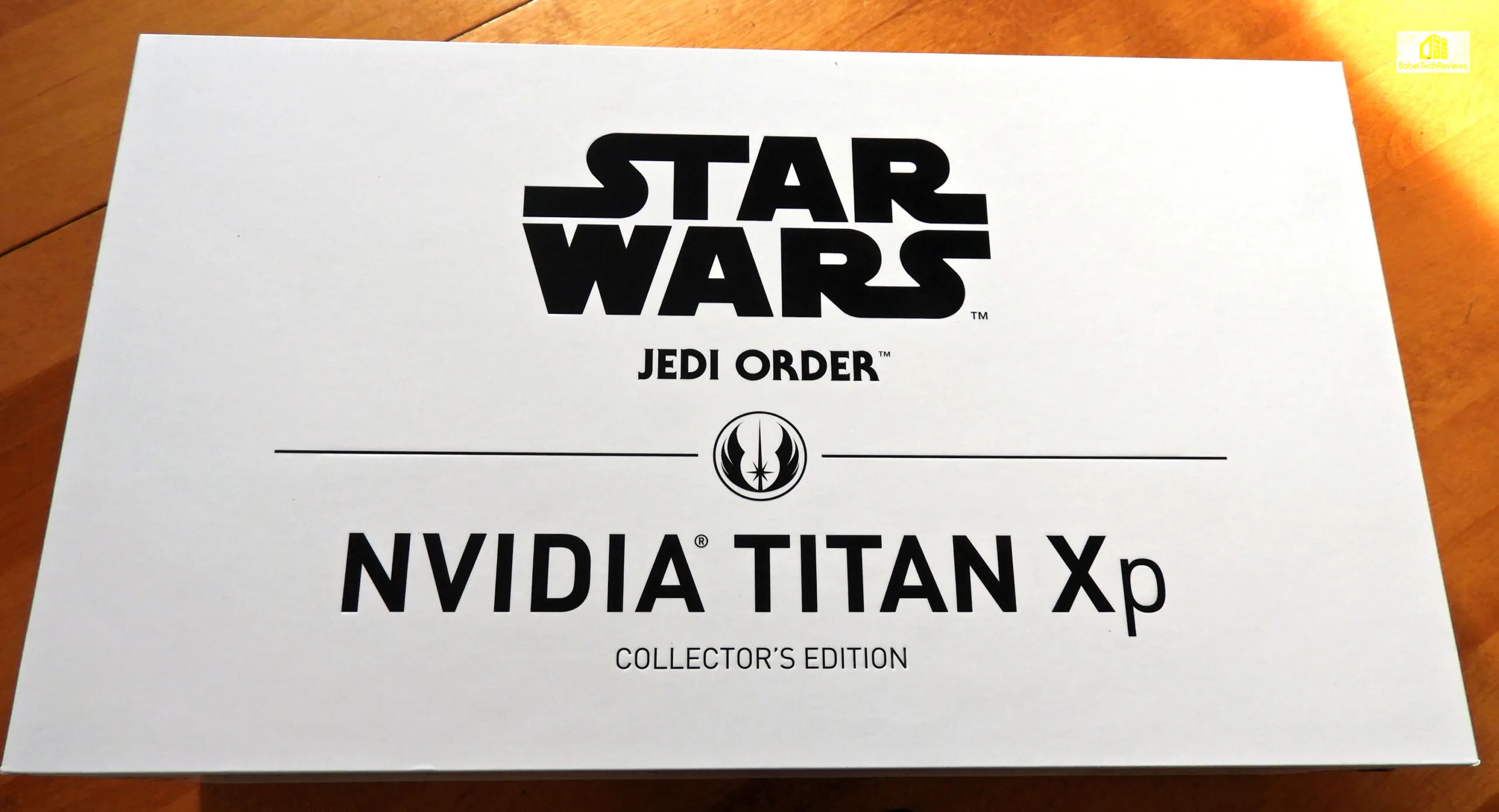 Unlike the GTX 1080 and the GTX 1070 which use a single 8-pin PCIe connector, the TITAN Xp uses 8-pin plus 6-pin connectors.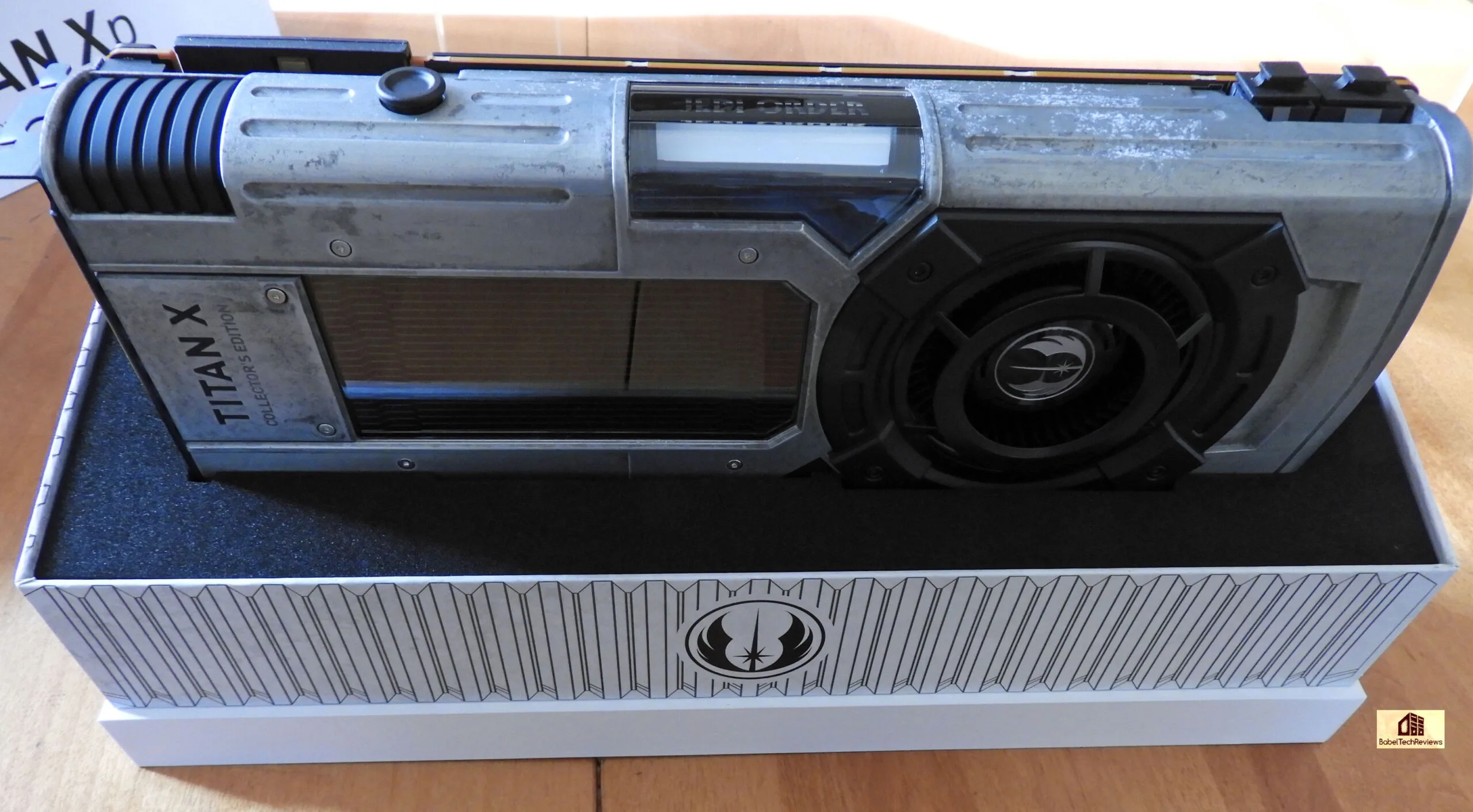 The TITAN Xp has been designed and built by NVIDIA and it was made with premium materials and components including a faceted die cast aluminum body that definitely has a very solid feel to it. The TITAN Xp is built around a radial fan which features two copper heat pipes embedded in the base of an aluminum heatsink, and it moves all heated air outside the chassis.
Here is what you get with either edition of the Star WarsTITAN Xp – the Empire Edition is delivered in black – and each edition also includes a collectible electroformed metal badge containing the insignia of their preferred alliance besides a DP to DVI adapter and a quick-start guide.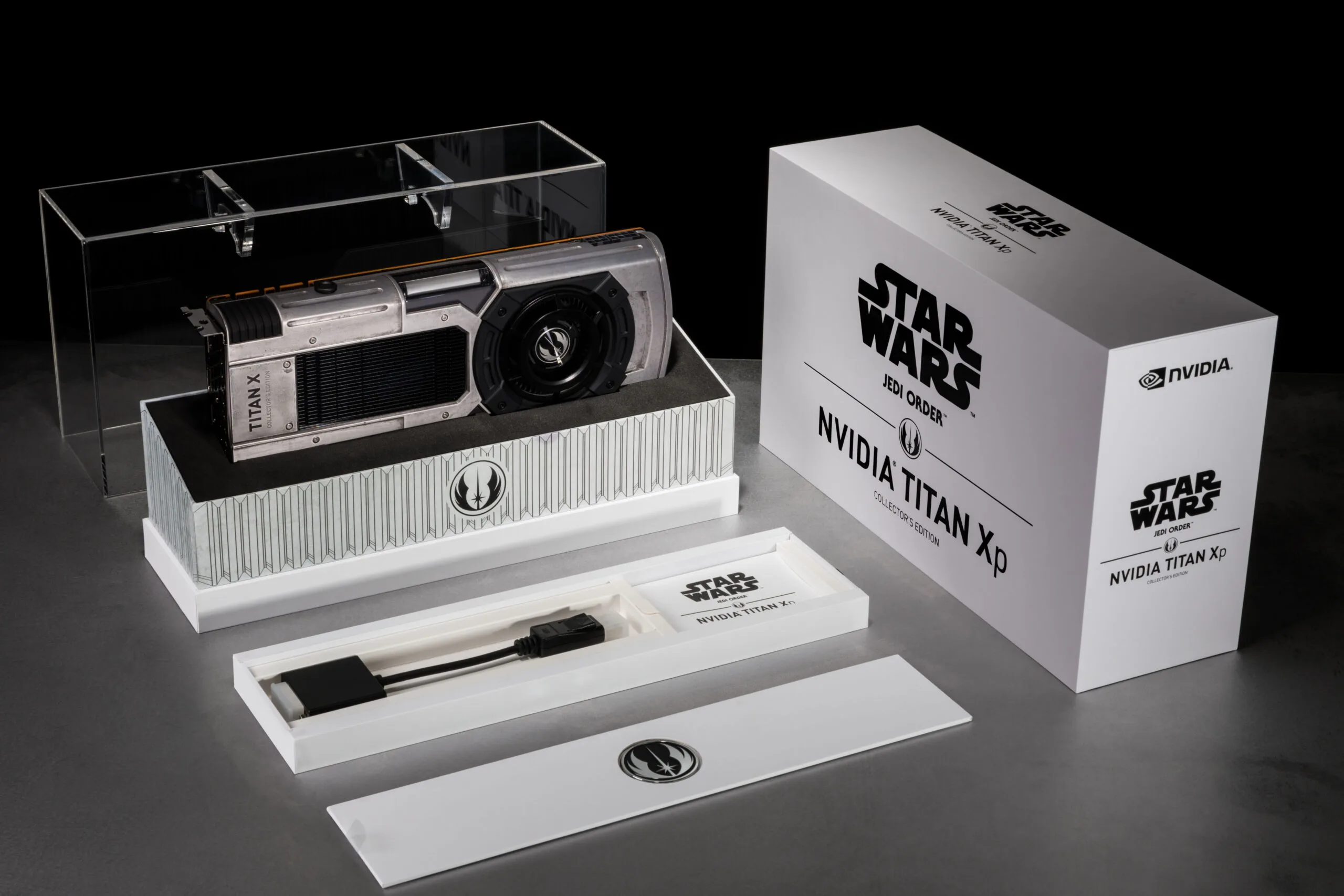 Here is the TITAN Xp featuring its sturdy backplate.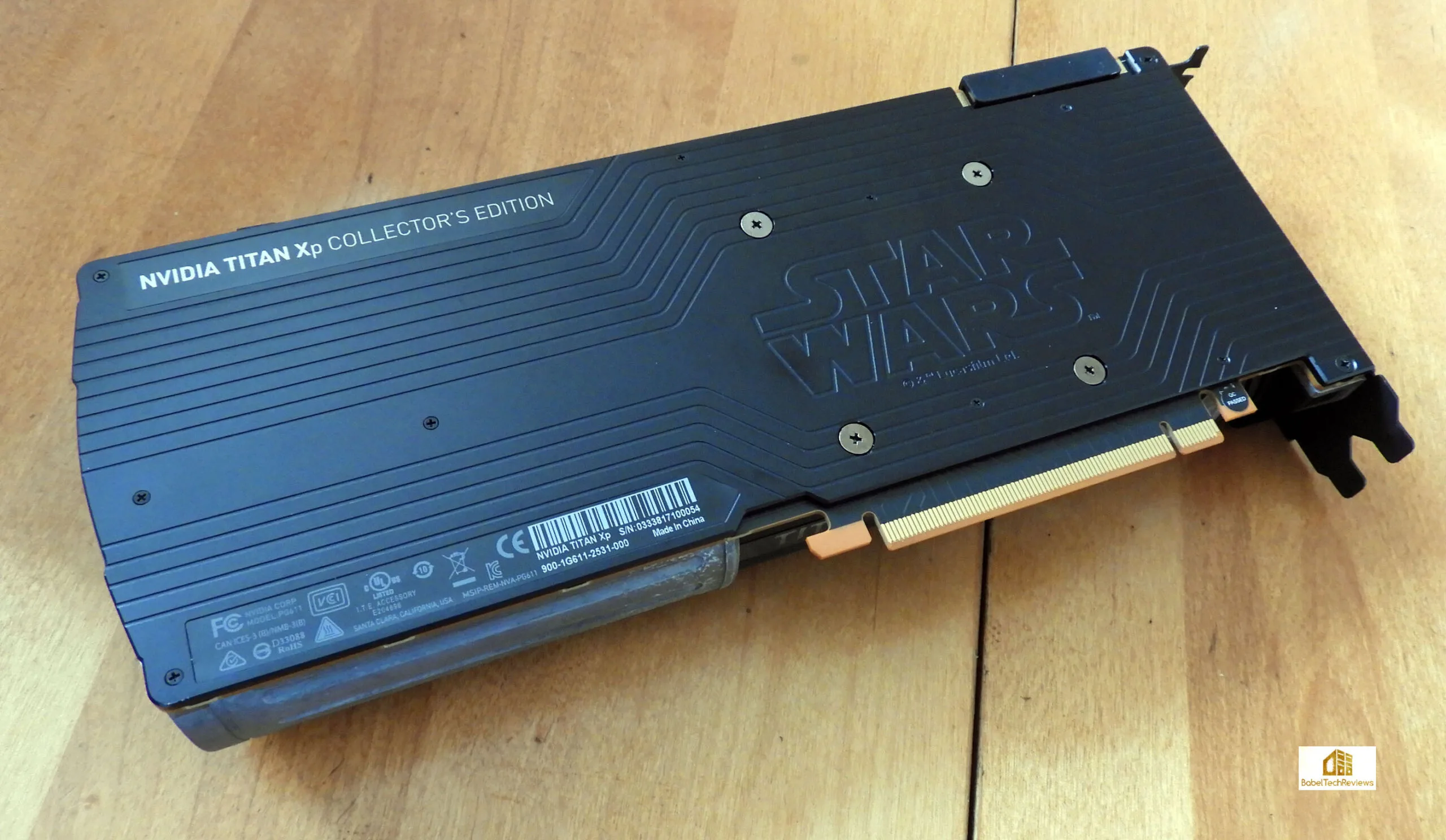 The Star Wars TITAN Xp is a remarkably good looking video card from any angle.

The connections are the same for all 3 Pascal cards – 3 DisplayPort connectors and a HDMI connector.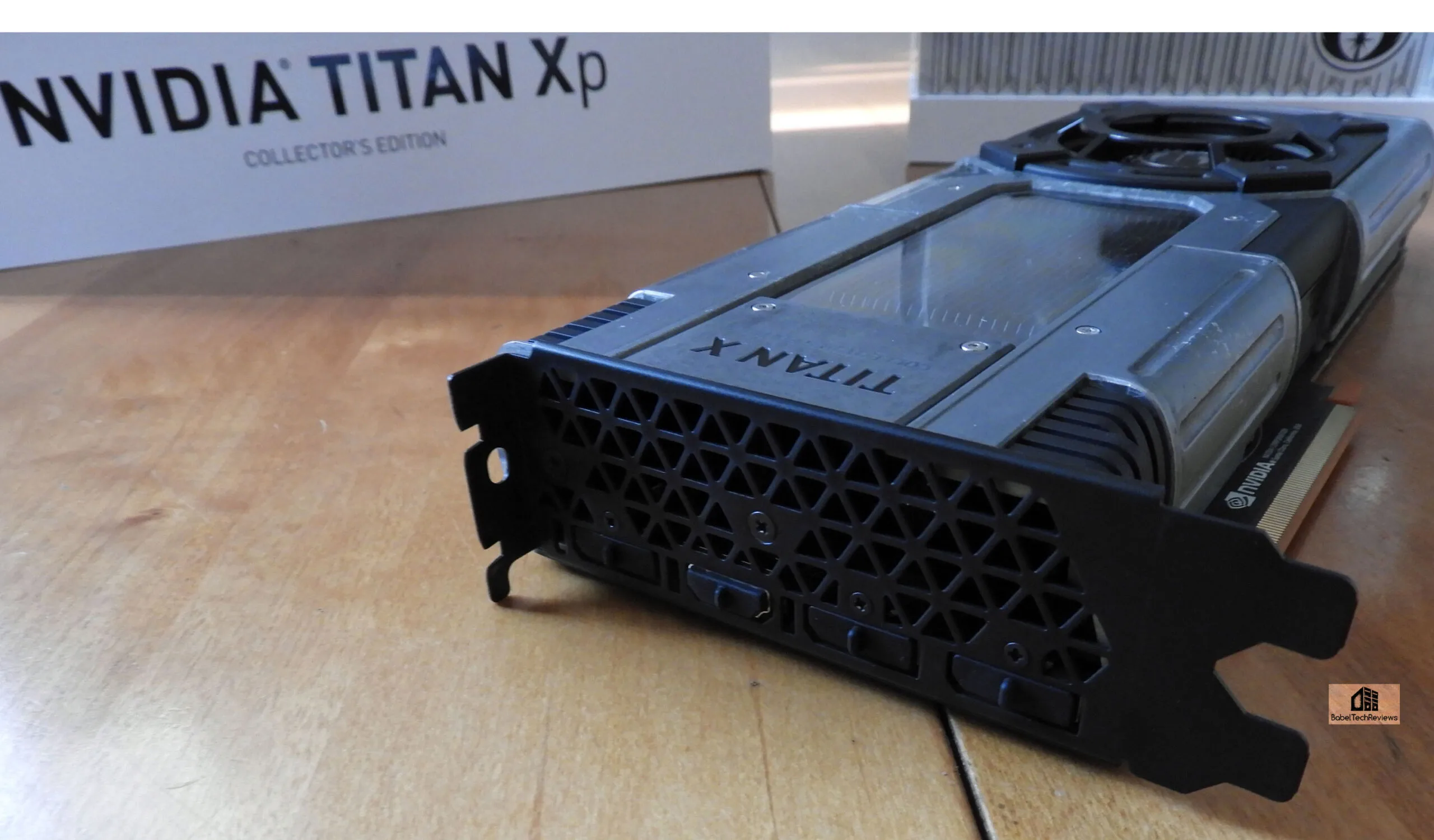 Let's check out the test configuration.
Test Configuration
Test Configuration – Hardware
Intel Core i7-8700K (HyperThreading and Turbo boost is on to 4.6GHz for all cores; Coffee Lake DX11 CPU graphics).
EVGA Z370 FTW motherboard (Intel Z370 chipset, latest BIOS, PCIe 3.0/3.1 specification, CrossFire/SLI 8x+8x)
HyperX 16GB DDR4 (2x8GB, dual channel at 3333MHz)
TITAN Xp, Star Wars Jedi Order Collector's Edition, stock clocks, supplied by NVIDIA
GTX 1080 Ti Founders Edition 8GB, stock clocks, supplied by NVIDIA
240GB HyperX SSD, supplied by Kingston/HyperX
2TB Toshiba 7200 rpm HDD for storage
EVGA 1000G 1000W power supply unit
EVGA CLC 280mm CPU water cooler, supplied by EVGA
Onboard Realtek Audio
Genius SP-D150 speakers, supplied by Genius
Thermaltake Overseer RX-1, full tower case supplied by Thermaltake
ASUS 12X Blu-ray writer
Monoprice Crystal Pro 4K
Test Configuration – Software
–Nvidia's GeForce 388.33 WHQL drivers were used for all cards High Quality, prefer maximum performance.
–VSync is off in the control panel.
–AA enabled as noted in games; all in-game settings are specified with 16xAF always applied
–All results show average frame rates including minimum frame rates shown in italics on the chart next to the averages in smaller font.
–Highest quality sound (stereo) used in all games.
–Windows 10 64-bit Home edition. All DX11 titles were run under DX11 render paths, ten DX12 titles are run under the DX12 render path, and two Games use the Vulkan API (and 1 game also uses the OpenGL path)
–Latest DirectX
–All games are patched to their latest versions at time of publication.
–MSI's Afterburner, latest version used for NVIDIA cards.
–OCAT, latest version
–Fraps, latest version
20 PC Game benchmark suite & 4 synthetic tests
Synthetic
Firestrike – Basic & Extreme
Time Spy DX12
VRMark Orange Room
VRMark Blue Room
DX11 Games
Metro: Last Light Redux (2014)
Grand Theft Auto V
The Witcher 3
DiRT Rally
Far Cry Primal
Battlefield 1
Resident Evil 7
For Honor
Ghost Recon Wildlands
Mass Effect: Andromeda
Prey
Middle Earth: Shadow of War
Assassin's Creed Origins
Destiny 2
DX12 Games
Tom Clancy's The Division
Ashes of the Singularity
Hitman
Rise of the Tomb Raider
Deus Ex Mankind Divided
Total War: Warhammer II
Nvidia Control Panel settings:

Please note, Multi-display options are no longer available. We used MSI's Afterburner to set the GeForce cards' Power and Temperature targets to their maximum.
Calculating Percentages
There are two methods of calculating percentages. One is the "Percentage Difference" that we originally used to compare the GTX 1080 versus the TITAN X, and the other is "Percentage Change" which we are using now to show the performance increase of a TITAN Xp over a GTX 1080 Ti.
For the percentage change, we mean the increase in framerates between a GTX 1070 Ti and GTX 1070 Ti SLI divided by the absolute value of the original value in FPS, multiplied by 100. Percentage change may be expressed by the algebraic formula: ( ?V / |V1| ) * 100 = ((V2 – V1) / |V1|) * 100
Let's check out our Performance Summary chart followed by our preliminary conclusion.
Performance summary chart
Here are the summary charts of 20 games and 4 synthetic tests. The highest settings are always chosen, and DX12 is usually picked above DX11 where available, and the settings are ultra or maxed. Specific settings are listed on the performance charts. The benches were run at 1920×1080, 2560×1440 and at 3840×2160.
All results, except for FireStrike, Time Spy, and VRMark, show average framerates and higher is always better. Minimum frame rates are shown next to the averages in italics and in a slightly smaller font. In-game settings are fully maxed out and they are identically high or ultra across all platforms. The first column shows the GTX 1080 Ti results, the second is for TITAN Xp results and the third column shows the performance increase of the TITAN Xp over the GTX 1080 Ti.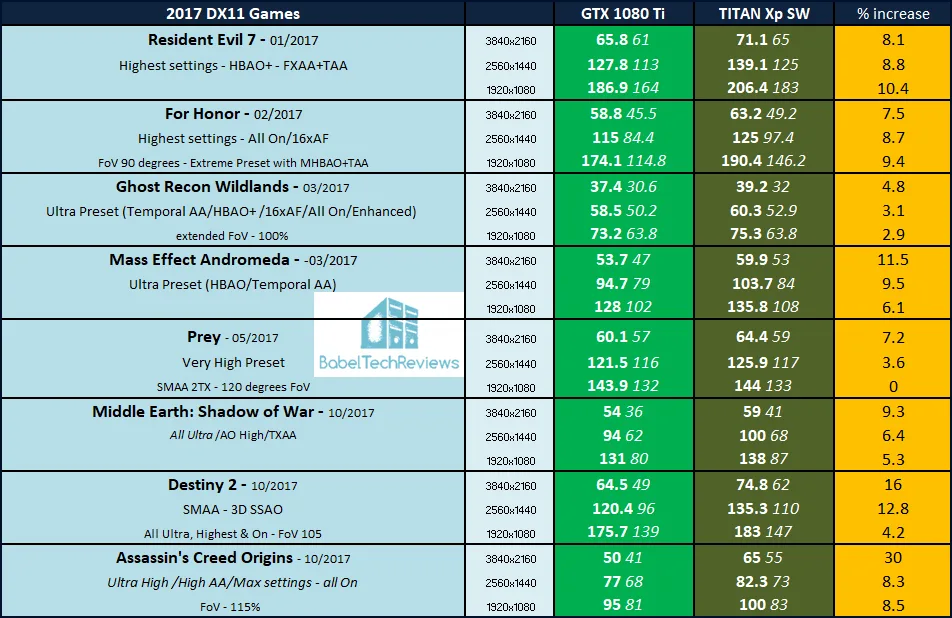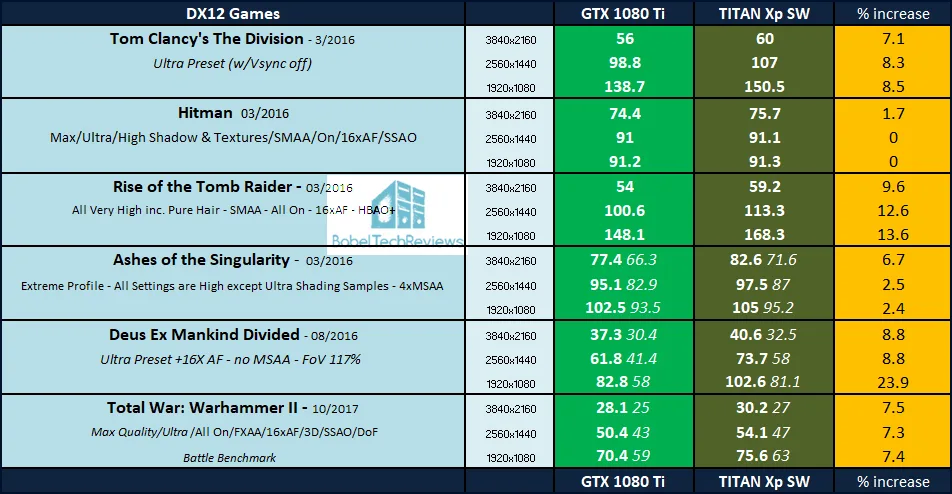 We can see that in every case, with only two outliers probably due to drivers at 1920×1080, that the TITAN Xp is faster than the GTX 1080 Ti. In the case of Battlefield 1, the framerate is capped at 200 FPS, and at 1920×1080, the performance is being limited by this cap. The TITAN Xp and the GTX 1080 Ti are both designed for high resolution displays.
Here is Tech of Tomorrow's video of the Star Wars TITAN Xp unboxing showing the performance using 11 of our benchmarks.
Let's head for our conclusion.
Conclusion
This has been an enjoyable if a very short 16-hour exploration for us in evaluating the new Star Wars Jedi Order Collector's Edition of the TITAN Xp. It did very well performance-wise, beating the GTX 1080 Ti in 20 games, and we look forward to running all 35 games of our benchmark suite in our follow-up evaluation featuring the EVGA Z370 FTW motherboard.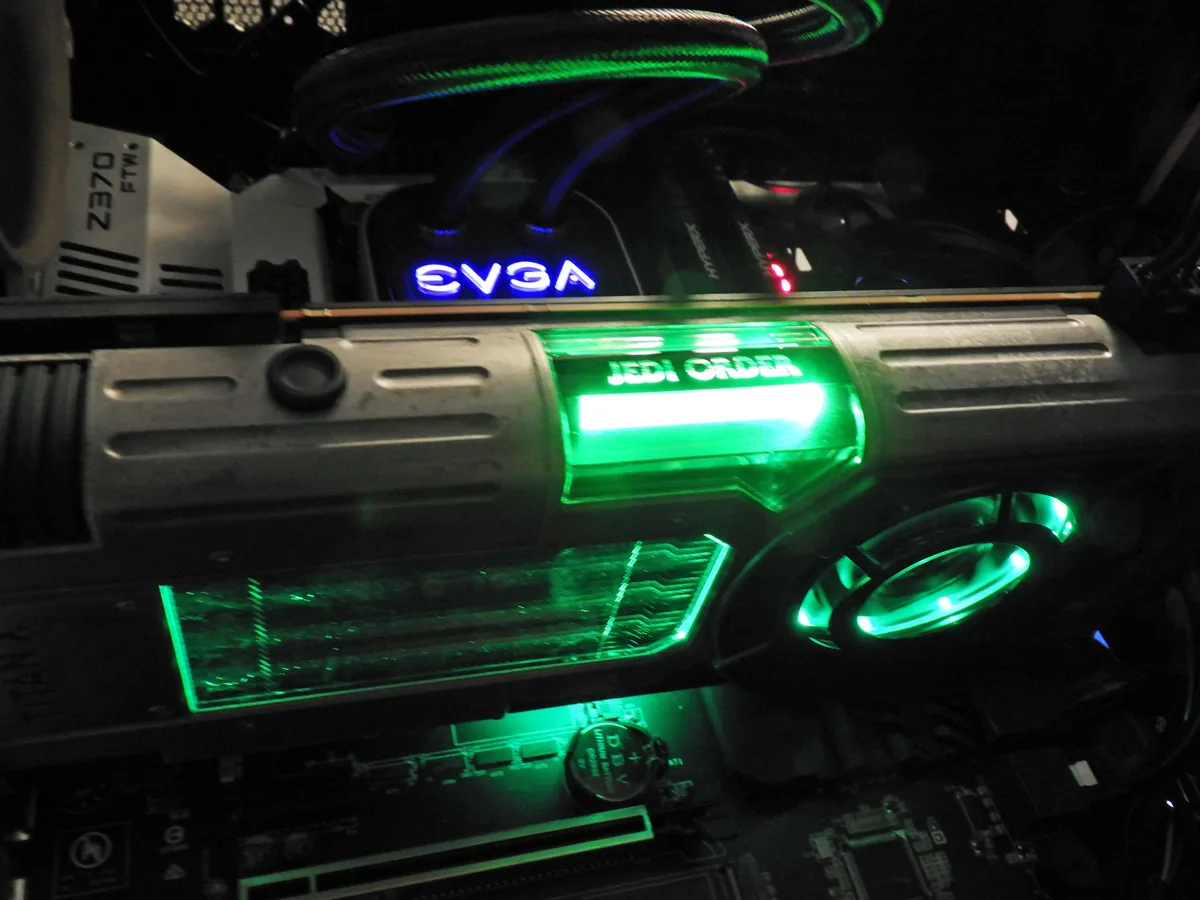 We are totally impressed with this top performing 6-pin plus 8-pin PCIe cabled Pascal TITAN Xp chip. Priced at $1200, it is certainly expensive but it stands alone as the world's fastest gaming GPU. On top of that, it is a hybrid card well suited for Single Precision Compute and for scientific applications. What is best about this particular edition, is that the Star Wars Editions are being offered at the same price as the "regular" TITAN Xp.
We do not know what the future will bring, but the TITAN Xp brings the top performer to the Pascal GeForce family right now with an awesome and beautifully rendered work of Star Wars industrial art – it is a must for serious Star Wars collectors that has a practical aspect for top gaming. With great forward-looking features, you can be assured of immersive gaming by picking the TITAN Xp for 3840×2160, 3440×1440 or even for 2560×1440 at a minimum, and especially for outstanding VR performance. And a really serious Star Wars collector may even consider buying one of each edition for maximum performance using TITAN Xp SLI.
Stay tuned, there is a lot coming from us at BTR. Next, in our continuing TITAN Xp series, we will test the TITAN Xp and the GTX 1080 Ti with our full benchmark suite featuring the i7-8700K at up to 5.0GHz, next week.
Happy Gaming!