The Sim Side: 2021 Test Suite Overview, Part 2 – iRacing
Welcome back for Part II of our 2021 Simulation Test Suite Overview.
iRacing
is the second and perhaps most well known of our 2021 test suite motorsport simulators. Since the world fell into the terrible grip of the Covid-19 pandemic,
iRacing
has risen to enormous prominence becoming a
virtual backup
for actual motorsport with professional drivers participating in races broadcast worldwide.
Mission Statement
The Sim Side has two goals: first, to share the immersion and excitement of virtual reality (VR) simulation with newcomers and veteran PC gamers alike. Second, and just as important, our goal is to cover the latest hardware in detail with reliable and repeatable test data. This calls for a software suite that captures a broad cross-section of the simracing, flightsim, and space communities. With those goals in mind, we've chosen the following lauded sim-titles for our 2021 test suite:
Simracing – iRacing
Flightsim – IL2 Sturmovik: Great Battles Series
Flightsim – Digital Combat Simulator World (DCS)
Space – Elite Dangerous: Horizons & Odyssey
The above five titles encompass a major portion of the modern sim-communities' player-base. Additionally, they each utilize radically different game engines while featuring robust VR support. Given that variety, we're assured that any GPU, CPU, or VR HMD will be adequately challenged in future reviews.
Background
iRacing grew out of the ashes of the Papyrus Design Group, the studio responsible for the legendary (in sim circles) Grand Prix Legends, and NASCAR Racing series. Founded as iRacing.com in 2004, iRacing has evolved from its original NASCAR Racing 2003 code through innumerable additions, physics revisions, and two major engine changes into the online simracing juggernaut it is today.
As an online subscription service, users are required to pay a monthly fee in addition to having to purchase additional cars and tracks outside of base content. Each year is divided into four twelve week 'Seasons' of ranked competition, with a 'Week Thirteen' of more fun and unranked events between each. iRacing is the official virtual race platform of NASCAR, IMSA, INDYCAR, and others.
The Hustle
As perhaps the most expansive online racing sim to date, iRacing allows one to participate in just about any discipline of Motorsport on dozens of laser-scanned tracks across the globe. In keeping with a simulation of such scope, iRacing allows for hundreds of potential setting and configuration options.
Luckily, iRacing makes starting out relatively easy as a rookie limiting new users to a couple of simple starter vehicles in their respective classes. However, one quickly learns that these 'rookie' classes aren't easy just because they're slow. For a driver to progress out of rookies and into their intended racing class, they need to learn racecraft and proper vehicle handling – unlike yours truly, who was a bit of a maniac starting out.
The iRacing service tracks a driver's skill with two primary metrics: Safety Rating and iRating. Safety Rating (S.R.) effectively measures how clean and incident-free a driver can race. iRating takes much more into consideration but is generally a quantified measure of driver skill.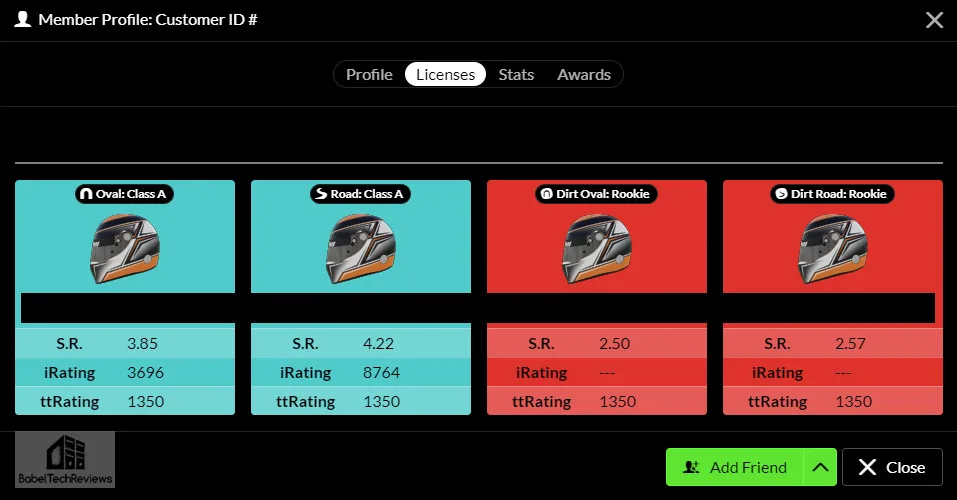 Yet, accidents do happen.
With a primary emphasis on progression and skill-building, iRacing offers some of the cleanest and most sportsmanlike racing online. Nowhere else can one find a community of 160,000+ racing enthusiasts that genuinely try to do their best. Of course, for the bad apples out there, iRacing allows users to report drivers for a wide range of infractions.
Based on the severity of the incident (honest accident vs. intentional wrecking), iRacing reserves the right to impose race penalties and even outright bans. This may sound harsh to one used to the 'wild west' environment typical of PC gaming, but systemic accountability is a primary reason for iRacing's success to date as it ensures drivers put their best foot forward.
Performance
iRacing's graphics can be adjusted to support myriad system configurations. For traditional use with a single monitor, the engine allows for the use of surprisingly vintage hardware with acceptable framerates at 1080p or 1440p. Of course, with more powerful hardware, more detail can be progressively dialed-in. At it's highest settings, iRacing is a love-letter to motorsport, and it doesn't feel lacking in any respect that matters.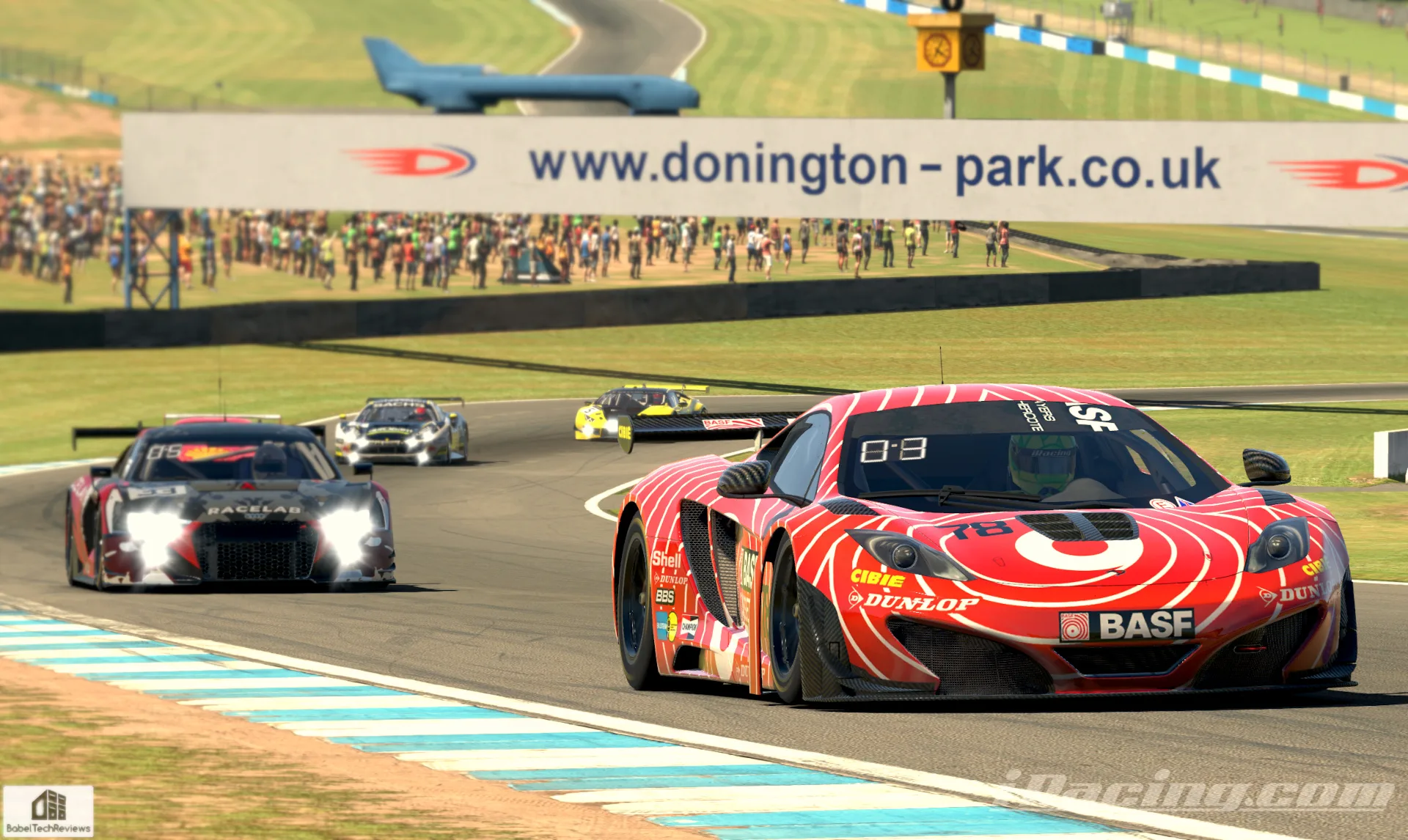 iRacing supports VR remarkably well with virtually every PCVR HMD supported. Users of an HTC Vive, Vive Pro, Oculus Rift CV1, Rift S, and others can be confident that they'll attain at least 80-90fps with a mix of low-medium settings on moderate hardware (GPU: GTX 980 equivalent or higher and CPU: i7 4770K equivalent or higher).
For users who want to run those HMDs or even more demanding HMDs (HP G1, G2, PiMax) at high detail settings with fast framerates, stronger hardware is required (GPU: GTX 1080 Ti equivalent or higher, and CPU: i7 6700K / Ryzen 7 1800X equivalent or higher).
From our initial NVIDIA SPS VR Performance in iRacing series, we maxed-out the Oculus Rift S, and on System #1 ran a HP G1 Professional VR HMD at a slightly lower quality 90 FPS with the following hardware.
Test Hardware
System #1
CPU: AMD Ryzen 9 3900X (12c/24t) – PBO 4.5GHz Boost
Motherboard: ASUS ROG Crosshair VII Hero X470 – BIOS 3004
Memory: Crucial Ballistix RGB 3600 32GB DDR4 – 2x16GB, dual channel at 3600MHz
GPU: EVGA GTX 1080 Ti SC2 – Stock clocks
Sound Card: Creative Labs Sound Blaster AE-7
SSD: Samsung 970 Evo 1TB NVME M.2
PSU: Seasonic Focus+ Gold 850w
VR HMD: Oculus Rift S – Quality Setting
Sim Gear – Fanatec DD1 Wheelbase, Fanatec Formula V2 Rim, Fanatec CSL ELite LC pedals
System #2
CPU: AMD Ryzen 7 2700X (8c/16t) – PBO 4.1GHz Boost
Motherboard: ASUS ROG Strix B450-F Gaming – BIOS 2301
Memory: GSkill TridentZ RGB 3200 16GB DDR4 – 2x8GB, dual channel at 3200MHz
GPU: EVGA GTX 1080 Founders Edition – Stock clocks
Sound Card: Creative Labs Sound Blaster Z
SSD: Western Digital Black SN750 1TB NVME M.2
PSU: EVGA SuperNova 850 G2 – 850w
VR HMD: Oculus Rift S – Quality Setting
Sim Gear – Fanatec CSW v2.5 Wheelbase, Fanatec Formula V2 Rim, Fanatec CSL ELite LC pedals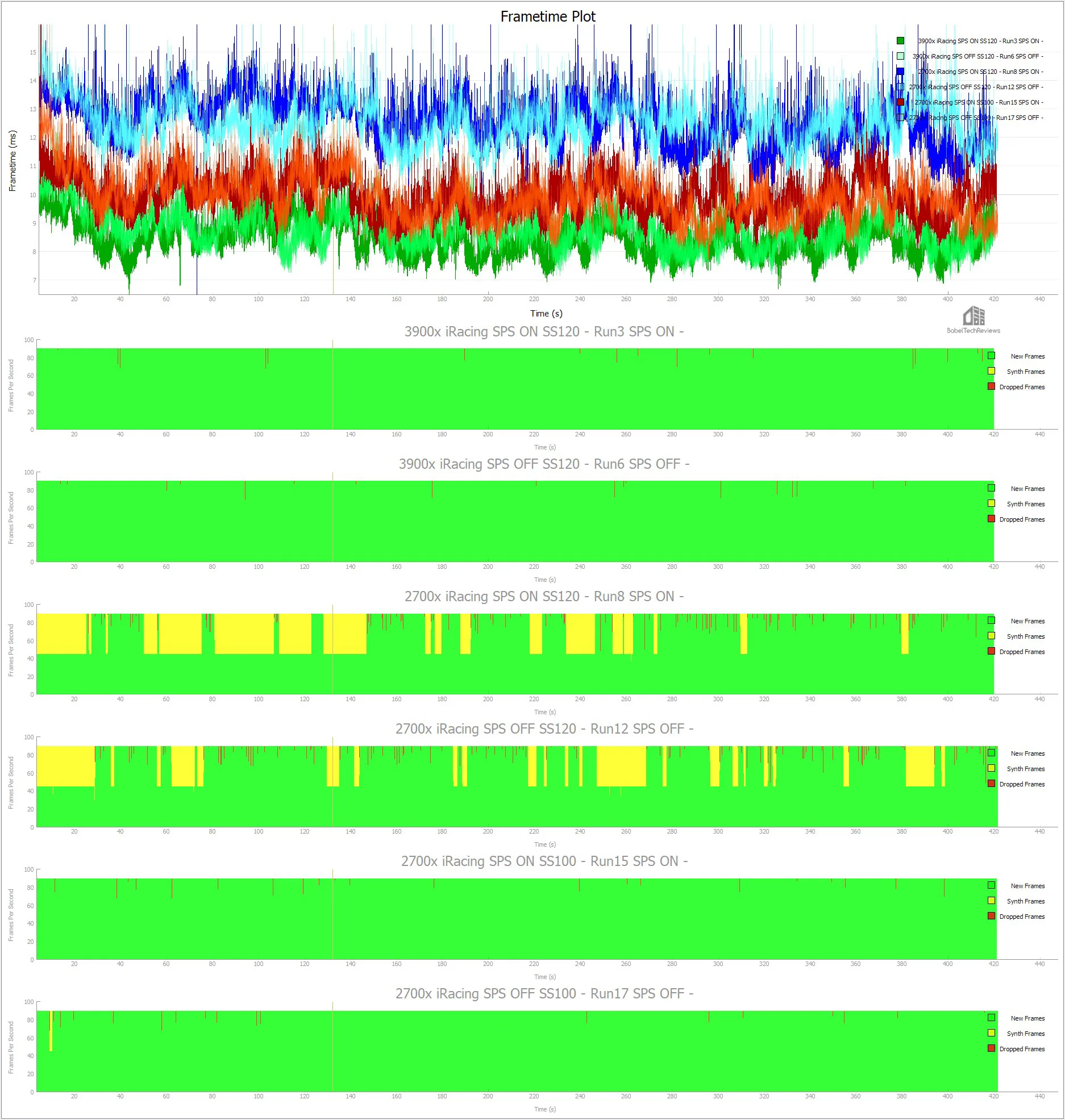 These results clearly show that even medium-tier hardware from a few years ago is more than capable of delivering a smooth and engaging VR racing experience.
Realism / Immersion
Compared to sims like Assetto Corsa Competizione, Project Cars 2, and others, iRacing's graphics can be fairly described as 'bland' or 'sterile.' Yet a lack of superfluous shaders and GPU trickery allow the sim to run at extremely high framerates even on a modest PC. Above all, iRacing is fast, smooth, and fluid. This fluidity greatly helps in immersing a virtual driver in their car, allowing them to sense its dynamic physical behavior. Besides the fluid-framerate and detailed vehicle handling, iRacing's other standout feature is force feedback implementation. iRacing will give you all the tactile clues you need to push your car to the edge with a decent-quality force feedback wheel and pedal setup.
Lastly, this brings us to sound design. As far as sound is concerned, iRacing does an adequate job, but some cars could use higher-fidelity or more accurate recordings to be convincing. While not yet at the level of Assetto Corsa Competizione for example, each patch moves the needle the right way.
Staying Power
iRacing went live in August of 2008, making it 12.5 years old and the "oldest" racing sim still in popular use. Yet like a PC constantly upgraded with new parts, at what point is it no longer the thing it started out as? iRacing has certainly evolved lightyears beyond it's legacy Grand Prix Legends and NASCAR Racing 2003 roots. As long as the team keeps investing time and talent into keeping the service reliable and relevant, there's no reason iRacing won't be around for more decades to come.
Closing Thoughts
As an unabashed racing junkie, I have to admit the old adage I constantly heard online is true: "All roads lead to iRacing eventually." After several years of racing in other sims, and many times having good runs ruined by those who don't care, I relented and subscribed. Looking back, it was the right decision. The experiences and friends gained have been and continue to be more than worth the price of admission.
Quit spinning your wheels and subscribe to iRacing here.