Intro
The RTX 3090 FE vs. RTX 2080 Ti x2 mGPU using SLI, Pro Apps & Workstation and GPGPU benchmarks
This review follows up on the RTX 3090 Founders Edition (FE) launch review.  It is the fastest video card in the world, and it is a GeForce optimized for gaming – it is not a TITAN nor a Quadro replacement.  However, we demonstrated that it is very fast for SPEC and GPGPU benches, and its huge 24GB vRAM framebuffer allows it to excel in many popular creative apps making it especially fast at rendering.
The RTX 3090 is NVIDIA's flagship card that commands a premium price of $1500, and some gamers and pro app users may consider buying a second RTX 2080 Ti as an alternative for SLI/mGPU (Multi-GPU) gaming, pro apps, SPEC, GPGPU, and for creative apps.  So we purchased a EVGA RTX 2080 Ti XC from eBay and a RTX TITAN NVLink High Bandwidth bridge from Amazon to test 2 x RTX 2080 Tis versus the RTX 3090.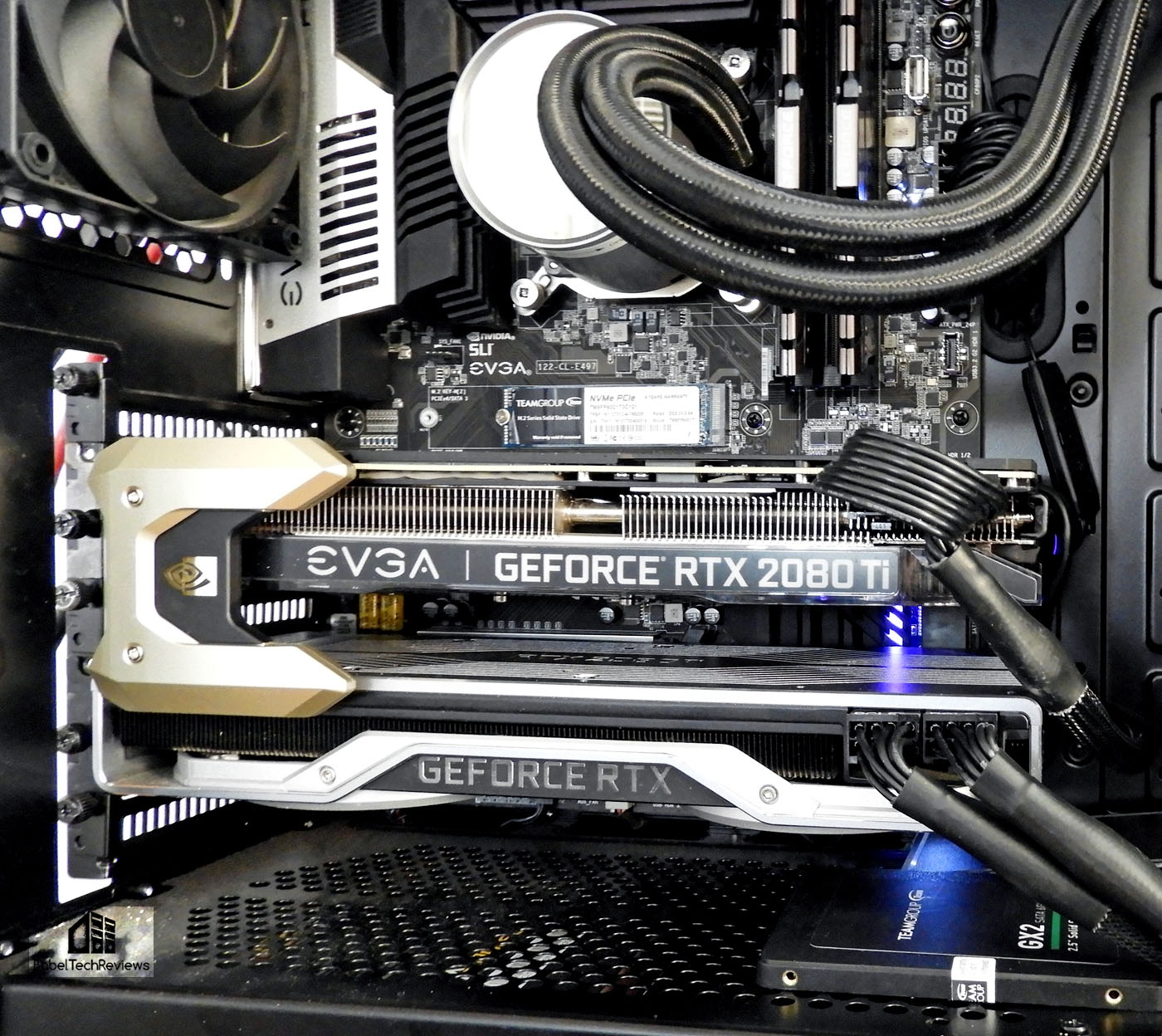 The RTX 3090 is the fastest video card for gaming and it is the first card to be able to run some games at 8K. But the RTX 2080 Ti is still very capable as NVIDIA's former flagship card, and we will demonstrate how two of them perform in SLI/mGPU games, SPECworkstation3, creative apps using the Blender 2.90 and OTOY benchmarks, and in Sandra 2020 and AIDA64 GPGPU benchmarks.  In addition, we will also focus on pro applications like Blender rendering, DaVinci's Black Magic, and OTOY OctaneRender.  It will be interesting to see if two RTX 2080 Ti's pool their memory to 22GB using these pro apps versus the RTX 3090 24GB.
We benchmark SLI games using Windows 10 64-bit Pro Edition at 2560×1440 and at 3840×2160 using Intel's Core i9-10900K at 5.1/5.0 GHz and 32GB of T-FORCE DARK Z 3600MHz DDR4.  All benchmarks use their latest versions, and we use the same GeForce Game Ready drivers for games and the latest Studio driver for testing pro apps.
Let's check out our test configuration.