Final Thoughts & Verdict
 The Conclusion
The Red Devil RX 6900 XT improves significantly over the last generation RX 5700 XT, easily exceeds RX 6800 XT performance, and it trades blows with the RTX 3090 FE in rasterized games although overall it is slower.  The Red Devil RX 6900 XT beats all of the last generation cards including the RTX 2080 Ti although it struggles with ray traced games especially when DLSS is used for the GeForce cards.
For Radeon gamers, the reference RX 6900 XT is a good alternative to GeForce Ampere cards for the vast majority of modern PC games that use rasterization.  The RX 6900 XT offers 16GB of GDDR6 to the 24GB of GDDR6X that the RTX 3090s are equipped with, but that 8GB of vRAM shouldn't make any practical difference to game performance.
At its suggested price of $1139 ($1179 for the Limited Edition bundle), the Red Devil RX 6900 XT costs about $350 less than the RTX 3090 FE and offers a good value for Radeon gamers – if it can be found.  Unfortunately, the Radeon 6000 series launch has proved to be an extremely high demand and limited supply event that has been called a paper launch by many wishing to purchase one.   The same thing has happened to Ampere cards where the stock is still trickling in and being purchased the instant it's available, often by cyptocurrency miners or for resale.  So prices are high and many resellers are taking advantage of this demand situation by raising prices significantly.
Comparing the $1000+ RX 6900 XT to the $650 RX 6800 XT, we conclude that this halo flagship card is not good bang-for-buck – no halo card is.  The RTX 3090 at $1500 is not a good value either compared with the performance of the RTX 3080 at $699.  The primary difference is that the RTX 3090 holds the performance crown and there are gamers who absolutely will not settle for anything but the "fastest" that these flagship cards are aimed at.  The RTX 3090 and the RX 6900 XT are flagship halo cards with diminishing performance return value for dollars spent.  The RTX 6900 XT will appeal to the AMD gamer who wants the "best" performance from a Radeon where money is not an object.
The Red Devil RX 6900 XT is priced approximately 15% higher than the reference version which is more reasonable than the 20% plus premiums that some AIBs demand for their overclocked cards.  It is a solid and well-built card, and we would recommend it to any Radeon gamer that is looking for AMD's best.
The only real issue that we see with Radeon 6000 series cards are that ray traced games will become mainstream now that the consoles have adopted it, and AMD's solution is inferior to NVIDIA's dedicated hardware that takes advantage of DLSS AI upscaling that delivers superior performance while preserving or enhancing image quality.  On the flip side, there are only 30 DLSS-enable games and very few ray traced games, yet there are thousands of rasterized games where the RTX 6900 XT trades blows with the much more expensive RTX 3090.

We recommend the Red Devil RX 6900 XT as a great choice out of multiple good choices, especially for any AMD gamer looking for good looks with RGB, an exceptional cooler, great performance for 2560×1440 or 4K, PowerColor's excellent support, and overall good value compared with the RX 6900 XT reference version assuming that its stock and price stabilize.
Let's sum it up:
The Red Devil RX 6900 XT Pros
The PowerColor Red Devil RX 6900 XT is much faster than the last generation RX 5700 series by virtue of new RDNA 2 architecture.  It trades blows in the majority of rasterized games with the RTX 3090 FE for significantly less money.
The Red Devil RX 6900 XT has excellent cooling with very little noise and has a very good power delivery and a 3-fan custom cooling design that is very quiet when overclocked even using the OC mode.
Dual-BIOS give their user a choice of quiet with less overclocking, or a bit louder with more power-unlimited and higher overclocks.
FreeSync2 HDR eliminates tearing and stuttering.  FidelityFX allows for upscaling and improved sharpness with almost no performance penalty, and there is a low latency mode for competitive gamers
Customizable RGB lighting and a neutral color allow the Red Devil to fit into any color scheme using the DevilZone software program.
Red Devil RX 6900 XT Cons
      Pricing.  It isn't really that much faster than the reference RX 6800 XT which is almost half of its price
      Weaker ray tracing performance than the RTX 3080 or the RTX 3090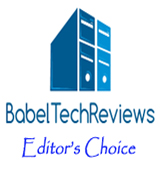 The Red Devil RX 6900 XT is a good Radeon card choice for those who game at 2560×1440 or at 4K and want the best that AMD has to offer. It represents a good gaming alternative to the RTX 3090 albeit with weaker ray tracing performance.  It is offered especially for those who prefer AMD cards and FreeSync2 enabled displays which are generally less expensive than Gsync displays.  And if a gamer is looking for something extra above the reference version, the Red Devil RX 6900 XT is a very well-made and good-looking card that will overclock better.
We are giving the Red Devil RX 6900 XT an Editor's Choice.  In fact, we have to send this card back to PowerColor this week and will attempt to buy another Red Devil RX 6900 XT from retail for playing games and for further benching.  However, we will not pick the Limited Edition if we have a choice since we don't mount cards vertically.
The Verdict:
PowerColor's Red Devil RX 6900 XT is a solidly-built handsome card with higher clocks out of the box than the reference version.  It trades blows with the RTX 3090 in rasterized games.  It is a kick ass RX 6900 XT. 
Stay tuned, there is much more coming from BTR.  Immediately, we will return to VR with a performance evaluation using the Vive Pro comparing the Red Devil RX 6900 XT with the RTX 3090, the RTX 3080, and the 6800 XT.  We plan to finish up our 3-part review testing the Red Devil's overclock and power draw versus the RTX 3090.
It you would like to comment, please use the section below.
Happy Gaming!