Test Configuration, Overclocking & Noise
Test Configuration – Hardware
Intel Core i9-10900K (HyperThreading/Turbo boost On; All cores overclocked to 5.1GHz/5.0Ghz. Comet Lake DX11 CPU graphics)
EVGA Z490 FTW motherboard (Intel Z490 chipset, v1.9 BIOS, PCIe 3.0/3.1/3.2 specification, CrossFire/SLI 8x+8x), supplied by EVGA
T-FORCE DARK Z 32GB DDR4 (2x16GB, dual channel at 3600MHz), supplied by Team Group
Red Devil RX 6900 XT 16GB, stock and overclocked, on short term loan from PowerColor
Radeon RX 6800 XT Reference version 16GB, stock settings, on loan from AMD
Radeon RX 6800  Reference version 16GB, stock settings, on loan from AMD
Radeon RX 5700 XT 8GB Anniversary Edition, stock AE clocks.
RTX 3080 Founders Edition 10GB, stock, on loan from NVIDIA
RTX 3090 Founders Edition 24GB, stock clocks, on loan from NVIDIA
RTX 3070 Founders Edition 8GB, stock clocks, on loan from NVIDIA
EVGA RTX 3070 FTW3 Ultra 8GB factory clocks, on loan from EVGA
RTX 2080 Ti Founders Edition 11GB, stock clocks, on loan from NVIDIA
RTX 2080 SUPER Founders Edition 8GB, stock clocks, on loan from NVIDIA
RTX 2070 Ti Founders Edition 8GB, stock clocks, on loan from NVIDIA
GTX 1080 Ti Founders Edition 11GB, stock clocks, on loan from NVIDIA
1TB Team Group MP33 NVMe2 PCIe SSD for C: drive
1.92TB San Disk enterprise class SATA III SSD (storage)
2TB Micron 1100 SATA III  SSD (storage)
1TB Team Group GX2 SATA III SSD (storage)
500GB T-FORCE Vulcan SSD (storage), supplied by Team Group
ANTEC HCG1000 Extreme, 1000W gold power supply unit
BenQ EW3270U 32″ 4K HDR 60Hz  FreeSync monitor
Samsung G7 Odyssey (LC27G75TQSNXZA) 27″ 2560×1440/240Hz/1ms/G-SYNC/HDR600 monitor
DEEPCOOL Castle 360EX AIO 360mm liquid CPU cooler
Phanteks Eclipse P400 ATX mid-tower (plus 1 Noctua 140mm fan) – All benchmarking and overclocking performed with the case closed
Test Configuration – Software
GeForce 460.89 used for the RTX 3090 and the RTX 3080
GeForce 456.96 for the RTX 3070, the RTX 2080 Ti, and the RTX 2070/2080 SUPER; and GeForce 456.16 Press drivers and GeForce 456.38 public drivers (functionally identical) are used for the other GeForce cards.  There have been no general game performance driver improvements since Ampere launched.
Adrenalin 2020 Edition 20.12.2 drivers used for the Red Devil RX 6900 XT and RX 6800 XT; 20.12.1 used for the RX 6800.  Adrenalin 2020 Edition 20.10.1 drivers used for the RX 5700 XT Anniversary Edition.
High Quality, prefer maximum performance, single display, set in the NVIDIA control panel.
VSync is off in the control panel and disabled for each game
AA enabled as noted in games; all in-game settings are specified with 16xAF always applied
Highest quality sound (stereo) used in all games
All games have been patched to their latest versions
Gaming results show average frame rates in bold including minimum frame rates shown on the chart next to the averages in a smaller italics font where higher is better.  Games benched with OCAT show average framerates but the minimums are expressed by frametimes (99th-percentile) in ms where lower numbers are better.
Windows 10 64-bit Pro edition; latest updates v2004. DX11 titles are run under the DX11 render path.  DX12 titles are generally run under DX12, and multiple games use the Vulkan API.
Latest DirectX
MSI's Afterburner, latest beta
OCAT
Fraps
Games
Vulkan
DOOM Eternal
Red Dead Redemption 2
Ghost Recon: Breakpoint
Wolfenstein Youngblood
World War Z
Strange Brigade
Rainbow 6 Siege
DX12
Cyberpunk 2077
Godfall
Call of Duty Black Ops: Cold War
Assassin's Creed: Valhalla
Watch Dogs: Legion
Horizon Zero Dawn
Death Stranding
F1 2020
Mech Warrior 5: Mercenaries
Call of Duty Modern Warfare
Borderlands 3
Gears 5
Tom Clancy's The Division 2
Metro Exodus
Civilization VI – Gathering Storm Expansion
Battlefield V
Assetto Corsa: Competitione
Shadow of the Tomb Raider
Project CARS 2
Forza 7
DX11
Crysis Remastered
Star Wars: Jedi Fallen Order
The Outer Worlds
Destiny 2 Shadowkeep
Borderlands 3
Total War: Three Kingdoms
Far Cry New Dawn
Monster Hunter: World
Overwatch
Grand Theft Auto V
Synthetic 
TimeSpy (DX12)
3DMark FireStrike – Ultra & Extreme
Superposition
Heaven 4.0 benchmark
AIDA64 GPGPU benchmarks
Blender 2.90 benchmark
Sandra 2020 GPGPU Benchmarks
SPECworkstation3
SPECviewperf 2020
NVIDIA Control Panel settings
Here are the NVIDIA Control Panel settings.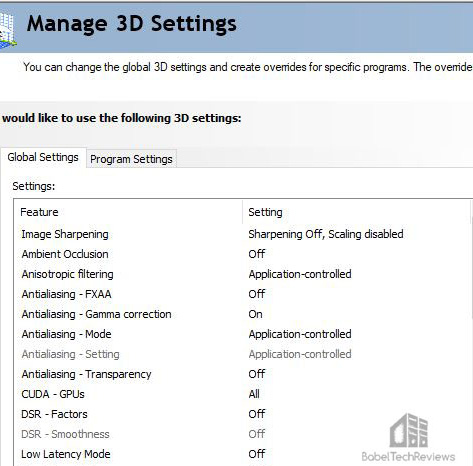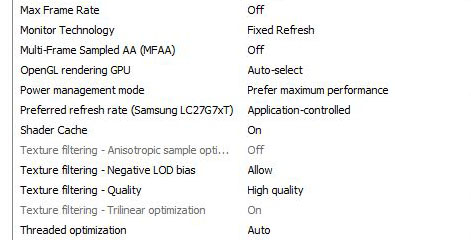 We used MSI's Afterburner to set all GeForce video cards' power and temperature limits to maximum and used Wattman for the Radeons.
AMD Adrenalin Control Center Settings
All AMD settings are set so that all optimizations are off, Vsync is forced off, Texture filtering is set to High, and Tessellation uses application settings.  All Navi cards are capable of high Tessellation unlike earlier generations of Radeons.
Anisotropic Filtering is disabled by default but we always use 16X for all game benchmarks.
Let's check out overclocking, temperatures and noise next.
Overclocking, temperatures and noise
We didn't spend any time overclocking the Red Devil RX 6900 XT for this review as it will be covered in Part 3 later this week (after VR), and we plan to measure the power that the card actually draws compared with the RTX 3090.  The card is very quiet and its fans never spin up even under a heavy load so as to be irritating or even noticeable.  It is even a bit quieter than the RTX 3090 which is a relatively quiet flagship card – especially compared with the Turing flagship (RTX 2080 Ti).
The Red Devil RX 6900 XT is factory clocked 90MHz higher than the reference version at 2250MHz using the OC BIOS.  According to its specifications, the Red Devil RX 6900 XT boost can clock up to 2340MHz out of the box. From our benching, we generally see it boosting even higher and it generally settles in above 2380MHz with peaks above 2400MHz.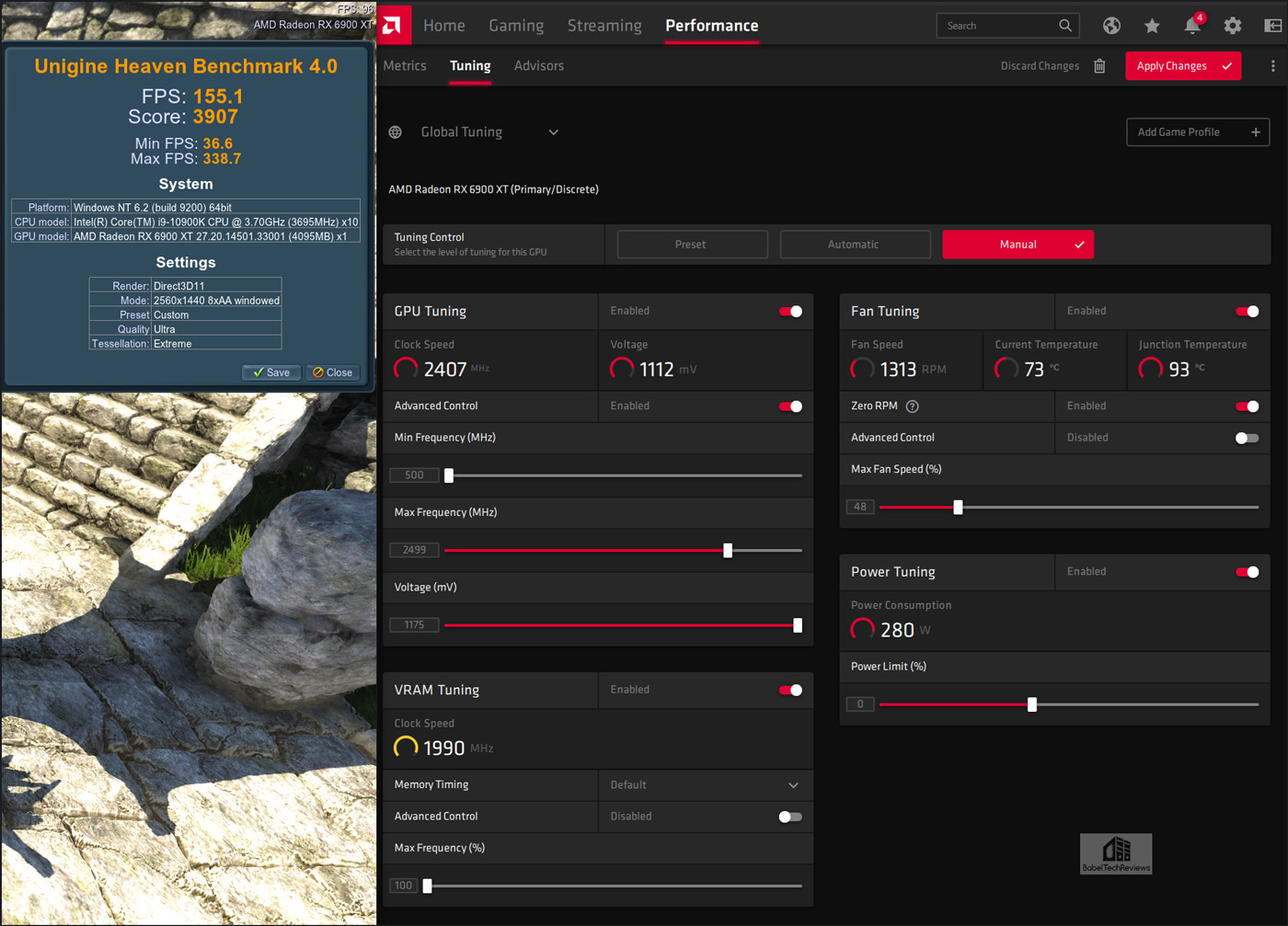 Above are the PowerColor Red Devil RX 6900 XT Wattman default settings including the the power limit set to default while running a 98% GPU load while looping the maxed-out Heaven 4.0 benchmark.  For this card, the performance didn't matter whether the power limit was set to default or higher.
The Red Devil's temperatures stay low in the mid-70s C with the fans quietly running well below 50% even using the OC BIOS under a full gaming load.  It is an exceptionally well-cooled card.
Let's head to the performance charts to see how the performance of the Red Devil RX 6900 XT compares with 11 other cards.