A Closer Look at the Red Devil RX 6900 XT
A Closer Look at the PowerColor Red Devil RX 6900 XT
Although the Red Devil RX 6900 XT advertises itself as a premium 7nm card on AMD's RDNA 2 architecture which features FidelityFX, FreeSync 2 HDR and PCIe 4.0, the cover of the box uses almost no text in favor of stylized imagery.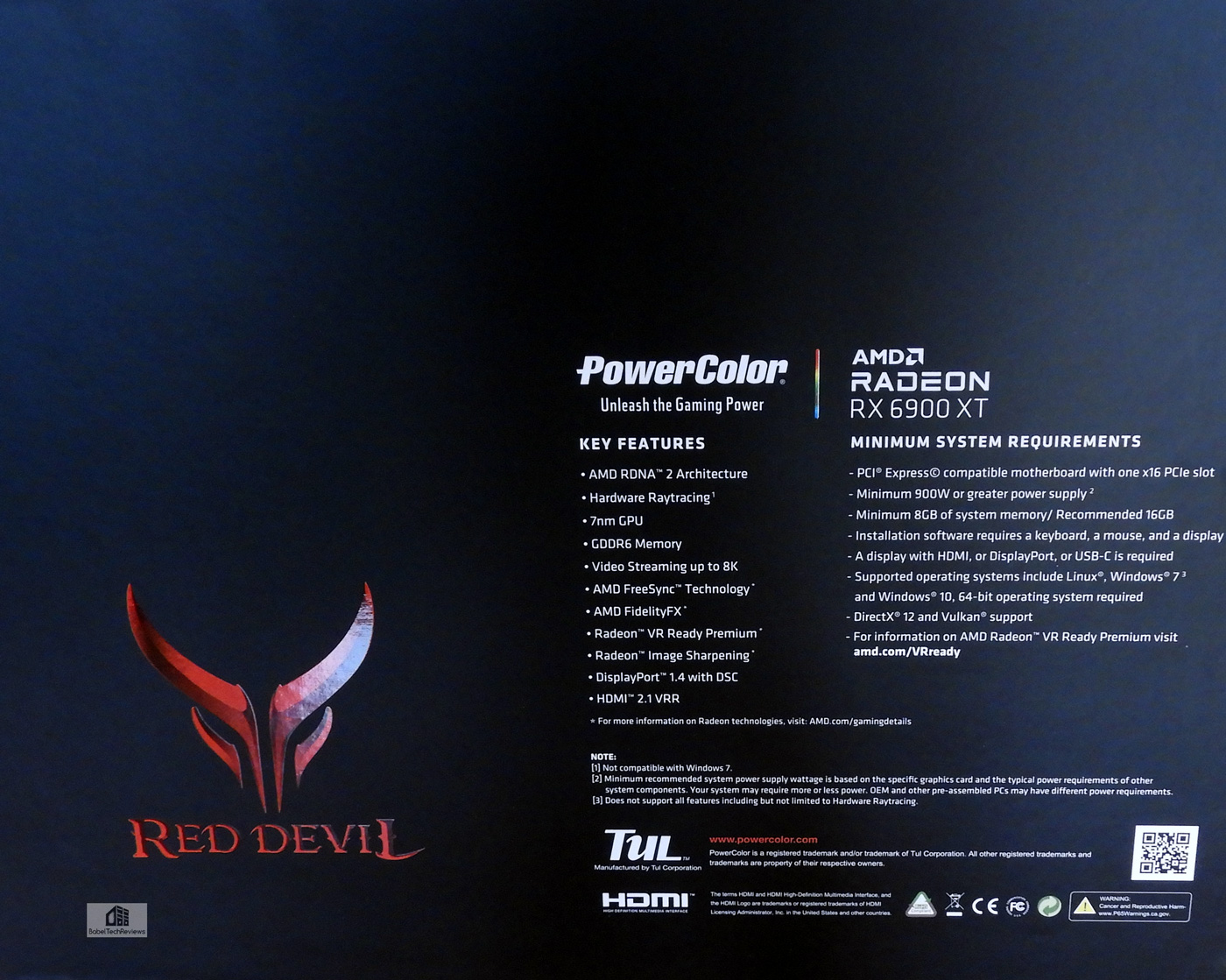 The back of the box touts key features which now include HDMI 2.1 VRR, ray tracing technology, and VR Ready Premium as well as states its 900W power and system requirements although there is a lot of blank space on the box.  AMD's technology features are highlighted, but the box does not even mention PowerColor's custom cooling solution, Dual-BIOSes, RGB software, output LEDs, and custom lighted backplate.
We don't see the Red Devil's features and extreme cooling highlighted until we open the box.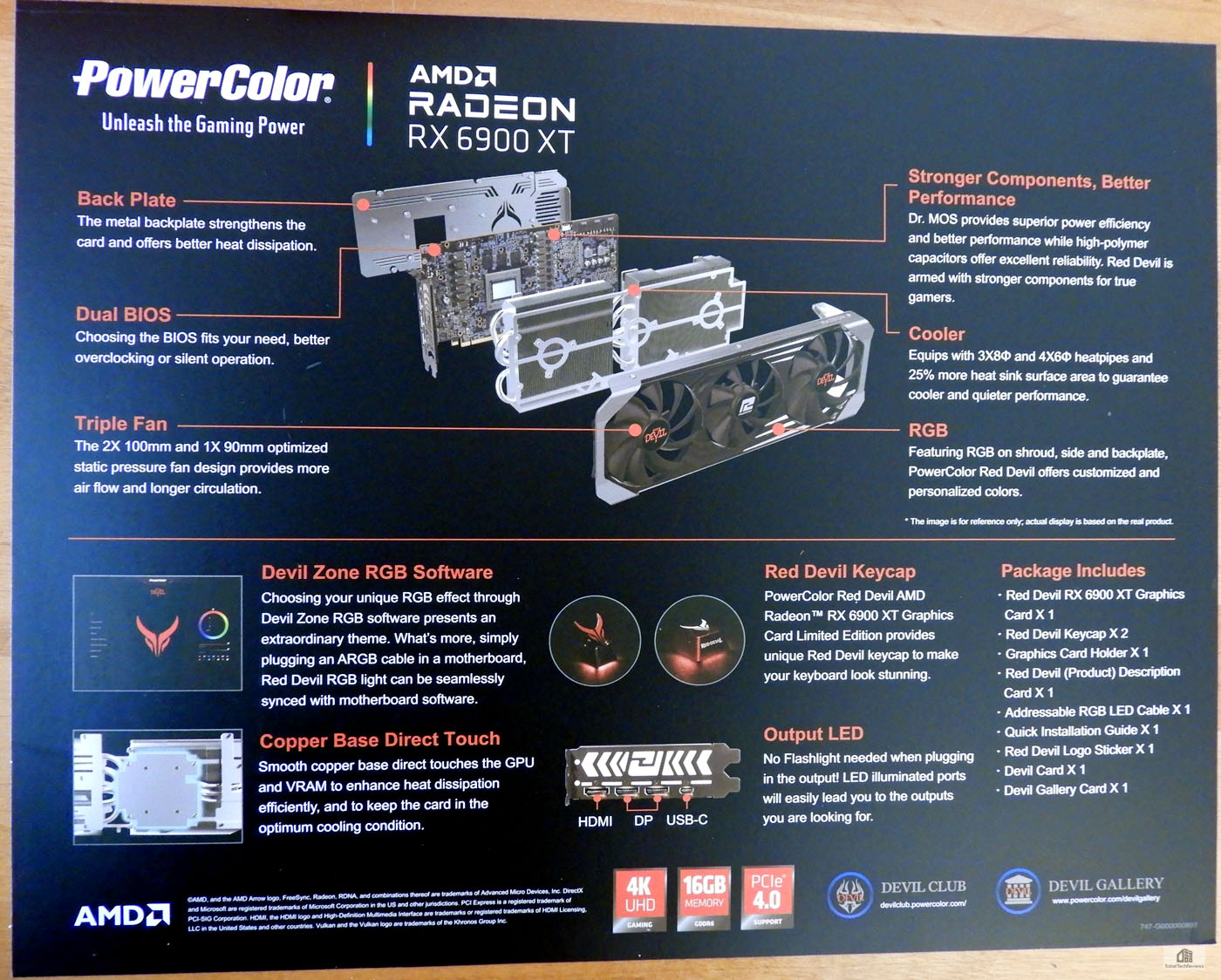 Now we see advertising above that instead probably should have been included on the outside of the box.  Also inside are a quick installation guide, RGB LED cable, and an invitation to join PowerColor's Devil's Club. The complete package is pictured below.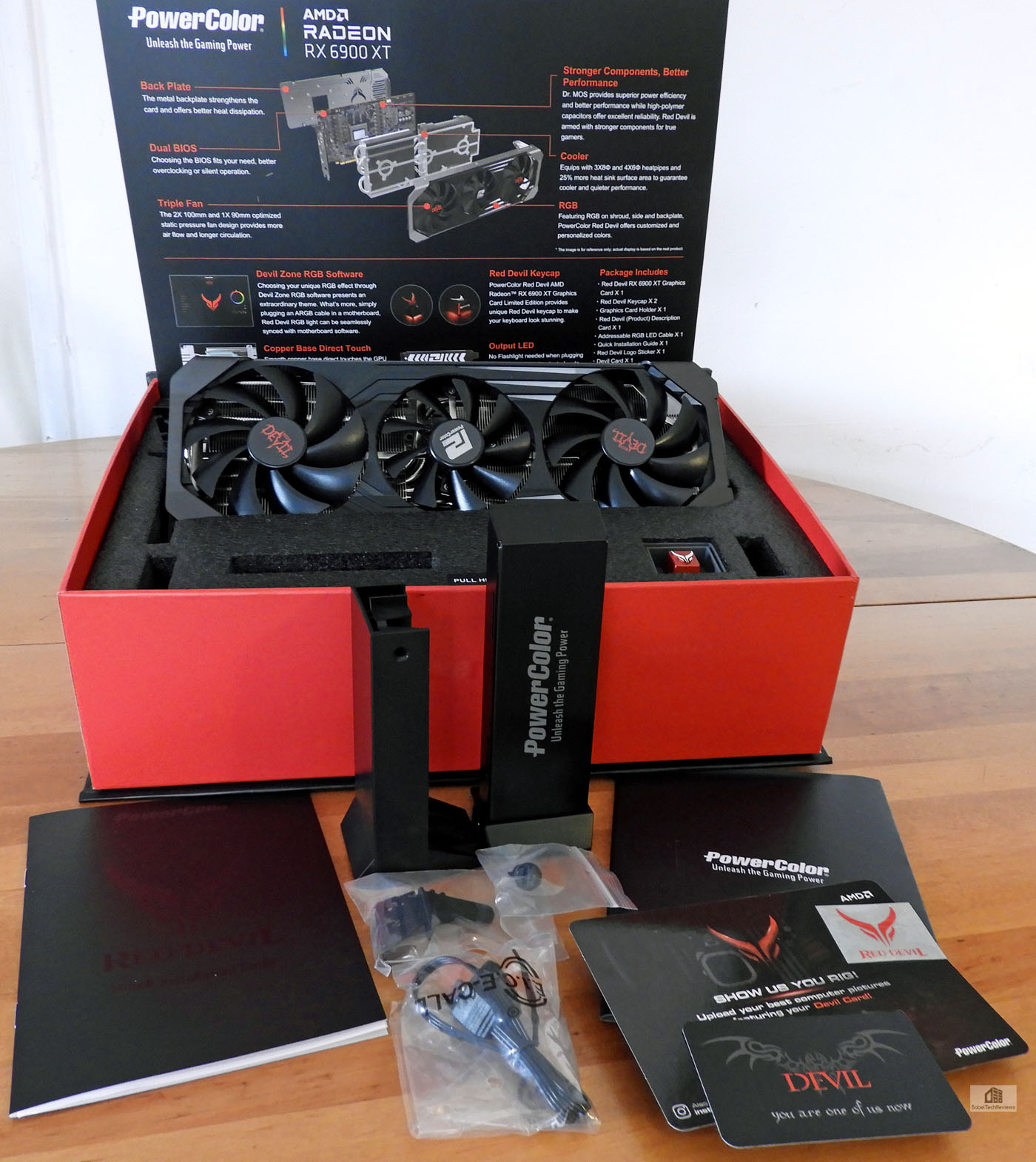 In addition, a couple of key caps are included with the Limited Edition which could prove useful for benchmarking while wearing a HMD, and there are two stands for mounting the Red Devil vertically in a large case.  We did not mount the Red Devil vertically as our case is thermally challenged with the side panel closed, and we think it looks nicer mounted horizontally.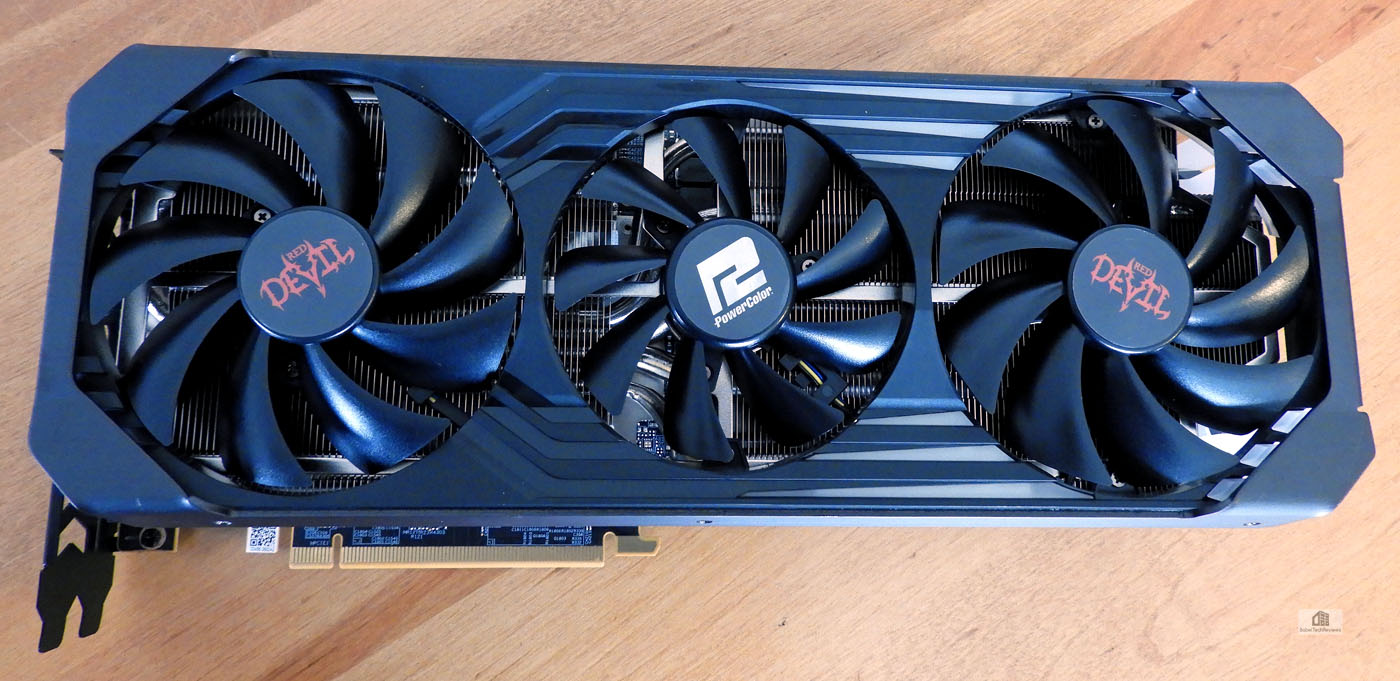 The Red Devil RX 6900 XT is a large tri-fan card in a three slot design which is quite handsome with PowerColor's colors and even more striking with the RGB on.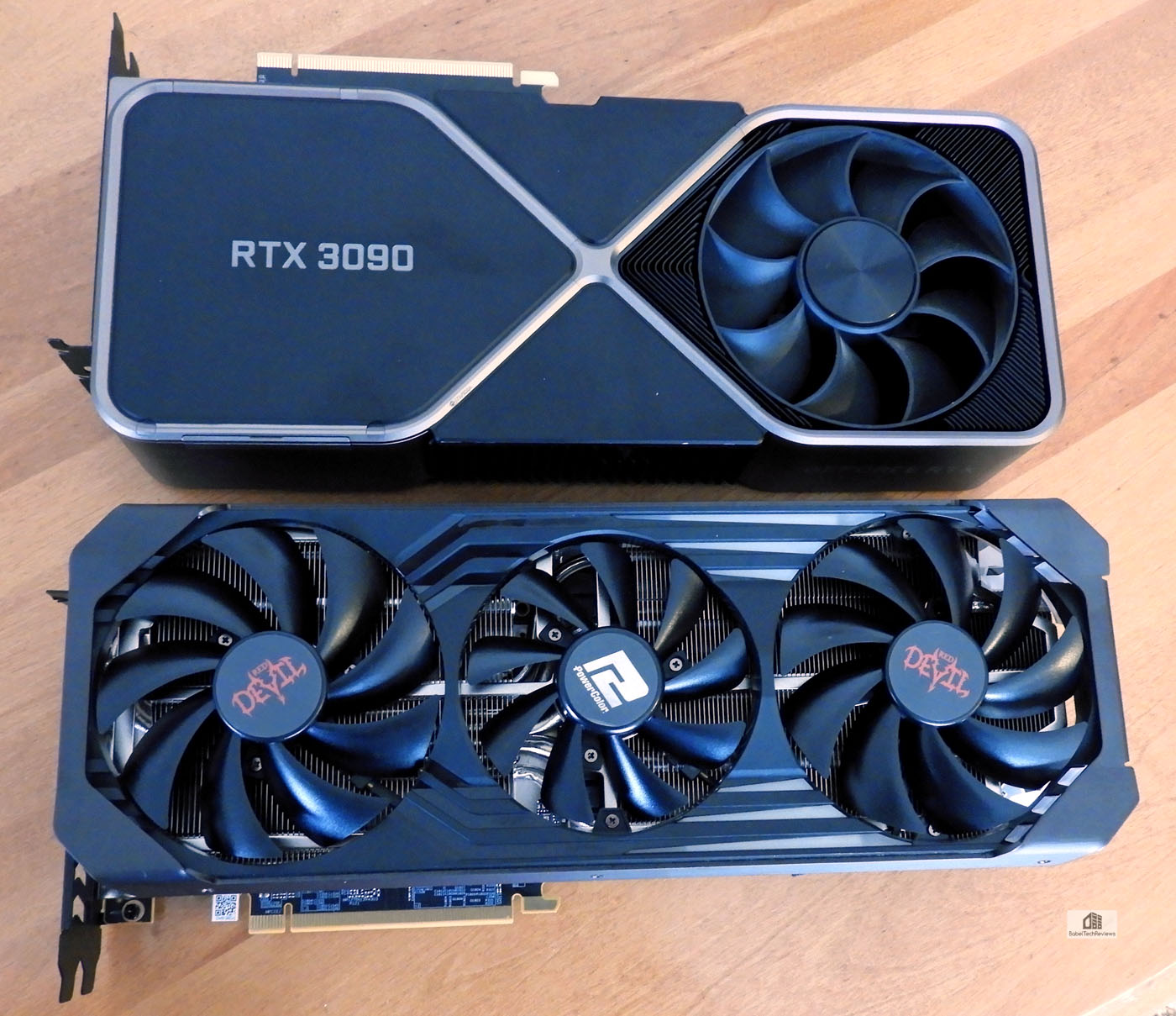 Here is the Red Devil RX 6900 XT pictured next to a RTX 3090 FE above.  Both cards are huge compared with either the reference RX 6800 XT or the reference RTX 3080.  Although the Red Devil is a little longer than the RX 3090 FE, the GeForce is bulkier and is a bit heavier.  Both cards should be locked down with two thumbscrews instead of one because they are both very heavy.
The backplate is beautiful and it uses cutouts for maximum airflow instead of thermal pads.  The PowerColor Red Devil RX 6800 XT's sturdy backplate features a stylized custom devil symbol that lights up in the color of your choice if synced, red being the default.  This card is number 467 out of a 500 Limited Edition run.  Contrary to social media speculation, the Limited Edition uses the same GPU as the "regular" edition but differentiates itself by bundling two Red Devil keycaps and the vertical mounting stands.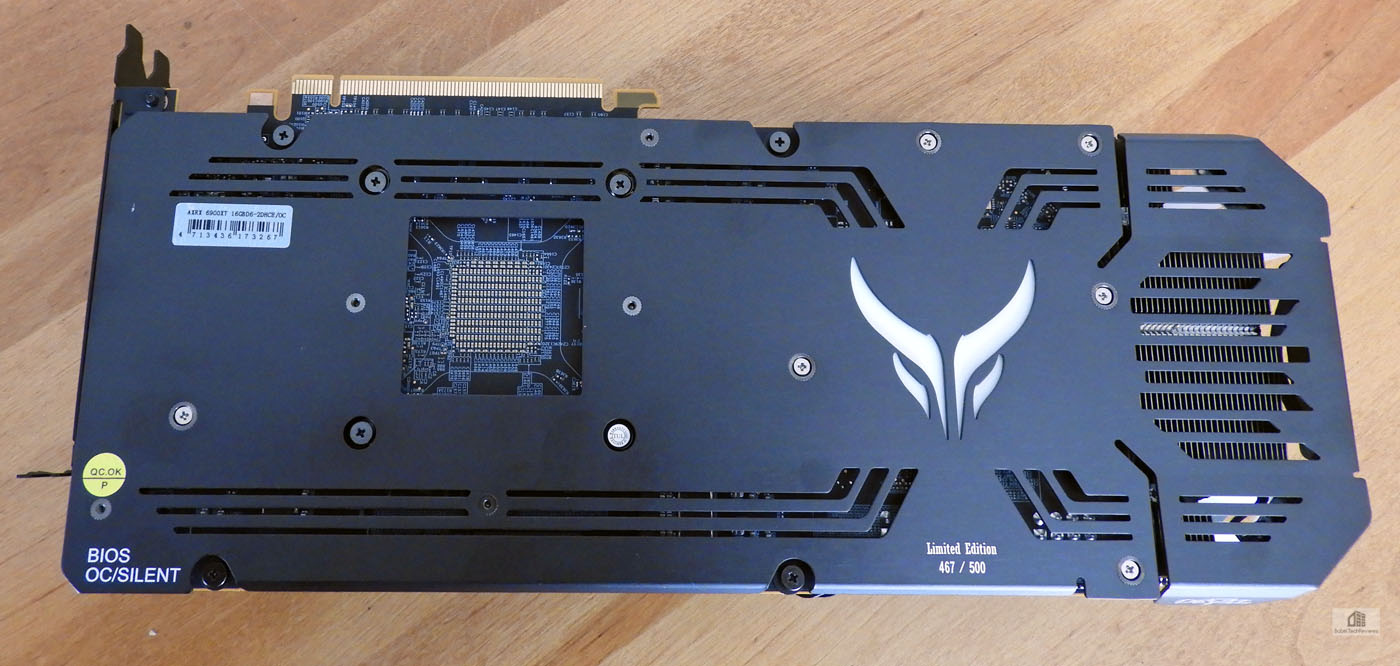 There is also a switch to choose between the default overclock (OC) BIOS and the Silent BIOS.  We didn't bother benching with the Silent BIOS but it is good to have in case a flash goes bad.  The Red Devil logo lights up in default red but may be fully customized using the aRGB cable provided.


The card uses three 1×8-pin PCIe connections and a high capacity PSU is recommended.  PowerColor recommends 900W, and we hope to measure the card's actual power draw in Part 3 of our Red Devil RX 6900 XT review.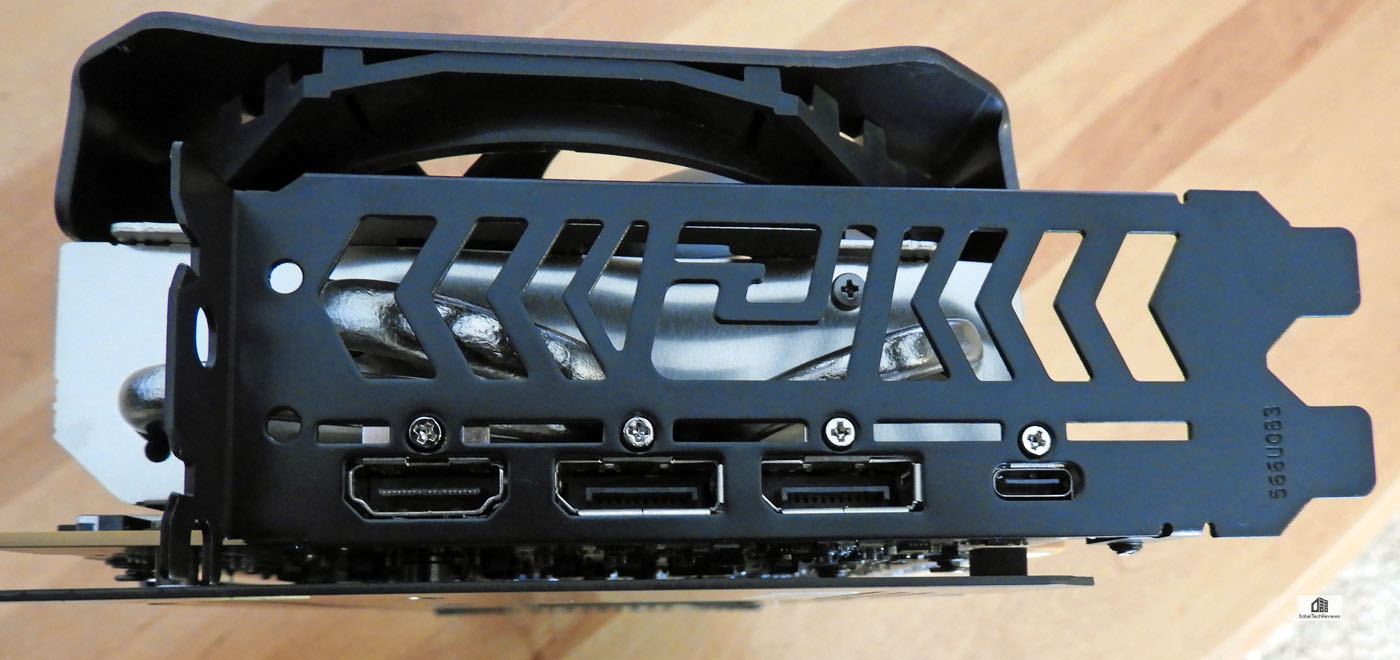 The Red Devil's RX 6900 XT's connectors include 2 DisplayPorts, 1 HDMI connection, and a USB Type C connector.  There is an LED that illuminates this panel for making easier connections in the dark.
Below is the other end where there are additional RGB LEDs that light up the white plastic for a very unique "Red Devil' look.
The Red Devil looks outstanding inside a case.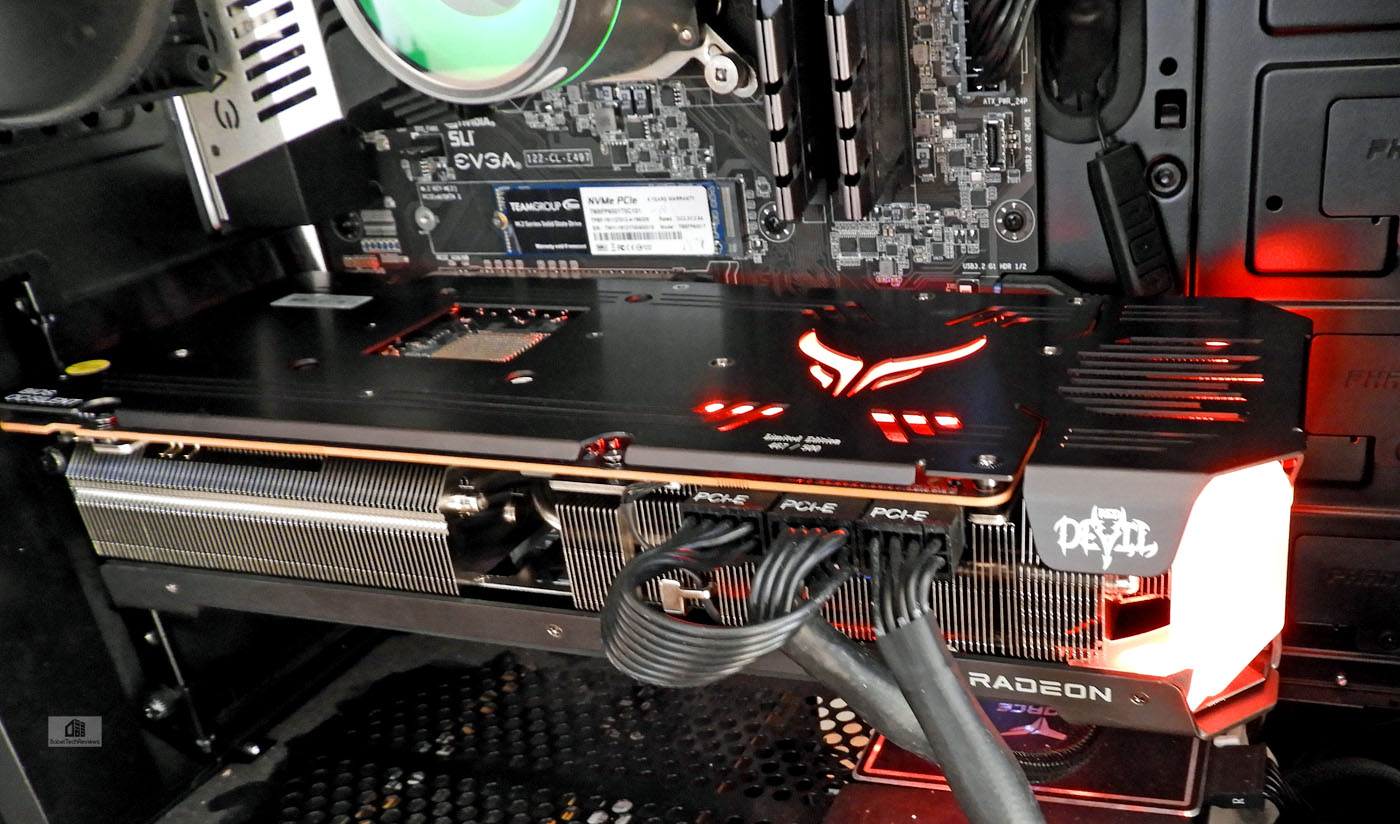 The specifications look good and the card itself looks great with its default RGB bright red contrasting with the black backplate and its aggressively lit-up end, perhaps stylistically reminiscent of an automotive grill.
Let's check out its performance after we look over our test configuration and more on the next page.