Get ready to be blown away by the future of gaming chair technology! Introducing the NxSys Aero – the ultimate gaming throne that's about to change the game forever!
Picture this: the NxSys Aero, a groundbreaking gaming chair that combines the best in ergonomics, cooling technology, and style to create a gaming experience that's light years ahead of the competition. The name itself, NxSys, is a fusion of "Next System," symbolizing the cutting-edge design that defines the next generation of gaming gear.
But what truly sets the NxSys Aero apart is its revolutionary integrated 200mm RGB fan. This isn't just any fan; it's a game-changer! Imagine gaming for hours without breaking a sweat, thanks to a constant stream of cool air directed towards your back. It's like having your very own air conditioner right in your chair – no more sweaty backs or discomfort during intense gaming sessions!
But that's not all – the NxSys Aero takes comfort to a whole new level. With its innovative elastomeric mesh and ventilated back cover, it creates a cushioning effect that makes you feel like you're floating on air. And for personalized support, it comes with a physiotherapy-grade lumbar pillow and a magnetic head cushion that you can position exactly where you need them.
And here's the kicker – no messy cords to deal with! The NxSys Aero's power bank slot and fan controller are neatly integrated, ensuring a clean and clutter-free setup. Adjusting fan speed and lighting is a breeze, putting complete control over your gaming environment right at your fingertips.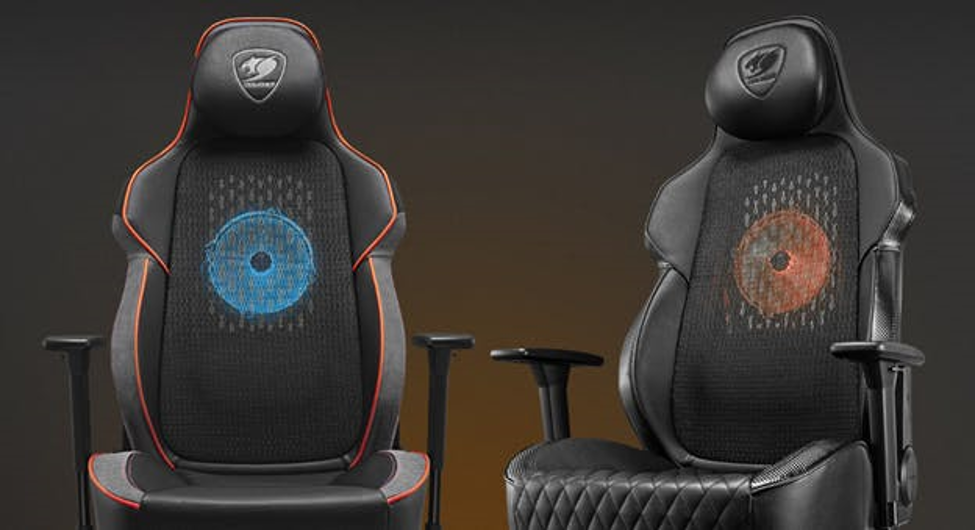 But wait, there's more! The seat is designed with high-density foam, providing wider support and robust cushioning. Plus, the premium PVC leather upholstery lets air pass through, keeping you fresh and comfortable during those epic gaming marathons.
Available in two striking colors – Orange Black and Black – the NxSys Aero is set to take the gaming world by storm. And the best part? It's priced at just $399.99 in the USA and €449 in EMEA, making it an unbeatable value for the level of innovation it offers.
So, get ready to elevate your gaming experience to new heights with the NxSys Aero – the future is here, and it's absolutely perfect! Don't miss out; check out all the details at cougargaming.com and be prepared to be amazed! 🚀🎮 #GamingRevolution #NxSysAero #FuturePerfect