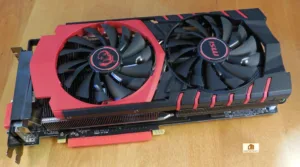 This review compares the MSI R9 390X Gaming 8GB OC with the 290X 4GB (non-throttling) reference version, and with the GTX 980. This $429 MSI R9 390X Gaming has a silent mode which runs the clocks at the reference 1050/1500MHz, but out of the box it is clocked at 1080MHz/1500MHz, and MSI guarantees an overclock of 1100MHz/1525MHz that is supported by its 3-year warranty.
Besides comparing the MSI 390X Gaming 8G with the reference 290X at its stock clocks, we will overclock the 290X as far as it can go to compare with the 390X at the same clocks. We shall overclock the 390X to compare it with the GTX 980, the R9 Fury X, the GTX 980 Ti, and even with the GALAX GTX 970 EXOC to determine the new card's value.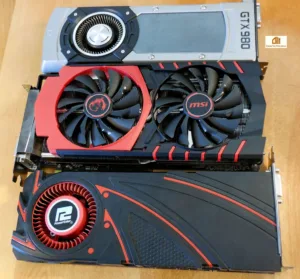 The GTX 970 and the 290X have been natural competitors with the GTX 970 holding its own against the aftermarket 290Xes, so a faster 390X should be a slightly slower competitor to the GTX 980 at around $450-499. AMD has renamed the usually 4GB vRAM equipped R9 290 series "Hawaii" GPU, "Grenada", and has relaunched it as the 390 series with 8GB of faster memory. The memory frequency is up from 1250MHz (5,000MHz effective) on the 290X to 1500MHz (6,000MHz) on the 390X using higher-specification Hynix GDDR5 memory modules.
Grenada is the same Hawaii GPU released in 2013, but now on a more mature fabrication which allows for higher core clocks – from 1000MHz on the 290x to 1050MHz on the reference 390X; 1080MHz on the MSI card. Higher core clocks also mean that there is a need for much better cooling over reference as the voltage has also gone up. We plan to test Hawaii's 290X versus Grenada's 390X at the same clocks to see if there are any enhancements other than the faster memory and core clocks.
The Myth of the Throttling Reference 290X & the lack of a proper CrossFire Solution
The 290X reference versions were evidently quite unpopular, originally getting a bad reputation for running hot and throttling well below AMD's "up to 1000MHz" on the core when it first launched. We were quite fortunate to get a PowerColor PCS+ overclocked reference version of the 290X at launch from retail that is clocked at 1030MHz on the core, and it does not throttle in cool ambient temperatures. In testing our much more recently purchased VisionTek reference version which also pegs 1000MHz, we find it does not throttle either at stock Uber (55%) fan profile. And neither card throttles at all – either separately, or in CrossFire with a space between them – when their cooling fans are allowed to spin up to a nearly unbearably noisy 100%.
Evidently the early Hawaii GPUs at their launch barely met specifications as the reference cooler was unable to cool them properly without throttling the clock speeds. At Hawaii's launch, AMD was determined to beat the original TITAN's performance even if it meant running the 290X on the edge with Uber clocks and with uber noise.
Newer Hawaii GPUs evidently have no such throttling issues with the reference cooler as long as the gamer is willing to put up with what most consider excessive noise from a fan that spins up to 55% when the GPU hits 94C. This is a rather big issue that CrossFire users face when picking a 290/X video card – either use reference and put up with extreme noise from two cards, or use an open design for multiple cards and roast the interior of your case and the PC hardware inside. Of course, the ideal solution is to watercool two Hawaii or Grenada GPUs, but it is expensive.
Enter the higher clocked and faster R9 390X. AMD has no reference version, so for 390X CrossFire this means putting two open-design 390Xes into a case which may overwhelm its cooling. The 390X still uses the same GPU as 290X, but higher clocks now require higher voltage and there is even more heat to deal with. The MSI TwinFrozr V model cooler is now more than 2 slots wide to keep the 390X cool, and it is very effective at idle when the fans may even shut down. However, at load the card makes itself known, although it is more like a rush of air – much like the GTX 980 Ti reference version – and not annoying nor intrusive like the hairdryer-like sounds of the reference 290X at Uber speeds.
The real competitor to the 390X at $429 is the slightly more expensive GTX 980 which starts around $450 after rebate. We purchased a MSI 390X from retail and we have put our test cards through their paces with a 26 game PC game benchmark suite. Since both cards are fairly close in price, they make for a natural comparison and we will use 3 resolutions up to 4K to determine the overall winner.
Let's briefly look at our main competing cards individually. This evaluation is focused on each card's performance, not on the architecture.
What's New with the MSI R9 390X Gaming 4G?
Grenada has changed nothing from Hawaii except it is now equipped with 8GB of faster memory and higher core clocks. There are no other changes except to the cooling which has to be more substantial now.
Our Testbed of Competing Cards
Here is our testbed of competing cards and we shall test 26 games and 3 synthetics using Core i7-4790K turbo locked to 4.4GHz, ASUS Z97+ motherboard and 16GB of Kingston "Beast" 2133MHz HyperX DDR3 on Windows 10 Home 64-bit:
MSI R9 390X Gaming 8GB OC – $429. (Stock 1080/1500MHz, 1080/1425MHz to match the 290X OC, and further overclocked to 1125/1500MHz)
VisionTek R9 290X 4GB – reference non-throttling (1000MHz Uber mode and at 1080/1425MHz), originally $579 – discontinued, on sale for $250-$300.
GTX 980 Ti 6GB – $649 – Nvidia's mainstream GM220 single-GPU Maxwell flagship.
GTX 980 4GB, $499, formerly $549 and Nvidia's flagship before the TITAN X
GALAX GTX 970 EX OC, 4GB, GALAX Clocks, $319
Sapphire Fury X – $679. AMD's new flagship single GPU with 4GB of High Bandwidth Memory.
This evaluation will pit the stock and overclocked MSI 390X Gaming 8G, as well at the 290X' maximum overclock (1080/1425MHz), against the 290X and against the reference GTX 980. We also use the GTX 980 Ti, R9 Fury X, as well as the GALAX GTX 970 EXOC to give us "The Big Picture" We are using 26 modern DX11 games and 3 synthetic benchmarks at 1920×1080, 2560×1440, and at 3480×2160 resolutions.
How does the MSI R9 390X Gaming OC 8G compare with its rival, the GTX 980, and also against the 290X at the same clocks?
This is the big question: How does the MSI R9 390X Gaming OC 8G compare with its rival, the GTX 980, and also against the 290X at the same clocks?
First, let's take a closer look at the new MSI R9 390X Gaming 8G OC as we unbox it.
Unboxing the MSI R9 390X Gaming 8G OC
The MSI R9 390X Gaming 8G OC comes in a standard sized box that advertises the 8GB GDDR5, the fact that it is PCIe 3.0, and that it is the OC Edition (overclocked).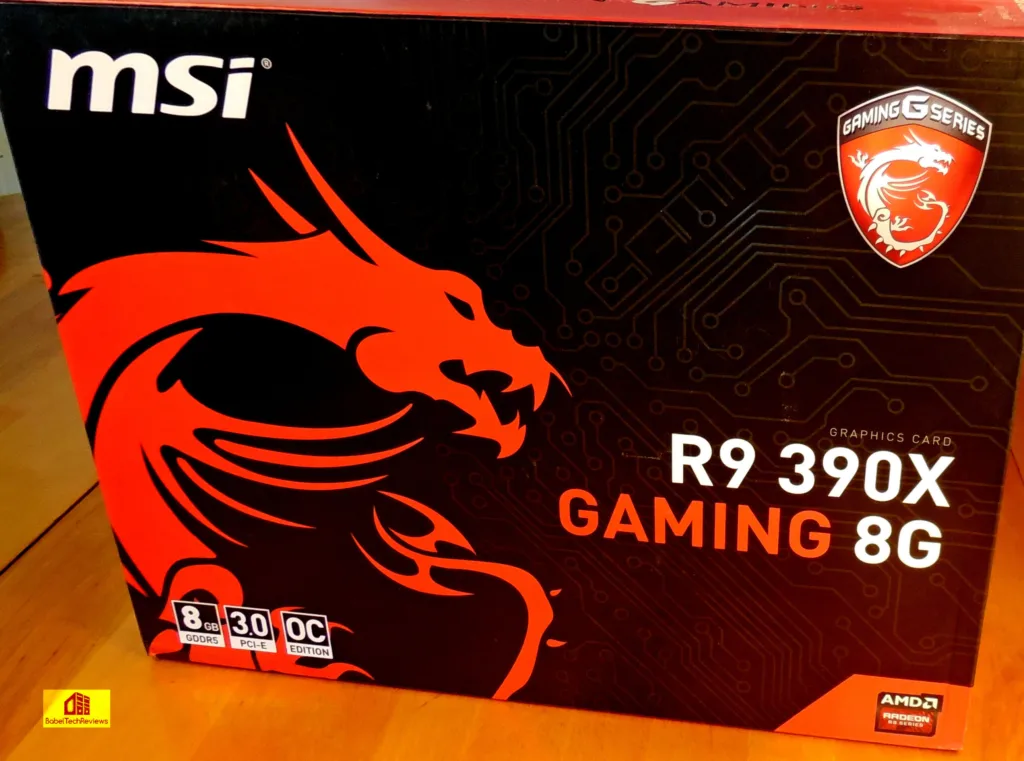 The back of the box shows that it uses Torx optimized fans for cooling, it supports ZeroFrozr to stop the fans from spinning under some idle conditions, and MSI new Gaming App for Silent, Gaming, and OC Modes. The back of the box also advertises its key features, as well as emphasizes FreeSync, Eyefinity, and LiquidVR. System requirements are also detailed (Minimum 750W PSU with PCIe 6-pin+8-pin cable connections).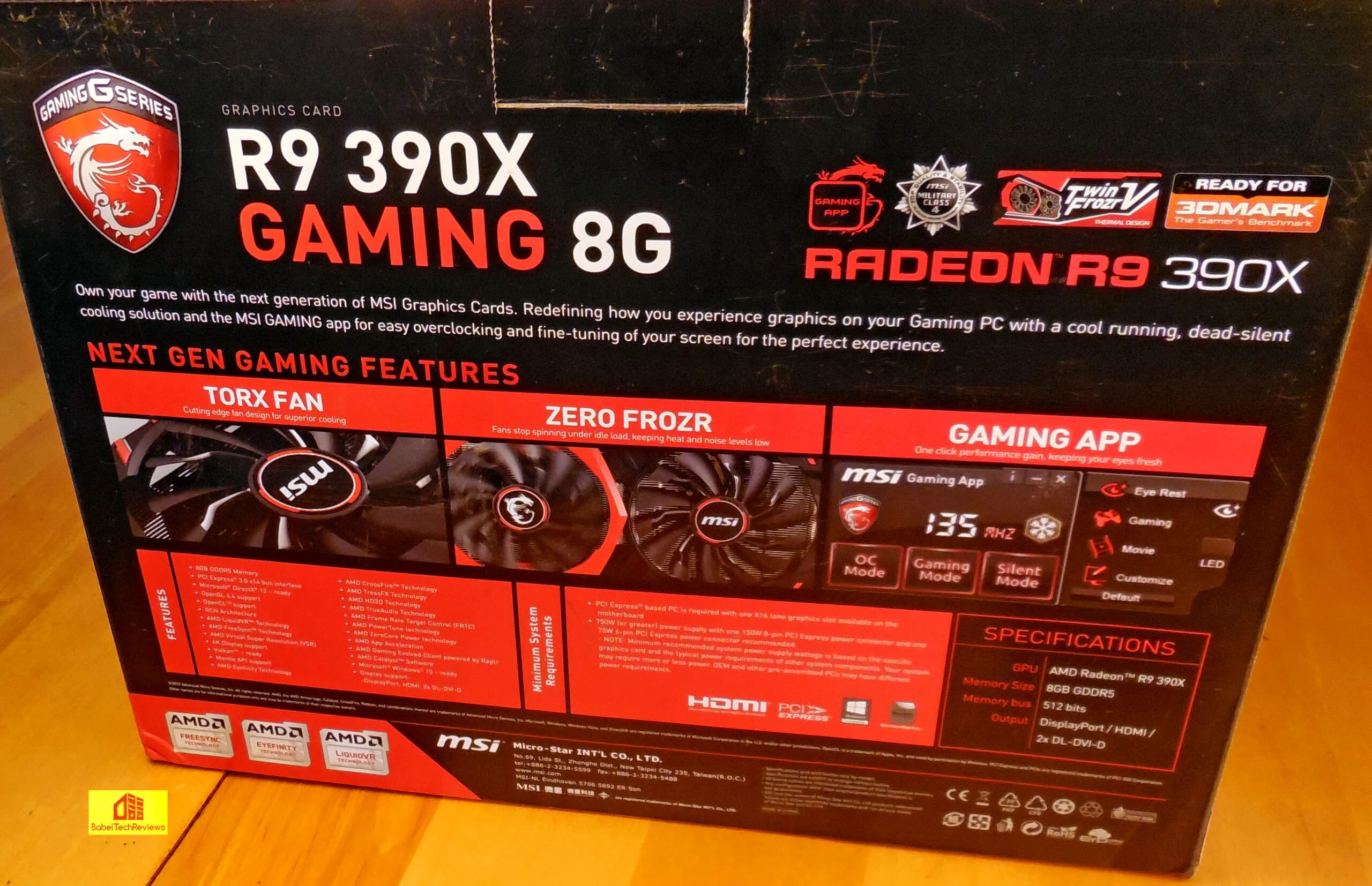 The box end cap show the R9 390X is the MSI "Gaming G Series".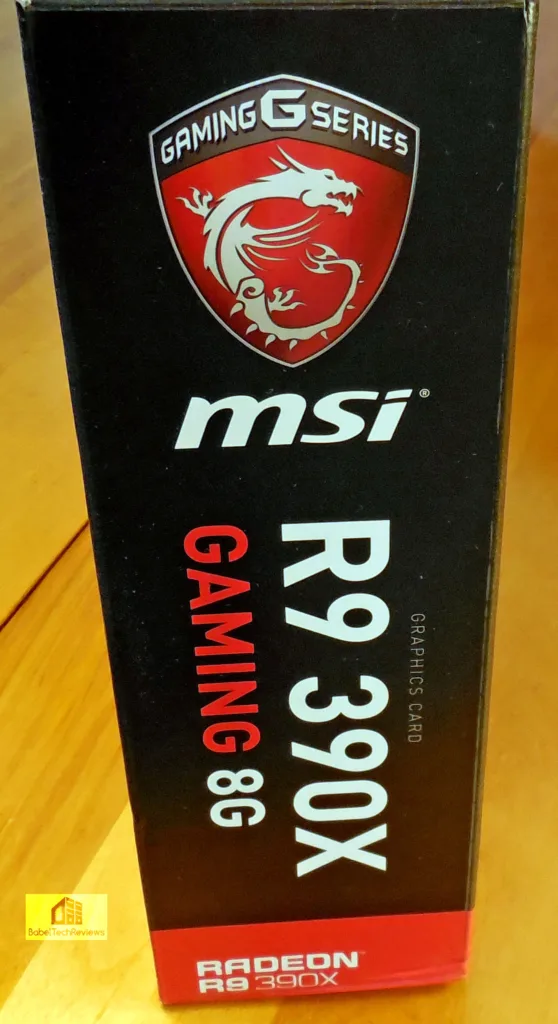 Here is everything with the cover opened. The card's packing material is anti-static.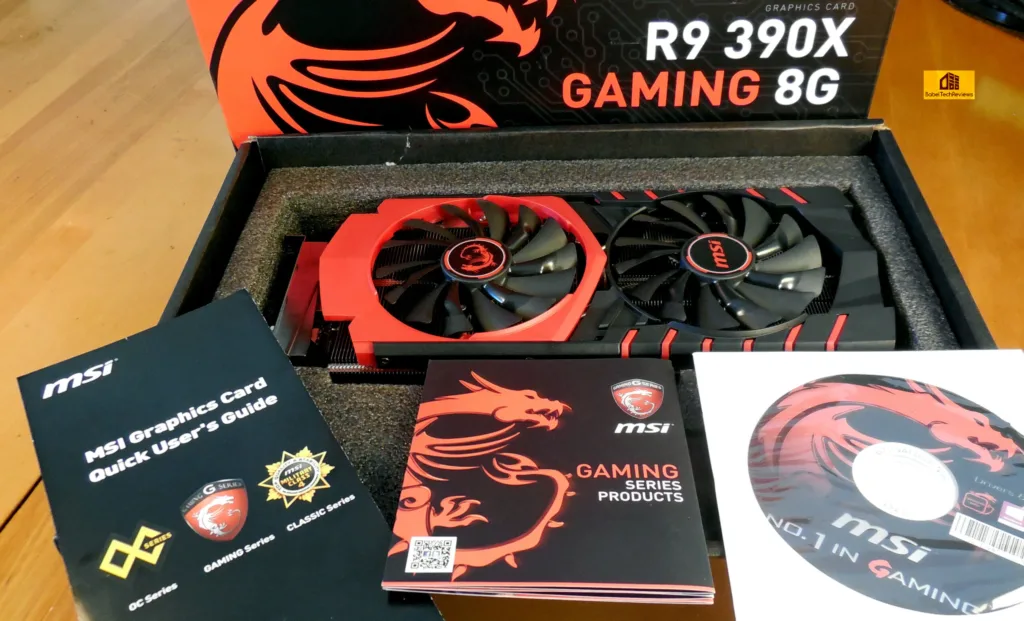 The MSI TwinFrozr V MSI R9 390X is a handsome black and red dual-fan card that covers a large radiator. It will take more than two slots in your PC, making it effectively a thin 3-slot card. The fans spin relatively slowly compared with the reference version – about 2000 rpm maximum. They are not noisy like the 290X reference version, but under load they make themselves heard above the case fans. Of course, this makes perfect sense because there are two slower turning TwinFrozr Torx fans to remove the GPU heat, compared with a double speed single fan in the reference version.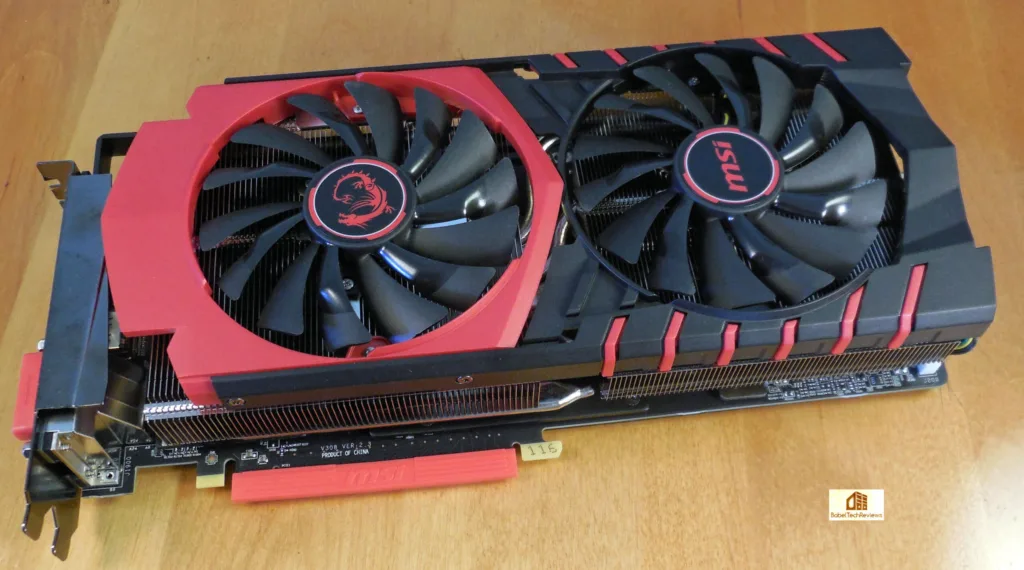 We turn the card on its edge and look at the relatively wide design of the cooling fins which do not allow the card to fit into a PC motherboard's double slot configuration. Besides drawing power from the PCIe slot, there are a 6-pin plus an 8-pin connector.

Here is a look from the other edge. The MSI and Dragon Logo lights up and you can pick your color. The heat sink area is quite large.

Another view showing the backplate:

The MSI R9 390X is a solid and heavy card that comes equipped with a backplate. It looks good inside of a PC compared with a raw PCB, and the user can have confidence when handling it.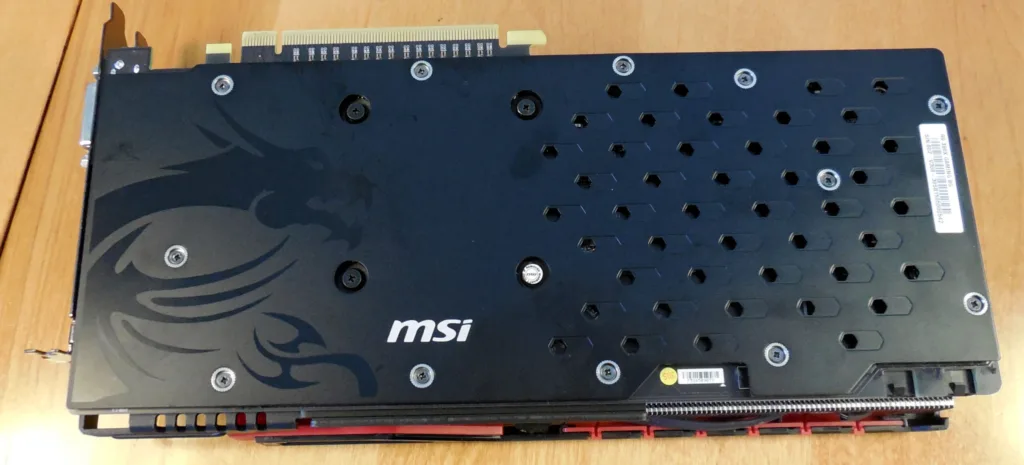 The MSI 390X Gaming 8G looks great from either side.

There are two DVI ports, 1 Display Port and a HDMI 1.4 port. Unfortunately, all of the competing Nvidia GPUs have HDMI 2.0 while Grenada only comes with a HDMI 1.4 port, making it somewhat unsuitable for gaming at 60Hz on a 4K TV without an active DP adapter. Of course, you need CrossFired Grenada GPUs to play at 4K generally, anyway.
Why 8GB vRAM?
Grenada and Hawaii GPUs can use up to 4 GPUs in a CrossFire X configuration. Since we have two R9 290Xes, you can expect further reviews that show CrossFire scaling. However, generally one would need two 390Xes in CrossFire to benefit from 8GB of vRAM for 4K. We will look very carefully at our benchmarks to see if a single 390X can benefit from 8GB over the 4GB of vRAM that the reference 290X is equipped with.
The specifications look good for the MSI 390X, with clock speed improvements over the 290X. Let's check out their performance after we look over our test configuration on the next page.
Test Configuration – Hardware
Intel Core i7-4790K (reference 4.0GHz, HyperThreading and Turbo boost is on to 4.4GHz; DX11 CPU graphics), supplied by Intel.
ASUS Z97-E motherboard (Intel Z97 chipset, latest BIOS, PCOe 3.0 specification, CrossFire/SLI 8x+8x)
Kingston 16 GB HyperX Beast DDR3 RAM (2×8 GB, dual-channel at 2133MHz, supplied by Kingston)
MSI R9 390X Gaming 8GB OC, MSI factory overclock of 1080/1500MHz, at 1080/1425MHz to match the 290X OC, and at our overclock of 1125/1500MHz.
Sapphire Fury X, 4GB HBM, reference clocks (We tested Fury X on Win 8.1 and the numbers are included just for reference as our Fury X went back for RMA twice for pump noise.)
VisionTek R9 290X, 4GB, stock reference (non-throttling) Uber clocks (also tested at max OC 1080/1425MHz)
GeForce GTX 980 Ti, 6GB reference clocks and further overclocked, supplied by Nvidia
GTX 980, 4GB, reference clocks, supplied by Nvidia (also tested in SLI)
GALAX GTX 970 EXOC, GALAX clocks, supplied by GALAX
Two 2TB Toshiba 7200 rpm HDDs
EVGA 1000G 1000W power supply unit
Cooler Master 2.0 Seidon, supplied by Cooler Master
Onboard Realtek Audio
Genius SP-D150 speakers, supplied by Genius
Thermaltake Overseer RX-I full tower case, supplied by Thermaltake
ASUS 12X Blu-ray writer
Monoprice Crystal Pro 4K
Test Configuration – Software
Nvidia GeForce 355.82 WHQL drivers for the GTX 980 and for the GTX 970 (and for all GeForce cards for Batman Arkham Knight). GeForce 353.62 used for the GTX 980 Ti. High Quality, prefer maximum performance, single display, use application settings except for Vsync. The latest EVGA Precision X is used for overclocking.
AMD Catalyst 15.7.1 for 390X290X (15.15 Beta used for Fury X on Windows 8.1 for comparison). AMD Catalyst 15.8 Beta used for Batman: Arkham Knight for all tested Radeons. The latest MSI Afterburner is used for overclocking. High Quality, all optimizations off, use application settings except for Vsync.
VSync is off in the control panels.
AA enabled as noted in games; all in-game settings are specified with 16xAF always applied.
All results show average frame rates except as noted.
Highest quality sound (stereo) used in all games.
Windows 10 Home 64-bit, all DX11 titles were run under DX11 render paths. Latest DirectX . Windows 8.1 Home used for Fury X only.
All games are patched to their latest versions at time of publication.
Here is the settings we always use in AMD's Catalyst Control Center for our default benching.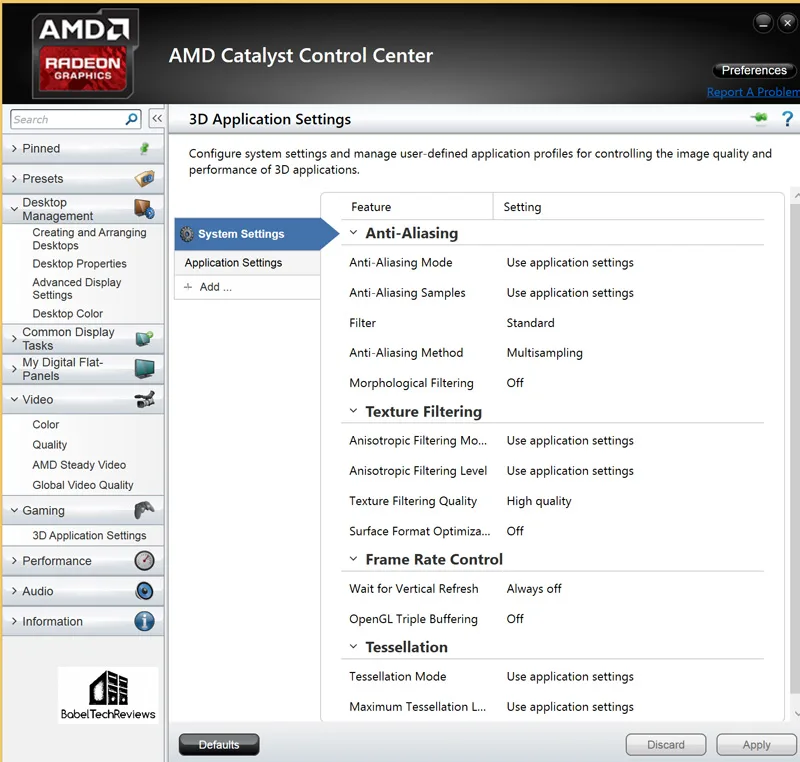 Here is Nvidia's Control Panel and the settings that we run: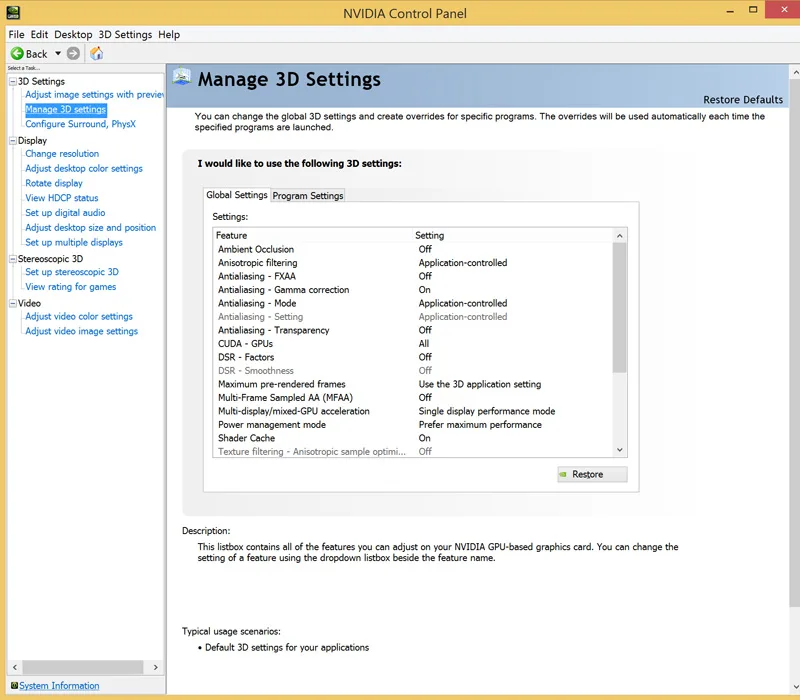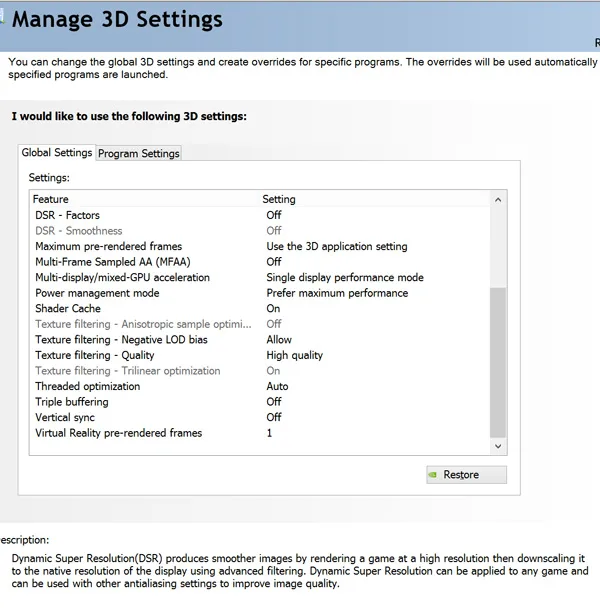 The 26 Game benchmarks & 3 synthetic tests
Synthetic
Firestrike – Basic & Extreme
Heaven 4.0
Kite Demo, Unreal Engine 4

DX11

STALKER, Call of Pripyat
the Secret World
Sleeping Dogs
Hitman: Absolution
Tomb Raider: 2013
Crysis 3
BioShock: Infinite
Metro: Last Light Redux (2014)
Battlefield 4
Thief
Sniper Elite 3
GRID: Autosport
Middle Earth: Shadows of Mordor
Alien Isolation
Assassin's Creed Unity
Civilization Beyond Earth
Far Cry 4
Dragon's Age: Inquisition
The Crew
Evolve
Total War: Attila
Wolfenstein: The Old Blood
Grand Theft Auto V
ProjectCARS
the Witcher 3
Batman: Arkham Knight (with the latest Interim patch dated 09/04/2015)
The above is our test bench. Let's check out overclocking next.
Overclocking the MSI 390X Gaming 8G OC
We did not adjust any of our cards' fan profiles (except for the 290X whose fan was allowed to spin up to 100% to prevent throttling), nor voltage for our benchmark runs. We did however, push up the temperature and power target controls to maximum since we tested in Summer (warm – 76F-79F) conditions. We also made very sure to warm up all of our cards before benching.
We used the latest version of MSI's Afterburner. Overclocking the MSI 390X Gaming is problematic and there appears to be almost no headroom as the 1080MHz to 1100MHz MSI factory set core overclocks appear to be very close to their maximum even under the TwinFrozr cooling. After many hour of experimenting with our 390X, we found we could manage only +25MHz offset to the core, for a maximum of 1125MHz. Adding 5MHz to 10MHz more offset caused instability in several games
Overclocking the memory was just as disappointing. We originally settled on a +100MHz overclock to 1600MHz, but dialed it back as there was a slight performance decrease until we reached 1625MHz, but then we found some instability. Any higher than 1625MHz caused obvious artifacting in any demanding game. In stark contrast, we found the reference GTX 980 and 980 Ti have a lot of overclocking headroom while the GALAX GTX 970 EXOC has a bit less as it is already pre-overclocked like the MSI 390X.
MSI's 390X runs cool but it requires more than a typical dual slot TwinFrozr cooling to do it, and it pushes that cooling right to the edge when overclocked as the fan speed increases significantly as it works to keep the GPU under 75C. This is a big improvement over the 94C thermal limit that the reference 290X GPU has. We would say that even by using voltage tools, MSI's 390X Gaming will not be a great overclocker as it appears to be already pushed to its limit. Even by adding extra voltage and gaining a lot of extra heat, 1200MHz is perhaps the limit for Hawaii/Grenada without exotic cooling.
Let's head to the performance charts and graphs to see how the GTX 980, GTX 980 Ti, GTX 970 OC, Fury X, and 290X compare with MSI 390X Gaming 8G as the top cards of Late Summer, 2015.
Performance summary charts & graphs
Here are the summary charts of 26 games and 3 synthetic tests. The highest settings are always chosen and it is DX11 when there is a choice, and the settings are ultra or maxed. Specific settings are listed on the Main Performance chart. We have added the "Kite Demo" on Unreal Engine 4 using the default settings at 1920×1080 as measured by Fraps.
The benches are run at 1920×1080, 2560×1440, and 3840×2160. All results, except for Firestrike, show average framerates and higher is always better. In-game settings are generally maxed out and they are identically high or ultra across all platforms. "NA" means that the benchmark was not tested at all.
The main summary chart: The Big Picture
This main summary chart is what we call, "The Big Picture" since it places our test card into a much larger test bed.
The first column represents the GALAX GTX 970 EXOC and the second column is its competitor, the reference non-throttling 290X. The third column represents the 290X results when overclocked to its maximum 1080MHz/1425MHz, compared with the R9 390X at the same clocks in the fourth column; it is a -OC (minus overclock) on the 390X memory. The fifth bright red column represents the MSI R9 390X results at its out of the box clocks next to the sixth column (purple) which is overclocked as far as we could go on stock voltage and fan profile. In the seventh column (green: third to the last) is the reference GTX 980 results followed by the stock Fury X results in the eighth, and finally by the reference GTX 980 Ti in the ninth and last column. Please bear in mind that the Fury X results are on slightly older drivers (15.15B on Windows 8.1) for a rougher comparison, so there will be some slight variability until we receive our replacement.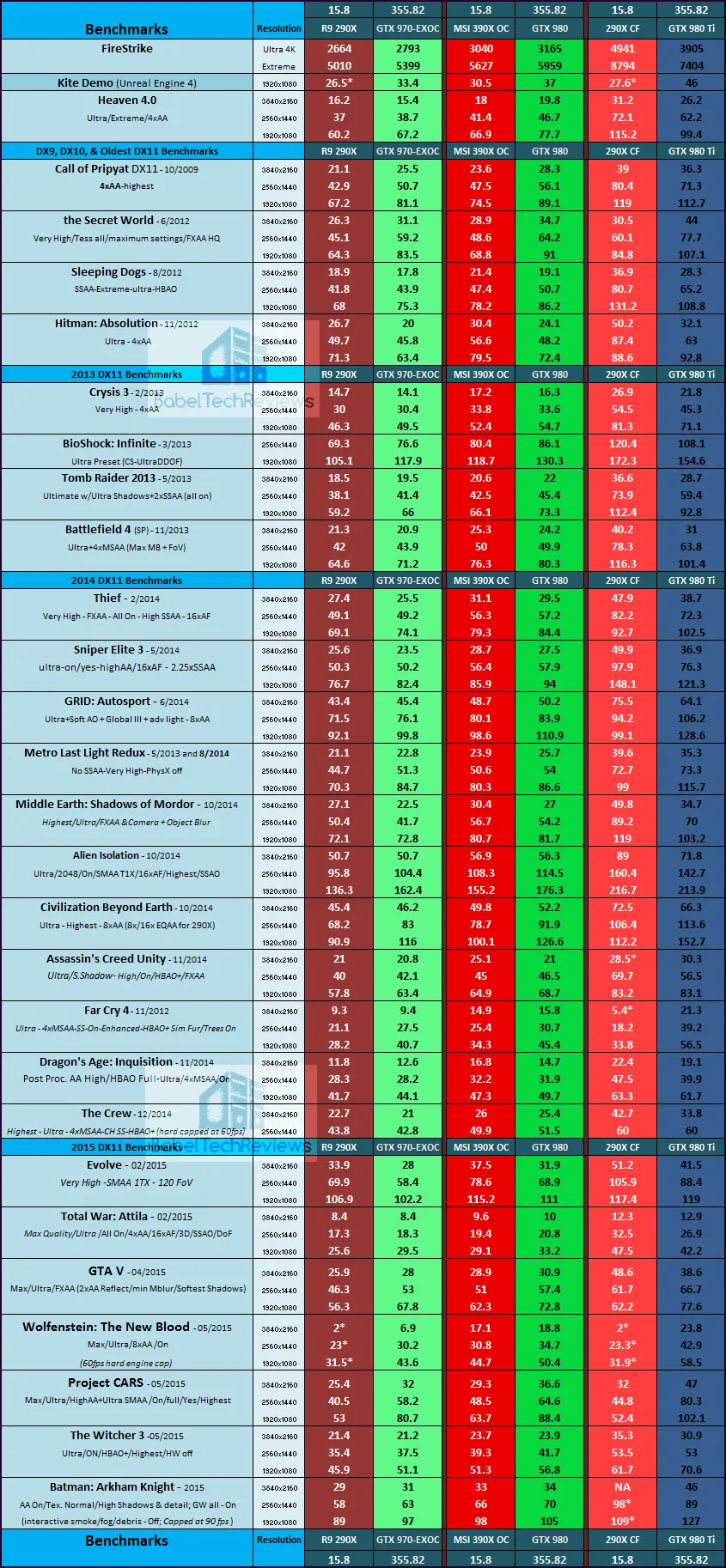 This chart tends to be information overload, so we also break it down into two smaller charts for ease of viewing and for analysis. Our chart provides a lot of information across 26 games and 3 synthetics. What we can take away from the results generally is that the GTX 980 Ti is the fastest single GPU video card followed by the Fury X, the GTX 980, and then the MSI R9 390X. The R9 390X is faster than the overclocked 290X or aftermarket 290Xes which trade blows with the factory overclocked GTX 970.
When we compare the $429 MSI 390X Gaming 8G against the $479 GTX 980, it does OK at 3840×2160 but the gap widens further in favor of the GeForce below 4K resolutions. Neither card is particularly suited for 4K except in multi-GPU configurations in which case the 8GB of video memory will benefit the Radeon. We can see the benefits of the 390X with 8GB vRAM in Wolfenstein at 4K where the 290X with 4GB of vRAM chokes completely, yet a 4GB card like the GTX 980 is still faster. However, at these extreme settings, no single video card can run this benchmark well at 4K, not even the 12GB vRAM-equipped TITAN X.
The 390X versus the GTX 980.
This chart places the reference GTX 980 between the stock and the overclocked results of the MSI 390X Gaming 8G.

The MSI card almost catches up to the GTX 980 at 4K which is impressive until we realize that the GTX 980 can be overclocked much further that it can.
The Overclocked 290X 4GB versus the 390X at the same clocks.
This chart will give us a comparison directly between overclocked results for the 290X at 1080/1425MHz versus the 390X at identical clocks; the memory of the 390X is underclocked by 75Mhz. Look at the two middle columns for the direct clock for clock comparison.

What we see is that at the same clocks, the 390X is slightly faster than the 290X at the same clocks. We also checked the 390X against the 290X at reference 290X speeds to make sure that the 290X was not throttling at all – at 1000MHz/1250MHz. At 290X reference Uber speeds, the performance improvements of the 390X were still there but now much smaller. And these performance improvements of the 390X are most apparent at 1920×1080 where they are less useful than at 2560×1440 for which these card appear to be designed. And it also appears that these small performance improvements may be mostly explained by the faster timings of the upgraded and faster 8GB of Hynix GDDR5. It is doubtful that there are core enhancements to Grenada over Hawaii.
Let's head for our conclusion.
The Conclusion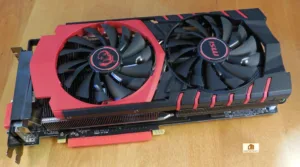 Everything about the MSI R9 390X Gaming 8G OC card is solid quality. The build is excellent, the warranty is good, and the overclocking tools are fine. The MSI Radeon is clocked at reference 390X clocks,1050/1500MHz for Silent Gaming, overclocked 30MHz to 1080/1500MHz out of the box, and guaranteed/warrantied to 1000/1525MHz. It is a top 390X. The only issue is that it is basically an expensive faster aftermarket 290X with double the memory; and there are some 290Xes that have been available already for months with 8GB of slightly slower vRAM.
There is nothing that AMD can do to disguise the fact that Grenada is two-year old Hawaii, and 390X is just an aftermarket overclocked 290X with double the (more expensive) memory. And unless you are running 390X CrossFire, that extra 4GB of vRAM is mostly useless to performance at any resolution that we have tested.
Why would AMD repackage their R9 290 4GB series into 390 8GB series to tout 8GB for a relatively weak card that only takes advantage of the extra vRAM in CrossFire, yet their flagship Fury X only has a 4GB framebuffer?
Unfortunately, we found little overclocking headroom with the MSI 390X Gaming, up from its 1080MHz to 1100MHz core clock without adding voltage. We were only able to manage a further 25MHz offset to the core, and not much more than that for the memory. In contrast, the GTX 980 appears to have no difficulty overclocking from the reference 1126 MHz core to over 1400MHz.
The issue with the MSI R9 390X and the 390Xes in general is that they are priced higher than the 290X series. At this point in time, the 290Xes that are left on clearance are quite a bargain at about $130 less than the 390X, and some recent sales have had them for as low as $250.
There is a promotion at Newegg.com for the MSI R9 390X Gaming OC that includes a $20 MSI wired mouse. There is no game bundle as there is with the GTX 980.
Let's sum it up:
MSI R9 390X Pros
MSI R9 390X Gaming 8G is very impressive as a well-built card. It is heavy, solid, and looks great. The Twin Frozr cooling is well done and the fans even turn off when idling on the desktop.
At 4K the MSI 390X trades blows with the reference GTX 980 which is more expensive.
MSI's R9 390X GAMING 8G is a fast card and a good replacement for the 290X as AMD's flagship.
FreeSync eliminates tearing and stuttering.
The MSI R9 390X Gaming 8G is overclocked out of the box, has options for quiet gaming, and a further overclock that is warrantied for 3 years.
The backplate looks great and contributes to a solid card with nice features and a lighted logo.
MSI R9 390X Cons
The price. At $429, the MSI 390X performance is overall slower than the reference GTX 980 which overclocks much better.
8GB of fast vRAM is mostly useless over 4GB for a single 390X, and it adds to the price unnecessarily.
Even with Twin Frozr cooling, there is a lot of heat that is dumped into the case, and CrossFired open design 390Xes may overwhelm a case's cooling.
Further overclocking of the memory and the core are poor without increasing the voltage and power draw.
Lack of HDMI 2.0 may turn off 4K TV gamers as it is available on Nvidia entire lineup of competing cards.
The cooler takes up more than two slots.
Grenada is repackaged and overclocked Hawaii at a higher price.
The MSI 390X Gaming OC is a very well built card that takes Grenada/Hawaii to its limits while providing good cooling and reasonably quiet acoustics for the Radeon gamer.
The Verdict:
If you are buying a fast single-GPU video card right now and looking for high performance targeting 1920×1080 to 2560×1440, the GTX 980 is the better choice for $480, yet the $429 MSI R9 390X comes close when overclocked. The MSI Radeon is well-built and the pinnacle of what AMD's Hawaii/Grenada can offer. Unfortunately, the GPU is two years old and it is power-hungry and has little further overclocking headroom
We do not know what the future will bring, but the MSI R9 390X Gaming 4G OC brings an excellent performer to the MSI Radeon family. On top of this, the MSI card is recommended for its excellent Twin Frozr cooling and reasonable quietness as well as the great MSI warranty and support. AMD offers Eyefinity 2.0 and FreeSync, but their 390X as represented by the MSI Gaming OC card, simply cannot touch the raw power of the GTX 980 – especially when overclocking is considered.
Stay tuned, there is a lot coming from us at BTR. Next up we will look at AMD's latest 15-8 Beta drivers and also at Nvidia's latest WHQL 355.82 drivers. We are adding Mad Max to our benchmark suite!
Happy Gaming!
Mark Poppin
BTR Editor-in-Chief