The Kingston Nucleum Review
We received a Nuclelum 7-in-1 USB Type-C hub from Kingston for review and we found it to be an innovative product that gives any power-user more flexibility although it is primarily aimed at newer MacBooks and at notebooks with few ports. The Latin definition of nūcleum is the "accusative singular of nūcleus", which implies that this device will become the center of your life as it gives anyone with a USB Type-C port far more flexibility and productivity by providing 7 additional ports that may be used simultaneously.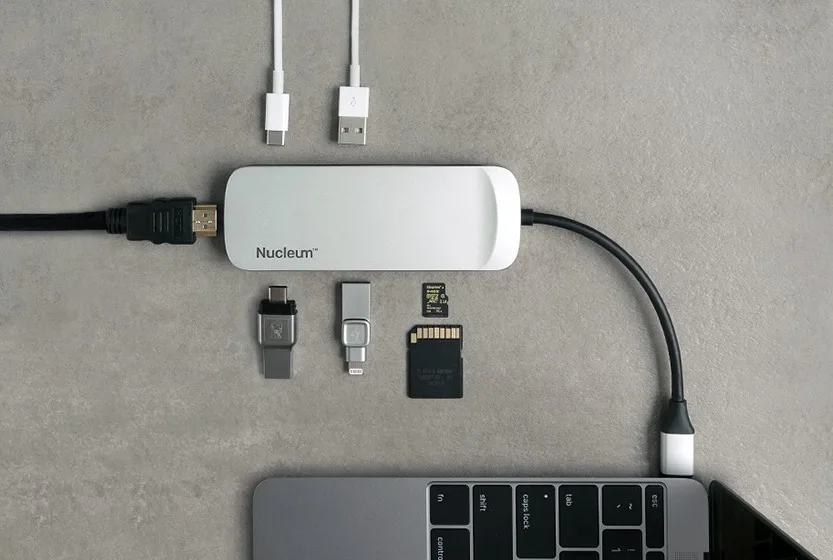 We first previewed the Nucleum at Kingston's off CES private exhibit. We loved the idea of using our desktop's unused Type-C USB port to add two additional USB 3.0 ports although it appeared to us that Kingston may have considered our idea to be unusual. The reason we have so few open USB ports is because our 3-sensor Oculus Rift set-up alone requires 4 USB ports! And using a USB mouse and a USB keyboard means that we have only one extra available USB port from our EVGA Z370 FTW motherboard's panel. We regularly use a USB racing wheel, a USB adapter for our SD cards, and a USB 3.0 SSD/HDD dock, which means that even the two 'extra' ports on our EVGA DG-77 case are used.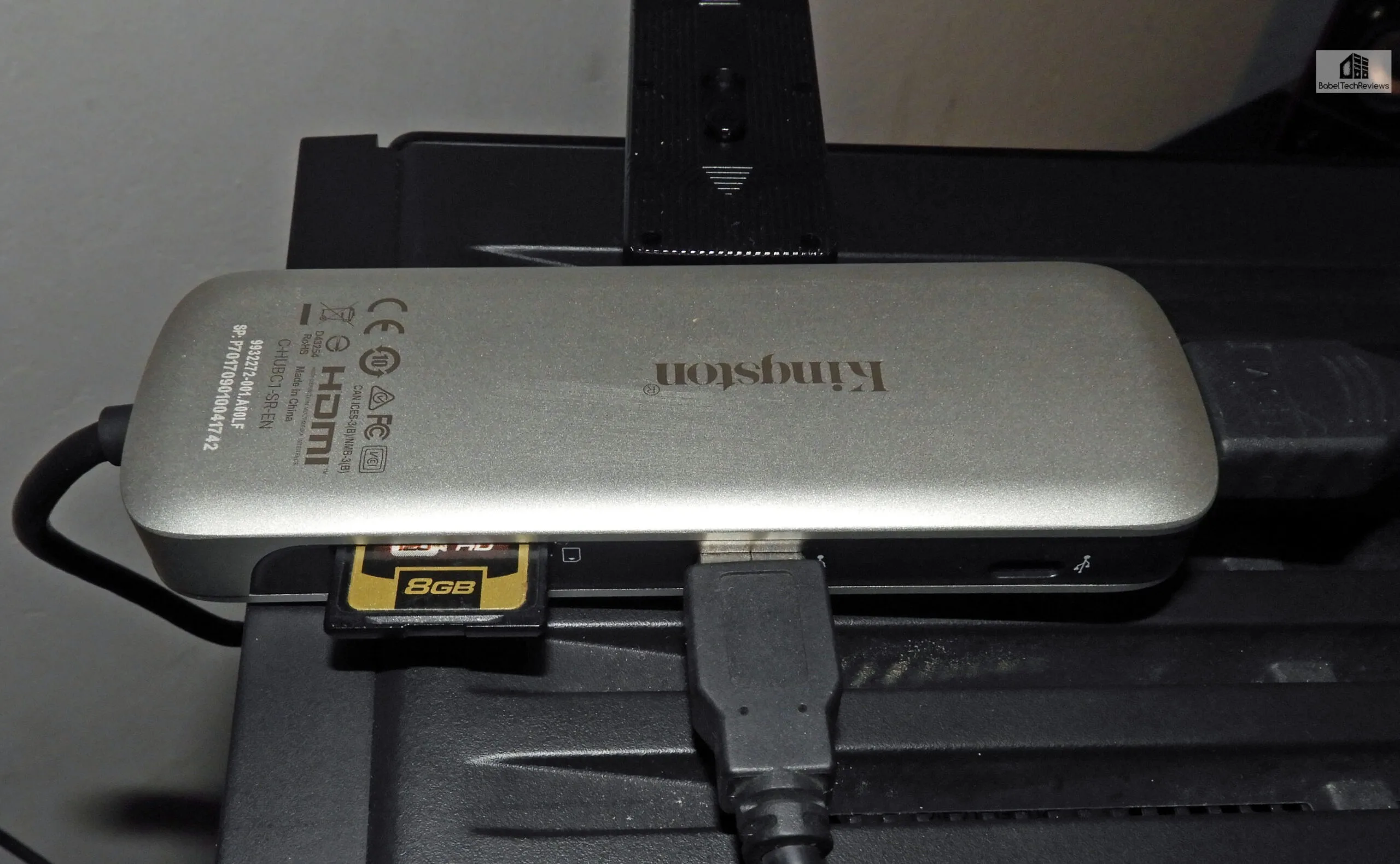 Ejecting a device to use another is an intolerable situation for a desktop user and it is often far worse for notebooks that have less ports available. Nucleum is an ideal hub for newer MacBooks as it provides extra USB-C and USB-A ports as well as HDMI and SD/microSD card slots.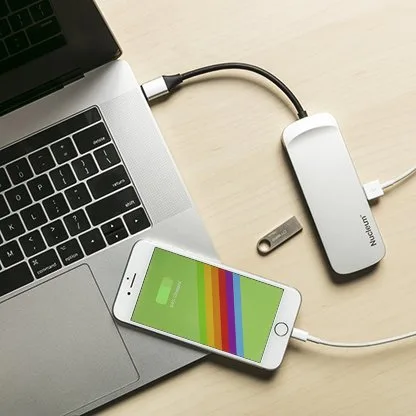 Kingston's Nucleum handles the usual accessories users have such as mice, keyboards, SD cards, Type-A charging ports, and even a second monitor if the PC supports it. Best of all, all seven ports can be engaged at the same time over Type-C USB as it offers plenty of bandwidth. And a feature that we did not try is that Nucleum users can power a MacBook while simultaneously running an external drive and charging an iPhone.
We tried to run an external display from HDMI through the Nucleum, but Windows doesn't have generic drivers for a desktop PC to set it up, and the additional display was not detected. Most Type-C equipped notebooks and MacBooks should have no issue detecting an external HDMI display which would make the Nucleum ideal for video editing on the go.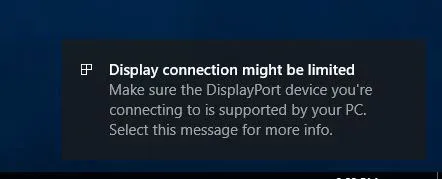 A Nucleum-equipped traveler can easily plug in an SD card and use a USB mouse to edit photos and video. Best of all, the images can be viewed on a hotel room's big TV screen using an HDMI cable. In addition, a traveler can charge his iPhone and MacBook. We are looking forward to taking the Nucleum with us when we travel next month!
Kingston's Nucleum works with PC and Mac computers equipped with USB Type-C ports. It is supported in Windows 7, 8/8.1, 10, Mac OSX 10.9 and later, Linux 2.6.x and later, and Chrome OS. In addition, it supports a power pass-through to charge a MacBook battery and some other smartphones, while utilizing all its ports by attaching a power adapter to the Nucleum's USB Type-C power port (AC plug symbol – image above). Its separate Type-C port (USB trident symbol – image below) is used for data transfers only.

Of course, there are other USB Type-C hubs on the market, so Kingston distinguishes the Nucleum by offering a 2-year warranty, and by guarding against electromagnetic interference (EMF). EMI sometimes occurs between USB 3.0 ports and Wi-Fi devices which means wireless mice and keyboards may be negatively impacted, exhibiting stutter and lag.
EMI on the Nucleum is mitigated due to its shielding and unique port placement and we never noticed any interference while using our wireless devices. Shielding was placed on the Nucleum's USB ports, and the layout for both USB Type A and C are opposite of each other instead of side-by-side. This placement reduces the potential for EMI, and also allows greater space between the ports to help account for plugs and power adapters of different sizes. We appreciate this because our 64 GB NVIDIA flash drive is too wide for normal USB port spacing.
The Nucleum Features & Specifications
Here are the features and specifications from Kingston's site:
Nucleum Features and Specifications :
More pixels: Need to work on something larger? We've added 4K HDMI output to your new notebook.
Power pass through: Get more juice for your iPhone®, Bluetooth headphones, and other devices
Fill it up: Want to use all your connected devices at once? No problem, plug everything in and get creating!
Portable: The convenient size means you can bring the USB-C hub wherever you need it.
Creation station: Shoot, ingest and edit your footage wherever you are using the SD and microSD slots.
Made to match: Nucleum is designed to complement your new MacBook.
Multiport adapter: No need to carry around multiple dongles to connect your devices.
Product Dimensions (without cable): 127mm x 45mm x 14.2mm (5″ x 1.77″ x .56″)
Product Dimensions (with cable): 276.4mm x 45mm x 14.2mm (10.88″ x 1.77″ x .56″)
Weight: 92.4g (3.2 oz.)
Nucleum (part #: C-HUBC1-SR-EN)

Port

USB-C (power input)
USB-C (data)
HDMI
USB-A (x2)
SD
microSD

HDMI Standard
v1.4 (Supports 4K)
USB-C
Data: USB 3.1 Gen 1 (5Gb/s)
USB-A
Data: USB 3.1 Gen 1 (5Gb/s)

Power: 5V/1.5A

SD Card Reader
SD/SDHC/SDXC UHS I-II
microSD Card Reader
microSD/microSDHC/microSDXC UHS-I
Power Delivery Pass through
Up to 60W
Unboxing the Kingston Nucleum
The Kingston Nucleum arrives in a small box with everything you need.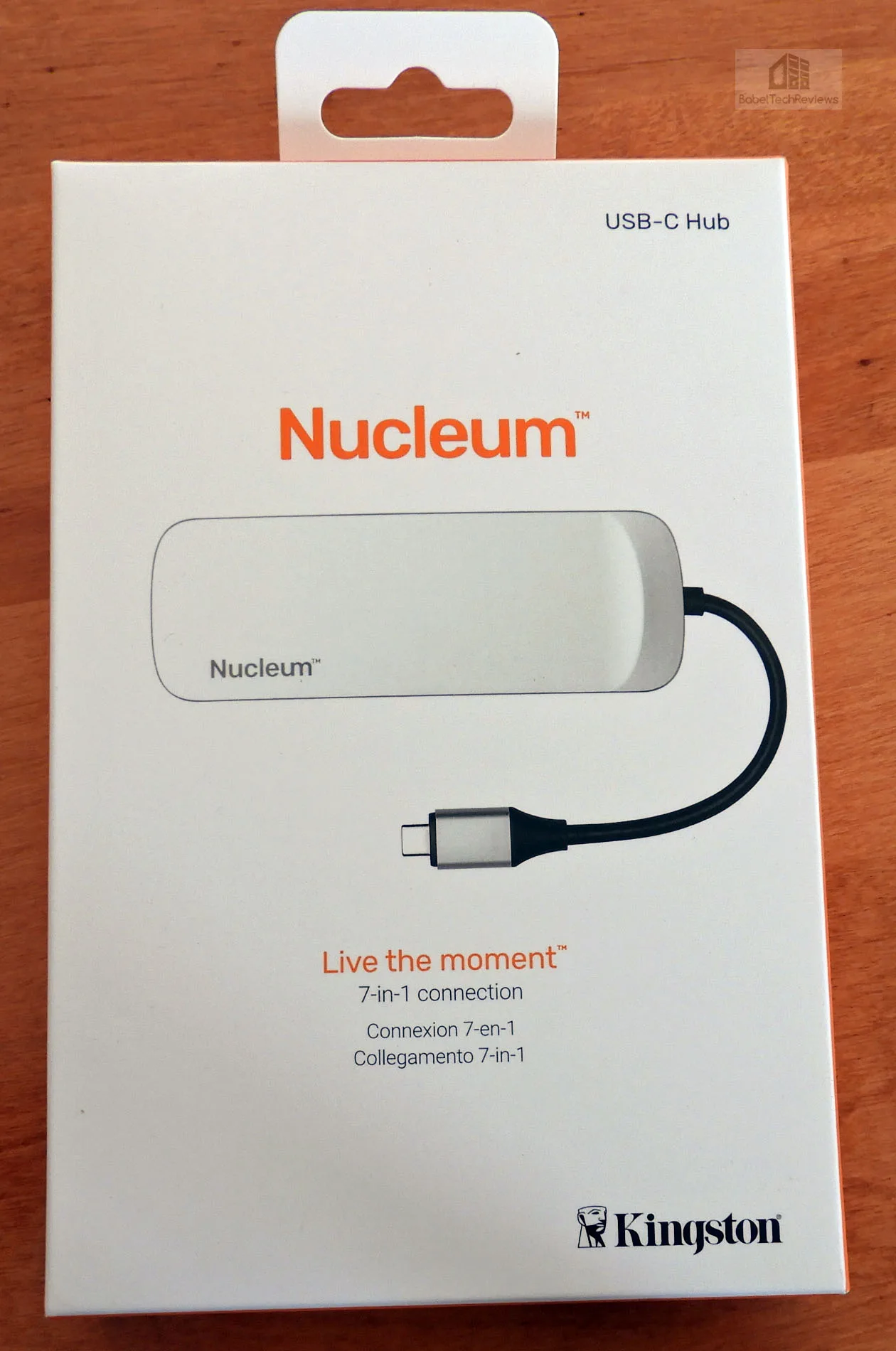 The other side of the box explains its purpose and here are the inside packaging and contents.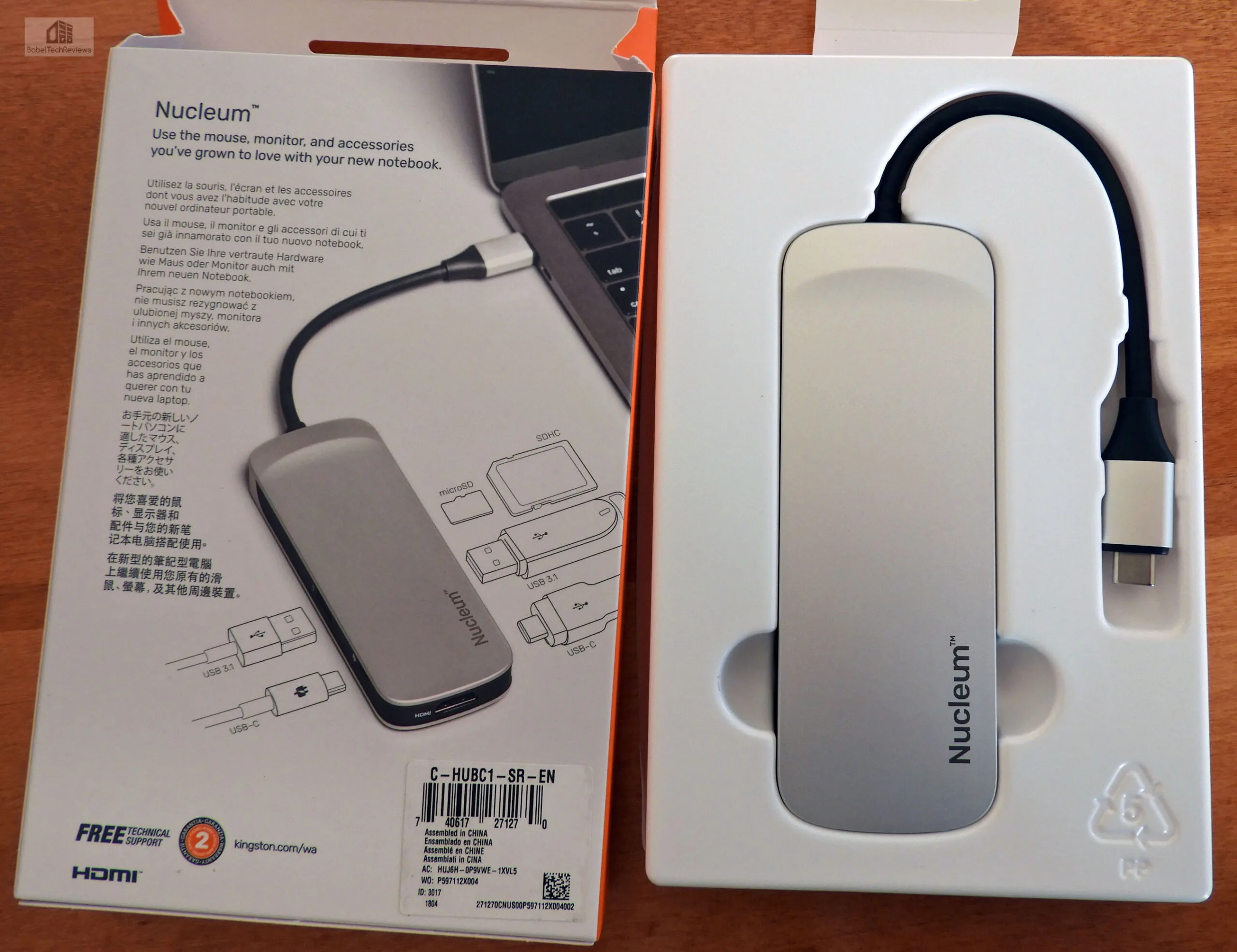 There are no instructions included in the package but the user is directed to Kingston's website.

Installation is easy and there are no drivers to install – just plug it into a Type-C USB port on your PC.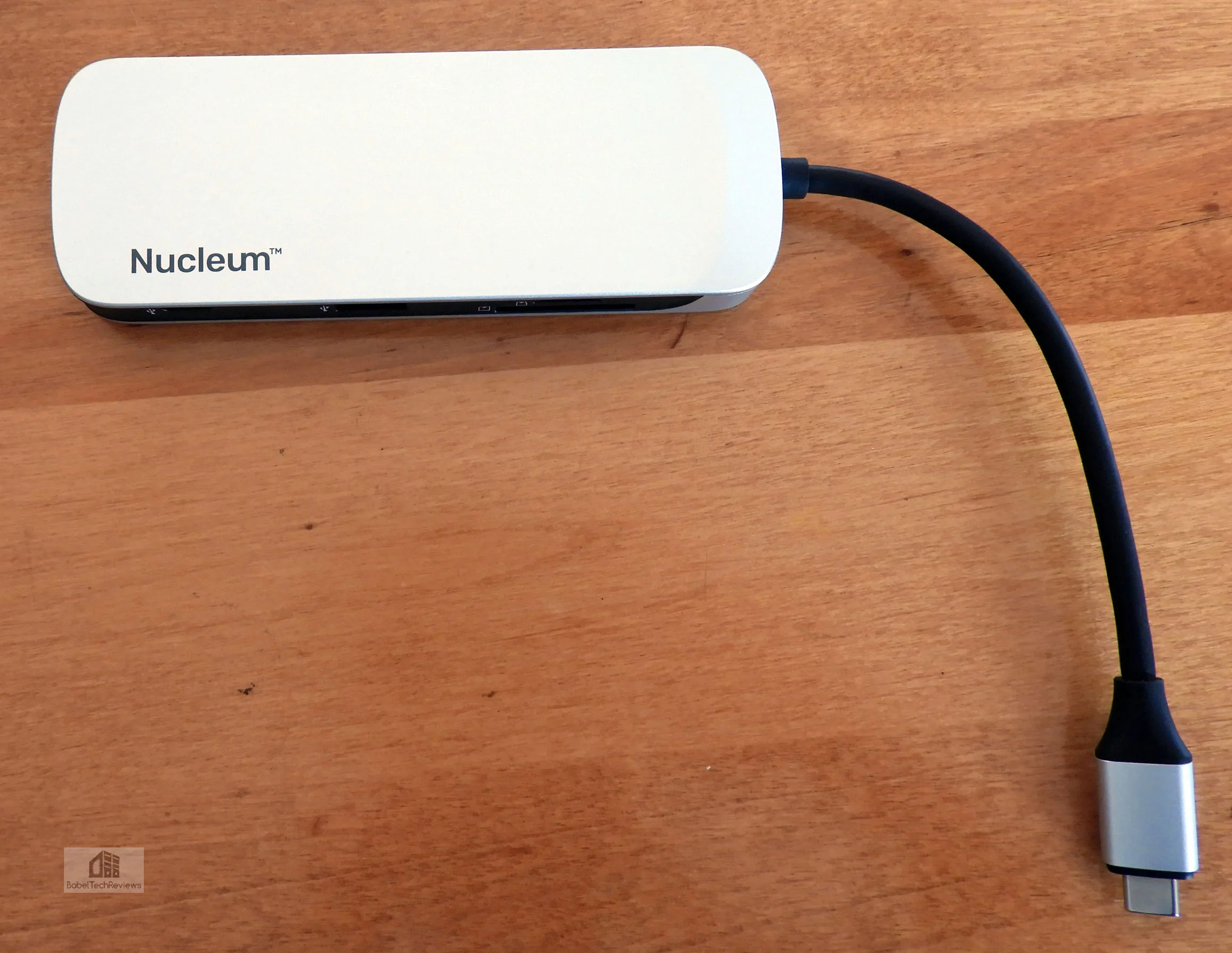 The Nucleum is a small 3.2 ounce device in black and silver which is obviously designed to match MacBook design, but it looks great attached to any PC.
Installing the Nucleum
Just plug it into a Type-C USB port. Two of the Oculus Rift's sensors are plugged into the Nucleum freeing up two USB ports on our motherboard. Mission accomplished!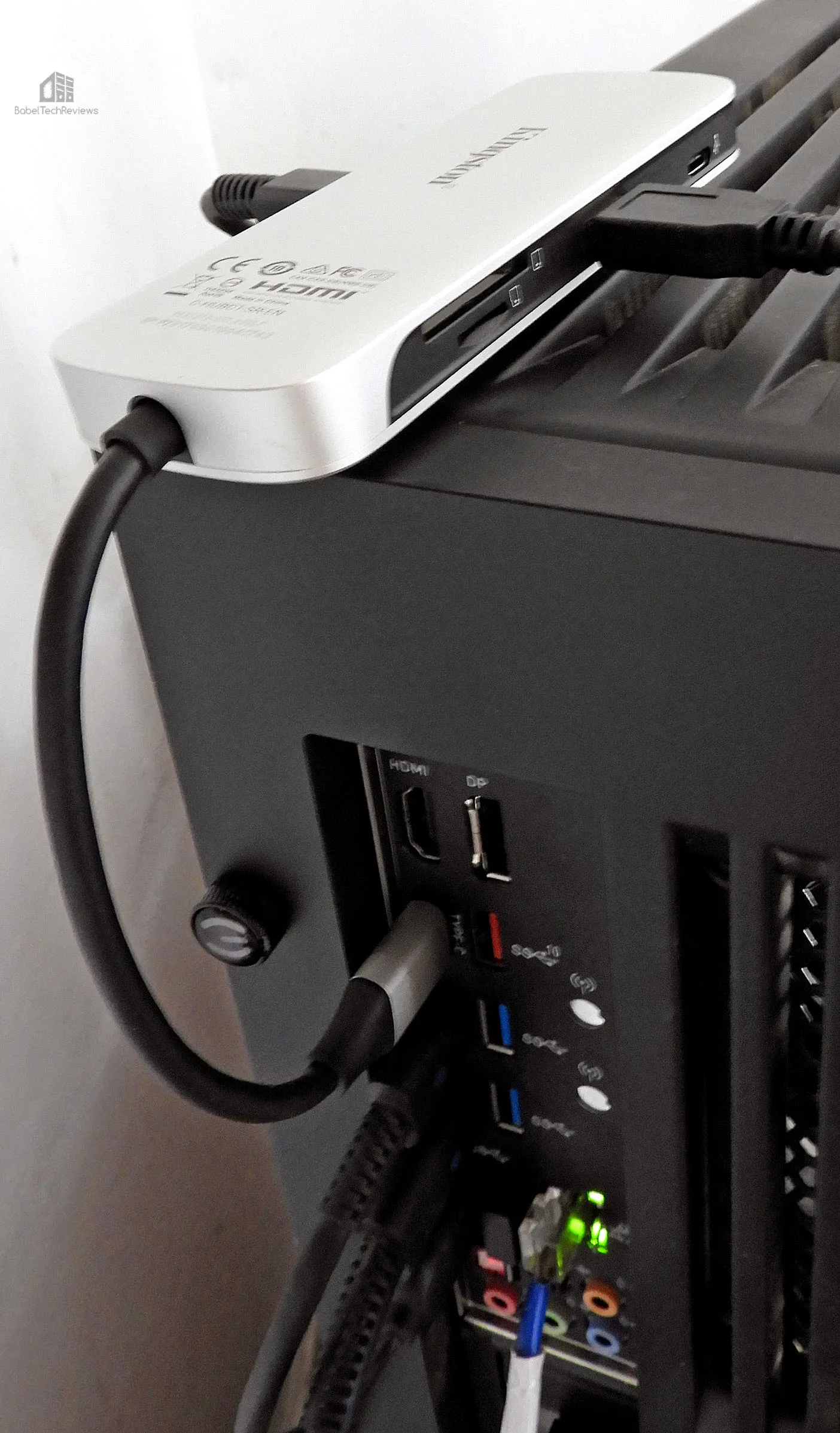 We wish that we could say that it was a completely issue-free installation. The Oculus Rift is notoriously finicky with USB ports – they cannot all be on the same channel and two of the devices must be USB 2.0. So we had to use 1 USB 2.0 Sensor and 1 USB 3.0 Sensor on the Nucleum to get it to work, and it was trial and error to see which 2 sensors could be plugged into the device simultaneously while not causing hardware errors. In the end, we now have flawless tracking with our Oculus Rift's 3-sensor setup and we have freed up two USB ports for other devices by using the Nucleum.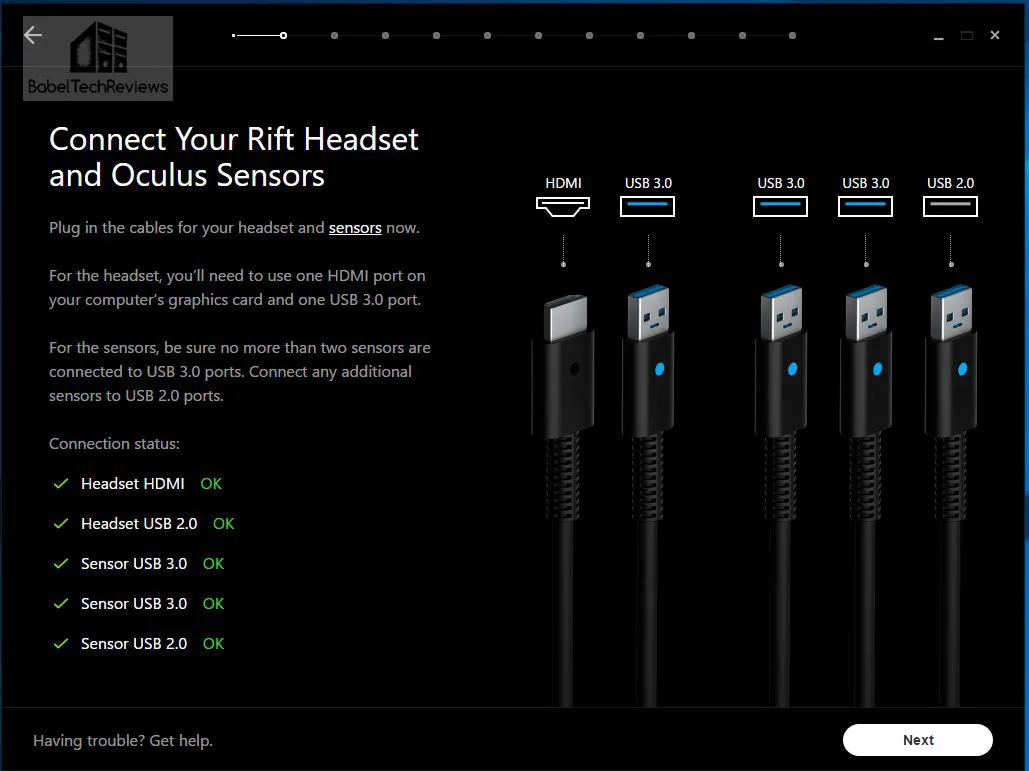 Bandwidth over Type-C USB is incredible and it allows all 7 ports to be used simultaneously. Any compatible device that is plugged in is recognized immediately by Windows and simultaneous transfers are simple and easy.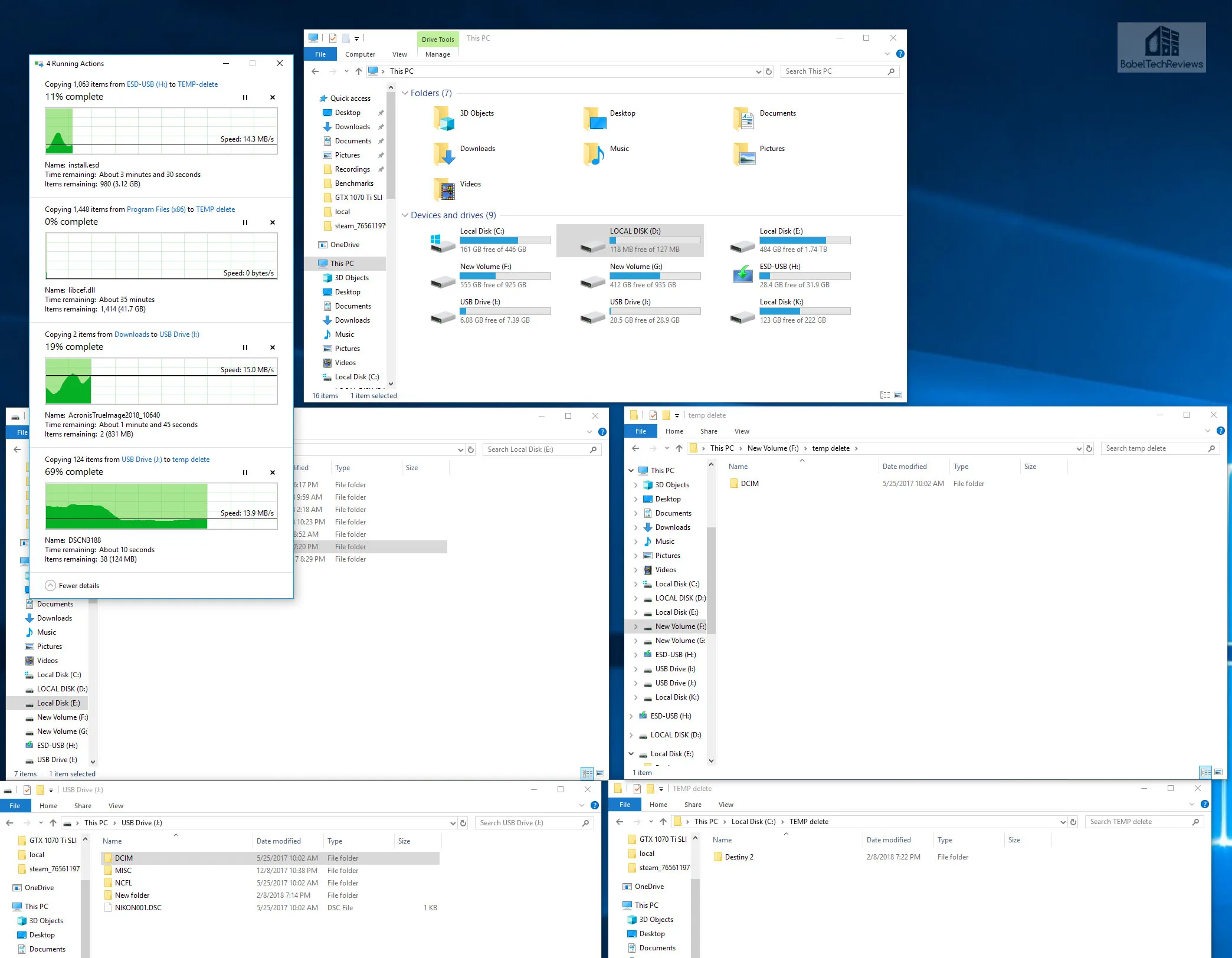 In addition, we find the Nucleum to be extremely useful for transferring images and data from our SD and microSD cards. We haven't yet used it for travel or for charging, but we will definitely take it with us when we attend NVIDIA's GTC next month. We haven't had any issues with EMI or stuttering with any of our wireless devices and we appreciate the extra engineering that Kingston has put into this product.
Conclusion
The Kingston Nucleum is available for $79.95. Although it is clearly aimed at MacBook owners with its sleek silver and black design, we found a real practical use for it as a desktop device in freeing up two USB ports and making it easy to transfer images and data from our SD and micro-SD cards. And we are looking forward to traveling with the Nucleum as notebooks never seem to have enough ports available for using multiple devices.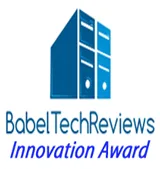 Although there are other Type-C hubs available, Kingston has engineered it to work without EMI issues, and they give their Nucleum customers a 2-year warranty. In addition, Kingston offers a customer telephone hotline staffed with incredibly helpful tech support people.
We like this innovative product so much that we gave the Kingston Nucleum, BTR's Innovation Award. Recommended!
Stay tuned, next up we are going to evaluate the $99 Team Group 480 GB SSD and we'll post a full review later this week.
Happy Gaming!