The GTX 950 arrived this morning at $159 to take direct aim at AMD's $149 R9 370.  Nvidia's Maxwell architecture arrived in mid-September, 2014 and the GTX 970/980 brought some amazing performance and energy-saving improvements at 28nm without moving to a smaller process node.
Later, the GTX 960 replaced the GTX 760 with higher performance at a lower $200 price point, and we have recently seen the GTX 980 Ti take on AMD's Fury X at $650.  At the low end, the GTX 750 Ti at $149 was left to hold Nvidia's price points against the recently mostly rebranded AMD 300 series, especially against the R9 370 which was a repackaged Pitcarin R9 270, which in turn is a refreshed  HD 7850.
Last week, BabelTechReviews received a $169 ASUS STRIX GTX 950 DirectCU II OC edition under NDA, and we have been putting it through its paces compared with an AMD card that is faster than a R9 370, the PowerColor 270X PCS+.  And we also compared GTX 950 performance with Nvidia's older entry-level plus cards, the GTX 650 Ti and a GTX 750 Ti, using 30 demanding benchmarks at 1920×1080 and at 2560×1440.
Nvidia has put strong pricing pressure on the competing AMD lineup.  In response, AMD dropped the pricing on their own cards and gave away game bundles until their own 300 series launched this year.
Here is what Nvidia's line-up now looks like with the introduction of the GTX 950.
GTX TITAN X: $999
GTX 980 Ti: $649
GTX 980: $499
GTX 970: $329
GTX 960: $199
GTX 950: $159
GTX 750 Ti: $119
And now Nvidia launches the GTX 950 for $159.99 to place it directly against AMD's $149.99 R9 370. It is a hard launch with many partner versions including overclocked versions for about $169, such as the ASUS STRIX GTX 950 OC DirectCU II Edition that we are reviewing today.   It will be interesting to see what AMD will do in the short term since they evidently do not have a R9 370X ready as a response.
What's New with the GTX 960
We have covered Maxwell architecture for nearly two years and will only briefly recap it here.  Instead, we'll focuse on what the GTX 950 brings that is new – a revamping of the GeForce Experience to optimize Nvidia's Control Panel settings for MOBA (Multiplayer Online Battle Arena) games, and a new way to share/stream your games and play co-operatively with a friend over the Internet just as you would do at home.
Although the GeForce Experience has been used to optimize game settings since it launched, it has not been used to optimize Nvidia Control Panel settings until now. It is first being used to optimize the responsiveness of MOBA games for NVIDIA's newest entry-level GTX video card, the GTX 950. Along with image quality settings, the GeForce Experience will now automatically optimize Dota 2, League of Legends, and Heroes of the Storm for higher framerates coupled with reduced latency and smoother gameplay by adding additional control over the following features:
Refresh Rate
Vertical Sync
Maximum Pre-rendered Frames
Multi-Frame Sampled Anti-Aliasing (MFAA)
Lower Latency automatically for MOBA games
These options are currently available in the Nvidia Control Panel but they require the user to set them individually. Now the GeForce Experience will optimize the MOBA gaming experience with a single click.  MOBA gamers demand responsiveness from their gaming hardware, and Nvidia has focused on lowering the GTX 950's latency, compared with older GPUs.
Responsiveness or response time is the delay from the instant a keyboard button press or mouse movement is made to that game action actually happening on the screen. The amount of time it takes from a keystroke press or mouse click/movement to an action occurring on the screen is called input latency.
With the GTX 650, a typical 80ms latency in a MOBA game is nearly 1/10th of a second.  The longer it takes for the action to occur, then the greater the input latency.  Nvidia is able to improve responsiveness on the much faster GTX 950 over the GTX 650 by using a faster onboard renderer and latency optimizations . Their in-house testing for optimized response time for the GTX 950 was decreased typically by 35ms over the GTX 650.  This occurs without negatively affecting the image quality.
GameStream Co-op shared Play
The other really big feature introduced with the GTX 950 is GameStream.  Nvidia points out that their gaming platform is the largest in the world with 65 million gamers using the GeForce experience.  Here 250 games can be optimized with a single click .  And now Nvidia is expanding the GeForce experience formerly called ShadowPlay together with SHIELD-style streaming to allow gamers share games cooperatively with one friend at a time over the Internet just as one would do with that same friend in the same room.  This will take place in September, next month.
With GameStream, you can instantly share your gaming experiences by recording your game, editing and uploading to YouTube – while remaining in the game – all the while broadcasting to Twitch, or to a single friend using Chrome and Nvidia's browser extension.  This is all done with less than a 5% overhead (2-3.7% Nvidia measured performance hit) while broadcasting from within the game!  And if you play with a friend, you can have voice chat and co-op or mirrored controls available to you for a shared experience.
BTR specializes in bringing our readers the largest and most comprehensive benching suite anywhere, so our focus will be on the ASUS STRIX GTX 950's frame rates in 29 modern PC games.  We will compare the GTX 950 at the ASUS factory overclock, and our own overclocked GTX 950 results to the GTX 650 Ti and to the GTX 750 Ti, as well as to the PowerColor factory overclocked R9 270X PCS+ (1100MHz/1425MHz) – a factory overclocked faster and originally more expensive card compared with the R9 370 – to see where the new Maxwell card sits in relation to performance of these other cards.
Pictured together are the current cards that we have benchmarked for this evaluation: the GTX 650 Ti (upper left), the GTX 750 Ti (upper right), the PowerColor R9 270X PCS+ (center), and the ASUS STRIX GTX 950 Direct CU II OC (bottom).
We use Intel's Devil's Canyon Haswell platform so as to not bottleneck our graphics – Core i7 4790K at 4.0GHz (with all cores Turbo synched to 4.4GHz), 2x8GB of Kingston "Beast" 2133MHz DRAM, on an ASUS Z97-E motherboard.
Our two resolutions for testing are primarily set at Nvidia's target of 1920×1080, and also at 2560×1600 which is way beyond what the GTX 950 was intended for gaming at, but it will show the card's performance under extreme stress.  We are also using Windows 8.1 for the last time as we have just upgraded our benching platform to Windows 10. However, let's recap what's new in Maxwell as well as unbox and summarize the features of the ASUS STRIX GTX 950 DirectCU II OC.
Key Features of the Maxwell GTX 950
The GTX 950 features 768 cores over 1GHz (1024MHz base clock) using a 2GB memory clocked at 6.6Gbps over a 128-bit bus featuring Maxwell's power efficiency and Nvidia's DX12 feature set.  The GTX 950 is considered important by Nvidia as this entry level GTX is faster than the PS4 for 1080P gaming.
The GeForce GTX TITAN-X, 980 Ti, 980, 970, 960, and the GTX 950 GPUs support all-new graphics features currently available only to Maxwell GPUs. Nvidia's Voxel Global Illumination (VXGI) technology allows the new GPUs to render fully dynamic global illumination at playable frame rates bringing more realism and immersion to gamers.
PC games can also perform and look better with new anti-aliasing modes like Multi-Frame sampled Anti-Aliasing (MFAA).  MFAA combines multiple AA sample positions to produce a result that looks like higher quality anti-aliasing but with better performance. It appears to produce an image that looks similar to 4xMSAA at the performance cost of roughly 2xMSAA.
GeForce Maxwell GPUs also support Dynamic Super Resolution (DSR) which is similar to driver-based SuperSampling which brings the crisp detail of 4K resolution to 1920×1080 displays. It looks great, but without a FCAT capture, cannot be shown here with Fraps.
These Maxwell GPUs retain and improve on features like ShadowPlay/GameStreaming, which now support recording at resolutions up to 4K at 60 fps. And with the new G-SYNC displays, gamers no longer have to put up with tearing or stutter as part of the current common gaming experience.
How does the ASUS GTX 950 OC compare with its rival, AMD's R9 370?
Nvidia is taking aim at the $149 R9 370 with the $159 GTX 950.  The R9 370 is a 3-year old Pitcarin GPU that has been rebadged from R9 270, which in turn is a refreshed and slightly higher-clocked HD 7850.  The R9 370 doesn't support DMA CrossFire, doesn't support FreeSync, doesn't support HDMI 2.0 or video decode over 1080p; and is limited to DX feature level 11_1, and will draw more power than the GTX 950.
Since we do not have a R9 370, R9 270, or HD 7850, we will use the faster R9 270X which is a refreshed and higher-clocked HD 7870 which is priced about $149 at Newegg, and which makes it a good price competitor for the ASUS STRIX GTX 950 DirectCU II OC.  If AMD brings out a R9 370X, it will no doubt be refreshed from the 270X.  In fact, we are using the PowerColor R9 270X PCS+ which is factory overclocked to 1100MHz/1425MHz to be faster than the reference 270X, and likely close to where a possible future R9 370X reference clocked card may land.
This evaluation attempts to also analyze and compare GTX 950 and R9 270X (factory overclocked) performance and we will announce a performance winner.  But before we do performance testing, let's take a look at the ASUS STRIX GTX 950 DirectCU II OC.
Specifications
The base clock speed of the reference GeForce GTX 950 is 1024MHz. The typical Boost Clock speed is 1188MHz. The Boost Clock speed is based on an average GeForce GTX 960 card running a wide variety of games and applications. Note that the actual Boost clock will vary from game-to-game depending on conditions. GeForce GTX 960's memory speed is 6610MHz data rate.
Here are the features of the ASUS STRIX GTX 950 DirectCU II OC:
The GeForce GTX 950 reference board is rather small. Display outputs include one dual-link DVI, one HDMI and three DisplayPort connectors. One 6-pin PCIe power connector is required for operation.  The ASUS GTX 950 OC uses a custom board design with better cooling than the reference design, two DVI connectors, one DisplayPort and one HDMI 2.0 connector.
Here are the specifications for the ASUS STRIX GTX 950 OC: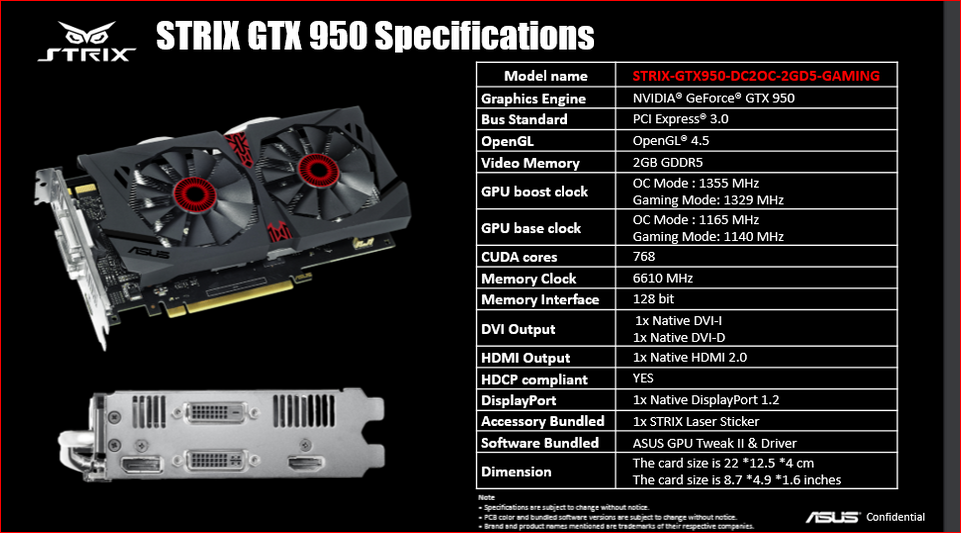 We regularly hit 1430MHz boost for our particular card at stock settings, and we reached over 1500MHz boost by manually overclocking the core without touching the voltage. Increasing the memory clocks makes a noticeable performance difference for this card and we were able to achieve an offset of +650MHz!
Let's unbox the ASUS STRIX GTX 950 DirectCU II OC.