The GTX 950 arrived this morning at $159 to take direct aim at AMD's $149 R9 370. Nvidia's Maxwell architecture arrived in mid-September, 2014 and the GTX 970/980 brought some amazing performance and energy-saving improvements at 28nm without moving to a smaller process node.
Later, the GTX 960 replaced the GTX 760 with higher performance at a lower $200 price point, and we have recently seen the GTX 980 Ti take on AMD's Fury X at $650. At the low end, the GTX 750 Ti at $149 was left to hold Nvidia's price points against the recently mostly rebranded AMD 300 series, especially against the R9 370 which was a repackaged Pitcarin R9 270, which in turn is a refreshed HD 7850.
Last week, BabelTechReviews received a $169 ASUS STRIX GTX 950 DirectCU II OC edition under NDA, and we have been putting it through its paces compared with an AMD card that is faster than a R9 370, the PowerColor 270X PCS+. And we also compared GTX 950 performance with Nvidia's older entry-level plus cards, the GTX 650 Ti and a GTX 750 Ti, using 30 demanding benchmarks at 1920×1080 and at 2560×1440.
Nvidia has put strong pricing pressure on the competing AMD lineup. In response, AMD dropped the pricing on their own cards and gave away game bundles until their own 300 series launched this year.
Here is what Nvidia's line-up now looks like with the introduction of the GTX 950.
GTX TITAN X: $999
GTX 980 Ti: $649
GTX 980: $499
GTX 970: $329
GTX 960: $199
GTX 950: $159
GTX 750 Ti: $119
And now Nvidia launches the GTX 950 for $159.99 to place it directly against AMD's $149.99 R9 370. It is a hard launch with many partner versions including overclocked versions for about $169, such as the ASUS STRIX GTX 950 OC DirectCU II Edition that we are reviewing today. It will be interesting to see what AMD will do in the short term since they evidently do not have a R9 370X ready as a response.
What's New with the GTX 960
We have covered Maxwell architecture for nearly two years and will only briefly recap it here. Instead, we'll focuse on what the GTX 950 brings that is new – a revamping of the GeForce Experience to optimize Nvidia's Control Panel settings for MOBA (Multiplayer Online Battle Arena) games, and a new way to share/stream your games and play co-operatively with a friend over the Internet just as you would do at home.
Although the GeForce Experience has been used to optimize game settings since it launched, it has not been used to optimize Nvidia Control Panel settings until now. It is first being used to optimize the responsiveness of MOBA games for NVIDIA's newest entry-level GTX video card, the GTX 950. Along with image quality settings, the GeForce Experience will now automatically optimize Dota 2, League of Legends, and Heroes of the Storm for higher framerates coupled with reduced latency and smoother gameplay by adding additional control over the following features:
Refresh Rate
Vertical Sync
Maximum Pre-rendered Frames
Multi-Frame Sampled Anti-Aliasing (MFAA)
Lower Latency automatically for MOBA games
These options are currently available in the Nvidia Control Panel but they require the user to set them individually. Now the GeForce Experience will optimize the MOBA gaming experience with a single click. MOBA gamers demand responsiveness from their gaming hardware, and Nvidia has focused on lowering the GTX 950's latency, compared with older GPUs.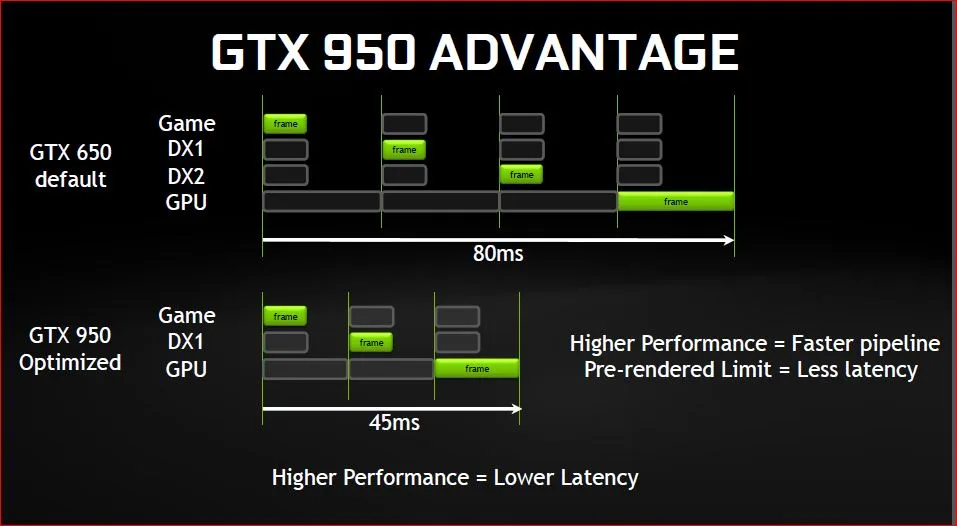 Responsiveness or response time is the delay from the instant a keyboard button press or mouse movement is made to that game action actually happening on the screen. The amount of time it takes from a keystroke press or mouse click/movement to an action occurring on the screen is called input latency.
With the GTX 650, a typical 80ms latency in a MOBA game is nearly 1/10th of a second. The longer it takes for the action to occur, then the greater the input latency. Nvidia is able to improve responsiveness on the much faster GTX 950 over the GTX 650 by using a faster onboard renderer and latency optimizations . Their in-house testing for optimized response time for the GTX 950 was decreased typically by 35ms over the GTX 650. This occurs without negatively affecting the image quality.
GameStream Co-op shared Play
The other really big feature introduced with the GTX 950 is GameStream. Nvidia points out that their gaming platform is the largest in the world with 65 million gamers using the GeForce experience. Here 250 games can be optimized with a single click . And now Nvidia is expanding the GeForce experience formerly called ShadowPlay together with SHIELD-style streaming to allow gamers share games cooperatively with one friend at a time over the Internet just as one would do with that same friend in the same room. This will take place in September, next month.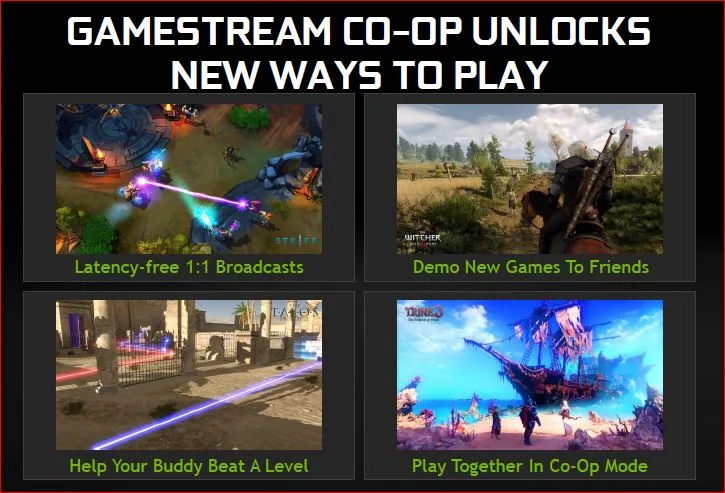 With GameStream, you can instantly share your gaming experiences by recording your game, editing and uploading to YouTube – while remaining in the game – all the while broadcasting to Twitch, or to a single friend using Chrome and Nvidia's browser extension. This is all done with less than a 5% overhead (2-3.7% Nvidia measured performance hit) while broadcasting from within the game! And if you play with a friend, you can have voice chat and co-op or mirrored controls available to you for a shared experience.
BTR specializes in bringing our readers the largest and most comprehensive benching suite anywhere, so our focus will be on the ASUS STRIX GTX 950's frame rates in 29 modern PC games. We will compare the GTX 950 at the ASUS factory overclock, and our own overclocked GTX 950 results to the GTX 650 Ti and to the GTX 750 Ti, as well as to the PowerColor factory overclocked R9 270X PCS+ (1100MHz/1425MHz) – a factory overclocked faster and originally more expensive card compared with the R9 370 – to see where the new Maxwell card sits in relation to performance of these other cards.
Pictured together are the current cards that we have benchmarked for this evaluation: the GTX 650 Ti (upper left), the GTX 750 Ti (upper right), the PowerColor R9 270X PCS+ (center), and the ASUS STRIX GTX 950 Direct CU II OC (bottom).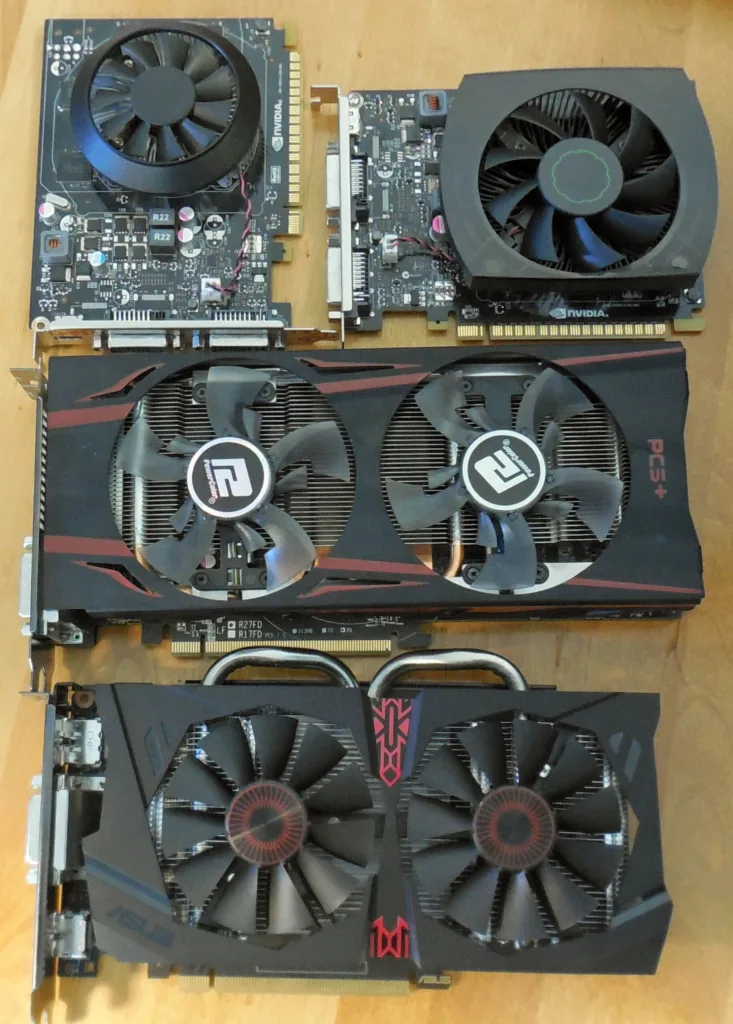 We use Intel's Devil's Canyon Haswell platform so as to not bottleneck our graphics – Core i7 4790K at 4.0GHz (with all cores Turbo synched to 4.4GHz), 2x8GB of Kingston "Beast" 2133MHz DRAM, on an ASUS Z97-E motherboard.
Our two resolutions for testing are primarily set at Nvidia's target of 1920×1080, and also at 2560×1600 which is way beyond what the GTX 950 was intended for gaming at, but it will show the card's performance under extreme stress. We are also using Windows 8.1 for the last time as we have just upgraded our benching platform to Windows 10. However, let's recap what's new in Maxwell as well as unbox and summarize the features of the ASUS STRIX GTX 950 DirectCU II OC.
Key Features of the Maxwell GTX 950
The GTX 950 features 768 cores over 1GHz (1024MHz base clock) using a 2GB memory clocked at 6.6Gbps over a 128-bit bus featuring Maxwell's power efficiency and Nvidia's DX12 feature set. The GTX 950 is considered important by Nvidia as this entry level GTX is faster than the PS4 for 1080P gaming.
The GeForce GTX TITAN-X, 980 Ti, 980, 970, 960, and the GTX 950 GPUs support all-new graphics features currently available only to Maxwell GPUs. Nvidia's Voxel Global Illumination (VXGI) technology allows the new GPUs to render fully dynamic global illumination at playable frame rates bringing more realism and immersion to gamers.
PC games can also perform and look better with new anti-aliasing modes like Multi-Frame sampled Anti-Aliasing (MFAA). MFAA combines multiple AA sample positions to produce a result that looks like higher quality anti-aliasing but with better performance. It appears to produce an image that looks similar to 4xMSAA at the performance cost of roughly 2xMSAA.
GeForce Maxwell GPUs also support Dynamic Super Resolution (DSR) which is similar to driver-based SuperSampling which brings the crisp detail of 4K resolution to 1920×1080 displays. It looks great, but without a FCAT capture, cannot be shown here with Fraps.
These Maxwell GPUs retain and improve on features like ShadowPlay/GameStreaming, which now support recording at resolutions up to 4K at 60 fps. And with the new G-SYNC displays, gamers no longer have to put up with tearing or stutter as part of the current common gaming experience.
How does the ASUS GTX 950 OC compare with its rival, AMD's R9 370?
Nvidia is taking aim at the $149 R9 370 with the $159 GTX 950. The R9 370 is a 3-year old Pitcarin GPU that has been rebadged from R9 270, which in turn is a refreshed and slightly higher-clocked HD 7850. The R9 370 doesn't support DMA CrossFire, doesn't support FreeSync, doesn't support HDMI 2.0 or video decode over 1080p; and is limited to DX feature level 11_1, and will draw more power than the GTX 950.
Since we do not have a R9 370, R9 270, or HD 7850, we will use the faster R9 270X which is a refreshed and higher-clocked HD 7870 which is priced about $149 at Newegg, and which makes it a good price competitor for the ASUS STRIX GTX 950 DirectCU II OC. If AMD brings out a R9 370X, it will no doubt be refreshed from the 270X. In fact, we are using the PowerColor R9 270X PCS+ which is factory overclocked to 1100MHz/1425MHz to be faster than the reference 270X, and likely close to where a possible future R9 370X reference clocked card may land.
This evaluation attempts to also analyze and compare GTX 950 and R9 270X (factory overclocked) performance and we will announce a performance winner. But before we do performance testing, let's take a look at the ASUS STRIX GTX 950 DirectCU II OC.
Specifications
The base clock speed of the reference GeForce GTX 950 is 1024MHz. The typical Boost Clock speed is 1188MHz. The Boost Clock speed is based on an average GeForce GTX 960 card running a wide variety of games and applications. Note that the actual Boost clock will vary from game-to-game depending on conditions. GeForce GTX 960's memory speed is 6610MHz data rate.
Here are the features of the ASUS STRIX GTX 950 DirectCU II OC: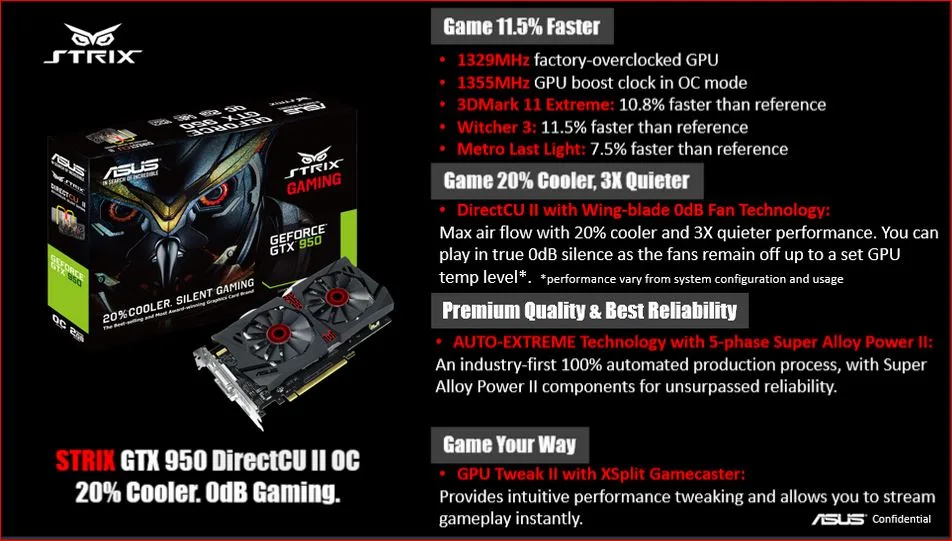 The GeForce GTX 950 reference board is rather small. Display outputs include one dual-link DVI, one HDMI and three DisplayPort connectors. One 6-pin PCIe power connector is required for operation. The ASUS GTX 950 OC uses a custom board design with better cooling than the reference design, two DVI connectors, one DisplayPort and one HDMI 2.0 connector.
Here are the specifications for the ASUS STRIX GTX 950 OC: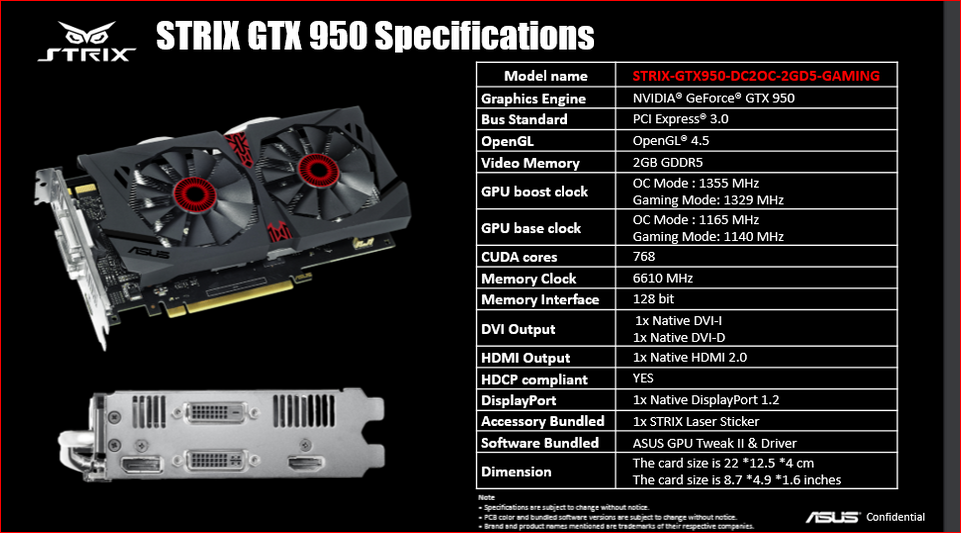 We regularly hit 1430MHz boost for our particular card at stock settings, and we reached over 1500MHz boost by manually overclocking the core without touching the voltage. Increasing the memory clocks makes a noticeable performance difference for this card and we were able to achieve an offset of +650MHz!
Let's unbox the ASUS STRIX GTX 950 DirectCU II OC.
Unboxing the ASUS STRIX GTX 950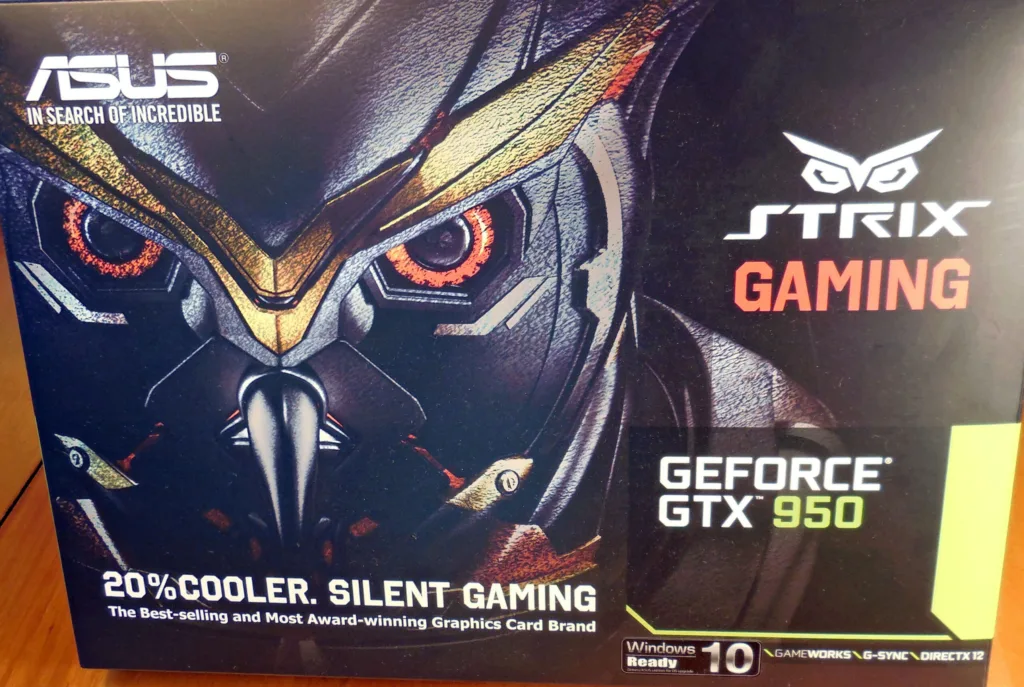 A good-looking card like the GTX 950 needs to arrive in a box that emphasizes that it is special. ASUS does this very well. We see Direct CU II, 20% cooler and Silent Gaming are emphasized together with its overclockability. The fan actually shuts down for light gaming.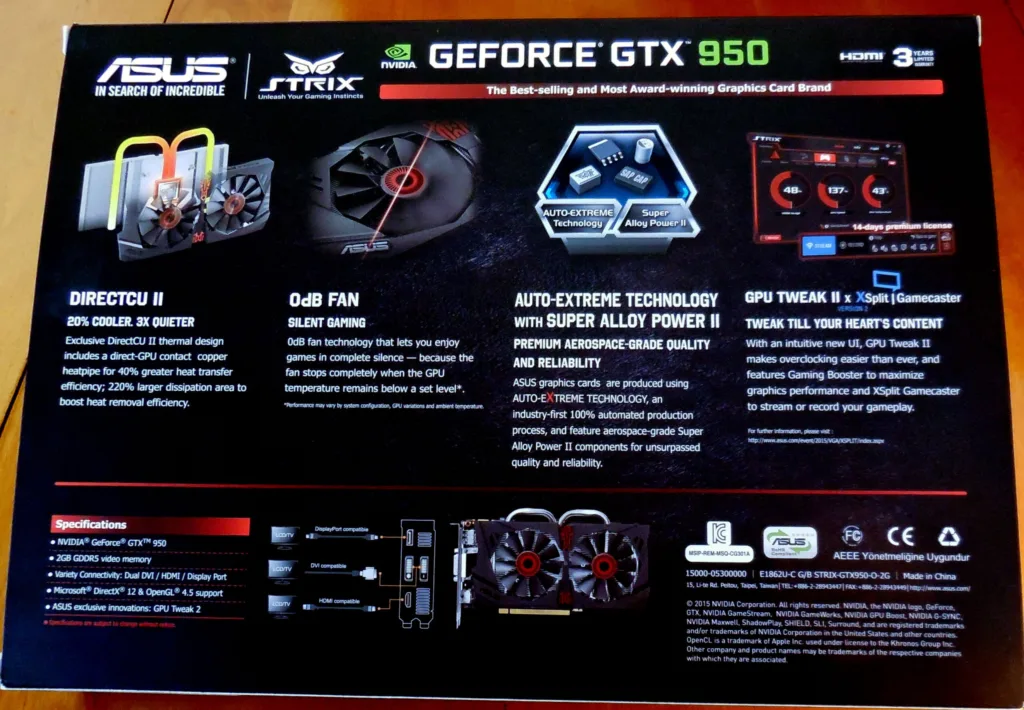 The features are described on the back. The ASUS GTX 950 OC recommended system requirements are on the end panels (not shown). The PSU needs to be at least 350W and with a minimum rating of 24A on the 12V rail. One supplementary PCIe 6-pin connector is required also.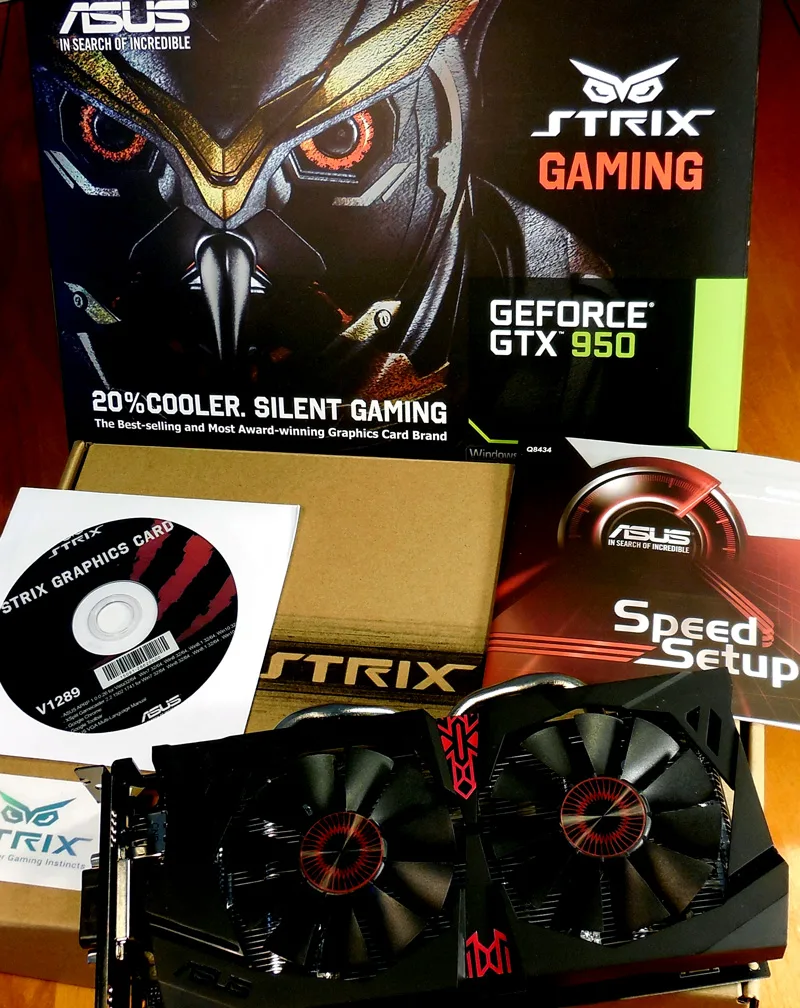 And here is the ASUS GTX 950 unboxed with the Speed Setup which includes a Driver CD. There is a STRIX decal also included. The bundle is barebones although there is a 15-day Premium Account for World of Warships and a 14-day Premium License for XSplit, which is for using the features of the ASUS Gamecaster in the GTX 950.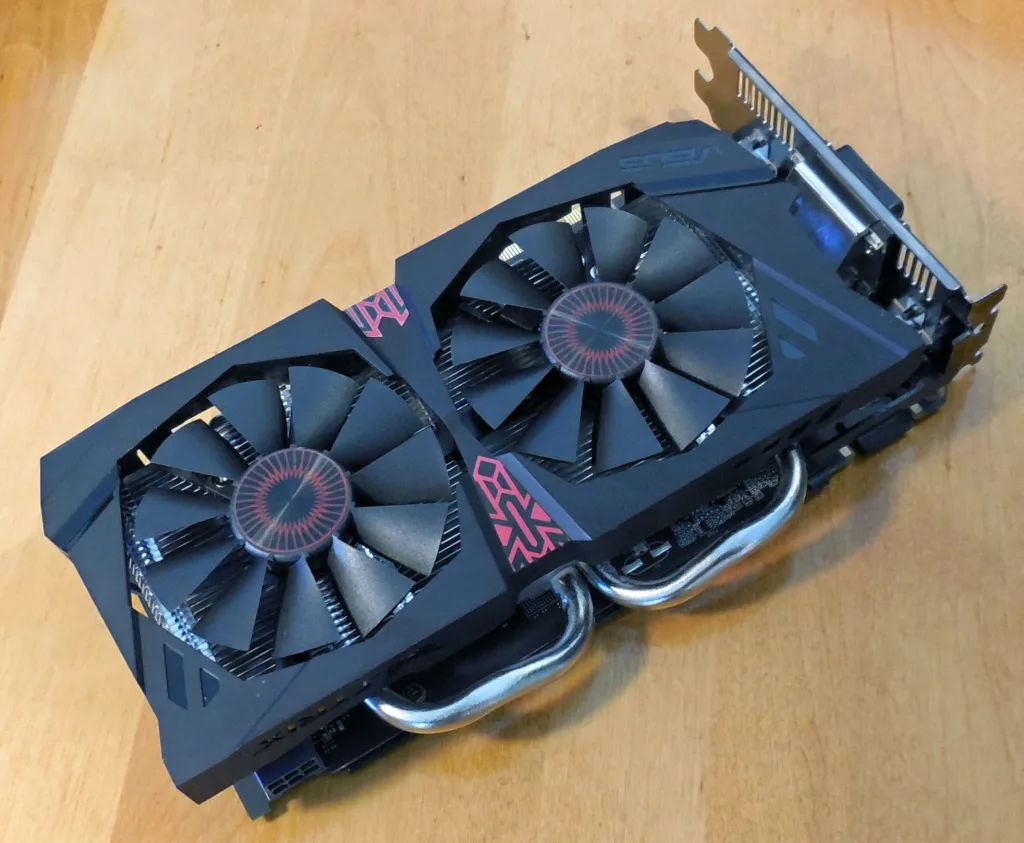 Twin fans in black with red accents look great. There is some hefty cooling for a small GPU under the fan shroud which allows the fans to go completely silent even during gaming if the temperatures are right . It is a relatively short card that will may fit more easily into many HTPC cases where a larger competitor like the R9 270X with its two PCIe connectors cannot go.
Here is the other side. There is no backplate as there is with the ASUS STRIX GTX 960 OC: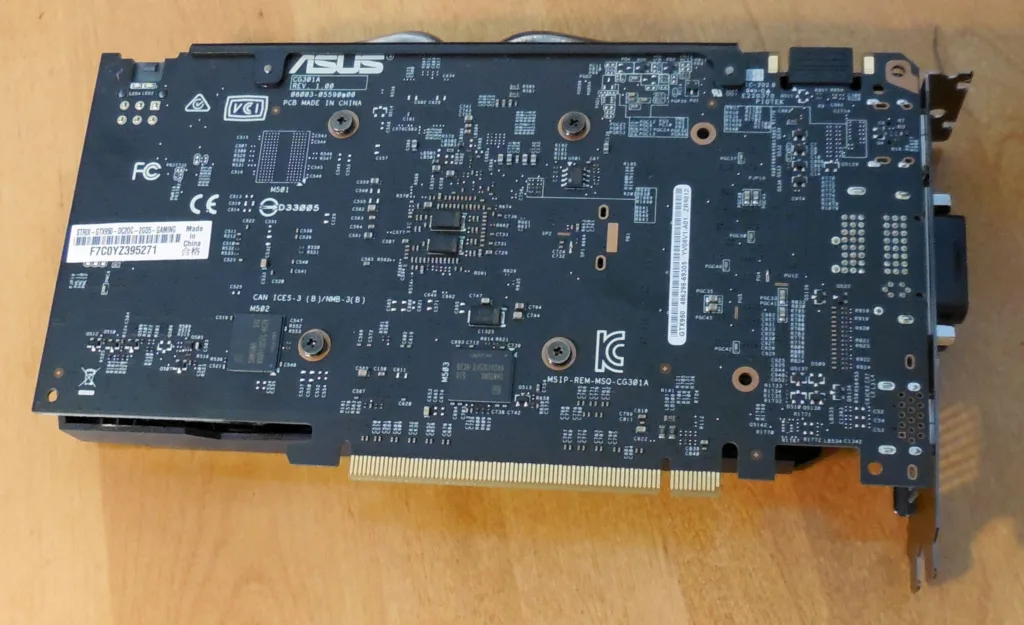 Another look at the heatpipes.
Only one 6-pin PCIe cable is required for operation. The R9 370/270/270X require two 6-pin PCIe connectors. Here are the connectors: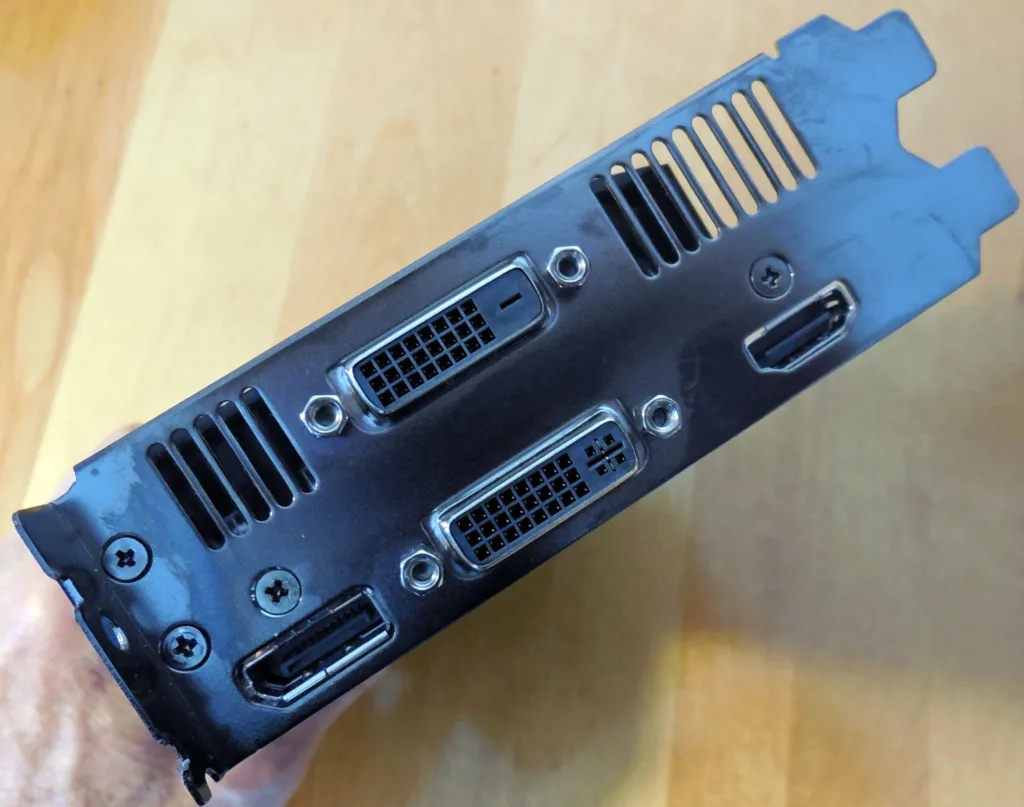 The ASUS STRIX GTX 960 OC Direct CU II is a great looking card!

SLI
The GTX 950 is set up for SLI with another GTX 950.
The specifications look extraordinary with solid improvements over the Kepler-based GTX 650 Ti, and even over the GTX 750 Ti. Let's check out performance after we look at our test configuration as well as overclocking on the next page.
Test Configuration – Hardware
Test Configuration – Hardware
ASUS Z97-E motherboard (Intel Z97 chipset, latest BIOS, PCIe 3.0 specification, CrossFire/SLI 8x+8x)
Intel Core i7-4790K (reference 4.0GHz, HyperThreading and Turbo boost is on to 4.4GHz; DX11 CPU graphics), supplied by Intel.
Kingston 16 GB HyperX Beast DDR3 RAM (2×8 GB, dual-channel at 2133MHz, supplied by Kingston)
GeForce GTX 650 Ti, 1GB reference clocks, supplied by Nvidia
GeForce GTX 750 Ti, 2GB reference clocks, supplied by Nvidia
ASUS STRIX GTX 950 OC Direct CU II, 2GB at ASUS factory overclocked and further overclocked, supplied by ASUS/Nvidia under NDA
PowerColor R9 270X, factory clocked at 1100MHz/1425MHz, supplied by PowerColor
Two 2TB Toshiba 7200 rpm HDDs
EVGA 1000G power supply unit
Cooler Master Seidon240 CPU watercooler, supplied by Cooler Master
Onboard Realtek Audio
Genius SP-D150 speakers, supplied by Genius
Thermaltake Overseer RX-I full tower case, supplied by Thermaltake
ASUS 12X Blu-ray writer
Monoprice CrystalPro 4K display
Test Configuration – Software
Nvidia GeForce 355.65 Launch drivers for GTX 950 and and the GTX 650 Ti. GeForce 353.62 WHQL launch drivers for the GeForce 750 Ti. High Quality, prefer maximum performance, single display.
Windows 8.1 64-bit; very latest updates
Radeon Catalyst 15.7.1 drivers used for the VisionTek R9 270X. Surface format optimizations, off; Application decide, VSYNC forced off, High Quality, and Tessellation App decide.
Latest DirectX
All games are patched to their latest versions.
VSync is off in the control panel.
AA enabled as noted in games; all in-game settings are specified with 16xAF always applied
All results show average, minimum and maximum frame rates except as noted.
Highest quality sound (stereo) used in all games.
Windows 8.1 64, all DX11 titles under DX11 render paths.
EVGA PrecisionX 16
The 29 PC Game benchmarks & 1 synthetic benchmark tests
Firestrike – Basic
STALKER, Call of Pripyat
Max Payne 3
the Secret World
Sleeping Dogs
Hitman: Absolution
Tomb Raider: 2013
Crysis 3
Metro: Last Light Redux (2014)
Battlefield 4
ArmA 3
Thief
Sniper Elite 3
Watch_Dogs
GRID: Autosport
Middle Earth: Shadows of Mordor
Alien Isolation
Assassin's Creed Unity
Civilization Beyond Earth
Far Cry 4
Dragon's Age: Inquisition
Metal Gear Solid V: Ground Zeroes
The Crew
Evolve
Total War: Attila
Wolfenstein: The Old Blood
Grand Theft Auto V
ProjectCARS
the Witcher 3
Batman: Arkham Knight
Before we get to the GTX 960 performance charts, let's look at overclocking, power draw and temperatures.
Overclocking, Power Draw & Temperatures
Thanks in part to Maxwell's power efficiency, the GeForce GTX 950 evidently has a lot of headroom for overclocking. The base clock frequency is 1024MHz, with a boost clock of 1188MHz. In Nvidia's internal testing, GeForce GTX 960 engineering sample boards regularly hit 1400MHz or more without any temperature target, fan speed or voltage modifications.
In our own testing, we found that ASUS uses a much better cooling system that allowed our particular sample to hit 1430MHz and stay there under load with the fan around 1200 rpm to keep temperatures around 67C in our moderately warm (78F) testing room. The fan is barely an audible whisper at this point. Additionally, since the GeForce GTX 960 runs cool, some of Nvidia's board partners including ASUS will allow the card to run silently with the GPU's cooling fan completely shut off under lighter gaming workloads. We have noticed about 10 rpm during gaming although we never actually observed zero rpm.
Overclocking, Power Draw, Noise and Temperatures
Overclocking the GTX 950 is just as easy as overclocking Maxwell or Kepler with the same features. We were able to overclock further, adding +80MHz offset to the already overclocked ASUS GTX 950 core with complete stability, even though we did not adjust the voltage nor our fan profile. We reached just over 1500MHz boost yet the temperatures remained cool. Even in a warm room they *never* exceeded 68C and the video card's twin fans were never heard over the case and CPU cooling fans even though they spun up to 1325 rpm. The cooling is very well-designed indeed.
With our particular sample of the ASUS GTX 960 OC, the core clocks would regularly boost to 1417MHz and stay there. The ASUS memory clocks are set at the the reference memory clocks of 6600MHz and we were able to add another 650MHz! The only game where there was slight and occasional vRAM-related artifacts was in GTA V, and lowering the clocks 50MHz solved it.
Adding +80MHz to the core brought the peak boost up to 1515MHz and it stabilized at 1502MHz as the temperature never exceeded 68C. Overclocking the memory another 650MHz brought solid performance increases but no temperature rise and the fans never had to ramp up. Adding +90MHz to the core brought the peak boost up to 1520MHz but the overclock was unstable so we settled on a 80MHz offset together with memory with 650MHz offset as our final stable overclock used in our testing
Let's head to our performance charts.
Performance summary charts & graphs
Here are the summary charts for 29 games and 1 synthetic test. The highest settings are not always chosen as with faster performing cards. Specific settings are listed on the Main Performance chart by each game. The benches are run at 1920×1080 and 2560×1440.
All results, except for Futuremark, show average framerates and higher is always better. In-game settings are mostly just below maxed out, and AA is often restricted. However, the settings are identical across all platforms. We see some very impressive results with the ASUS GTX 950 OC for its suggested price of $169.
Main Overall Summary chart
The Big Picture
In the first column of the main performance summary chart, the ASUS STRIX GTX 950 OC is tested at our highest manual overclock. It is followed by the factory overclocked ASUS clocks, and then the PowerColor R9 270X PCS+ clocks (1100/1425MHz) in the third column. Column four gives the GTX 750 Ti results at its stock clocks, and finally are our reference GTX 650 Ti results. Nvidia is encouraging gamers with a GTX 650 class of GPU to take a look at modern gaming on a GTX 950.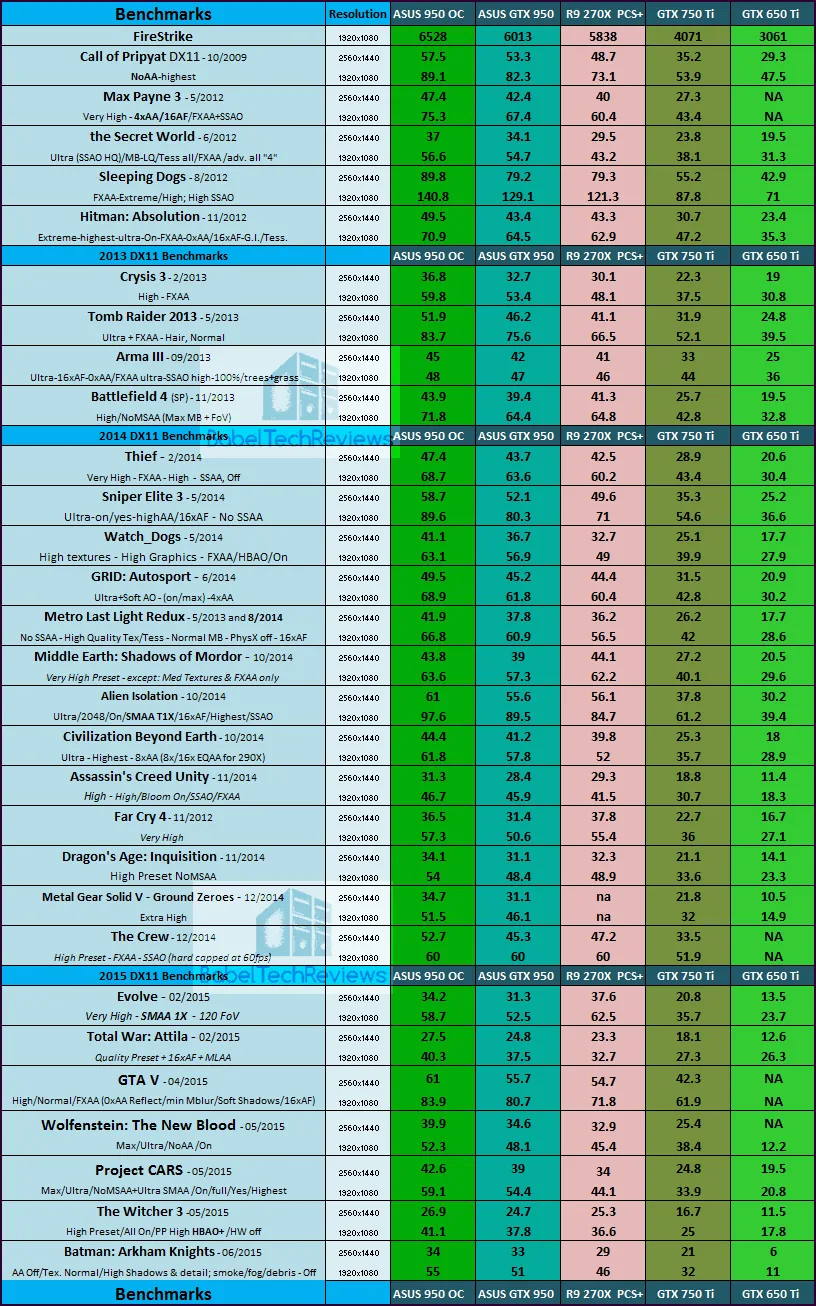 The ASUS STRIX GTX 960 Direct CU II OC vs. the PowerColor R9 270X PCS+
The overclocked $169 ASUS STRIX GTX 950 does very well against the approximately $169 factory overclocked 270X with most of the wins for the GTX. However, it is an absolute blowout where the GTX 650 Ti is left in the dust by the GTX 950 and even the GTX 750 Ti struggles. We also see great overclocking scaling with an additional 80MHz offset added to the core and 650MHz offset added to the memory clocks.
Since the 270X (HD 7950) is about ten percent faster than the R9 370 (R9 270/HD 7950), we can expect that even the reference GTX 950 will outclass it. AMD really does need a R9 370X to replace the discontinued 270X if they expect to hold the $149 to $169 price points.
Let's head for our conclusion.
Conclusion
This has been quite an enjoyable, if far too short, week-long exploration for us in evaluating our new ASUS STRIX GTX 950 OC Direct CU II. It did very well performance-wise, beating its competition in most games when comparing it to the the factory-overclocked R9 270X where it brings higher performance, more features, and less power draw for about ten dollars more. It also slots well above the GTX 650 Ti, and even over the GTX 750 Ti which launched for $149.
We are totally impressed with the cool-running Maxwell GM206 chip in the form of the ASUS STRIX GTX 950 OC Direct CU II that has such outstanding overclockability and a good price. It slots right above the GTX 750 Ti, replacing the GTX 750, and far far above the GTX 650 Ti, and it offers more advantages with better latency for MOBA games, and for GameStreaming.
We see good overclockability with quietness at stock voltage and fan profile from the ASUS OC design GTX 950. The GTX 950 is a better value overall than the R9 270X and certainly a much better performer than the R9 370, even if you are looking at performance and probable future price drops on the older and less energy-efficient cards.
Pros
Price – for $159 the GTX 950 is an entry-level GTX video card that is designed for 1080 DX11 and DX12 gaming. It is significantly cheaper than the higher-performing GTX 960 although it has newer features. It also runs away from the GTX 750 Ti and leaves the GTX 650 Ti in the dust. For just $10 more at $169, the ASUS STRIX GTX 950 OC Direct CU II provides so much more than the reference designs including great overclocking from the factory and a near silent card.
TDP and power draw is excellent. Performance per watt is almost three times the GTX 650 which debuted 3 years ago on the same 28nm process. Unlike the R9 270X which needs a minimum of two six-pin PCIe connectors, the ASUS STRIX GTX 950 OC only needs one which still allows for good overclocking.
Overclockability is excellent – GPU Boost works as advertised. The ASUS GPU Tweak Utility is great and one of the best overclocking tools that we have encountered to date.
The ASUS Direct CU II Twin fan design as cooling is quiet and efficient; the card and case stay cool even well-overclocked on a hot day.
GameStream and MOBA optimizations brings new features to gamers.
New MFAA allows for high performance without jaggies for Maxwell GPUs.
DSR allows 4K crispness to come to 1080p
New GameStream allows live streaming uploads to 60fps for 4K resolutions and sharing with friends in Co-op mode over the Internet.
G-SYNC displays reduce and eliminate stuttering while retaining the advantages of minimizing tearing.
The ASUS STRIX GTX 950 OC DirectCU II is a near silent video card with great ASUS features, support and warranty – all for only $10 more than a reference design. Highly Recommended!
Cons
The Verdict:
If you are buying a $169 video card right now and looking for the high performance at 1920×1080, along with a cool and quiet card, the ASUS STRIX GTX 950 OC DirectCU II is a great value at its launch price considering that it is going up against AMD's $150-plus R9 370s. It overclocks well beyond ASUS factory overclock and it remains cool and quiet. When a great value is launches like this, it can only receive BTR's (Highly) Recommended Award!
We do not know what the future will bring, but the GTX 950 brings an excellent performer to the GeForce Maxwell family. With great features like GameStream and the GeForce Experience, you can be assured of immersive gaming by picking this card for 1080P or for even higher resolutions.
If you currently game on an older generation video card like a GTX 650 or 650 Ti, you will do yourself a really big favor by upgrading. The move to an ASUS GTX 950 OC will give you better visuals on the DX11 and DX12 pathways and you are no doubt thinking of SLI if you want to get even more gaming performance on a tight budget.
Of course, AMD offers their own set of features including Eyefinity, GCN 2.0, and Mantle although the 370 class hasn't added new features in nearly 3 years. However, we expect that AMD will need to drop pricing on the R9 370 cards and continue to offer aggressive game bundles unless they can bring a R9 370X to market shortly.
Stay tuned, there is a lot coming from us at BTR Next up is a Windows 8.1 versus Windows 10 evaluation featuring SLI and CrossFire that will be published next week. And we have a MSI R9 390X (1050MHz/1100MHz) to compare with our PowerColor R9 290X PCS+ (1030MHz) along with our GTX 980.