The Founders Edition of the RTX 2070 Reviewed with 38 Games vs. the EVGA RTX 2070 Black
The Founders Edition (FE) of the RTX 2070 costs $100 more than the $499 entry-level EVGA RTX 2070 Black that we reviewed this morning which earned BTR's Good Value award for solidly beating the comparably priced GTX 1080 and the $599 premium Red Devil RX Vega 56. We are going to examine the Founders Edition which is clocked 90 MHz higher than the Black and run the same 38 game benchmarks to see if it is worth its price premium.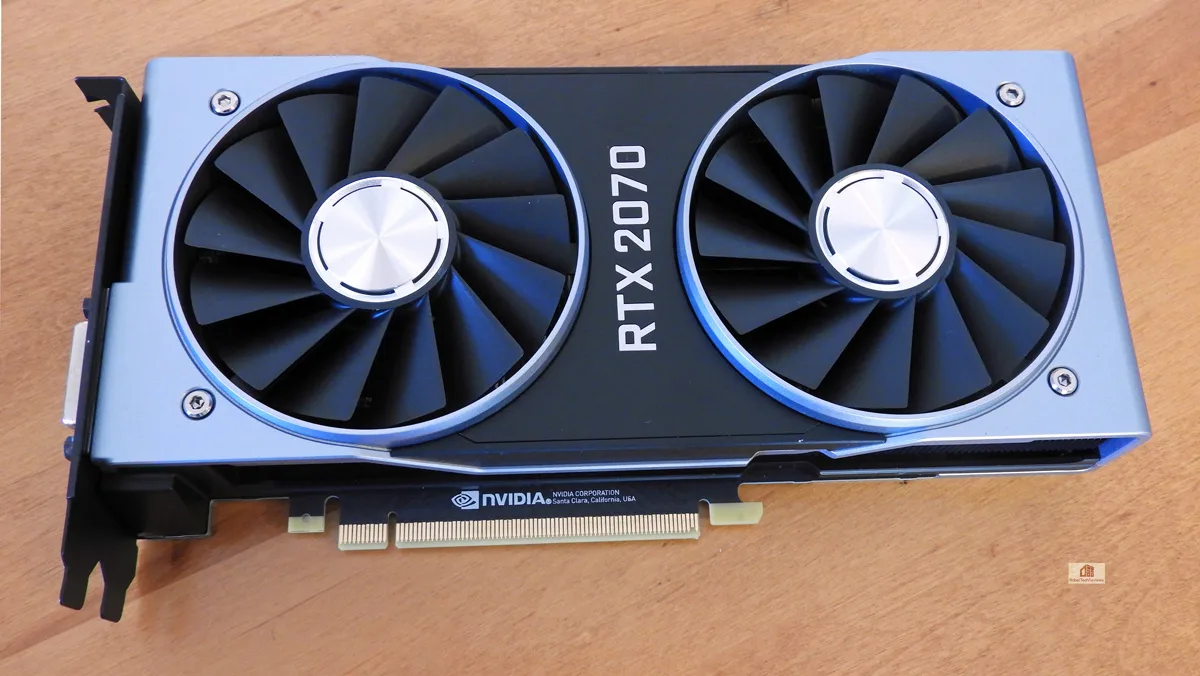 Besides comparing the Founders Edition's performance with the EVGA RTX 2070 Black, we will compare with the RTX 2080 FE, the GTX 1080 FE, the GTX 1070 FE that it replaces, the Red Devil Vega 56, and we will measure how far it has progressed versus the GTX 980 FE.
The built-by-NVIDIA RTX 2070 Founders Edition and the EVGA RTX 2070 Black use identical GPUs with the difference being that the Founders Edition uses a premium all-aluminum build compared with the more plastic entry-level card.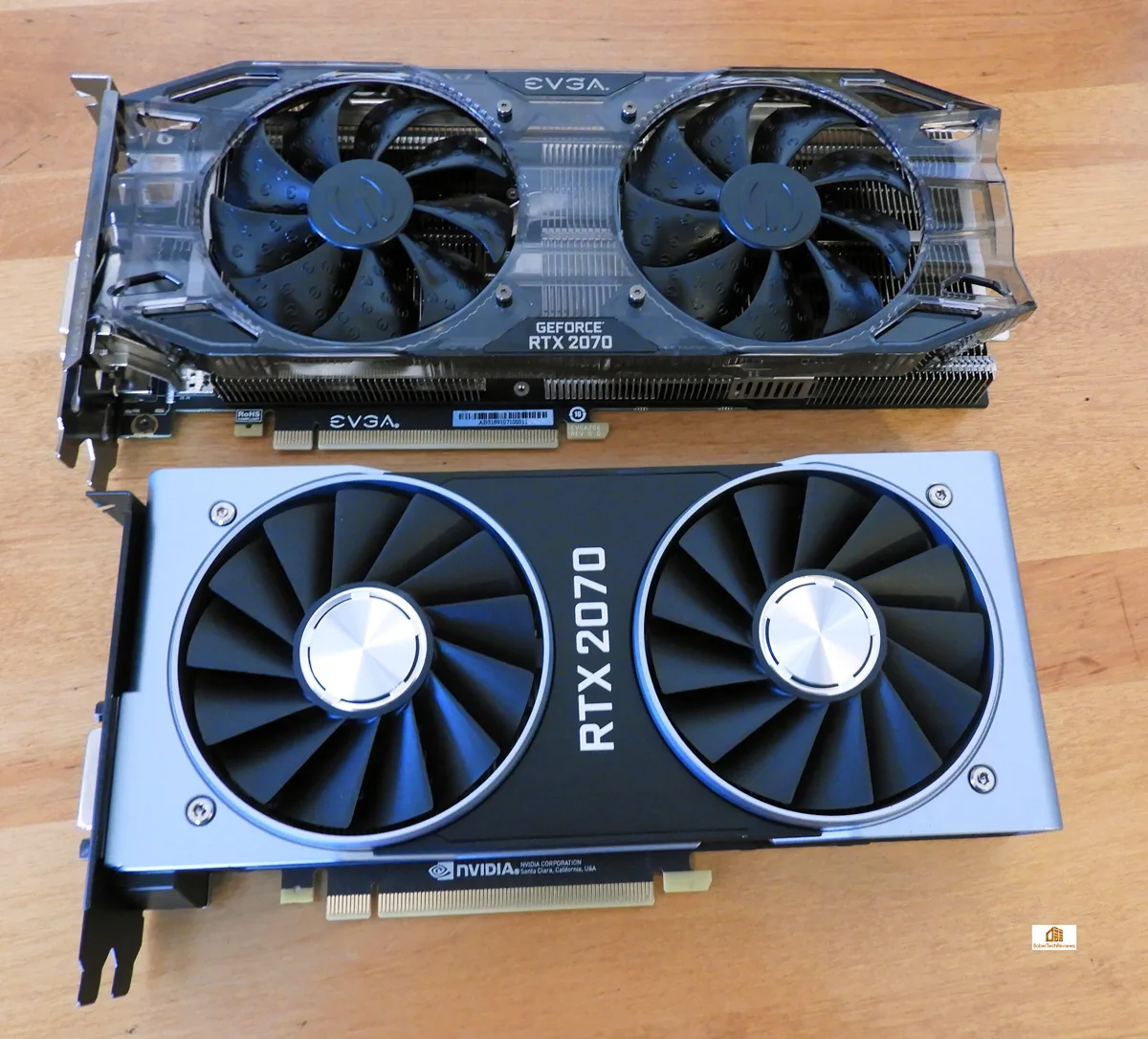 The Founders Editions all have in common the same eye-catching new dual-fan industrial design and premium build.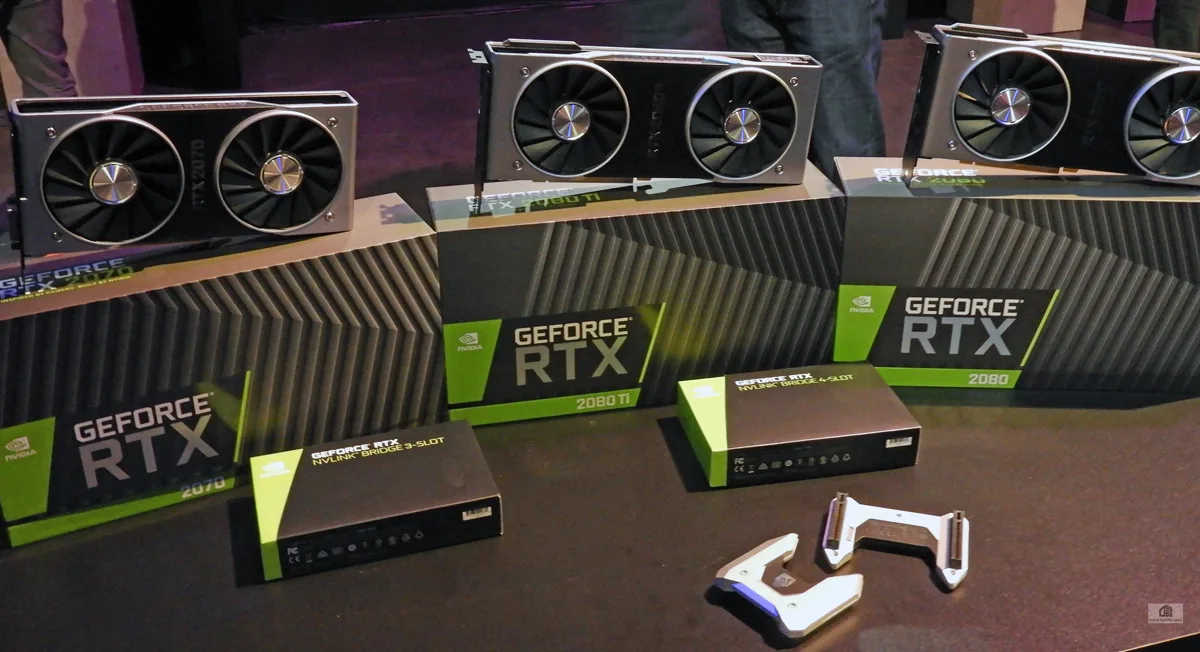 The Founders Editions all come in display boxes.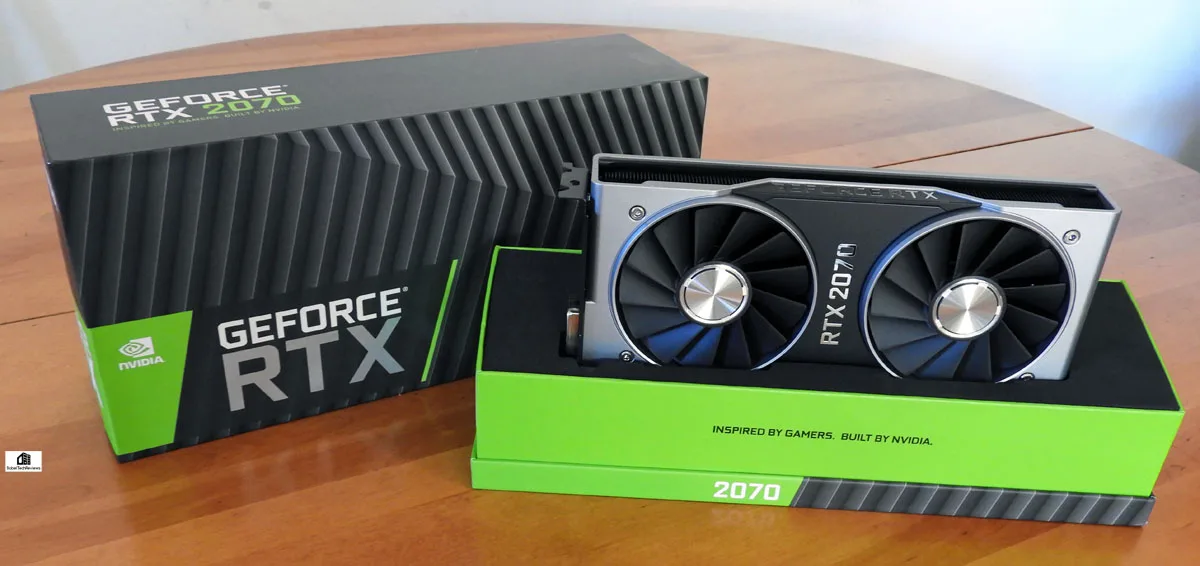 From every angle, the Founders Edition of the RTX 1070 looks great.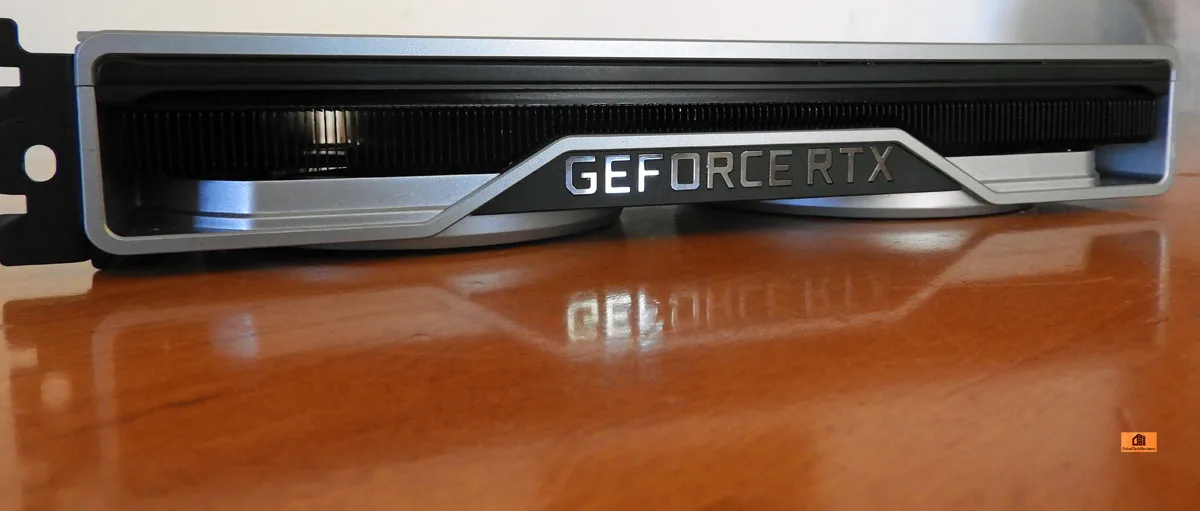 The EVGA entry-level RTX 2070 Black has a raw PCB contrasted with the smooth backplate of the Founders Edition.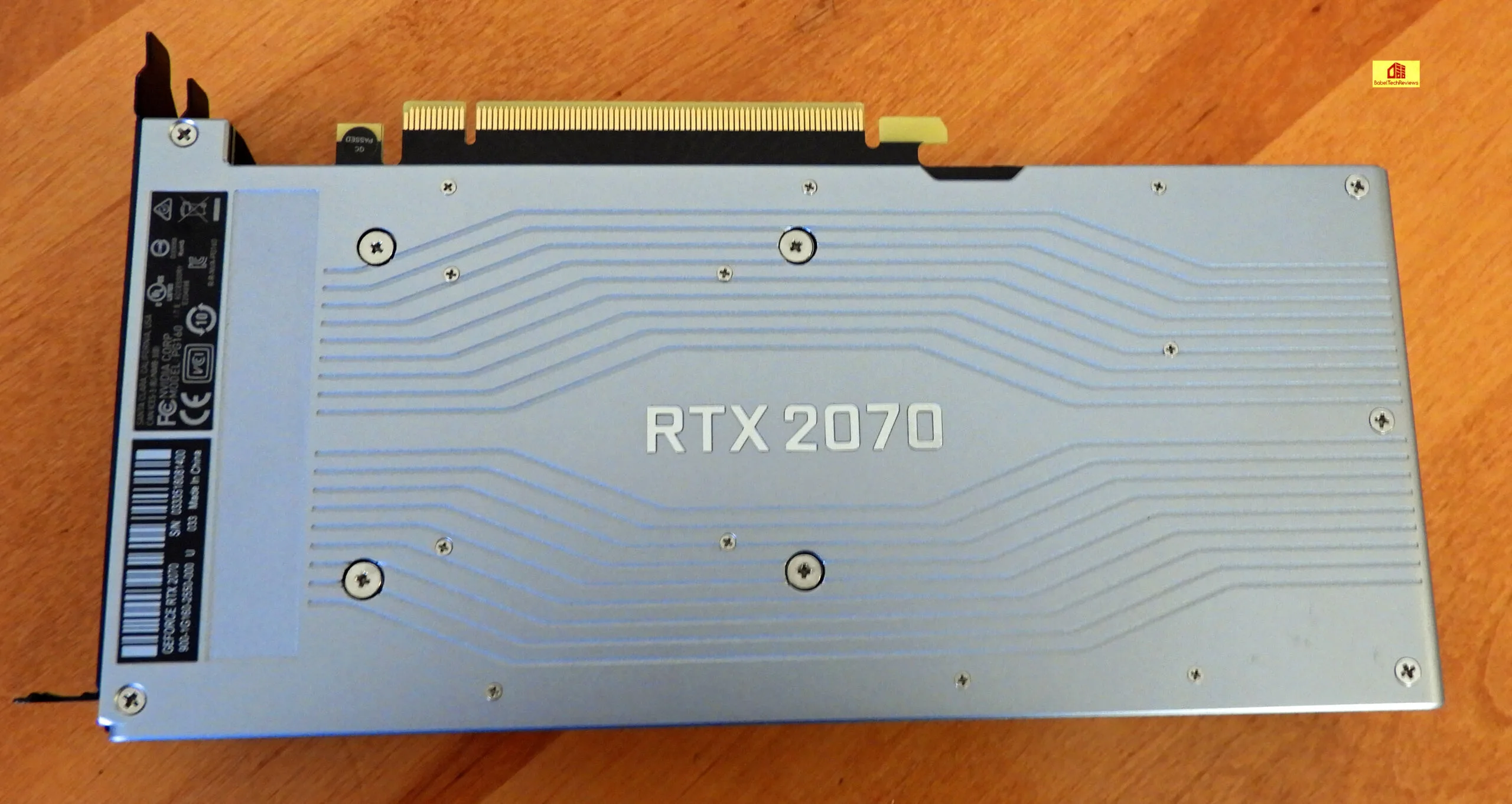 The Founders Edition is also a lot more compact than the EVGA RTX 2070 Black, and as an added benefit for enthusiasts who really care about the way their PC looks, the power connector has been placed on the end of the card for a cleaner look for systems with a windowed chassis.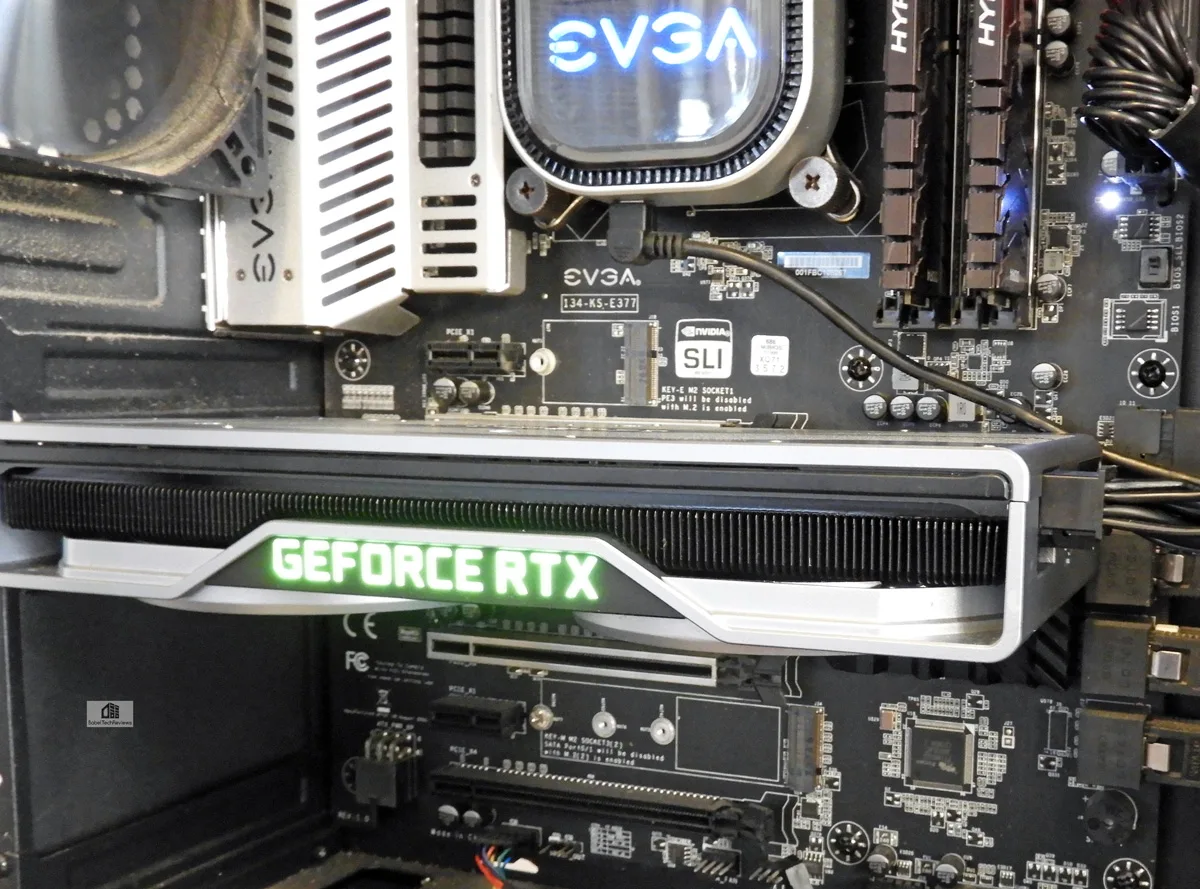 It looks great inside of our EVGA DG-77 case but we did not have time to vertically mount it. Even the connector panel is black to match most cases, and although the connections are the same as with the RTX 2070 Black, it shows NVIDIA's extreme attention to detail with their Founders Edition.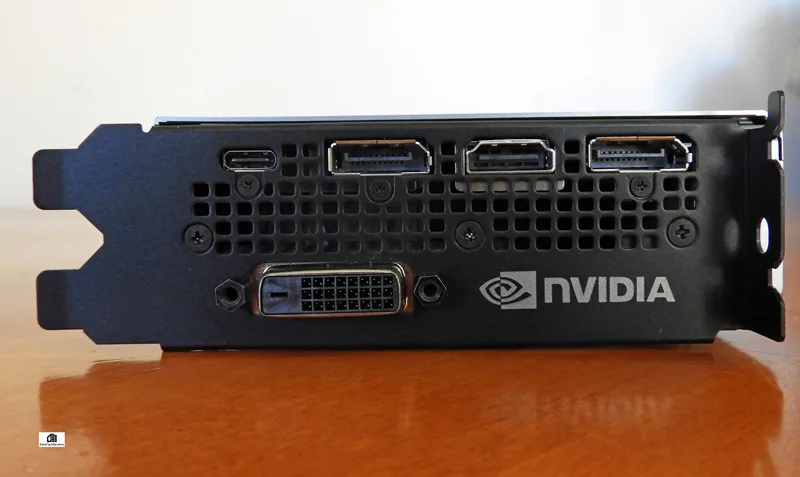 Besides their attention to detail and the awesome way it looks, NVIDIA also uses a much beefier 6-phase power supply than the entry-level Black card's power supply uses for the Founders Edition's GPU, and a 2-phase power supply for the GDDR6. However, the Founder's Edition RTX 2070 GPU is cooled with embedded heatpipes instead of the vapor chamber system used on the RTX 2080 and 2080 Ti. This should translate to overall better overclocking and may be comparable to the more premium components used for EVGA's more expensive RTX 2070s.
As with our earlier testing, all of our competing cards are benched on a clean installation of Windows 10 64-bit Home edition, using Core i7-8700K with all six cores overclocked to 4.7 GHz by the BIOS, and 16GB of Kingston's 3333 MHz DDR4.
Before we explore overclocking and then performance testing, let's take a another look at our test configuration.
Test Configuration – Hardware
Intel Core i7-8700K (HyperThreading and Turbo boost is on to 4.7 GHz for all cores; Coffee Lake DX11 CPU graphics).
EVGA Z370 FTW motherboard (Intel Z370 chipset, latest BIOS, PCIe 3.0/3.1 specification, CrossFire/SLI 8x+8x), supplied by EVGA
HyperX 16GB DDR4 (2×8 GB, dual channel at 3333 MHz), supplied by HyperX
Built-by-NVIDIA RTX 2080 8GB Founders Edition, stock FE clocks, supplied by NVIDIA
EVGA RTX 2070 8 GB Black, stock RTX 2070 clocks, supplied by EVGA
GTX 1070 8 GB Founders Edition, stock FE clocks, supplied by NVIDIA
RTX 2080 8 GB Founders Edition, stock FE clocks, supplied by NVIDIA
GTX 1080 8 GB Founders Edition, stock clocks, supplied by NVIDIA
GTX 1070 8 GB Founders Edition, stock clocks, supplied by NVIDIA
GTX 980 4 GB, Founders Edition stock clocks, supplied by NVIDIA
Red Devil Vega 56 8GB, at factory overclocked settings, supplied by PowerColor
2 x 480 GB Team Group SSDs – one for AMD, and one for NVIDIA
1.92 TB San Disk enterprise class SSD
2 TB Micron 1100 enterprise class SSD
Seasonic 850W Gold Focus power supply unit
EVGA CLC 280mm CPU water cooler, supplied by EVGA
Onboard Realtek Audio
Genius SP-D150 speakers, supplied by Genius
EVGA DG-77, mid-tower case supplied by EVGA
LG 43″ HDR 4K TV
Monoprice Crystal Pro 4K
Test Configuration – Software
Nvidia's GeForce 416.33 launch drivers were used for both RTX 2070s and for the GTX 1070, and 411.51 drivers for the RTX 2080. 416.16 WHQL drivers are used for the GTX 980 and 399.07 is used for the GTX 1080. See Control Panel image below.
AMD Adrenalin Software 18.10.1 drivers were used for the Vega 56. See Control Panel image below.
VSync is forced off.
AA enabled as noted in games; all in-game settings are specified with 16xAF always applied
Gaming results show average frame rates in bold including minimum frame rates shown on the chart next to the averages in a smaller italics font.
Highest quality sound (stereo) used in all games.
Windows 10 64-bit Home edition. All DX11 titles were run under DX11 render paths. DX12 titles are generally run under the DX12 render path unless performance is lower than with DX11. Three games use the Vulkan API.
Latest DirectX
All 38 games are patched to their latest versions at time of publication.
WattMan used to set overclocking, cooling and power options. See Control Panel image below.
Precision X1 pre-release version for RTX settings and for overclocking
OCAT, latest version
Fraps, latest version
38 PC Game benchmark suite & 4 synthetic tests
Synthetic
Firestrike – Basic & Extreme
Time Spy DX12
DX11 Games
Grand Theft Auto V
The Witcher 3
Fallout 4
Watch Dogs 2
Just Cause 3
Rainbow Six Siege
Battlefield 1
Resident Evil 7
For Honor
Ghost Recon Wildlands
Mass Effect: Andromeda
Prey
DiRT 4
Project CARS 2
Middle Earth: Shadow of War
Assassin's Creed Origins
Destiny 2
Call of Duty WW II
Star Wars: Battlefront II
Final Fantasy XV
Far Cry 5
The Crew 2
Assassin's Creed: Odyssey
Call of Duty: Black Ops 4
DX12 Games
Tom Clancy's The Division
Ashes of the Singularity: Escalation
Hitman
Rise of the Tomb Raider
Deus Ex Mankind Divided
Gears of War 4
Civilization VI
Sniper Elite 4
Total War: Warhammer II
Forza 7
Shadow of the Tomb Raider
Vulkan Games
DOOM
Wolfenstein: The New Colossus
Strange Brigade
Additional Demo
FFXV standalone Demo – DLSS vs. TAA
AMD Adrenalin Control Center Settings: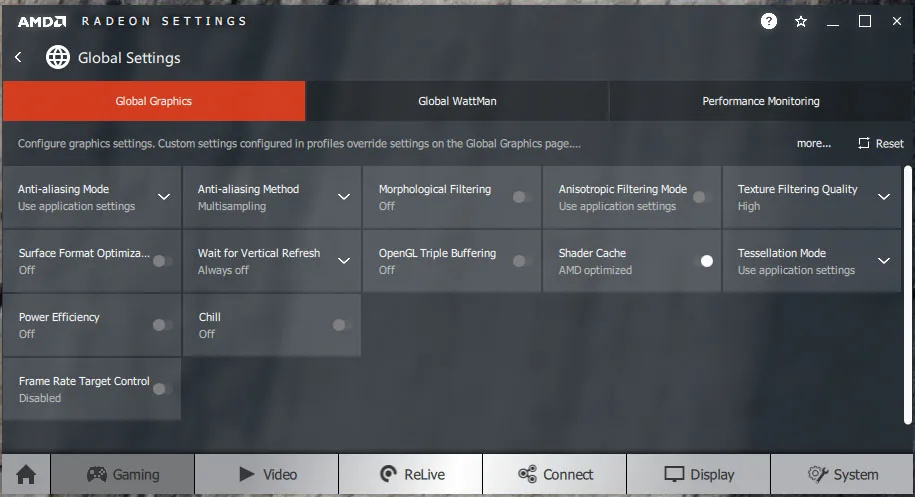 All AMD settings are set so as to be apples-to-apples when compared to NVIDIA's control panel settings – all optimizations are off, Vsync is forced off, Texture filtering is set to High, and Tessellation uses application settings.
We used Wattman to set the Red Devil Vega 56's power, temperature and fan settings to their maximums.
NVIDIA Control Panel settings:
Here are the NVIDIA Control Panel settings that match AMD's settings.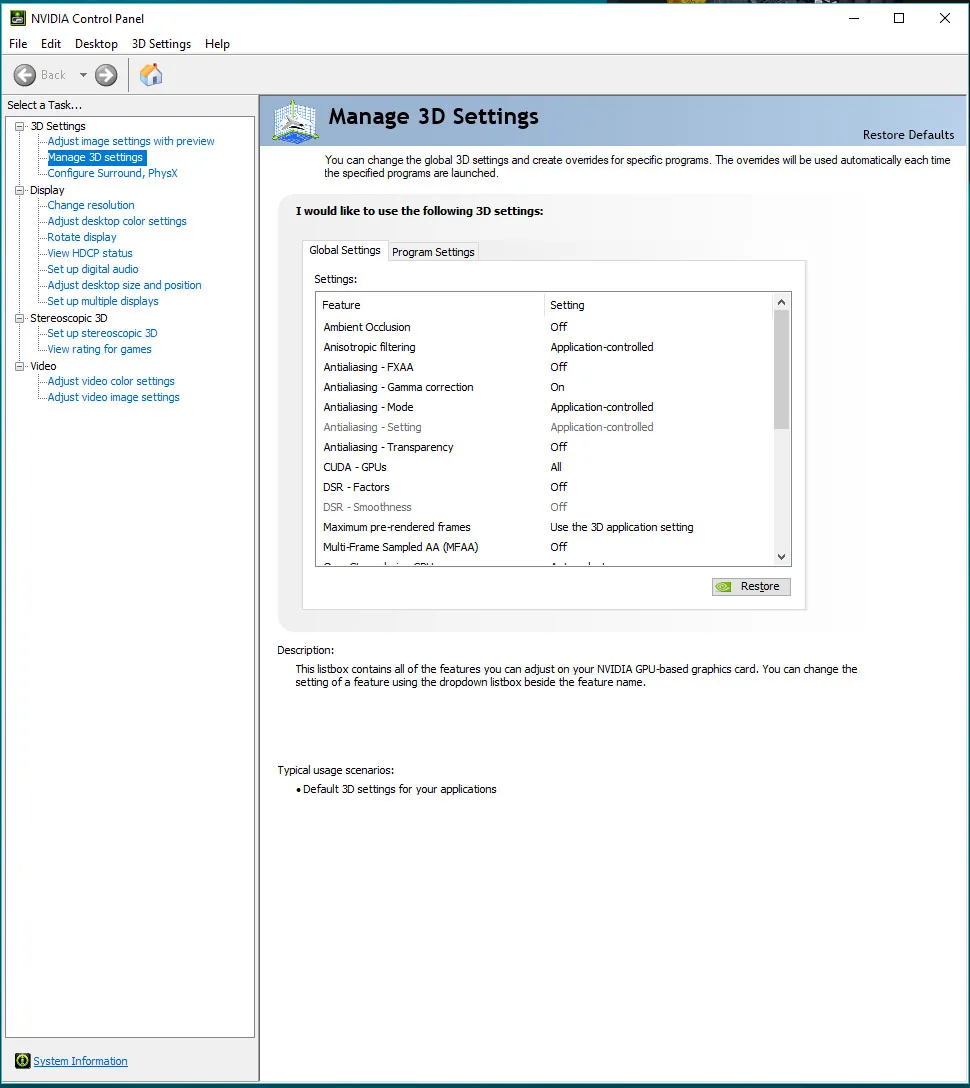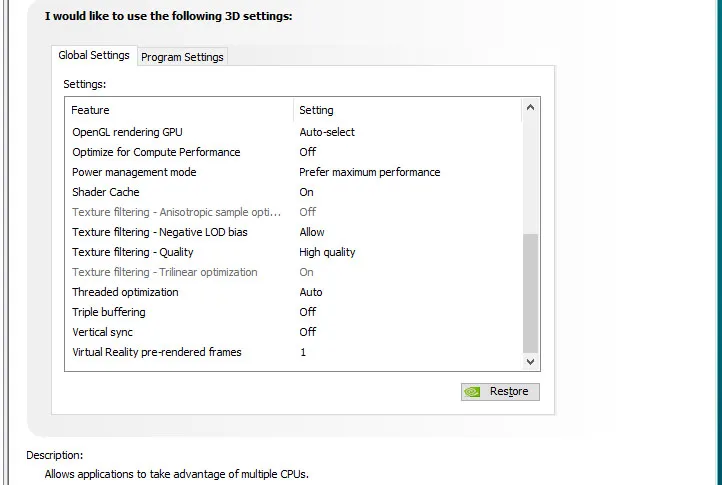 We used the latest unreleased beta of EVGA's Precision X1 scanner to set our cards' highest Power and Temperature targets and for our preliminary overclocks of the RTX 2070s.
By setting the Power Limits and Temperature limits to maximum for each card, they do not throttle, but they can each reach and maintain their individual maximum clocks. This is particularly beneficial for high power cards including the PowerColor Red Devil Vega 56 edition.
Let's check out overclocking, temperatures and noise next.
Overclocking using Precision X1, temperatures & noise
Both the EVGA RTX 2070 Black and the Founders Editions are very quiet cards even when overclocked. We could barely hear either card over the many fans of our PC even when they ramp up although we would say that the Black is a bit quieter when under full load.
We will spend more time with manual and automatic overclocking in our follow-up reviews, but we automatically overclocked both RTXes using the scanner in EVGA's Precision X1. The beta that we are using is not yet available to the public but should be available tomorrow when the RTX 2070s are released for purchase.
We benchmark all of our video cards with power and temperature targets set to maximum to unleash the cards' full performance potential.
We used the new scanner and it found it to be quite accurate compared with the scanner that released with Pascal. To find the automatic overclock, click on the Scan button and wait for about 20 minutes until it finishes, and then hit "apply". You can also test the stability of your own overclock by using the Test button.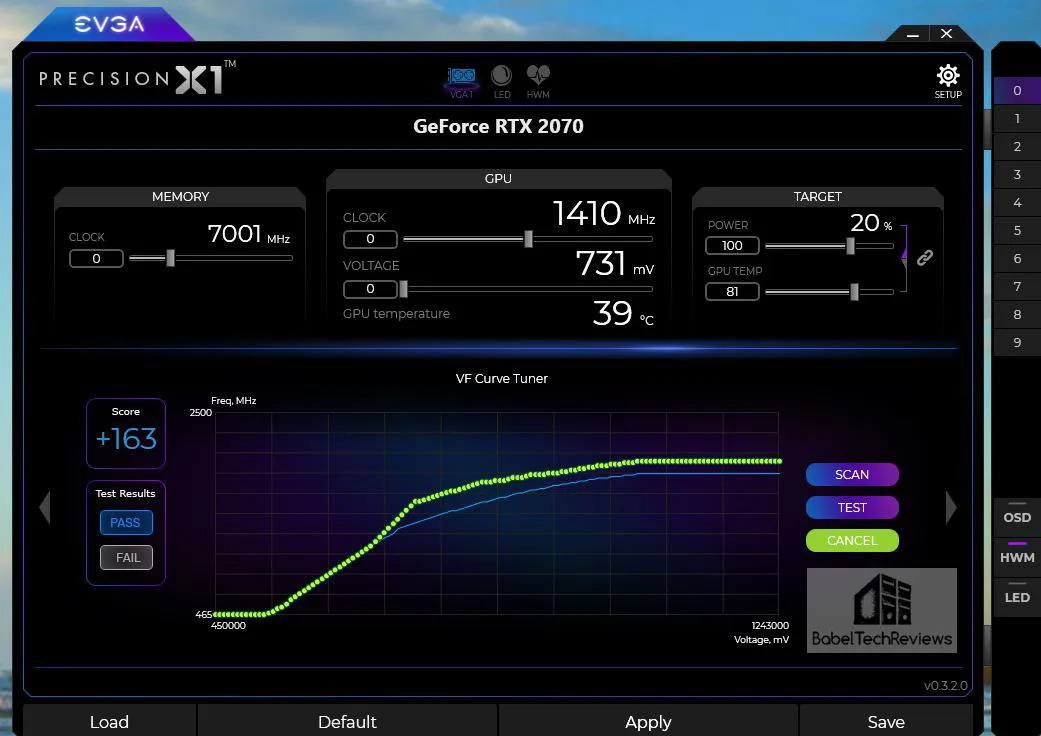 For best results, first scan at Default rather than raising the voltage or setting power/temperatures targets to maximum. The Precision X1 scan gave the RTX 2070 Founders Edition a score of 163 which means +163 MHz can be applied on top of NVIDIA's factory overclock of +90 MHz the FE already has, meaning an offset totaling 253 MHz over RTX default clocks will be applied. Compare this with the +225 MHz offset the scan set for the EVGA RTX 2070 Black which started with a lower base clock. In both cases, the automatic overclock was a little over-optimistic.
We ran Heaven 4.0 looped in a 2560×1440 window at maxed-out settings to see how much Boost 4.0 was being applied. We also attempted a memory overclock of +800 MHz but ultimately backed down to +700 MHz.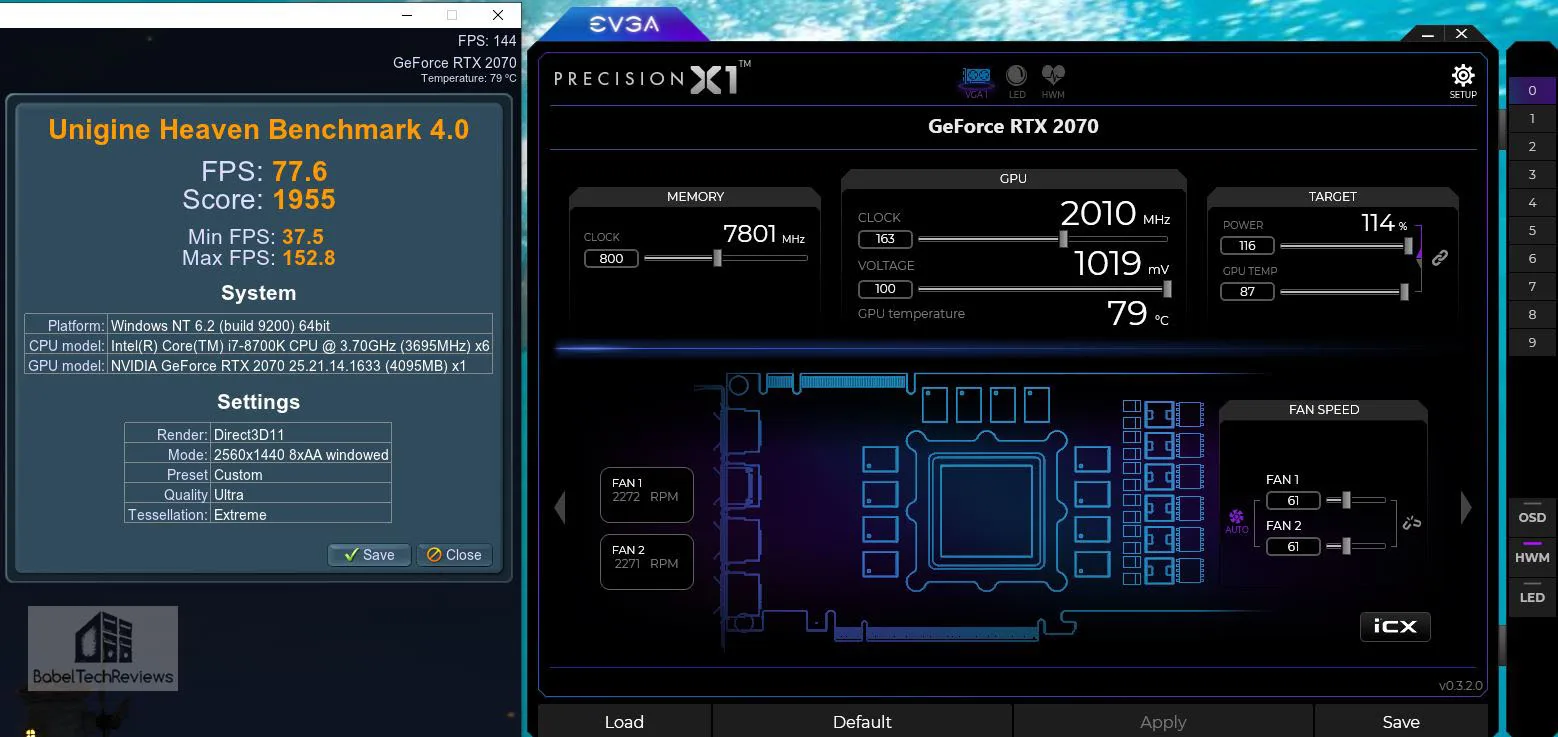 At stock settings with temperature and power targets set to maximum, looping Heaven resulted in a warm-running GPU with Boost 4.0 settling in right around 2000 MHz which was above the Black's 1950 MHz boost. However, the temperatures averaged around 80C which is higher than the Black's 65-70C temperatures. Maximum temperature for each cards is 88 C so the Black has more temperature headroom that it cannot take advantage of.
We also were able to add +600 MHz to the RTX 2070 Black's GDDR6 memory clocks and +700 MHz to the Founder Edition's memory offset. Performance went up, but the Founder Edition's temperatures remained in the low 80s C with the fan speeds maxing above 2300 rpm resulting in slightly more audible sound from the FE than from the Black.
Our final overclock will be explored later this week when we pit the Black against the Founders Edition and against the GTX 1080. In the meantime, we only had time to test five games plus Final Fantasy's TAA versus DLSS demo benchmark at 4K resolution to check the performance differences compared with the improvement that the Black got from its own overclock.
In all cases, we see that the Founders Edition overclocks slightly better than the Black does, and it maintains its performance lead over the entry-level RTX 2070. Both of our RTX 2070s have overclocking headroom that is similar to Pascal's overclocking headroom. It appears that around 2000 MHz is close to the limit for the RTX 2070 Founders Edition's cooling and power delivery systems with the Black averaging almost 50 MHz less.
Let's check the RTX 2080 Founders Edition versus the EVGA RTX 2070 Black's performance using 38 games and then head for our conclusion.
Performance Summary Charts & Conclusion
Here are the summary charts of 38 games and 2 synthetic tests. The highest settings are always chosen and the settings are listed on the chart. The benches were run at 1920×1080, 2560×1440, and at 3840×2160. Seven cards were benchmarked for this review and they are listed on the charts.
Most results show average framerates and higher is better. Minimum framerates are next to the averages in italics and in a slightly smaller font. A few games benched with OCAT show average framerates but the minimums are expressed by frametimes in ms where lower numbers are better.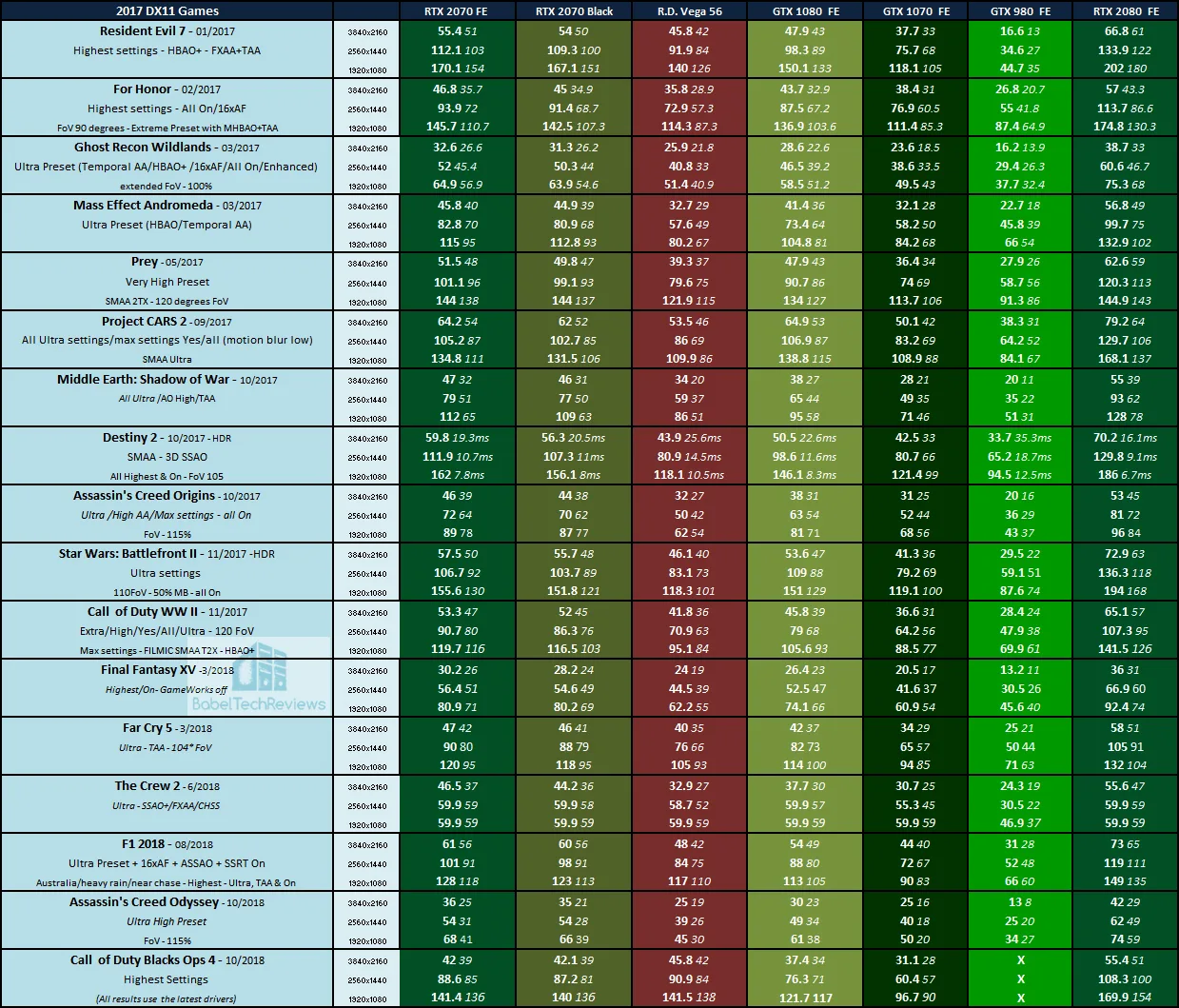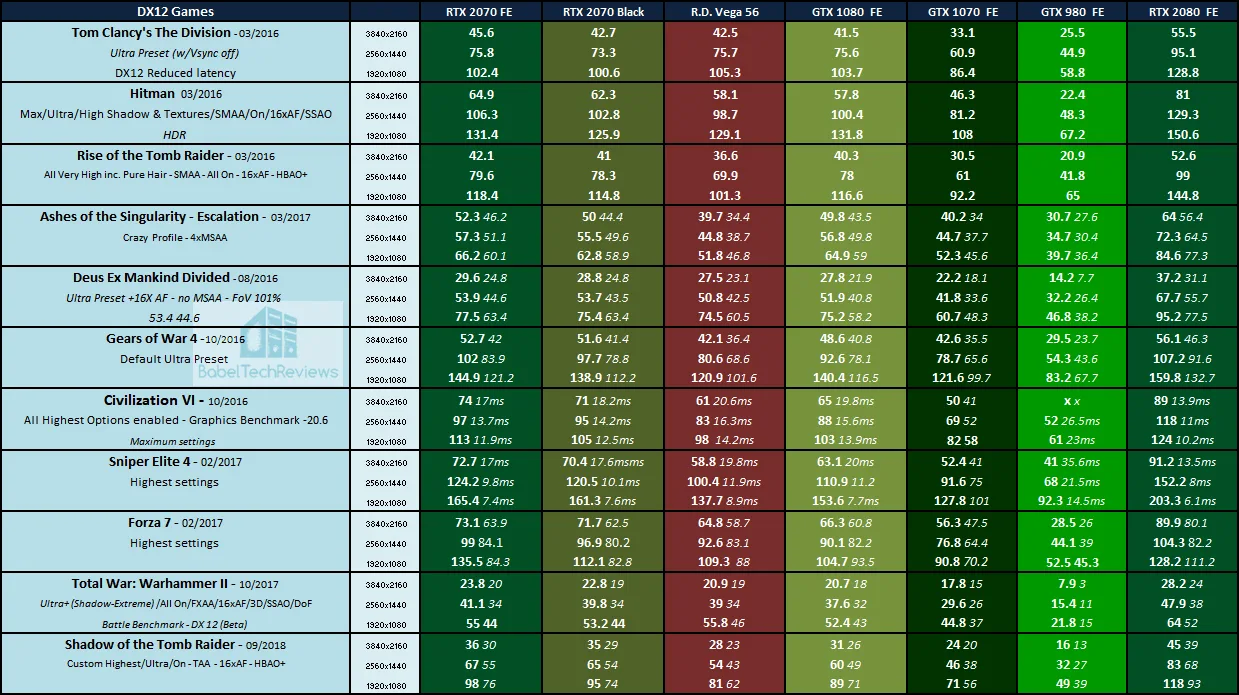 As in our earlier review, the $499 entry-level EVGA RTX 2070 Black wins almost every game benchmark over the $599 premium Red Devil RX 56 and also over the GTX 1080 by solid margins, and the $599 Founders Edition is a bit faster yet by means of its 90 MHz factory overclock. This means that at stock values the RTX 2070 Founders Edition will perform a bit better than the Black especially for 4K using Ultra/High settings for most games.
Both of our RTX 2070s are much faster than the GTX 1070 which launched at $379/$459, and there is no comparison with the GTX 980, never mind the GTX 970 which we did not test. The EVGA RTX 2070 Black or the Founders Edition would be an excellent upgrade from an older card without even considering future RTX or DLSS implementation.
Let's head for our conclusion.
This has been quite a hectic but enjoyable short exploration evaluating the new Turing RTX 2070s. They did exceptionally well performance-wise compared to either the GTX 1080 FE or to the premium Red Devil Vega 56. Although NVIDIA is betting their gaming future on introducing RTX and DLSS, we didn't even have to consider them but are basing our conclusions on performance. We consider future DLSS and ray tracing implementation into games as icing on the RTX 2070 cake that did not really impact this review.
Conclusion
We are impressed with the high-performance single 8-pin PCIe cabled Turing RTX 2070s that have great performance even at Ultra 4K. The entry-level EVGA RTX 2070 Black is priced at a reasonable $499 and it is faster than either the GTX 1080 in a similar price range or the $599 premium Red Devil RX Vega 56. The $599 Founders Edition of the RTX 2070 compares to premium GTX 1080s in price and also to premium RX Vega 56es, and is even faster than the RTX 2070 Black.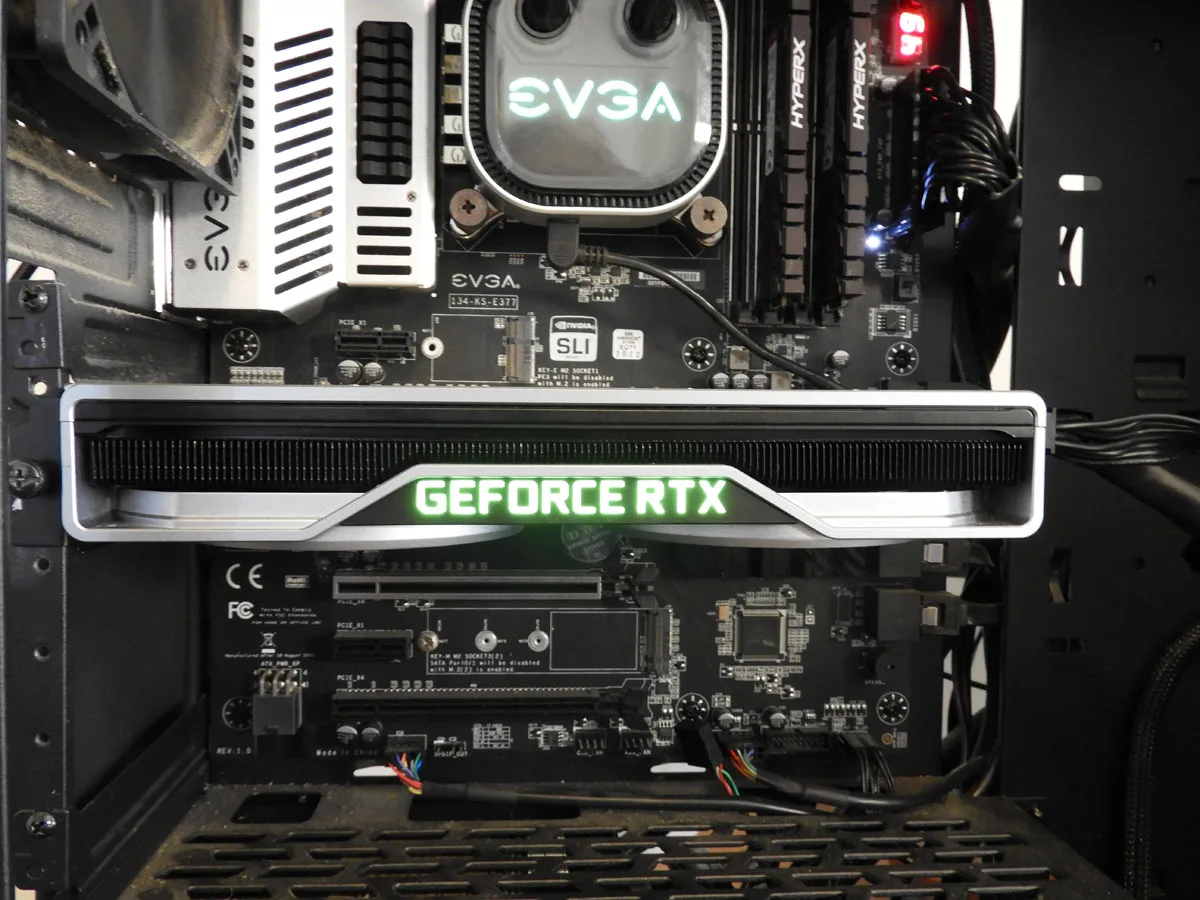 The EVGA RTX 2070 Founders Edition looks great in any case using a good solution by having the power cable enter from the side instead of from the front. It is well-built, solid, and good-looking, and it is easily overclocked. In our case, a preliminary +250 MHz offset over stock clocks were achieved with also a very good performance-enhancing 700 MHz offset to the GDDR6. Our follow-up overclocking showdown between the RTX 2070 Black and the Founders Edition versus the GTX 1080 will explore manual versus automatic overclocking further.
Pros
All-metal solid construction makes the RTX 2070 Founders Edition a sexy beast – it looks really outstanding in any case – and the power connector at the side makes arranging the power cables easier.
The RTX 2070 Founders Edition is a very fast card that performs better than a similarly priced GTX 1080 or a premium RX Vega 56, and it is a little bit faster than the EVGA RTX 2070 Black, and it also overclocks better.
The RTX 2070 Founders Edition is priced similarly to the GTX 1080's premium cards, but it has newer features and it is solidly faster.
Ray tracing is a game changer and a leap forward over rasterization.
Turing brings AI/deep learning and ray tracing to improve visuals while also increasing performance with DLSS over TAA.
Overclocking headroom is very good – GPU Boost 4.0 works with the Precision X1 scanner utility very quickly to set an automatic overclock.
The Founders Edition of the RTX 2070's design cooling is quiet and efficient; the card and well-ventilated case stay cool even when highly overclocked although it runs a bit warmer than the Black.
NVIDIA offers a 3 year warranty.
Cons
Price may be an issue for bargain hunters as it is $100 more than the entry level RTX 2070s, but it also offers more.
The Verdict: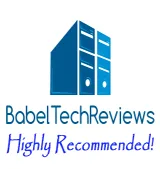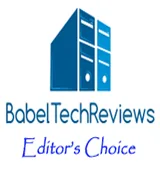 If you are buying a very fast video card and are looking for an exceptionally well-built and handsome card that can handle Ultra/High 4K performance, the NVIDIA RTX 2070 Founders Edition is an excellent choice. It will stand out from any other RTX 2070 by its design and high-quality all-metal build. The RTX 2070 FE is faster than a premium GTX 1080 or a premium Vega 56 at a similar price, and it has newer features.
We would like to award the NVIDIA RTX 2070 Founders Edition BabelTechReviews' Editor's Choice Award and our Highly Recommended Award. Turing brings important new features to PC gaming to improve both performance and visuals.
Any RTX 2070 brings a great high-performer to the GeForce RTX family with the Founders Edition distinguishing itself by its awesome looks and its premium build. With great forward-looking features, you can be assured of immersive gaming by picking this card for 1440P, 4K, or for VR.
If you currently game on a lesser video card, you will do yourself a favor by upgrading to a RTX 2070. It will give you better visuals for ray tracing, and DLSS will allow for better performance for the games that will use it.
Stay tuned, there is a lot coming from us at BTR. We will shortly test the RTX 2070 Founders Edition and RTX 2070 Black in an overclocking showdown this week versus the GTX 1080.
Happy Gaming!