The EVGA Z12 Gaming Keyboard Review
EVGA is known for its great GPU offerings but it has steadily been increasing its product line for the peripheral market, offering high-quality products for a reasonable price. The core PC experience centers around the keyboard, and if it has no soul or feels cheap, it is instantly noticeable. Keyboards are a staple to any PC, and for us gamers, they are a part of the KB+M arsenal we need.
EVGA's latest offering, releasing to the public on September 1, and for EVGA insiders on August 31, is the EVGA Z12 Gaming Keyboard. The Z12 keyboard offers an incredible value at an introductory $24.99 price at launch (normally $49.99 after the launch window) with full RGB backlighting, 5 programmable Macro Keys, Dedicated Media Keys, and full IP32 Water resistance.
EVGA may have a hit with the Z12's pricing and by nailing the core needs of a gamer, but it is not without its shortcomings.
Let's take a closer look at the Z12.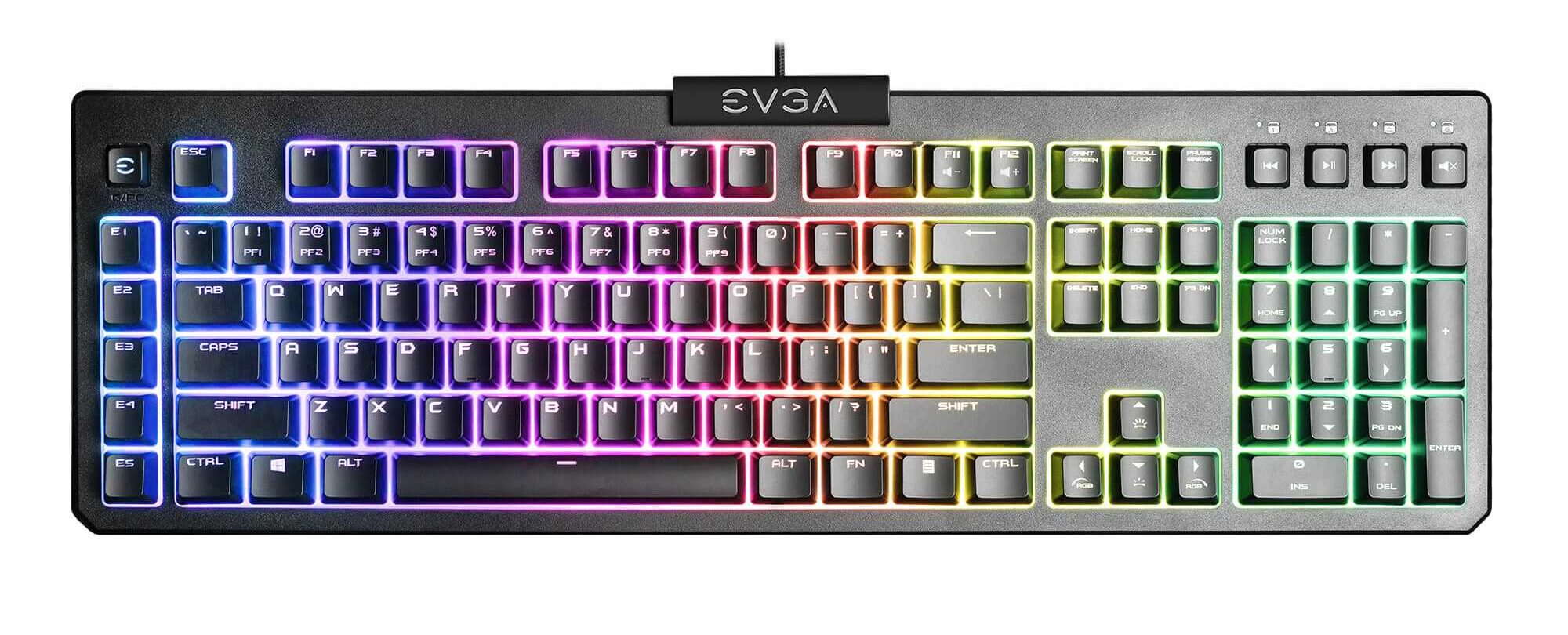 Unboxing the EVGA Z12
The back of the box boasts of some of the features for the Z12, including spill resistance, media buttons, and the fast response time of the keys.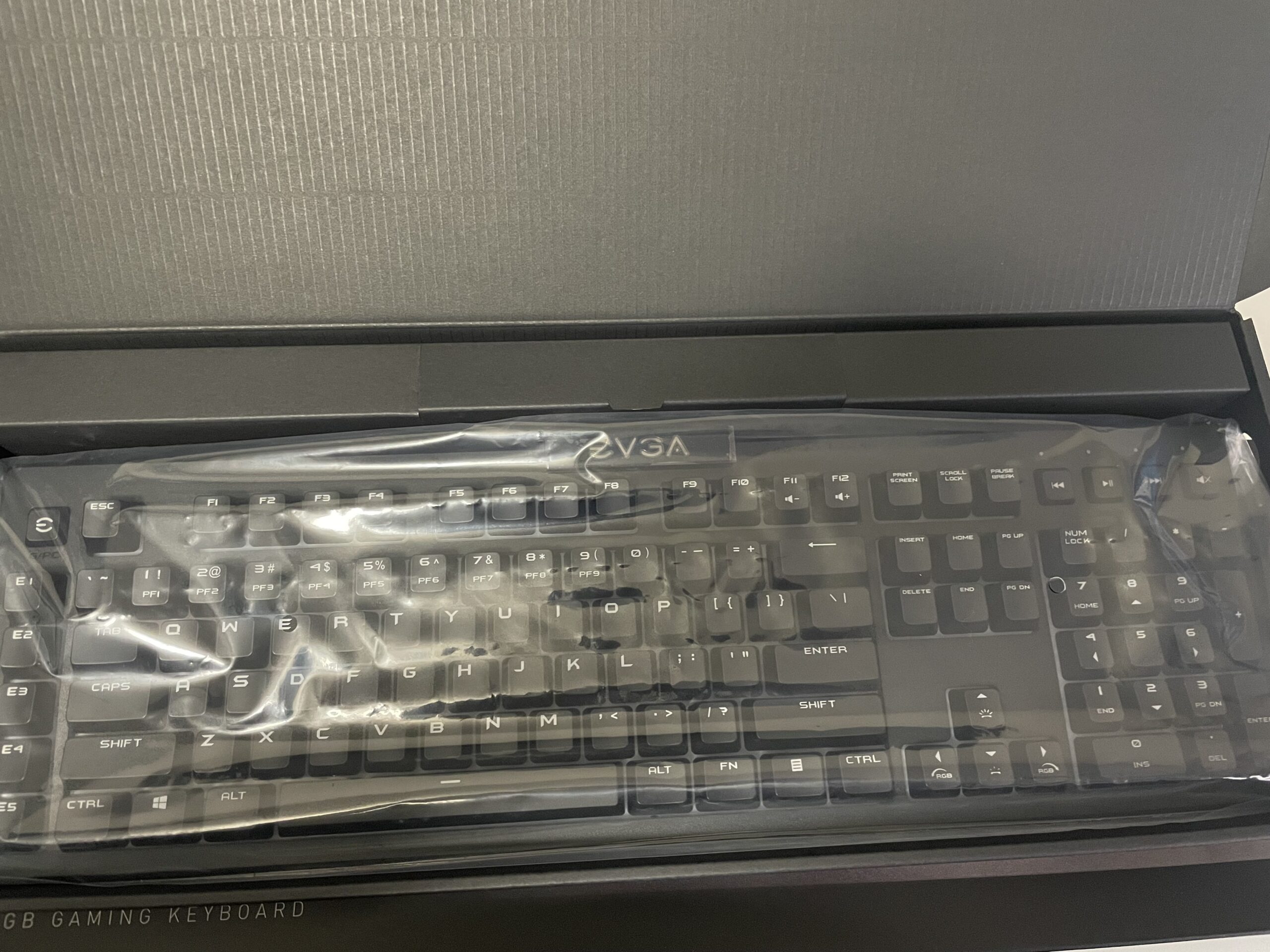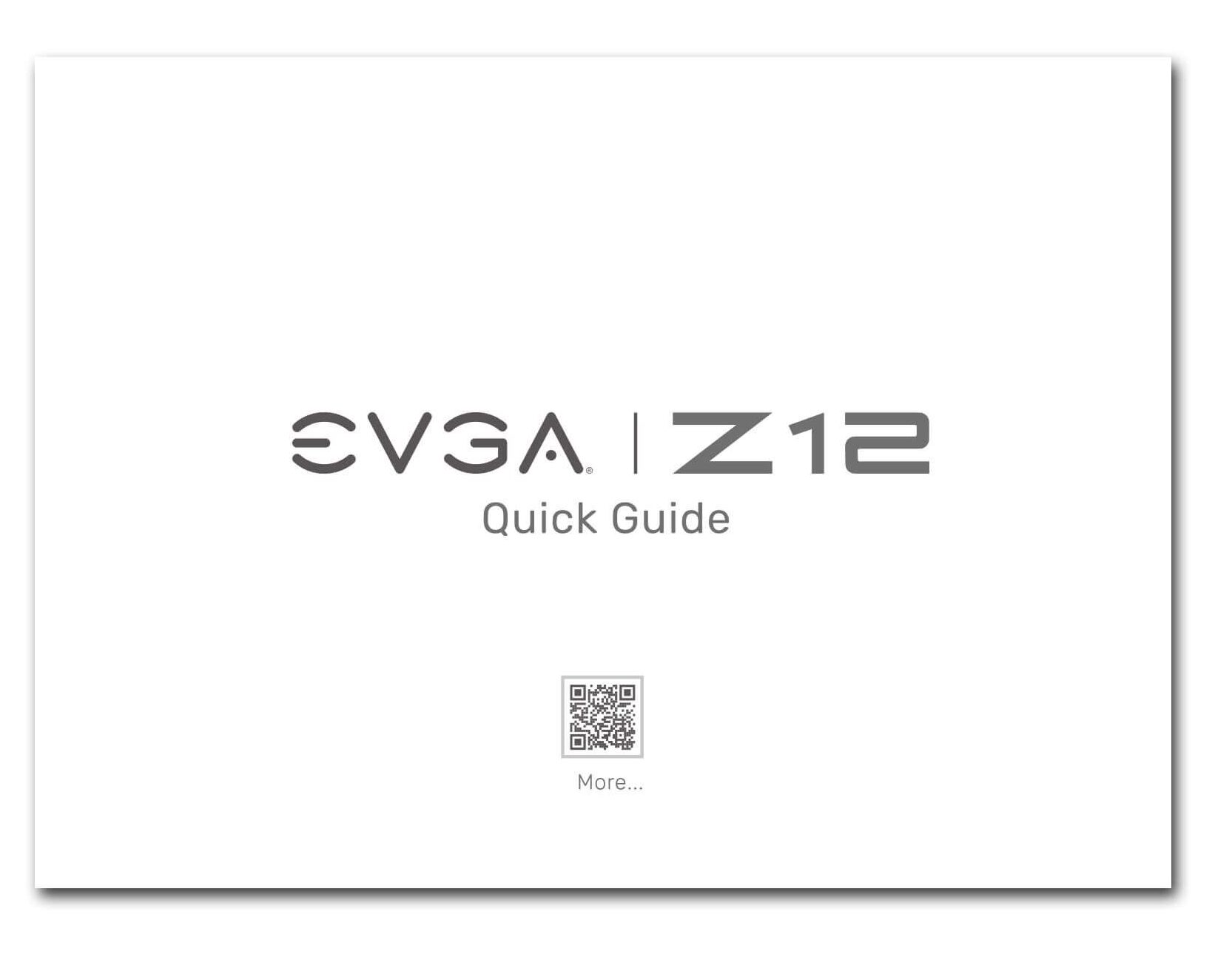 The keyboard comes with a typical manual. There is not much to see here, and it mostly points out how to connect the board via USB, how to control RGB using the typical FN key and arrow keys, and how to use the media buttons.
The Z12 Showcase
The EVGA Z12 is a large keyboard, coming in at 5.96 in / 151.5 mm wide and 18.62 in / 473 mm long. It has been slightly extended to accommodate the Macro keys to the left of the keyboard. Here are its full specifications:

Overall, the Z12 feels very premium. The keys are nice to use and the font chosen isn't some weird hybrid. The design is clean and we enjoyed using the EVGA Membrane switches.
Aesthetics and Design
The Z12 features 5 Macro keys that are fully customizable, including an EVGA "E" Game Mode key which simply disables a setlist of keys during gaming if you would prefer.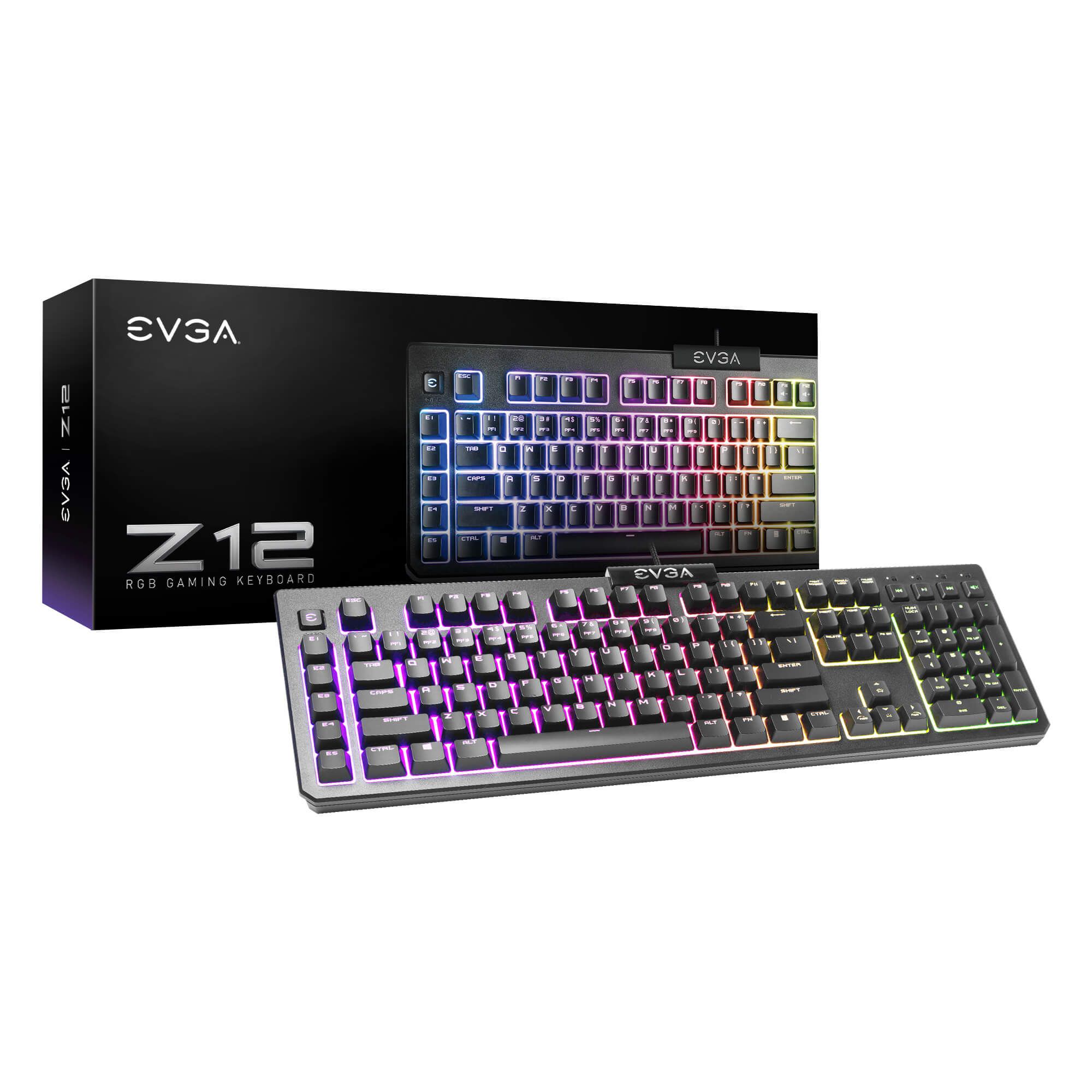 Macro keys are a common staple of some keyboards but I would much prefer a less cramped keyboard with bigger keys that are more important for gaming ala the ASUS ROG Strix Scope that we recently reviewed. I have never been a fan of these extra Macro keys and struggle to type comfortably as I tend to rest my hand slightly to the left.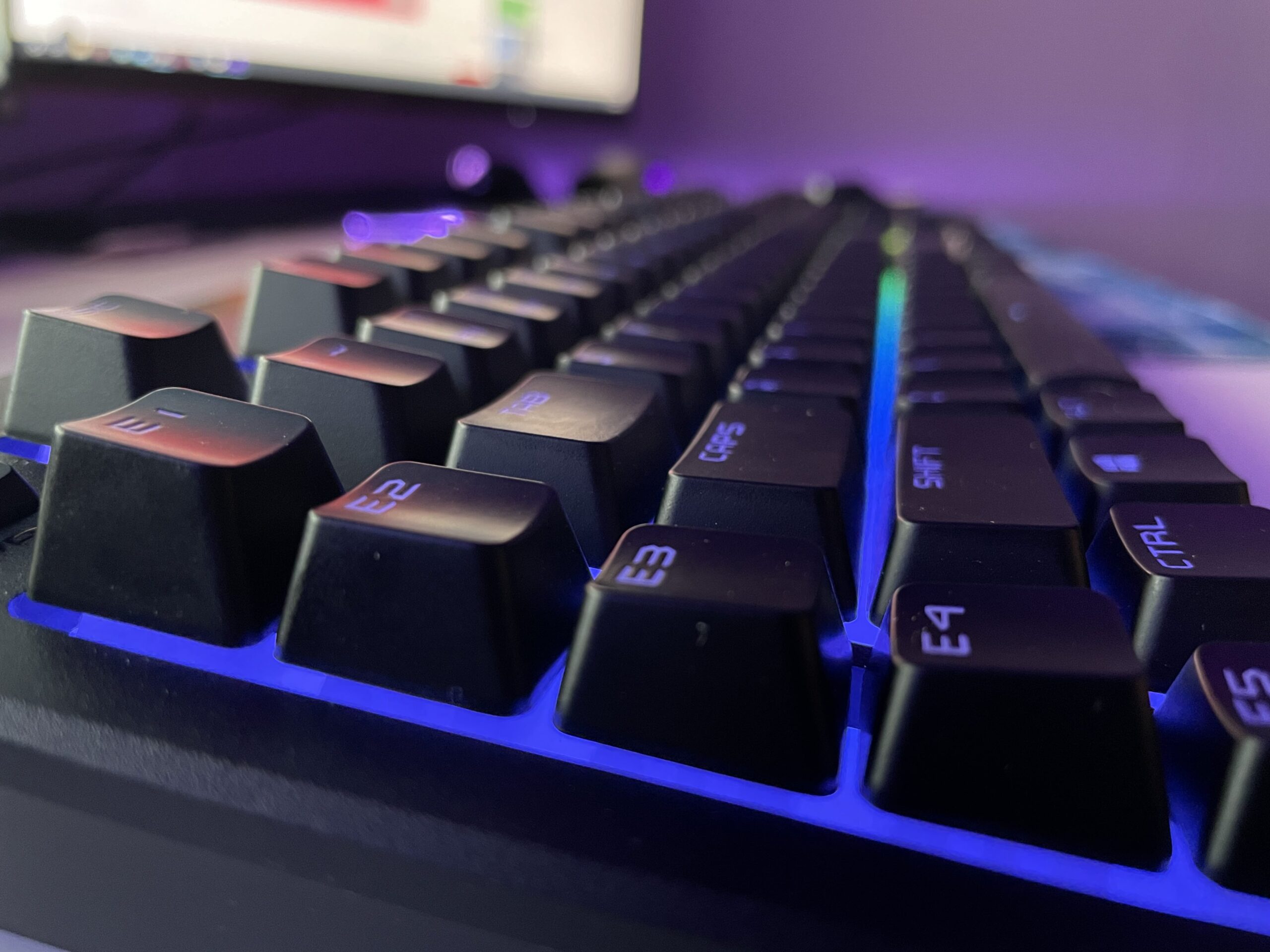 In the heat of the moment working remotely, I often accidentally press a Macro key instead of shift or ctrl as intended leading to an awkward look down and see where to press moment.
Over time, one can adjust to this, and while some gamers rely on these Macros, I would much prefer they not exist for the genres of games I play. The same goes for the game mode key – it is a nice feature, but I rarely use it and often forget it exists until I am deep in a gaming session. I would also have preferred more volume control for the media controllers than just mute.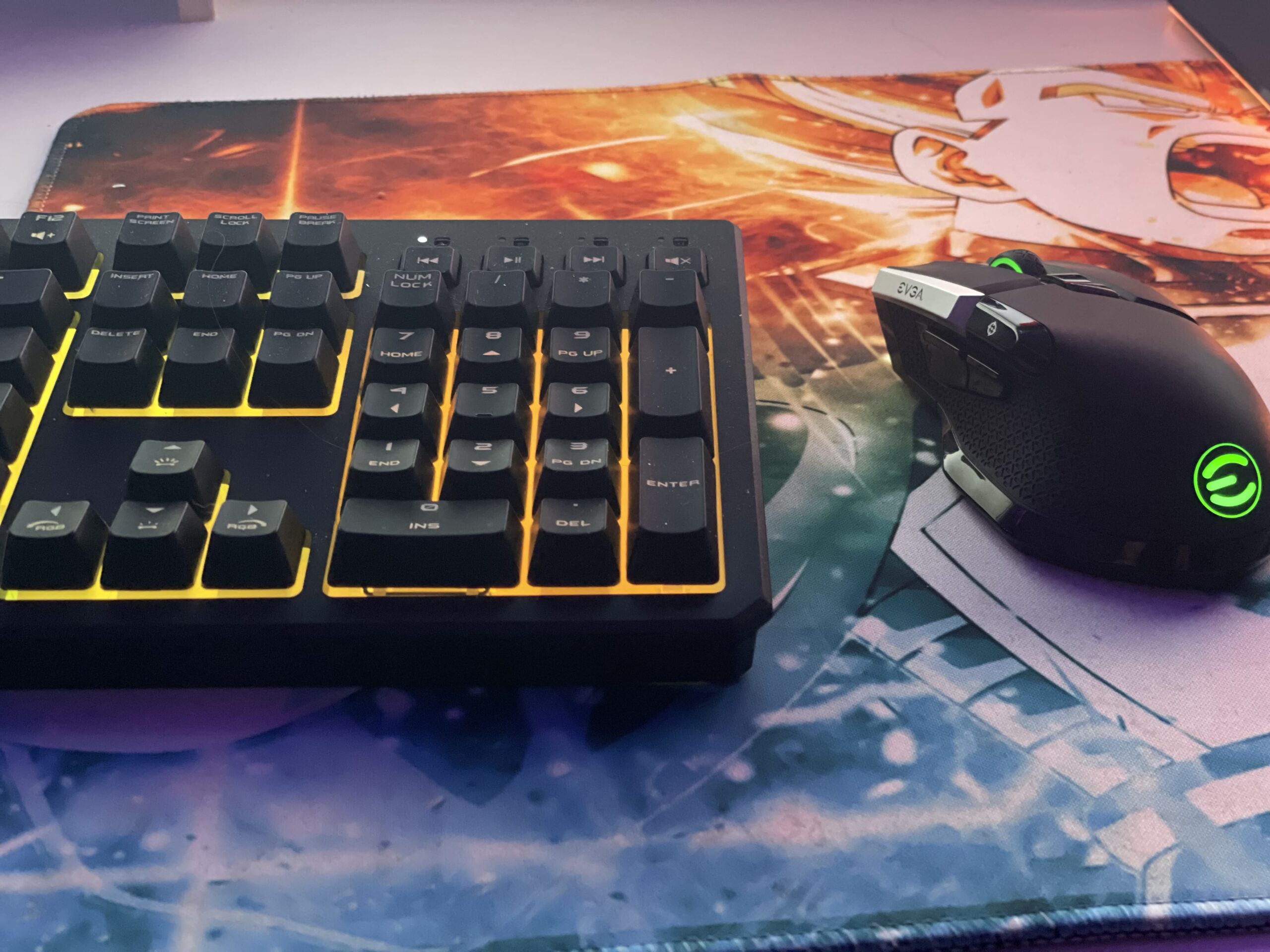 Brands tend to struggle with how much branding should be plastered over a product – EVGA does a decent job with a nice-looking logo at the top of the keyboard, although some may find it excessive. I like it and prefer the clean look of the rest of the board.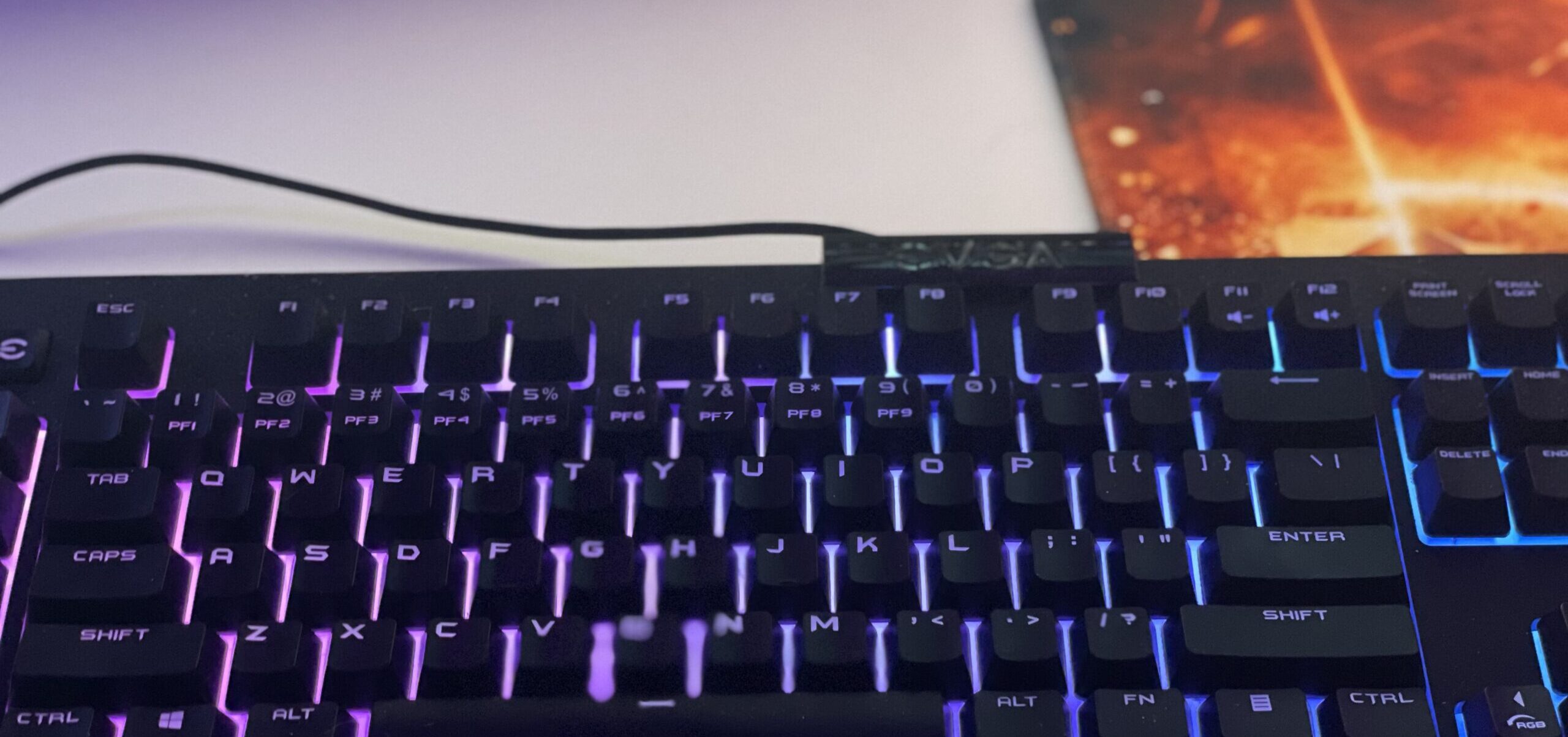 A keyboard lives and dies with its key choice – if something doesn't feel good to type with, the keyboard can turn ugly and become a frustration. Luckily, I really enjoyed the membrane switches of the Z12. I need a board that is sturdy, reliable, and can withstand abuse all day at work. I love mechanical switches, but customers I deal with on a daily basis do not want to hear the click-clacks in the background, so the balance here is perfect.
The EVGA Z12's keys are responsive, light, easy-to-use, and fun to type with. Besides the occasional struggle with the Macro keys, it is easy to recommend for any remote worker and gamer alike. The keys are also compatible with Cherry MX keys so a switch would be possible if you prefer that feel.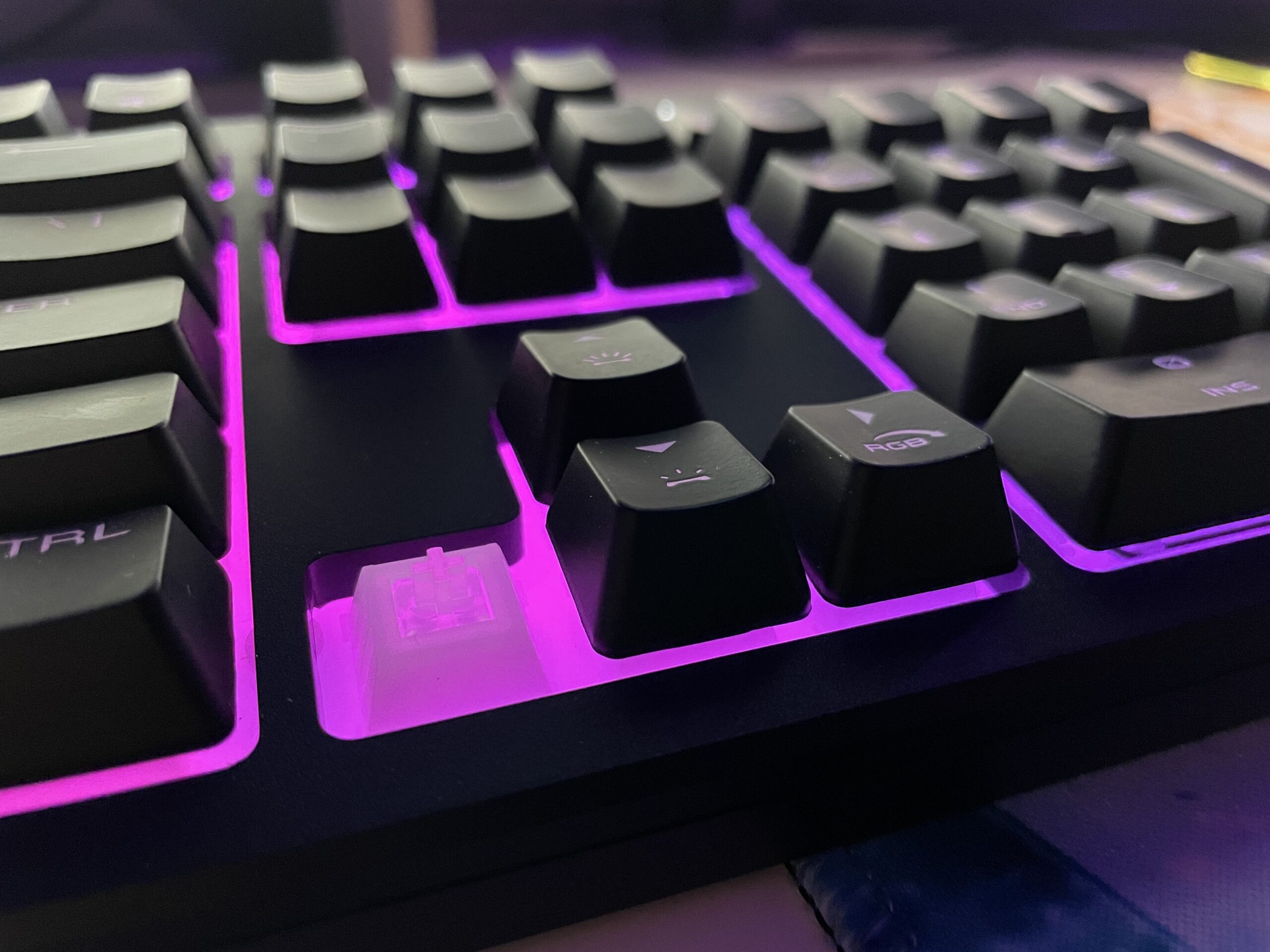 RGB Everything
The RGB trend is here to stay and I am here for it. I like a nice backlit keyboard and having full control of the colors is a must for me. Rainbow diarrhea is fun, but I need the ability to sync and manage my various products to fit the theme of my choosing. RGB can be often be hit or miss. Thankfully, the Z12 is sleek and elegant, and it features subtle but fantastic RGB lighting.
The EVGA Z12 Gaming Keyboard supports full key control using its "Unleash RGB" software, as well as 5-zone control for the Z12.
The software is decent and lets you control RGB easily for your EVGA peripherals – but unfortunately, it lacks the 3rd party compatibility I would like. I do not like it when my RAM, CPU cooler, PC, keyboard, and mice are all spewing random rainbows and not syncing with each other. This is a major issue I have with RGB everything and one I struggle with here.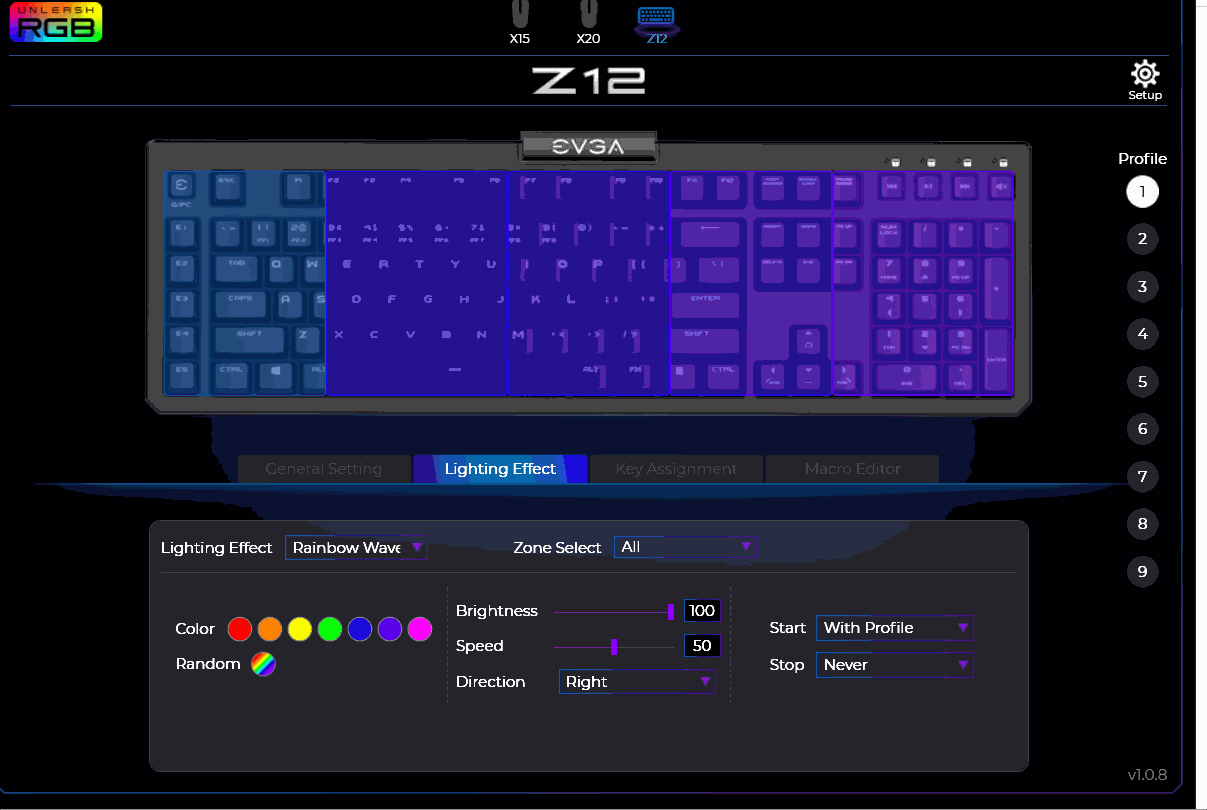 My T-Force RAM from TeamGroup, my MSI Magcore Liquid 240 R CPU cooler, my Asus Steel Legend Motherboard, my Razer Basilisk Mouse, Razer Firefly, and Lighstrips for my room all sync with each other using Razer Synapse and Alexa. With a couple of clicks, they all change, in sync with one another, all from different brands I like.
EVGA's keyboard and mice we are reviewing today do not sync with other peripherals – so I will have to limit my choices to a solid color or a wave of sorts if I want my KB+M to be in sync with the rest of my setup.
Features
The Z12 lacks the audio passthrough of the EVGA Z20 or even a USB port that most higher-end keyboards feature – but it's not a dealbreaker, and I would say that any gamer would love the Z12. The Z12 is crisp and responsive and easy to customize to your liking. However, I need a wrist rest as working all day with any keyboard can become quite tiresome.
The Z12 also does not feature the touted ToF, "Time-of-Flight," sensor of the higher-end Z20. This is a sensor that notices when you are near the keyboard or have left to wake or sleep your system. A nice addition, but I don't miss not having it.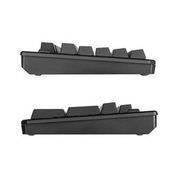 My previous board was the Razer Cynosa V2, a $59.99 offering with similar features: RGB control, media keys, membrane keys, a nice media control section, and no Macro keys. When comparing the two, the Z12 is an easy buy. It feels premium, whereas the Razer is more expensive but feels distinctly plastic. However, I instantly missed the ability to sync with Razer Synapse and with the rest of my setup. If this is important to you, it is something to consider.
Final Thoughts
Overall, I've come to enjoy the Z12 for its presentation. The Z12 is an affordable option for any gamer looking for a sleek and reliable keyboard. The Z12 is a great buy that features sleek and subtle RGB with comfortable-to-use and responsive membrane keys. With a high degree of RGB, 5 macro, and key customization, the Z12 is fun to use with a consistent and smooth typing experience.
My main issue is my ecosystem – I am deep in the Razer Synapse world that allows easy RGB control for a wide variety of brands. If EVGA improved the software or its compatibility with other brands, it would be fantastic.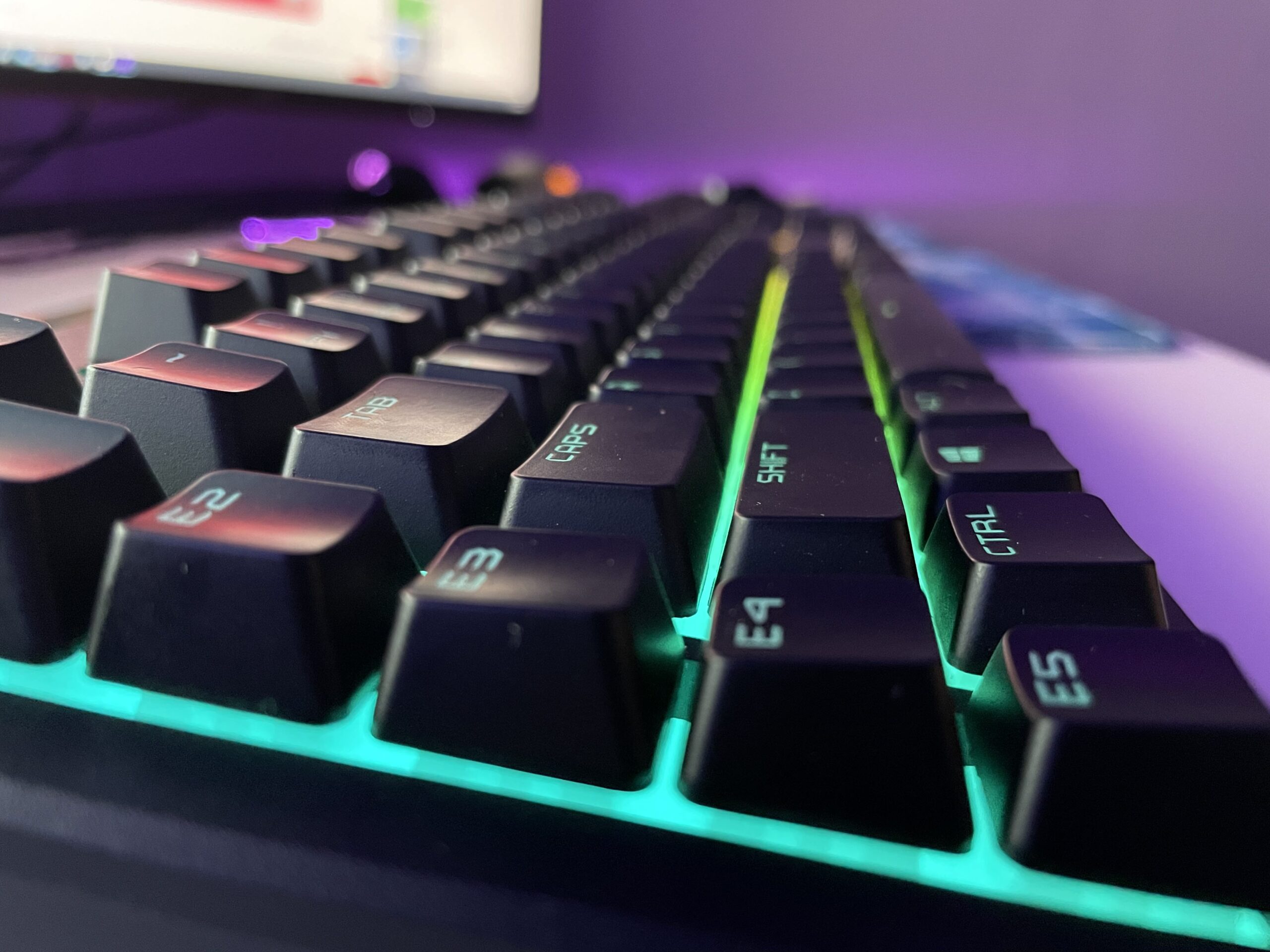 The Z12 is available to EVGA insiders today and to the public on September 1, for the half-off introductory price of $24.99. An insane value and an easy Editor's Choice for gamers who are looking for an affordable gaming keyboard. Even at the standard price of $49.99 we wholeheartedly recommend the EVGA Z12 gaming keyboard.