The ASUS ROG Strix Scope RX Optical RGB Mechanical Gaming Keyboard Review

A mechanical keyboard is a key component for any gaming system, and we gladly accepted a ROG Strix Scope RX mechanical keyboard from ASUS for review. We have been using it daily for over a month. It is good to see an optical RGB mechanical gaming keyboard that leaves nothing to envy others despite the wide variety of keyboards on the market. The ROG Strix Scope RX is a $129.99 high-end premium mechanical keyboard that stands out for its solid build quality, high degree of RGB customizations, and optical keyswitches for comfortable and fast response.
RGB is not a critical feature, but many enthusiast gamers like the style that the lighting adds, especially at night. The ROG Strix Scope RX capabilities will allow its color scheme or glow to perfectly match your preferences and the style of the rest of your RGB devices.
The ROG Strix Scope RX offers ROG RX (red) optical mechanical switches, N-Key rollover anti-ghosting function, per-key RGB lighting, 8 multimedia keys, a stealth hotkey, and an enlarged "Ctrl" key for FPS enthusiast gamers.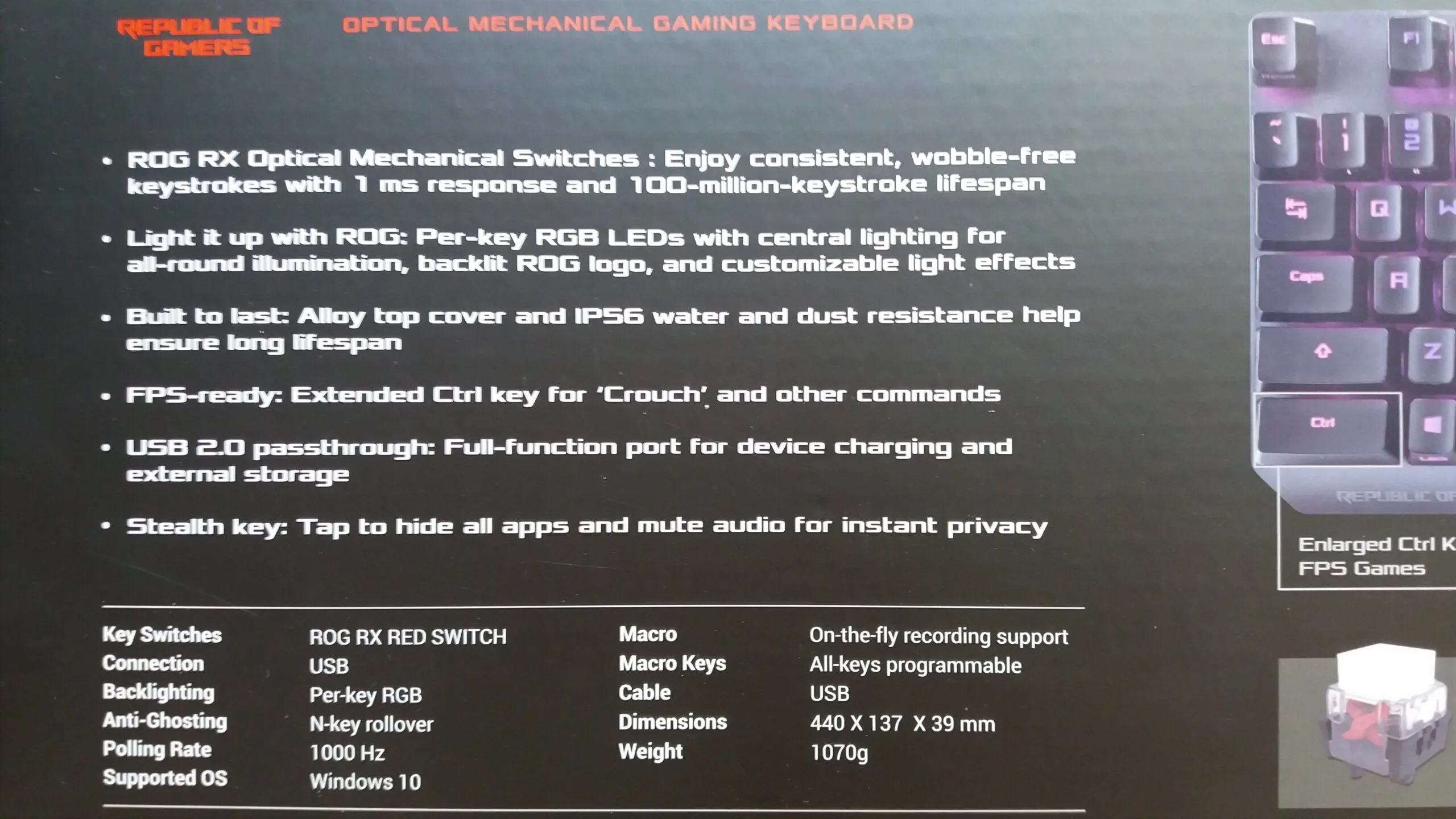 Here are the ROG Strix Scope RX keyboard features from the ASUS ROG web site:
FEATURES
ROG RX Optical Mechanical Switches for consistent, wobble-free keystrokes, and a 100-million-keystroke lifespan.
Per-key RGB LEDs with central lighting for all-round illumination, backlit ROG logo, and customizable light effects.
Alloy top cover and IP56 water and dust resistance to ensure a long lifespan.
USB 2.0 full-function port for device charging and external storage.
FPS-ready extended "Ctrl" key for 'Crouch' and other commands.
Stealth key to hide all apps and mute audio for instant privacy.
Quick-toggle switch to swift between function and media key input.
In addition, it allows on-the-fly macro recording, storage of up to five profiles on the onboard memory, and adjust settings via Armoury Crate software.
Let's take a closer look at the ASUS ROG Strix Scope RX optical RGB mechanical gaming keyboard.
Unboxing ROG Strix Scope RX Mechanical Keyboard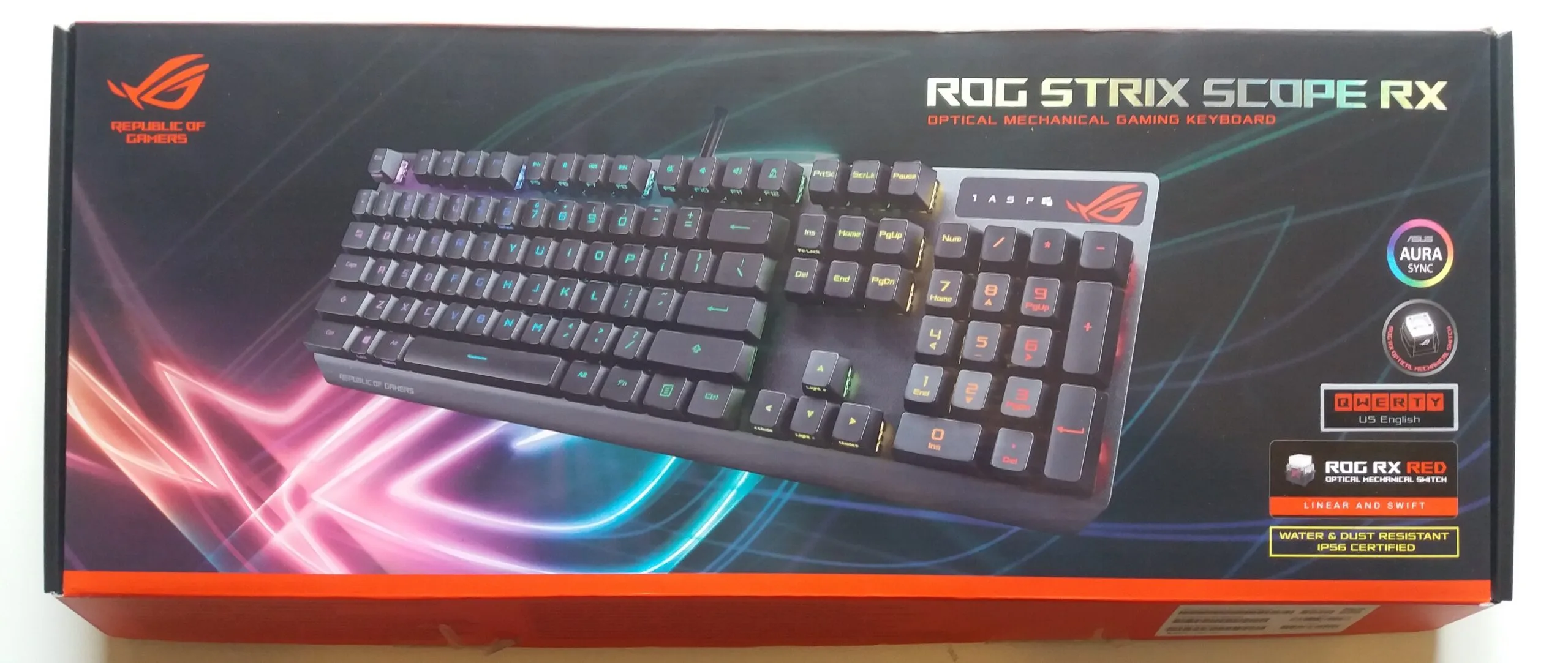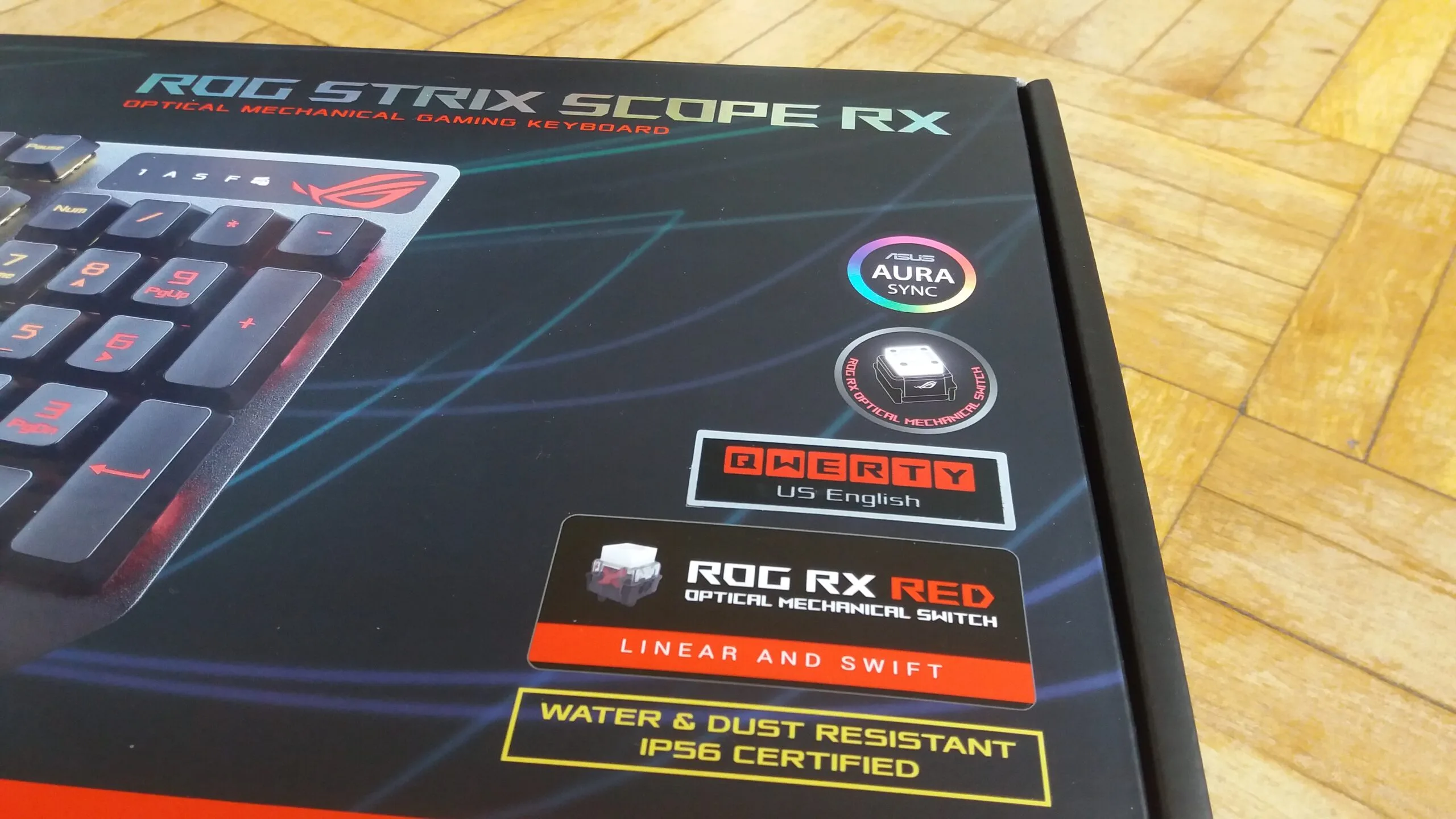 The ROG Strix Scope RX mechanical keyboard comes in a cool box that advertises Aura Sync, ROG RX (Red) optical mechanical switches for linear and swift response, QWERTY distribution, and water and dust resistance with IP56 dust certification.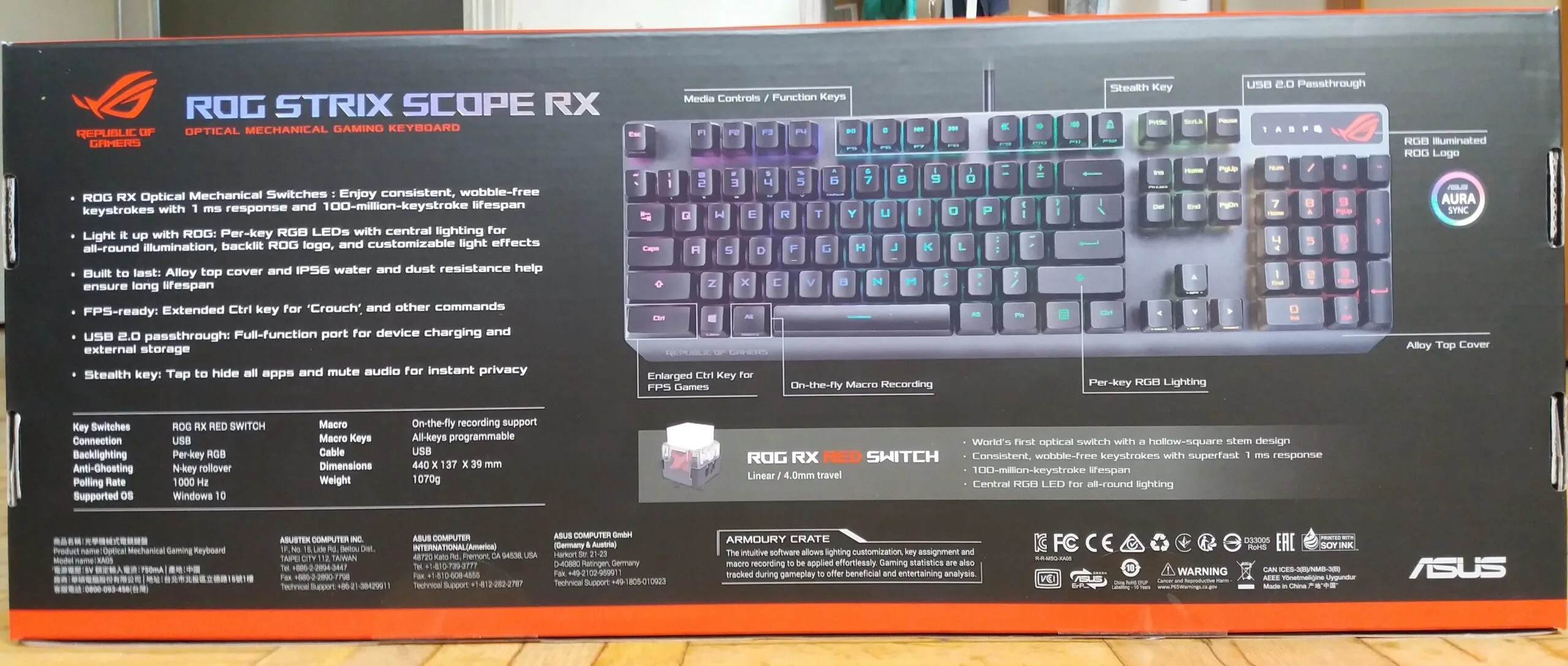 The other side of the box shows the keyboard's features, specifications, OS support, the location of the main multimedia and function hotkeys, and a brief description of the ROG RX (red) key switch.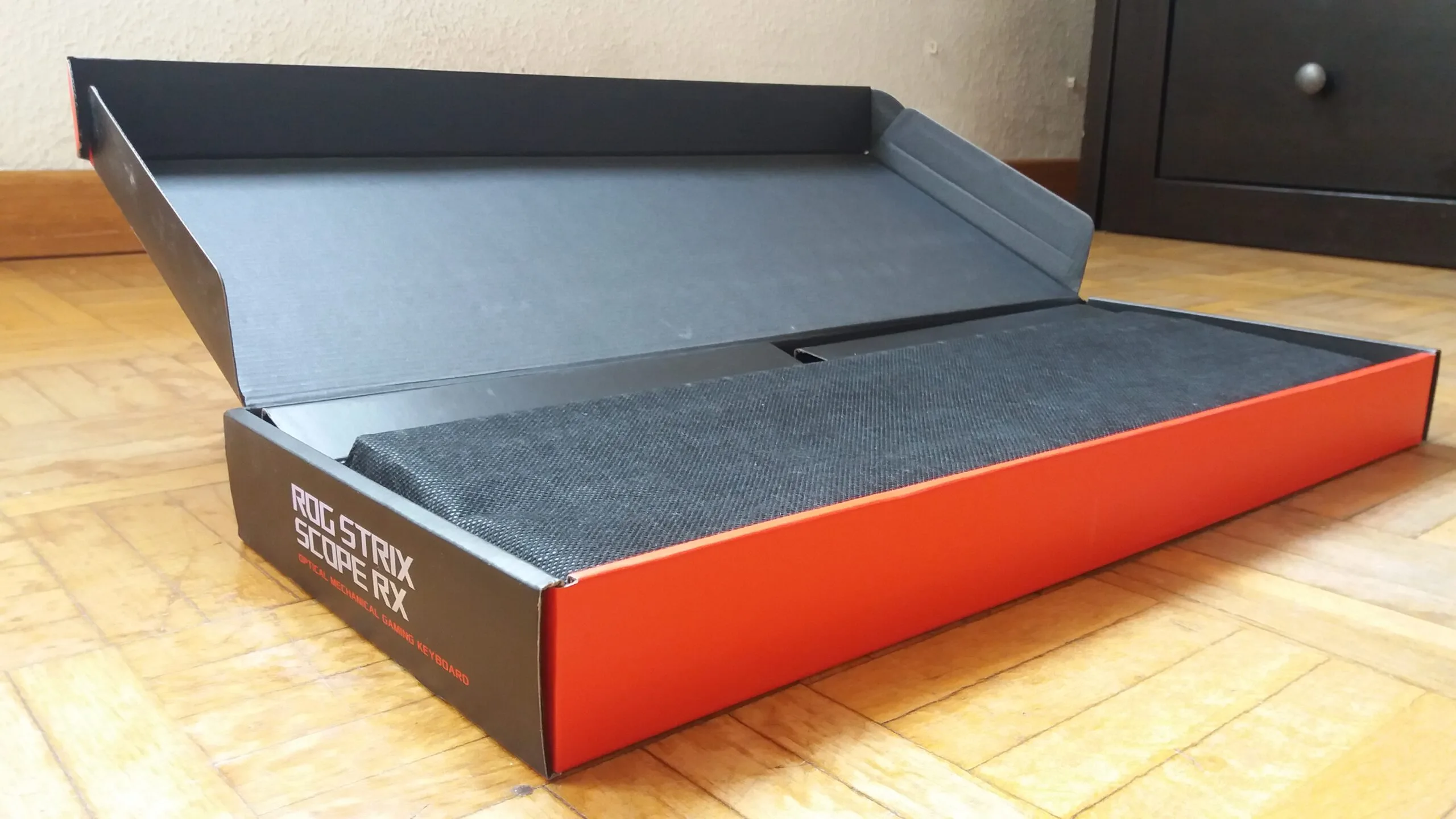 When we open the box, we see the keyboard inside a porous-appearing synthetic cover for protection.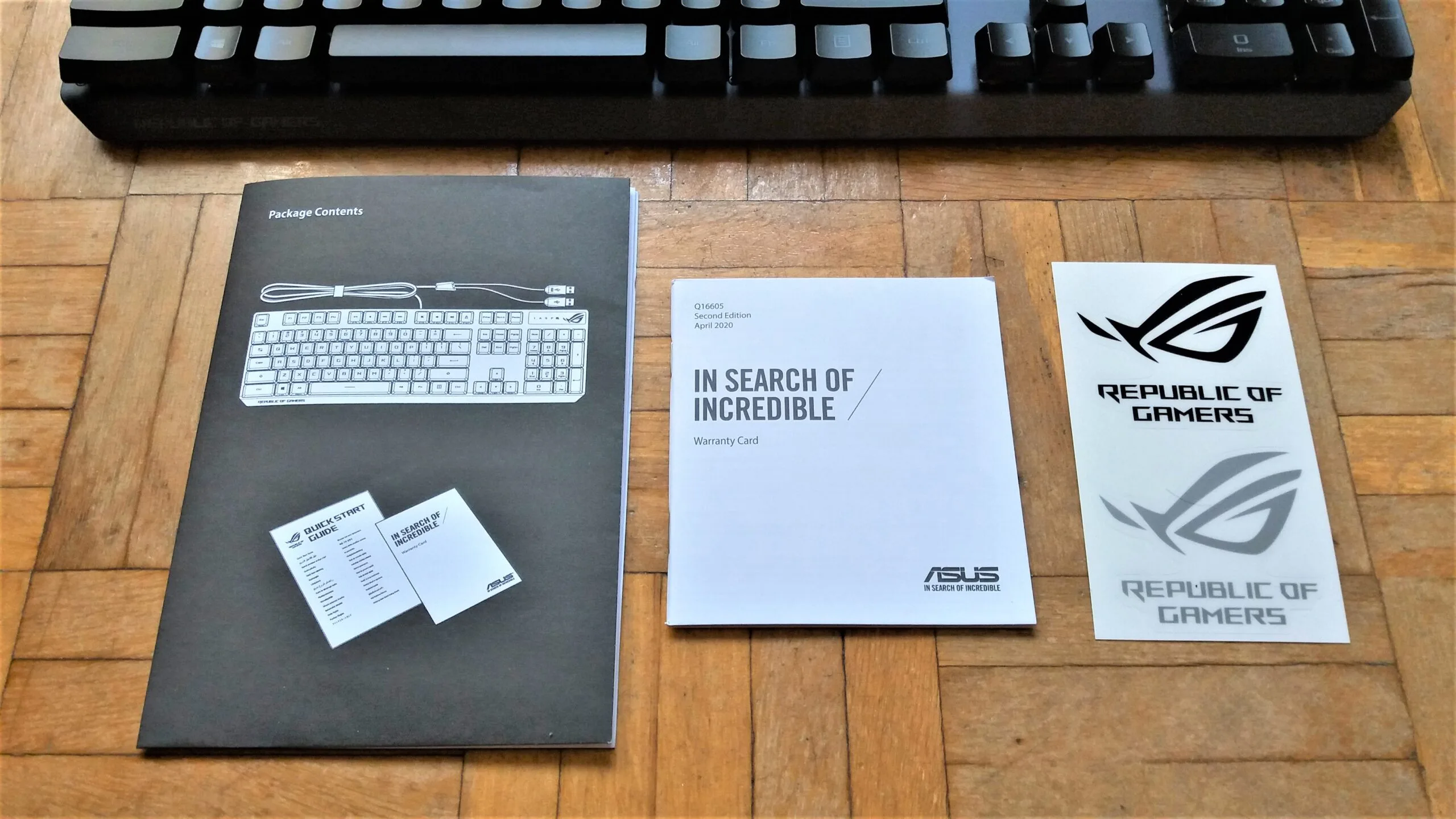 The box contains the RGB optical mechanical keyboard with its non-removable cable, a paper copy of the manual, the warranty card, and two plastic stickers with the ASUS's Republic Of Gamers (ROG) logo.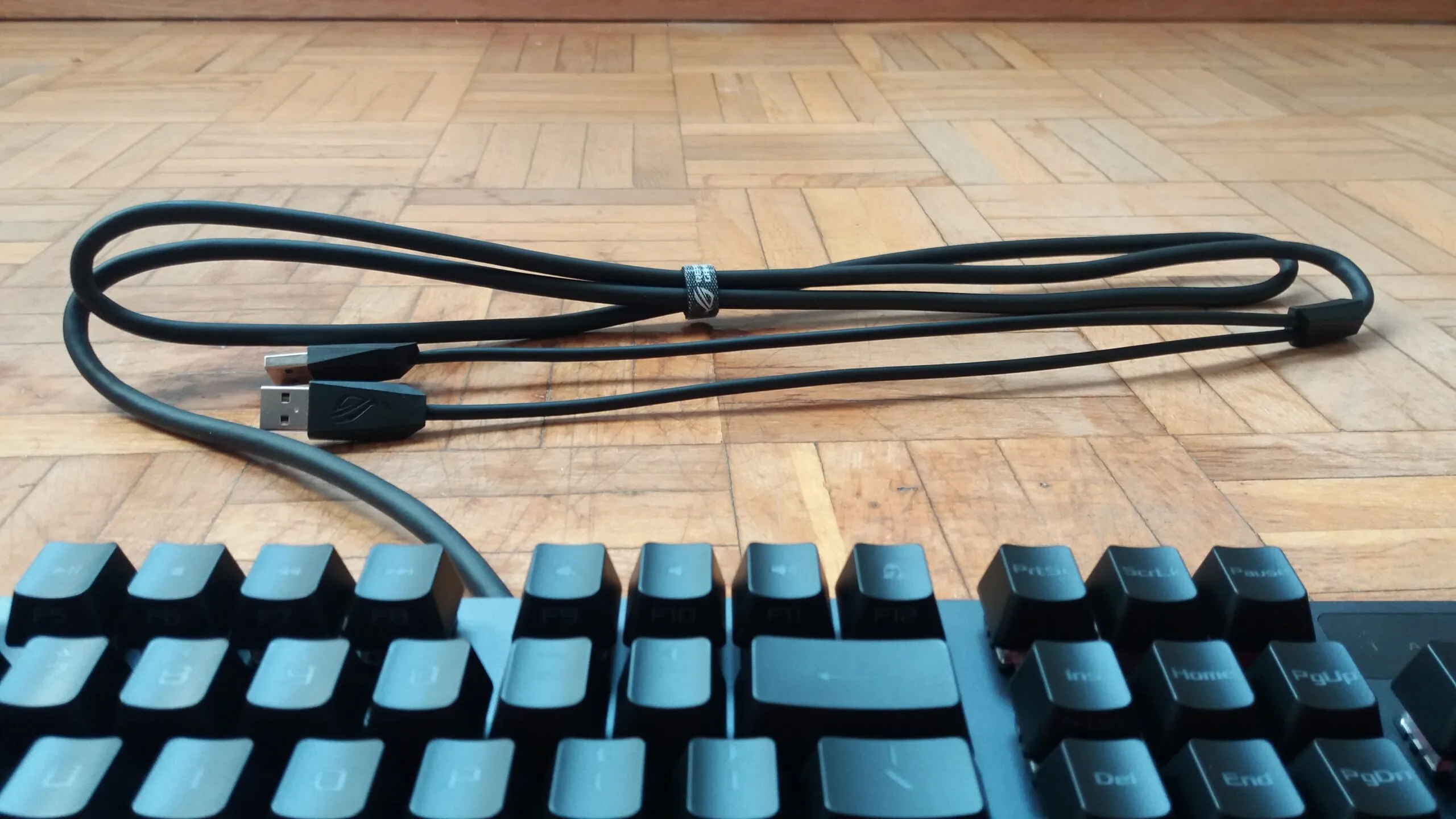 Here is the non-removable thick cable with its 2 USB plugs: one for the keyboard itself and the other one for the USB 2.0 passthrough.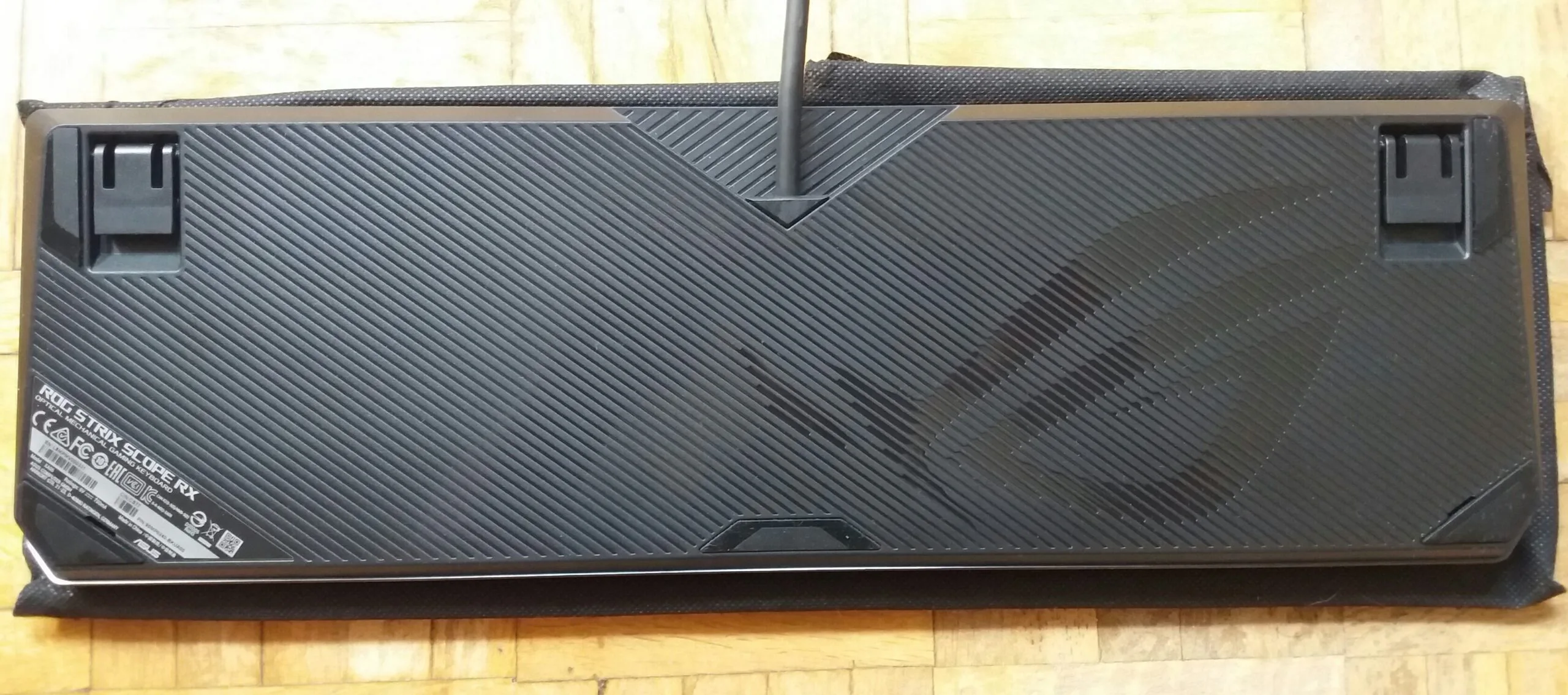 Turning the keyboard, we see its cable tucked inside and its feet system: 4 flat rubber feet and two flip-out foot stands with an 8-degree tilt angle and rubber tips. We also see a patterned design with a massive ROG Eye logo.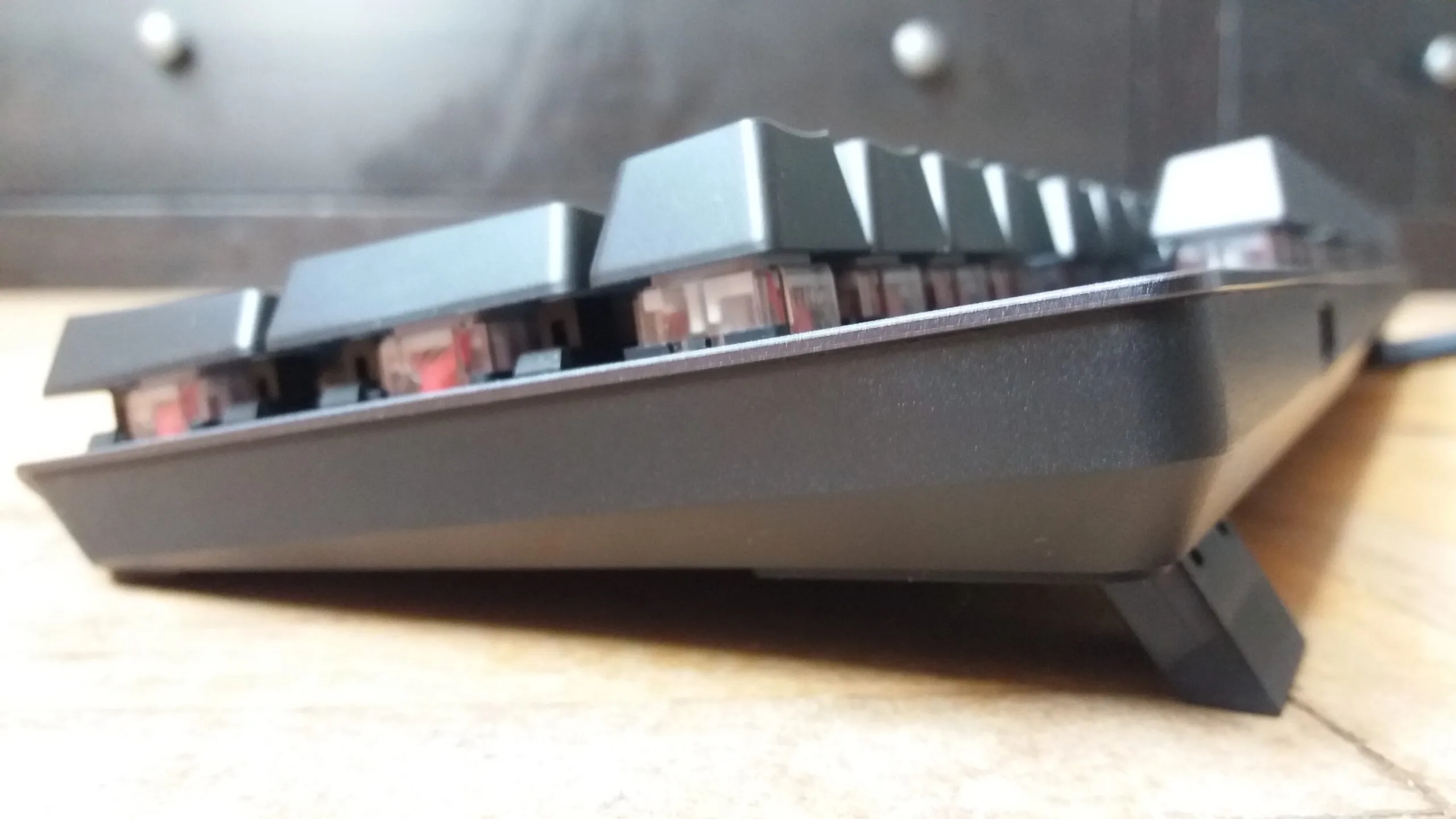 Above you can see the keyboard tilt when using the 8-degree foot stand.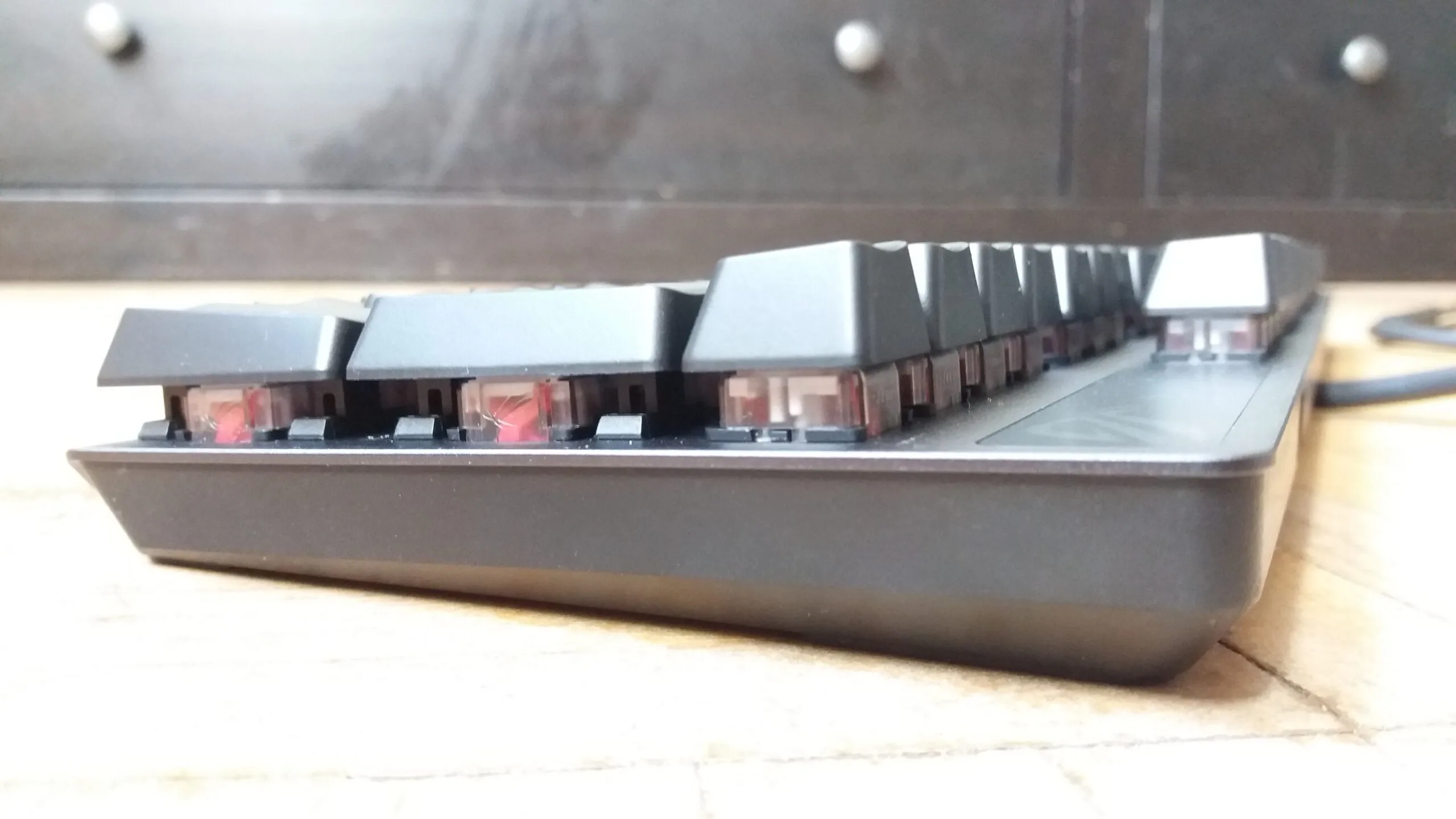 We also see here what the ROG Strix Scope RX looks like when using its flat rubber feet.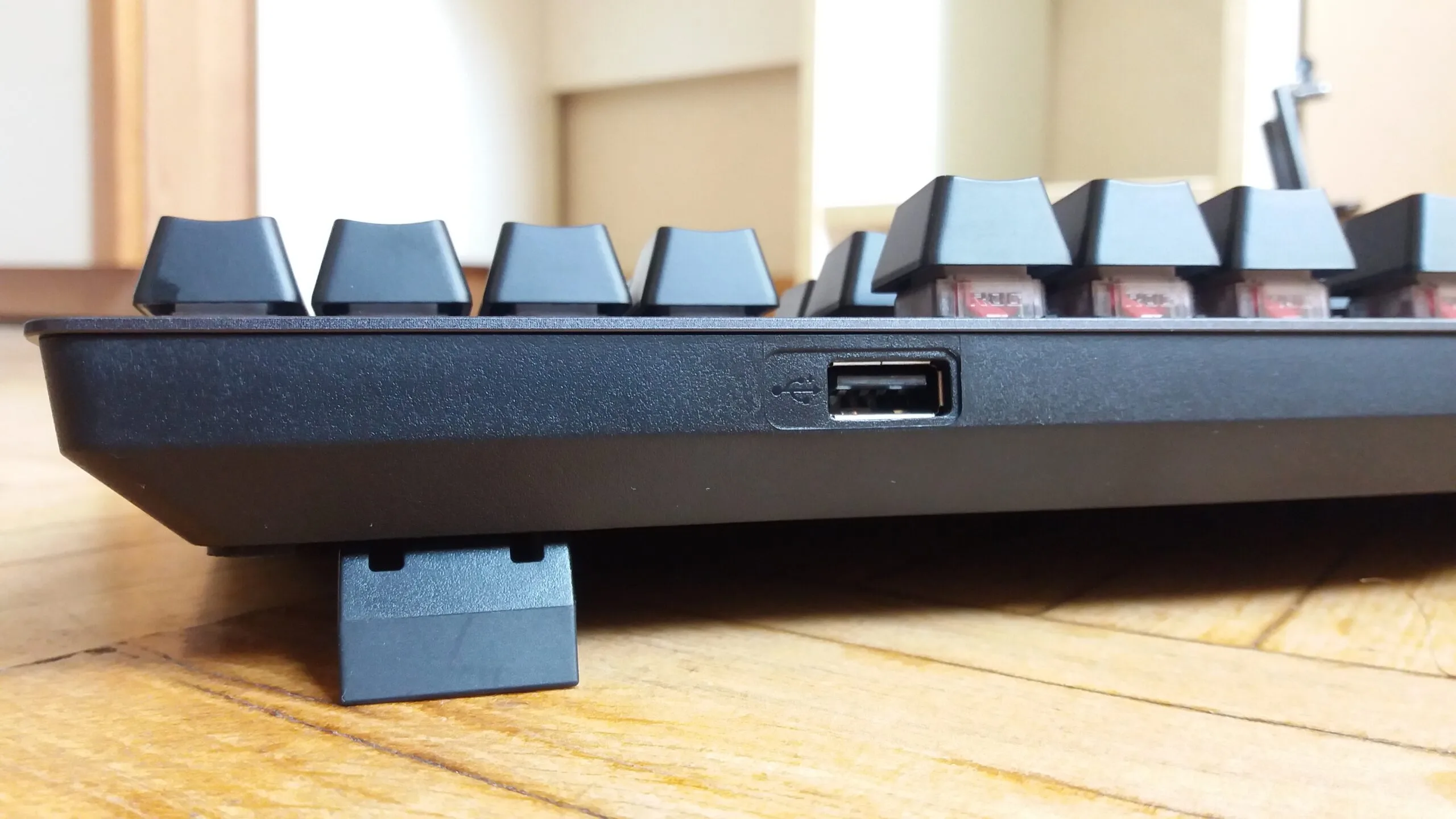 In the photo above you can see the USB 2.0 port.
Next, let's see what the ROG Strix Scope RX looks like lit up once it is connected to our PC for the first time.

As you can see in the photo above, the ROG Strix Scope RX offers an RGB keyboard backlight. It's highly configurable both manually and through the i-Rocks' software, allowing per-key RGB lighting as well.
Impressions: Testing the ROG Strix Scope RX Mechanical Keyboard
Setup
Installing the ROG Strix Scope RX is very easy. Basically, it's plug-and-play. Turn on your PC and connect the two USB plugs into two available USB ports on your system. The OS will automatically detect the keyboard and you can use it after detection even without installing its additional software. This is because, except for the selection of some additional lighting effects, all its functionalities can be controlled manually via its hotkeys and special key combinations.
This plug-and-play experience is always very interesting and valuable for enthusiast gamers who want to enjoy the full functionality of their device without the need to install applications or run them in the background.
Lighting & Multimedia
One of the main strengths of any quality RGB gaming keyboard is undoubtedly its quick configuration and customization through hotkeys. The ROG Strix Scope RX is not an exception in this regard. Our experience of using it confirms this, since, with the help of its complete quick start guide and its "Fn" and "Right-Alt" keys, we can use the main lighting functions this keyboard offers us.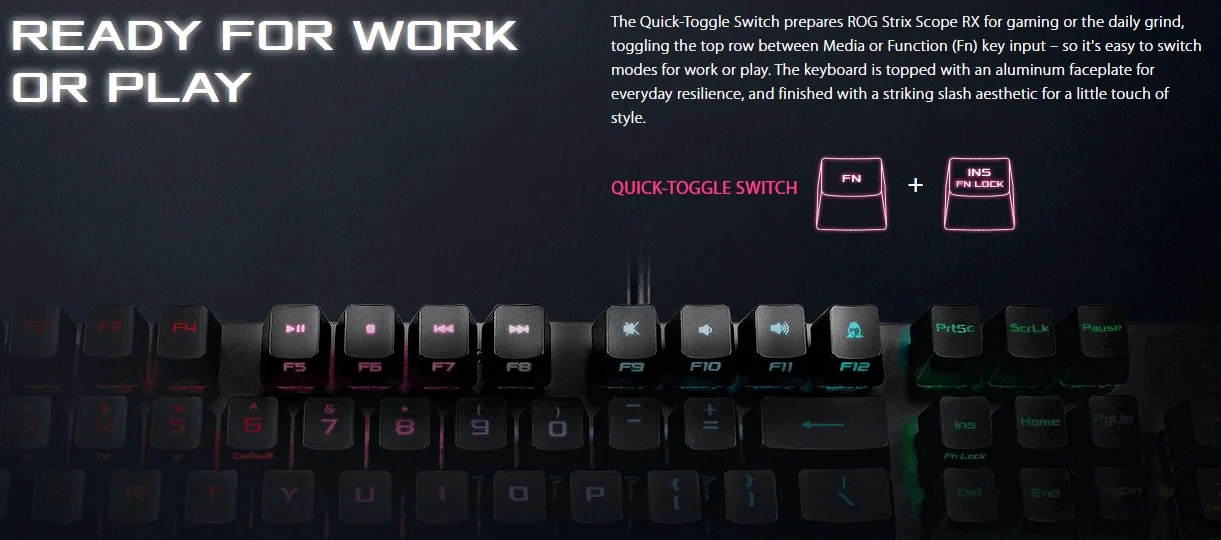 Although it isn't useful to reproduce the entire long list of hotkeys and their effects here (well detailed in the Quick Installation Guide), it seems useful to briefly describe and comment on our experience with the hotkeys of some key functions. The following picture shows you the location and distribution of the special stealth key and the main media and function keys of the ROG Strix Scope RX:

For example, we like to quickly toggle between system function and media control for the F5-F12 keys through an easy key combo ("Fn"+"Ins"). Another important feature that is also easily accessible via hotkeys is the quick switch of both color profiles and lighting effects using the key combo "Fn"+"1-6" (profile switch) and "Fn"+"Right" or "Left" (light effect switch), respectively.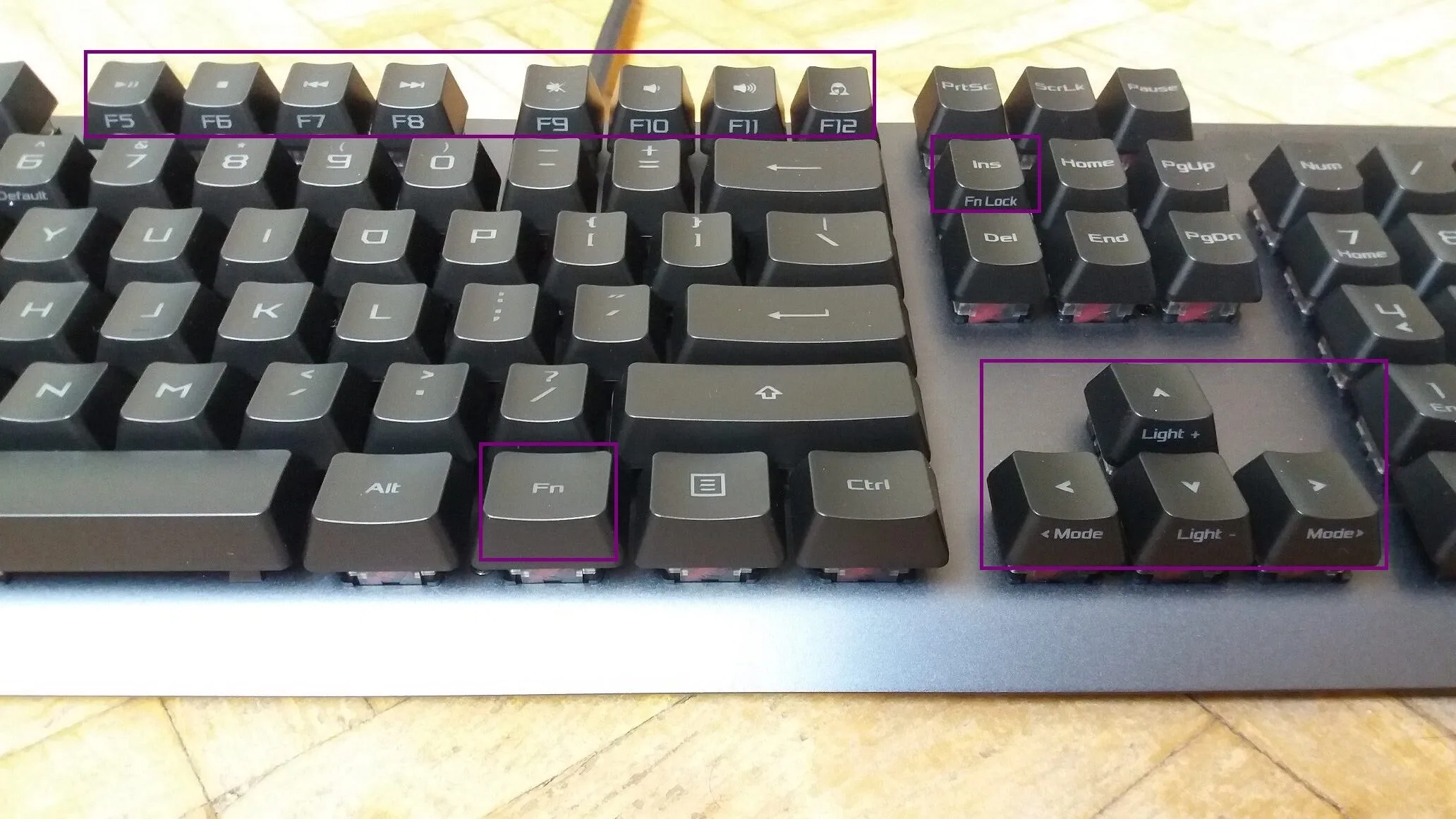 The hotkeys that allow on-the-fly macro recording and color customization deserve special mention. For the macro recording process, you can start and end recording your own macro via two easy hotkeys ("Fn"+"Right-Alt" or "Fn"+"Right-Alt", respectively), and for customizing the color, you can increase independently the RGB color level (10 levels) using the key combo "Fn"+"Delete", "Fn"+"End", or "Fn"+"Down" for the red, green and blue color, respectively.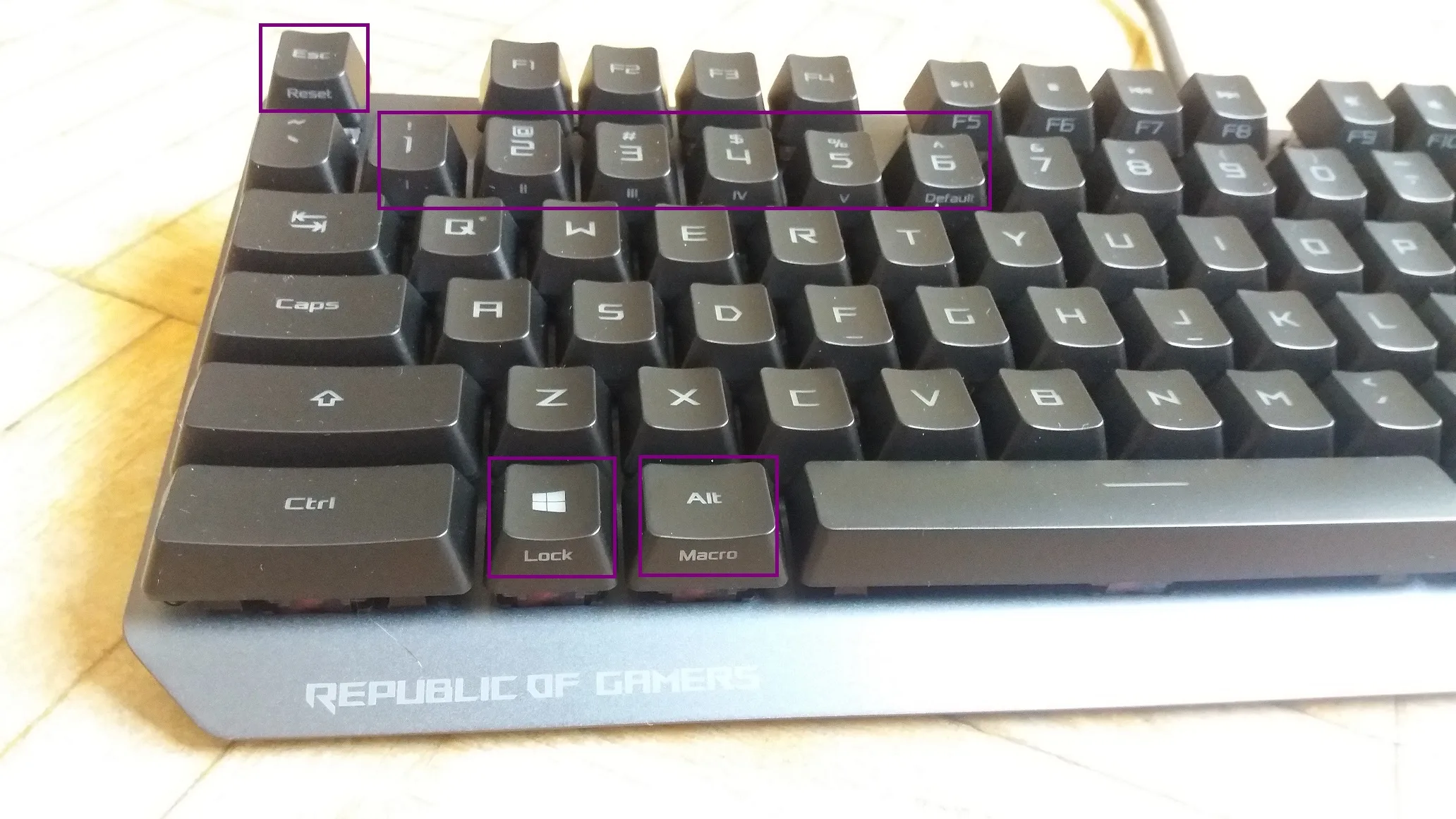 Finally, you can easily and quickly minimize all active windows and mute your system, or maximize all minimized windows and unmute the system, by pressing the "F12" key (Stealth key) when media functions are active.
Typing & Gaming
In this section, we describe our personal experience and the "feel" of using the ASUS ROG Strix Scope RX in both typing and gaming scenarios.
First of all, the feeling that the ROG Strix Scope RX produces when typing is very good overall. Its ROG RX (red) optical mechanical keyswitches offer excellent response and precision when typing. This gives us a consistent and smooth feeling of fluidity without interruptions when writing long texts, for example. Red keyswitches are known to bring a quiet keystroke, and the ROG Strix Scope RX isn't an exception. This will be appreciated by users who prefer the "linear" keystroke of the red switches for smooth, consistent, and noiseless typing. We consider that the noise level of the ROG Strix Scope RX's optical mechanical switches when typing is low and with minimal tactile feedback. You can hear it in action from here (source, ASUS).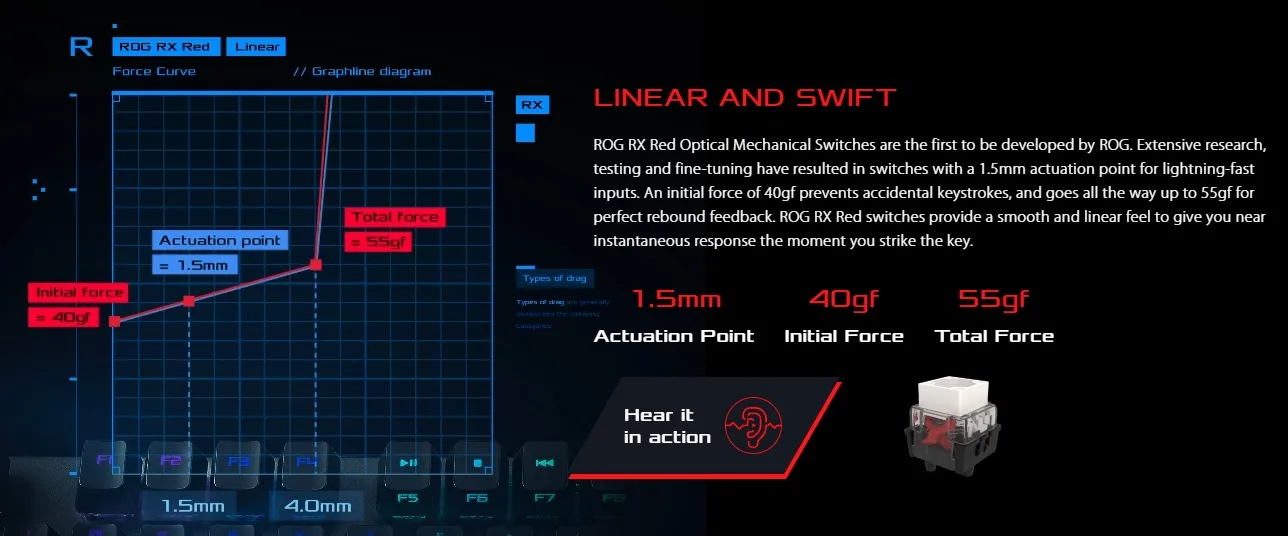 The ROG Strix Scope RX performs great while gaming. It offers an excellent feel in terms of fast latency and precision, offering noiseless, fast, and accurate responsiveness when playing all types of PC games. Special mention concerns its consistent and swift keystroke bringing high precision when playing highly competitive games like multiplayer FPS games. ASUS states that the ROG Strix Scope RX response time is 1 ms, and we confirm its low input lag by our own testing. We consider the ROG Strix Scope RX an excellent mechanical KB for gaming purposes, especially for FPS gamers and silent keystroke lovers.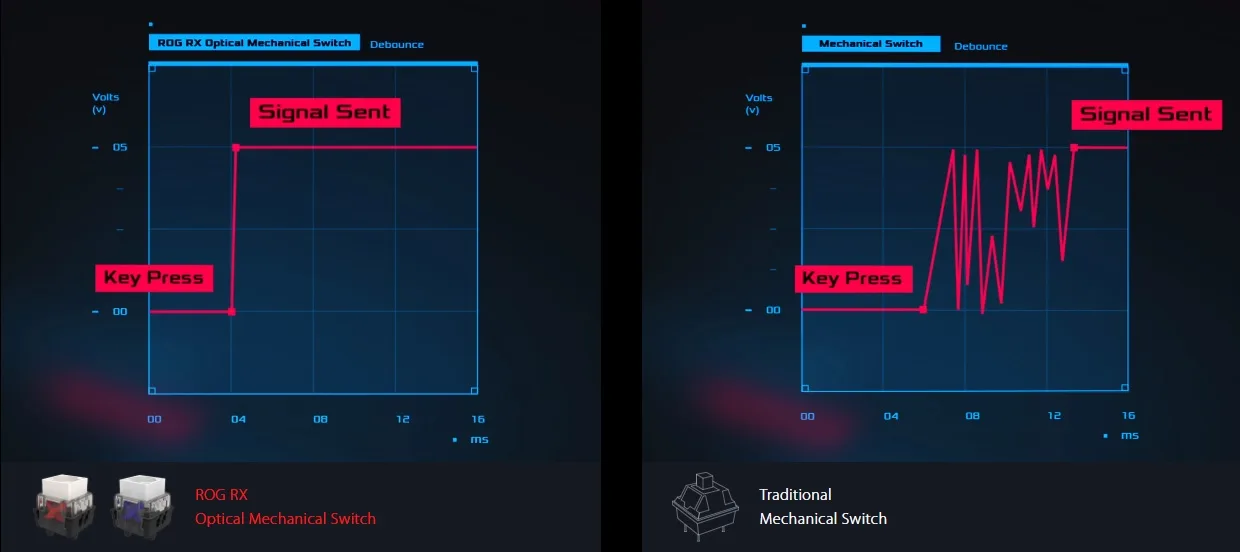 Perhaps its only weak point is the non-standard layout. Its "Ctrl" key is larger than usual, which is certainly very useful for gamers but it isn't for keyboard enthusiasts who want flexibility in keycap customization.
ASUS Armoury Crate Software
Brief Overview
The ASUS Armoury Crate Software is the all-in-one tool for any ASUS gaming device, and in this case, for the ROG Strix Scope RX keyboard. It includes ASUS Aura Sync functionalities and allows basic to advance customization of nearly every ROG Strix Scope RX feature.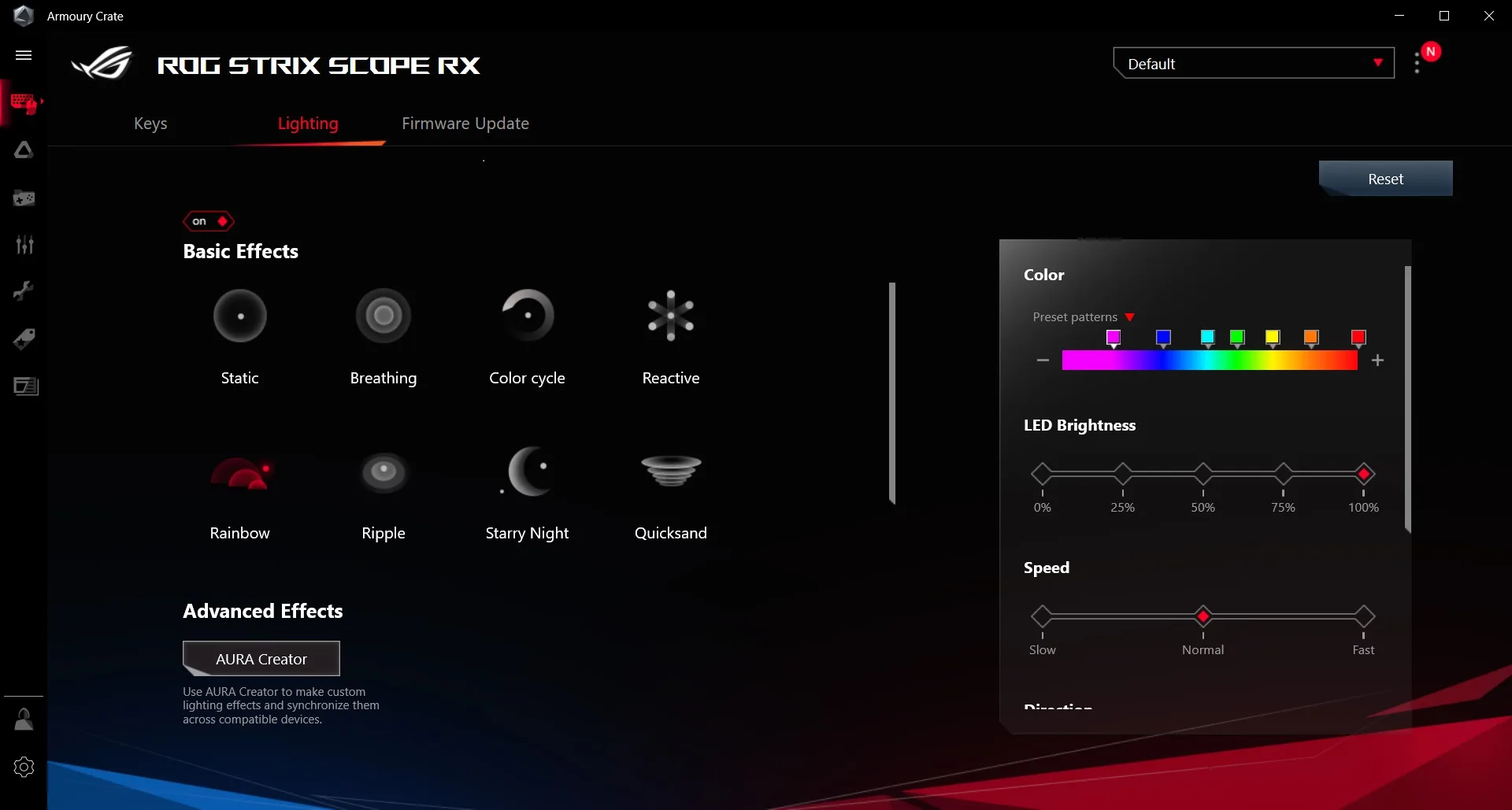 Using the Armoury Crate software suite, you can customize all the possible color and lighting effects of the ASUS ROG Strix Scope RX. It allows changing the colors, brightness, glow speed, or disabling the RGB lighting entirely. Besides, the Armoury Crate software brings you the possibility of managing and setting up all your keyboard macros, customizing each key individually, or creating your own advanced RGB lighting effects, all according to your personal preferences.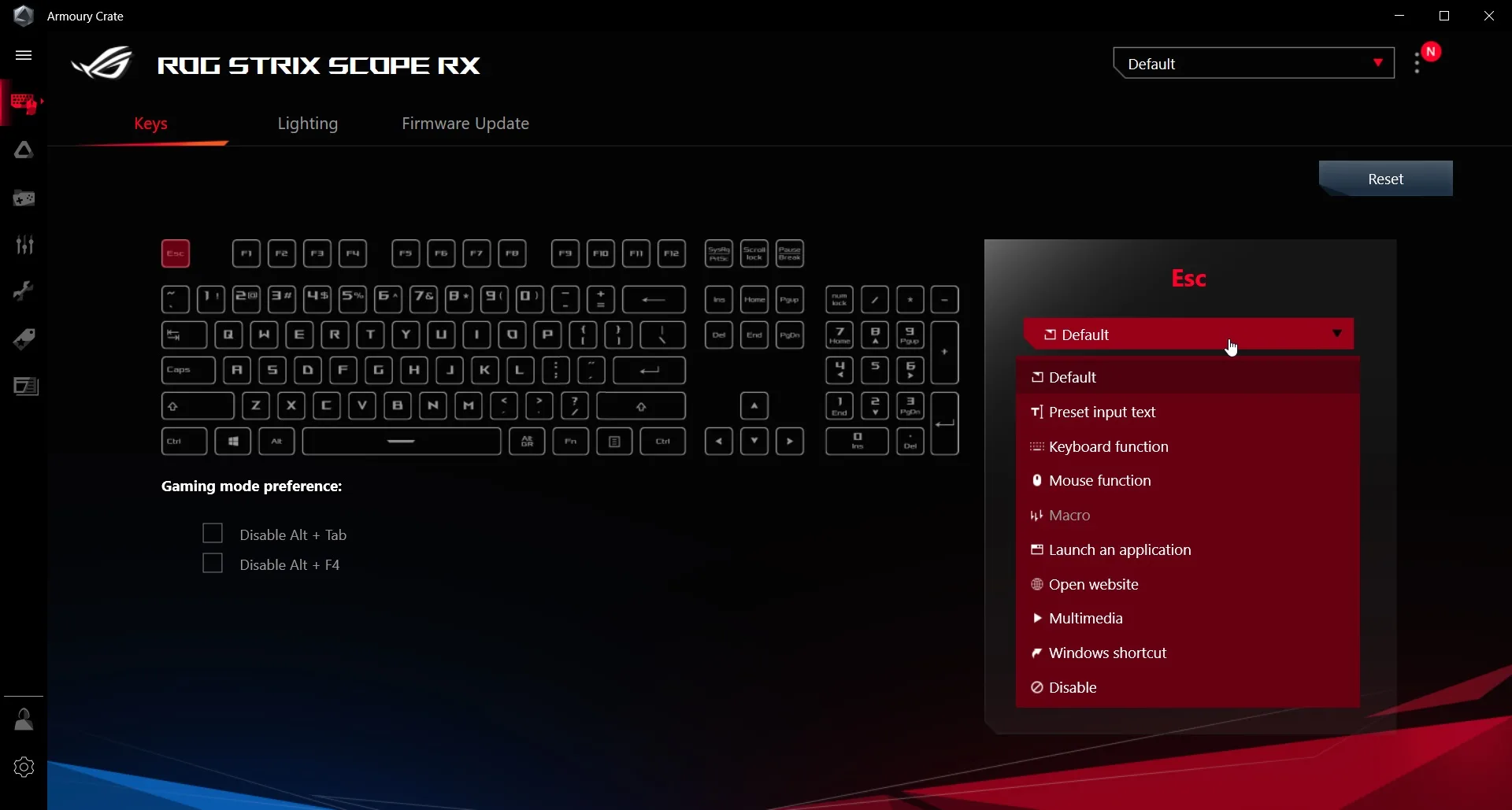 Finally, the software includes a useful tab for updating the firmware of your ROG Strix Scope RX keyboard.
Conclusion
The ASUS ROG Strix Scope RX is a quality premium mechanical gaming keyboard for competitive FPS gamers. Despite its non-standard layout and non-standard red key switches, it is an excellent gaming keyboard that feels very good while gaming and typing, with a high degree of RGB customization and a fast, smooth, consistent, and noiseless keystroke.
ROG Strix Scope RX Mechanical Keyboard Pros
Cool design and solid construction.
High level of RGB lighting customization both via hotkeys or through the proprietary all-in-one ASUS Armoury Crate software suite, including per-key RGB customization.
Super-fast response and low input lag.
Precise, smooth, consistent, and noiseless when typing and gaming.
ROG Strix Scope RX Mechanical Keyboard Cons
Non-standard layout and mechanical switches.
The Verdict: Highly Recommended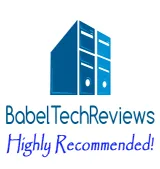 The ASUS ROG Strix Scope RX is an excellent premium optical gaming keyboard with a super-fast response and smooth, consistent, and noiseless feeling while typing and for gaming.
The ASUS ROG Strix Scope RX optical mechanical keyboard allows a high level of RGB customization via hotkeys or software, supporting per-key RGB customization.
Let's Play!
***
Rodrigo González (aka "RodroG") is an enthusiast gamer and tech reviewer interested especially in shooter games, open-world role-playing games, and software and hardware benchmarking. He is the author of the NVIDIA WHQL Driver Performance Benchmarks Series and founder and moderator of the r/allbenchmarks community on Reddit.