TEAMGROUP's Gaming Brand T-FORCE at COMPUTEX 2019
There are a lot of announcements that will be coming out of Computex next week. Our friends at Teamgroup have a new press release that highlights what we will see from T-FORCE, their gaming brand at Computex. We recently reviewed the T-FORCE XTREEM 3600MHz 16GB kit and it earned BTR's Editor's Choice award for its excellent overclocking ability. Here is their press release.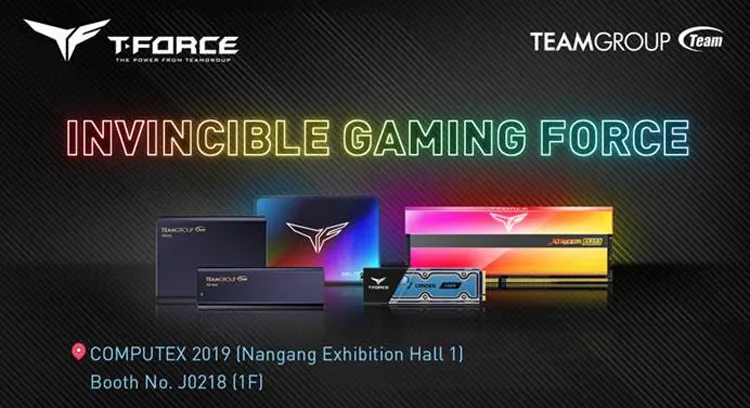 May 24, 2019, Taipei_ With plenty of dominant new products, the world's leading memory brand, TEAMGROUP will exhibit its gaming brand T-FORCE at COMPUTEX Taipei 2019 during May 28th-June 1st. This year, TEAMGROUP's booth (J0218) at Nangang Exhibition Center Hall 1 will not only show the world eye-catching new T-FORCE RGB products but also announce many new storage products that are related to intelligent living. The core focuses of COMPUTEX 2019 are 'mirror design, water cooling, and extended concept. Also, the visitors will be able to fully understand TEAMGROUP's non-stop efforts over the years. At the same time, T-FORCE gaming memory modules, the winners of 2019 Red Dot Design Award and iF Design Award will be showcased at our booth. The world will witness the solid strength of T-FORCE which shines on the international design stage.
T-FORCE gaming memory breaks through the limit, winning international design awards in a row
TEAMGROUP's T-FORCE gaming memory goes beyond the limit, winning international awards one after another. After receiving the Golden Pin Award at COMPUTEX 2018, T-FORCE XCALIBUR RGB Gaming Memory has won iF's International Design Award again earlier this year. More good news came in March, when T-FORCE XCALIBUR RGBand NIGHT HAWK RGB won the RED DOT Design Award upon their first entry, adding to the long list of award-winning gaming products from T-FORCE. You will be able to view all of our award-winning products at TEAMGROUP's booth at COMPUTEX 2019, and take a look back at our achievements over the years.
T-FORCE gaming memory starts the generation of ARGB and dominates in visual aesthetics and gaming performance
With creative thinking, T-FORCE XTREEM ARGB Gaming Memory is the first in the industry to feature full-screen independent light module technology. By researching optical principles and light characteristics, the specially designed Addressable RGB LED (Addressable RGB: A single LED capable of emitting colors independently and controlling speed) is used to allow players to change the colors of the RGB lighting freely. T-FORCE XTREEM ARGB is also the first in the industry to feature a full mirror screen. The combination of a special sputtering process and full-screen independent light module technology is capable of directly penetrating and reflecting the optical aesthetics of surrounding products. The mirror design enhances the detail of the texture and innovatively embraces the futuristic aesthetics of gaming memory. The highest frequency of the T-FORCE XTREEM ARGB is up to DDR4 4800MHz, which is specially designed for gamers who wish to pursue ultimate performance.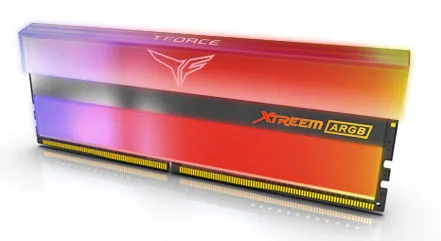 T-FORCE DARK Z Gaming Memory continues the concept of T-FORCE DARK armored knight. The sleek line design and the punch press process make the heat spreader simple yet brilliant while the outer unique rivet design can effectively stabilize and protect the main body. The improved airhole design at the top of the heat spreader can accelerate the speed of heat dissipation. It is formed by a punch press process with a one-piece 0.8mm thick alloy aluminum reinforced body structure. The anodized metal painting can improve corrosion resistance. The electroforming T-FORCE logo design echoes with the powerful DARK Z Gaming Memory and the killer look of its armor. The aluminum alloy cooling module allows DARK Z to maintain the best working temperature and provides the most enjoyable gaming experience along with amazing performance.
T-FORCE gaming memory has evolved once again in 2019, releasing the first Addressable RGB LED (Addressable RGB: A single LED capable of emitting colors independently and controlling speed) in the industry. T-FORCE DELTA Z ARGB and XCALIBUR ARGB both will be showcased at COMPUTEX 2019. Along with the magnificent and colorful lighting effects of previous models, the new T-FORCE gaming memory has a 12 level brightness control. Now, even if the brightness is turned low, it will not affect the RGB color performance, which will allow for a more exact synchronization effect. Whether it is the motherboard manufacturer's exclusive lighting effect control software or the T-FORCE BLITZ software, gamers will be able to change the brilliant colors as they like creating their own unique personal lighting effect.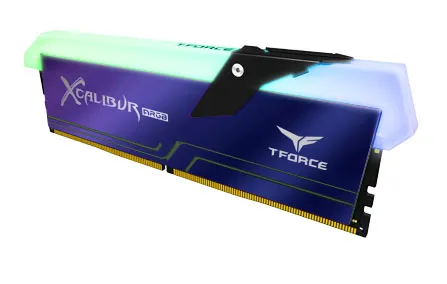 T-FORCE CAPTAIN RGB Control Box and RGB Strip colorfully create a gaming light feast
T-FORCE CAPTAIN RGB Control Box is an exclusive gaming RGB environment controller developed according to the needs of gamers. The built-in lighting effect offers gamers a more complete and more diverse RGB lighting control solution. T-FORCE ARGB Addressable LED Strip is included in the box. The light strip has a magnetic design that can instantly attach onto a computer case's metal surface. Every ARGB LED can be lit up independently. Gamers can also link them freely together to create a more personal gaming light feast unique in any lighting atmosphere.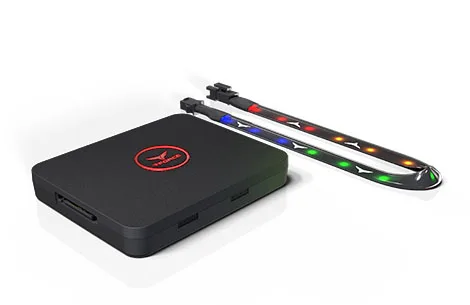 T-FORCE releases a full range of solid state drives, enhancing performance and gaming experience
T-FORCE launches the all-new M.2 PCIe SSD – CARDEA Liquid, a patented (Taiwan Utility Model Patent No. M574264) high performance, water cooling M.2 PCIe solid state drive specially built for high-performance gaming PCs. To showcase T-FORCE's principle of speed and strength, the exterior design has sleek edges made by laser cutting for strong light reflection. The transparent crystal-clear case provides a unique application for gamers wanting to change the water-cooling liquid. With the conjunction of the heat sink, the rolling and flowing effects of the water droplets can display the artistic combination of strength and beauty. The outstanding design of CARDEA Liquid M.2 PCIe SSD won COMPUTEX d&i awards 2019. Tested in the TEAMGROUP Laboratory, this product uses the self-circulation cooling effect of the water cooling module to lower the temperatures down about 10 degrees. With the latest PCIe Gen3 x4 interface, it has sequential read/write speed of up to 3400/3000 MB/s, and random read/write speed of up to 180K/160K IOPS. The extremely high-speed performances offers a smooth and lag free experience, which is definitely the best choice for gamers and water cooling enthusiasts.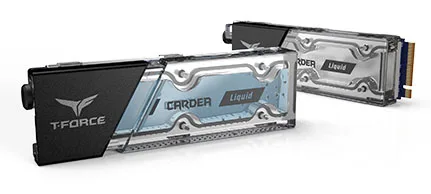 T-FORCE DELTA MAX RGB Solid State Drive uses its magnificent RGB mirror design to create a light feast with the most comprehensive lighting effects that create a special, uniquely eye-catching gaming style for your PC. The magnificent surface displays a transparent effect like a magic mirror. The densely arranged LED lighting effect design presents a light feast with the largest color area. In addition, to bring this magnificent solid state drive to the next level, it can be connected with the motherboard to synchronize colors and lighting effects with other RGB devices. The advanced 3D NAND delivers up to 560 MB/s in reading speed and 510 MB/s in write speed and improves the efficiency and durability of the hard drive. T-FORCE DELTA MAX brings fantastic and wonderful lighting effects never before seen in the industry. It is definitely the best choice when it comes to RGB solid state drives.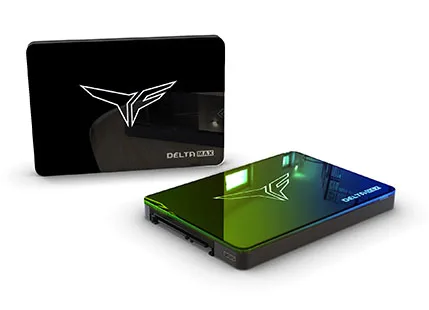 T-FORCE TREASURE External RGB Solid State Drive – The exterior is full of streamlined design. The RGB light strip design and the lightweight compact size make it as exquisite as a pocket sized notebook. The switching light source design offers gamers to adjust their own perfect console gaming environment. In addition, its simple and premium style is created by trendy metalworking. The meticulous surface process reduces fingerprint stains and makes it more effective on anti-skid surfaces. The maximum capacity supports up to 2TB, which can fully expand the storage on gaming consoles leading to shorten loading times, while still providing a smooth gamer experience without any lag.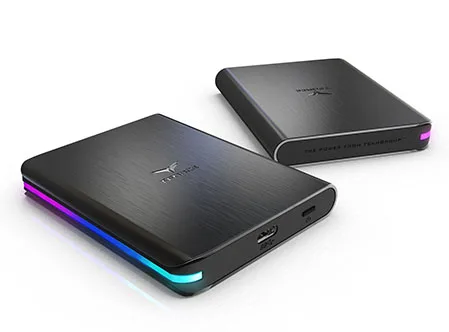 T-FORCE SPARK Flash Drive has a simple yet sleek design with gorgeous colorful RGB lighting effects. When the user plugs in the flash drive to a device's USB port, the mixed colors on the product turns it into a small, mind healing tech gadget. The color change can immediately let the user know the usage status of the flash drive capacity, which is quite convenient. This product meets the specifications of USB 3.1 Gen 1, offering read/write speed up to 130MB/s and 50MB/s. The 256GB capacity is able to provide enough storage for digital files such as movies, high-resolution images, music, etc., as well storage for large sized games, which makes it the best tool to expand the storage of gaming consoles and gaming laptops.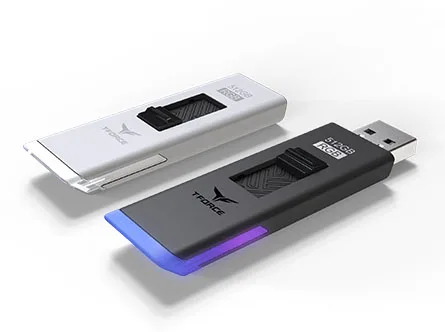 Create the best storage device by thinking outside of the box
Last year the T183 Tool Flash Drive was highly praised by major design awards and global consumers. At this year's COMPUTEX, TEAMGROUP will release the new T193 Stationery Flash Drive that combines geometric and stationery designs. The T193 is innovative in integrating practical stationeries to a USB drive. It acts as practical stationery that can be used as a ruler, a 180-degree protractor, a compass as well as a magnifying glass. Moreover, the magnetic feature is added to pick up paper clips on iron surfaces, which makes it easy to store and organize messy desktops. It is a good helper for students and business professionals. Lastly, the ingenious and thoughtful folding design is easy to carry around while being ergonomically, meeting usage habits.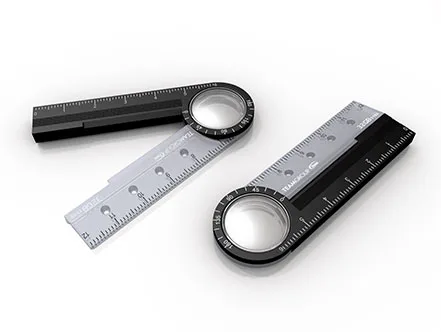 TEAMGROUP launches the high-end mobile solid state drive PD1000 that has USB 3.1 Gen2's powerful high-speed transfer speed. The reading speed is at least 5 times faster than the traditional external hard drive. It can quickly access large amounts of data, making file transfer easy as pie while saving valuable work time with increased stability. In addition, it can be used with the PS4 and Xbox along with other gaming consoles to make the game start quicker, or expand the game map more smoothly by faster operating speed. It is the top choice for business professionals, photographers, and gamers. The PD1000 has a stylish look with its elegant deep sea blue color and smooth metal material that reduces fingerprint stains. It has the slim streamlined shape, light weight of only 45g and shockproof character make it easy to carry around.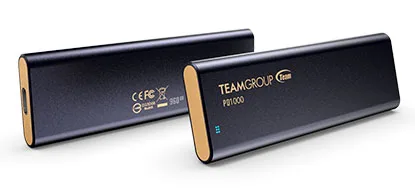 PRO V30 Video Recording Memory Card has an excellent read/write speed of over 90MB/s. It supports Full HD and 4K Ultra HD shooting, recording, and playback. The Pro V30 complies with UHS-I Speed Class 3 (U3) and V30 Video Speed Class. It is capable of performing high-speed burst mode. Image processing is fast and smooth, and pictures are perfectly saved without any lag or crash. PRO V30 Video Recording Memory Card is suitable for digital video cameras, panoramic cameras or drones to allow users fully enjoy the detailed visual feast of 4K Ultra HD, and store precious memories.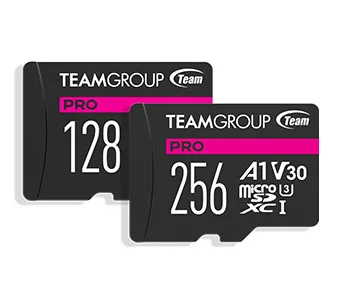 T191 Bluetooth Encrypted Smart Flash Drive is the first encrypted flash drive product in the industry that is designed to integrate with smartphones and APPs. In the past, the traditional encrypted flash drive was encrypted using the software on the computer. Now with creative thinking, biometric authentication (fingerprint or face detection on smartphones) can be used to encrypt or unlock. It uses the Bluetooth RF circuit design to achieve the action of turning on and off the encrypted sector, which can stop confidential files from leaking out. With high security and low cost, the secrecy of confidential files is significantly improved, which is both practical and convenient.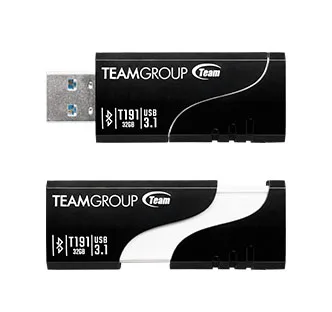 Exhibition Date: 5/28(Tue.)~6/1(Sat.)
Location: Taipei World Trade Center Nangang Exhibition Hall / No.1, Jingmao 2nd Rd., Nangang District, Taipei City 11568, Taiwan (R.O.C.)
Area: Area J, DataStorage Area
Booth No: J0218
【 About TEAMGROUP 】
As a leading provider of memory storage products and mobile applications to the consumer market, TEAMGROUP Inc is committed to providing the best storage, multimedia and data sharing solutions. All TEAMGROUP's memory module products come with a lifetime warranty, repair and replacement services. TEAMGROUP also listed company at stock exchange market in January,2019. In 2016, TEAMGROUP established T-FORCE gaming series which including all the gaming memory module. For more information, please visit the TEAMGROUP website at www.teamgroupinc.com or follow our social media including Facebook: www.facebook.com/teamgroupinc /Twitter: https://twitter.com/teamgroupinc Instagram: https://www.instagram.com/teamgroupinc/
【 About T-FORCE 】
T-FORCE is TEAM force. The red "T" on the logo of "TF" represents TEAMGROUP's passion for the storage products.The black "F" represents the powerful force of TEAM's products. T-FORCE completely presents the high quality and extreme performance gaming products from TEAMGROUP. T-FORCE is the best choice for professional gamers and overclockers to shake the gaming world with powerful force.
###
Happy Gaming!