TEAMGROUP Launches T-FORCE TREASURE Touch External RGB Solid State Drive
Gorgeous Lighting Effects for Your Gaming Console Is Only a Touch Away
Our friends at TeamGroup have launched a new RGB external SSD. We already know that you can launch and play games on external USB 3.0 drives, so this looks to be a great SSD for gamers who like RGB lighting. Here is their press release:
November 5, 2020, Taipei_ TEAMGROUP today announces the release of T-FORCE TREASURE Touch External RGB SSD, which has specially designed touch surface to switch the magical RGB lighting effects that is bright and soft, but not too dazzling for your eyes. It supports multiple platforms and provides up to 1TB of capacity. The EVA cushioning packaging inside the box is designed into a simple stand. It is not only the perfect partner for gaming console, but also an expansion partner for gamer's external RGB SSD.
The T-FORCE TREASURE Touch External RGB SSD has a simple and stylish design with a metallic brushed finish and an upgraded texture that effectively reduces fingerprint residue. With soft RGB lighting effects and the black body design, you can freely turn on, off and adjust the color of the light to what you prefer by touching the surface. You can enjoy the different atmosphere of the game by creating your own ones.
T-FORCE TREASURE Touch External RGB Solid State Drive uses the latest generation of USB 3.2 Gen2 Type C connector. In addition to increasing the convenience of use, it can also expand the storage space of the gaming console. It supports multiple platforms such as desktop, laptop, PlayStation, and Xbox. There are 1TB available for gamers to choose from. The lighting effects for your gaming world are just a touch away!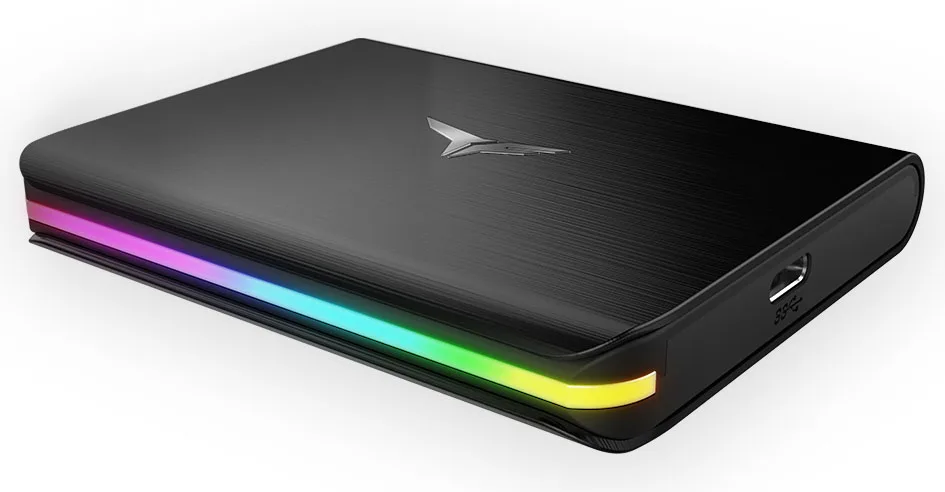 MSRP (USD)
TREASURE TOUCH External RGB SSD
1TB
$169.99
? Learn More ?
TREASURE TOUCH External RGB SSD.
###
Happy Gaming!