TEAMGROUP Launches Minimalist Style USB Flash Drives
Our friends at TeamGroup have launched many new USB flash drives today and this is their press release:
September 28, 2018, Taipei_ TEAMGROUP, the world's leading memory brand, today launches multiple USB flash drives to satisfy users' different requirements in workplaces or other environments. They are the M181 with USB3.1 and Type-C OTG dual interface, and the lightweight and compact C182/C183 with high speed transfer interface.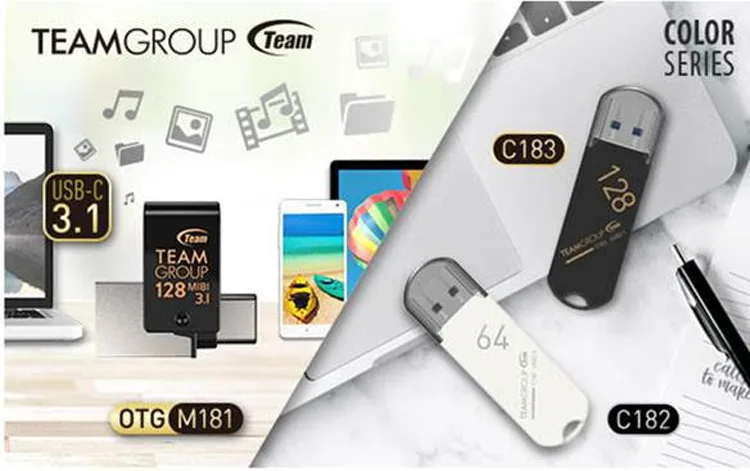 The M181 has a compact and exquisite appearance. The color design is based on low key elegant black with amber golden which create an excellent innovative texture. The dual interface M181 has both standard USB connector and Type-C connector, so consumers can use it on MacBook or Android devices with USB-C, and no longer need to carry an adapter cable. Not only both sides of Type-C connector can be inserted, it also offers high speed transfer performance to save time on accessing or saving files. In addition, it provides multiple protections including waterproof, dust-proof and shockproof to protect important data and files in every aspect. The 180° positioning structure makes it easy to use, and the 360° rotating cap design can also free consumers from the trouble of losing the cap_. It is both durable and easy to use.
The minimalist design C182/183 use USB2.0 and USB3.1 (Gen1) high speed interface respectively. The tasteful black and white body of C182 with gray letters makes a clean and simple style. The minimalist and smooth line design is perfectly presented in a tasteful fashion. The classic black of C183 brings out the dazzling light of the precious golden letters, creating a magnificent yet minimalist style. As the need for saving multimedia files increases, the C183 offers a large capacity of 128GB to satisfy consumers' need for saving and accessing 4K video files. The plug and play function of the two USB flash drives make file transferring more efficient. The thoughtful strap hole design makes it easy to carry around. They are your good companions when living in the age of smart technology.
【Learn More】
M181: https://www.teamgroupinc.com/en/product/m181
C182: https://www.teamgroupinc.com/en/product/c182
C183: https://www.teamgroupinc.com/en/product/c183
| | |
| --- | --- |
| C182 | Amazon Price (USD) |
| 8GB | 3.99 |
| 16GB | 4.99 |
| 32GB | 5.99 |
| 64GB | 10.99 |
| C183 | Amazon Price |
| 16GB | 5.99 |
| 32GB | 7.99 |
| 64GB | 13.99 |
| 128GB | 24.5 |
| M181 | Amazon Price |
| 16GB | 11.99 |
| 32GB | 12.99 |
| 64GB | 19.99 |
| 128GB | 33.5 |
【About TEAMGROUP】
As a leading provider of memory storage products and mobile applications to the consumer market, TEAMGROUP Inc is committed to providing the best storage, multimedia and data sharing solutions. All TEAMGROUP's memory module products come with a lifetime warranty, repair and replacement services. For more information, please visit the TEAMGROUP website atwww.teamgroupinc.com or Follow our social media including Facebook: www.facebook.com/teamgroupinc /Twitter: twitter.com/TeamGroupTech/ Instagram: https://www.instagram.com/teamgroupinc/
…