TeamGroup Develops Next-Gen DDR5 SO-DIMM and is expected to be the first to take Intel and AMD's new platform validation tests
Our friends at TeamGroup have a rather exciting announcement. They have developed Next-Gen DDR5 SO-DIMM and are expected to be the first to take the Intel and AMD new platform validation tests. Here is their press release: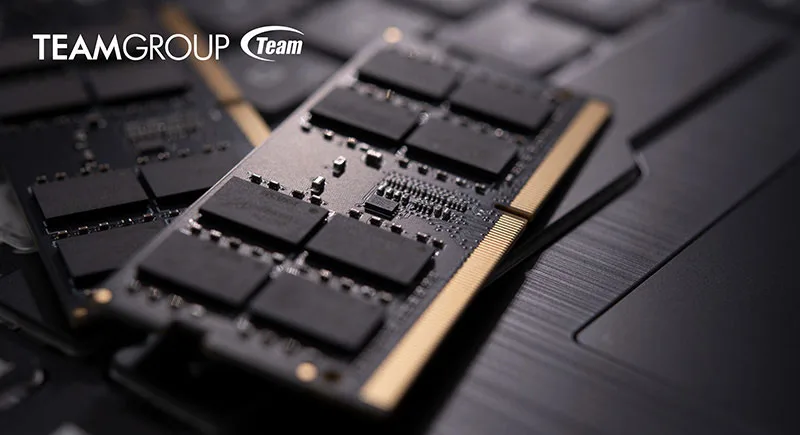 Leading global memory brand TEAMGROUP continues to make its mark on the next generation of DDR5 memory. At the end of last year, the company announced that it had entered the validation phase with the collaboration of major motherboard manufacturers. In early 2021, it has made another breakthrough. Paying attention to the needs of not only desktop but also notebook and mini PC users, TEAMGROUP has successfully created DDR5 SO-DIMM and is expected to be the first to take Intel and AMD's new platform validation tests.
Specifications of the DDR5 SO-DIMM at the early stage of development resemble those of the U-DIMM version. A single module has a capacity of 16 GB and a frequency of 4800 MHz, and both versions run at the lowered voltage of 1.1 V. For notebooks that need to stay mobile for a long period of time, this can noticeably reduce power consumption and extend standby time. DDR5 SO-DIMM also supports on-die ECC, a feature that self-corrects single-bit errors, greatly improving system stability. Users can look forward to the convenience and peace of mind that DDR5 will bring to notebooks, mini PCs, NAS, and more.
TEAMGROUP emphasizes that the product specifications it has published are from successfully developed products, and it will continue to work closely with motherboard manufacturers to achieve higher specifications. The company hopes to provide consumers with a wide range of specifications and stable compatibility from the very beginning of its product launches. With its strategy of steady technology advancement, TEAMGROUP is ready to take the lead in the next generation of memory modules.
【 About TEAMGROUP 】
As a leading provider of memory storage products and mobile applications to the consumer market, Team Group Inc .is committed to providing the best storage, multimedia and data sharing solutions. All TEAMGROUP's memory module products come with a lifetime warranty, repair and replacement services. Team Group Inc. has also listed company at stock exchange market in January, 2019.
In 2016, TEAMGROUP established T-FORCE gaming series which includes all the gaming memory modules. In 2020, TEAMGROUP established T-CREATE brand for creative users.
For more information, please visit the TEAMGROUP website at www.teamgroupinc.com or Follow our social media including Facebook, Twitter, and Instagram.
###
Happy Gaming!