Film, TV Producers, Directors Want Benefits; Not Specs
One of the things we've noticed in watching the credits roll at the end of a film or TV show is that there are a lot of producers and directors listed.
When Aaron Semmel, EP (executive producer) and CEO of BoomBoomBooya gave the keynote presentation at the recent Creative Storage Conference in Culver City, one of the first things we noticed is that he's just like everyone else we've seen on a set.
We've found today's producers/directors are an optimistic lot; but then, with the seismic changes taking place in the industry, we guess they have to be.
Every time we turn around, someone is buying someone else; and OTT services like Netflix, Amazon, Hulu and others are snapping up another project or team.
It's little wonder that the EP is a little mysterious in the mix and we were anxious to hear what he had to say about storage.
During his 20 years of climbing the industry ladder, he's been involved in almost every area of film/TV production.
To prove that there's no direct route to becoming an EP, he gave a quick summary of his experience.
The person who got him interested in creating visual stories was Jacques Cousteau — inventor of Scuba, underwater explorer and award-winning documentary filmmaker.
Semmel broke into the industry as a Grip on Black Scorpion, then moved to producing projects for Maverick Films plus an in-front-of-the-camera stint for reality TV with The Biggest Loser. He joined Morgan Creek Productions where he took on development, production, marketing, distribution for films such as The Good Shepherd, Man of the Year, Georgia Rule and Sydney White.
In addition to a range of production work, he co-produced Kevin Costner's Hatfields & McCoys, which earned numerous honors.
Today, he's working on a 10-part series with Costner as well as other co-production agreements for TV/feature film projects.
Semmel opened his keynote by telling the audience that even though today's films and TV shows begin and end digitally, EPs don't have the luxury of being immersed in technology.
"We know enough to discuss your technologies at a very high level," he said, "but we rely on proven line and supervising producers to make specific recommendations."
To illustrate his understanding, Semmel recalled his mother working in a large insurance computer facility where they used punched cards to store data.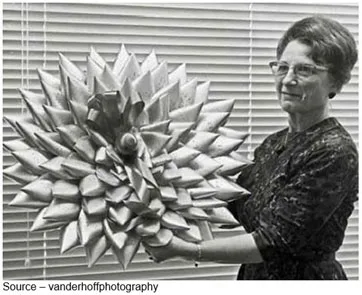 "I quickly learned that the punches were data and when the cards had served their purpose she'd bring them home and make Christmas wreaths for people in the neighborhood," he recalled.
Over the years he used 5-1/4, 3-1/2-inch floppy discs, SyQuest cartridges, Zip drives, CD/DVD/Blu-ray discs, SD cards, hard drives and flash drives.
"Every one was probably an improvement and the features may make your eyes water," he said, "but our focus is on managing the budgets – time and money."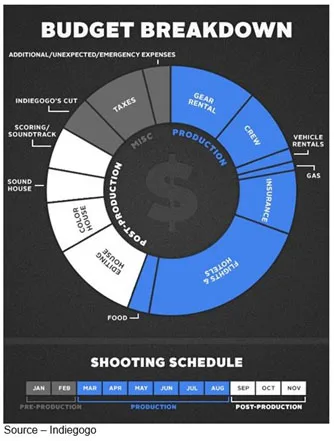 The largest portion of a project budget is consumed by above-the-line costs – talent, crew, distribution, marketing.
Below-the-line costs are production and post.
"Bits, bytes, giga, terabytes and megahertz are nice words ;but if they can't be related to our budgets, it's very easy for EPs and senior producers to say no," he emphasized.
He noted that the bigger the project – $10M, $50M, $100M – the bigger the stack of budget documentation; and ultimately, technologies become a huge stack of line items.
"EPs want the best film/TV show possible," he added, "but we also answer to a higher power – the investors. They don't like surprises or needless risks."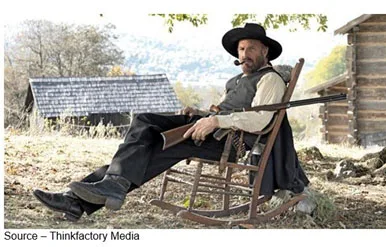 To illustrate the benefit of pre-production communications with EPs and senior producers, he told the audience about a calculated risk (which isn't uncommon) in shooting the historical documentary America's Feud: Hatfields & McCoys.
Behind schedule, they shot the farm house attack on day one, the burning of the house on day two and on day three received dailies to review from day one's shoot.
"We were certain we had everything we needed so we took a calculated risk and burned the building," he recalled. "But no one exhaled until we had a chance to go through the dailies."
Semmel noted that he recently saw a solution that could allow line and supervising producers to get back to screening dailies daily.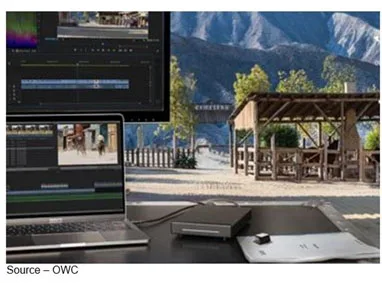 "A day's work is usually sent offsite immediately for backup and insurance purposes before the rough dailies are produced for us in a day or two," he explained.
"If you don't want to gamble, as we did," he continued, "you spend money on the crew, talent and set until you get the dailies for review. Then burn the house down!"
The OWC device he was talking about (ThunderBlade) transfers data at 2800 MB/s to a rugged, high-performance SSD, making dailies available almost in real time.
"I still don't understand the 2800 MB/s stuff," he said, "but getting dailies in hours instead of days has a ripple effect through all of the production process because time is money and EPs can easily compute the savings.
"Even accounting can understand the savings," he added.
He went on to say there are probably hundreds of incidents like this that could save time, organize the media and metadata, and have a direct, immediate positive impact on the budget.
The challenge is that techies – company and production staff – are so enamored with specs they forget to translate them into what they mean for the EP, line/supervising products…delivering the best project possible on time and on or under budget.
"An EP and line producer's mantra for TV and film projects is you only get two out of three things: time, money and quality," Semmel said. "If you can deliver all three, then we'll listen and point you to the right producer/director to discuss technology."
He noted that the industry is in a state of rapid change and that the only constant is that everyone wants good content to show in the theater, on TV and every available screen that is out there.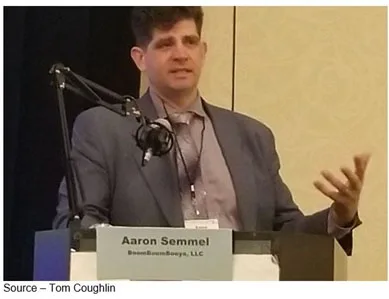 "There is an unprecedented demand for quality films and shows today," he stated, "but there's a finite supply of really good EPs, line/supervisor producers, directors and production people.
"You may read the headlines about the big budgets that are being announced but they aren't bottomless purses," Semmel continued. "We can probably use the tools/solutions you offer but talk about bits, bytes and specs won't convince us.
"We serve fickle masters – finance and viewers," he concluded. "Help us meet our goals – time, money, budget – and everyone will benefit."
# # #