Bond Could Have Marked the Beginning of M&E Change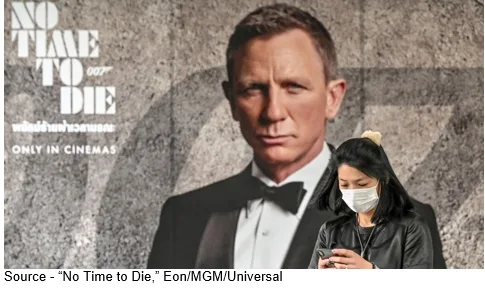 The one good thing about people (most people) is that they are positive.
No, not lollypop or stars-in-their-eyes positive, but they get sick and tired of being sick and tired.
Then say, "To H*** with it, I'm going to fix it."
Sometimes, it turns out good/great, sometimes so/so, sometimes …
But that's why people like superhero movies, sci-fi films and horror flicks because people see a ray of hope even when it's barely a flicker.
Take Imax's boss Richard Gelfond. Several months ago, he said studios had found out what doesn't work and were going to return blockbuster films to their rightful place — movie houses with meaningful theatrical windows.
He didn't exactly say what meaningful meant but he implied that studios/content owners had learned that their PVOD experiment with big budget projects was a colossal bust.
Wisely, Gelfond didn't address the fate of the modest/meager budget films.
He spelled out his industry's positive future on the eve of MGM rolling out the 25th chapter of the James Bond series, No Time to Die.
To him, director Cary Joji Fukunaga's and Daniel Craig's fifth – and final – film was clear evidence that people wanted/needed to enjoy epic films on the giant screen as they had for decades.
Some folks joined Gelfond, claiming that Bond once again would bring the industry back from the brink of disaster just as he had since 1963.
Of course, before the tentpole rolled out at London's Royal Albert Hall, a number of great films had been canaries in the mine to ensure it was safe to roll out Britain's and Ian Fleming's hero of heroes for the global audience.
Disney's Shang-Chi and the Legend of the Ten Rings was the first to prove that people would return to theater seats to enjoy positive projects.
The studio's first Asian superhero received praise and ticket sales everywhere except the world's largest movie audience … China.
Of course, there aren't any official numbers of how many people there watched pirated copies of Shang-Chi.
Just assume … a lot!
When Simu Liu and the cast emerged victorious, studio management everywhere decided it was safe to roll out the expensive stuff in theaters to finally begin recovering their investments.
Even China rocked the box office numbers with The Battle at Lake Changjin with nearly $1B in ticket sales during the holidays while My Country, My Parents pulled in nearly $200M.
So with 700 IMAX theatres in China Gelfond did…okay.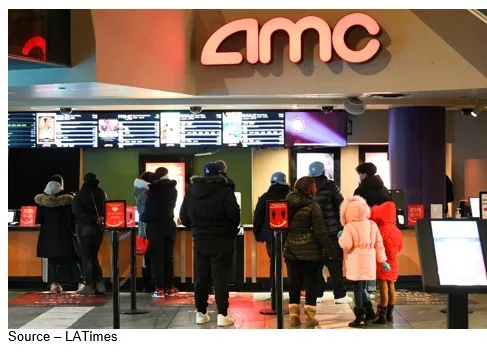 So, for the past three months, theatergoers in the Americas and Europe have been able to enjoy a full range of films including Venom: Let There Be Carnage, Halloween Kills, Eternals, West Side Story, and less expensive titles exclusively in theaters for 45 days.
The abbreviated window didn't sit well with Tom Cruise for Mission: Impossible 7 who prefers (insists?) the old time-honored 90-day window.
But…money talks!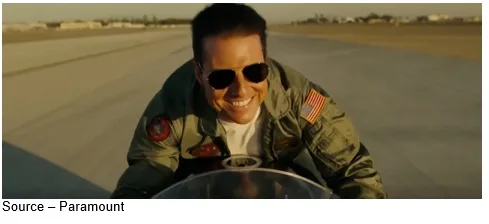 Despite all the shuffling at Paramount to beef up their struggling streaming service and shaky studio operation, Cruise did get assurances that Top Gun: Maverick would get all the TLC and time it deserved when it's released worldwide in May (so far).
Really good projects that were throttled by studio management's decisions for day/date, theater/streaming release didn't fare as well at the box office or at home.
The truth is no one really knows what type of window works best – day/date, 7 days, 49 days, 90 days, plus – is best to deliver the kind of financial results studios/content owners, "invested" parties and theaters need.

Gelfond, NATO (National Association of Theater Owners) and the owners of the more than 203,000 cinema screens globally have never said how much the cannibalization of the theatrical window cost folks involved other than … it's a lot!
Despite the over population of theater screens in the world, the industry's business looks good going forward.
Of course, it's doubtful if any of the film releases will "feel" as vital since the opening of No Time to Die but they're all important.
One regional theater chain owner emphasized that sales were well more than what they had with Christopher Nolan's Tenet.
It's interesting that even coming off an overpriced, overbudget, confusing project such as that Nolan could demand and get so much – 100-day window, $100 million budget, equal marketing spend, 20 percent of first-dollar gross, and a three week before/after blackout period – for his Oppenheimer project that won't even be ready for a theater opening until 2023.
And we thought only Cruise could say okay we're going to incorporate a visit to the space station in the next M:I film and get a near-instant signoff but still, he was working in Bond's shadow who had already been there in Moonraker.
Of course a female Russian filmmaker did beat him there…and back.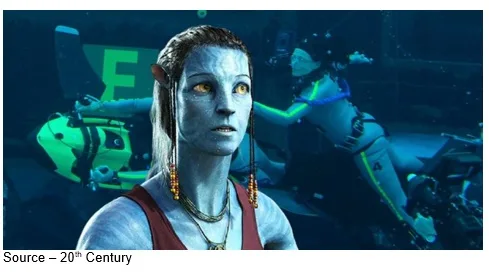 Even James Cameron whose Avatar sits atop the earnings pole (thanks to a short rerelease to take back the top earnings slot from Avengers: Endgame) wasn't that demanding and he has a proven income generator coming out next year and every other year through 2028.
The theater industry is pinning a lot of hope on the strong one-two punch of Cameron and Cruise to jump start the solid return of seats in seats for 2022 and beyond.
But the pandemic and growing dynamics of content streaming severely disrupted the industry.
2022 should be the emergence of a new movie theater industry going forward, but it will be different.
We invested in a significant upgrade to our home viewing experience over the past two years – 55-in QLED screen, dynamite Dolby Atmos surround sound system and a new super comfy sofa set-up.
Surprisingly, we don't miss the cell phones, coughing, talking, loud slurping and people doing their darndest to interact with the action on the screen.
However, there is an innate desire to get out and socialize.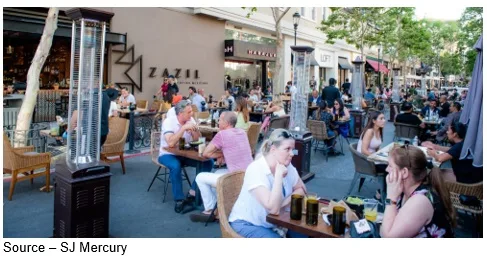 One of the earliest signs that people want a new normal has been folks going out to eat. Initially, outdoor dining and then the opening of indoor dining to limited numbers of individuals. That slowly expanded as people got comfortable with/without masks and vaccination mandates became accepted as just another routine.
But the big screen is back or rather coming back, just not as rapidly as theater owners would like you to believe … it will take time.
As comfortable and easy as it has been to watch a movie at home, there are some things people just can't get at home.
That's the overall experience of immersing yourself in a great film story and share the screams, cheers, sighs, and combined exhale when the hero/heroine is victorious over the bad guy/gal.
According to Morning Consult, more than 68 percent of people say they will be comfortable returning to theaters again … soon.
Those that have been consistently willing to put their seats in seats – 60 percent – have been the Gen Z crowd, 18-25.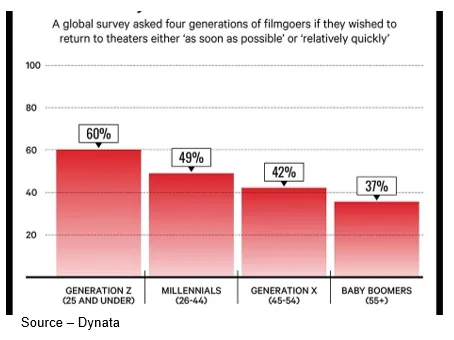 Of those people surveyed, 11 percent were extremely eager to get back into theaters, 24 percent were very eager, and 24 percent were somewhat ready.
Face it, it's just hard to duplicate the fake butter-flavored popcorn, super in seat meals and boxes of overpriced, over sugared candy at home.

It's true, folks said they missed this stuff and the fun of sharing a great movie with friends and strangers.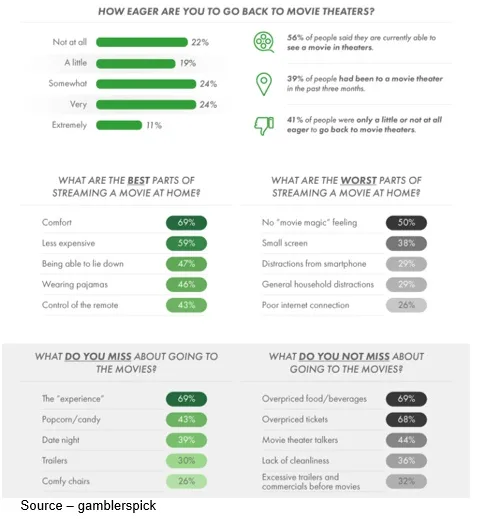 And yes streaming services have been winning audiences away from the theater and TV for years.
The year-and-a-half hiatus accelerated the interest in a better quality of home entertainment than content aimed at appealing to the lowest common denominator.
At the same time, it reminded many people of why they went to movie houses … the total experience.
Still, there's a large percentage of folks who like the spontaneity and casual aspects of streaming a new movie and exploring different genre/project when they want, where they want, how they want.
Whether it's been a day packed with video conferencing, meetings in the office or fighting the increasing traffic to and from home, there's something enjoyable about kicking back on the sofa or lying down on "your couch territory" and enjoying your movie.
Nope, people won't be abandoning the convenience, quality and variety of streamed content.
Netflix has been aggressively adding original content from around the globe to its library and expanding its subscription base with a variety of viewing options.
Amazon continues its push to deliver entertainment to SVOD and AVOD customers with the recent acquisition of MGM (Bond parent) and its deep, rich library.
Disney + has been expanding globally with increased attention on potential subscribers in SEA (southeast Asia) and Europe.
With the acquisition of Warner studios/HBO moving smoothly for Discover, the company anticipates being a major global streaming player with Warner Bros Discovery when it is rolled out early next year.
Apple TV+ has been quietly, methodically growing its content library and increasing its relationships with the firm's more than 1B apple users worldwide. S
Services such as Paramount and Peacock have been struggling to define themselves and their content offerings in the crowded VOD field.
DEG estimated that SVOD services grew 21 percent during the first half of the year and should top $22B by the end of the year with aggressive continued growth through 2025 to more than $137B.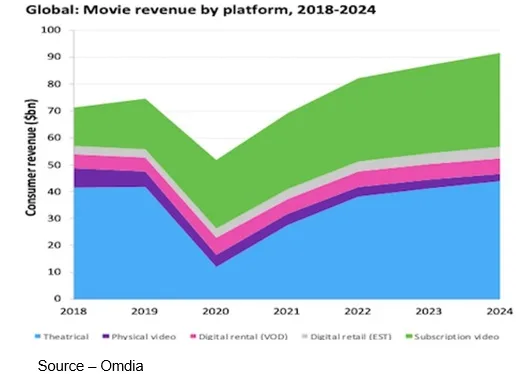 According to Omdia, the global theatrical segment will recover from a miniscule $11B last year to more than $29B by the end of this year.
Avid moviegoers have returned to the theaters while casual cinema attendees are slow to return.
Theater owners' bravado hides the fact that ticket sales have steadily declined since 2016 and their profits have been bolstered solely by their increase of concession services (and prices).
Even in the best of times, the average theater was 60-70 percent empty so, social distancing wasn't an issue even before the shutdown.
Studio's tentpole and major projects need the global theatrical attendance to produce a profit for all shareholders.
Disney and Warner Bros have the breadth of relationships and deep enough pockets to develop a full range of quality content.
Universal, Sony and MGM have the teams and experience to support both entertainment channels.
Peacock and Paramount owners may have the financial ability and commitment to satisfy the D2C market or future owners.
But at the same time, theater owners must invest in making the cinema attendance experience new, unique and special.
Returning to the "good old normal" just won't succeed in today's embarrassingly rich available entertainment world.
It will take a lot to send the avid moviegoers home; but if theater owners don't become humbler and more realistic, they can do it.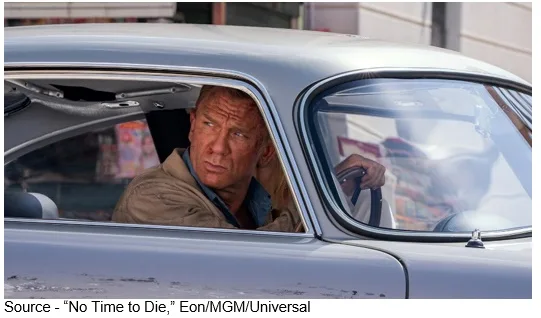 While James Bond said The past isn't dead in "No Time to Die,." movie houses must remember Daniel Craig isn't returning as Bond and the next Ian Fleming hero may be less concerned about saving … everyone.
As the Swedish architect noted in the film, "You will get everything you want in your lifetime, only you won't get it in the way you expect."
# # #
Andy Marken – [email protected] – is an author of more than 700 articles on management, marketing, communications, industry trends in media & entertainment, consumer electronics, software and applications. An internationally recognized marketing/communications consultant with a broad range of technical and industry expertise especially in storage, storage management and film/video production fields; he has an extended range of relationships with business, industry trade press, online media, and industry analysts/consultants.