Test Configuration
Test Configuration – Hardware
Intel Core i7-8700K (HyperThreading and Turbo boost is on to 4.7 GHz for all cores; Coffee Lake DX11 CPU graphics).
EVGA Z370 FTW motherboard (Intel Z370 chipset, latest BIOS, PCIe 3.0/3.1 specification, CrossFire/SLI 8x+8x), supplied by EVGA
HyperX 16GB DDR4 (2×8 GB, dual channel at 3333 MHz), supplied by HyperX
RTX 2080 8 GB Founders Edition, stock FE clocks, supplied by NVIDIA
GTX 1080 Ti 11 GB Founders Edition, stock clocks, supplied by NVIDIA
2 x 480 GB Team Group SSDs – one for AMD, and one for NVIDIA
1.92 TB San Disk enterprise class SSD
2 TB Micron 1100 enterprise class SSD
Seasonic 850W Gold Focus power supply unit
EVGA CLC 280mm CPU water cooler, supplied by EVGA
Onboard Realtek Audio
Genius SP-D150 speakers, supplied by Genius
EVGA DG-77, mid-tower case supplied by EVGA
LG 43″ HDR 4K TV
Monoprice Crystal Pro 4K
Test Configuration – Software
NVIDIA's GeForce 411.63 WHQL drivers used for overclocking both cards.  399.24 is used for the GTX 1080 Ti stock clock results and launch drivers 411.51 were used for the RTX 2080.  The drivers used are functionally identical in gaming performance except for specific bug fixes.  See Control Panel image below.
VSync is forced off.
AA enabled as noted in games; all in-game settings are specified with 16xAF always applied
Gaming results show average frame rates in bold including minimum frame rates shown on the chart next to the averages in a smaller italics font.  Some OCAT captured minimums are given in frame times and expressed in ms
Highest quality sound (stereo) used in all games.
Windows 10 64-bit Home edition. All DX11 titles were run under DX11 render paths.  DX12 titles are generally run under the DX12 render path unless performance is worse than with DX11.  Three games use the Vulkan API.
Latest DirectX
All 36 games are patched to their latest versions at time of publication.
MSI's Afterburner 4.5.0, used to adjust the GTX 1080 Ti and to set temp and power limits to maximum.
Precision X1 0.2.6 public beta version for RTX 2080 settings and for overclocking
OCAT, latest version
Fraps, latest version
36 PC Game Benchmark Suite & 2 Synthetic Tests
Synthetic
Firestrike – Basic & Extreme
Time Spy DX12
DX11 Games
Grand Theft Auto V
The Witcher 3
Fallout 4
Watch Dogs 2
Just Cause 3
Rainbow Six Siege
Battlefield 1
Resident Evil 7
For Honor
Ghost Recon Wildlands
Mass Effect: Andromeda
Prey
DiRT 4
Project CARS 2
Middle Earth: Shadow of War
Assassin's Creed Origins
Destiny 2
Call of Duty WW II
Star Wars: Battlefront II
Final Fantasy XV
Far Cry 5
The Crew 2
DX12 Games
Tom Clancy's The Division
Ashes of the Singularity: Escalation
Hitman
Rise of the Tomb Raider
Deus Ex Mankind Divided
Gears of War 4
Civilization VI
Sniper Elite 4
Total War: Warhammer II
Forza 7
Shadow of the Tomb Raider
Vulkan Games
DOOM 
Wolfenstein: The New Colossus 
Strange Brigade
NVIDIA Control Panel settings:
Here are the NVIDIA Control Panel settings.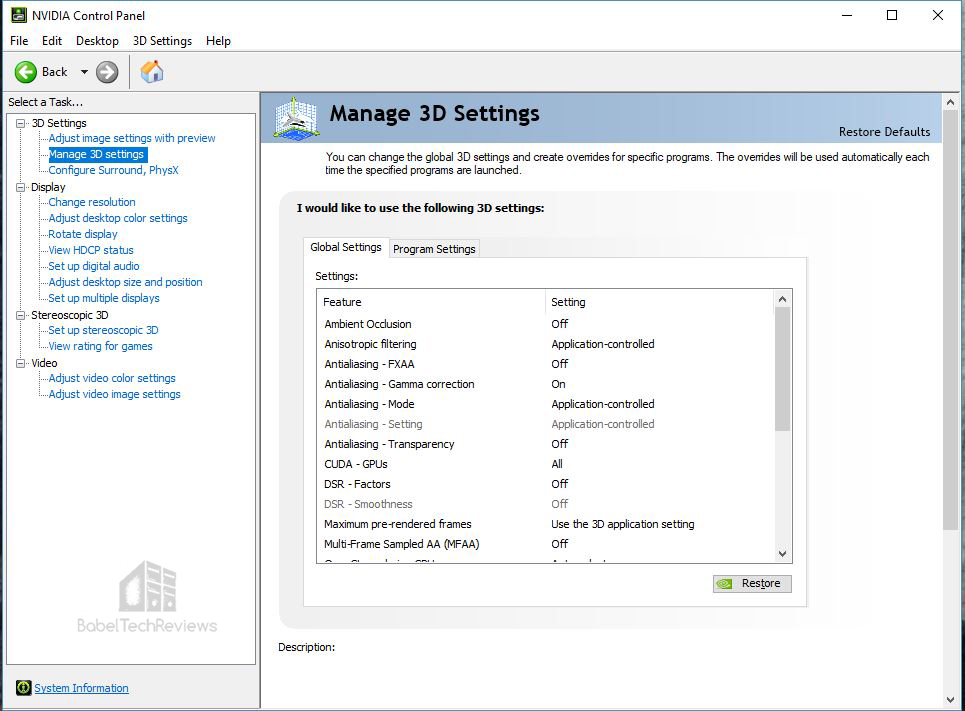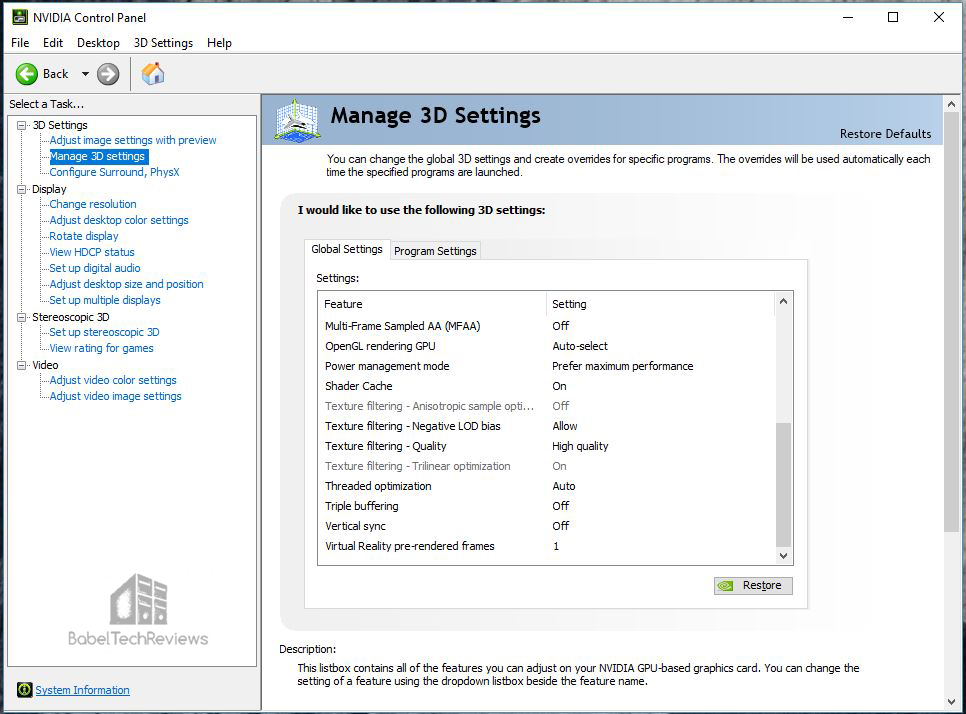 We used MSI's Afterburner for the GTX 1080 Ti to set its power and temperature limits to maximum since Precision X1 is not yet set up for Pascal.  We used Precision X1's automatic scan as well as its manual settings to overclock the RTX 2080.
By setting the Power Limits and Temperature limits to maximum for each card, they do not throttle, but they can each reach and maintain their individual maximum clocks.  This is particularly beneficial for high-power cards like the GTX 1080 Ti and the RTX 2080
Let's check out overclocking next.