The RTX 2070 Overclocking Showdown vs. the GTX 1080 using 35 games
This is our third evaluation featuring the RTX 2070. We reviewed the stock-clocked EVGA RTX 2070 Black and then pitted it against the factory-overclocked Founders Edition of the RTX 2070 and versus the GTX 1080. This evaluation will overclock each card as far as they can go to compare their stock and overclocked performance.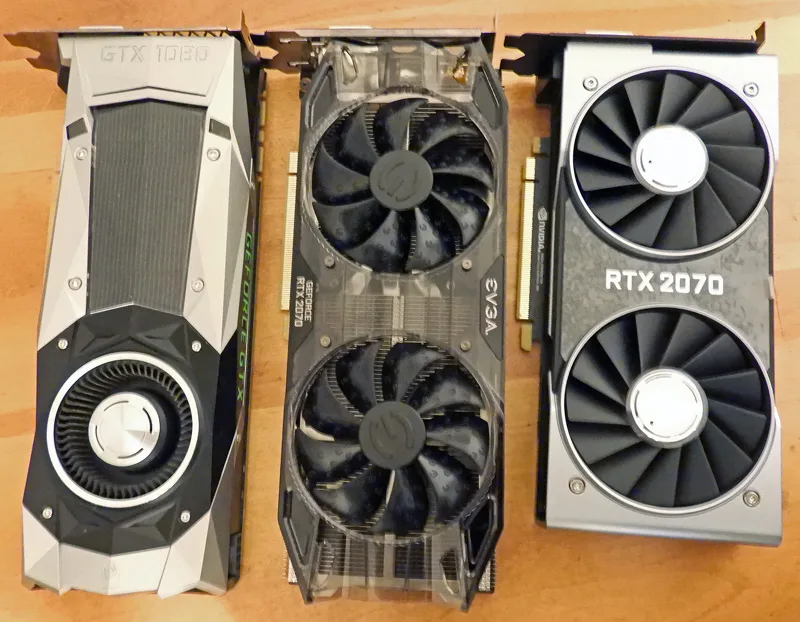 The built-by-NVIDIA RTX 2070 Founders Edition and the EVGA RTX 2070 Black use identical TU106 GPUs with the difference being that the Founders Edition along with all other overclocked partner cards come from an overclocked bin. NVIDIA also uses a more robust 6-phase power supply for the Founders Edition coupled with a 2-phase power supply for the GDDR6 memory.
Aside from its obvious better "looks" and backplate of the all-metal build of the Founders Edition versus the more plastic-looking and raw PCB back of the Black, is the Founders Edition worth $100 more in overclocked performance? We are also going to compare the overclocked performance of our two RTX 2070s versus the GTX 1080 Founders Edition to see how it fares when fully overclocked.
As with our earlier testing, our three competing cards are benched on Windows 10 64-bit Home edition, using Core i7-8700K with all six cores overclocked to 4.7 GHz by the BIOS, and 16GB of Kingston's 3333 MHz DDR4.
Before we explore overclocking and performance testing, let's take a look at our test configuration and overclocking.
Test Configuration – Hardware
Intel Core i7-8700K (HyperThreading and Turbo boost is on to 4.7 GHz for all cores; Coffee Lake DX11 CPU graphics).
EVGA Z370 FTW motherboard (Intel Z370 chipset, latest BIOS, PCIe 3.0/3.1 specification, CrossFire/SLI 8x+8x), supplied by EVGA
HyperX 16GB DDR4 (2×8 GB, dual channel at 3333 MHz), supplied by HyperX
RTX 2080 8GB Founders Edition, stock FE clocks, supplied by NVIDIA
EVGA RTX 2070 8 GB Black, stock RTX 2070 clocks, supplied by EVGA
GTX 1080 8 GB Founders Edition, stock clocks, supplied by NVIDIA
480 GB Team Group SSD
1.92 TB San Disk enterprise class SSD
2 TB Micron 1100 SSD
Seasonic 850W Gold Focus power supply unit
EVGA CLC 280mm CPU water cooler, supplied by EVGA
Onboard Realtek Audio
Genius SP-D150 speakers, supplied by Genius
EVGA DG-77, mid-tower case supplied by EVGA
Monoprice Crystal Pro 4K
Test Configuration – Software
Nvidia's GeForce 416.33 pre-launch drivers were used for both stock RTX 2070s. The identical-performing public 416.34 WHQL drivers are used for the GTX 1080 and for the overclocked RTX 2070s.
VSync is forced off.
AA enabled as noted in games; all in-game settings are specified
Gaming results show average frame rates in bold including minimum frame rates shown on the chart next to the averages in a smaller italics font.
Highest quality sound (stereo) used in all games.
Windows 10 64-bit Home edition. All DX11 titles were run under DX11 render paths. DX12 titles are generally run under the DX12 render path unless performance is lower than with DX11. Three games use the Vulkan API.
Latest DirectX
All 35 games are patched to their latest versions at time of publication.
MSI Afterburner, latest beta.
OCAT, latest version
Fraps, latest version
35 PC Game benchmark suite & 4 synthetic tests
Synthetic
Firestrike – Basic & Extreme
Time Spy DX12
DX11 Games
Grand Theft Auto V
The Witcher 3
Fallout 4
Watch Dogs 2
Just Cause 3
Rainbow Six Siege
Battlefield 1
Resident Evil 7
For Honor
Ghost Recon Wildlands
Mass Effect: Andromeda
Prey
DiRT 4
Project CARS 2
Middle Earth: Shadow of War
Destiny 2
Star Wars: Battlefront II
Final Fantasy XV
Far Cry 5
The Crew 2
Assassin's Creed: Odyssey
Call of Duty: Black Ops 4
DX12 Games
Tom Clancy's The Division
Ashes of the Singularity: Escalation
Hitman
Rise of the Tomb Raider
Deus Ex Mankind Divided
Gears of War 4
Civilization VI
Sniper Elite 4
Total War: Warhammer II
Forza 7
Shadow of the Tomb Raider
Vulkan Games
DOOM
Wolfenstein: The New Colossus
Strange Brigade
NVIDIA Control Panel settings:
Here are the NVIDIA Control Panel settings.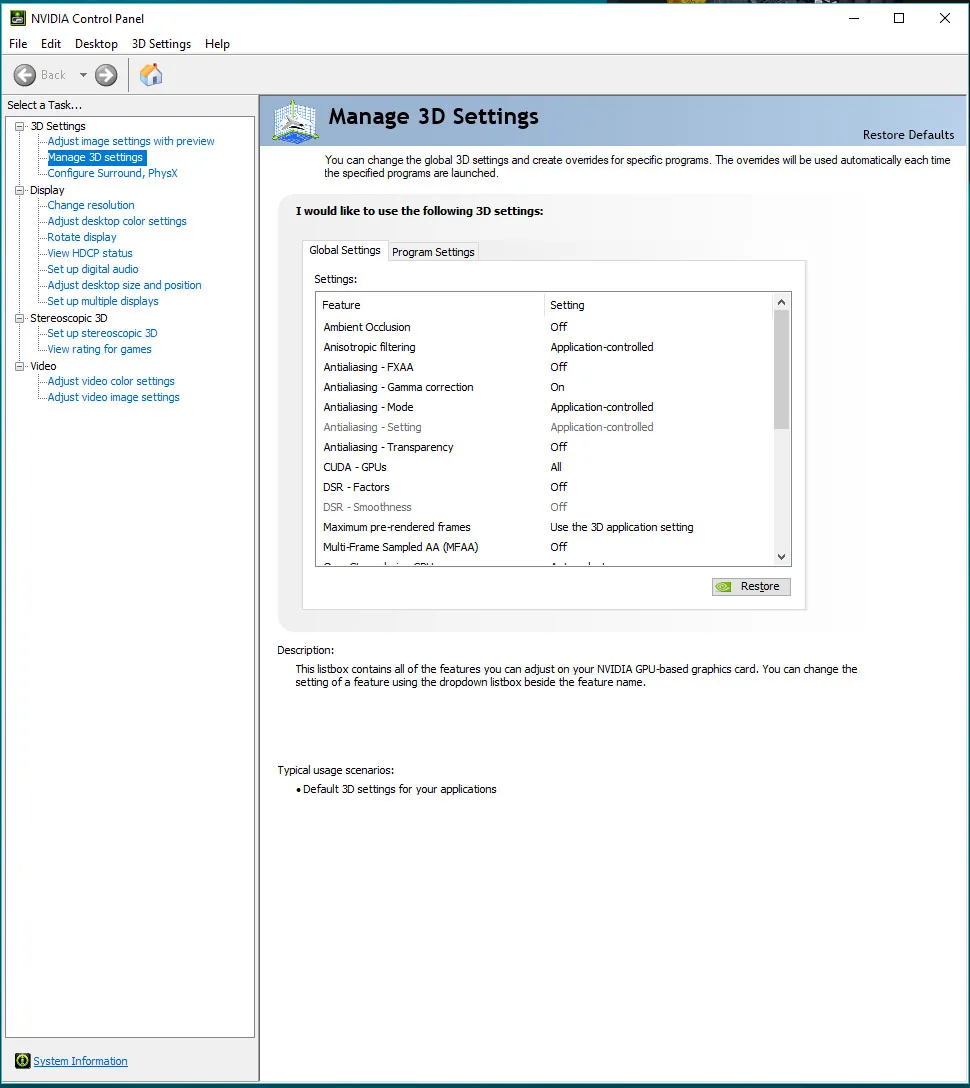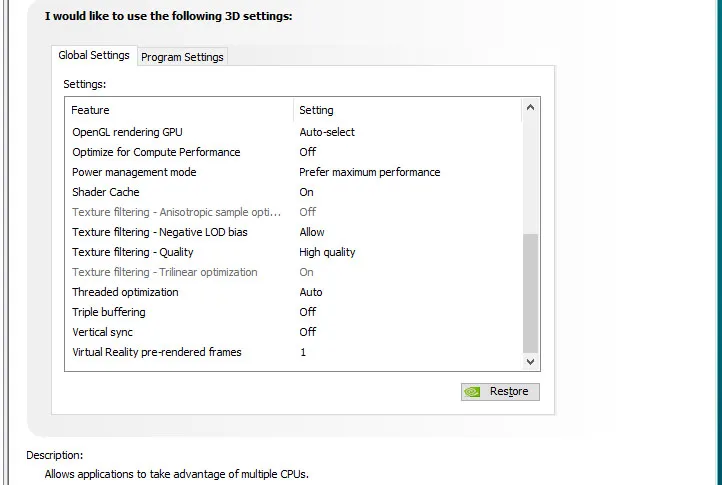 We used the latest beta of MSI's Afterburner to set our cards' highest Power and Temperature targets. By setting the Power Limits and Temperature limits to maximum for each card, they do not throttle, but they can each reach and maintain their individual maximum clocks stock or overclocked.
Overclocking
Our original RTX 2070 Founders Edition failed under overclocking after our reviews were posted but we were able to quickly get a replacement from NVIDIA. Our overclocking results are slightly lower than in our original review. Our replacement Founders Edition was also able to match the same 600 MHz offset to the memory and our final 100% stable core overclock achieved an offset of +135 MHz.
We also spent more time overclocking the Black and did not use EVGA Precision X1 but used MSI's Afterburner instead to set all of our manual overclocks. The Black's GDDR6 also overclocks to 600 MHz just like the Founders Edition, but to maintain overall stability we had to lower the core overclock. Instead, we choose to drop the Black's memory overclock to 300 MHz so as to keep its core overclock at +220 MHz for overall maximum performance.
It is possible that the Black as an entry-level RTX 2070 is unable to provide enough stable power delivery to both the memory and the core simultaneously since we had no issue with the Founders Edition maintaining its 225 MHz core overclock and its 600 MHz memory overclock.
Here is the summary of our three overclocks:
The RTX 2070 Founders Edition handled a +135 MHz manual core offset plus the 90 MHz factory overclock equaling a +225 MHz core offset over stock, and a 600 MHz memory offset.
The EVGA RTX 2070 Black managed a +220 MHz core offset over stock and a 300 MHz memory offset. Both cards generally performed in the 1935 MHz to 1980 MHz range with the Founders Edition hitting slightly higher peak values near 2000 MHz.
The GTX 1080 Founders Edition achieved a stable overclock of +175 MHz to the core and a +350 MHz offset to its GDDR5X memory. Its boost performed in the 1980 MHz range.
In all cases, moving the voltage slider to maximum made no difference to stability or to the performance of our three test cards so we left it at default. Let's check the stock and overclocked performance of the RTX 2070 Founders Edition versus the EVGA RTX 2070 Black and versus the GTX 1080 using 35 games and then head for our conclusion.
Performance Summary Charts & Conclusion
Here are the summary charts of 35 games and 2 synthetic tests. The highest settings are always chosen and the settings are listed on the charts. The benches were run at 1920×1080, 2560×1440, and at 3840×2160. Open each chart in a separate window or tab for best viewing.
Most results show average framerates and higher is better. Minimum framerates are next to the averages in italics and in a slightly smaller font. A few games benched with OCAT show average framerates but the minimums are expressed by frametimes in ms where lower numbers are better.
The first two columns show the RTX 2070 Founders Edition performance. Columns three and four represent the RTX 2070 Black, and the last two columns represent the GTX 1080 Founders Edition performance. In all cases, white number show stock results and yellow numbers represent overclocked performance.
By virtue of its factory overclock, the Founders edition is noticeably faster than the Black when each card is benchmarked at factory settings. In almost all games where overclocking the GPU matters, the manually overclocked RTX 2070 Founders Edition remains generally faster than the manually overclocked EVGA RTX 2070 Black although the built-by-NVIDIA's card's performance lead narrows. The GTX 1080 sits in 3rd place in almost every game – stock or overclocked.
Let's head for our conclusion.
Conclusion
If you are buying a RTX 2070, the Founders Edition is a faster card than the EVGA Black if you don't overclock. If you manually overclock, you can narrow the performance gap significantly, depending on your own card's capability and the luck of the draw. The Founders Editions as well as all partner factory overclocked RTX 2070s come from an overclocked bin while the stock cards do not.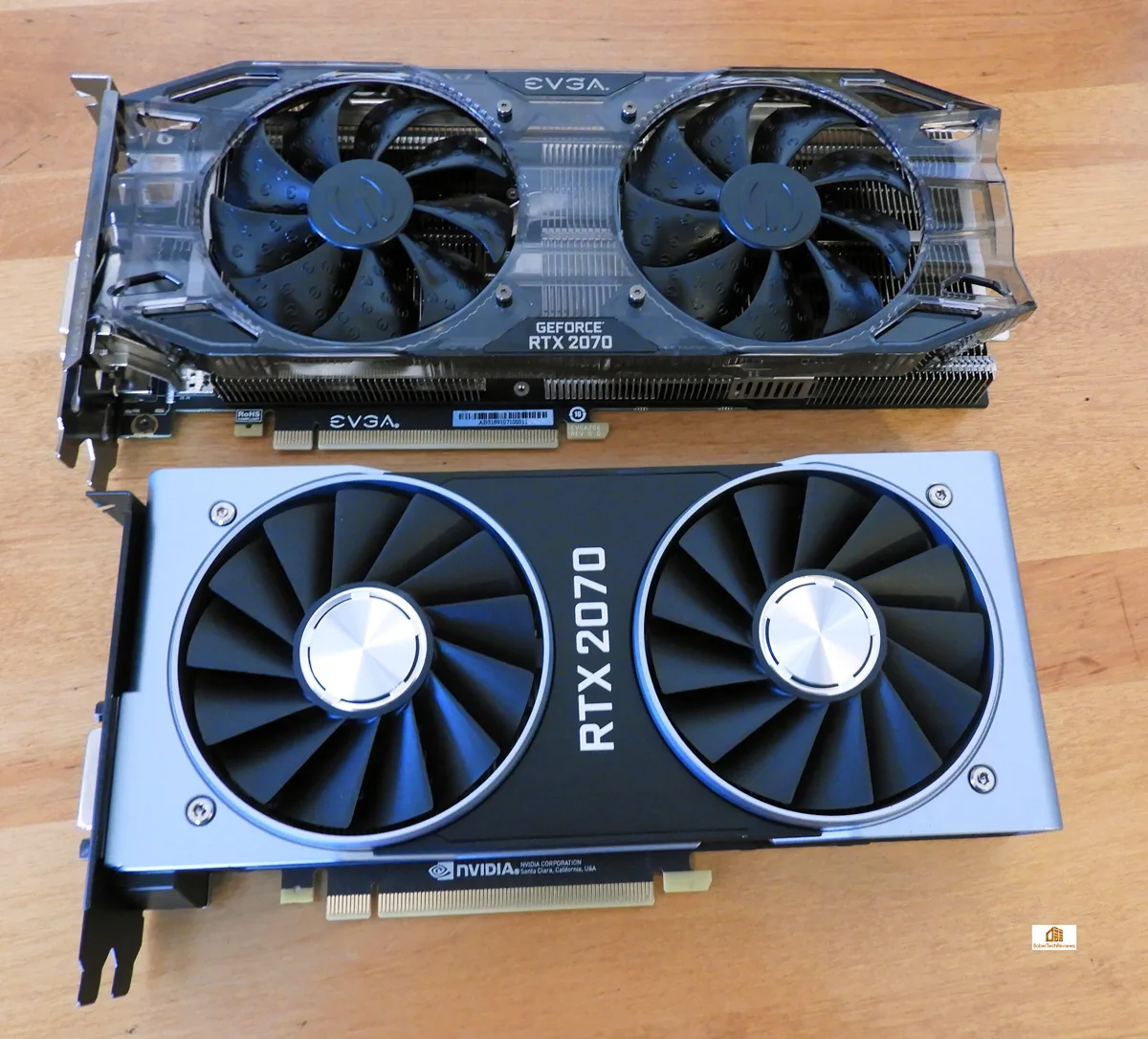 From a pure performance standpoint, price conscious gamers will likely take their chances with a stock RTX 2070 like the EVGA Black. Enthusiasts who want a better-looking factory overclocked RTX 2070 with a beefier power supply may well choose to pay $100 more for the Founders Edition. Each card in their own right deserves BTR's Editors Choice Award depending on its users needs. On the other hand, bargain hunters may well pick a GTX 1080 if its price is right.
Stay tuned, there is a lot coming from us at BTR. We are updating our benchmarking suite again in preparation for a brand new card that we will review shortly.
Happy Gaming!