In NVIDIA News from the GDC 2018 in San Francisco, the company presented RTX ray-tracing technology, and made other major gaming-related announcements about the GeForce Experience Highlights and Ansel. We noted that NVIDIA specifically showed that RTX runs on Volta architecture GPUs which could perhaps lead one to assume that the next generation GeForce architecture may also be named Volta, and not Turing nor Ampere as rumors suggest.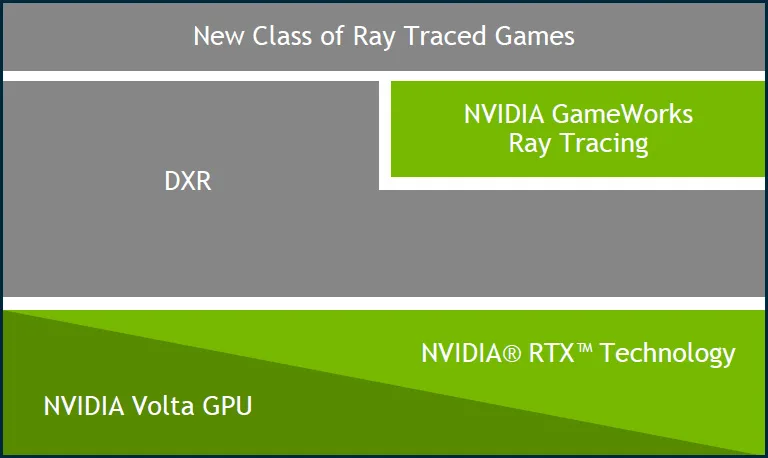 The following are quoted from NVIDIA's GDC roundup press release this morning.
NVIDIA RTX™, a ray-tracing technology that brings real-time, cinematic-quality rendering to content creators and game developers. NVIDIA RTX is the product of 10 years of work in computer graphics algorithms and GPU architectures. It consists of a highly scalable ray-tracing technology running on NVIDIA Volta architecture GPUs.
GDC Demos
Industry leaders such as 4A Games, Epic, Remedy Entertainment and Unity are featuring NVIDIA RTX in their technology demonstrations at this week's Game Developers Conference, in San Francisco. They are showing how real-time ray tracing can provide amazing, lifelike graphics in future games. And because RTX supports Microsoft DirectX Raytracing, the groundbreaking technology will be enjoyed by Windows users everywhere.
Introducing GameWorks for Ray Tracing
To allow game developers to take advantage of these new capabilities, NVIDIA also announced the NVIDIA GameWorks™ SDK will add a ray-tracing denoiser module.
Supported in Microsoft DirectX Raytracing API
Architected to support ray tracing through a variety of interfaces, NVIDIA partnered closely with Microsoft to enable full RTX support for applications that use Microsoft's new DirectX® Raytracing (DXR) API.
Long considered the definitive solution for realistic and lifelike lighting, reflections and shadows, ray tracing offers a level of realism far beyond what is possible using traditional rendering techniques. Real-time ray tracing replaces a majority of the techniques used today in standard rendering with realistic optical calculations that replicate the way light behaves in the real world, delivering more lifelike images
Four New Titles are adding NVIDIA Highlights – COD WW II and Tekken 7 get it today!
Call of Duty WWII and Tekken 7 have become the latest games to add support for Highlights. In addition, Dying Light: Bad Blood and Escape from Tarkov will also soon be adding Highlights support.
Gamers have already recorded over half a billion videos using the feature.
NVIDIA Releases a Public SDK for NVIDIA Highlights, Support in Unreal Engine and Unity
It just got a lot easier for developers to add NVIDIA Highlights to their games. Highlights has been wildly popular with developers, as it enables gamers to easily generate stunning user generated content to share it socially. The new NVIDIA Highlights SDK enables developers to easily add support for Highlights to their games. They just need to download it from https://developer.nvidia.com/ to get started. We are also adding support for Highlights in the Unity Engine and Unreal Engine as a plug-ins, so developers using those engines can add them.
NVIDIA Ansel Has an Online Art Gallery for Gamers
Highlighting the best of an exciting new medium, we're launching a digital art gallery _ ShotwithGeForce.com — for gamers to upload and share their favorite in-game photography.
The interactive gallery, launched Monday at the Game Developers Conference in San Francisco, will give gamers a dedicated place to upload, comment on and like their screenshots taken with NVIDIA Ansel™.
NVIDIA Ansel, Coming March 21st to Star Wars™ Battlefront™ II.
Star Wars™ Battlefront™ II allows players to live out their own Star Wars fantasies as a trooper on the ground, ace pilot dogfighting in space, and an epic hero dominating the battlefront in authentic and beautifully rendered environments from all three eras. Starting March 21st, you'll be able to capture the game's stunning visuals with NVIDIA Ansel within Star Wars Battlefront II's Arcade mode.
When you've got a photograph you're especially proud of, upload it to the Shot With GeForce website, and share it to Facebook and/or Twitter. Be sure to tag @NVIDIAGeForce and include the hashtag #SHOTWITHGEFORCE for a chance to win some amazing prizes.
For our grand prize winner, we've lined up a Razer Blade Stealth laptop, a Razer Core external GPU enclosure, and a Star Wars™ NVIDIA TITAN Xp Collector's Edition graphics card. Two runners up, meanwhile, will each win a Star Wars™ NVIDIA TITAN Xp Collector's Edition graphics card to slot into their existing PC, giving them a massive boost in GPU power.
GeForce Experience adds a "Save as GIF" feature
GeForce Experience 3.13.1 adds the ability to save your ShadowPlay Highlights videos in GIF format. This was a much requested feature from gamers.
Happier Gaming!