Conventions Highlight Production Shift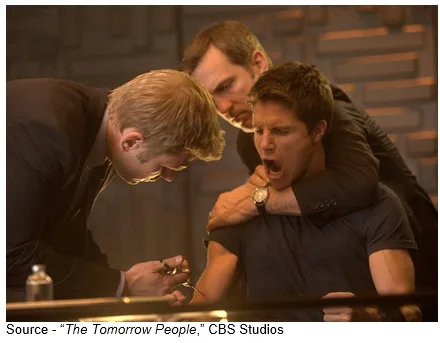 Almost every segment of the M&E industry had something to crow – and complain – about when Black Widow finished its first weeks this summer.
NATO (National Association of Theatre Owners) bragged that people were rushing back to put their seats in seats ($90M U.S., $90+ M international).
The streaming industry said, "See same-day releases are good for everyone, especially consumers," as Disney + racked up more than $60M in premium access.
Of course, Scarlett Johanson's agents and lawyers weren't happy but that's way above our pay grade!
We were more impressed that MCU (Marvel Cinematic Universe) and a whole lot of other project teams were able to produce/post video stories during a very tough year.
Have you seen the list of hundreds of great titles scheduled for theatrical, streaming, pay TV the last half of this year?
Creative teams were awesome!
2020 was something like suddenly plowing into the eye of a storm for the content creation … didn't really plan for it, didn't want it/like it but had to figure out how to deal with it.
All of last year's production/post people/teams weathered it pretty well, accelerated the use of some technology/ideas and learned how to modify/master ideas that were just … ideas.
They used advanced technologies and tools and they'll be taking center stage – next to the post stuff – at next month's NAB show and December's IBC.
We've spent the past month reviewing the events' programs, digging into exhibitors' websites, looking at examples of project phases and sanity checking with really smart people to understand how creatives made it through the year and how production/post people will create it alone/together as we move forward.
First of all, if it weren't for the contributions the technology industry has made in recent years, all of the screens would have been dark this year or folks would be looking at a lot of old stuff.
But at the same time there's a big difference between what the tools/products were supposed to deliver and how creative folks made them work.
In our opinion, it's sorta like –- the video stories content creators … create.
With very little warning and even less advanced/tested what-if planning, studios shut down and sound stages went quiet.
If folks were fortunate, they were sent home with minimum guidance other than "get the project done."
If they weren't lucky … they were furloughed.
Thanks to technology and creative advances, many in the industry were able to work through the disruption and create.
There's no going back!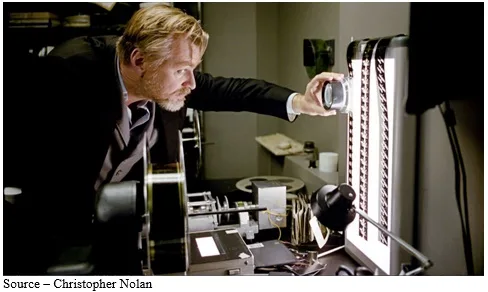 Despite Christopher Nolan's best efforts to revive celluloid in 2018 with the re-release of Stanley Kubrick's 2001, a Space Odyssey on celluloid film, digital filmmaking was firmly embedded in film/show production when the pandemic swept the globe.
He wasn't alone because producers like JJ Abrams, Quentin Tarantino, Stephen Spielberg and others along with film critics like Roger Ebert lamented the move to digital filmmaking.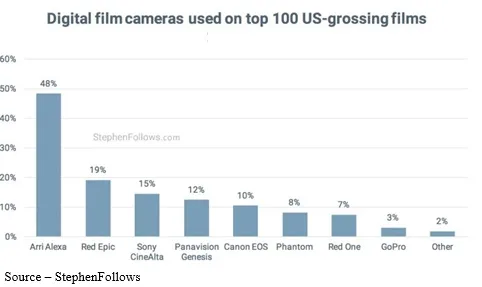 By almost every metric – resolution, dynamic range, color reproduction – as well as intangibles like warmth and viewer impact/retention, film is still cherished but practicality, waves of digital improvements and economics have all but replaced celluloid.
The shift enabled the industry to continue to work despite the lockdown and helped test/refine solutions that otherwise would have required 10+ years to evolve.
Digital production/post and distribution are going to be major topics at NAB and IBC as studios, production/post and content distributors get insights into what worked and what didn't since the last live events were held two years ago.
Early in the pandemic, film/show production came to a screeching halt and people were sent home until folks could figure out how to get back to work safely.
New guidelines/rules were hastily developed and modified as much smaller production teams returned to work.
Jurassic World: Dominion was one of the first major projects to restart at a cost of $5M for the new safety protocols. The protocols included the project's own medical facility, obligatory masks except when the person is in front of the camera, daily temperature checks, comprehensive/continual cleaning, a significantly smaller crew/team living/working in a bubble, an added security team and more.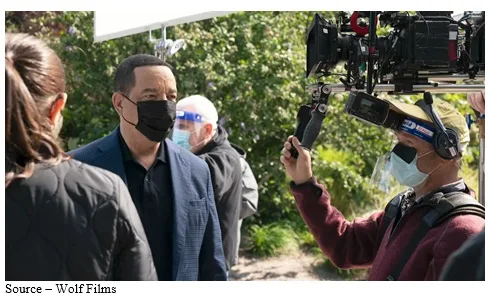 When Law & Order: SVU returned to shooting in New York City, things were also a lot different with fewer location shots, fewer costume changes, fewer people on the set, fewer close scenes.
Even with the precautions, LA shoots had 23 projects halted and nearly 50 in NYC.
Tom Cruise went to extraordinary measures taking entire hotels and a cruise ship to keep production on-line for Mission Impossible 7 and was widely trolled for being so vocal in enforcing safety on set guidelines.
For large, medium, small projects, that was "almost" the easy part.
We got a glimpse of the mythical future of content creation at HPA (Hollywood Professional Association) virtual tech retreat and three-hour Supersession early this year.
It incorporated a lot of MovieLabs guidelines (founded by everyone – Disney, Paramount, 20th Century Fox, Sony, Universal, Warner Bros) to develop standards for tomorrow's content – https://tinyurl.com/7zwsywud.

For the project, volunteer crews produced films on continents/locations as dispersed as Hollywood, Dubai, Brisbane, London, Mexico City and Ulaanbaatar (Mongolia).
Hint: You'll see a lot of tomorrow at NAB and IBC with the alluring cloud at the center of it all which promises creatives virtually unlimited compute power, thousands of applications to choose from, storage capacity to tackle any job and well … the world.
My daddy taught us long ago that "If it sounds too good to be true, it probably is."
Cloud production is good, it has a lot of potential, it has gotchas.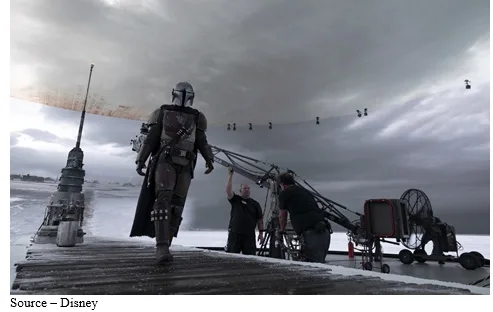 Even during the pandemic, new production facilities were being built around the globe. Many were reserved on a long-term basis by studios/production houses even before they were finished. We expect global production will be widely discussed at both NAB and IBC.
Before crews hit the sets, many jobs changed as the industry worked through new guidelines and others became redundant as projects quickly transitioned to traditional technologies using greenscreens/chromakeying
Mandalorian is an example of the new environment where physical sets are blended with backdrop scenery in real time and projected onto massive LED displays.
Expect to see a lot of virtual production options at NAB/IBC; but more important will be the discussion sessions during the programs. Nice to learn from others' mistakes.
The virtual sets can have CGI components, move in parallax as cameras capture the actors and physical sets requiring a small "B-Roll" crew. The backgrounds and effects are all developed before the capture of the action.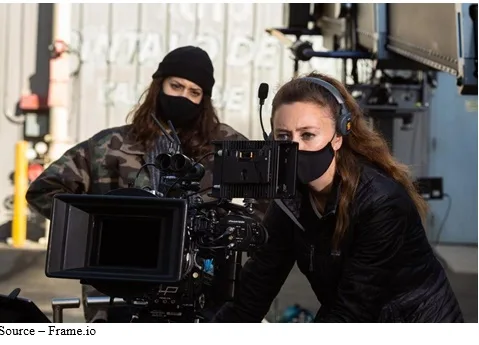 Professional video cameras are undergoing rapid evolution as you'll see at the October and December shows. Higher-resolution content, faster frame rates and stereoscopic content capture are only a few of the advances you'll be seeing across the board from RED, BlackMagic and everything in between.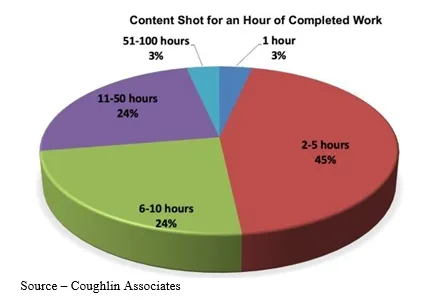 One of the benefits of the newer cameras is that they are obviously digital. They enable producers and cinematographers to overshoot to ensure they have all of the content they will need if scene selection is changed during the workflow or to ensure the post team has sufficient material to work with.
Most shooters overshoot direct to rugged, high-speed SD cards because they can reliably hold the captured data that can be quickly swapped out and verified on set and then copied to hard drives for safe keeping and reverification.
We are intrigued about the potential of RAW content direct to the cloud, believe it will happen someday (soon, we hope) and want to learn more about Frame.io's shoot-to-the-cloud solution at the conferences but …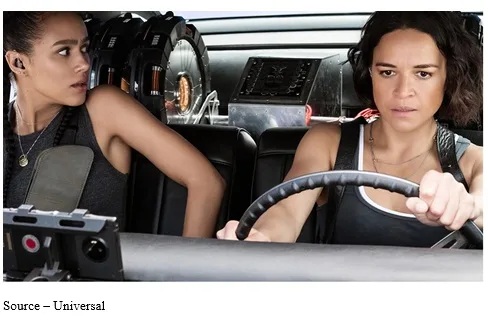 Vin Diesel didn't sweat it too much when he had to sacrifice a number of $2-$4,000 BlackMagic cameras for his stunts in F9. However, he and director Justin Lin did want to ensure every pixel was captured to minimize post work or worse, an expensive 2nd/3rd take.
The cameras may take a beating, but carts are much more rugged/reliable than Frame.io's Teradek sensitive Wi-Fi circuitry.
The combination of being able to reliably capture content digitally and the desire to futureproof projects has led almost every producer/cinematographer to shoot projects in 8K because the final project can be delivered in 4K if necessary for streaming or theatrical viewing.
For streaming over less reliable internet connections, it can even be – and often is – delivered in HD.

To provide this post and delivery flexibility there is also significant added resolution (~4X higher pixel count) than 4K content and more than 2X storage for UHD 8K footage.
In addition, in the M&E industry content only grows with:
Original media exactly as shot (RAW)
Protection clone (never touched)
Worker copy (files renamed, organized)
Protection copy of worker
Studio copy of worker
3rd clone of worker for safety
Output of project
Clone and 2nd protection
Archive … maybe
So?
Whether it's for film, streaming or broadcast, large – extremely large – files have to be transferred to the production team.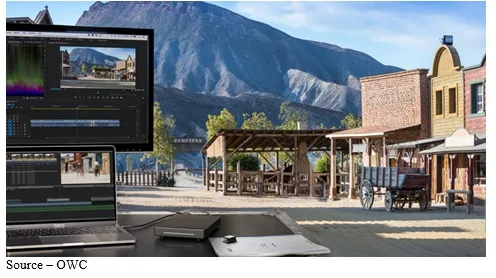 For practical reasons (the reliability of wireless distribution, the stability/consistency of LTE or 5G service) we still believe the original data needs to be captured and stored on fast, high-capacity solid-state storage or even high-performance hard drives.
Then, as MovieLabs recommends for tomorrow and as Frame.io, Brightcove, Ziflow, CloudApp and others will be demonstrating at NAB/IBC, the files can be uploaded as soon as they are shot to the cloud. This enables producers to examine content in near real time to recommend new/added shots just as though they were on set.
The cloud – public, private, hybrid – has proven to be very useful in post work. As we'll discuss in the second half of the production/post overview of what folks can expect at NAB/IBC, the 2020 bump in road proved that cloud workflow got here faster than we expected, and it works very nicely with our shifting content delivery requirements.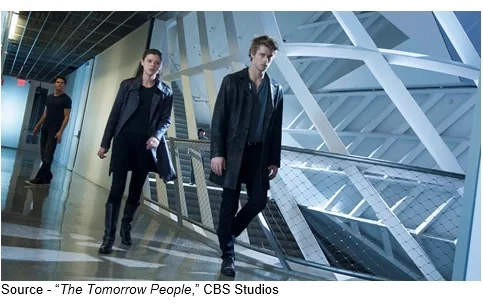 The pandemic and rapidly changing film/show production/delivery requirements showed that creatives are able to not only survive but thrive. Or, as Stephen Jameson explained the situation in The Tomorrow People, "The only way to keep my species from going extinct is to find my father, and the only way to do that is by working for the enemy."
And from what we've seen in looking ahead and examining what will be taking place at NAB and IBC and looking back at what content creators/developers have done since shifting production and post work, things are going to be better … a whole lot better!
# # #
Andy Marken – andy@markencom.com – is an author of more than 600 articles on management, marketing, communications and industry trends in media & entertainment, as well as consumer electronics, software and applications. An internationally recognized marketing/communications consultant with a broad range of technical and industry expertise in storage, storage management and film/video production fields; he has an extended range of relationships with business, industry trade press, online media and industry analysts/consultants.