Multigenerational Workforce Vital But Needs Attention, Support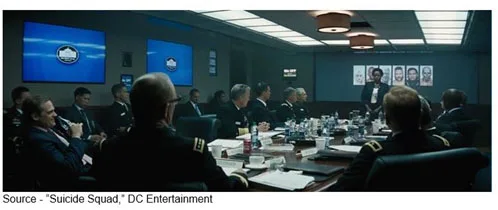 Recently we stumbled on an article regarding a 69-year-old Dutchman who had petitioned the court to legally list himself as being 20 years younger.
The doctor said he had the body of a younger man, he said he feels 45 and if transgender folks can change their birth certificates, why can't he?
He felt the change would open new dating and job opportunities but the court said nope…you can't turn the clock back.
But, he may have been right.
His focus on age and work sheds light on a growing issue around the globe … the gap between employers' needs and the availability of skilled workers.
People almost everywhere are concerned about AI (augmented intelligence) and robots taking their jobs away from them, leaving them unemployed and unemployable. And while it is an issue, an even bigger issue is that companies today face a growing shortage of skilled workers.
And in the coming decade, as firms continue to focus on expanding their millennial workforce, it's going to become even worse.
A recent study by Korn Ferry reported that by 2030, in all likelihood the worldwide talent shortage will reach about 85 million people with needed skills to help firms and economies to continue to grow. They estimated that the financial impact ($8.5T unrealized annual revenue) would be equivalent to the combined GDP (gross domestic product) of Germany and Japan.

"The impact of the talent crunch is so significant that the continued predominance of sector powerhouses is in question–from London as a global financial services center to the United States as a technology leader and to China as a key manufacturing base," the study says.
"As a result," it continues, "organizations may be prompted to relocate their headquarters and operational centers to places where the talent supply is more plentiful. Governments will be forced to invest in improving their people's skills to avert corporate flight and to defend their nations' income and status."
The study noted that India may be the only country with a talent surplus and could become the world's most powerful business center.
The report goes on to say, "Global growth, demographic trends, underskilled/undermotivated workforces and tightening immigration mean that even productivity leaps enabled by technology will be insufficient to prevent the talent crunch."
The graying population is a major contributor to the talent shortage in most countries.
In the U.S., for example, there was a record 6M vacancies per month and about 10,000 baby boomers reached retirement age every day while many as our Dutch friend felt they had 10-20 good work years in them.
The issue, as most experts observe, is complicated.
Meanwhile, researchers have reported that there is a significant global decline in the number of children women have.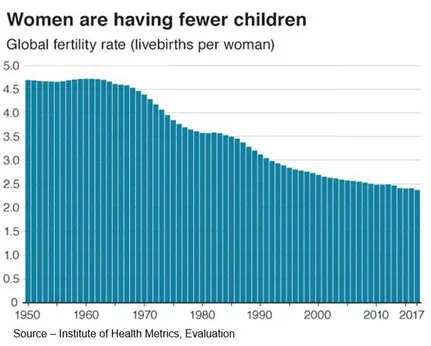 They report nearly half of countries are facing a "baby bust" — meaning insufficient children to maintain their population size and available workforce pool.
In 1950, women had an average of 4.7 children in their lifetime. Last year, that rate was nearly halved to 2.4 children.
"Japan has long faced a declining and aging population, Dr George Leeson, director of the Oxford Institute of Population Ageing, noted. "And most economically developed countries, including most of Europe, the US, South Korea and Australia, are experiencing similar declines."
While China had major population growth – half a billion to 1.4B from 1950 – is also facing the challenge of population/workforce stagnation.
Leeson told the BBC: "Demography impacts every single aspect of our lives, just look out of your window at the people on the streets, the houses, the traffic, the consumption; it is all driven by demography.
"Everything we plan for is not just driven by the numbers in the population but also the incorporation/utilization/involvement of people of all ages," he noted.
He thinks workplaces are going to have to change and that the mix of a broader range of age groups is going to be important for firms to grow and prosper.
Prof Christopher Murray, the director of the Institute for Health Metrics and Evaluation at the University of Washington, added that the trend of a lower birthrate, fewer people entering the "prime" working age and healthy, willing people over the age of 65 being sidelined is unsustainable.
According to Paul Irving, of Milkin Institute, one in five Americans will be 65 or older by 2030 and by 2035, people of retirement age will eclipse the number below 18. Globally, the number of people over 60 is projected to double to 2B by 2050.
This societal/business shift didn't just suddenly happen as more people want to work and can contribute to organizations growth.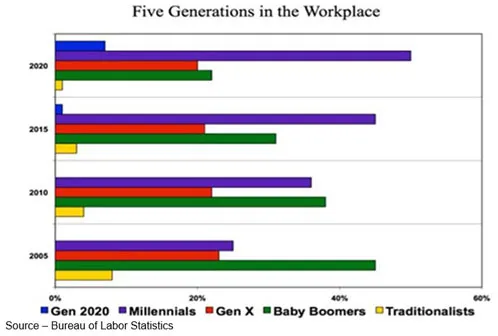 Citing a Bureau of Labor Statistics report, Standard & Poor said increasingly, the more progressive and prosperous organizations will include individuals from as many as five generations, ranging in age from teenagers to 80-somethings.
Aging will affect every aspect of a business' operations — talent recruitment, the structure of compensation and benefits, the development of products and services, how innovation is unlocked, how offices and factories are designed and even how work is structured.
Irving said that the aging of the population and workforce shouldn't be viewed as a looming crisis but rather as a business opportunity.
Older adults are generally healthier and more active than those in past generations.
They are changing the nature of retirement as they continue to learn, work, contribute.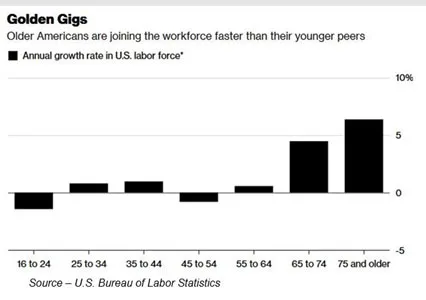 In the workplace, they provide emotional stability, complex problem-solving skills, nuanced thinking, and institutional know-how.
Their talents complement those of younger workers, and their guidance and support enhance performance and intergenerational collaboration.
Irving suggests that growth-focused firms develop a longevity strategy to create a vibrant multigenerational workforce.
This includes two key elements: internal-facing activities (hiring, retention, and mining the talents of workers of all ages) and external-facing ones (how your company positions itself and its products and services to customers and stakeholders).
The Stanford Center on Longevity reported that typical 60-something workers today are healthy, experienced, and more likely to be satisfied with their jobs than younger colleagues.
They also have a strong work ethic, loyalty to their employers, are motivated, knowledgeable, adept at resolving social dilemmas and care more about meaningful contributions.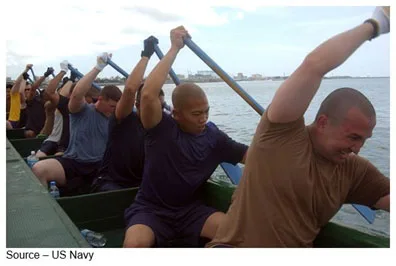 The Center also noted that they are more likely build social cohesion and to share information and organizational values.
T-Mobile's John Legere chided competitors recently on implying that boomers were tech idiots.
"Degrading at the highest level," he said. "Carriers assume boomers are a bunch of old people stuck in the past who can't figure out how the internet works. Newsflash, carriers: Boomers invented the internet."
Over the past decades, companies have recognized the economic and social benefits of women, people of color, ethnic diversity, physically disabled, veterans, and LGBT individuals in the workforce and this has to continue until genuine equality is achieved in every organization.
At the same time, Patricia Milligan, of Mercer's Multinational Client Group observed that a single class is missing and that organizations are not taking full advantage of the expertise and experience of the boomer and boomer plus workforce.
The challenge for most organizations is that there isn't necessarily a shortage of people but the skills, expertise is missing.
Do generational differences exist?
Absolutely.
We were raised by parents from different generations. We were exposed to diverse values.
We grew up amidst various economies.
Every generation brings its own set of talents and innovation to the workplace:
Boomers may bring experience and wisdom
Millennials can bring multitasking skills, the desire to work in teams
Gen Zers expect meaningful, fulfilling work, advanced technology work and the opportunity to make a positive impact on their community
The increasing talent shortage means there will have to be a redefinition of the social contract between individuals and organizations and refocusing of relationships between various age employees.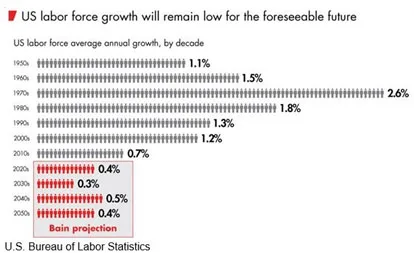 The future of organizational growth requires a more flexible relationship between senior management and their people. It must be based on mutual respect.
The labor force will continue on its path of increased fluidity and management needs to have a more integrated and cross-fertilized program for all employees.
Each generation wants and expects meaningful work to deliver measurable results.
KPMG found that that each generation believes everyone else is just in it for the money.
The firm recommended that companies need to emphasize workers' shared value.
KPMG's Bruce Pfau noted that pursuing millennial-specific employee engagement was a waste of time, focus and money.
He recommended that senior management had a better chance of succeeding if they focused on factors that lead all employees to join, stay and perform at their best.
In other words, if everyone needs and wants to work, people are going to have to learn to work together. Ignoring the realities of the demographic shift under way is no longer an option.
"Ultimately, organizations that create a workforce in which all generations are supported will thrive in the era of human-machine partnerships," said Dell's Danny Cobb. "An integrated workforce is an empowered workforce, one that can help their organizations transform and succeed in the digital future."
You can see the graying of your workforce as a crisis — or an opportunity.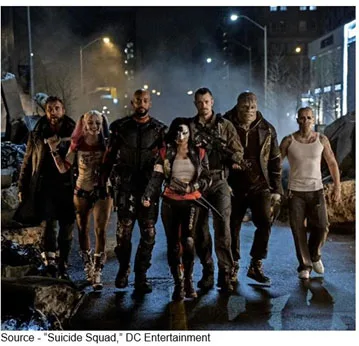 Or as Deadshot said, "You might wanna work on your team motivation thing. You heard of Phil Jackson?"
# # #