Minecraft – RTX On the Way! – New GeForce Driver Available Now
Eighteen months ago, NVIDIA introduced realtime RTX ray tracing, and currently there are seven AAA games that support it with about 25 more announced. All of the major game development engines support RTX, and there are over 15 million Turing GPUs. BTR's indie ray tracing series has also covered three of the four RTX indie studio games that use it, and DLSS 2.0 is a game changer bringing better performance over using TAA. So a new announcement that Minecraft RTX beta is coming in two days is huge.
Minecraft is the all-time world's best selling video game with over 180 million copies sold and with over 112 million active players. In case you have been isolated for a decade since it was released, Minecraft players are free to explore a procedurally-generated 3D world to do basically anything, including modifying it to create new gameplay mechanics and assets. A player can cooperate or compete with other players in a practically infinite number of Minecraft worlds. There is an incredible amount of freedom that allows each player choice as to how to play.
Minecraft possibilities are nearly endless and, it is currently responsible for 100 billion 2019 Youtube views that demonstrate the intense interest in the worlds and gameplay created. A new path tracing implementation that drastically improves the visuals with greatly improved lighting and reflections in real time are exciting. Here are a couple of examples courtesy of NVIDIA comparing Minecraft RTX On vs Off.
[twenty20 img1="16972″ img2="16973″ offset="0.5″]
The lighting, shadows, and the reflections are fully path traced.
[twenty20 img1="16974″ img2="16975″ offset="0.5″]
Color us impressed. Of course, the big question is how will Minecraft with RTX perform since ray tracing performance, and especially path tracing as in the case of RTX Quake II, usually takes a large hit. Being able to play with fluid framerates are critical to the enjoyment of any game, and DLSS 2.0 has also been implemented into the upcoming RTX Minecraft Beta for GeForce RTX card owners.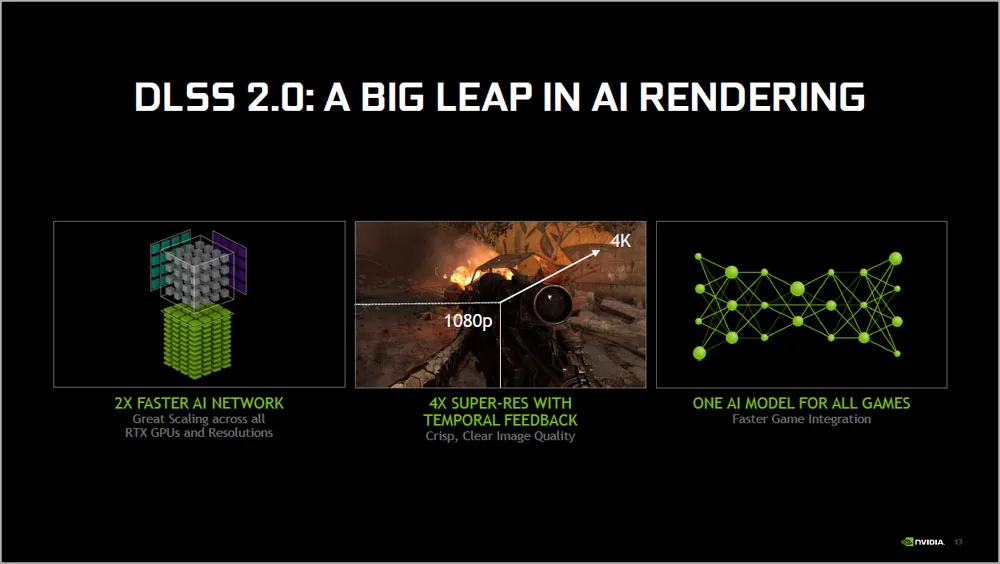 DLSS 2.0 uses AI upscaling to match native resolution image quality, and NVIDIA claims a 1.7X performance boost allowing a RTX 2060 to play at decent framerates.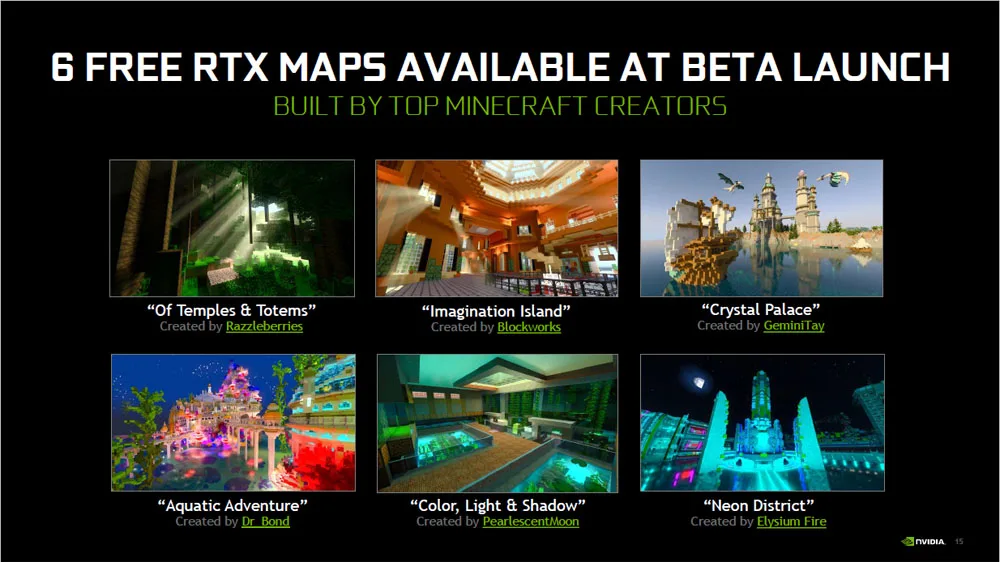 NVIDIA will post six new worlds for the Minecraft RTX Beta on the Minecraft Marketplace, all for free for gamers who own Minecraft on Windows 10. Creators can start building new RTX worlds, with ray traced reflections, shadows, lighting, and customized, realistic materials.
Most textures currently use two maps, color and opacity which are considered to be the Minecraft texture map. The new system uses these two maps plus metallic, emissive, roughness and normal/height maps to better describe the real-world material surface represented by the texture.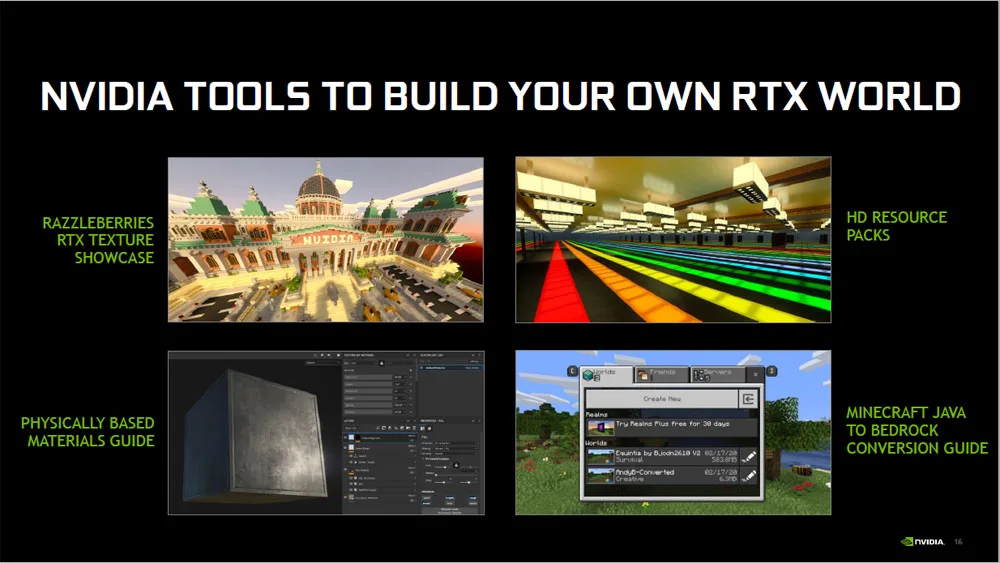 For Minecraft RTX creators, there are two free guides which include some new tools. These include Razzleberries which allows creators to experiment with all materials, a material guide for creating your own world using Adobe, plus a Java creation tool to convert existing worlds to RTX.
We can't wait to explore the Minecraft RTX beta, and we will hopefully be able to bring you a performance hands on preview soon.
UPDATE 15 April 2020 6 AM PDT – GeForce Driver 445.87 Available now
GeForce Game Ready driver 445.87 is ready to download with day-one optimizations and enhancements for the Minecraft with RTX beta that starts tomorrow at 10 AM PDT. It enables DLSS 2.0 in the Minecraft with RTX beta and is required to use that feature.
This driver also offers the best experience for GeForce gamers in Saints Row: The Third Remastered, Call of Duty: Modern Warfare 2 Remastered, and SnowRunner. Support for three new G-SYNC Compatible gaming monitors has also been added. The newly-validated monitors are the Acer XB273GP, Acer XB323U, and ASUS V27B.
Get the new driver from the GeForce Experience or download directly from NVIDIA's website. More information is available here about the driver.
For more details, check out NVIDIA's announcement.
Happy RTX Gaming!