This evaluation was originally published on AlienBabelTech by this same author in mid-October and was subsequently lost from their database in December when their host's drives crashed. It has been completely restored here and it was also updated to include FXAA screenshots that was included in a massive December 4.3GB patch which also installed the latest DLC Season Pass content including "Lord of the Hunt" that this author is enjoying now. MiddleEarth: Shadows of Mordor is this reviewer's Game of 2014 (GotY).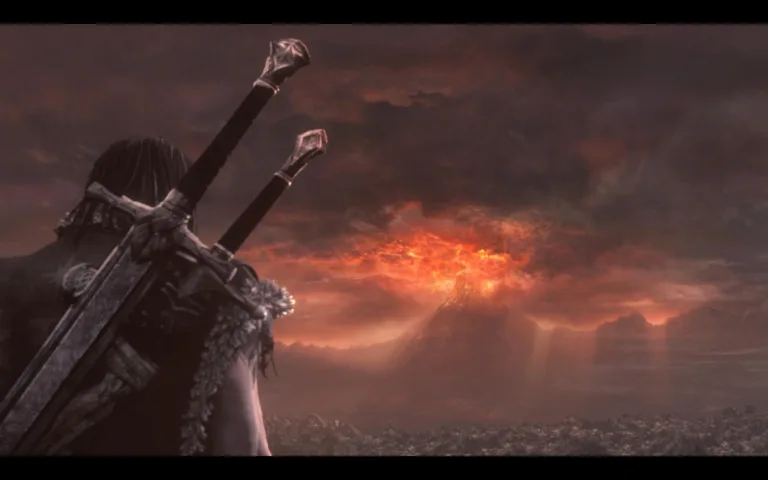 Middle Earth: Shadows of Mordor has been out for ten days. This editor is an unabashed fan of everything "Lord of the Rings", and we have spent over 70 hours in the first week, completing the Main Quest along with most of the side quests. It can be completed far more quickly, but this is a game to be savored by LotR fans. This game grabs you and takes you into Tolkien's world like no other. It has been years since a game has moved this editor to stay up past 3 AM for several nights in a row, only to wake up early to play again. And when we were not playing, we were thinking about the game and planning to get back to it as soon as possible. After some comments about the gameplay, we are going to look at expanded performance testing, now including Radeon and GTX 980 SLI results, and a closer look at Image Quality (IQ).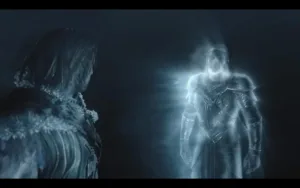 Middle Earth: Shadows of Mordor is darker than the movies, and it captures the spirit of the book very well. Tolkien purists won't like it any more than the movies, but the story doesn't really contradict the books and the game integrates a brand new story line into the time between "The Hobbit" and "The Lord of the Rings". You play a Ranger named Talion who was cursed, and you are now possessed by an Elven Lord Wraith that denies you death.
You are cursed to be tied to this Wraith and to return to life again and again after dying unless you both can break your related curses. Finally here is a game where dying makes sense, and each time you die, it affects your game, and your opponent NPC that killed you not only levels up, but he remembers you in the next encounter and may even become your nemesis if he kills you again and again.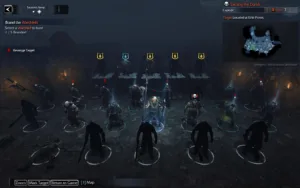 Each gamer has a unique experience as they create new characters and customize Talion as he starts his journey through Middle-earth by using Monolith's "Nemesis System." It remembers a player's interactions with Orc Captains and Warchiefs they encounter and it adjusts the way they react to the player throughout the game.
NPC enemies also develop and level up as your Ranger interacts with them. You can use this to your advantage as you can effectively "promote" certain Orcs with weaknesses you can easily exploit later, and you can even force them to become allies through "branding", or mind-control.
The player has the option to level up Talion both as a Ranger and as a Wraith through two skill trees. Ranger abilities allow Talion to move silently as well as to interact in combat, while Wraith abilities allow him to impose his will on Orc Captain NPCs and you can order them to even assassinate their leaders, the Warchiefs.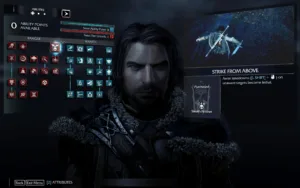 It appears that Monolith has taken the very best elements of the Assassin's Creed: Black Flag gameplay and mechanics, along with an improved combat system pioneered in the Batman: Arkham Asylum series, and they tossed out the boring bits and what doesn't work. The result is a fast-paced, huge open-world game with a great story, superb voice acting, awesome music, and relatively large battles to delight even the most jaded gamer.
The Shadows of Mordor plot is developed very well and the gameplay supports it. You get to travel to land of Mordor before Sauron returned, as it is becoming filled with evil. At first, you have to run away from huge beasts you will later hunt, dominate, ride, and you will even hunt enemy Orcs from atop them.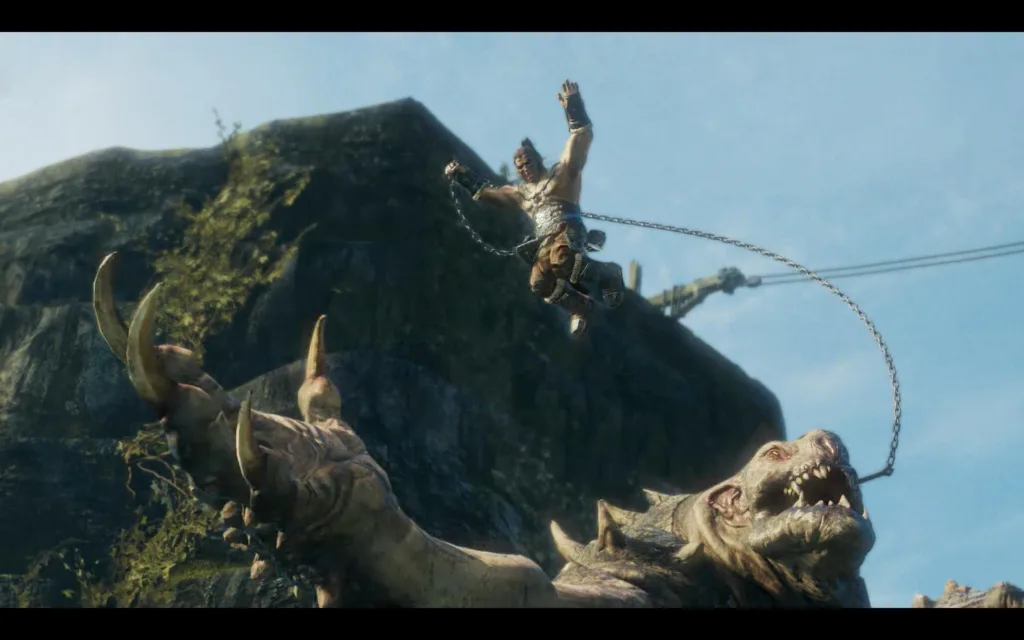 The writing is well-done and the voice acting is superb. You get to meet Gollum, and he assists you because of the "Bright Master" Wraith inside you – and you even get to fight Sauron! One of the very best written parts is when you get to meet and interact with a Dwarf and learn to hunt 30 foot tall Graugs with him. His story as told in a rich Scots brogue is fascinating, and you learn the details about his motivation, his life, and his relationship with his now-dead brother.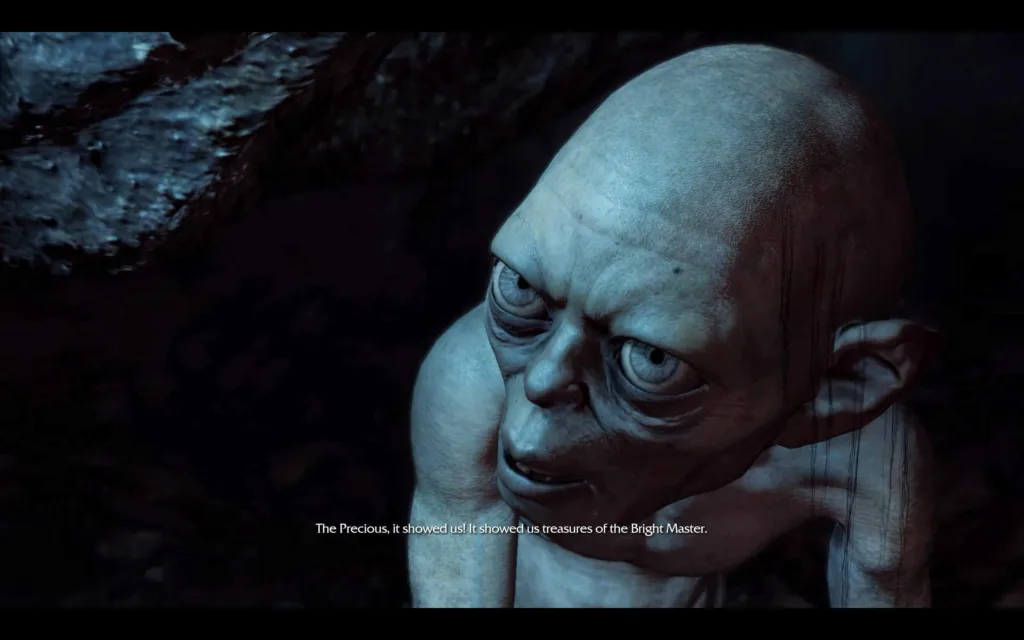 The main quest can probably be completed in 10-15 hours if you just rush through it, but many of the side quests are written as well or better than the main story line, and they deserve exploration.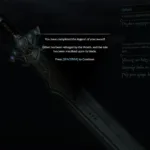 There are quests to rescue human slaves being tortured by the Orcs, and you can complete the quests for your named Sword, Arrow, and Dagger which make your weapons become much more powerful; your sword becomes a flame that slices through the toughest enemies if you complete all ten parts to that single quest.
You get to meet characters that are mentioned, but not particularly well-developed, in the "Lord of the Rings" and in the "Silmarillion". For example, you feel the effects of Saruman's spell on Queen Marwin and her daughter; and you are warned by the Wraith against a potential love interest. You also are on a quest for artifacts which enrich your knowledge and they also give you some currency to put toward increasing your powers.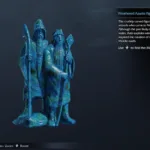 Of course, the game ends with a set-up for an expansion and/or a series, which we are looking forward to. Middle Earth: Shadows of Mordor is an amazing game that is our Game of 2014, so far. We played it from start to finish with a single GTX 980 which ran it very well with all settings completely maxed out at 2560×1600, even though it has 4GB of vRAM and the game recommends a minimum of 6GB vRAM for 1920×1080! Is it that demanding? Well, check out the performance review on the following pages, and we shall also look at IQ, although it is very difficult to get identical screenshots. There was no AA available in game at the original time of writing although FXAA was able to be forced in Nvidia's control panel, and SuperSampling was always available, and we shall look at each setting in depth. We will also add a FXAA screen shot and performance information as it was added in a massive patch in mid-December,
One thing to note. We didn't just run the benchmark. We actually played with each card that we tested so as to give you an idea of what gameplay feels like. And we especially wanted to look at the Devs' claim that 6GB of vRAM are required for Ultra Textures at 1920×1080. Well, this appears to be overstated, although you do not want to be playing with Ultra Textures on any 2GB card, including the GTX 770, GTX 690 or GTX 680 SLI.
Besides playing with the GTX 980, we tested with GTX 980 SLI, GTX 780 and 780 Ti, as well as TITAN (6GB vRAM), GTX 770, GTX 760, and GTX 690 (SLI). The Radeons that we tested were the R9 290X, 280X, and 270X. And we used our Core i7-4770K at 4GHz supported by 16GB of Kingston's Predator RAM at 2133MHz for all of our benching.
Let's first look at our hardware and software testbed before we head to the benchmarks and IQ comparisons.
Test Configuration – Hardware
Intel Core i7-4770K (reference 3.5GHz, HyperThreading and Turbo boost is on to 3.7GHz; overclocked to 4.0GHz; DX11 CPU graphics), supplied by Intel.
ECS GANK Domination Z87H3-A2X motherboard (Intel Z87 chipset, latest BIOS, PCIe 3.0 specification, CrossFire/SLI 8x+8x) supplied by ECS
16 GB DDR3 HyperX Kingston "Beast" RAM (2×8 GB, dual-channel at 2133MHz; supplied by Kingston)
GeForce GTX 780 Ti 3GB (reference clocks), supplied by Nvidia
GeForce GTX 780 3GB (reference clocks), supplied by Nvidia
GeForce GTX TITAN, 6GB (reference clocks), supplied by Nvidia
GeForce GTX 770, 2GB reference clocks, supplied by Nvidia
Nvidia GTX 760, 2 GB reference design and clocks, supplied by Nvidia
Nvidia GTX 690; 2 GB (effective, per GPU) reference design and clocks, supplied by Nvidia
PowerColor R9 290X PCS+ (3GB reference Uber clocks)
VisionTek R9 280X (3GB reference clocks)
PowerColor R9 270X PCS+ (2GB reference clocks), supplied by PowerColor
Onboard Realtek Audio
Genius SP-D150 speakers, supplied by Genius.
Two 2TB GB Toshiba 7200.10 hard drive identically configured; 1 for Nvidia and 1 for AMD
Thermaltake ToughPower 775W power supply unit supplied by Thermaltake
Thermaltake Water2.0 Pro watercooler, supplied by Thermaltake
Thermaltake Overseer RX-I full tower case, supplied by Thermaltake
ASUS BW-12B1ST 12X Blu-Ray writer
HP LP3065 2560×1600 thirty inch LCD.
ASUS 1920×1080, 27″ LCD
Test Configuration – Software
Middle Earth: Shadows of Mordor, digital reviewer's copy; Supplied by Warner Bros./Nvidia
Nvidia GeForce WHQL 344.16. High Quality; Single-display Performance mode; Prefer Maximum Performance. Shader Cache on, Vsync off.
AMD Catalyst WHQL 14.9 (14.9 beta 1 consists only of bug fixes for those who cannot use 14.9 WHQL). High quality, all optimizations off, use application settings, Vsync off.
Windows 7 64-bit; very latest updates
EVGA PrecisionX 4.21 overclocking and monitoring software; temperature and power targets set to maximum.
Latest DirectX
Varying SuperSampling enabled and FXAA for Nvidia cards.
All results show average frame rates; 3GB/4GB/6GB vRAM-enabled cards benched with Ultra Textures, and 2GB vRAM cards tested with High Textures
Highest quality sound (stereo) used in all games.
Windows 7 64-bit, DX11
Latest version of Fraps
Let's check the performance, settings and the Image Quality (IQ) on the next page.
The Settings, Performance, and IQ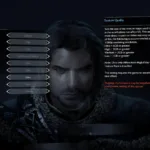 Shadows of Mordor requires a fairly powerful PC.. According to the devs, to run fully maxed out Ultra settings at good framerates requires a high-end quad-core CPU and a 6GB GTX 780 or TITAN – just for 1920×1080!! All of our tested settings are completely maxed out – Ultra when available. This universal setting is "Custom" since Ultra Textures are not enabled by the default Ultra setting. All 2GB cards are not restricted to "High" textures, but it is recommended and you get a Warning "!" if you use anything less than a 6GB vRAM-equipped video card like our GTX TITAN.
It is possible to enable Ultra textures on a 2GB card, but the results are less than satisfactory. If you try to run Ultra Textures on a 2GB card there will be issues that include slowdowns, hitching and stuttering. However, the 3GB vRAM-equipped GTX 780/Ti, 3GB Radeons, and 4GB GTX 980s had no such issues at 2560×1600 with Ultra Textures as we shall see.
The Main Summary Chart
The only performance variables that we charted by measuring framerates are the Texture Quality. This setting has the most effect according to the devs. No AA options are available in-game other than SuperSampling – not even FXAA, although it may be forced in Nvidia's Control Panel to good effect at the slight expense of cinematic blur which works well because the Motion Blur setting does not appear to function at all. Here are the GeForce results: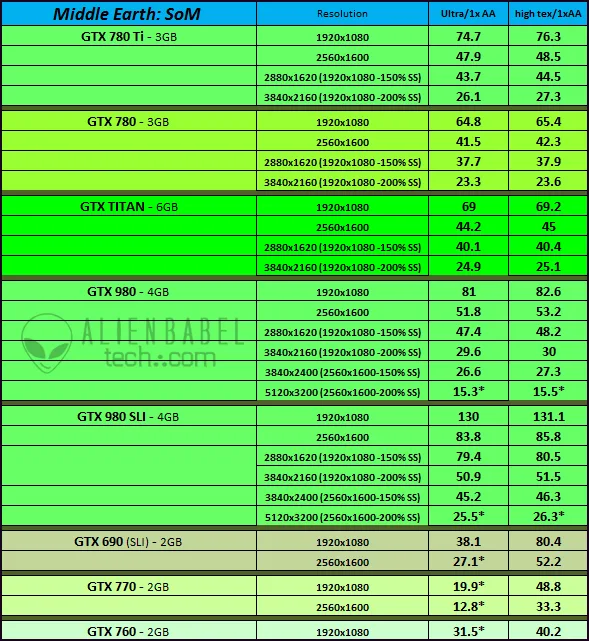 One thing that we do want to note: All of Nvidia's cards that we tested – GTX 980/SLI, GTX 780/Ti, GTX TITAN, GTX 690, GTX 770 and GTX 760, all ran the benchmark consistently, within the normal 1-3% deviation from each run. You can see that Ultra Textures only take a small hit in performance as long as the video card has 3GB of vRAM or more. Basically, 2GB cards are limited to High Textures, or the performance suffers drastically, and the "*" on the chart denotes that hitching or stuttering was noted on these cards at Ultra Texture settings.
A single GTX 980 is able to run resolutions of 2560×1600 and SuperSampled resolutions of 2880×1620 with no slowdowns, and the gameplay remains fluid in the most demanding situations. However, it takes GTX 980 SLI to handle the SuperSampled resolution of 3840×2400 – which is in the 4K category.
On the other hand, we saw wild swings with the three Radeons that we tested – R9 290X, 280X and 270X. The benchmarks would vary from each other regularly by more than 20%! Here are the results of testing the 3 Radeons:

We generally had to run at least ten benches for each setting just to give final Radeon average fps figures. The R9 290X varied in its runs from 67 fps to 90 fp; the 280X varied less, but we suffered from occasional lockups that required Ctrl+Alt+Delete to restart the game; and the 270X frame rates varied between 22 and 42 frames per second!
If you are playing Shadows of Mordor on your Radeon-equipped PC, try restarting the game before lowering the individual setting. A simple restart may make for some significant improvement in frame rates. Because of this, we cannot really compare the Radeons to the GeForce cards fairly until AMD releases some optimized drivers.
IQ – Ultra vs. High Textures, SuperSampling, and FXAA
Because of the nature of this open-world game, there exists a lot of variability between screenshots which make it very difficult to compare identical or even similar screenshots. We found the best solution was to take a screen capture immediately at the start of the benchmark run. As you will see, it takes a very discerning eye to even tell the differences between high and ultra textures:
First up is 1920×1080 with Ultra Textures – focus especially on the bricks on the tower on the left in the background.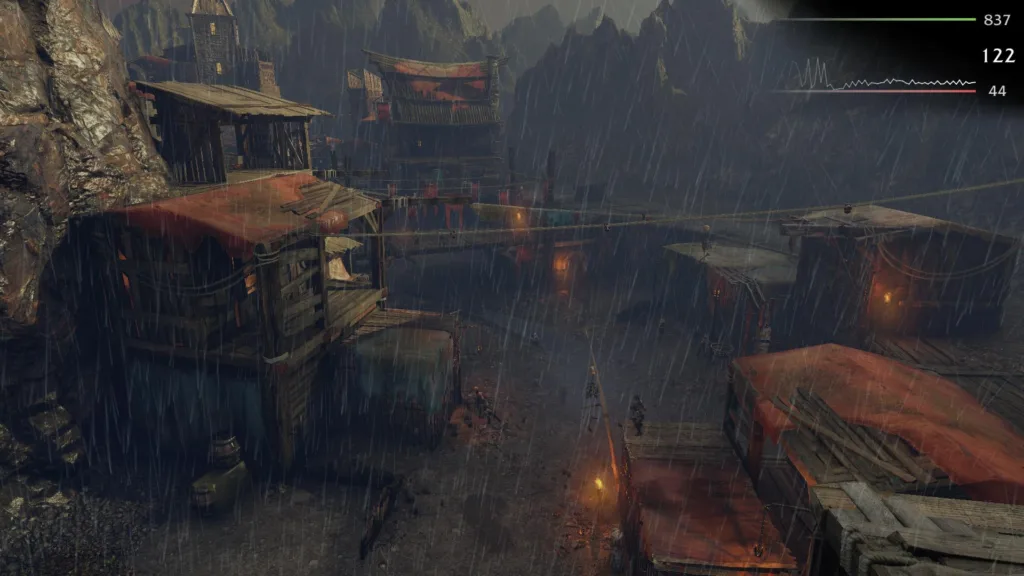 Now compare with High Textures at 1920×1080, also by focusing on the bricks: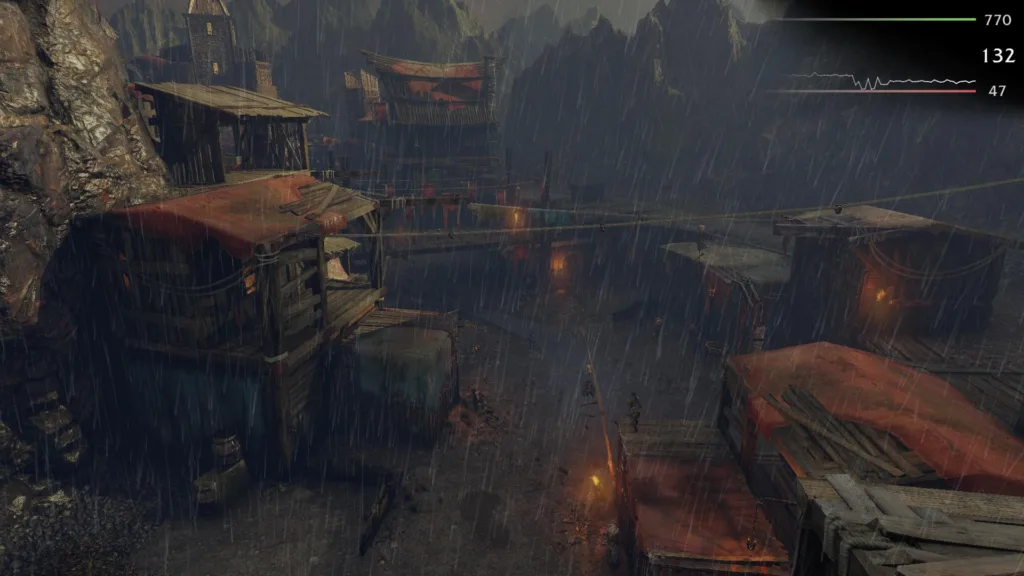 There is a difference, but not one that you would really notice in game. While we are checking 1920×1080, take a look at Ultra textures with FXAA applied in Nvidia's Control Panel. We see a slight smoothing out of some of the aliasing, without much visible blurring.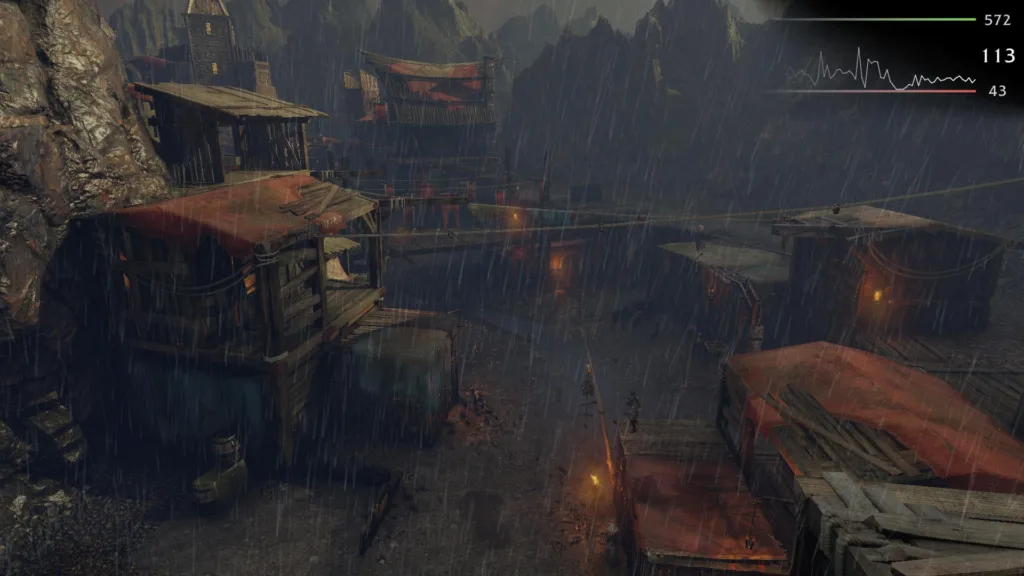 Added January 2, 2015 – In-Game FXAA
(To be added shortly)
Here is 2560×1600 with Ultra Textures: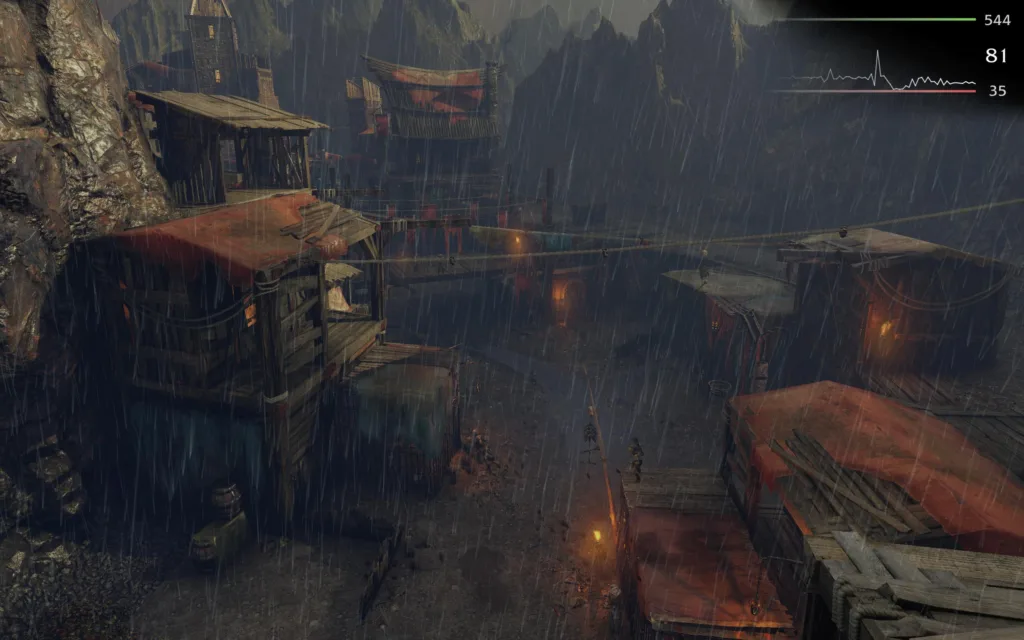 Here is 2560×1600 with High Textures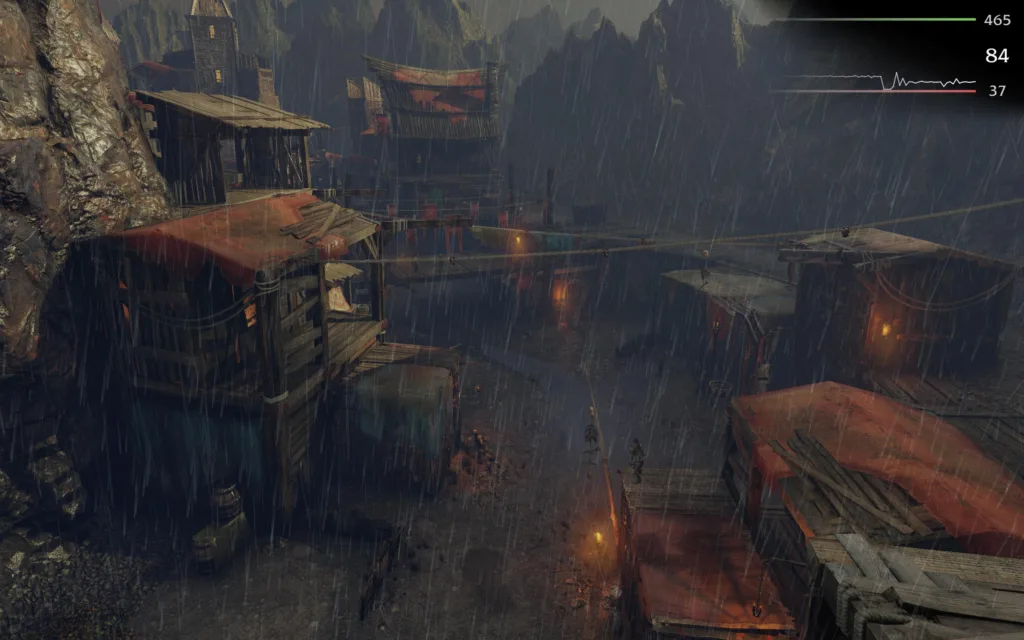 Here is 2560×1600 with Ultra Textures and with FXAA forced: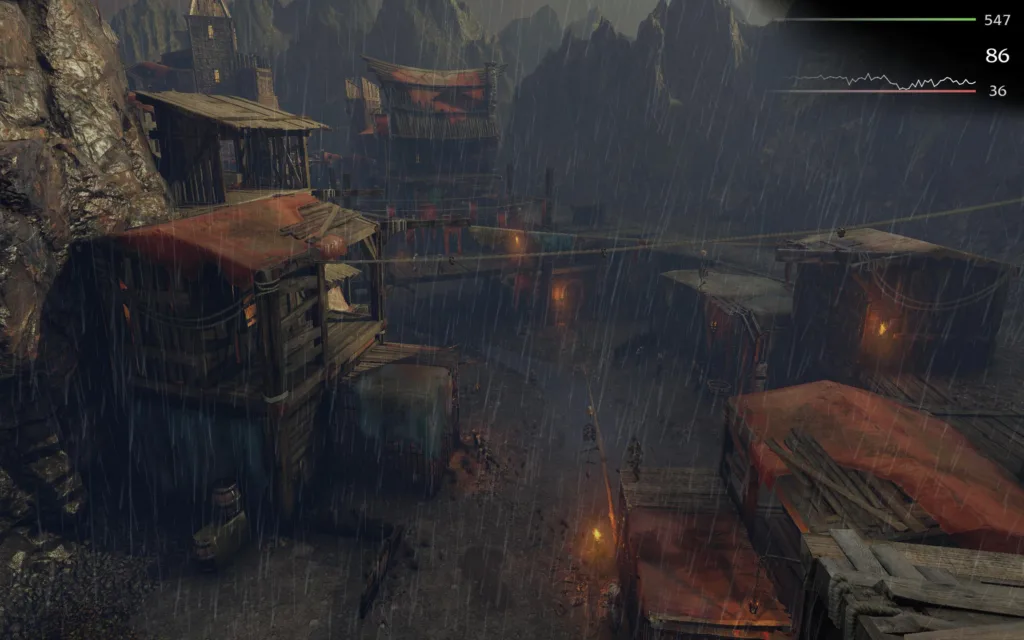 Added January 2, 2015 – In-Game FXAA
(To be added shortly)
Now let's look at SuperSampling where the image is scaled up to 3840×2400 and then resized back to 1080P. The advantage is that the jaggies are mostly eliminated and the buzz saw action on some horizontal lines is eliminated. Of course, it now takes GTX 980 SLI to run it fluidly. The first image uses Ultra Textures.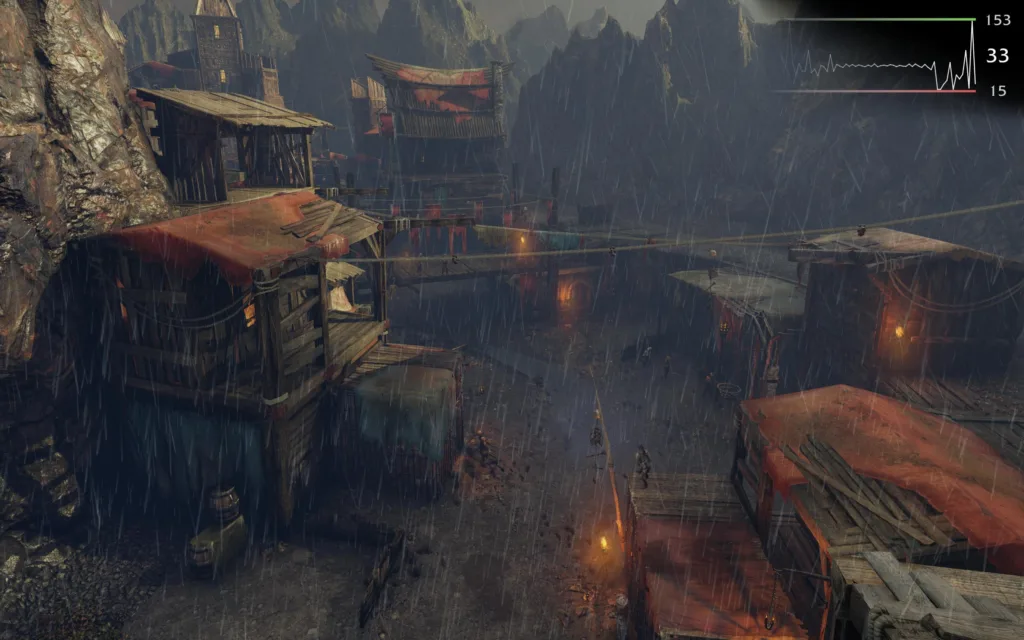 Since it is impossible to really see the differences between Ultra and High Textures at this 4K resolution in these screenshots here is a similar SuperSampled image with Ultra Textures, but with FXAA now forced in the control panel.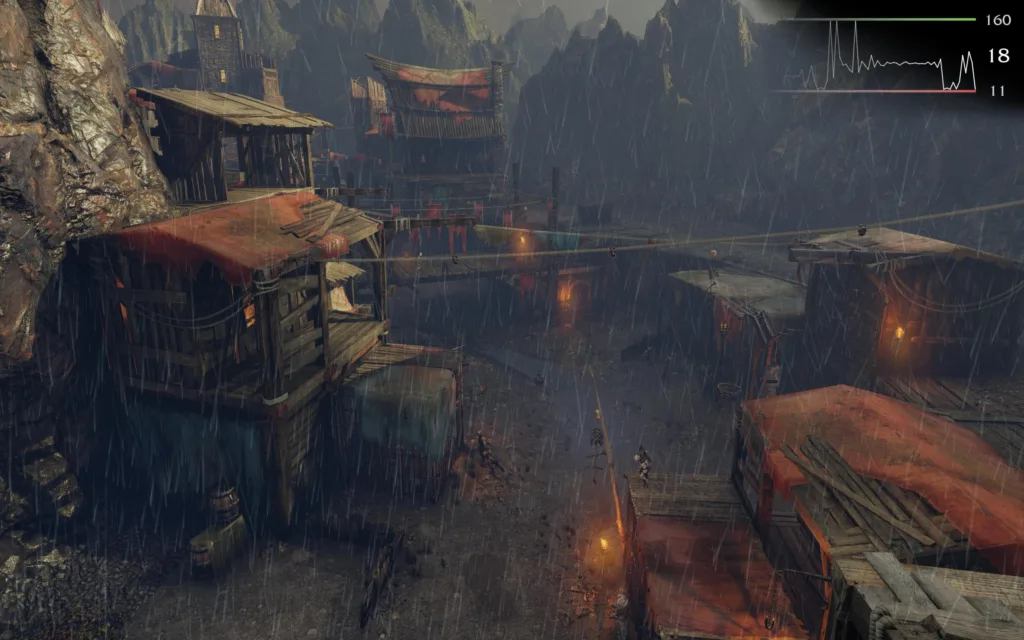 Finally, just for a little extra eye candy, here is Shadows of Mordor in all its glory with Ultra Textures and FXAA at a SuperSampled 5120×3200: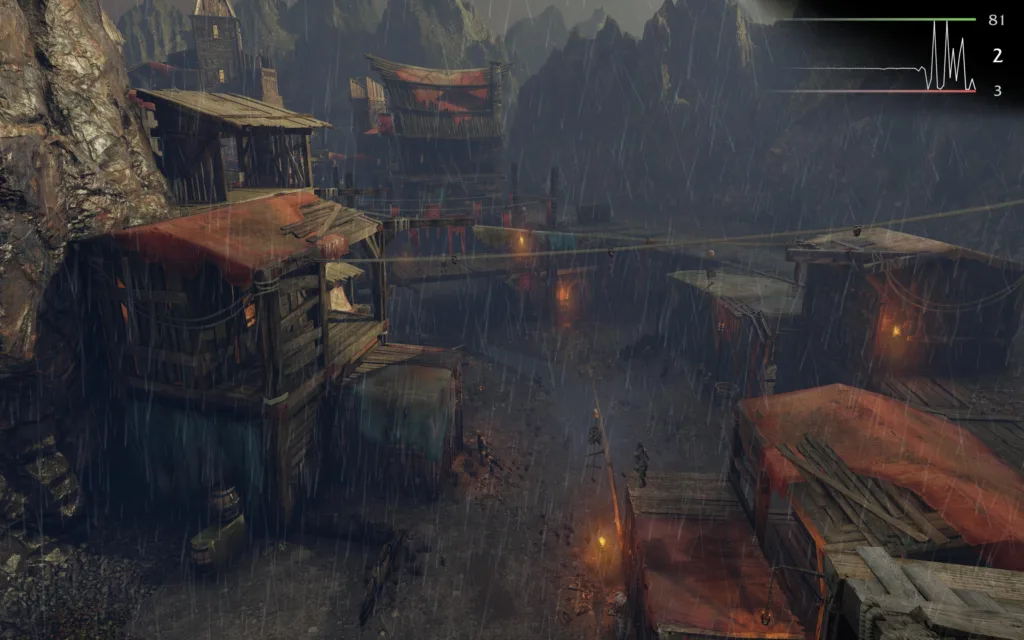 SLI – Multi-GPU
Strangely, SLI for Shadows of Mordor is not officially supported by Nvidia yet. However, it is quite simple to force AFR-2 rendering just as you can force FXAA, in Nvidia's control panel. It is better not to use Global Settings, but you can easily make a profile just like in the screenshot from Program Settings: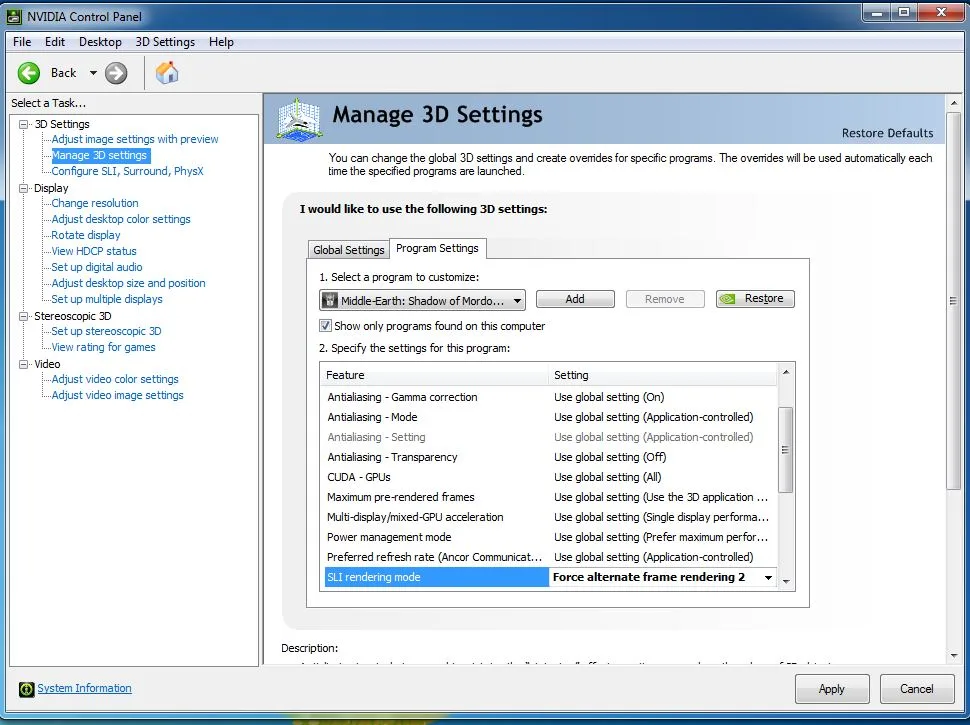 We tested both GTX 980 SLI and the GTX 690 (GTX 680 SLI) and played the game for hours without any issues.
From our testing, a GTX 780 or TITAN is fine for playing at 2560×1600 or SuperSampled 2880×1620 with Ultra everything, including Textures. A GTX 980 or GTX 780 Ti will play a bit faster but cannot play at a higher resolution without slowdowns. However, GTX 980 SLI can easily manage 4K resolutions with the game completely maxed out.
2GB GeForce cards are limited to High Textures, although a GTX 770 is also pretty much limited to 1920×1080 for fluid game play while GTX 770 SLI should easily manage 2560×1600 with the same High Textures, based on our GTX 690 testing. GTX 760 is limited to 1920×1080 with High Textures.
The Radeons, although varying wildly in the benches, are still solid enough for playing Shadows of Mordor, although we found more crashes to desktop than with Nvidia cards, and we occasionally needed to restart the game to get good framerates back. AMD will probably need to address these issues with future drivers.
Conclusion
Shadows of Mordor comes highly recommended and we give it a solid 8.0 (9.0 if you are a LotR fan). The graphics are extraordinary, the gameplay is enhanced over similar games, and the story and voice acting are absolutely top-notch. Not to mention, the Nemesis system is nothing short of revolutionary, and it works brilliantly in this game. We are looking forward to playing future installments of the Middle Earth: Shadows of Mordor series. It comes highly recommended!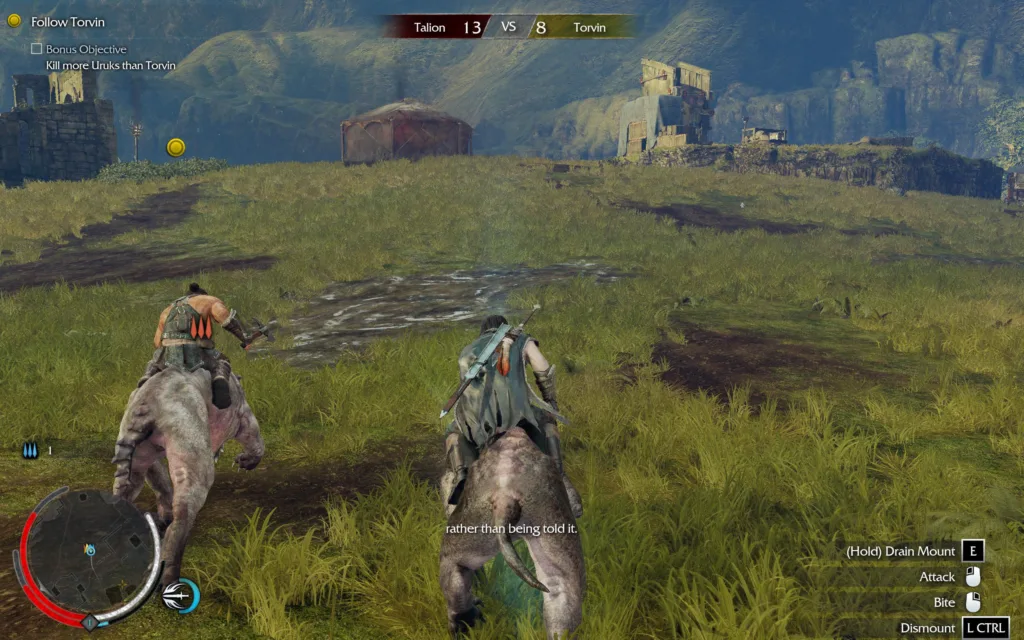 Shadows of Mordor is definitely not for those who are easily offended by over-the-top violence. There are also some minor nitpicks with the liberties taken with the Lord of the Rings story, and a sameness to many of the side quests, but this is a very solid game that is a lot of fun to play
We are really looking forward to the expansions and further installments of this series. In the meantime, Shadows of Mordor has become ABT's latest benchmark.
Updated January 2, 2015. This article has finally been restored, and we have decided that Middle Earth: Shadows of Mordor is our GotY for 2014. We liked it so well, we bought the season pass and are thoroughly enjoying the "Lord of the Hunt" DLC. It is a game that has given us over 100 hours of enjoyment and it is our "go-to" game months after it was released. It is now often found on sale for half-off, and it a good bargain even at full price. Performance has slightly improved and FXAA can now be set in-game.
.Stay tuned to BTR. We have a brand new showdown between GTX 980 SLI versus 290X CrossFire coming up soon as soon as we publish our Devil's Canyon evaluation using Core i7 4790K/4770K/3770K across 3 motherboard platforms – Z77/87/97 – using GTX 980 and GTX 980 SLI to test overclocked scaling. And we will shortly have an unboxing of the GALAX GTX 970 EXOC and the review to follow after our CES live report, next week.
Happy Gaming!