(This evaluation was originally published on AlienBabelTech by this same author in mid-November and was subsequently lost from their database in December when their host's drives crashed. It has been restored fully here.)
ABT received a copy of Assassin's Creed Unity last week, the day it released. This editor spent the good part of a week playing the main story, and here are our impressions of it, including a mini-performance and IQ evaluation using five Nvidia top video cards. We are only testing with Nvidia cards, and focusing particularly on MFAA – Multi Frame Samples Anti-aliasing – which has been enabled for Maxwell's GTX 980 and GTX 970 with new WHQL drivers today.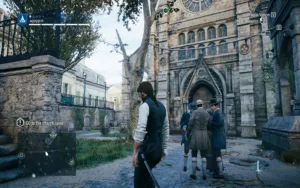 Unlike playing Assassin's Creed IV: Black Flag, we were not drawn immediately into Unity. The very best part of Black Flag centers on playing as a pirate in a manner that hasn't really been possible in any video game since Sid Meier's Pirates! whereas Unity is set in Paris about the time of their Revolution. Although you get some new abilities, and cool weapons like the phantom blade, the main story is weaker than Black Flag's and the main character is perhaps even less likable.
The one thing that is immediately outstanding is the incredible detail and huge scope of the game's setting. Literally hundreds of NPCs move about Paris in a normal manner. Two years was spent modeling just one cathedral, Notre Dame, and it shows. And the overall effect does not strive for accuracy or for photorealism, but rather for art – at times the detail is so real, the player just has to pause to admire it; at others, the background and effect is surreal, almost that of a French impressionist watercolor painting. The times of day can be set to your mood – you may choose morning, afternoon, dusk and dark.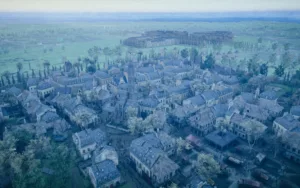 There are no screenshots nor videos that really do this game justice. You have to experience Unity for yourself as a player to appreciate its art, its grandeur, and its scope, much as you do a movie or a play, not from viewing clips on a tablet nor from watching Youtube gameplay videos. This mini-evaluation is not going to focus on the story, however, as we did not finish the game.
Unity, like the rest of the series, is a sandbox game with third-person open world exploration. The devs have introduced a slightly modified combat, parkour, and stealth system which is immediately recognizable by anyone who has played an earlier game. Assassin's Creed Unity expands on cooperative multiplayer, allowing up to four players engage in missions and exploration of the entire map. When the parkour system works flawlessly, it is a joy. Unfortunately, a player may tend to get "stuck" in very bad situations, and hopefully the controls and game will still be further polished.
Bugs
Unfortunately, there are bugs. Ubisoft is released a series of patches, including one a few days ago that weighed in at 792MB, that have addressed some issues. Performance issues still need to be addressed. Unity requires a higher frame rate than the "usual 30fps" to feel fluid, and AA is the first setting that is usually turned down. This game uses many of Nvidia's GameWorks features for PC, and it is a true next-generation console game which means it is very demanding. Using a GTX 980 we could manage Ultra settings on everything – but only at 1920×1080! It took GTX 980 SLI to have a good experience at 2560×1600, and even then we were mostly limited to FXAA.
Because of this, all of our testing is at 1920×1080, and since we are focusing on MFAA and it doesn't yet work with SLI, we will look at single-GPU results. Although AMD released a driver yesterday, Radeon owners are still reporting acknowledged issues with the performance and with rendering. Since we are focusing on image quality (IQ) and performance, we will compare AMD cards in a follow-up review.
Otherwise, the game is remarkably stable with no crashes to desktop experienced in well over 10 hours of play using multiple GTXes. We did have issues originally that were addressed by the latest patch, and we have occasionally experienced the game's refusal to start with SLI configurations. We are confident that Ubisoft will address these issues as it is their biggest franchise, but it may take some time because of the huge open world nature of the game.
Checkpoint Saves and difficulty
This gamer hates the checkpoint system. There may be a lot of time wasted with the checkpoints as they are set rather arbitrarily far apart for some sequences. Although there is some improvement over Black Flag, the checkpoint system of saving makes the game unnecessarily difficult and tedious to just keep on repeating the same sequence over-and-over. Particularly irritating were repeating the stealth missions because you were noticed, although now often you don't have to start from the checkpoint's beginning cutscene any longer.
The Graphics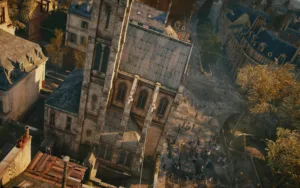 The excellent graphics support the game and immerse the player right into it. Assassin's Creed Unity is powered by a wide range of technologies that allow it to deliver excellent graphics and an immersive gaming experience. In addition to using technologies like FXAA and TXAA to improve image quality, it also uses newer technologies like Nvidia's GameWorks library which includes HBAO+, and Percentage-Closer Soft Shadows (PCSS) to enhance the game's graphics.
Tessellation is expected to be added in a patch later on.
Today is also the first day that MFAA is available and we will look at its performance hit versus IQ using our GTX 980. It is only available for Maxwell GTX 980/970 cards right now, and only in the Nvidia control panel as a global setting for a few newer games. Eventually, it may be expanded to older architecture cards and it will become part of the GeForce Experience
Performance
We played Assassin's Creed Unity at 1920×1080 at maximum details with a stock GTX 980, Core i7-4770K at 4.0GHz, ECS Z87 Golden motherboard, and 16GB of Kingston HyperX RAM at 2133MHz. We used 4 other video cards, the GTX 780 Ti, the GTX 780, the TITAN, and the GTX 770. All of the in-game settings were maxed completely out with these variables – 2x and 4xMSAA, FXAA, TXAA, 4x-and 8xMFAA, and 0xAA (no AA). On the next page, we will introduce image quality and AA used and later we will give performance results as well as IQ screen shot comparisons for each setting.
Image Quality
Generally, recently TXAA provides the best image. However, Unity's implementation is not an improvement over Assassin's Creed IV; it introduces more blur although it does fit in with the game's "cinematic" look. TXAA provides very good anti-aliasing approximating 4xMSAA, while the performance hit is less. The TXAA blur is more than with FXAA, but unlike with FXAA, SMAA and MSAA, the texture crawling and shimmering is nearly gone. If one desires an even sharper image, SweetFX can usually be used together with TXAA which we did not check out. 4xMSAA is cleaner than 2xMSAA which in turn is an improvement over FXAA. MFAA will be discussed separately, and it turned out to became our favorite form of AA.
Let's look at some of the settings individually.
MFAA
MFAA is only available exclusively for Maxwell based GPUs on Nvidia GeForce GTX 980 and GTX 970 graphics cards. Jagged edges and especially shimmering in motion, are quite noticeable in Unity with no AA enabled. MSAA reduces the prominence of jagged edges, but does so at a substantial performance cost.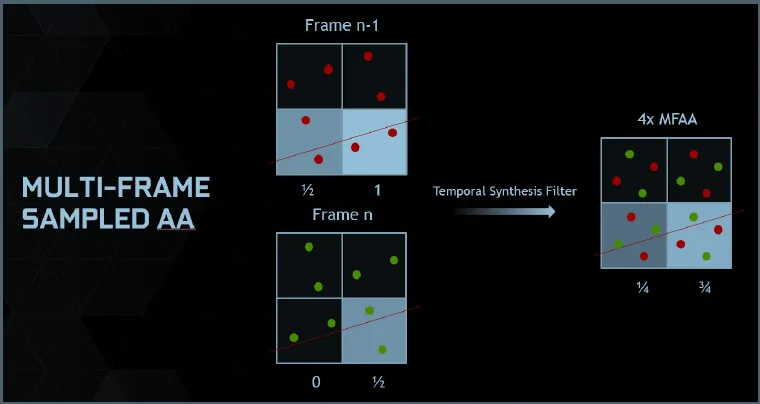 Nvidia's engineers developed MFAA to reduce this performance cost while delivering comparable image quality to MSAA by varying – in interleaved fashion – the sample patterns used per pixel both spatially in a single frame and interleaved across multiple frames in time. For example, each successive pixel uses one of four different 2x AA sample patterns. The final result is that MFAA can deliver image quality approaching that of 4x MSAA at roughly the cost of 2x MSAA, or 8x MSAA quality at roughly the cost of 4x MSAA.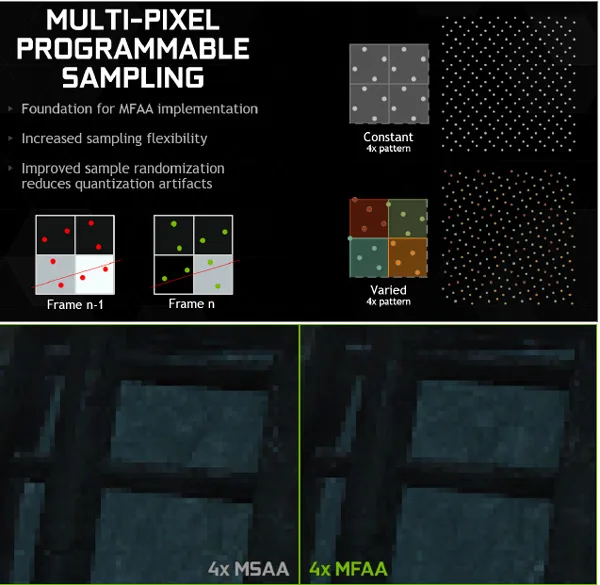 Previous-generation GPUs include fixed sample patterns for anti-aliasing (AA) that are stored in Read Only Memory (ROM). If a gamer selects 2x or 4x MSAA, fixed sample patterns are used. With Maxwell, Nvidia has introduced programmable sample positions for rasterization that are stored on Random Access Memory (RAM), creating opportunities for new AA techniques that uniquely address the challenges of modern game engines, such as the increased performance cost of high-quality anti-aliasing. Maxwell's new RAM-based sample position technology can still be programmed with standard MSAA and TXAA patterns, but now the driver or application may also load the RAM with custom positions that are free to vary from frame to frame, or even within a frame.
The first implementation of MFAA is compatible with GeForce GTX 980, GTX 970, GTX 980M, and GTX 970M GPUs, and supports the following technologies and platforms:
Multisampling anti-aliasing (2x or greater)
Adaptive VSync
Dynamic Super Resolution (DSR)
G-SYNC
Optimus
DirectX 10/11
Standard VSync
Ultra-high resolutions
Virtual Reality
MFAA has been enabled with a new WHQL driver publicly released today, 344.75 which we have been able to preview. The first games that are supported are:
Assassin's Creed IV: Black Flag
Assassin's Creed: Unity
Battlefield 4
Civilization: Beyond Earth
Civilization V
Crysis 3
DiRT 3
DiRT Showdown
Far Cry 3
Far Cry: Blood Dragon
F1 2013
F1 2014
GRID 2
GRID Autosport
Hitman: Absolution
Just Cause 2
Saints Row IV
Splinter Cell: Blacklist
Titanfall
Wargame: European Escalation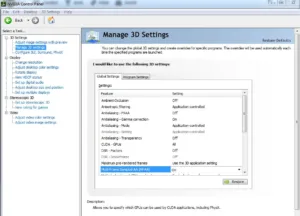 To enable it, just go to Nvidia's control panel.
MFAA is a new AA mode which is supposed to give the same quality as 4x MSAA but with only the performance costs of 2x MSAA, or the same image quality as 8xMSAA with the performance costs of 4xMSAA. MFAA is based on a Temporal Synthesis Filter with coverage samples per frame and per pixel.
The filter's performance hit is low. According to Nvidia, the typical performance advantage over MSAA is 10 to 30%.
Nvidia recommends that MFAA not be combined with other forms of post processing AA such as FXAA or TXAA. And MFAA requires at least 2xMSAA to function. We will examine this in our performance and IQ section following this one.
TXAA
TXAA is a cinematic-style anti-aliasing technique designed specifically to reduce temporal aliasing (crawling and flickering in motion). TXAA is a mix of hardware AA, custom CG film style AA resolve, and a temporal filter. To filter any given pixel on the screen, TXAA uses a contribution of samples both inside and outside of the pixel in conjunction with samples from prior frames. The trade-off is blur, which for some is intolerable and for others, cinematic. This editor much prefers the mild blur of TXAA to the texture crawling and flickering while in motion without.
TXAA has improved spatial filtering over standard 2x MSAA and 4x MSAA, particularly on fences or foliage. TXAA is also capable of intelligently managing per-pixel effects without introducing lighting artifacts on object edges. The filtering used by TXAA results in a softer image compared to traditional MSAA – the blur.
TXAA uses hardware MSAA in conjunction with a temporal filter. The performance hit of TXAA will vary from game to game and is directly correlated to the performance hit of MSAA. In this game, TXAA takes less of a performance hit than 4xMSAA. Screen shots look better with MSAA, but playing the game with the camera in motion or even a video capture can easily show the advantages of TXAA.
NVIDIA HBAO+
To advance Screen-Space Ambient Occlusion (SSAO) tech, Nvidia's HBAO+ looks better than the original HBAO algorithm, especially on scenes with thin objects such as grass and leaves. It is now fast enough to be used by top GPUs.
Percentage-Closer Soft Shadows (PCCS)
Percentage-Closer Soft Shadows (PCSS) is a technique designed to simulate the natural softening of shadows that occurs over increasing distance from the occluding object. PCSS provides three notable improvements over hard shadow projections: shadow edges become progressively softer the further they are from the shadow caster, high-quality filtering reduces the prominence of aliasing, and the use of a shadow buffer allows PCSS to handle overlapping character shadows without creating "double-darkened" portions.
In addition, Assassin's Creed Unity offers 4K textures – something probably best experienced by Tri- or Quad-SLI'd GTX 980s, although unfortunately MFAA does not yet work with multi-GPU, something Unity would benefit from greatly.
DRM
Assassin's Creed Unity uses UbiSoft's proprietary Uplay to launch the game and the gamer must connect to the Internet at least once. Once the game is authenticated, the game can be played in offline mode on the PC it was installed on, and it never requires the game to be updated. However, it is to the single player's advantage to play while connected to the Internet as there are more options available. Unfortunately, since the last patch we experience a bug where the game will not launch at all in the offline mode.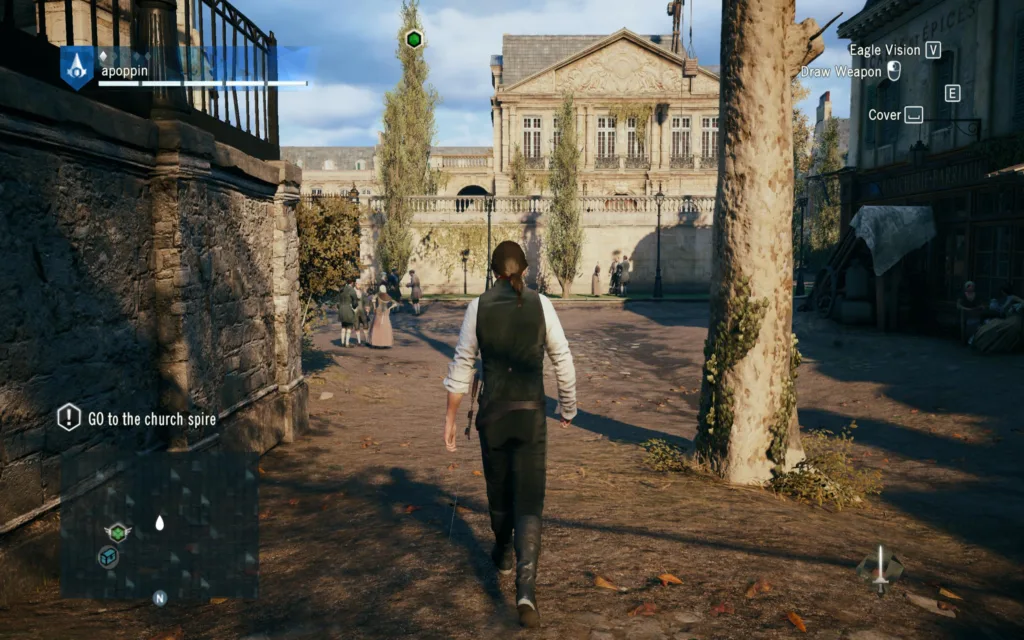 The performance/IQ analysis and MFAA
Check the next page for the performance and IQ evaluation of Assassin's Creed Unity. First, let's check out the complete test bed.
Test Configuration – Hardware
Intel Core i7-4770K (reference 3.5GHz, HyperThreading and Turbo boost is on to 3.7GHz; overclocked to 4.0GHz; DX11 CPU graphics), supplied by Intel.
ECS GANK Domination Z87H3-A2X motherboard (Intel Z87 chipset, latest BIOS, PCIe 3.0 specification, CrossFire/SLI 8x+8x) supplied by ECS
16 GB DDR3 HyperX Kingston "Beast" RAM (2×8 GB, dual-channel at 2133MHz; supplied by Kingston)
Kingston 240GB mSATA SSD used for caching the HDD, supplied by Kingston
GeForce GTX 780 Ti 3GB (reference clocks), supplied by Nvidia
GeForce GTX 780 3GB (reference clocks), supplied by Nvidia
GeForce GTX TITAN, 6GB (reference clocks), supplied by Nvidia
GeForce GTX 980, 4GB reference clocks, supplied by Nvidia
Nvidia GTX 770, 2 GB reference design and clocks, supplied by Nvidia
Onboard Realtek Audio
Genius SP-D150 speakers, supplied by Genius.
Two 2TB GB Toshiba 7200.10 hard drive identically configured; 1 for Nvidia and 1 for AMD
Cooler Master 1000W power supply unit supplied by Cooler Master
Thermaltake Water2.0 Pro watercooler, supplied by Thermaltake
Thermaltake Overseer RX-I full tower case, supplied by Thermaltake
ASUS BW-12B1ST 12X Blu-Ray writer
HP LP3065 2560×1600 thirty inch LCD.
ASUS 1920×1080, 27″ LCD, 120Hz
HyperX Cloud gaming headset, supplied by Kingston
Test Configuration – Software
Nvidia GeForce WHQL 344.75. High Quality; Single-display Performance mode; Prefer Maximum Performance. Shader Cache on, Vsync off.
Windows 7 64-bit; very latest updates
EVGA PrecisionX overclocking and monitoring software; temperature and power targets set to maximum.
Latest DirectX
Varying AA enabled including MFAA for the GTX 980
All results show average frame rates
Highest quality sound (stereo) used in all games.
Windows 7 64-bit, DX11
Latest version of Fraps
Windows 7 64, all DX9 titles were run under DX9 render paths, DX10 titles were run under DX10 render paths and DX11 titles under DX11 render paths.
The Game
Assassin's Creed: Unity, digital reviewer's copy; Supplied by Ubisoft/Nvidia
Let's check the performance, settings and the Image Quality (IQ) on the next page.
Graphics and IQ versus Performance
Assassin's Creed Unity has excellent graphics. It is perhaps not quite up to the level of realism that Crysis 3 or Battlefield 4 commands, but it is definitely next generation console graphics sufficient to give excellent visuals when everything is maxed out. We benchmarked and played the game at 1920×1080 using a single stock GTX 980 and Core i7-4770K overclocked to 4.0GHz. We also played at 2560×1600 with GTX 980 SLI, but are not giving the results here.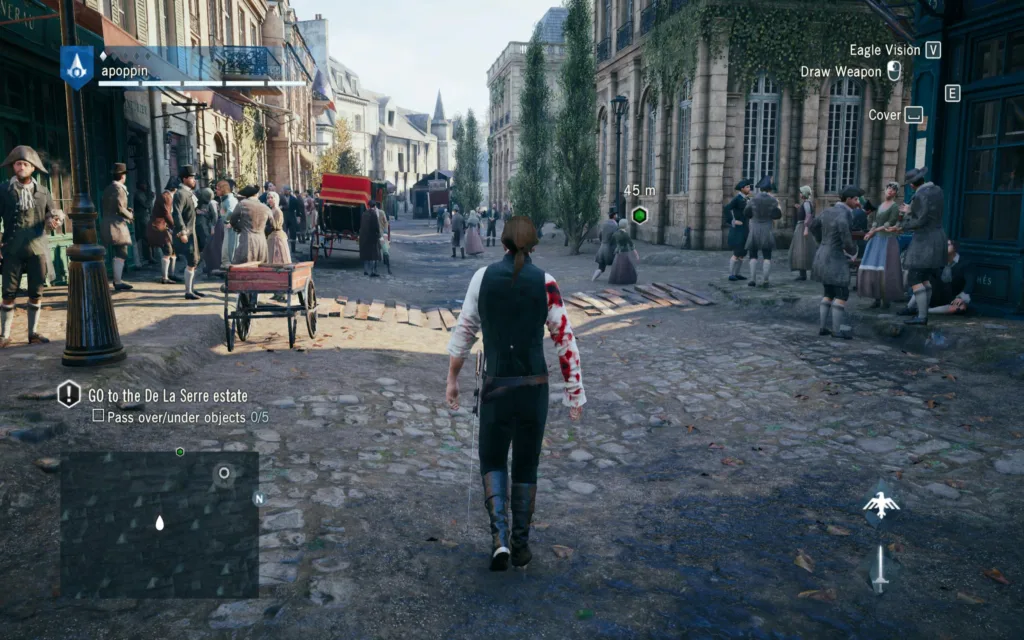 The implementation of FXAA in Assassin's Creed: Unity is fair and the text is not blurred. Setting AA to Off offers the highest performance but the jaggies and shimmering from the aliasing in motion is irritating. 2x or 4xMSAA can be used but the performance hit is high and 4xAA actually does not look as good as TXAA which does a great job of eliminating shimmering at a noticeable cost of blur which the player may decide is cinematic, or not. MFAA is an improvement over TXAA in terms of much less blur, and the temporal aliasing (texture crawling and shimmering) may also be slightly mitigated by 4xMFAA and to a greater extent by 8xMFAA.
The Performance Hit of using varying AA
Here is the main chart comparing our top five Nvidia GeForce cards using ultra settings and only varying the AA:

As you can see a GTX 770 needs to play at 1820×1080 with no AA, and the performance results will not be good with ultra settings. A GTX 780 or GTX TITAN can manage FXAA and perhaps 2xMSAA or 4xMFAA, while the GTX 780 Ti and GTX 980 can play with 4xMSAA, and the GTX 980 can also manage 8xMFAA although the results will not be fluid at certain graphically intensive parts of the game.
IQ comparisons of Anti-aliasing at 1920×1080 with maxed out settings
Unity is a real challenge to benchmark – even more so than the earlier games in the series. Fortunately, we found a very nice workaround which lets us benchmark the game very accurately.
Here are screenshots from the game. Unfortunately, due to the dynamic nature of the game, they are not identical although they illustrate the differences in AA methods. And since MFAA cannot be imaged perfectly in a screenshot (the MFAA screens posted here use Fraps which miss the last bit of temporal filtering, so they will look slightly better on the actual screen).
Fortunately ShadowPlay can capture the differences between the AA settings accurately, including MFAA. Here is a YouTube video which illustrates the varying AA levels in Unity including TXAA and MFAA.
All screenshots are at 1920×1080 with completely maxed out settings Ultra including Soft Shadows and HBAO+. Make sure to open each screenshot up in a separate window to compare them to each other at full size. First up, with no anti-aliasing, it is pretty easy to pick out the jaggies even at "Dusk".
However, it is easier to compare IQ at the setting that approximates "morning" lighting. We will do all of our comparisons in the morning. First, again – No AA. Focus in on the light pole to the right of the statue and also look at the overturned wagon's wheel.
No AA
FXAA
2xMSAA
4xMSAA
4xMFAA
8xMFAA
TXAA
TXAA – Dark
From viewing the screenshots, TXAA looks the best as far as eliminating jaggies (and aliasing in motion), but at a cost of significantly more blur than FXAA. However, with the camera in motion, there is no contest as TXAA is sufficient to provide a similar amount of anti-aliasing to 4xMSAA but with less of a performance hit and with much less crawling and shimmering.
FXAA is an improvement over no AA. 2xMSAA takes a solid performance hit but does little for the jaggies. Using 2xMSAA plus MFAA (4xMFAA) gives the performance hit of 2xMSAA, but improves the jaggies almost much as 4xMSAA does. And using MFAA with 4xMSAA (8xMFAA) gives a very nice anti-aliasing effect almost equal to TXAA, but without the blur!
Let's wrap it up and give our conclusion
Hardware Requirements, Performance & Conclusion
The UbiSoft website gives the range of tested PCs for Assassin's Creed: U:
Unity PC System Requirements
[spoiler title="PC System Requirements"]

64-bit operating system
Required

Supported OS
Windows 7 SP1, Windows 8/8.1 (64bit versions only)

Processor
Minimum
Intel Core i5-2500K @ 3.3 GHz or AMD FX-8350 @ 4.0 GHz or AMD Phenom II x4 940 @ 3.0 GHz

Recommended
Intel Core i7-3770 @ 3.4 GHz or AMD FX-8350 @ 4.0 GHz or better

RAM
Minimum
6 GB

Recommended
8GB

Video Card
Minimum
NVIDIA GeForce GTX 680 or AMD Radeon HD 7970 (2 GB VRAM)

Recommended
NVIDIA GeForce GTX 780 or AMD Radeon R9 290X (3 GB VRAM)

DirectX
Version 11

Sound Card
DirectX 9.0c compatible sound card with latest drivers

Hard Drive Space
50 GB available space

Peripherals Supported
Windows-compatible keyboard and mouse required, optional controller

Multiplayer
256 kbps or faster broadband connection

Supported Video Cards at Time of Release
NVIDIA GeForce GTX 680 or better, GeForce GTX 700 series; AMD Radeon HD7970 or better, Radeon R9 200 series
Note: Laptop versions of these cards may work but are NOT officially supported.

Nvidia GeForce GTX 260 or better, GT400, GT500, GT600, GT700 series or AMD Radeon HD4870 or better, HD5000, HD6000, HD7000 series

Note: Latest GeForce drivers tested: 320.49 for all series. Latest Radeon drivers tested: 13.1 for Radeon HD4000, 13.4 for Radeon HD5000 and above.

Laptop versions of these cards may work but are NOT officially supported.[/spoiler]
Nvidia has their own optimization suggestions which may be quite helpful, or a player can just use the GeForce Experience included with the latest recommended 334.75 GeForce drivers. The GeForce Experience will, at the touch of a button, set near-ideal custom settings for any PC and for more than 100 games including for Assassin's Creed Unity.
Performance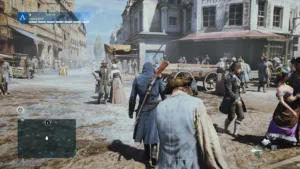 Nvidia suggests that a GTX 980 can max out Assassin's Creed Unity at the highest settings, including using 4xMFAA at 1920×1080. Our own results with maxed out settings suggest that this is correct. It is just a really demanding game.
Replayability
Assassin's Creed: Unity has some replayability. Mostly a completionist player will want to do everything which may reach 50 or more hours. You can start over and attempt to complete all the optional objectives or perhaps you may just want to explore everything. Multiplayer is also an option to add some value to the game.
Conclusion
Today, Nvidia releases its new driver that allows you to experiment with MFAA. Let us know what you think about it on ABT forums. Although only a few games will work with this new AA mode, it is expected to be supported fully by the GeForce Experience. Whenever it is available there is so little IQ difference between 4xMSAA and 8xMFAA, it makes MFAA the logical choice as it takes less of a performance hit. So far, and based on one game, Recommended!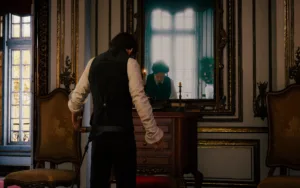 Assassin's Creed Unity comes somewhat recommended also and it is a certain hit for Assassin's Creed fans. Others, perhaps not so much as with it's predecessor, Assassin's Creed IV: Black Flag. The graphics are extraordinary, the gameplay is enhanced over the earlier games, and while the story is acceptable, the voice acting is absolutely top-notch. We feel it is worth the asking price for an excellent long single player adventure set during the French Revolution and we are looking forward to finishing it as well as to playing future installments in the Assassin's Creed series. The only unfortunate thing we encountered were the bugs, and it appears that they are actively being addressed by Ubisoft.
Assassin's Creed IV Unity has become ABT's latest benchmark. Stay tuned as we have many more reviews and evaluations coming up. This weekend, you can expect a full review of the HyperX Cloud gaming headset. We hope to have a Far Cry 4 performance and IQ evaluation also very soon. AND we are working on our Devil's Canyon overclocking review using GTX 980 SLI versus R9 290X CrossFire in a Showdown at high resolution.
Happy Gaming!