Is FSR Enough for Entry-Level 1080P Gaming Performance on the LIVA One A300 Ryzen 5 5600G Mini-PC ?
There is a very cool aspect to Small Form Factor (SFF) mini-PCs where a notebook or a desktop just won't do. Although small book-sized PCs are capable in every area of computing, they have always been weak in gaming. Although it is not advertised for gaming, ECS sent us a LIVA One A300 barebones PC that we equipped with a budget-friendly Ryzen 5 5600G APU, and we benchmarked it with 40 games, workstation, and creative applications to see if it is a capable PC that is also acceptible for entry-level 1080P gaming.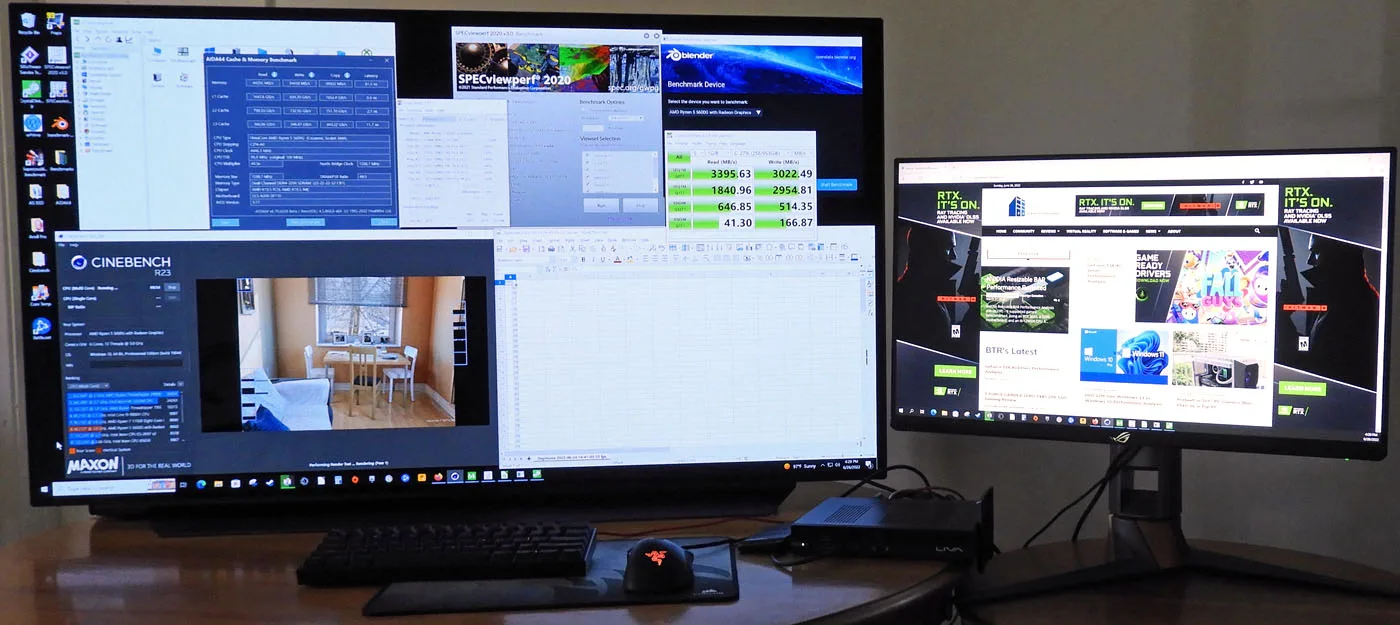 The 205 x 176 x 33 mm (8.07″ x 6.93″ x 1.3″) LIVA One A300 supports AMD Ryzen & Athlon Processors up to 65W with an ECS custom mini-ITX A300 SF110 Socket AM4 motherboard. It will support dual-core Athlons all the way to the 8-core/16 thread Ryzen 5 5700G as well as 2x32GB SO-DIMM DDR4 3200MHz, a 2.5″ SATA HDD/SSD, plus a M.2 2280 SATA/PCIe x 4 Gen 3 SSD.
Since we wanted a budget gaming build, we picked the 6-core/12 thread Ryzen 5 5600G ($169) which uses the same but slightly cut down Radeon Vega 7 integrated graphics. It is only about 5% slower in gaming than the 8-core/16 thread Ryzen 7 5700G thus saving $100 on the APU. We equipped our build with a fast (3,400/3,000MBps) 1TB PCIe T-Force Cardea IOPs NVMe SSD ($99), and 2x8GB Samsung SO-DIMM DDR4 3200MHz ($58.00) which is sufficient for an under $550/$600 1080P gaming build with the LIVA One A300 at $200 ($250 MSR) which was the price at Newegg until it sold out.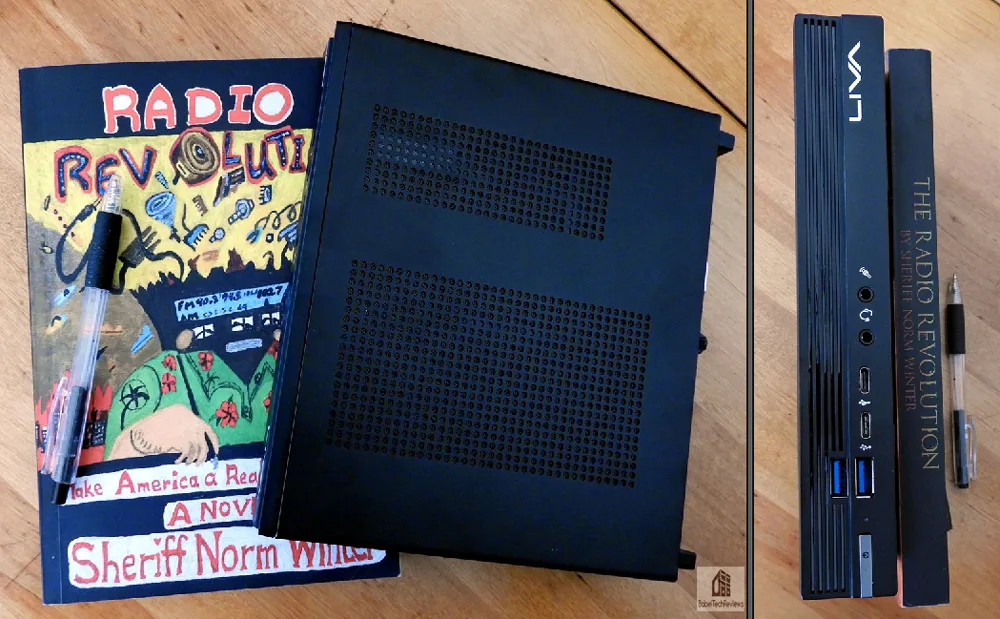 Since inflation is pushing prices higher, we want to see if a small form factor PC is a good investment and also if it is capable of entry-level 1080P gaming. The only choice is AMD as Intel's integrated CPU graphics are unable to deliver an acceptible 1080P gaming experience except for very old or very simple games. However, modern games are becoming more and more demanding and the Vega 7 integrated graphics are rather long in the tooth having been introduced 5 years ago.
LIVA One A300 Features & Specifications
From the ECS Liva One A300 specification page:
PLATFORM – Support AMD Ryzen™ & Athlon™ Processors with Socket AM4
MEMORY – Support 2 x SO-DIMM DDR4 3200MHz, up to 64GB (vary depending on CPU)
STORAGE DEVICES

1 x 2.5″ SATA HDD/ SSD

1 x M.2 2280 SATA / PCIe x 4 Gen 3 SSD

AUDIO

1 x Combo Jack

1 x MIC-IN

NETWORKING – 1 x 2.5 Gigabit LAN
USB

2 x USB 3.2 Gen 2×1 Type C, 2 x USB 3.2 Gen 1×1 (FRONT I/O)

2 x USB 3.2 Gen 1×1, 2 x USB 2.0 (REAR I/O)

VIDEO OUTPUT

1 x HDMI, 4K@60Hz
1 x DisplayPort, 4K@60Hz
1 x VGA

WIRELESS

1 x M.2 2230 WLAN 802.11ac

1 x M.2 2230 WLAN 802.11ax (Optional)

POWER

1 x DC-in

TDP 35W: 19V / 90W

TDP 65W: 19V / 120W

DIMENSIONS (MM) – 205 x 176 x 33 mm
OS SUPPORT – Windows 10 & Windows 11
The Test Bed
BTR's test bed consists of 40 games and 5 synthetic game benchmarks at 1920×1080 as well as SPEC, workstation, CPU, memory, and GPGPU benchmarks. Our latest games include Sniper Elite 5, Total War: Warhammer III, God of War, Ghostwire: Tokyo, Elden Ring, Dying Light 2, DEATHLOOP, and CoD: Vanguard.
The platform that we compare the LIVA One A300 with in creative and workstation tasks is the much more powerful and six-times-more-expensive PCGz Blue Elixir desktop using Intel Core i7-12700KF, an EVGA RTX 3080 FTW video card, and 2x16GB G.SKILL Trident Z 3600MHz DDR4 on an ASUS TUF Gaming H670-PRO WIFI D4 motherboard.
We realize that this is a very unfair comparison but we don't have another CPU platform available – except a 12900K/DDR5 PC. At the least, it will give a baseline comparison that sets relative value in this David versus Goliath contest.
Why Choose a SFF PC?
The main reason to pick a small PC is for its small footprint and minimal energy usage compared with a full-sized desktop PC. Gamers and creators may love gaming and creation but perhaps not the large amount of space a typical desktop PC requires. A large mid-tower tends to take over an entire desk, and moving it to the floor makes it susceptable to damage from being kicked, not to mention its port accessibility becomes problematic. Mini SFF PCs like the A300 take up no more room than a typical book and can even be mounted on the back of a monitor and its ports are always within arm's reach. It is also much easier to travel with a SFF PC compared with packing a desktop.
When it comes to using a PC to render video, produce audio, create, do workstation tasks, stream, and more, notebooks can't compare to an SFF PC. A notebook generally uses a small built-in display which is inferior to the many choices afforded by picking from a multitude of desktop monitors. In addition, a notebook is always a compromise between typing on it and screen viewing while the desktop display and the keyboard can each be placed at their ideal height and distance.
All-in-one notebooks are often plagued by poor cooling with accompanying CPU throttling, loud fans, difficult to upgrade components, and poor battery life. On the other hand, a full-size desktop is bulky and lacks mobility but makes up for it with increased performance and its ease of upgrading. A SFF Mini PC can deliver the best of both worlds – CPU performance that is often on par with big desktop PCs and stronger than most notebooks with similar components. Professional content creators generally prefer a desktop over a notebook for higher performance using the best display possible. Quiet noise levels are also important as SFF systems are typically placed at the desk level and are generally quieter than notebooks which are very cramped and run hot.
The issue for a gamer is that the A300 does not have room for a dedicated graphics card, so all of the video performance depends on the Ryzen 5 5600G's integrated Radeon Vega 7 graphics. These are considered insufficient to power modern games at 1080P/Low above 30 FPS for even entry level PC gaming. Fortunately, AMD and Nvidia both offer upscaling options to improve performance without destroying image quality.
FSR and Upscaling to the Rescue?
AMD has recently introduced FidelityFX Super Resolution (FSR) which is their answer to NVIDIA's DLSS. For this review, we used Performance mode which uses a scaling factor of 2X. In a few cases, we tested Balanced and Ultra Performance modes.
FidelityFX Super Resolution (FSR)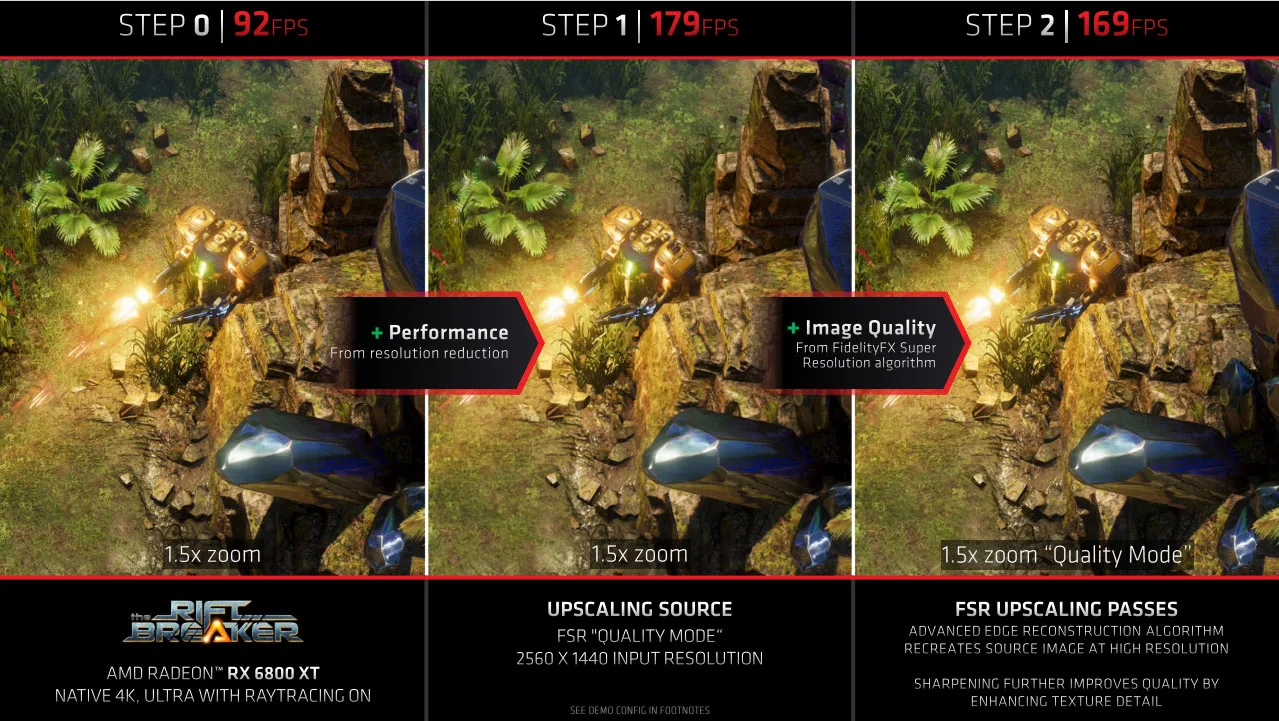 Source: AMD
FSR improves performance by first rendering frames at a lower resolution and then by using an open-source spatial upscaling algorithm with a sharpening filter in an attempt to make the game look nearly as good as at native resolution. FSR is basically a post-process shader which makes it easy for game developers to implement across all graphics cards and not just for Radeons. So far, there are 110+ available and upcoming games supporting FSR 1.0 and FSR 2.0 and we have tested thirteen games that use FSR for this review.
FSR is far more than a standard Lanczos implementation plus sharpening and it brings good value for higher "free" performance with a small hit to visuals. However, AMD recommends using Quality or Balanced FSR modes and that Performance mode should only be selected in situations where "needing additional performance is critical." Using an APU for 1080P gaming definitely meets that description, and we were surprised that the Low visuals using Performance FSR were (barely) acceptible but far better than puke-inducing low framerates with higher fidelity.
Recently AMD has released FSR 2.0 which we benchmarked using DEATHLOOP and God of War for this review.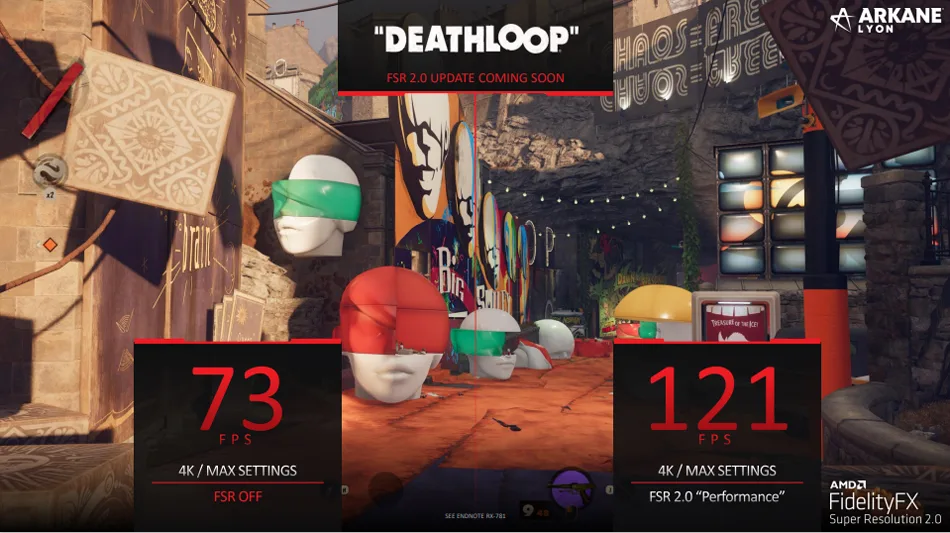 By comparing FSR 2.0 with 1.0, we were pleasantly surprised to see a large IQ improvement of FSR 2.0 over the original. Unfortunately, Performance FSR 2.0 still takes a hit to the visuals but the framerate increase is solid.
Next let's take a closer look at the LIVA One A300.
A Closer Look – The Unboxing, Build & BIOS
The LIVA One A300 comes in a small box as a barebones system.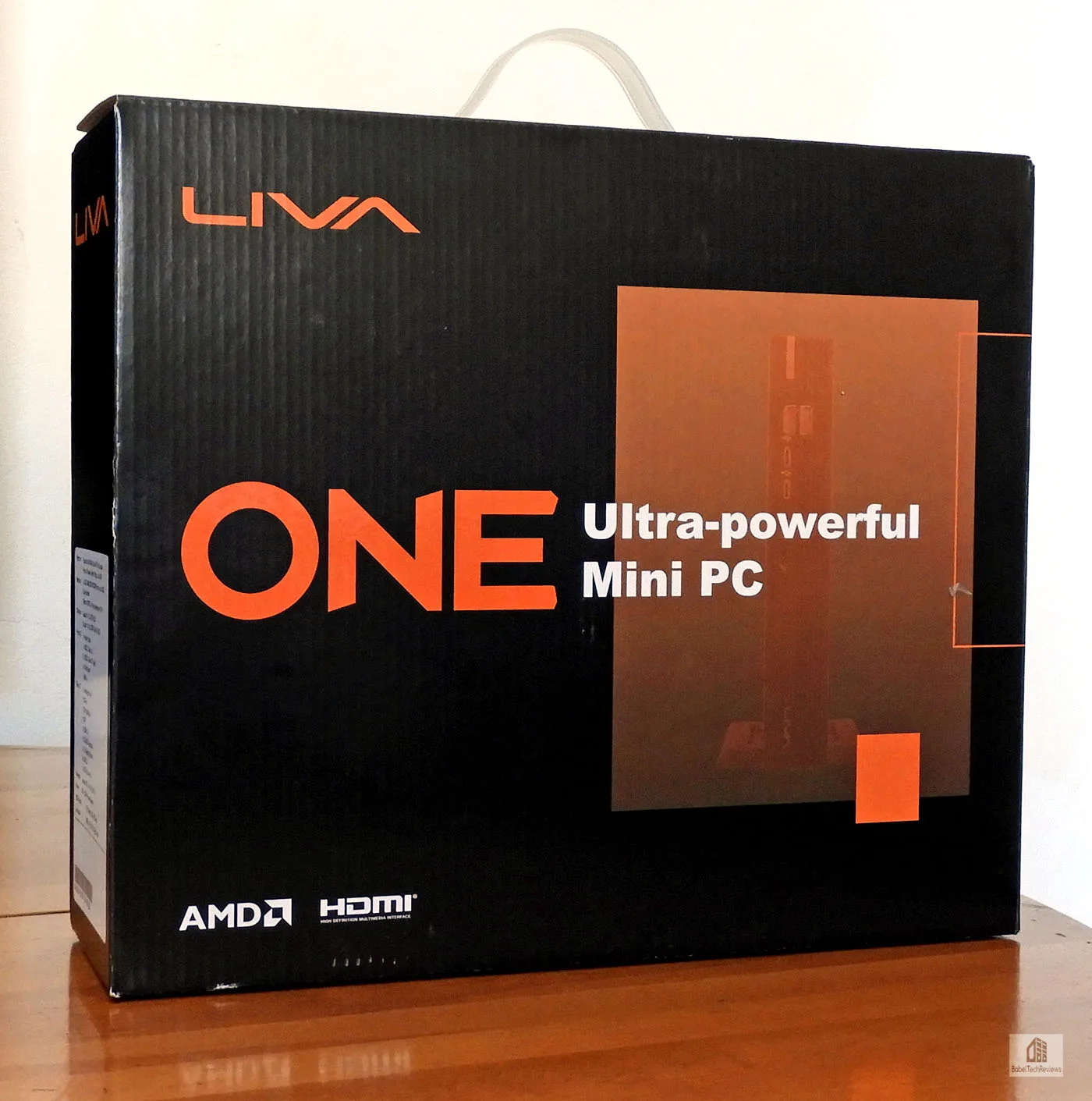 The A300 is packed in a sturdy box advertising it as an ultra-powerful mini PC .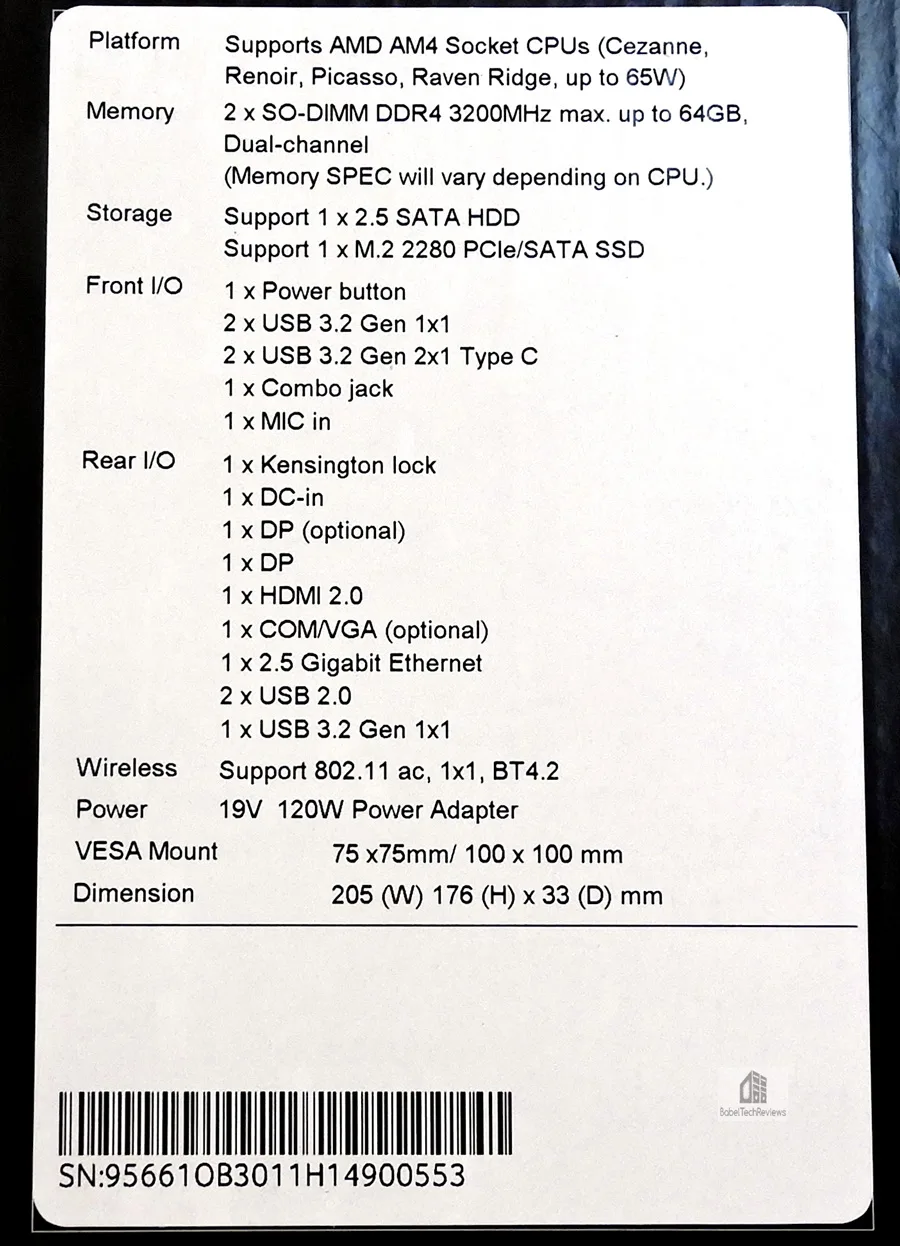 The A300's features and support are listed on a side panel.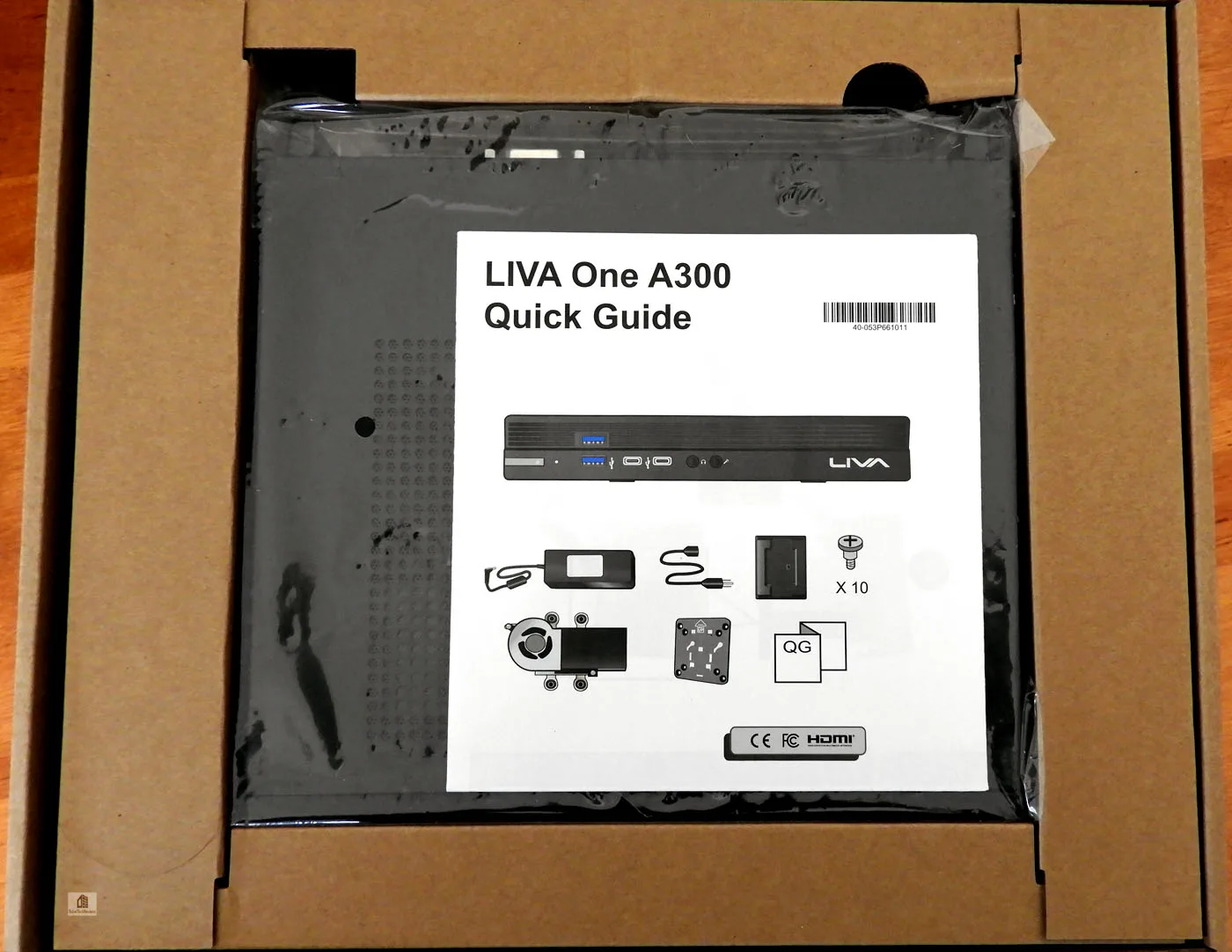 Opening the box, we see the case and a quick start guide.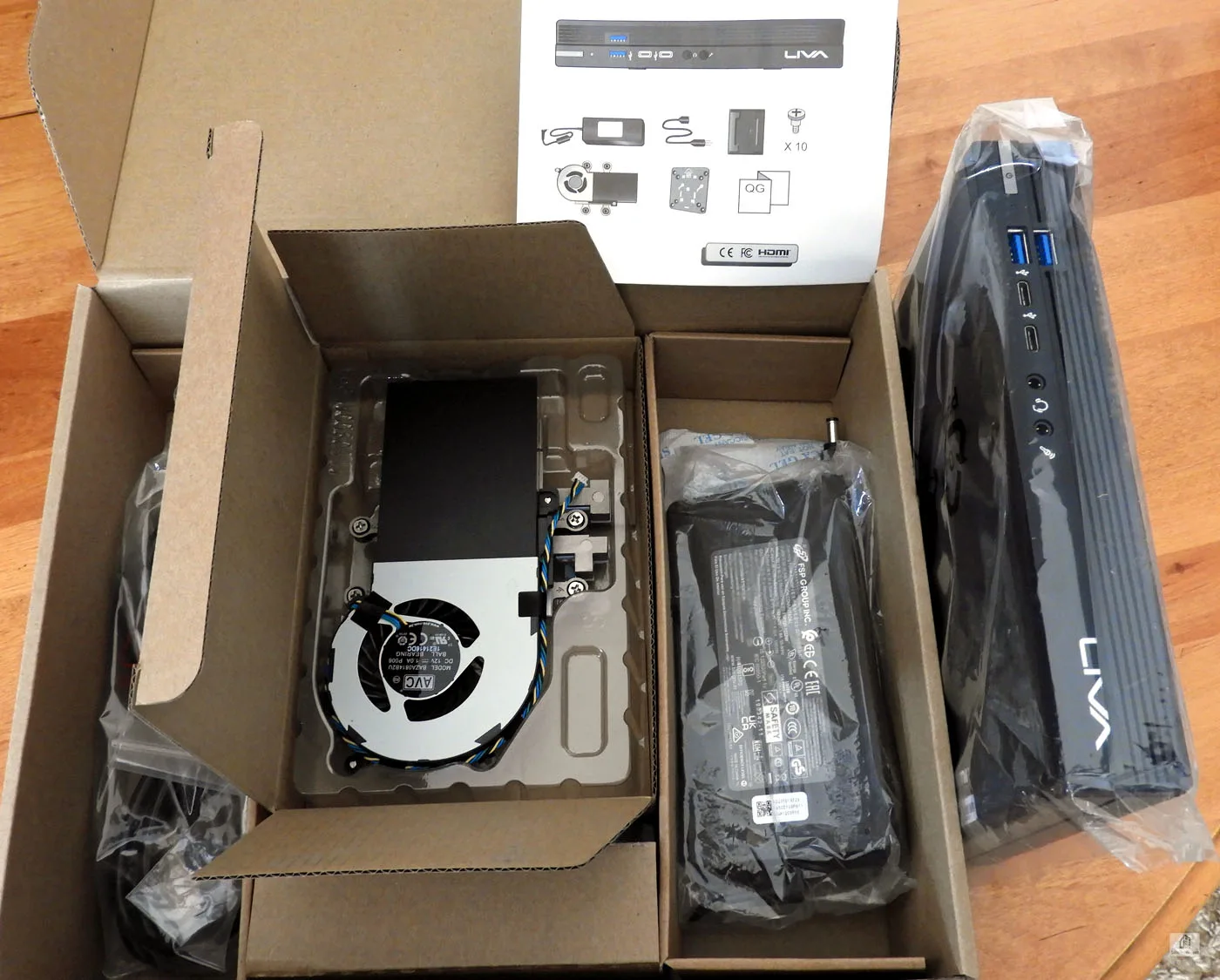 Removing the case, we see the rest of the contents include a 19V/120W power adapter and power cords, an APU cooler, necessary screws, and a choice of using a VESA mount or a stand.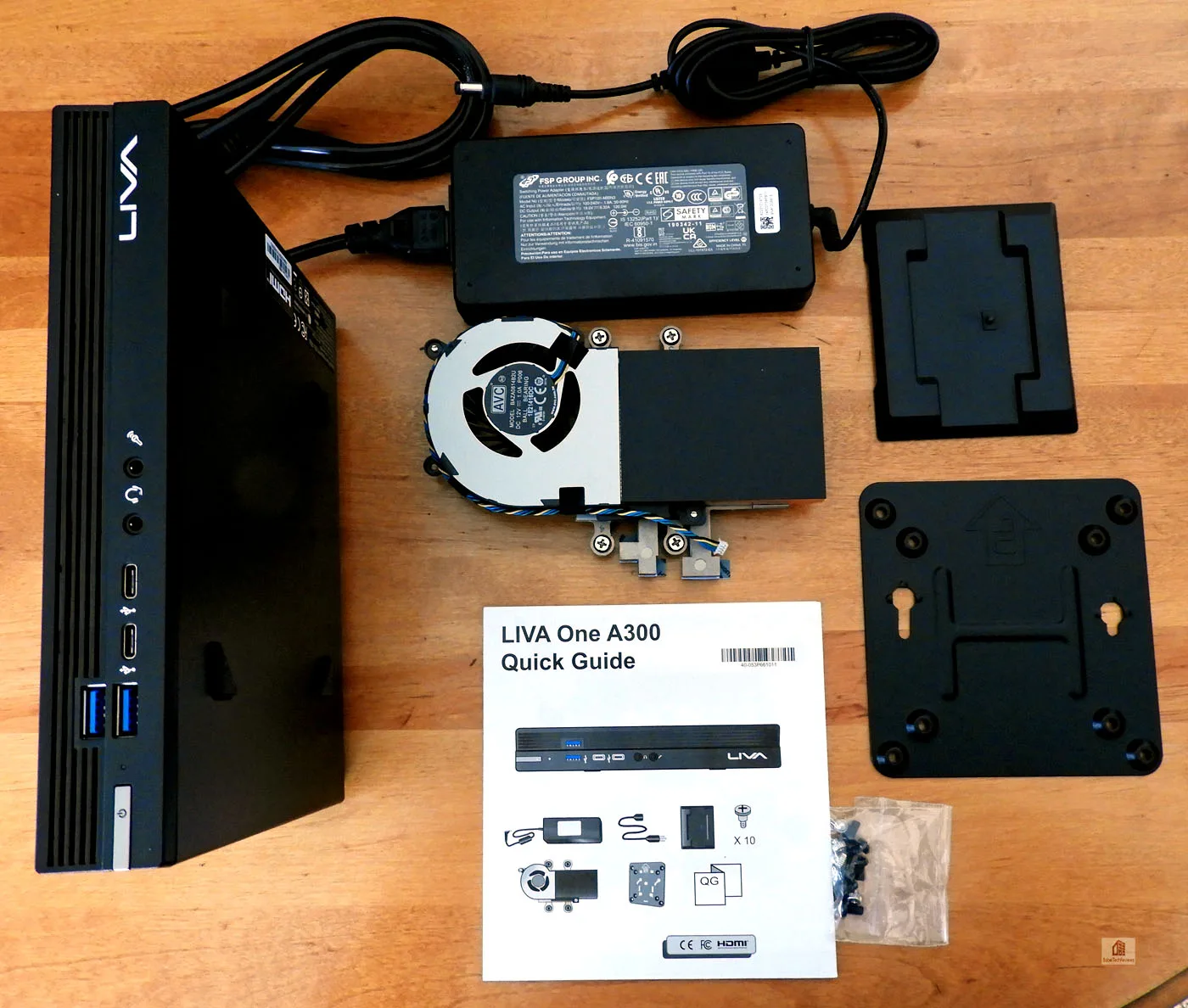 The front of the LIVA One A300 has a power button, two USB 3.2 Gen 1×1 and two Gen 2×1 Type C connections as well as headphone/combo and microphone inputs.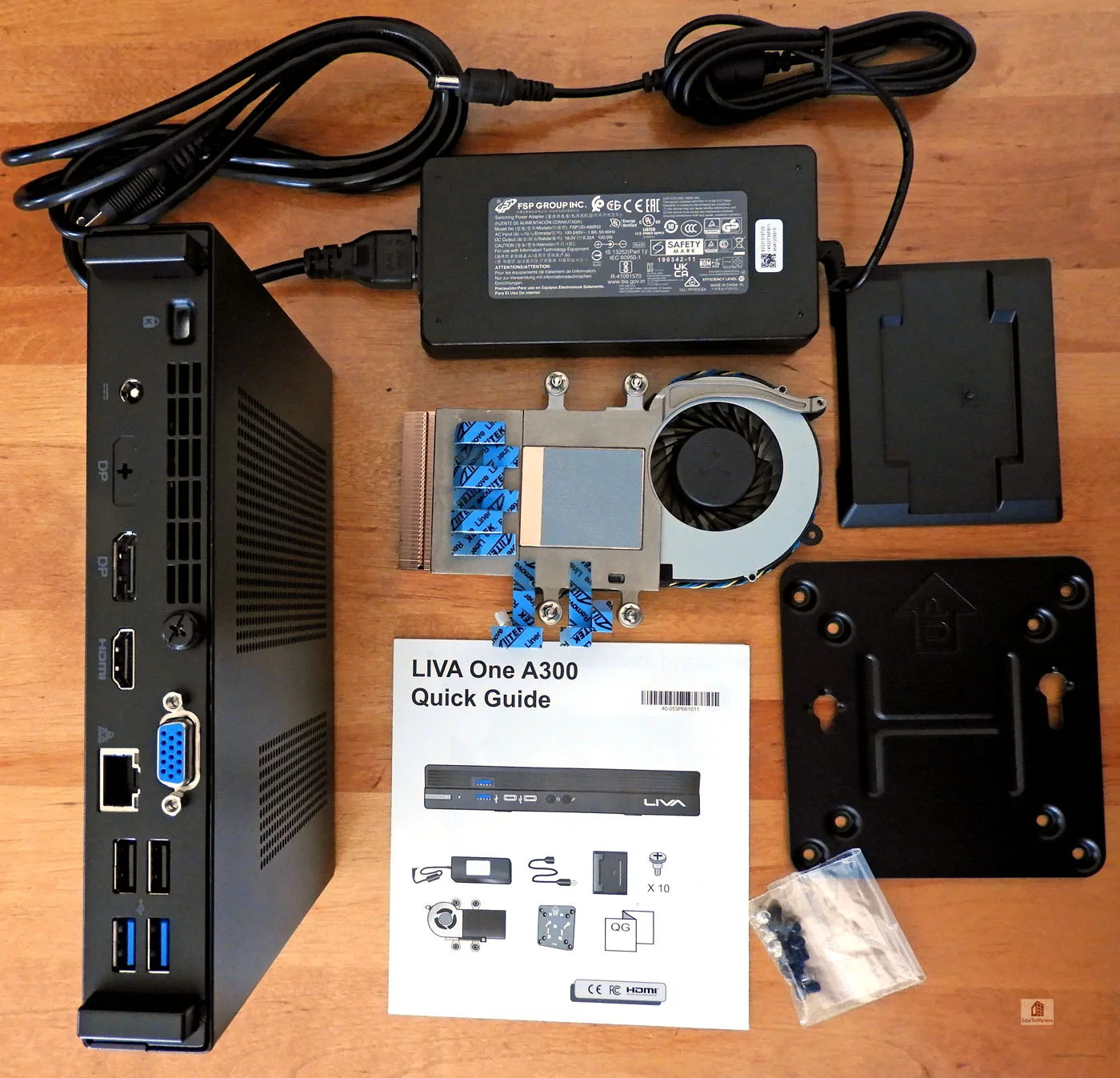 The rear of the A300 has two additional USB 3.2 Gen 1×1 and two USB 2.0 ports plus a VGA/COM, HDMI 2.0, and two DisplayPort connectors (one of which is covered). The power connector and 2.5 Gigabit Ethernet connector is also on the back along with a Kensington lock. If you prefer Wi-Fi, you can use a 802.11 ac, 1×1, BT4.2 internal card.
The CPU cooler comes with thermal interface material installed for the APU as well as for the VRMs. You will need to supply your own external storage via USB or use an internal 2.5″ SATA SSD or HDD and/or a M.2 2280 PCIe 3.0 SSD.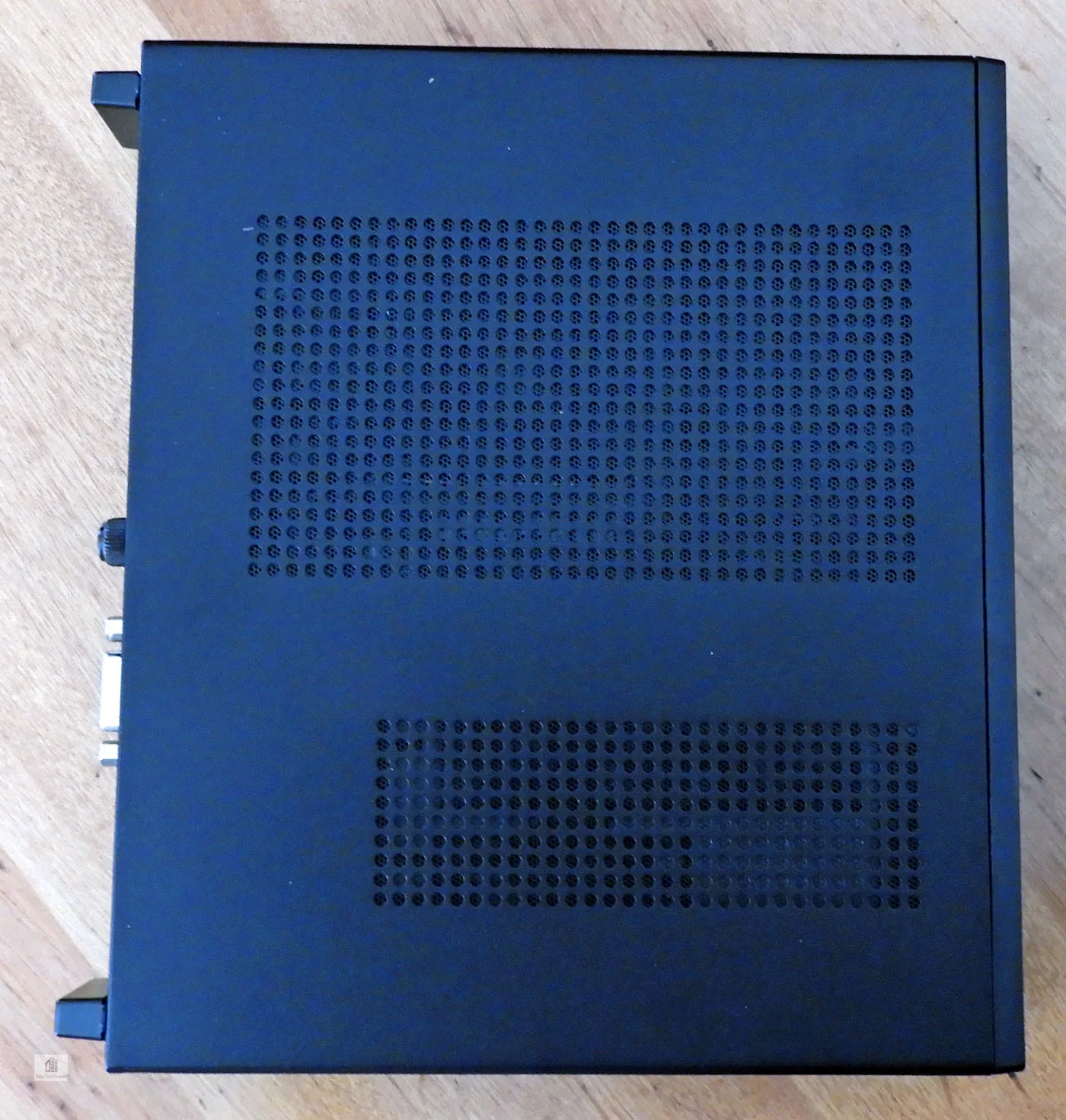 The top of the case is well ventillated and there is a screen covering the openings.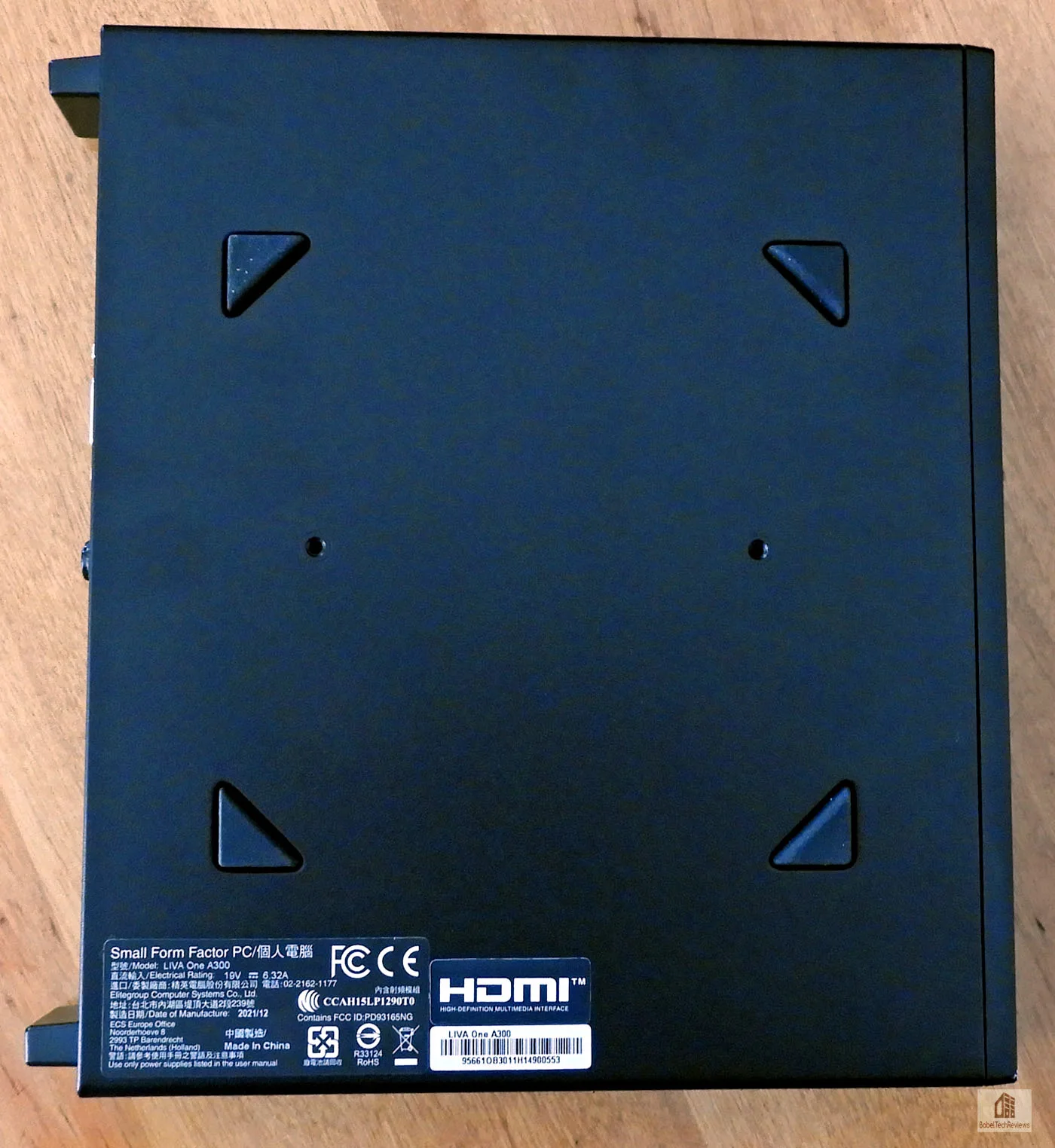 The bottom of the unit has 4 rubber feet and it can either lay flat or be set up vertically by using a stand.
Building the PC
The LIVA One A300 is extremely easy to build and can be fully assembled in well under 30 minutes.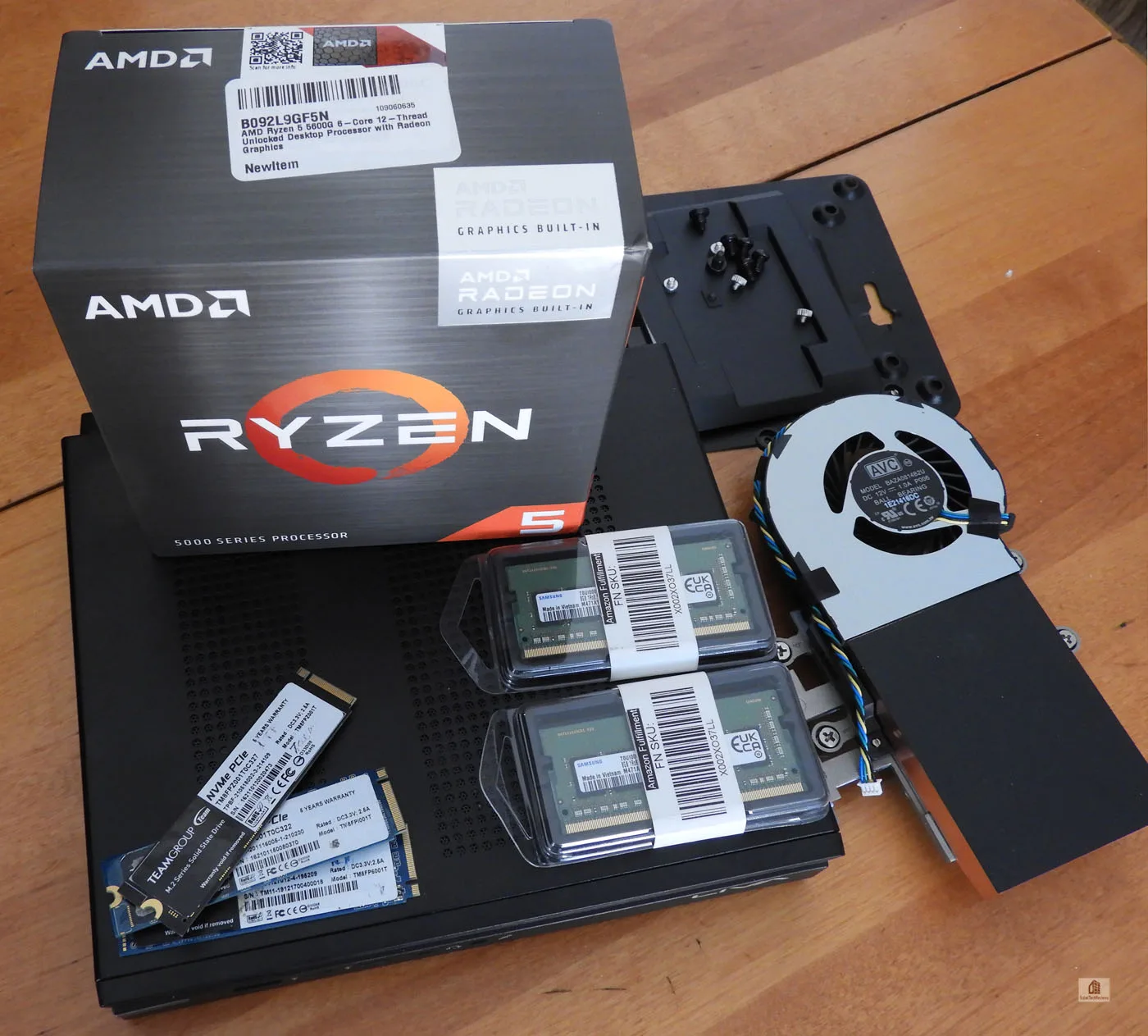 We picked a Ryzen 5 six core/12 thread 5600G from Amazon for $168.99 (at the time) as the best bang for buck for a budget gaming build. The Liva One A300 supports the eight core/16 thread 5700G for $100 more, but its Radeon 7 Vega graphics is only about 5% faster. Those wishing to use the A300 for creative or workstation purposes will want the fastest APU.
We picked Samsung 2 x 8GB DDR4 3200MHz PC4-25600 SODIMM Laptop RAM Memory Modules for $27.98 each. 16GB is generally enough for 1080P/Low gaming although creators or workstation users may want the full 64GB RAM that the A300 supports.
We picked the memory and the CPU from the ECS QVL (qualified vendor's list) but decided to use our own NVMe SSDs. We picked the fastest PCIe 3.0 SSD we had using a 1TB NVMe T-Force Cardea IOPS SSD (3400MBps Read/3000MBps Write) for C: Drive as well as a 512MB T-Force Vulcan SATA III SSD for additional storage.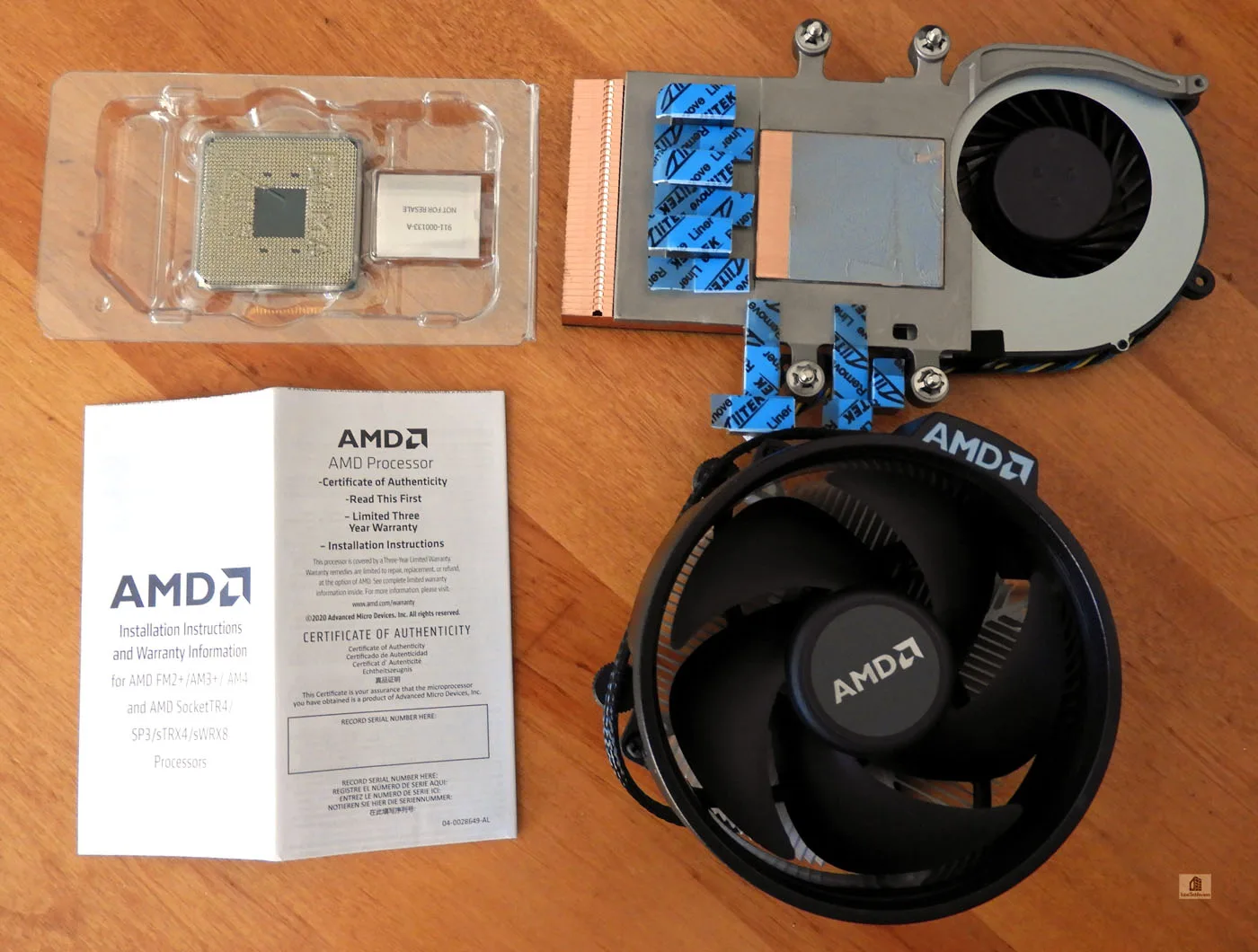 The Ryzen 5 5600G comes with a cooler, but we put it away and used the ECS A300 cooler which also cools the VRAM.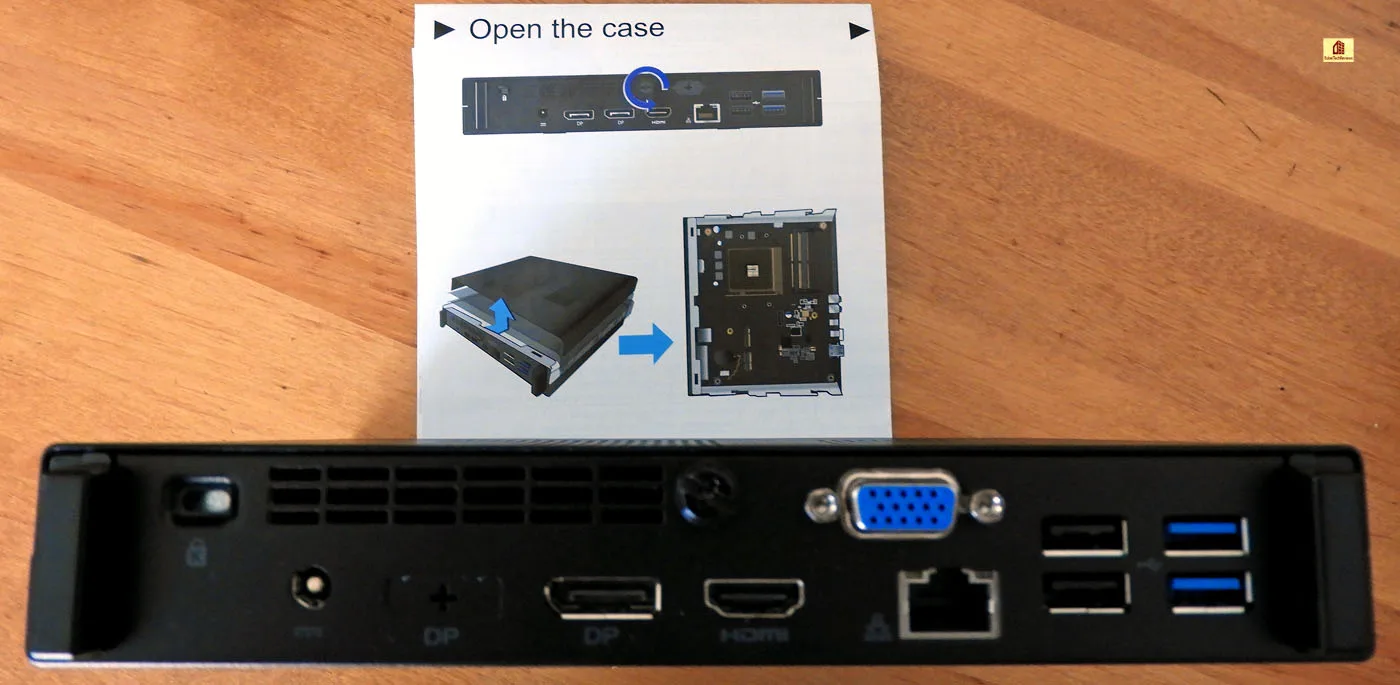 We followed the Quick Guide and opening the cover is a matter of removing a thumbscrew on the back of the case and sliding the motherboard out of it.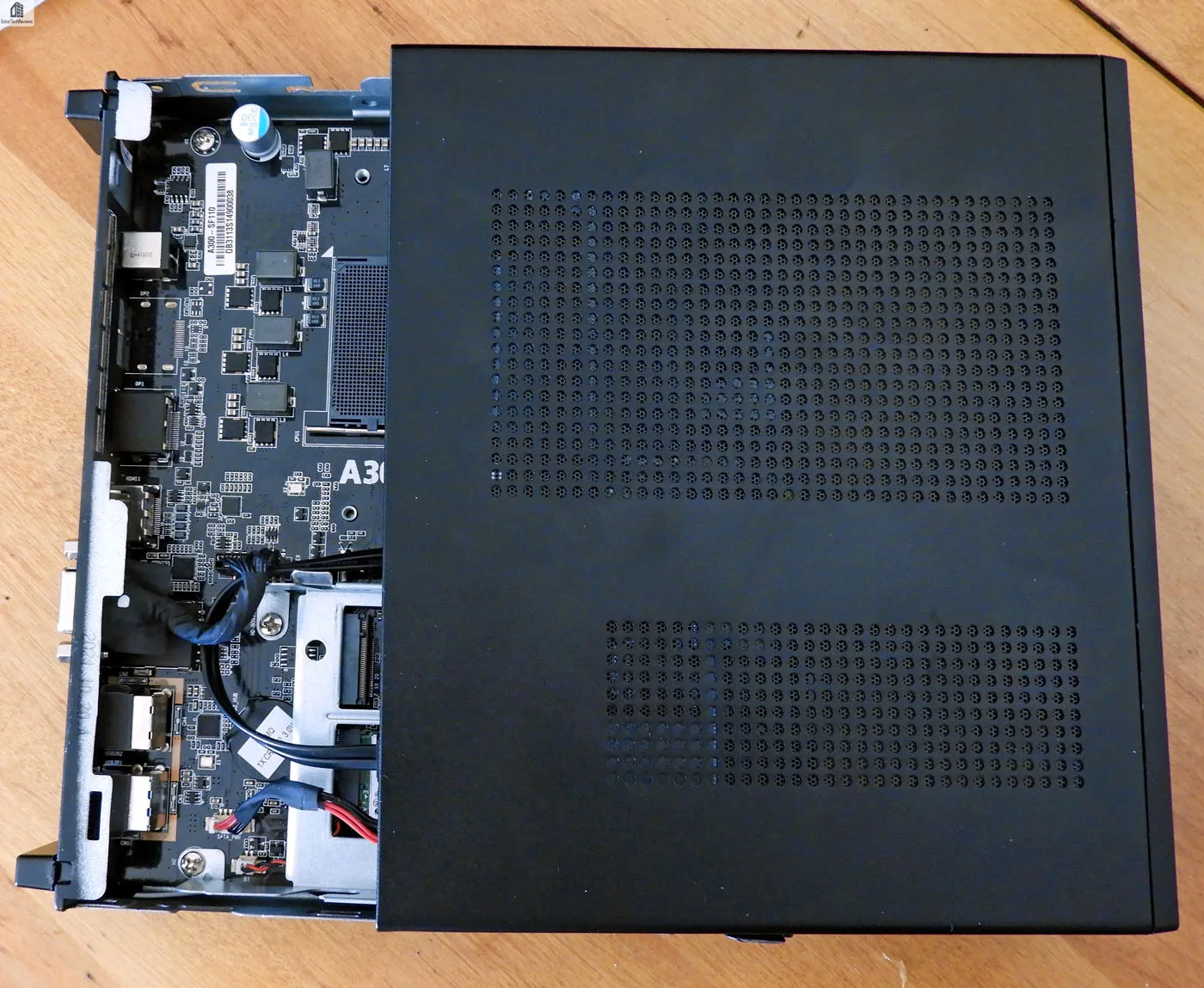 Step one is to carefully drop the 5600G APU into the motherboard making sure to align the arrow on the motherboard with the arrow on the APU corner and then to lock down the lever.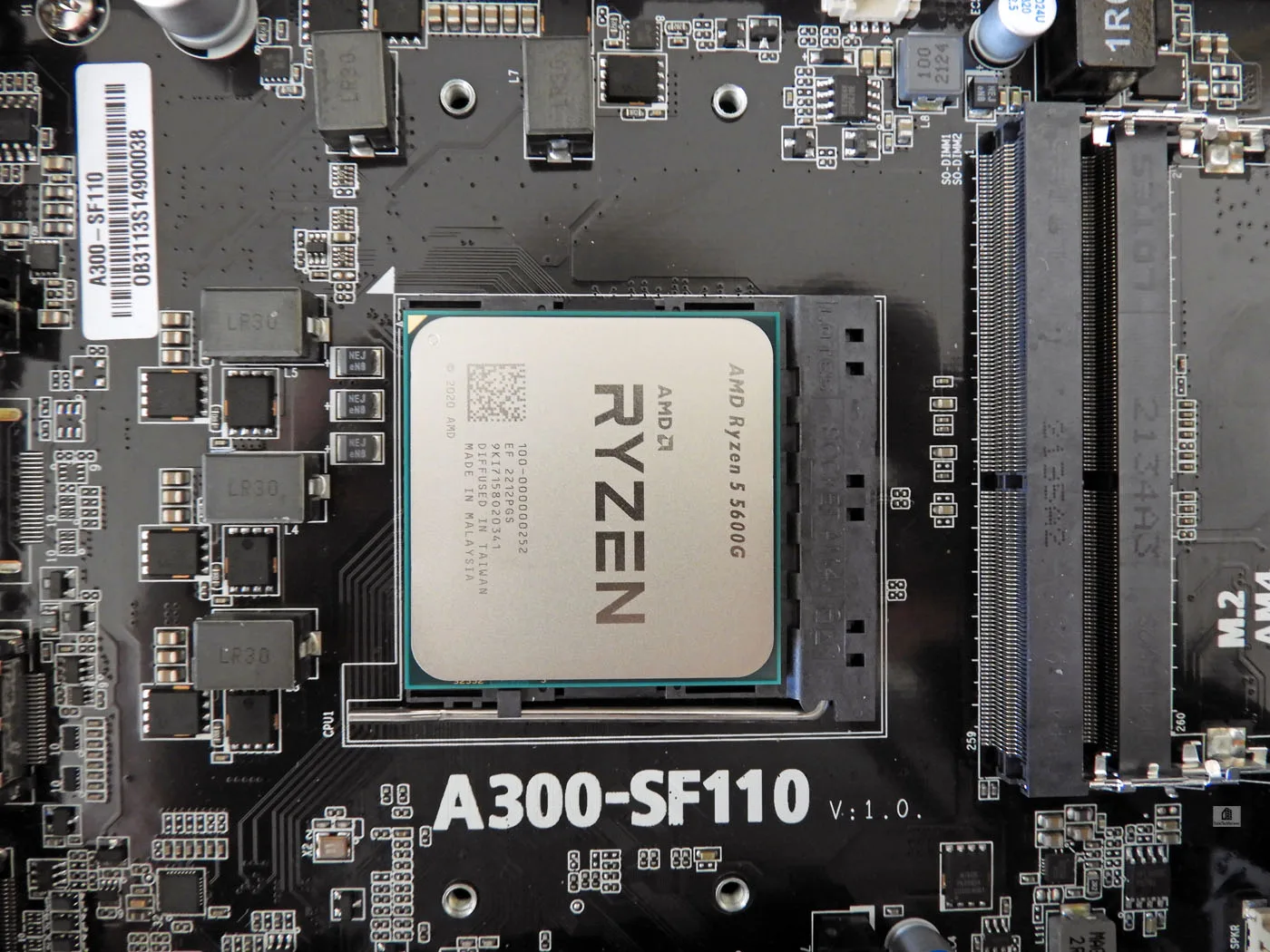 We did not use a Wi-Fi card as we prefer to use an Ethernet cable or a USB Wi-Fi adapter.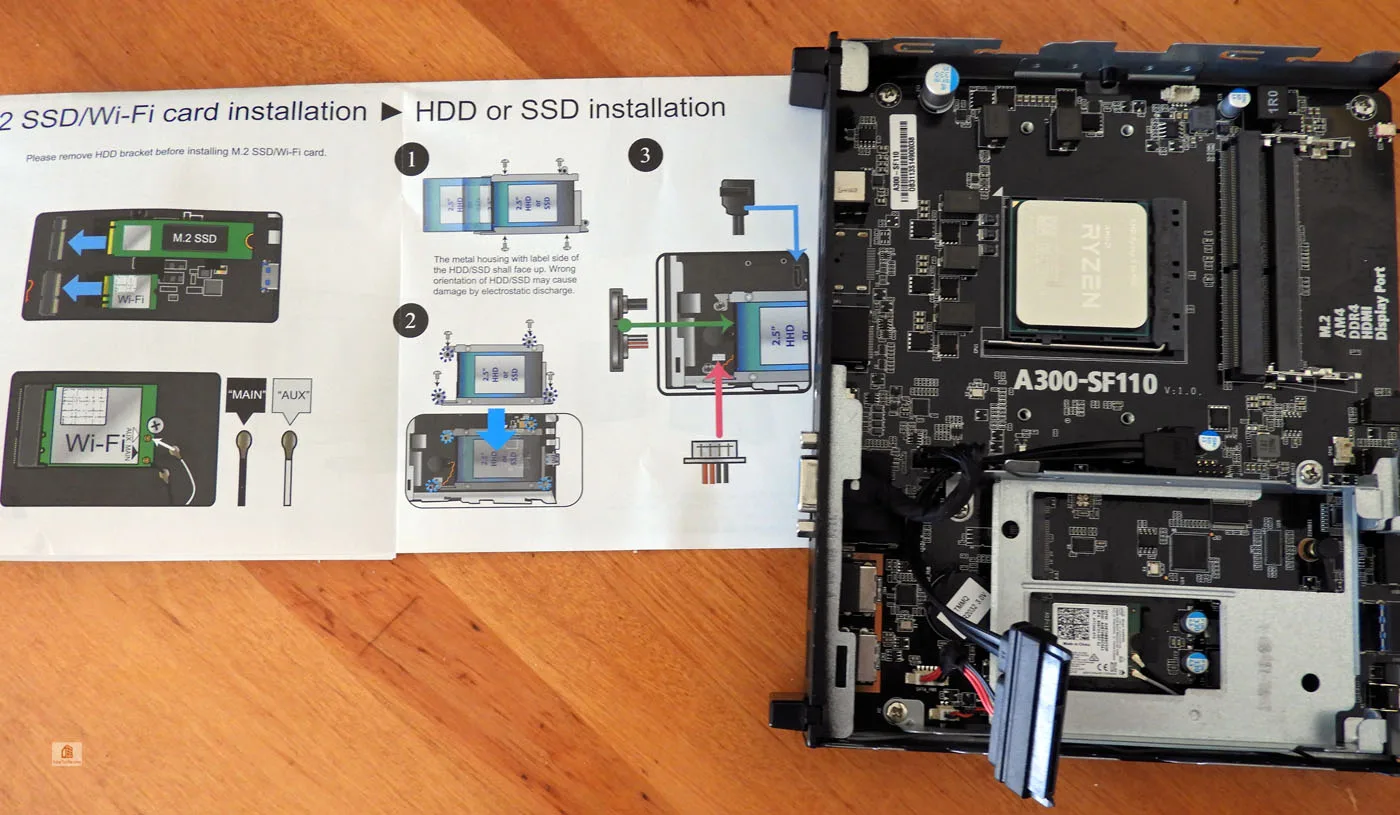 To install a PCIe NVMe SSD, the hard drive (HDD) tray first needs to be removed.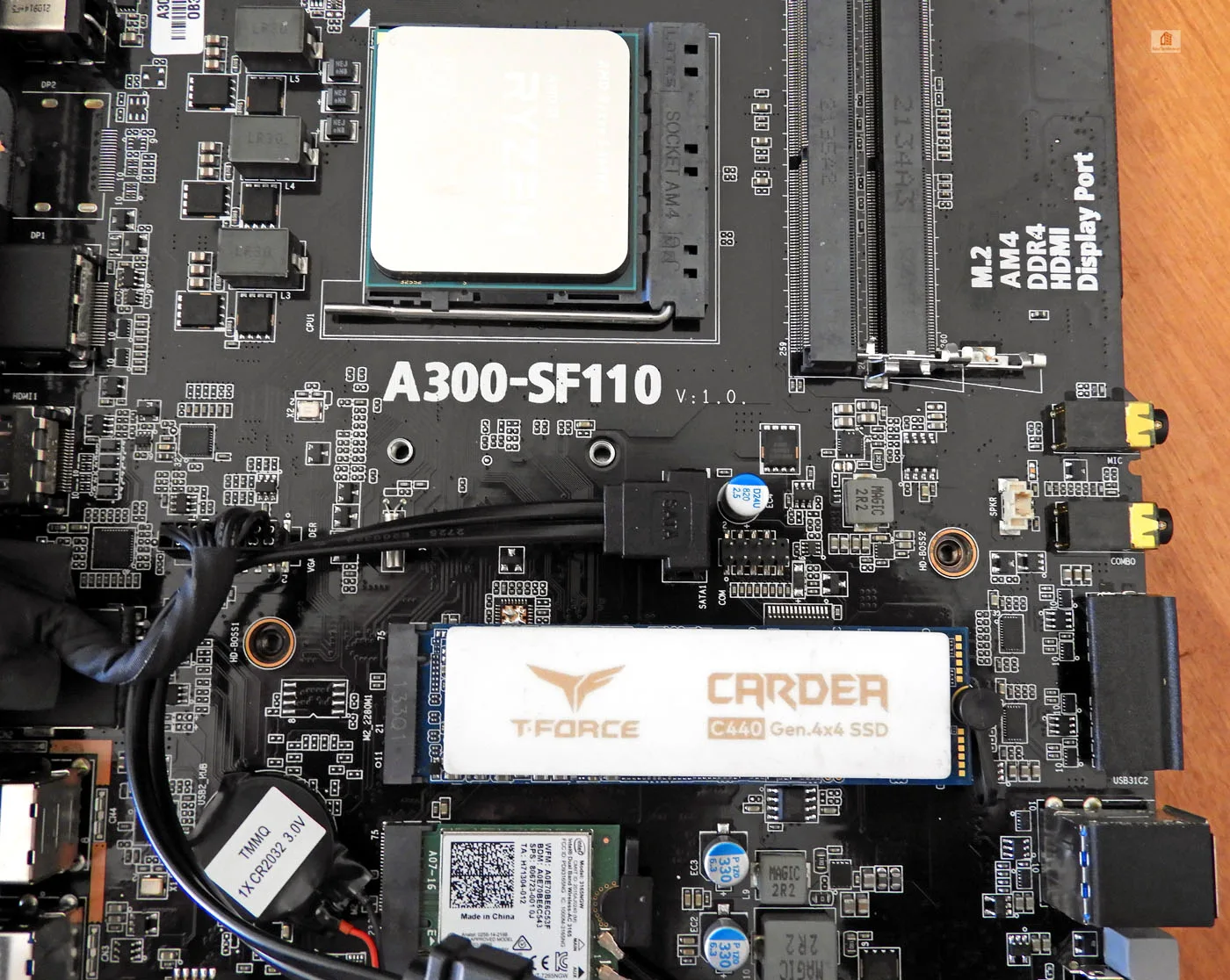 The NVMe SSD locks down easily with a lever which is very convenient. We used a Cardea Ceramic heatsink for the IOPS SSD since it has superb cooling charactistics. After the SSD is installed, the SSD/HDD tray needs to be reinstalled.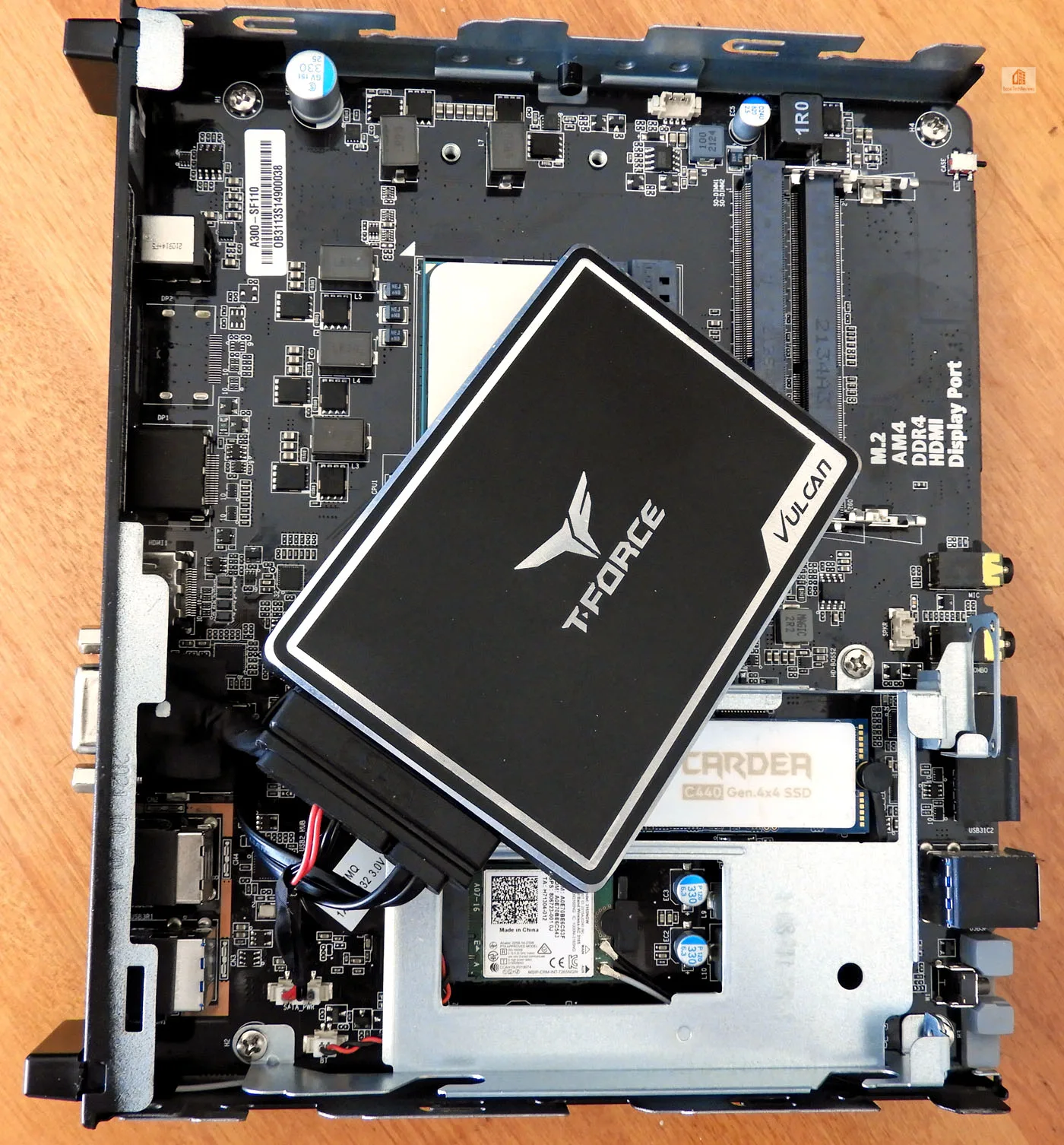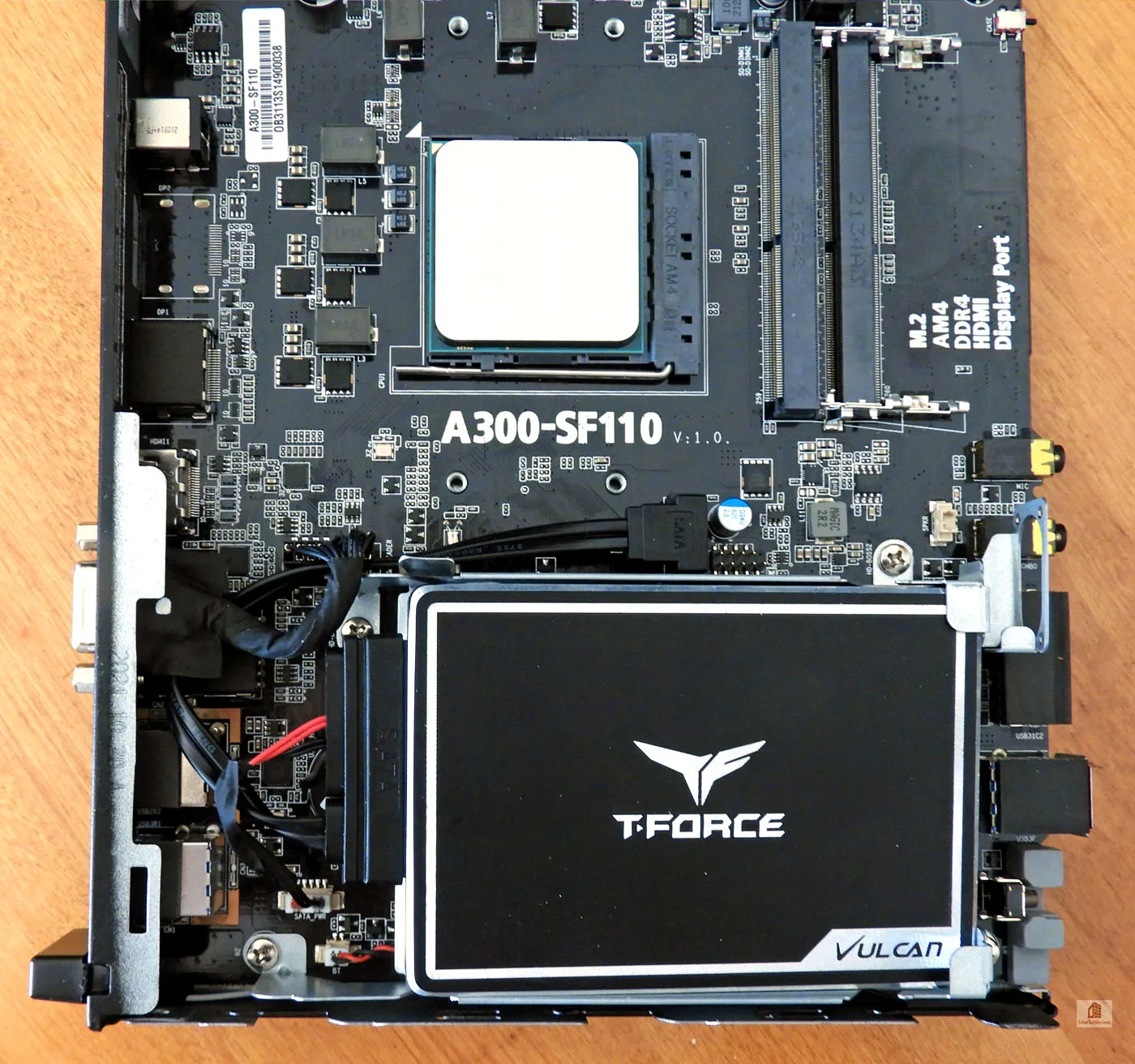 Memory is next and it clips in the same way as a notebook SO-DIMM.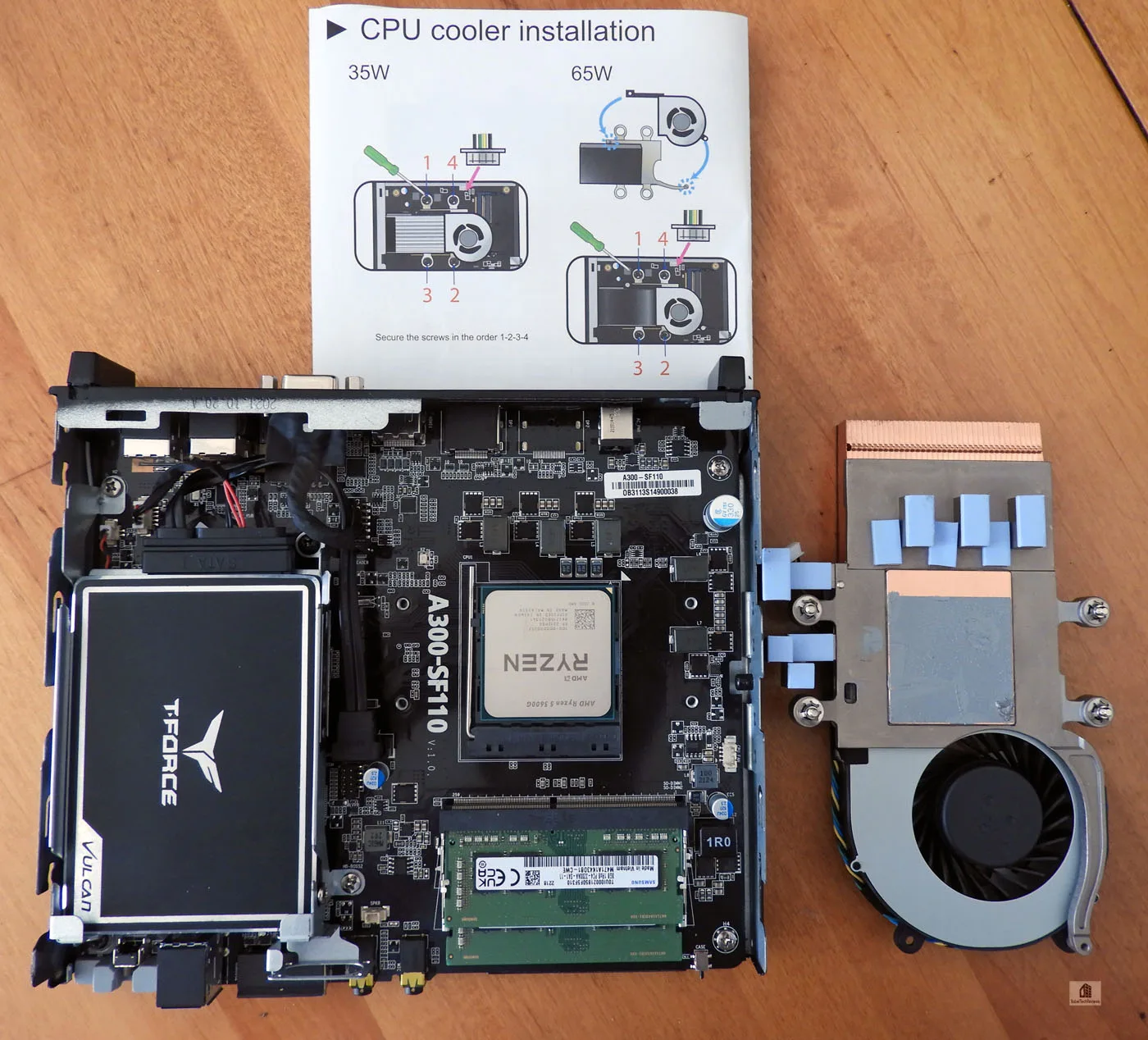 The cooler is next. The VRAM thermal interface plastic coverings need to be removed and then the cooler is carefully placed on over the APU/VRAMs and the four screws are tightened down in the order indicated on the Quick Guide and also on the screws.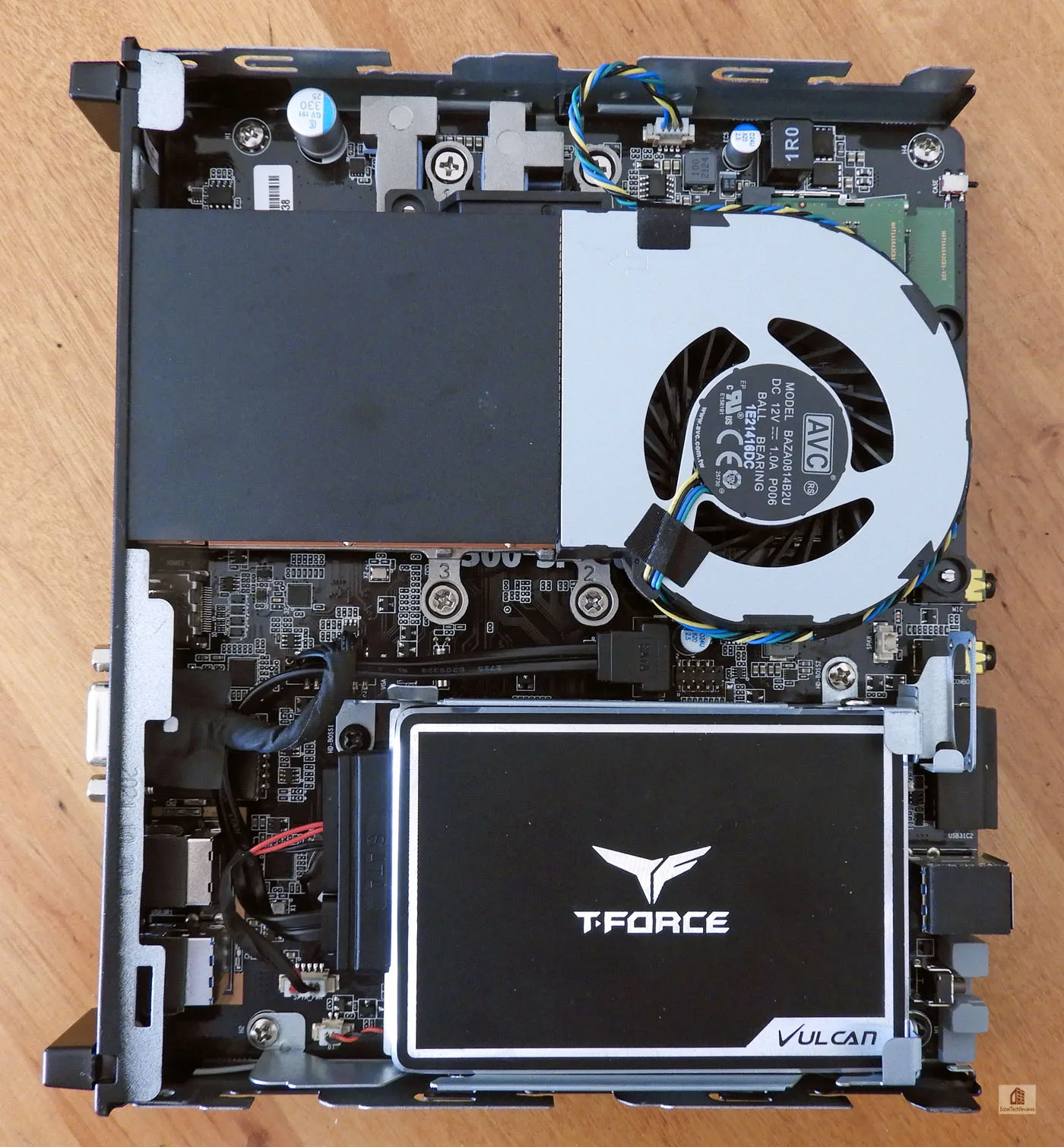 It's time to slide the cover back on.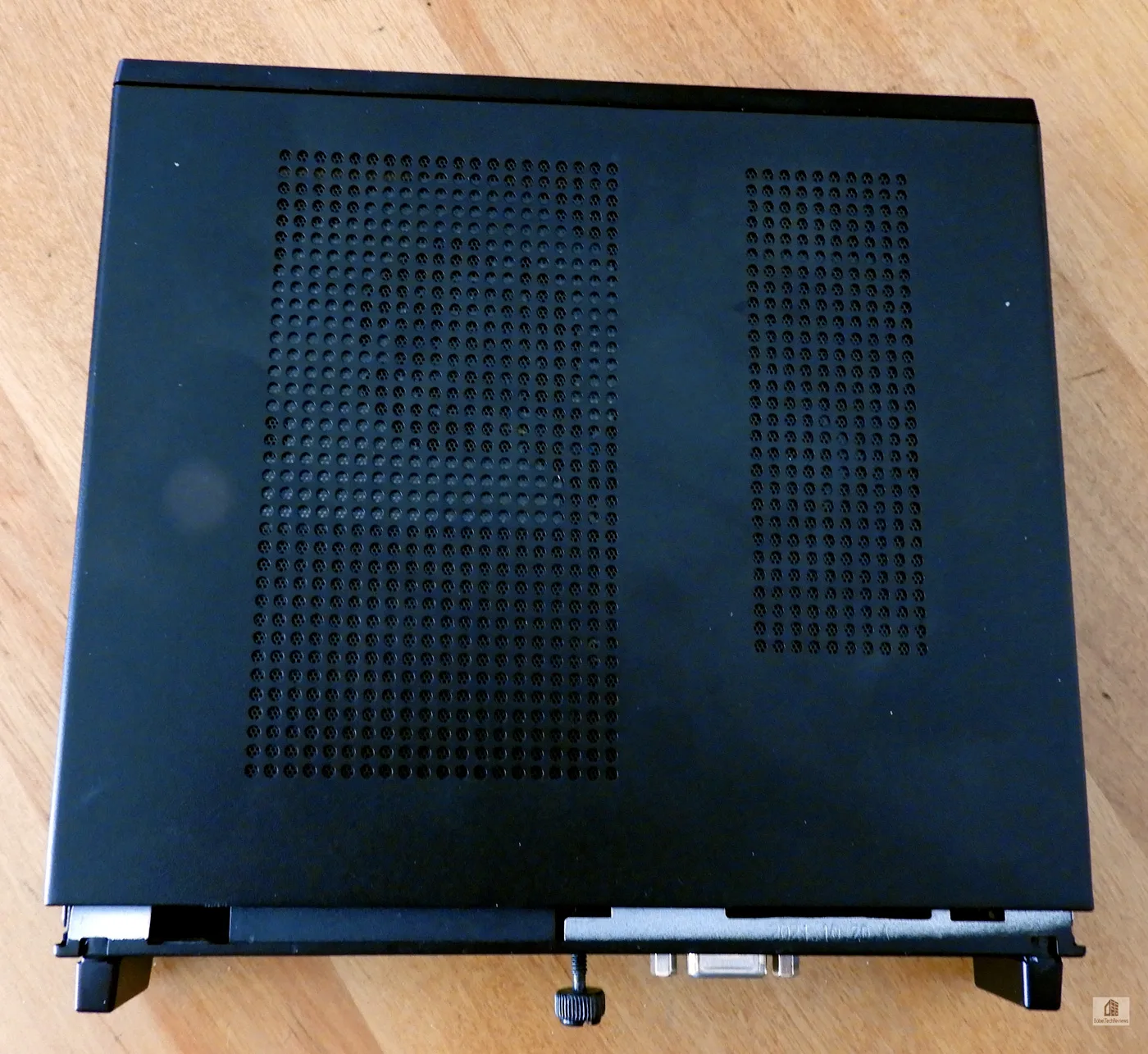 The ventillation holes are protected from dust intake by a sceen. Now it's time to tighten down the thumbscrew and add a stand (for vertical builds).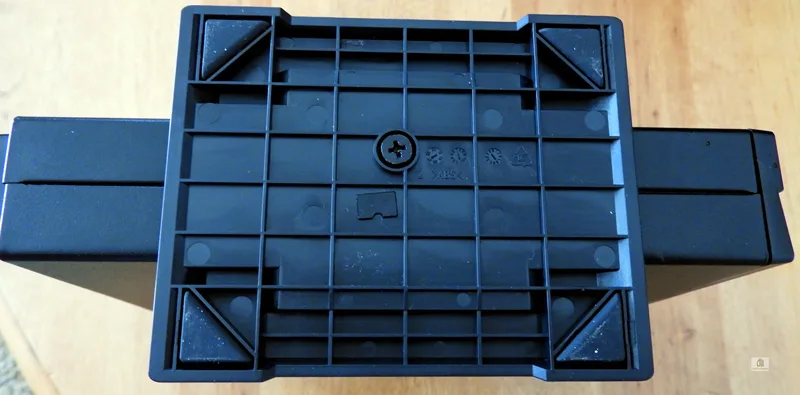 It's time to plug in the mouse, keyboard, display, and ethernet cable – and turn it on.

Let's check out the BIOS.
Navigating the BIOS
The ECS BIOS is very easy to navigate but there are few options for performance enhancements.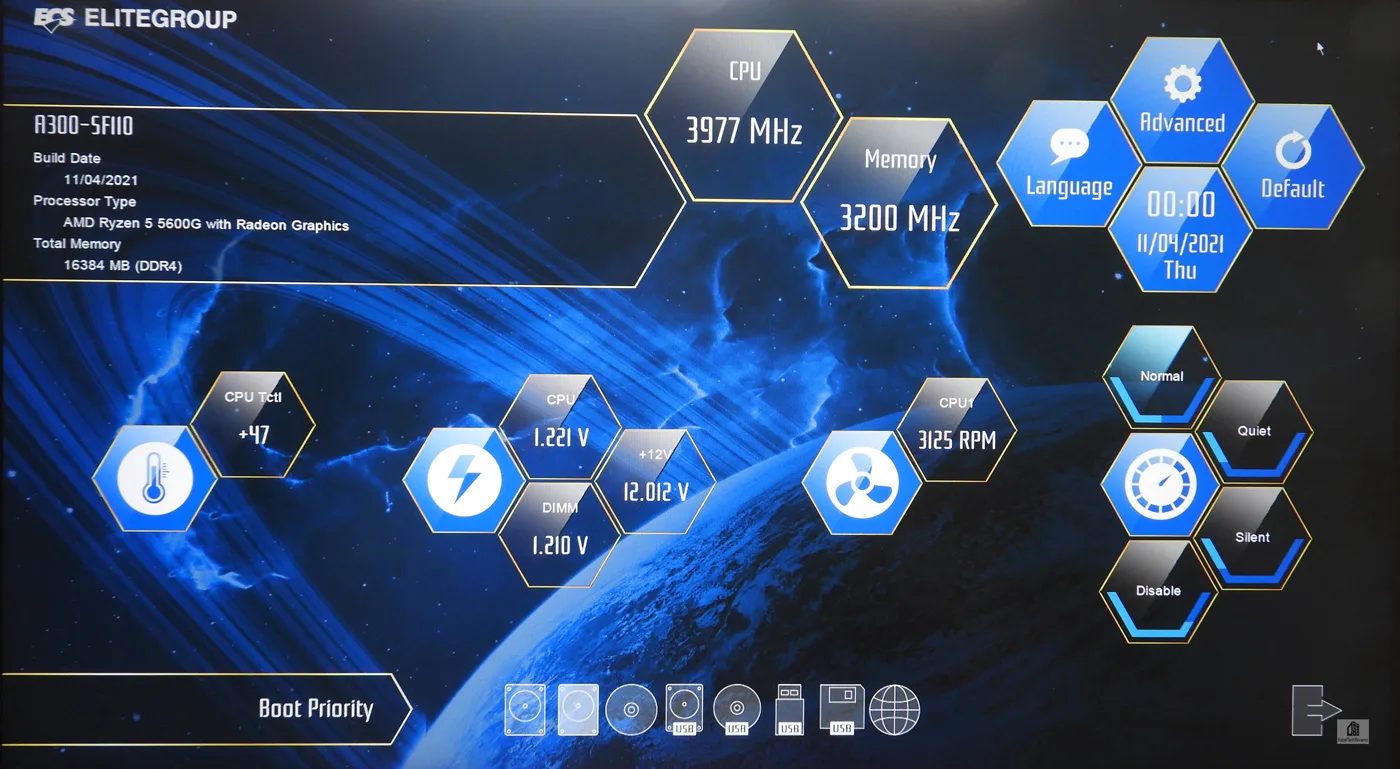 The BIOS screen gives the PC status and fan control, but the advanced screens are where the options are.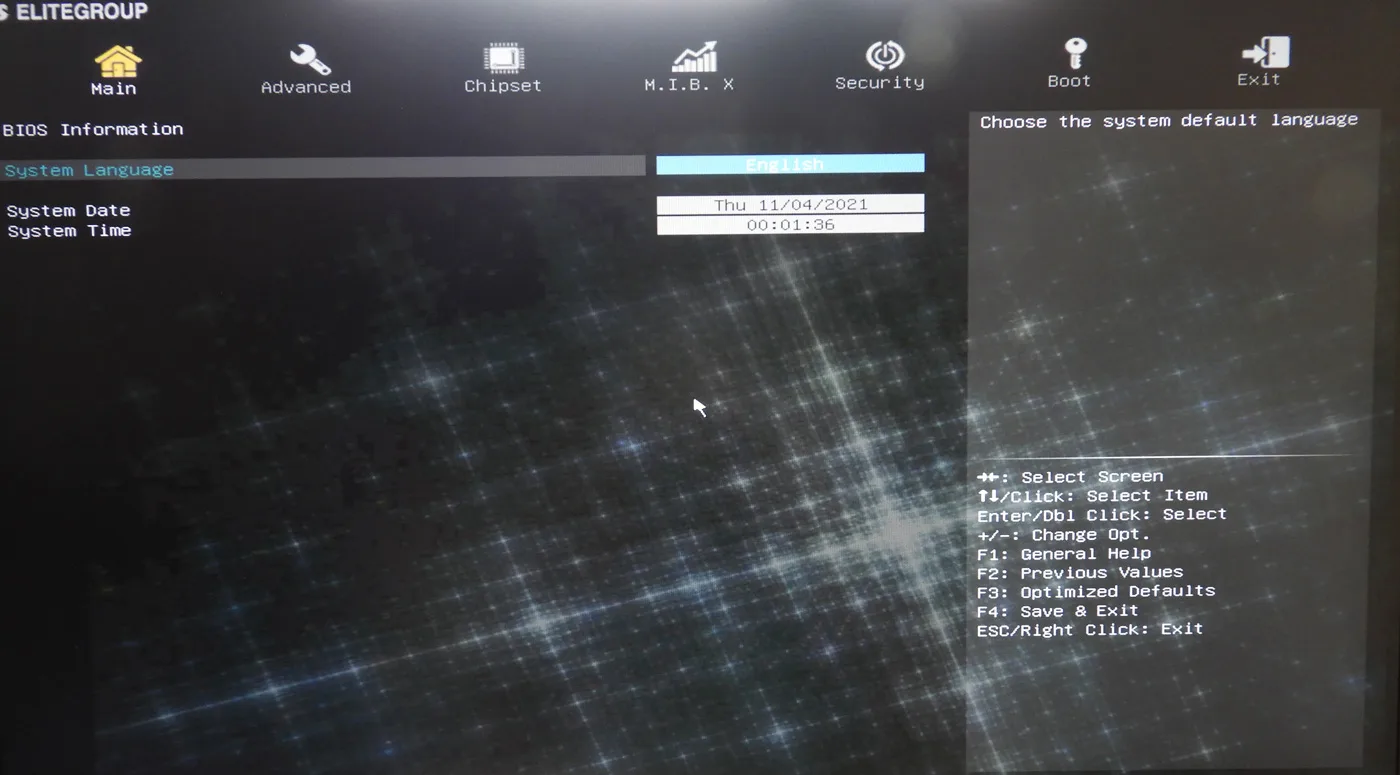 The Main screen gives options for changing the language, date, and time.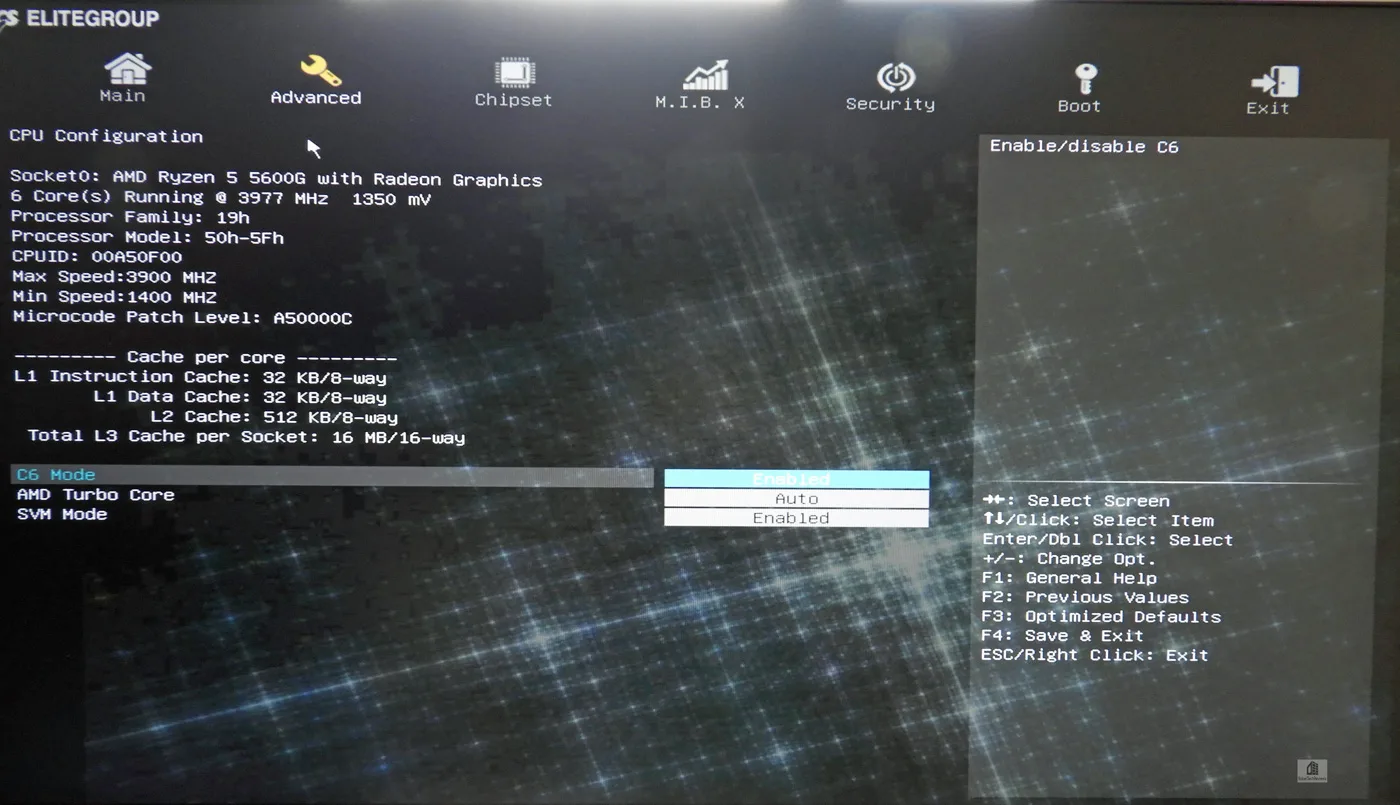 Advanced offers few CPU options, and the Chipset screen shows the SATA and NVMe drives status with no real options so we move on to the MBIX screen which surprisingly does offer some memory performance enhancing options.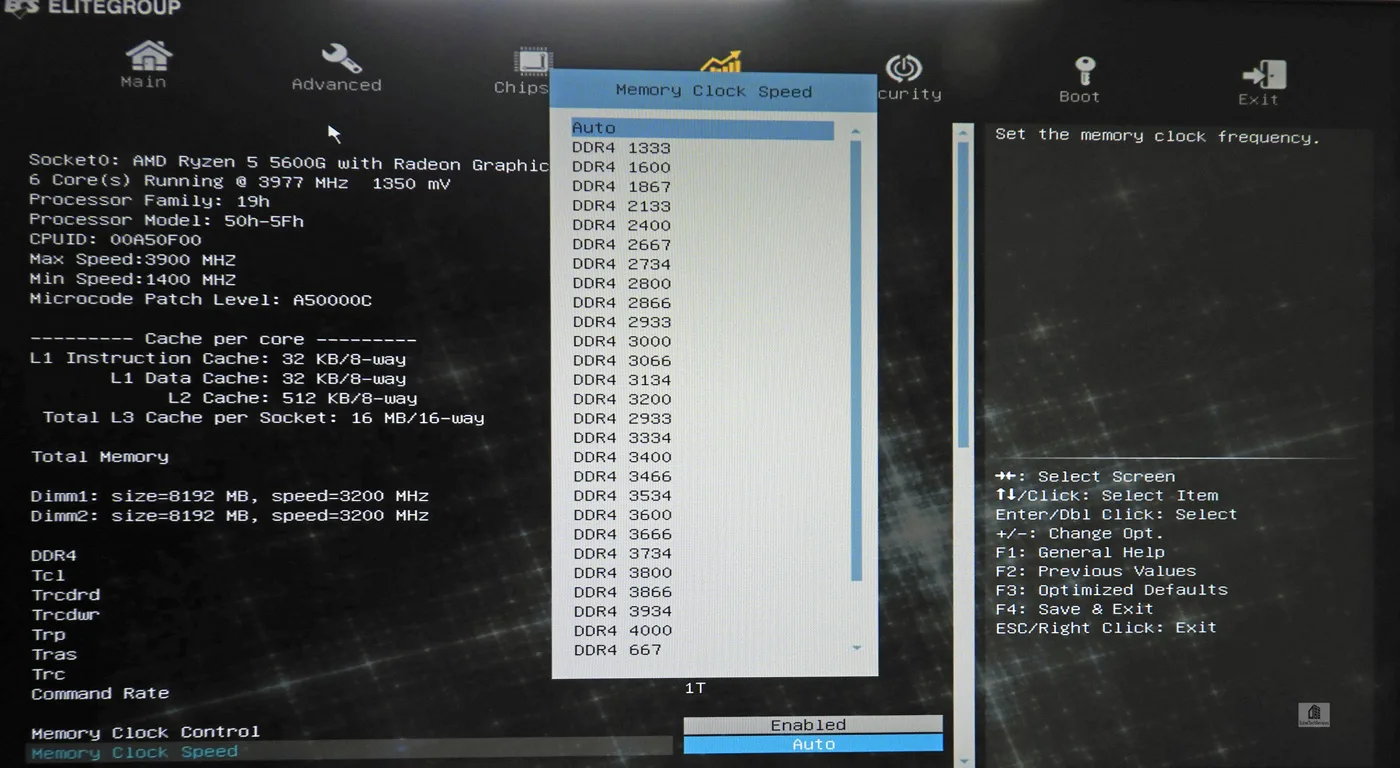 Unlike the CPU or graphics, the memory can be overclocked. From Auto, we set the memory to 3200MHz and did not try for 3334MHz or higher or attempt to adjust the timings which can yield some extra performance. An enthusiast will probably want to tweak these options. We didn't see any other performance-enhancing options for gaming such as enabling ResizeableBar.
The final options screen before Exit is the Boot menu.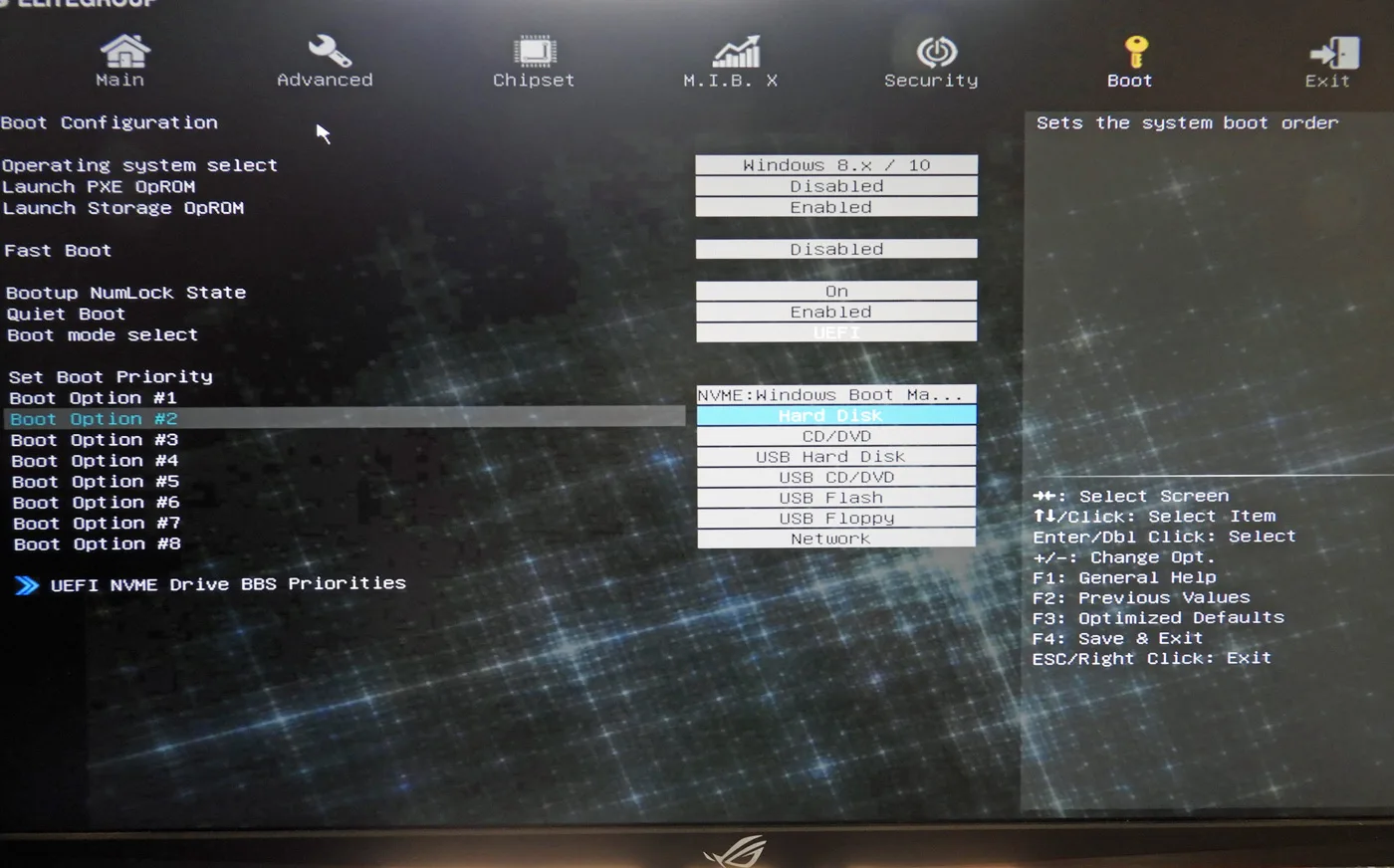 We used the boot menu to first boot from a flash drive to install Windows 10, and after it was fully set up, we set the A300 to boot from the 1TB NVMe SSD and used the 512GB SATA III drive for storage along with our 4TB external T-Force M.2 Type C SSD.
Let's check out its performance after we look over our test configuration and more on the next page.
Test Configuration – Hardware
LIVA One A300
ECS LIVA One A300 barebones with custom mini-itx motherboard (AM4 chipset, latest BIOS, PCIe 3.0, DDR4)
Ryzen 5 5600G APU (stock settings/APU Radeon 7 Graphics).
Samsung 2x8GB DDR4 3200MHz PC4-25600 (1.2V 1Rx8 260-Pin SODIMM Laptop RAM Memory Module M471A1K43DB1-CWE)
T-FORCE CARDEA IOPS 1TB M.2 NVMe PCIe 3.0 SSD, supplied by TeamGroup
T-FORCE M200 4TB Portable Gen 2 x2 USB 3.2 Type C SSD, supplied by TeamGroup
ANNE PRO 2, 60% Wired/Wireless Mechanical Keyboard (Gateron Brown Switch/Black Case)
Starlink Ethernet
ASUS Chakram Wireless Gaming mouse, supplied by ASUS
Corsair mousepad
PC Gamerz Hawaii Blue Elixir
Intel Core i7-12700KF (HyperThreading/Turbo boost On) (All listed Blue Elixir hardware except the portable SSD supplied by PC GamerZ Hawaii)
ASUS TUF Gaming H670-PRO WIFI D4 (Intel H670 chipset, latest BIOS, PCIe 5.0/5.0/3.0/3.1/3.2 specification, CrossFire/SLI 8x+8x)
EVGA RTX 3080 FTW video card
G.SKILL Trident Z 16GB DDR4 (2x16GB, dual channel at 3600MHz)
Crucial P2 1TB NVMe SSD PCIe 3.0 (2400MBps/1900MBps Read/Write) for C: drive
The T-FORCE M200 4TB USB 3.2 Gen2x2 Type-C Portable SSD (supplied by Team Group for game storage)
EVGA 850B5, 850W Bronze PSU
ACER (LC27G75TQSNXZA) 27? 1920×1080/165Hz monitor
Lian-Li Galahad 360 AIO Cooler
CoolerMaster TD500 Mesh White
Test Configuration – Software
Adrenalin 22.5.2 / GeForce 512.77
Stock settings, Vsync off.
All settings (Low/Lowest/minimum/FSR) enabled as noted in games on the charts
Highest quality sound (stereo) used in all games
All games have been patched to their latest versions
Gaming results show average frame rates in bold including minimum frame rates (1% lows/99 percentiles) shown on the chart next to the averages in a smaller italics font where higher is better.
Windows 10 Pro edition; latest updates. DX11 titles are run under the DX11 render path. DX12 titles are generally run under DX12, and multiple games use the Vulkan API.
Latest DirectX
40 Games
Vulkan
Sniper Elite 5
DOOM Eternal
Wolfenstein Youngblood
Red Dead Redemption 2
Ghost Recon: Breakpoint
World War Z
Strange Brigade
Rainbow 6 Siege
DX12
God of War
Ghostwire: Tokyo
Dying Light 2
Forza Horizon 5
Call of Duty: Vanguard
Guardians of the Galaxy
Far Cry 6
DEATHLOOP
Chernobylite
Resident Evil Village
Metro Exodus Enhanced Edition
Hitman 3
Godfall
DiRT 5
Assassin's Creed: Valhalla
Cyberpunk 2077
Watch Dogs: Legion
Horizon Zero Dawn
Death Stranding
F1 2021
Borderlands 3
Tom Clancy's The Division 2
Civilization VI – Gathering Storm Expansion
Battlefield V
Shadow of the Tomb Raider
DX11
Total War: Warhammer III
Days Gone
Crysis Remastered
Destiny 2 Shadowkeep
Total War: Three Kingdoms
Overwatch
Grand Theft Auto V
Synthetic
TimeSpy (DX12)
3DMark FireStrike
Superposition
VRMark Orange Room
Cinebench
GeekBench
AIDA64 CPU, cache & memory, and GPGPU benchmarks
Blender 3.01 benchmark
Sandra 2021 CPU Benchmarks
SPECviewperf 2020
SPEC Workstation
Next we look at overclocking, temperatures, and noise.
Overclocking, temperatures, and noise
Only the memory of the LIVA One A300 may be overclocked although we didn't test it. Neither the CPU nor the Radeon Graphics could be overclocked. The CPU temperatures generally remained cool hitting 71C during Cinebench and maxing out at 86C during the SpecWorkstation demanding Blender benchmarks.
At no point did the fan noise become obtrusive. The only time we could hear it was at startup for a few seconds when it spins up to 100% before Windows sets up.
Let's head to the performance charts to see how capable the LIVA One A300 is as a creative/workstation PC and if it is acceptable for 1080P entry level gaming.
Performance Summary Charts
Here are the performance results of 40 games and four synthetic tests using generally the lowest settings at 1080P. All gaming results show average framerates in bold text, and higher is better. Minimum framerates (1% lows/99-percentiles) are next to the averages in italics and in a slightly smaller font. The thirteen games that use FSR Performance (or Ultra Performance or Balanced as noted) are next to the non-upscaled results.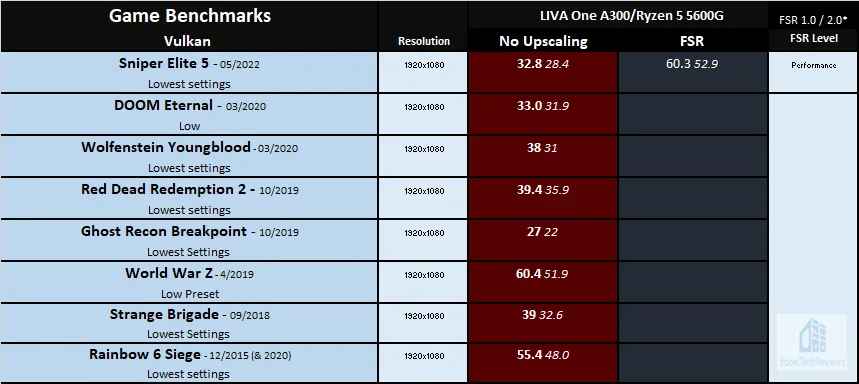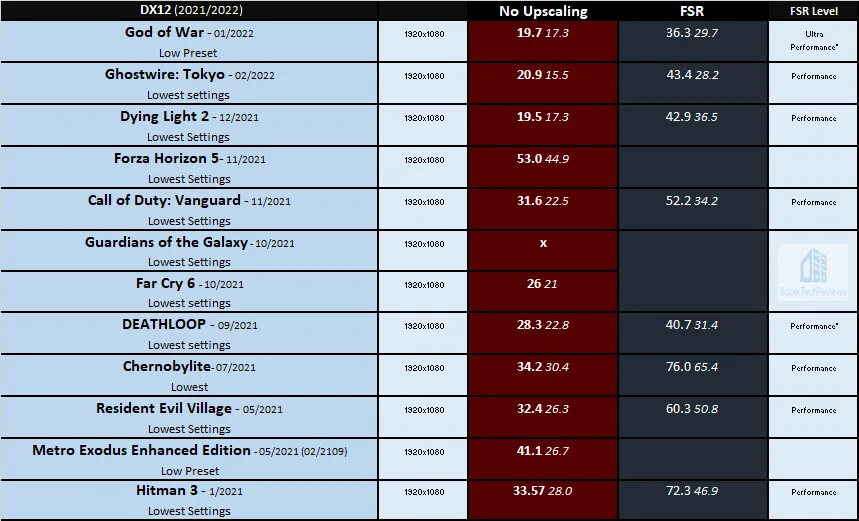 GTA V, Overwatch, CIV VI, F1 2021, Forza Horizon 5, World War Z, and Rainbow 6 Siege manage to run acceptibly or decently on Low settings at 1080P. A total of seventeen games manage to stay above 30 FPS 1% lows and a couple of others get close. FSR adds another eight or nine games with several more reaching close to the 30FPS minimum. Perhaps a total of 11 games play acceptibly well enough on 1080P/Low enough to consider raising some individual settings.
Performance FSR definitely does its job of improving framerates although it impacts visuals, but it is much better than putting up with sickness-inducing low framerates and lag. In a few games like Tokyo: Ghostwire, it just adds blur to the already low visuals. Some games look better than others, but if we had to game on a 5600G, we'd definitely use FSR.
Let's look at non-gaming applications next to see if the LIVA One A300 is a solid performer in creative/workstation/pro tasks starting with Blender benchmarks.
Blender 3.01 Benchmark
Blender is a very popular open source 3D content creation suite. It supports every aspect of 3D development with a complete range of tools for professional 3D creation.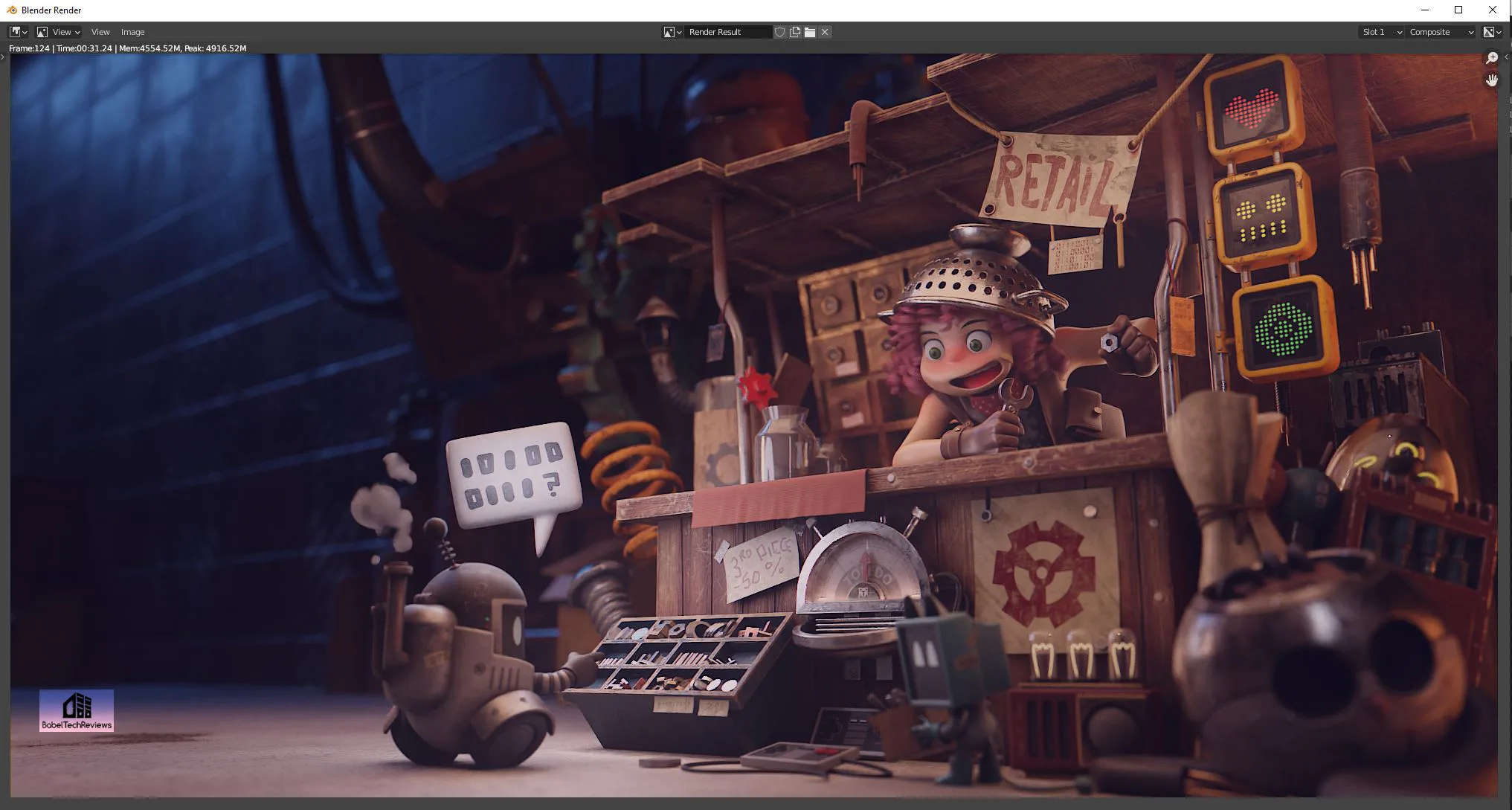 We benchmarked all three Open Data Blender.org benchmarks which combines both CPU and GPU performance by measuring samples per second in rendering production files.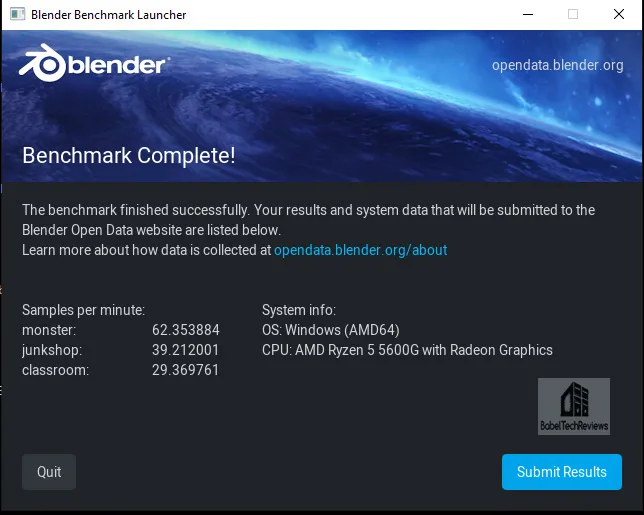 For the following chart, higher is better as the benchmark renders a scene multiple times and gives the results as samples per second.

The A100's 5600G APU performs decently in Blender but it is no match for the ultra-powerful RTX 3080 FTW combined with a 12700KF. In any graphics tests where a video card is used, we will see a huge performance disparity. CPU benchmarks should tell a different story.
Next, we move on to AIDA64 CPU, Cache & Memory, and GPGPU benchmarks.
AIDA64 is an important industry tool for benchmarkers. Its GPGPU benchmarks measure performance and give scores to compare against other popular video cards while it's CPU benchmarks compare relative performance of processors.
AIDA64's benchmark code methods are written in Assembly language, and they are well-optimized for every popular AMD, Intel, NVIDIA and VIA processor by utilizing the appropriate instruction set extensions. We use the Engineer's full version of AIDA64 courtesy of FinalWire. AIDA64 is free to to try and use for 30 days.
CPU/FPU Benchmark Results
CPU results are summarized below in two charts for comparison.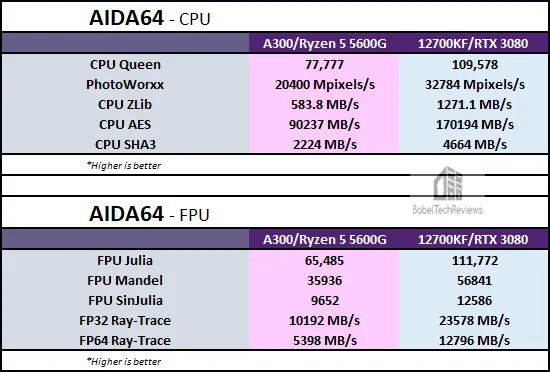 GPGPU Benchmark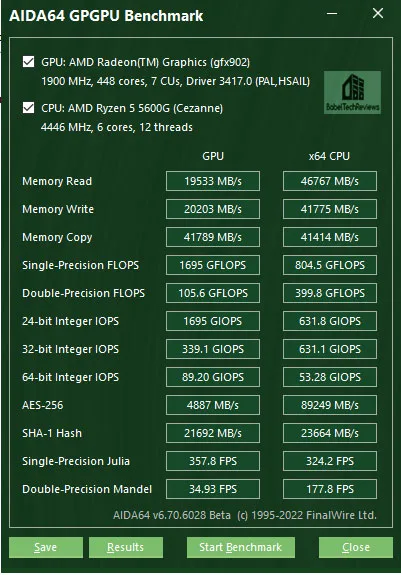 Here is the comparison summarized between the LIVA One A300 and the Blue Elixir 12700KF/RTX 3080 FTW PC.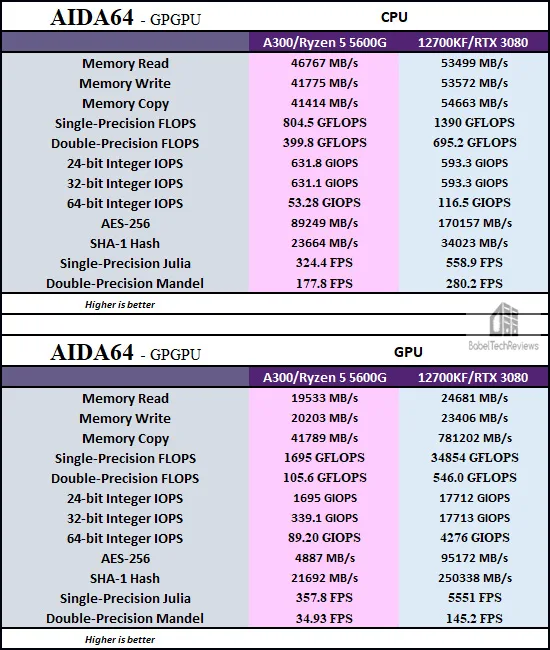 Cache & Memory Benchmarks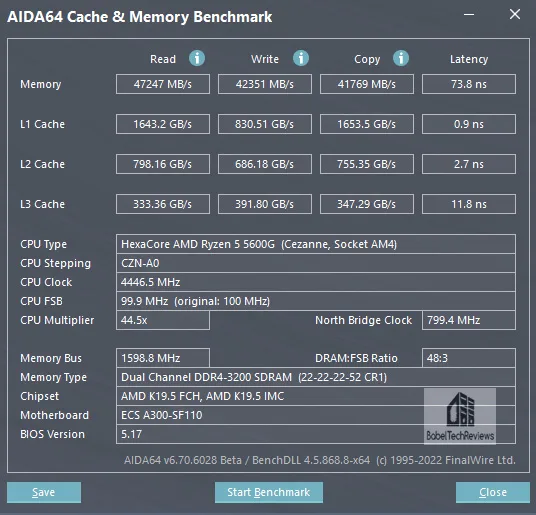 Here is the summary chart.

For workstation, creative, and professional applications using the CPU or memory, the Ryzen 5600G performs admirably as a solid performer; it's weakness is its Vega 7 graphics. In many of AIDA64's CPU benchmarks, the Ryzen 5600G outperformed and outranked the former Intel 6-core flagship, the i7-8700K.
So let's look at Sandra 2021 next.
To see where the CPU, GPU, and motherboard performance results differ, there is no better tool than SiSoft's Sandra 2021. SiSoftware SANDRA (the System ANalyser, Diagnostic and Reporting Assistant) is a excellent information & diagnostic utility in a complete package. It is able to provide all the information about your hardware, software, and other devices for diagnosis and for benchmarking. Sandra is derived from a Greek name that implies "defender" or "helper".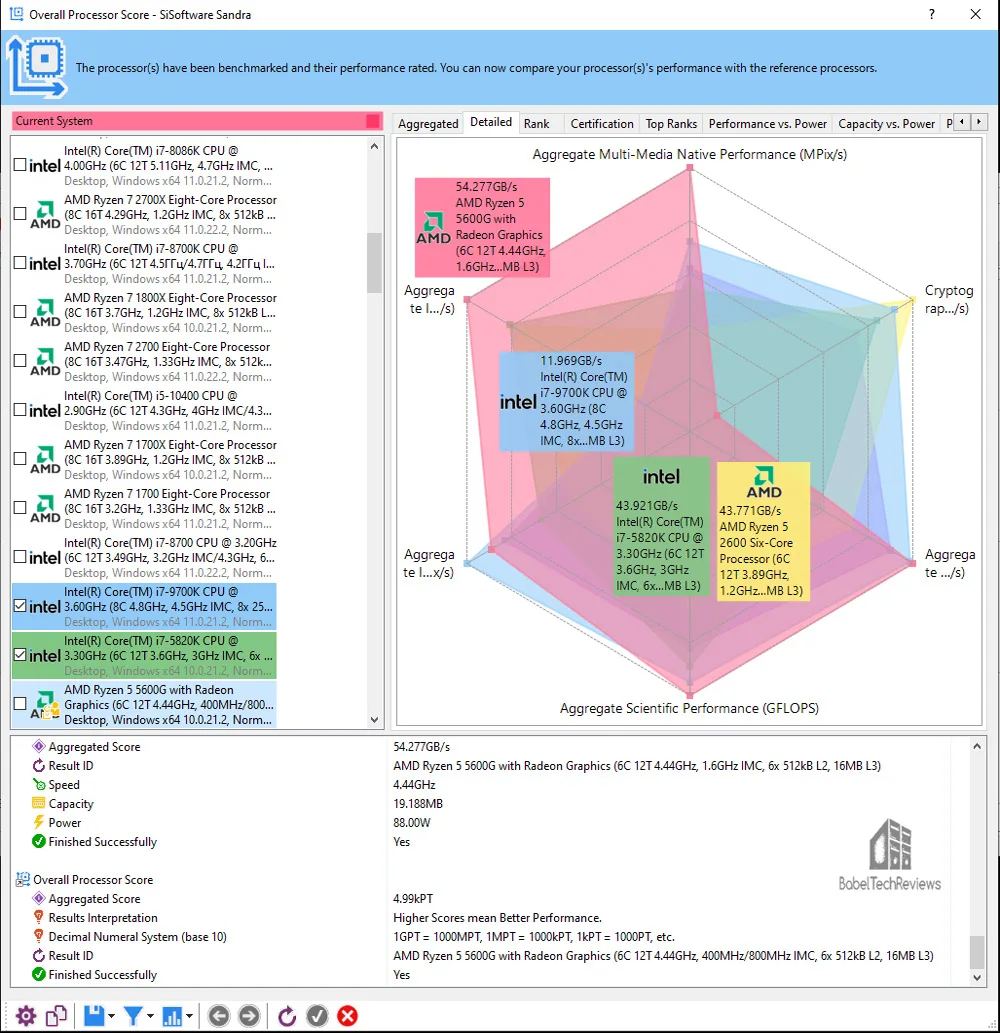 There are several versions of Sandra, including a free version of Sandra Lite that anyone can download and use. Sandra 2021 is the latest version, and we are using the full engineer suite courtesy of SiSoft. Sandra 2021 features continuous multiple monthly incremental improvements over earlier versions of Sandra. It will benchmark and analyze all of the important PC subsystems and even rank your PC while giving recommendations for improvement.
We ran the latest version of Sandra's intensive Processor benchmarks and summarize the overall results below.

In Sandra's synthetic CPU benchmarks, the $600 LIVA One A300 scores over half the $3500 PC results which also use CUDA and its discrete GPU. It also ranks the 5600G higher than many older Ryzen and Intel CPUs like the i7-8700K.
So let's look at Cinebench which is a pure CPU benchmark focusing on single- and mult-core results.
Cinebench
Cinebench is based on MAXON's professional 3D content creation suite, Cinema 4D. This latest R23 version of Cinebench can test up to 64 processor threads accurately and automatically. It is an excellent tool to compare CPU/memory performance and higher is better.
Cinebench's Multi-Core benchmark will stress a CPU reasonably well over its 10-minute run and will show any weaknesses in CPU cooling. This is the test where we discovered that the Blue Elixir's 12700K hit nearly 100C on Core 5 and lead us to conclude that the wrong LGA 1151 backplate was used by the PCGz builders instead of LGA 1700.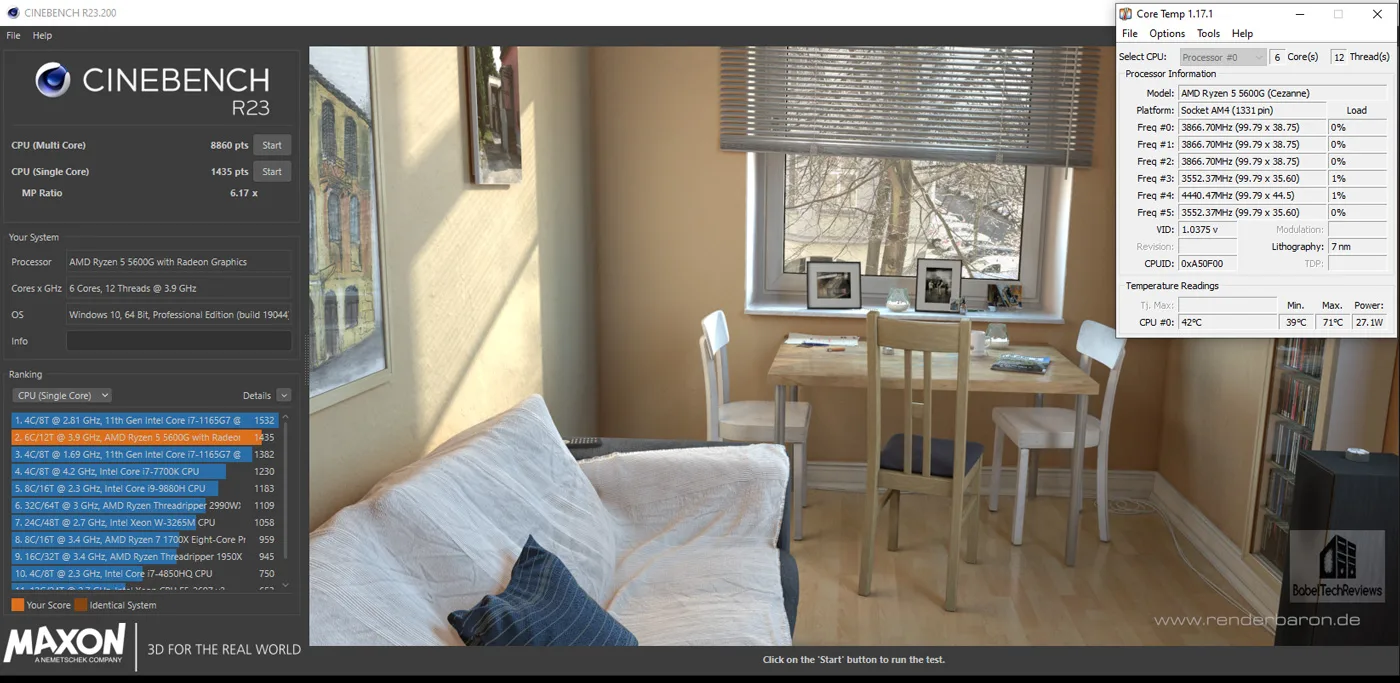 Here is the summary chart.

Of course the 12-core/20-thread 12700KF beats the 6-core/12 thread 5600G in Cinebench in the multi-core test. However, the A300 has nothing to be ashamed of turning in a very strong single core and decent multi-core performance. Next we benchmark using GeekBench which measures CPU and GPU performance.
GeekBench
GeekBench is an excellent CPU/GPU benchmarking program which runs a series of tests and times how long the processor takes to complete its tasks.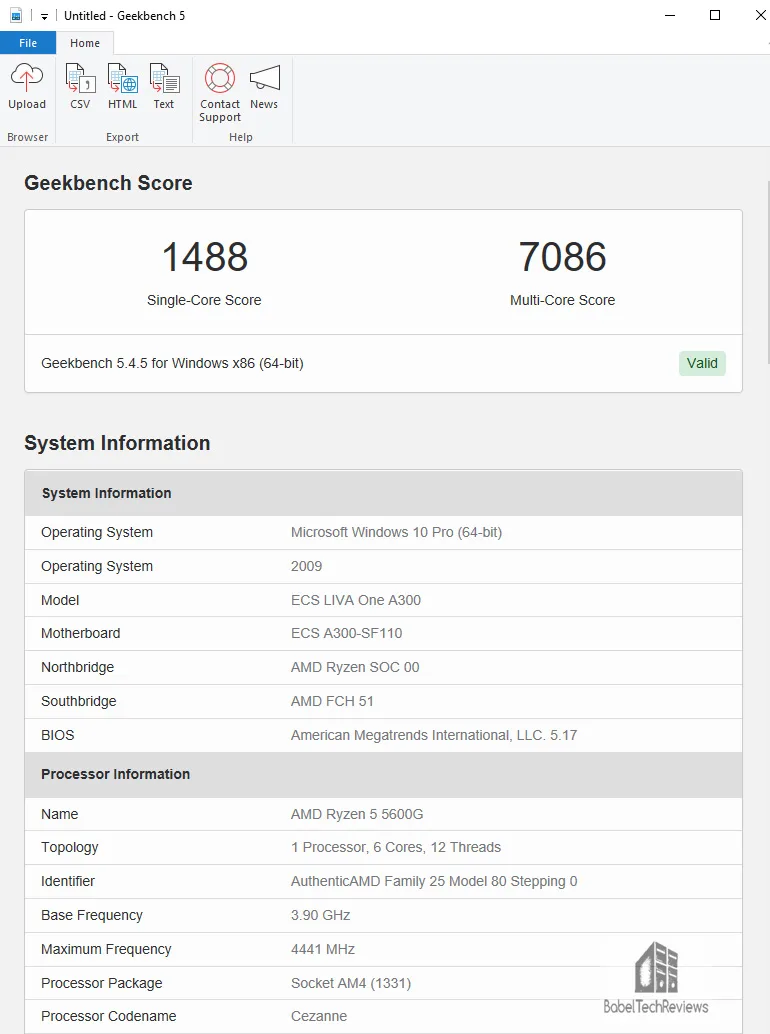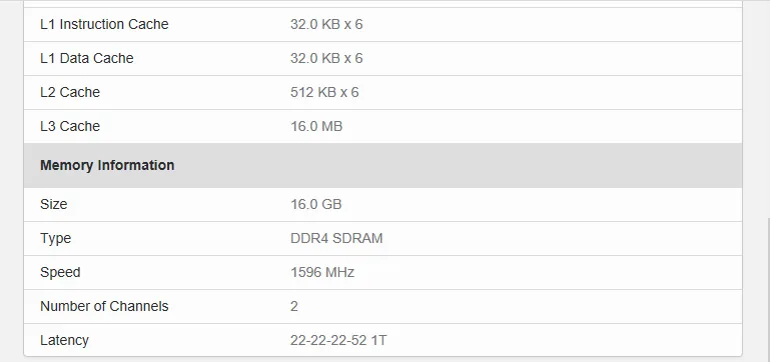 Single Core Performance
Here is the A300 5600G single core performance.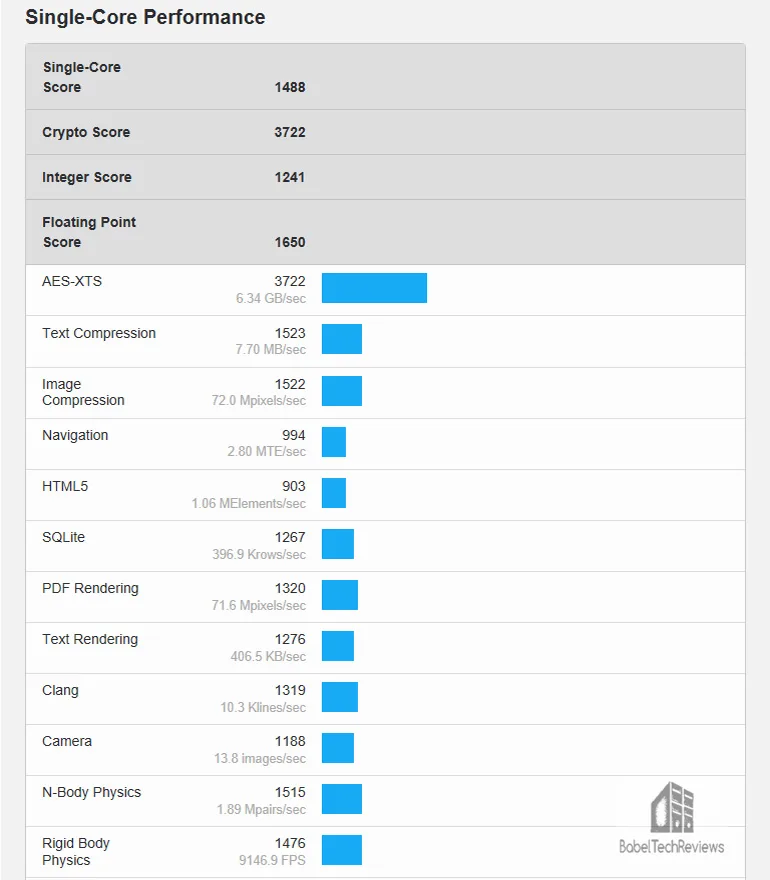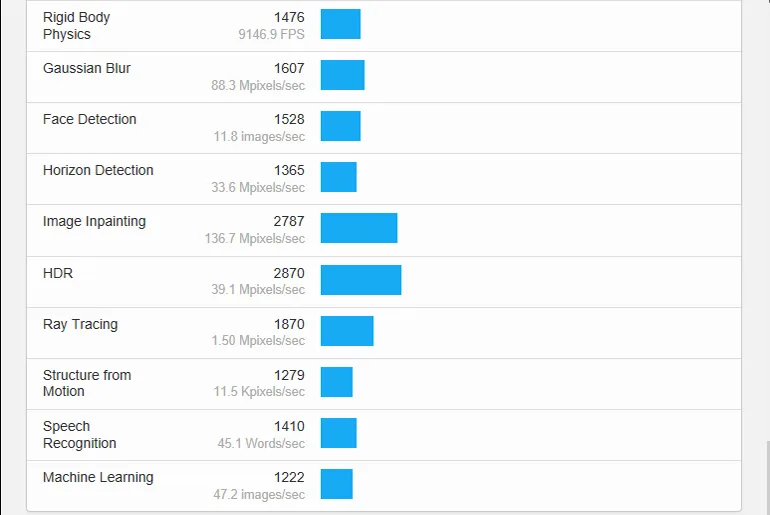 Next we check multi-core.
Multi Core Performance
Now 5600G CPU multi core performance.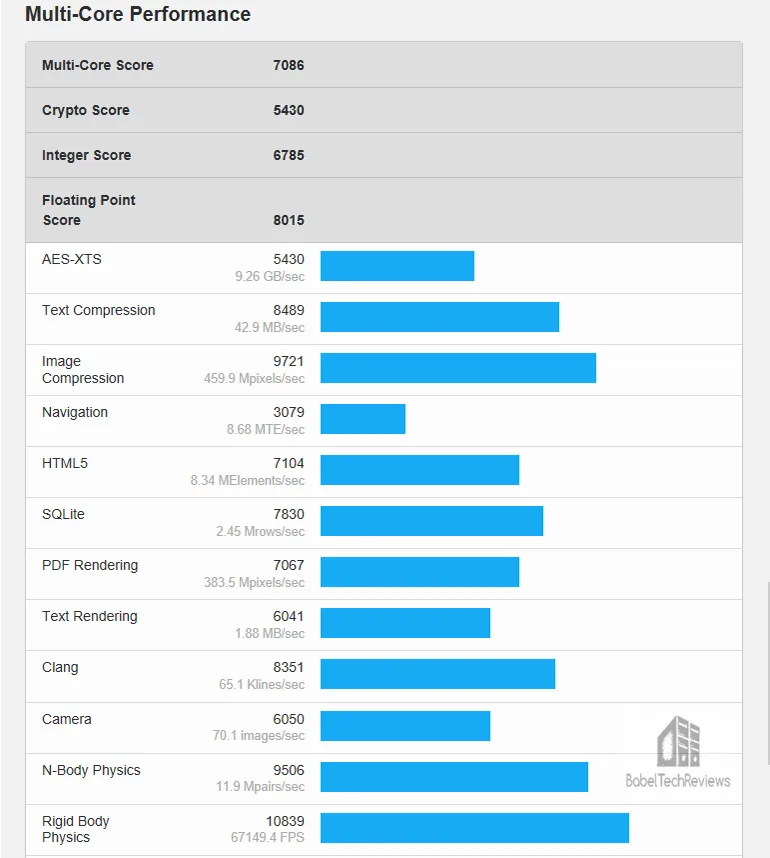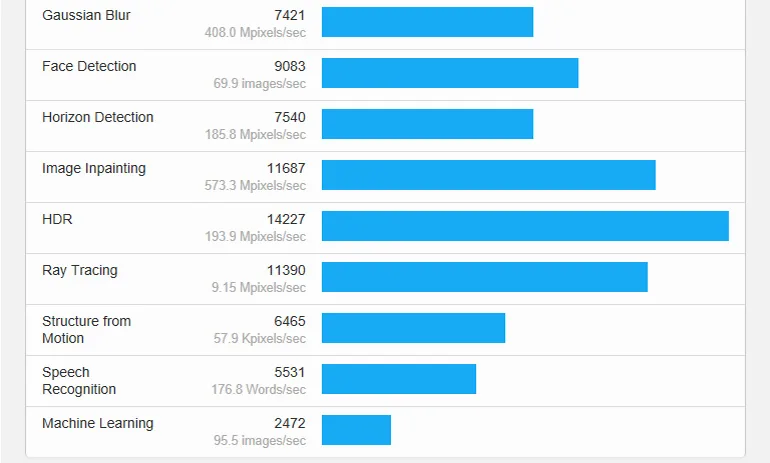 Next we test the A300 using OpenCL and Vulcan using GeekBench graphics-heavy benchmarks.
Open CL and Vulcan
First, OpenCL performance.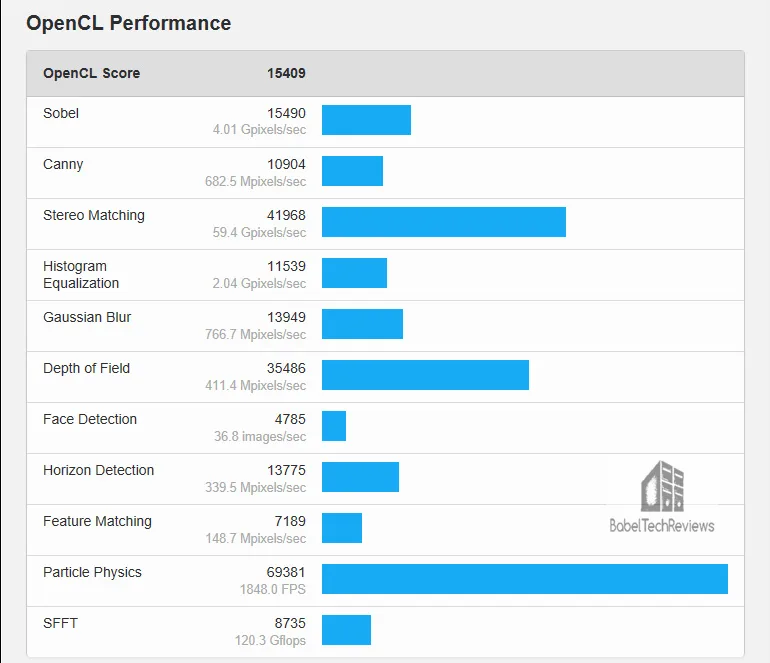 Next we test the LIVA One A300 using Vulcan.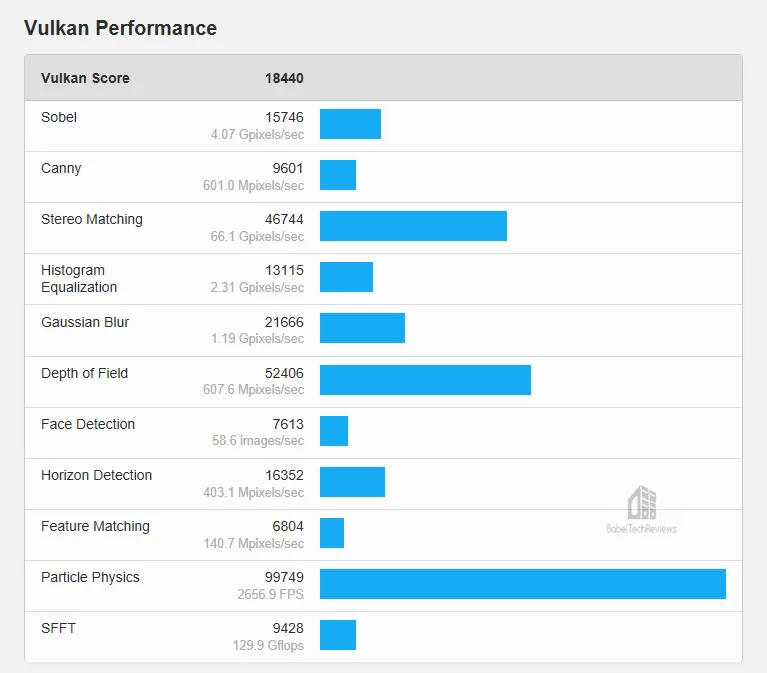 The summary charts below show the comparative performance scores.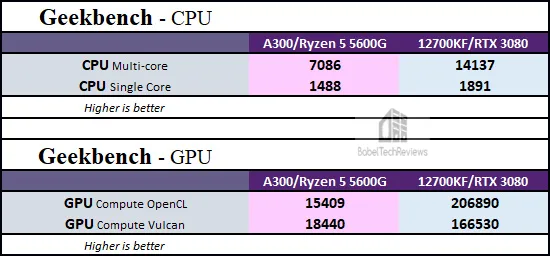 Again, the A300 5600G's single core performance is excellent and the multi-core is also very solid. However, as expected the GPU benches are weak if compared with a fast discrete video card.
Next up, SPECworkstation.
SPECworkstation3 (3.0.4) Benchmarks
All the SPECworkstation3 benchmarks are based on professional applications, most of which are in the CAD/CAM or media and entertainment fields. All of these benchmarks are free except to vendors of computer-related products and/or services. The most comprehensive workstation benchmark is SPECworkstation3. It's a free-standing benchmark which does not require ancillary software. It measures GPU, CPU, storage and all other major aspects of workstation performance based on actual applications and representative workloads.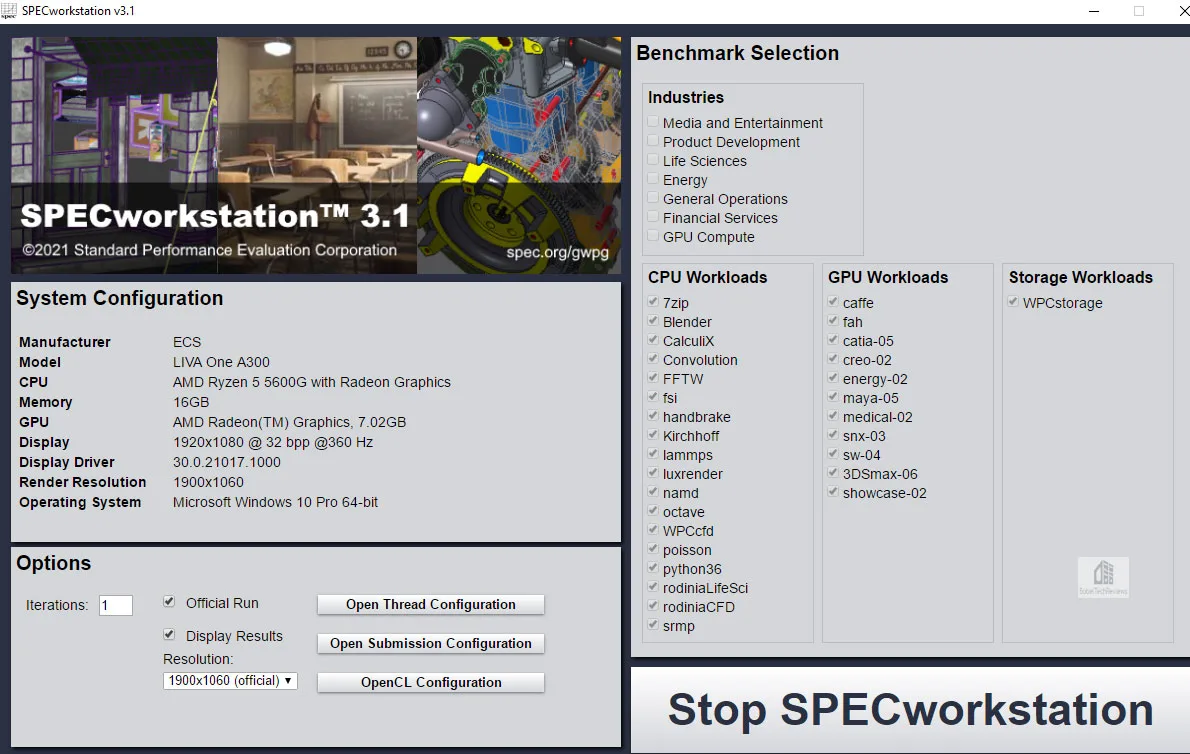 SPECworkstation benchmarks are very demanding and all benchmarks were tested in an official run.
Here are the SPECworkstation Raw Scores which give the details.

We see the same thing repeated in all of the synthetic tests – the LIVA One A300 Ryzen 5 5600G performs brilliantly in CPU-heavy benchmarks while falling short in GPU-heavy benching compared with a much more powerful and expensive PC.
Now, let's look at a GPU-heavy SPEC benching suite, SPECviewperf 2020.
SPECviewperf 2020 GPU Benches
The SPEC Graphics Performance Characterization Group (SPECgpc) released a 2020 version of its SPECviewperf benchmark that features updated viewsets, new models, support for up to 4K display resolutions, and improved set-up and results management. We use 1900×1060 display resolution.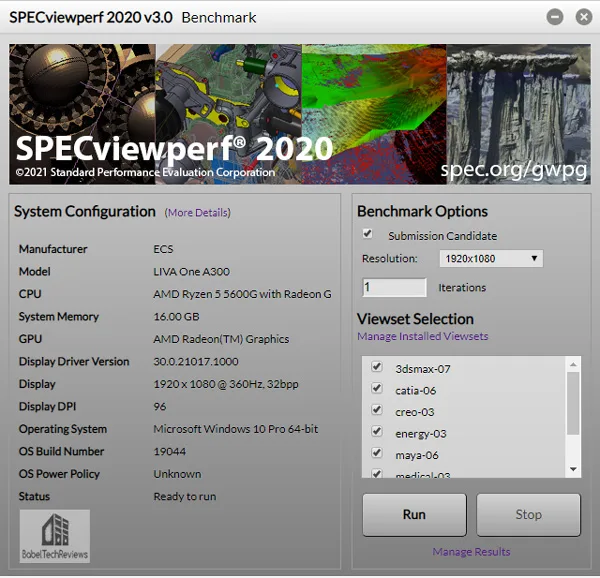 Here are SPECviewperf 2020 benchmarks summarized in the chart below.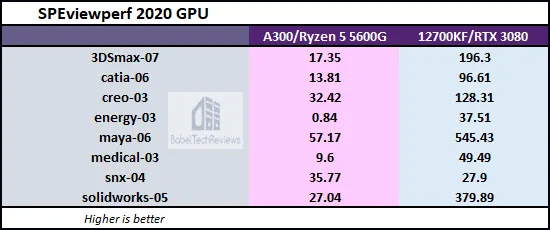 No surprises – the six-times more expensive PC GamerZ PC is faster because of the higher core count of the 12700K but especially because of the RTX 3080 FTW.
The decision to buy a new PC should be based on the workflow and requirements of each user as well as their budget. Time is money depending on how these apps are used. However, the target demographic for the LIVA One A300 mini-PC is creative and workstation uses while the GamerZ Blue Elixir targets 1080P and 1440P gaming. As value goes, the A300 provides far more bang-for-buck except for heavy gaming. It would be ideal for anyone needing a small but powerful PC.
Let's head to our conclusion.
Final Thoughts
We were very impressed with the value of the LIVA One A300 using a Ryzen 5 5600G APU for workstation, multi-tasking, and creative use cases. At around $600 for the parts as tested, it provides superb performance bang for buck when compared – admittedly unfairly – with a desktop PC with a powerful video card that costs six times more. The A300 only falls short in gaming or where graphics intensive tasks are needed.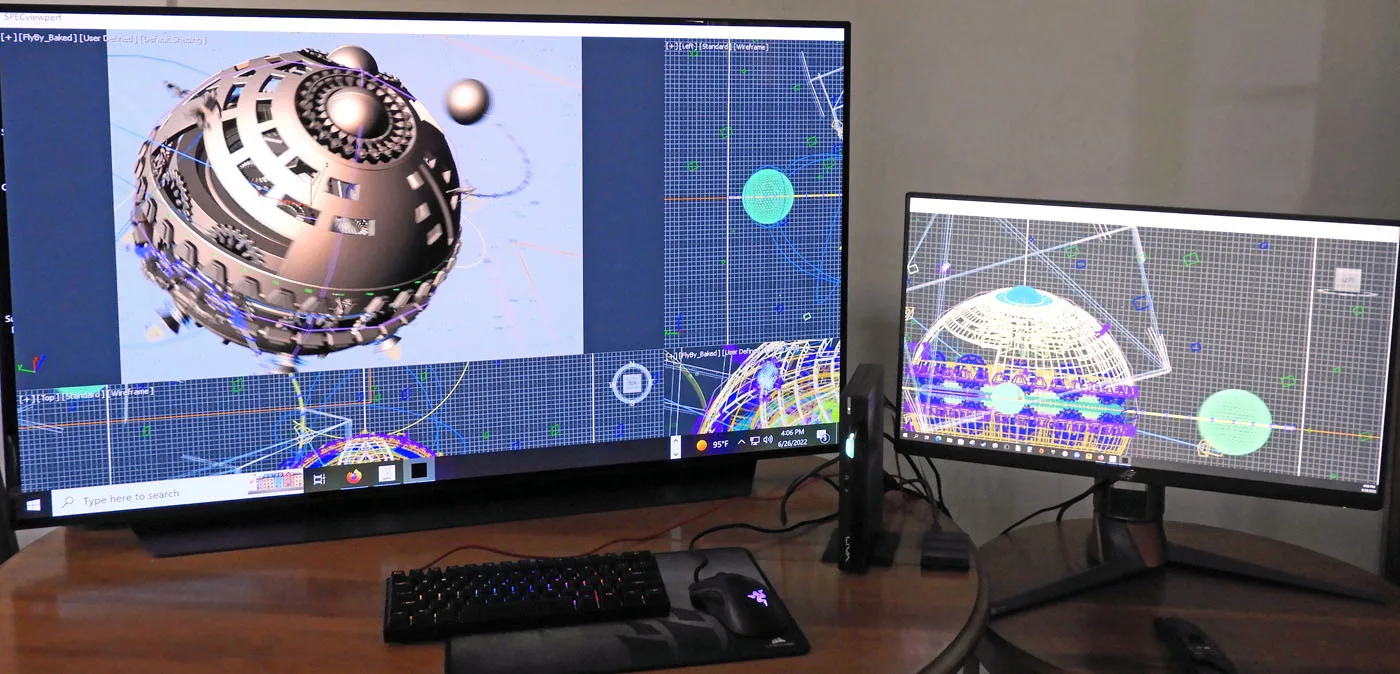 Let's sum it up:
The Pros
The LIVA One A300 is an excellent SFF value as a barebones mini-PC that can use any 65W Ryzen or Athlon APU
Support for up to 2x32GB DDR4 3200MHz
Good storage options for NVMe and SATA III SSDs
It excels in multi-tasking, creative, and workstation applications.
It offers support for 3 displays up to 4K for multasking
Its small form factor allows for easy placement while taking up a very small footprint and little energy
It runs cool and very quiet
Plenty of USB connectors with support for Type C
It is fast and easy to build
It can handle some 1080P gaming
Cons
Gaming and graphics heavy applications are its only weaknesses (and it is not advertised for gaming) but FSR goes a long way to address it
The Verdict:
If a gamer is looking for a solid and handsome SFF barebones mini-PC with a lot of build options, the LIVA One A300 should be considered. It is a solidly-built mini-PC that that can handle heavy CPU workloads for extreme multi-tasking, workstation, and creative needs. It is also suitable for light, eSports, and even some mainstream gaming on Low/1080P.
We really were impressed with the LIVA One A300 and plan to use it as a Plex server. We were also impressed with FSR and especially with FSR 2.0 and the performance increase it provides for games that otherwise could not be played at 1080P.
Stay tuned for Rodrigo's Adrenalin 22.5.2 Driver Performance Analysis!
Happy Gaming!