Intro
Is FSR Enough for Entry-Level 1080P Gaming Performance on the LIVA One A300 Ryzen 5 5600G Mini-PC?
There is a very cool aspect to Small Form Factor (SFF) mini-PCs where a notebook or a desktop just won't do.  Although small book-sized PCs are capable in every area of computing, they have always been weak in gaming.  Although it is not advertised for gaming, ECS sent us a LIVA One A300 barebones PC that we equipped with a budget-friendly Ryzen 5 5600G APU, and we benchmarked it with 40 games, workstation, and creative applications to see if it is a capable PC that is also acceptible for entry-level 1080P gaming.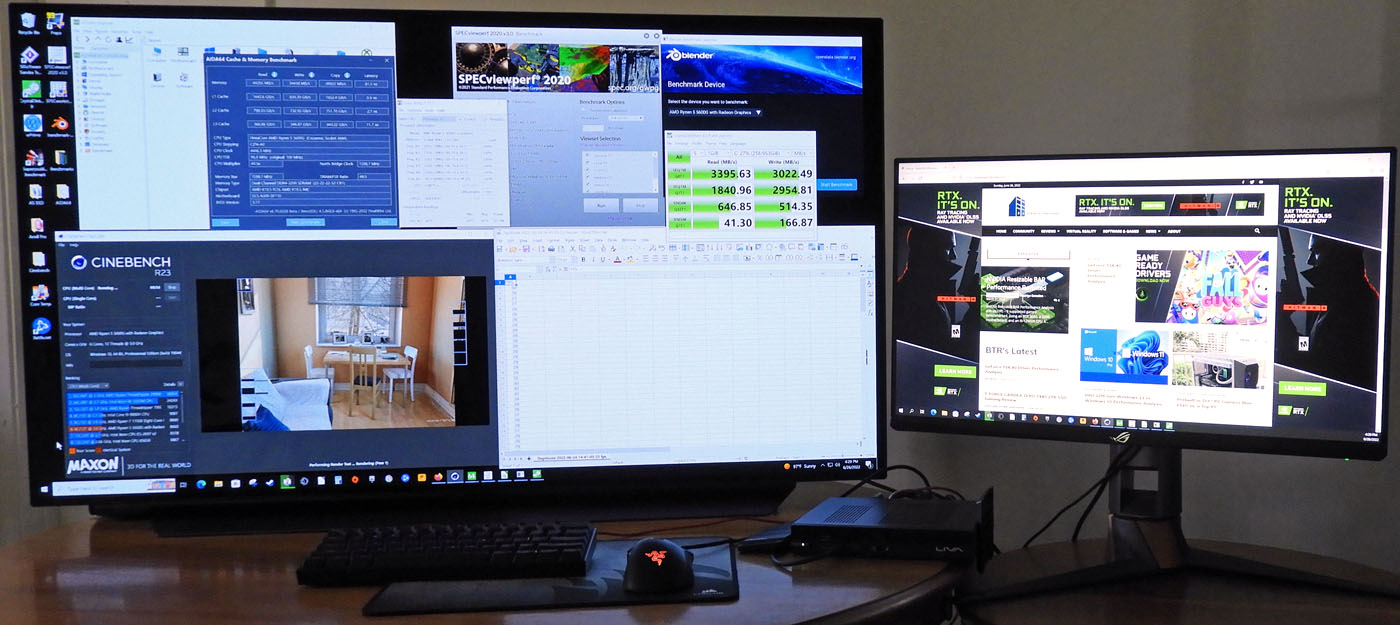 The 205 x 176 x 33 mm (8.07″ x 6.93″ x 1.3″) LIVA One A300 supports AMD Ryzen & Athlon Processors up to 65W with an ECS custom mini-ITX A300 SF110 Socket AM4 motherboard.  It will support dual-core Athlons all the way to the 8-core/16 thread Ryzen 5 5700G as well as 2x32GB SO-DIMM DDR4 3200MHz, a 2.5″ SATA HDD/SSD, plus a M.2 2280 SATA/PCIe x 4 Gen 3 SSD.
Since we wanted a budget gaming build, we picked the 6-core/12 thread Ryzen 5 5600G ($169) which uses the same but slightly cut down Radeon Vega 7 integrated graphics.  It is only about 5% slower in gaming than the 8-core/16 thread Ryzen 7 5700G thus saving $100 on the APU.  We equipped our build with a fast (3,400/3,000MBps) 1TB PCIe T-Force Cardea IOPs NVMe SSD ($99), and 2x8GB Samsung SO-DIMM DDR4 3200MHz ($58.00) which is sufficient for an under $550/$600 1080P gaming build with the LIVA One A300 at $200 ($250 MSR) which was the price at Newegg until it sold out.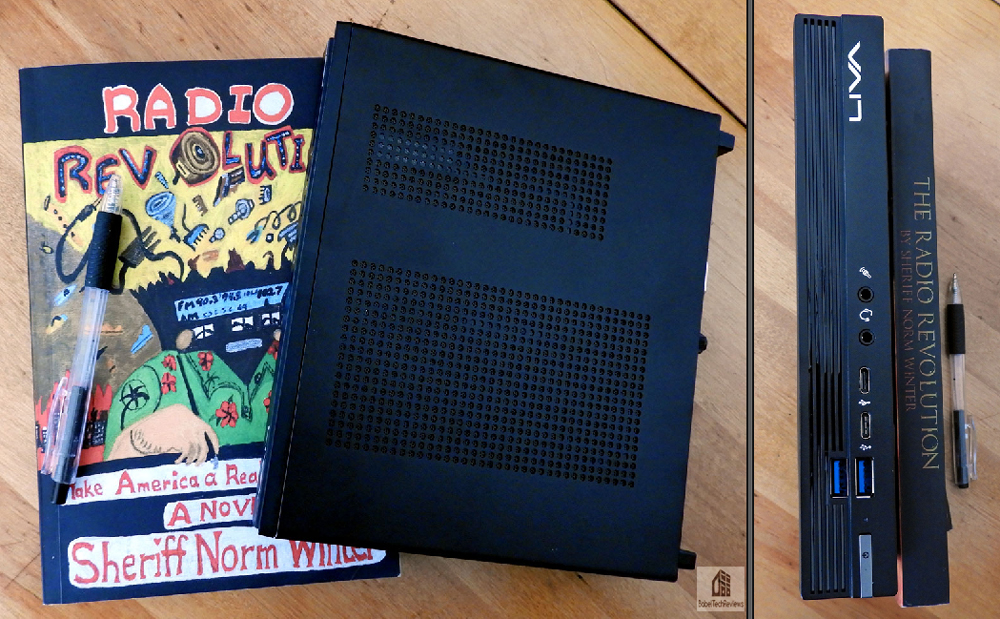 Since inflation is pushing prices higher, we want to see if a small form factor PC is a good investment and also if it is capable of entry-level 1080P gaming.  The only choice is AMD as Intel's integrated CPU graphics are unable to deliver an acceptible 1080P gaming experience except for very old or very simple games.  However, modern games are becoming more and more demanding and the Vega 7 integrated graphics are rather long in the tooth having been introduced 5 years ago.
LIVA One A300 Features & Specifications
From the ECS Liva One A300 specification page:
PLATFORM – Support AMD Ryzen™ & Athlon™ Processors with Socket AM4
MEMORY – Support 2 x SO-DIMM DDR4 3200MHz, up to 64GB (vary depending on CPU)
STORAGE DEVICES

1 x M.2 2280 SATA / PCIe x 4 Gen 3 SSD

AUDIO

NETWORKING – 1 x 2.5 Gigabit LAN

USB

2 x USB 3.2 Gen 2×1 Type C, 2 x USB 3.2 Gen 1×1 (FRONT I/O)

2 x USB 3.2 Gen 1×1, 2 x USB 2.0 (REAR I/O)

VIDEO OUTPUT

1 x HDMI, 4K@60Hz
1 x DisplayPort, 4K@60Hz
1 x VGA

WIRELESS

1 x M.2 2230 WLAN 802.11ac

1 x M.2 2230 WLAN 802.11ax (Optional)

POWER

DIMENSIONS (MM) – 205 x 176 x 33 mm
OS SUPPORT – Windows 10 & Windows 11
The Test Bed 
BTR's test bed consists of 40 games and 5 synthetic game benchmarks at 1920×1080 as well as SPEC, workstation, CPU, memory, and GPGPU benchmarks.  Our latest games include Sniper Elite 5, Total War: Warhammer III, God of War, Ghostwire: Tokyo, Elden Ring, Dying Light 2, DEATHLOOP, and CoD: Vanguard.
The platform that we compare the LIVA One A300 with in creative and workstation tasks is the much more powerful and six-times-more-expensive PCGz Blue Elixir desktop using Intel Core i7-12700KF, an EVGA RTX 3080 FTW video card, and 2x16GB G.SKILL Trident Z 3600MHz DDR4 on an ASUS TUF Gaming H670-PRO WIFI D4 motherboard.
We realize that this is a very unfair comparison but we don't have another CPU platform available – except a 12900K/DDR5 PC.  At the least, it will give a baseline comparison that sets relative value in this David versus Goliath contest.
Why Choose a SFF PC?
The main reason to pick a small PC is for its small footprint and minimal energy usage compared with a full-sized desktop PC.  Gamers and creators may love gaming and creation but perhaps not the large amount of space a typical desktop PC requires.  A large mid-tower tends to take over an entire desk, and moving it to the floor makes it susceptable to damage from being kicked, not to mention its port accessibility becomes problematic.  Mini SFF PCs like the A300 take up no more room than a typical book and can even be mounted on the back of a monitor and its ports are always within arm's reach.  It is also much easier to travel with a SFF PC compared with packing a desktop.
When it comes to using a PC to render video, produce audio, create, do workstation tasks, stream, and more, notebooks can't compare to an SFF PC. A notebook generally uses a small built-in display which is inferior to the many choices afforded by picking from a multitude of desktop monitors.  In addition, a notebook is always a compromise between typing on it and screen viewing while the desktop display and the keyboard can each be placed at their ideal height and distance.
All-in-one notebooks are often plagued by poor cooling with accompanying CPU throttling, loud fans, difficult to upgrade components, and poor battery life.  On the other hand, a full-size desktop is bulky and lacks mobility but makes up for it with increased performance and its ease of upgrading.  A SFF Mini PC can deliver the best of both worlds – CPU performance that is often on par with big desktop PCs and stronger than most notebooks with similar components. Professional content creators generally prefer a desktop over a notebook for higher performance using the best display possible.  Quiet noise levels are also important as SFF systems are typically placed at the desk level and are generally quieter than notebooks which are very cramped and run hot.
The issue for a gamer is that the A300 does not have room for a dedicated graphics card, so all of the video performance depends on the Ryzen 5 5600G's integrated Radeon Vega 7 graphics.  These are considered insufficient to power modern games at 1080P/Low above 30 FPS for even entry level PC gaming.  Fortunately, AMD and Nvidia both offer upscaling options to improve performance without destroying image quality.
FSR and Upscaling to the Rescue?
AMD has recently introduced FidelityFX Super Resolution (FSR) which is their answer to NVIDIA's DLSS.  For this review, we used Performance mode which uses a scaling factor of 2X.  In a few cases, we tested Balanced and Ultra Performance modes.
FidelityFX Super Resolution (FSR)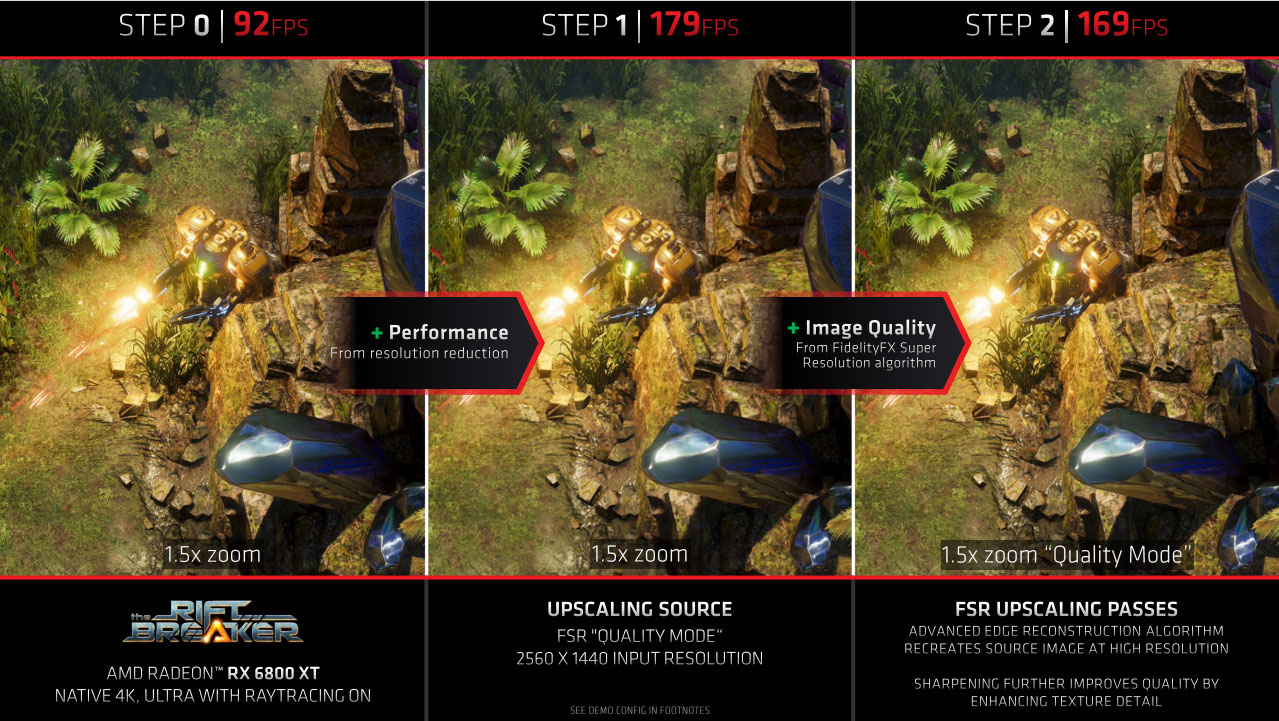 Source: AMD
FSR improves performance by first rendering frames at a lower resolution and then by using an open-source spatial upscaling algorithm with a sharpening filter in an attempt to make the game look nearly as good as at native resolution.  FSR is basically a post-process shader which makes it easy for game developers to implement across all graphics cards and not just for Radeons.  So far, there are 110+ available and upcoming games supporting FSR 1.0 and FSR 2.0 and we have tested thirteen games that use FSR for this review.
FSR is far more than a standard Lanczos implementation plus sharpening and it brings good value for higher "free" performance with a small hit to visuals.  However, AMD recommends using Quality or Balanced FSR modes and that Performance mode should only be selected in situations where "needing additional performance is critical."  Using an APU for 1080P gaming definitely meets that description, and we were surprised that the Low visuals using Performance FSR were (barely) acceptible but far better than puke-inducing low framerates with higher fidelity.
Recently AMD has released FSR 2.0 which we benchmarked using DEATHLOOP and God of War for this review.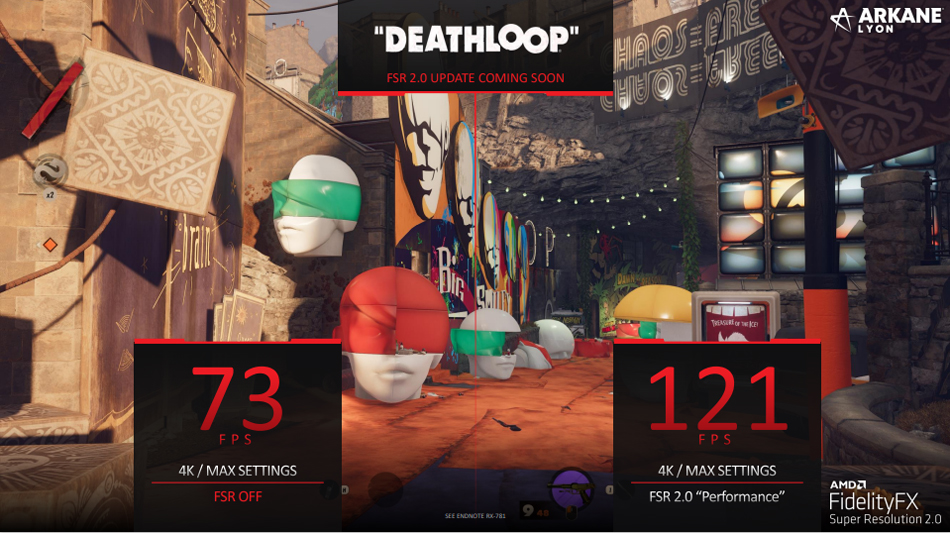 By comparing FSR 2.0 with 1.0, we were pleasantly surprised to see a large IQ improvement of FSR 2.0 over the original.  Unfortunately, Performance FSR 2.0 still takes a hit to the visuals but the framerate increase is solid.
Next let's take a closer look at the LIVA One A300.