Kingston Introduces KC1000 NVMe PCIe SSD to Meet the Most Demanding Data Needs of SSD Enthusiasts
Up to 290,000 IOPS; Capacities Up to 960GB
Ultimate Storage Upgrade for HD Video, PC Enthusiasts, Gaming and More
Kingston Digital, Inc., at Computex today announced KC1000 NVMe PCIe SSD. Shipping in mid-June, the M.2 NVMe PCIe SSD is over 2x faster than SATA-based SSDs and over 40x faster than a 7200RPM hard-disk drive. KC1000 is built for the power user, providing a low-latency performance boost for resource-demanding applications including high-resolution video editing, data visualization, gaming and other data intensive workload environments where traditional storage solutions are unable to keep pace.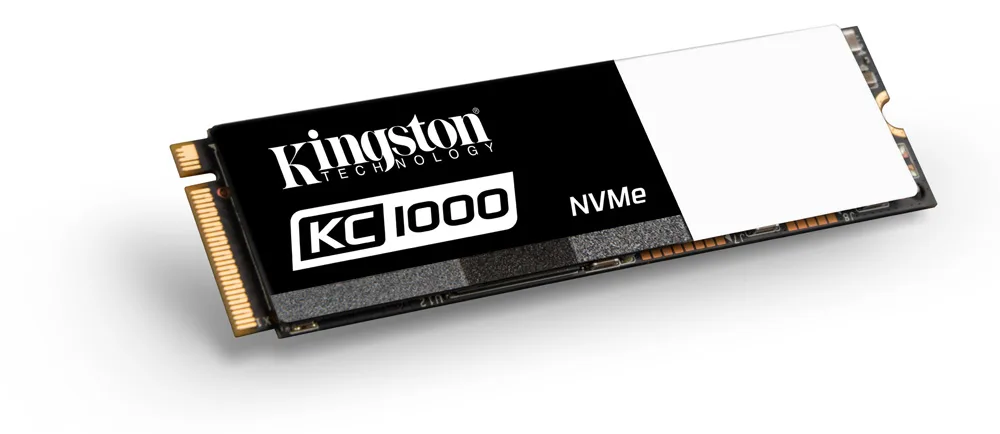 The KC1000 delivers up to 290,000 IOPS and will ship in mid-June in 240GB, 480GB and 960GB capacities. These high-performance SSDs support the PCIe Gen3 x4 interface and the latest NVMe protocol. KC1000 provides accelerated boot and load speeds and increases sequential read/write performance, as well as offering improved endurance and energy efficiency. It is perfect for users seeking instant, breakthrough performance improvements for:
High-resolution video editing
Virtual and augmented reality applications
CAD software applications
Streaming media
Graphically intensive video games
Data visualization
Real-time analytics
KC1000 is backed by a limited five-year warranty and legendary Kingston support.
Kingston KC1000 NVMe PCIe SSD Features and Specifications:
Form Factor: M.2 2280
Interface: NVMe PCIe Gen 3.0 x4 Lanes
Capacities1: 240GB, 480GB, 960GB
Controller: Phison PS5007-E7
NAND: MLC
Sequential Read/Write2:
240GB: up to 2700/900MB/s
480GB, 960GB: up to 2700/1600MB/s
240GB: up to 225,000/190,000 IOPS
480GB, 960GB: up to 290,000/190,000 IOPS
240GB, 480GB: up to 190,000/160,000 IOPS
960GB: up to 190,000/165,000 IOPS
PCMARK®Vantage HDD Suite Score: 150,000
Total Bytes Written (TBW)3:
240GB: 300TB and .70 DWPD5
480GB: 550TB and .64 DWPD5
960GB: 1PB and .58 DWPD5
Power Consumption: .11W Idle / .99W Avg / 4.95W (MAX) Read / 7.40W (MAX)
write
Storage Temperature: -40°C to 85°C
Operating Temperature: 0°C to 70°C
Dimensions:
80mm x 22mm x 3.5mm (M.2)
180.98mm x 120.96mm x 21.59mm (with HHHL AIC – standard bracket)
181.29mm x 80.14mm x 23.40mm (with HHHL AIC – low-profile bracket)
10g (M.2)
76g (with HHHL AIC – standard bracket)
69g (with HHHL AIC – low-profile bracket)
Vibration operating: 2.17G Peak (7-800Hz)
Vibration non-operating: 20G Peak (20-1000Hz)
MTBF: 2,000,000
Warranty/support4: Limited 5-year warranty with free technical support
KC1000 NVMe PCIe M.2 SSD Part Numbers

Part Number

Capacity

SKC1000/240G

240GB

SKC1000H/240G HHHL (Add-In Card)

240GB

SKC1000/480G

480GB

SKC1000H/480G HHHL (Add-In Card)

480GB

SKC1000/960G

960GB

SKC1000H/960G HHHL (Add-In Card)

960GB
1 Some of the listed capacity on a Flash storage device is used for formatting and other functions and thus is not available for data storage. As such, the actual available capacity for data storage is less than what is listed on the products. For more information, go to Kingston's Flash Memory Guide at Kingston.com/flashguide.
2 Based on "out-of-box performance" using a SATA Rev. 3.0 / PCIe Gen 3 motherboard. Speed may vary due to host hardware, software, and usage. IOMETER Random 4K Random Read/Write is based on 8GB partition.
3 Total Bytes Written (TBW) is derived from the JEDEC Client Workload (JESD219A)
4 Limited warranty based on 5 years or "SSD Life Remaining" which can be found using the Kingston SSD Manager (Kingston.com/SSDManager). A new, unused product will show a wear indicator value of one hundred (100), whereas a product that has reached its endurance limit of program erase cycles will show a wear indicator value of one (1). See Kingston.com/wa for details.
5 Drive Writes Per Day (DWPD)
Kingston can be found on: